The Biggest Horror Games of 2016 : Page 2 of 13
Updated: 12 Sep 2016 10:35 pm
Yeah… This is gonna suck…
2)  Outlast 2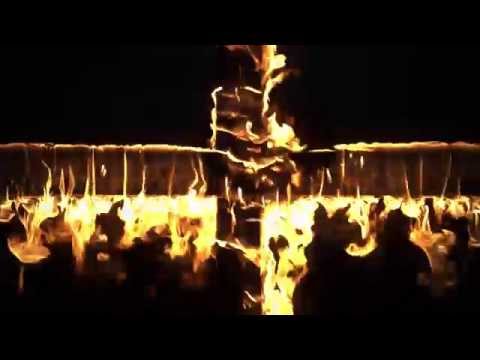 Outlast II's teaser gives us a sense of a more spiritual, religious, backwoods horror than its more scientific predecessor.
You are Blake Langermann, a cameraman working with your wife Lynn. As in the first game, the two of you are investigative journalists.
You and your wife have travelled to Southern Arizona to investigate the murder of a Jane Doe, who was found eight months pregnant on the side of the road.  She was a member of a cult from the town of Temple Gate, a remote place in Arizona. According to the hospital records, the Jane Doe committed suicide, but there's something about it that's fishy enough to push the Langermanns to investigate.
 Your search takes you to the secluded Arizona town, but your chopper crashes on the way and when you wake up, Lynn is missing. What's more, the town you find yourself in is filled with psychotic cultists who think the End Times are here. Your objective is to find Lynn and then get the hell out.
Outlast II promises to live up to, and even surpass, the original horror game. Where Outlast was set in an insane asylum hiding a secret government facility, the sequel is much more "Old Time Religion"-ey, featuring an insane preacher named Sullivan Knoth, who seems to have converted the entire town into a psychotic End Times cult, "The Testament of the New Ezekiel". 
Recently, a gameplay demo was showed at PAX East. It was disturbing, to say the least. But to say more, it featured dead babies, Saint Peter's Cross (which is often assumed to be a Satanic symbol), a large tentacle-like tongue, and a whole lot of mind screw. One of the main mechanics returning from the first game is the video camera and night vision. It's dark out there, so the only way to see the creepy guy with the pickaxe is to use the nightvision setting on your camera and record what's happening. Unfortunately, the camera just eats batteries. Better hope you can find more.
As you make your way through the town, there's a very real feeling that you're being stalked by… something. Probably a bunch of insane villagers, but there was more to the first game so there may be more here.
Outlast II is my personal most anticipated horror game of the next few months and I highly recommend the original to anyone who hasn't played it but loves horror.  I also recommend it to anyone who can't handle scary, but that's because it's a lot of fun to watch them play.
Set for release in early 2017, Outlast II is sure to surpass its predecessor and may well be a contender for scariest game in recent memory.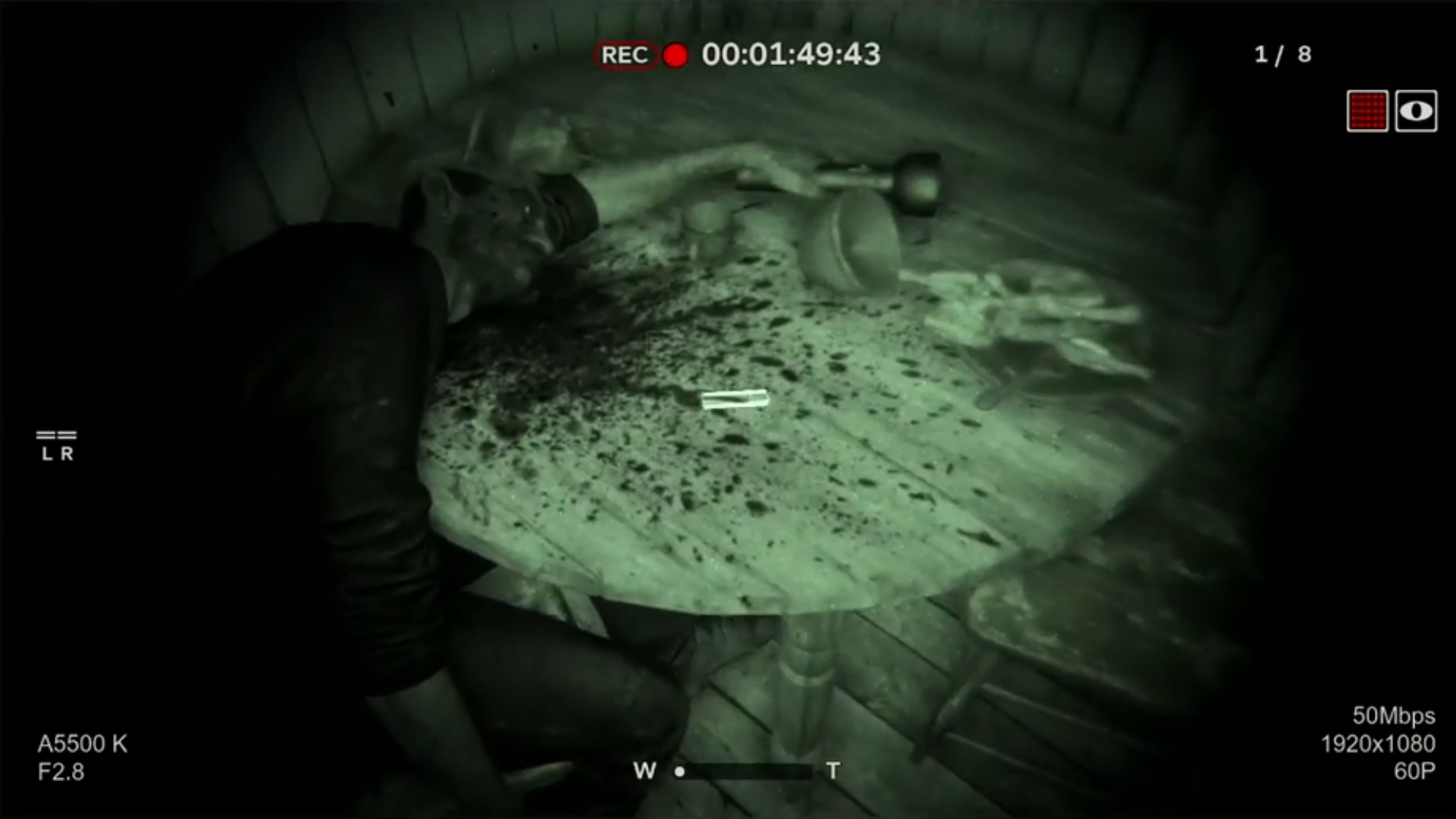 I guess the last guy who came through here didn't have a good time.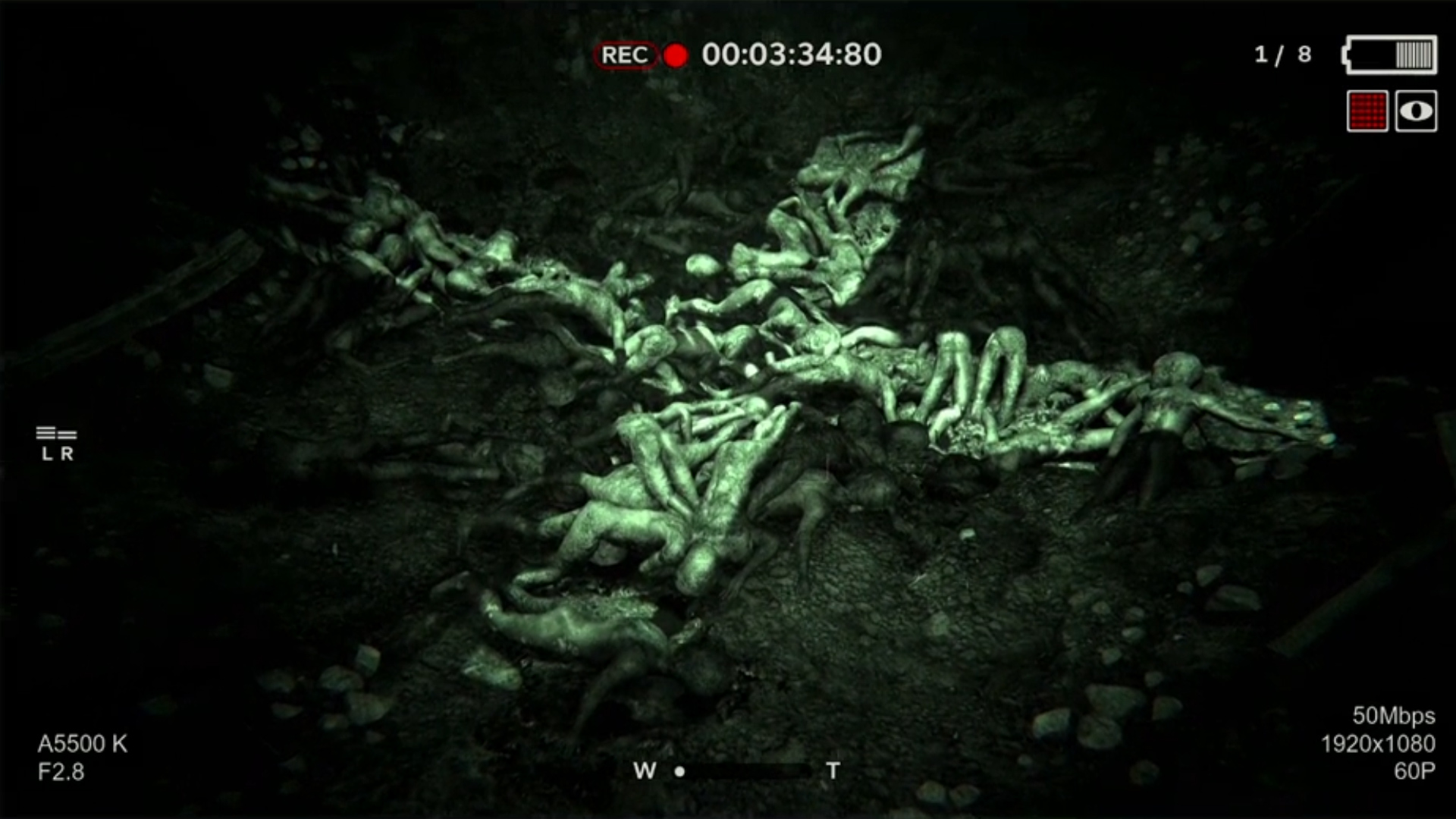 Not just dead babies, dead babies arranged in a cross. Man, psychotic End Times cults are weird.