[Top 10] MTG Arena Best Historic Decks (Ranked)
Updated: 21 Nov 2023 7:48 pm
Many Historic decks find ways to cheat out powerful creatures like Ulamog, the Ceaseless Hunger.
[Top 10] MTG Arena Best Historic Decks (Ranked)
What is Historic?
Historic is Magic: The Gathering Arena's all cards usable format. Any card that's found in Arena is usable in this format and this gives you some very powerful deck options. In addition to the new sets that were released and added to the card pool, Wizards of the Coast went back and added the Kaladesh and Amonkhet blocks to the card pool as well. They've also gone back and brought in some strong cards from paper Magic's Modern format. This format is strong and some of the things you can pull off with this card pool is pretty incredible. Here are the top 10 current best decks around.
10. Rakdos Sacrifice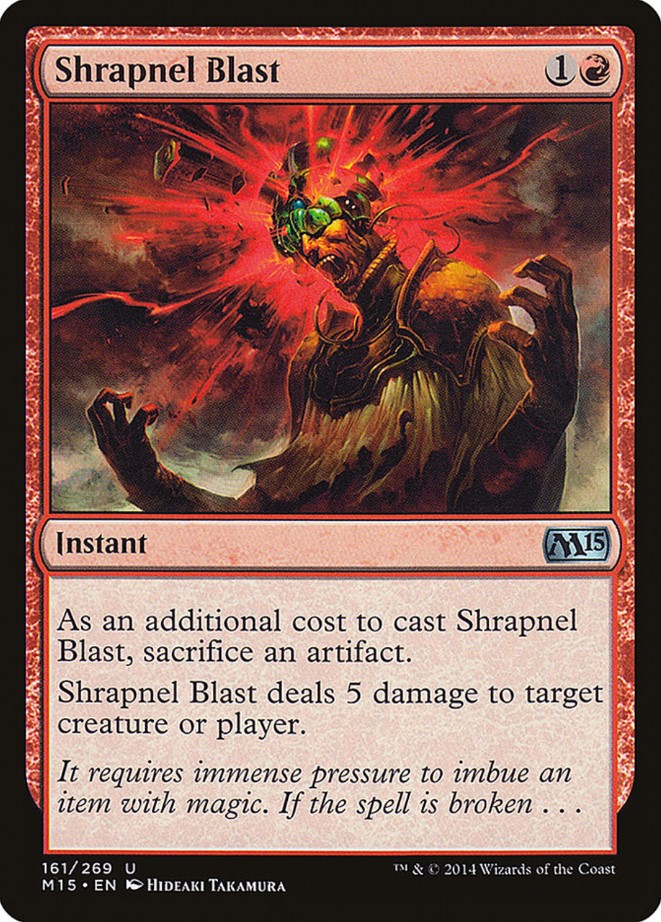 Kicking off the list at number ten is Rakdos Sacrifice. These colors love to sacrifice things and I've seen a number of variations of Rakdos Sacrifice in Historic and Standard over the years. This deck here makes use of the new and incredibly powerful Orcish Bowmasters. This card will punish opponents that try to draw extra cards. In this deck, it will consistently generate Orcs tokens to fuel your Sacrifice cards like Goblin Bombardment. Time it right and an opponent will take two damage per card drawn utilizing this combo, excluding their draw step.
Two different cards need Artifacts to work, Gleeful Demolition and Shrapnel Blast, so this deck runs fourteen Artifacts including Oni Cult Anvil, which can generate artifact creature tokens on your turn as well as your opponents turns. With all those Artifacts, you'll have plenty of fuel for Gleeful Demolition which will in turn fuel your Goblin Bombardment.
This deck is death by a thousand cuts, pinging your opponent for one damage at a time. And since this deck operates at Sacrifice speed, it's difficult for your opponent to interact with it once those pieces are on the board.
Watch your opponent bleed out slowly by a hundred little one damage cuts
Well put together deck with every card teaming up with another to execute the plan
Multiple ways to generate tokens and fuel for the one damage engines
Deck
Companion
1 Lurrus of the Dream-Den
Creatures
4 Voldaren Epicure
4 Orcish Bowmasters
Instants
4 Fatal Push
4 Shrapnel Blast
Sorceries
4 Gleeful Demolition
Artifacts
2 Terrarion
4 Chromatic Star
4 Wizard's Rockets
4 Oni-Cult Anvil
Enchantments
4 Goblin Bombardment
Lands
1 Mountain
1 Swamp
4 Sulfurous Springs
4 Blackcleave Cliffs
2 Blightstep Pathway
2 Hive of the Eye Tyrant
2 Den of the Bugbear
4 Blood Crypt
1 Sokenzan, Crucible of Defiance
1 Takenuma, Abandoned Mire
Sideboard
1 Lurrus of the Dream-Den
2 Pile On
2 Duress
4 Thoughtseize
3 Pithing Needle
3 Soul-Guide Lantern
9. Izzet Creativity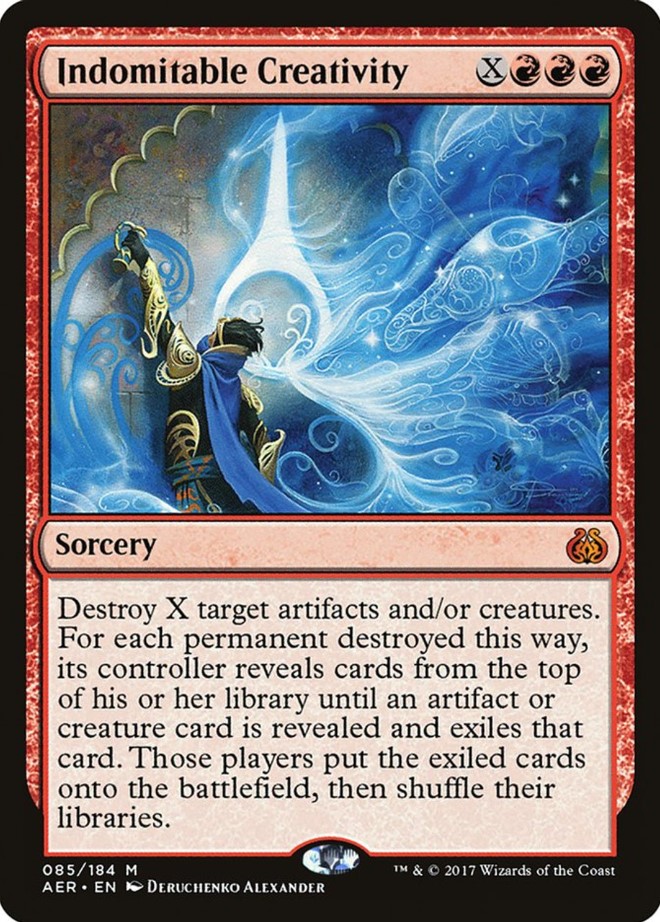 Next up is Izzet Creativity, another combo deck utilizing artifacts centered around a card that's made a splash in Standard and Historic for years. The goal here is to flood the board with Artifacts, fire off Indomitable Creativity, and slam down Griselbrand and A-Queza, Augur of Agonies to win on the spot using their active and passive abilities.
So how do you get there? For Artifacts, this deck uses Hard Evidence, Big Score, and Fable of the Mirror-Breaker to generate Clue and Treasure tokens. Hard Evidence gives you a 0/3 Crab token which can also be sacrificed to Indomitable Creativity. Once you have Artifacts, Seek New Knowledge can search your library and pull out Indomitable Creativity and a Make Disappear to protect yourself as you win the game.
A number of removal spells are needed to deal with aggro decks that are looking to run you down before you set up the combo. Flame of Anor is a flexible card that can draw two cards, take out artifacts, or deal with a creature.
Satisfying combo deck backed up with counterspell protection
Proven combo card that's been around Historic for a long time
Focus on executing your own game plan and not reacting to what your opponent is doing
Deck
Creatures
1 A-Queza, Augur of Agonies
1 Griselbrand
Instants
4 Fiery Impulse
4 Make Disappear
4 Seek New Knowledge
4 Volcanic Spite
2 Flame of Anor
2 Big Score
Sorceries
4 Hard Evidence
4 Indomitable Creativity
4 Fable of the Mirror-Breaker
Lands
2 Mountain
2 Shivan Reef
3 Mutavault
4 Spirebluff Canal
4 Riverglide Pathway
1 Hall of Storm Giants
4 Storm Carved Coast
4 Steam Vents
2 Sokenzan, Crucible of Defiance
Sideboard
2 Serra's Emissary
1 Atraxa, Grand Unifier
2 Change the Equation
2 Mystical Dispute
2 Flame of Anor
2 Cleansing Wildfire
2 Brotherhood's End
2 Shark Typhoon
8. Dimir Ninjas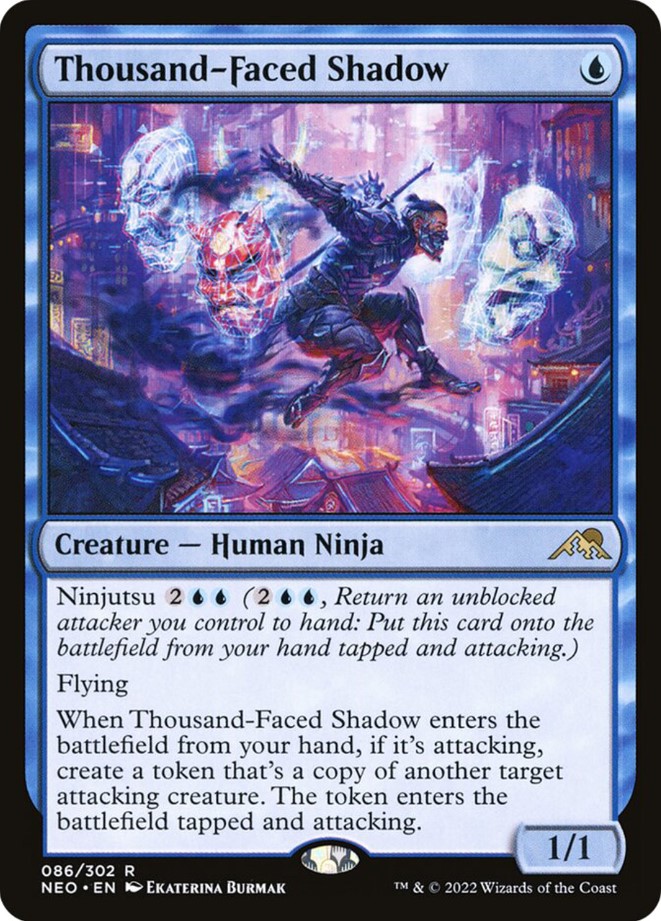 Dimir Ninjas is number eight. This list is fast and low to the ground, with its most expensive creature at two mana. If you are unfamiliar with the Ninjutsu keyword, you may pay the Ninjutsu cost of a creature in your hand to return an unblocked attacker you control to hand, then put the Ninjutsu card onto the battlefield from your hand tapped and attacking. The idea is to use cards like Ornithopter, Faerie Seer, and Changeling Outcast to attack the opponent with an Unblockable or Flying effect and Ninjutsu in a ninja creature.
Some of the Ninjutsu effects you can capitalize on are from A-Thousand-Faced Shadow, A-Silver-Fur Master, and A-Moon-Circuit Hacker. A-Moon-Circuit Hacker is going to greatly benefit from the Unblockable or Flying effects to sneak past opponents defenses, enabling it to Scry 2 and draw a card whenever it deals combat damage to an opponent.A-Silver-Fur Master is going to buff all other Ninjas and Rogues with +1/+1 and reduce the cost of Ninjutsu abilities by one mana. Lastly, A-Thousand-Faced Shadow is going to create a copy of another attacking creature when it attacks and comboing that with A-Silver-Fur Master means an additional +1/+1.
Retrofitter Foundry and Orcish Bowmasters round out this deck. Orcish Bowmasters plays at Flash speed and will generate an Orcs token to fuel the Ninjutsu plan as well as damage an opponent when they draw additional cards. To go wide and further assist the ninjas, Retrofitter Foundry will generate 1/1 Servo and Thopter tokens or become a 4/4 itself by sacrificing a Thopter. It serves as an efficient mana sink for turns you have nothing else to do or if you need to switch up the game plan to go wider.
Tempo game plan that wants to generate pressure, get on top of an opponent and never let up
Low mana cost, topping out at two mana for most of the deck.
Attacks with threats from the hand that are snuck in using Flying and Unblockable effects to deal damage and additional effects
Deck
Creatures
4 Ornithopter
4 Faerie Seer
4 A-Thousand-Faced Shadow
4 Changeling Outcast
2 Saiba Cryptomancer
4 Orcish Bowmasters
4 A-Silver-Fur Master
4 A-Moon-Circuit Hacker
Instants
4 Fatal Push
3 Spell Pierce
Sorceries
1 Agadeem's Awakening
Artifacts
4 Retrofitter Foundry
Lands
1 Island
4 Underground River
4 Darkslick Shores
2 Clearwater Pathway
1 Hive of the Eye Tyrant
4 Watery Grave
1 Otawara, Soaring City
1 Takenuma, Abandoned Mire
Sideboard
2 A-Dokuchi Silencer
2 Thieving Skydiver
1 Viconia, Nightsinger's Disciple
1 Lurrus of the Dream-Den
2 Cut Down
1 Bind to Secrecy
1 Mystical Dispute
2 Thoughtseize
2 Witch's Vengeance
1 Soul-Guide Lantern
7. Gruul Goblins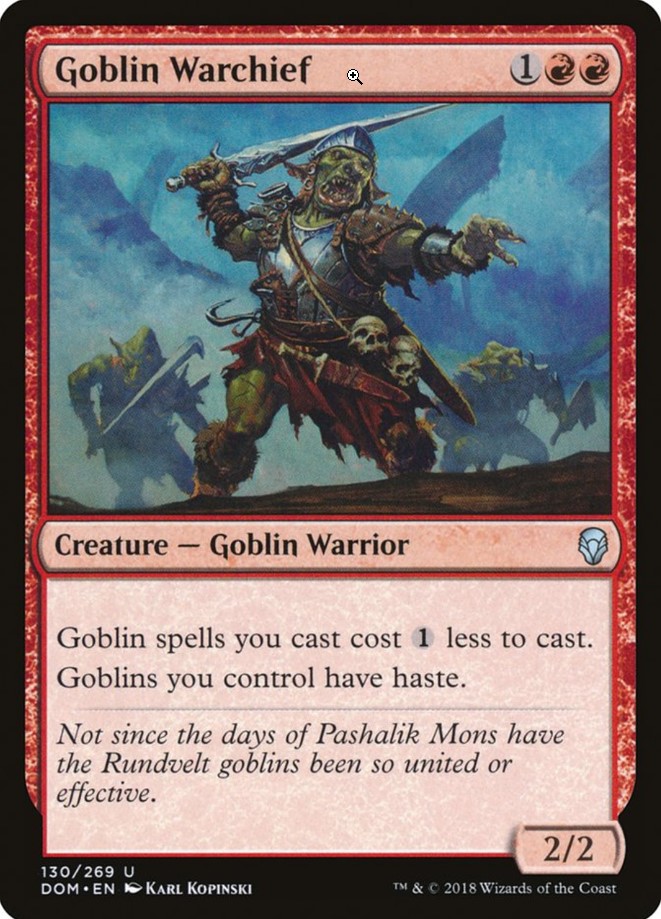 Coming in at number seven is Gruul Goblins. Fast and aggressive goblin decks have been around forever so it shouldn't come as a surprise to see goblins make the list. At the one drop slot, we have Skirk Prospector. This creature allows you to sacrifice goblins to gain one red mana, and with Goblin Instigator, Pashalik Mons and Krenko, Mob Boss you'll have tokens at your disposal to sacrifice.
Gruul Goblins take advantage of several Historic cards in Goblin Trapfinder, Goblin Influx Array, and Cabaretti Revels. Goblin Trapfinder will seek out a goblin creature, give it haste, and then force you to sacrifice it at the end of your turn. Goblin Influx Array will conjure up a random goblin into your hand at your end step and reduces the cost of casting goblins by one red mana. And Cabaretti Revels allows you to seek out a creature of less mana value and put it onto the battlefield anytime you cast a creature spell. All three of these Historic specific cards give you additional resources and goblins to throw at the opponent.
To finish the opponent, Skirk Prospector and Rundvelt Hordemaster in combination with Cabaretti Revels lets you sacrifice goblins for mana, exile cards off the top of the library and cast a goblin, and add multiple goblins to the battlefield per cast. Eventually you'll build up a critical mass of goblins, give them all haste via Goblin Warchief, and win the game.
If you like goblins, this creature combo deck is for you
Low mana cost goblins and the ability to generate tons of mana and card advantage
Finish off the opponent in one, overwhelming swoop
Deck
Creatures
4 Skirk Prospector
2 Goblin Trapfinder
2 Wily Goblin
4 Goblin Instigator
4 Goblin Anarchomancer
4 Rundvelt Hordemaster
4 Goblin Matron
3 Goblin Warchief
1 Pashalik Mons
1 Goblin Ringleader
1 Krenko, Mob Boss
1 Muxus, Goblin Grandee
Enchantments
4 Cabaretti Revels
1 Goblin Influx Array
Lands
3 Mountain
4 Karplusan Forest
4 Copperline Gorge
4 Cragcrown Pathway
2 Den of the Bugbear
2 Rockfall Vale
4 Stomping Ground
1 Sokenzan, Crucible of Defiance
Sideboard
2 Masked Vandal
1 Gempalm Incinerator
1 Squee, Dubious Monarch
1 Pashalik Mons
2 Goblin Ringleader
2 Goblin Trashmaster
2 Strangle
2 Brotherhood's End
2 Soul-Guide Lantern
6. Jund Midrange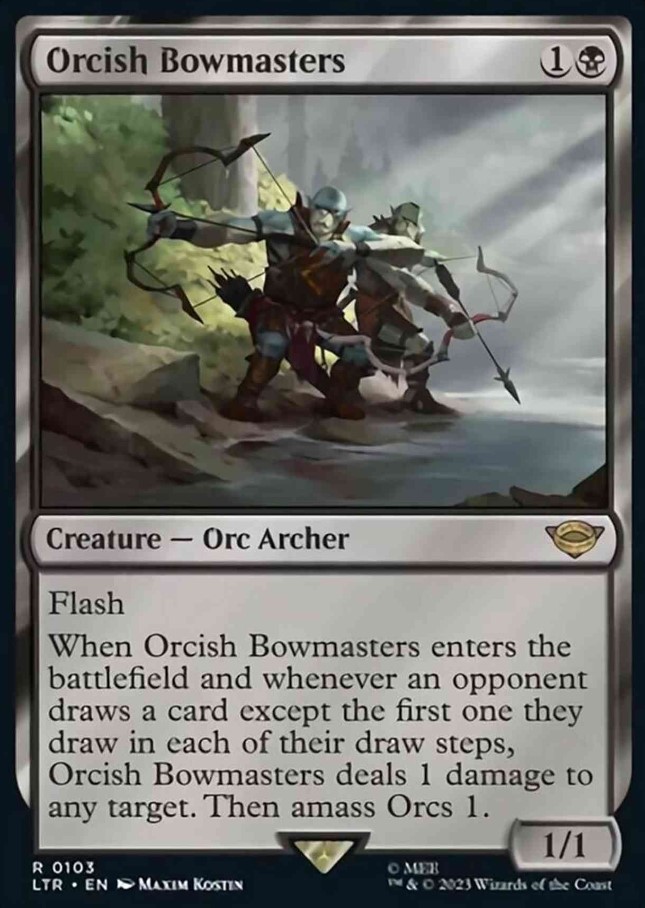 At number six is Jund Midrange. Nothing crazy going on in this deck, just a straightforward powerful midrange deck. The deck is built with four copies of each of its mainboard spells. To control the opponent and keep them in check, Jund runs Thoughtseize, Fatal Push, and Go for the Throat. All three of these cards are strong Black removal/discard spells that many other Black decks are running. Disrupting your opponents plans with a turn one or well timed Thoughtseize can clear the way for your big hitters.
For creatures, it's Orcish Bowmasters, Jarsyl, Dark Age Scion, and Sheoldred, the Apocalypse. If you are unfamiliar with Sheoldred, the Apocalypse, it's really powerful. 4/5 body with Deathtouch and it deals two damage to opponents when they draw cards and heals you for two when you draw a card. Sheoldred, the Apocalypse can single handedly win the game. Orcish Bowmasters is another strong, Black staple in Historic. And lastly, Jarsyl, Dark Age Scion. This is a Historic card that allows Jund Midrange to recast spells from their graveyard, giving many of your spells a second cast.
The One Ring is the engine that makes this deck go. Once The One Ring is on the battlefield and drawing you cards, it will grant you superior card advantage and force your opponent to answer a full hand each turn. The life lost due to The One Ring can be offset by Sheoldred, the Apocalypse, and with how many extra cards you'll be drawing you'll quickly make up the life lost.
No nonsense or flashiness here, strong beat you down midrange deck
Powerful Black cards that can operate solo or work together
Great removal, hand disruption, and card draw engine to keep the pressure up
Deck
Creatures
4 Orcish Bowmasters
4 Jarsyl, Dark Age Scion
4 Sheoldred, the Apocalypse
Instants
4 Fatal Push
4 Go for the Throat
Sorceries
4 Thoughtseize
4 Abundant Harvest
Artifacts
4 The One Ring
Enchantments
4 Fable of the Mirror-Breaker
Lands
1 Mountain
2 Blackcleave Cliffs
2 Copperline Gorge
4 Blooming Marsh
1 Haunted Ridge
4 Stomping Ground
4 Overgrown Tomb
4 Blood Crypt
1 Boseiju, Who Endures
1 Takenuma, Abandoned Mire
Sideboard
3 A-Haywire Mite
3 Cut Down
4 Duress
3 Pithing Needle
2 Soul-Guide Lantern
5. Izzet Wizards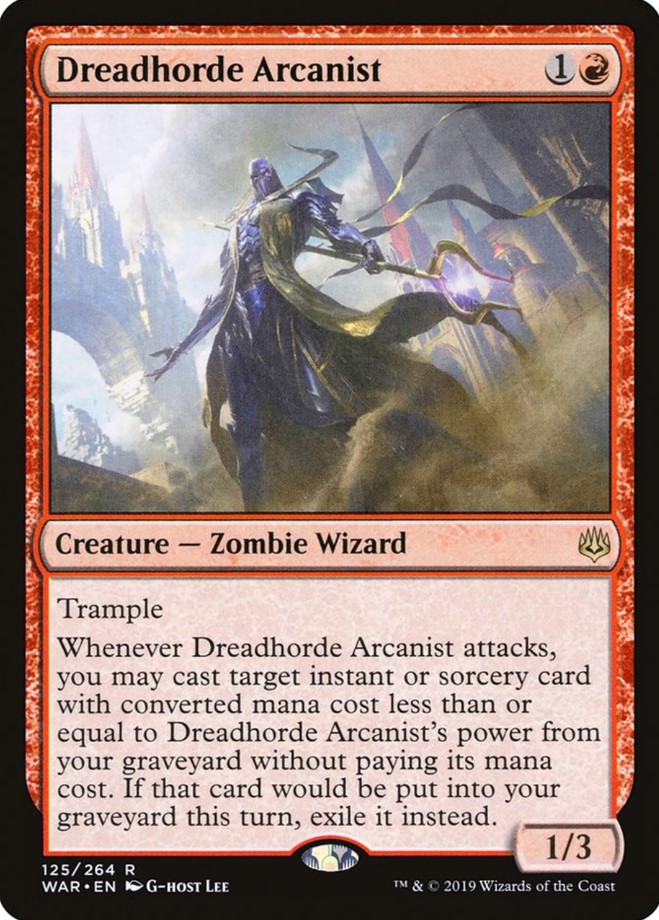 In response to a lot of decks running a combo strategy with little interaction, Izzet Wizards takes fifth place on the list. Izzet Wizards is a low to the ground pump and burn deck that can finish opponents quickly before those combo pieces are found and activated
For creatures, Izzet runs eleven wizards, hence the name. Soul-Scar Mage has Prowess, allowing it to increase its power and toughness with each spell cast. Soul-Scar Mage also adds -1/-1 counters equal to damage dealt by spells to a target, meaning bigger creatures can be whittled down with burn spells and not regenerate their toughness at the end of the turn. A-Symmetry Sage and Balmor, Battlemage Captain have the ability to increase other creatures' power whenever noncreature spells are cast. This ability is especially useful for Dreadhorde Arcanist, who can recast spells from the graveyard that cost less than or equal to its power.
The spells to back up the wizards are Wizard's Lightning and Flame of Anor. Wizard's Lightning should nearly always be a one mana spell as every creature is a wizard. Flame of Anor gives you three choices when cast, letting you deal with high toughness threats, draw cards, or destroy a key artifact.
To get the damage through, Izzet Wizards uses the power of The Ring to become a Ring-bearer and be unblockable to creatures with superior power. Birthday Escape and Ranger's Firebrand grant this effect alongside drawing a card and dealing two damage to a target. This is especially useful against some of the big creature decks like Mono-Green Devotion. To speed up a bit, three copies of Reckless Charge that have Flashback for three mana can get your low cost wizards Haste and hit them with +3 extra power.
Fast deck that matches up well with a majority of the meta
Evasive creatures that fly or become Ring-bearers with Unblockable and grow stronger via Prowess triggers
Low mana costs of spells to play quickly
Deck
Creatures
4 Soul-Scar Mage
4 A-Symmetry Sage
4 Dreadhorde Arcanist
3 Balmor, Battlemage Captain
Instants
4 Wizard's Lightning
4 Flame of Anor
Sorceries
4 Sleight of Hand
3 Reckless Charge
3 Birthday Escape
3 Ranger's Firebrand
4 Expressive Iteration
Lands
1 Island
4 Spirebluff Canal
4 Fiery Islet
4 Riverglide Pathway
2 Den of the Bugbear
4 Steam Vents
1 Otawara, Soaring City
Sideboard
4 Snapcaster Mage
1 Jegantha, the Wellspring
3 Rona's Vortex
2 Stern Scolding
2 Molten Impact
3 Alpine Moon
4. Dimir Control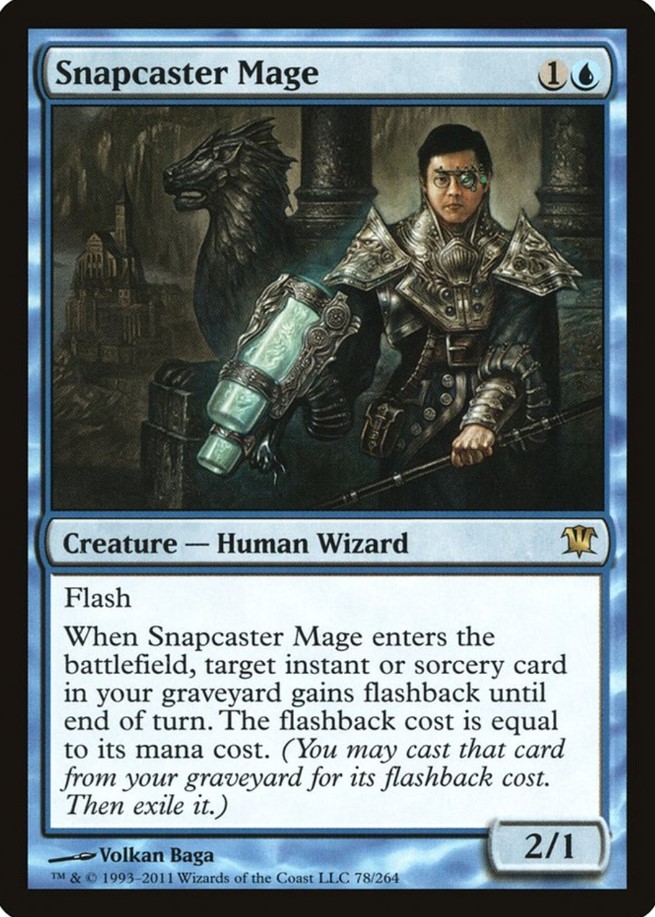 Number four is the only control deck in the list, Dimir Control. Dimir uses many of the powerful Black cards available in Historic to control the opponent and win late. Fatal Push is a strong removal spell that eliminates most threats in the format. This list runs thirteen counterspell effects, like Make Disappear, Archmage's Charm, and Change the Equation. These counterspells target different types of cards or colors and many of them have multiple choices when cast, giving you options and answers for different situations. Two copies of Languish can clear and reset the board to draw the game out. 
For threats, the ever popular Orcish Bowmasters makes another appearance alongside Snapcaster Mage. WIth twenty-seven spells in the deck, Snapcaster Mage will have many targets to choose from. As this is a Flash speed card, Snapcaster Mage can target counterspells for you to reuse when needed. Lurrus of the Dream-Den as your companion will let you recast your Orcish Bowmasters or Snapcaster Mage if they are dealt with.
To really finish off an opponent once the game is under control, Dimir uses two man-lands in Hive of the Eye Tyrant and Hall of Storm Giants. Hive of the Eye Tyrant becomes a 3/3 Menace creature that can exile a card from a defending player's graveyard, giving you a way to deal with graveyard threats. The big boy at 7/7 with Ward 3 comes from Hall of Storm Giants, letting you quickly and safely close out the game.
Draw and go, instant speed control deck with Flash threats
Powerful Historic black cards
Counterspell magic will have your opponent asking for permission to play the game
Deck
Companion
1 Lurrus of the Dream-Den
Creature
3 Snapcaster Mage
4 Orcish Bowmasters
Instants
4 Fatal Push
1 Cling to Dust
1 Drown in the Loch
2 Make Disappear
2 Bind to Secrecy
3 Change the Equation
4 Archmage's Charm
3 Sauron's Ransom
1 Memory Deluge
1 The End
1 Commit /// Memory
Sorceries
1 Thoughtseize
2 Languish
1 Lórien Revealed
Artifacts
1 Pithing Needle
Lands
3 Island
1 Swamp
1 Underground River
3 Drowned Catacomb
2 Darkslick Shores
2 Fabled Passage
2 Castle Vantress
1 Hive of the Eye Tyrant
1 Hall of Storm Giants
1 Shipwreck Marsh
4 Watery Grave
2 Fetid Pools
1 Otawara, Soaring City
1 Takenuma, Abandoned Mire
Sideboard
1 Lurrus of the Dream-Den
1 Stern Scolding
1 Go for the Throat
2 Aether Gust
1 Drown in the Loch
2 Mystical Dispute
1 Sauron's Ransom
2 Thoughtseize
1 Go Blank
1 Languish
1 Extinction Event
1 Stone of Erech
3. Kethis Combo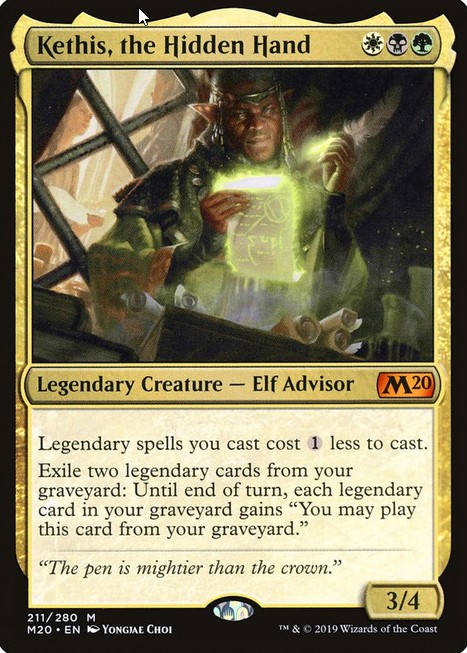 Another combo deck, and a very good one at that, Kethis Combo is number three. This combo uses its namesake, Kethis, the Hidden Hand, to gain the ability to recast Legendary cards from your graveyard. This means most of the deck is going to be Legendary cards, and the goal is to mill yourself or the opponent using Jace, Wielder of Mysteries and Jace, the Perfected Mind.
A new addition to Kethis Combo is Agatha's Soul Cauldron from Wilds of Eldraine. This card will Exile a card from a graveyard to give a creature you control a +1/+1 counter. It also gives any creature you control with a +1/+1 counter on it the activated abilities of any creature that's been exiled by Agatha's Soul Cauldron. This means copying the abilities of Kethis, the Hidden Hand, Emry, Lurker of the Loch, Kinnan, Bonder Prodigy, and Rona, Herald of Invasion to all your creatures with a +1/+1 counter.
With all these abilities available to you, all that's left is to win with Jace, Wielder of Mysteries by milling your deck to zero. If that isn't available, return it from the graveyard utilizing the ability of Kethis, the Hidden Hand, or use Jace, the Perfected Mind  to attack the opponent's library. 
High skill and understanding required to pilot this deck as there are many different abilities and moving parts
Attacking your opponent from a different angle that a lot of decks aren't ready to deal with
Focuses on its own combo and forces opponents to deal with it
Deck
Companion
1 Zirda, the Dawnwaker
Planeswalkers
1 Jace, Wielder of Mysteries
4 Jace, the Perfected Mind
Creatures
3 Delighted Halfling
3 Kinnan, Bonder Prodigy
4 Rona, Herald of Invasion
4 Kethis, the Hidden Hand
4 Emry, Lurker of the Loch
Artifacts
4 Mox Amber
3 Chromatic Sphere
3 Agatha's Soul Cauldron
3 Relic of Legends
Lands
4 Mana Confluence
2 Botanical Sanctum
4 Blooming Marsh
4 Plaza of Heroes
1 Great Hall of the Citadel
1 Temple Garden
1 Overgrown Tomb
1 Otawara, Soaring City
3 Takenuma, Abandoned Mire
3 Boseiju, Who Endures
Sideboard
1 A-Minsc & Boo, Timeless Heroes
1 A-Haywire Mite
1 Viconia, Nightsinger's Disciple
1 Zirda, the Dawnwaker
1 Loran of the Third Path
1 The Scarab God
3 Fatal Push
2 Thoughtseize
2 Urza's Ruinous Blast
1 Stone of Erech
1 The Stone Brain
2. Mono-Green Devotion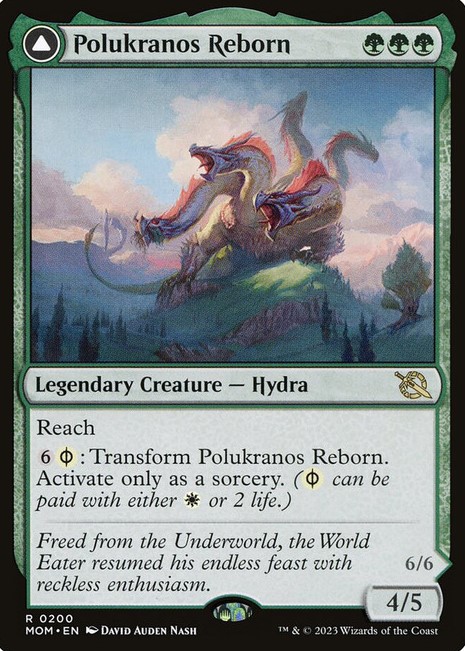 In second place is the Mono-Green Devotion deck. A number of cards here have multiple Green mana symbols, and with four copies of Nykthos, Shrine to Nyx, you'll always have a way to cash in on all that devotion. This means dropping multiple threats a turn or firing off big spells like Storm the Festival ahead of the curve.
To generate devotion, Mono-Green uses an enchantment in Utopia Sprawl and Kiora, Behemoth Beckoner the planeswalker in addition to twenty-two creatures. Those two cards with the help of Llanowar Elves, Delighted Halfing, and Paradise Druid generate a lot of extra mana. It's not impossible to cast Storm the Festival as early as turn three or four with a good hand and no interruptions.
Your big payoffs are Cavalier of Thorns and Grizzled Huntmaster. Cavalier of Thorns will get cards into your graveyard, give you an extra land, and then put a creature card from your graveyard on top of your library when it dies. Grizzled Huntmaster has a unique to Arena effect as it will duplicate a card multiple times. When it enters the battlefield, it can exile a creature from your hand. Then, search your hand and library and exile all other copies of that creature. Finally, conjure a duplicate of a creature you own from outside the game, which means your sideboard. In the sideboard, you'll have the option to duplicate a card like Craterhoof Behemoth or Cityscape Leveler.
One color to play and capitalize on your devotion to Green, no worrying about different mana sources
Ramp up to cast big spells ahead of the curve
Utilize the sideboard during game one, giving you up to fifteen extra cards for different circumstances
Deck
Planeswalkers
4 Kiora, Behemoth Beckoner
4 Karn, the Great Creator
Creatures
2 Llanowar Elves
4 Delighted Halfling
4 Paradise Druid
4 Grizzled Huntmaster
3 Polukranos Reborn
1 Hollowhenge Wrangler
4 Cavalier of Thorns
Sorceries
4 Storm the Festival
Enchantments
4 Utopia Sprawl
Lands
11 Forest
2 Lair of the Hydra
4 Temple Garden
4 Nykthos, Shrine to Nyx
1 Boseiju, Who Endures
Sideboard
1 A-Haywire Mite
1 Voracious Hydra
1 Reidane, God of the Worthy
1 Yasharn, Implacable Earth
1 Arasta of the Endless Web
1 Cityscape Leveler
1 Craterhoof Behemoth
1 Tormod's Crypt
1 Pithing Needle
1 Portable Hole
1 Shadowspear
1 Liquimetal Coating
1 Skysovereign, Consul Flagship
1 Akroma's Memorial
1 Darksteel Citadel
1. Golgari Yawgmoth
Claiming the top spot, the combo deck Golgari Yawgmoth. This deck has access to going infinite if you land the right cards but doesn't necessarily need it to finish an opponent. The namesake of this deck, Yawgmoth, Thran Physician, is the centerpiece of the combo. When used with other pieces of the deck, paying a life and sacrificing a creature as costs of Yawgmoth, Thran Physician's activated ability doesn't hurt that much.
Prosperous Innkeeper helps the deck by keeping your life total manageable and generates Treasure tokens for mana. Young Wolf has the Undying keyword, which means it will return to the battlefield with a +1/+1 counter whenever it goes into the graveyard without a +1/+1 counter on it. With two Young Wolf on the battlefield, you can sacrifice one, remove the counter from one, and return one to the battlefield, rinse and repeat, going for as long as you have the life to pay the cost. This way you can draw deep into your deck to find the cards you need to defeat the opponent, like Zulaport Cutthroat or A-Blood Artist that will drain your opponent for one damage as creatures are dying.
Orcish Bowmasters and Hapatra, Vizier of Poisons can generate tokens and help to eliminate blockers the opponent may have, keeping the game under your control. Hapatra, Vizier of Poisons will create a 1/1 Snake token with Deathtouch each time a creature is affected by a -1/-1 counter. With any combination of Yawgmoth, Thran Physician and one of his friends, it's easy to generate card advantage or remove threats and keep your opponent on the back foot.
Strong combo deck with many synergies
Ability to go wide and attack with an army or drain an opponent down one life at a time
Strong mainboard that needs many of its pieces to be effective, requiring precise sideboarding in games two or three so the deck doesn't fall flat
Deck
Creatures
1 A-Haywire Mite
3 Gilded Goose
4 Delighted Halfling
4 Young Wolf
4 Prosperous Innkeeper
1 Zulaport Cutthroat
4 Orcish Bowmasters
1 A-Blood Artist
2 Hapatra, Vizier of Poisons
4 Yawgmoth, Thran Physician
1 Sheoldred, the Apocalypse
Instants
4 Chord of Calling
Sorceries
2 Eldritch Evolution
Enchantments
2 Elven Chorus
Lands
1 Forest
4 Khalni Garden
4 Blooming Marsh
3 Nurturing Peatland
4 Darkbore Pathway
4 Overgrown Tomb
1 Phyrexian Tower
1 Boseiju, Who Endures
1 Takenuma, Abandoned Mire
Sideboard
1 A-Haywire Mite
1 Phyrexian Revoker
1 Scavenging Ooze
1 Tranquil Frillback
1 Skyfisher Spider
1 Thrun, Breaker of Silence
3 Fatal Push
1 Pile On
4 Thoughtseize
1 Necromentia