[Top 10] Best House Mods for The Sims 4
Updated: 15 Sep 2020 12:38 am
Almost all fan made packs are better than Journey To Batuu
Building in The Sims is a lot of people's favorite thing to do in the game. The Sims 4 makes building so easy compared to earlier installments and the creative possibilities are endless for what kind of things you can create. However, your options for styles and objects are a lot more limited in the vanilla game. Luckily, The Sims community was blessed with some of the best CC/Mod creators to ever roam the earth, and they have risen to the occasion. With that being said, let's take a look at some of the best house mods for The Sims 4!
10) Futura Living and Dining Set by Peacemaker-icHey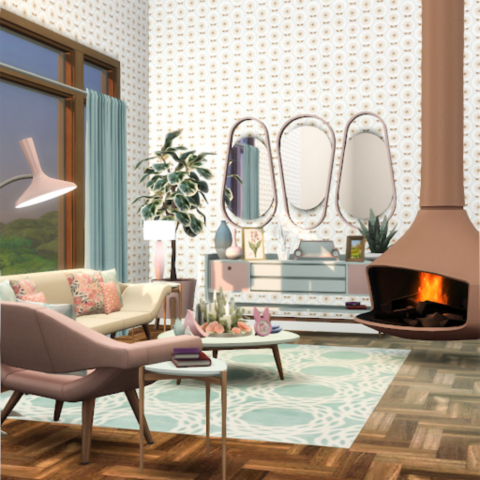 I personally am obsessed with Mid-Century styles, I find them endlessly intriguing to look at. We already have a bit of Mid Century style furniture in The Sims 4, but who says we can't have more? This CC is beautifully crafted and will add a beautiful pop of color into your Sims homes.
How it adds more fun:
Comes with about 40 pieces of furniture for endless possibilities. 
Let's get colorful: All items have between 8 to 40 color swatches.
Having your very own Mid Century dream house for retro style playthroughs will be AMAZING!
Download below:
https://peacemaker-ic.tumblr.com/post/181737052022/futura-living-retro-f...
9) Tiny Twavellers Stuff Pack by Harrie-cc and FelixAndreSims
Do you ever get bored of the children's furniture for The Sims? Even with the Kids Room stuff pack and everything there just isn't as many options for children's furniture as there is for adults, leading to every kid's room looking similar and nothing to show off your child's personality. Well, if the kiddies are just dying for new furniture we got just the thing.
How it adds more fun:
Over 60 items come with this pack, and they are all adorable! It has a very outdoorsy jungle aesthetic that just looks super fun for kids.
Comes with: new bassinets for babies, new toddler and child beds, new toys to play with and more.
Some of the furniture such as dressers and shelves can be used for other rooms as well, not just kids.
Get the mod here:
https://www.patreon.com/posts/36886704
8)  Oasis-chic Dining Outdoor Furniture Set by peacemaker-ic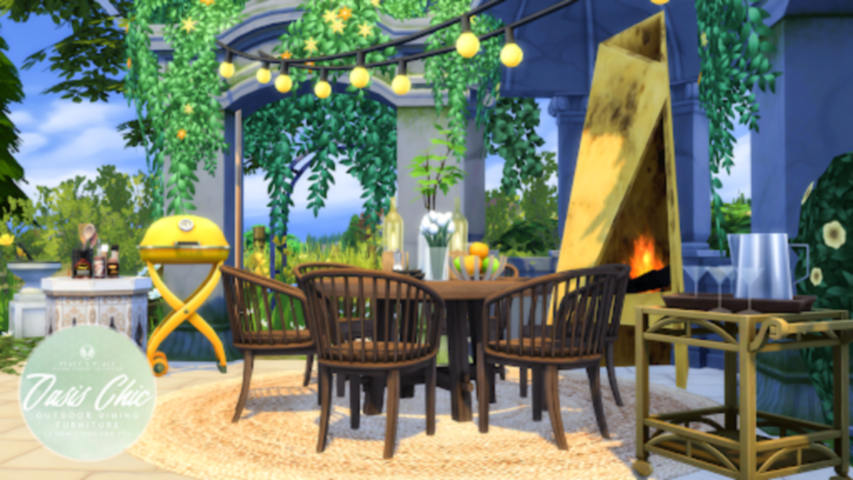 I love patio spaces, and I'm always looking for ways to spice up my Sim's patios. A lot of the time they all end up looking the same, because there isn't a big variety in patio furniture for The Sims (Which I understand because there's things that need more love than patios.) This mod will surely spice up your patio and make a lovely serene space for your Sim's to chill out on cozy summer nights.
How it adds more fun:
The new patio tables and chairs this mod adds are in the most beautiful wood tones, there isn't one bad looking swatch!
Comes with plenty of little plants, so if you like to decorate with plants you are in luck.
It comes with the cutest wicker chair, and this style of chair is something I've been wanting from The Sims for a while now.
Download below:
https://peacemaker-ic.tumblr.com/post/170491441925/oasis-chic-dining-out...
7) Bruno Industria Modern Seating Collection by peacemaker-ic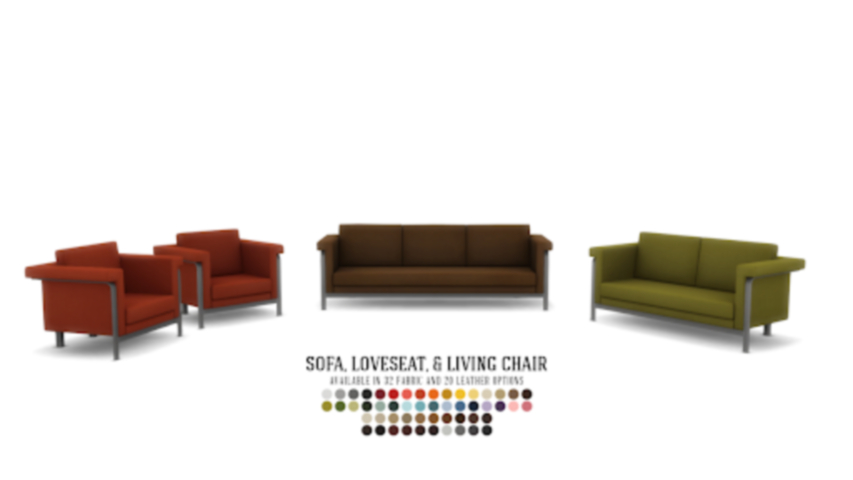 I'm going to be real with you guys, I really dislike a lot of the vanilla game's couches. So many of them are way too out there or just only fit with certain styles. So thankful that the Sims 4 CC and Mod creators always design such beautiful couches so building becomes just a tad easier.
How this mod adds more fun:
It comes in sofa, loveseat and chairs and it's nice to have all 3 of the same style.
The wide range of colors means it will surely fit any color theme you're trying to achieve.
The metal accent is gorgeous, and as the name implies this seating will fit in perfectly with an industrial aesthetic home.
Download it below:
https://peacemaker-ic.tumblr.com/post/174942359475/bruuno-industria-mode...
6) Cottage Garden Stuff by Multiple Creators
Fan made stuff packs truly are a blessing. Especially when you can clearly see all the love and thought put into them, and the Cottage Garden Stuff is no different. Have the cutest little cottage garden of your dreams, fill your home with adorable cottage furniture, and even get some CAS items too!
What makes this mod fun:
Comes with new flowers to decorate your garden with.
Furniture fits the cottage aesthetic to a T!
Functioning wheelbarrows, new planters, cute pantry and more. There's so many exciting new items in this pack that we don't have in the vanilla game.
Download below:
https://plumbobteasociety.tumblr.com/post/166361358489/cottage-garden-st...
5) Contemporary Living Stuff by Illogicalsims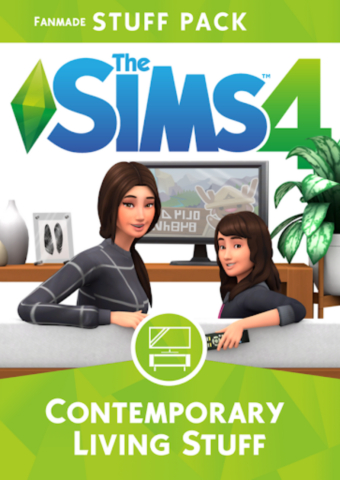 The contemporary furniture that comes with this fan made pack honestly is top tier. It's nice when you can download build/buy CC that matches with stuff that's already in the game.
What makes this mod fun:
There are 20 new objects in this fan made stuff pack. It includes doors and a wall recolor.
Comes with beautiful hanging wall art.
So well made, It really looks like EA's furniture. 
Download here:
https://www.patreon.com/posts/contemporary-28516007
4) Minimalist Bedroom Stuff by Illogicalsims
If you want a bedroom to match the Contemporary Living Stuff, you're in luck! IllogicalSims specifically made these two go hand in hand with one another. These pieces will all work lovely together. You'll end up with the most stunning modern house!
What makes this mod fun:
Many new objects, and new floors and walls.
Comes with stuff to make a study/office with as well.
The furniture is really eye catching.
Download below:
https://illogicalsims.tumblr.com/post/184987120604/minimalist-bedroom-st...
3) The Kitchen Stuff Pack by harrie-cc and felixandresims
An area that's really lacking in The Sim's build/buy mode is kitchens. The last time we got a full kitchen set (tables, chairs, counters, oven and fridge) was in Realm of Magic… and those kitchen items aren't really ones you'd use in everyday builds. Even with the Cool Kitchen Stuff Pack we didn't really get a lot of kitchen stuff, we just got 1 thing of each which was kind of a let down. Luckily this beautiful fan made stuff pack will save your kitchen disasters.
What makes this mod fun:
The goal when making this stuff pack was to have the kitchen's appliances fit for any style of home. And it really does! Whether you wanna go retro or modern this will fit. 
The counters alone have 64 swatch options! You will no longer struggle for hours to find a counter swatch that matches your kitchen, there's bound to be one!
There are built in appliances.
Please check it out below:
https://harrie-cc.tumblr.com/post/188105264078/the-kichen-a-56-piece-kit...
2) Simkea Furnishings by Illogicalsims
Anyone else remember the Ikea pack that came with The Sims 2? Well if you were a fan of that, this will surely make you feel nostalgic. This fan made stuff pack was inspired by real life Ikea furniture, very cute and very modern.
What makes this mod fun:
Illogicalsims, who created this mod and many others on this list, always hits the nail on the head when it comes to creating the closest maxis match content. It truly looks like everything that's already in the game.
The counter/table combo is one of my favorite pieces of build/buy CC ever! I think it's the coolest thing.
It's nice to have simple modern furniture. A lot of the newer build and buy mode content The Sim's team has released has been very cozy grandma furniture, which is great and I'm glad we have it, but we need more modern looking furniture in the game as well.
Download below:
https://illogicalsims.tumblr.com/post/189807914514/simkea-furnishings-st...
1) The Bafroom Stuff by harrie-cc and felixandresims
Much like kitchens, bathrooms are another thing The Sim's team is lacking in. Bathrooms are the most boring room to build in my opinion. But once you download this fan made pack, bathrooms will no longer be boring. This is beautiful, some of the best made CC I have ever seen. I don't know why the Sim's team hasn't hired these 2 creators yet but they should.
What makes this mod fun:
The windows and doors, need I say more? I'm not a huge fan of CC build items like doors and windows but these are done so well and the door with the folding part is so stunning and probably one of the coolest doors in my game.
The hanging mirror is another favorite item of mine. I love that a lot of the items in this pack can be used in more than just a bathroom.
The entire aesthetic of this pack is amazing. Making a modern, expensive bathroom is hard with vanilla game play because a lot of the more "fancy" bathroom items just look like gothic/victorian fancy. This pack makes it easy to create a dream bathroom.
Give the creators some love! Download the mod here:
https://harrie-cc.tumblr.com/post/190668669828/the-bafroom-an-94-piece-c...