10 Best Run N Gun Games To Play in 2015
Updated: 29 Apr 2015 2:36 am
Specially picked for YOU!
Ahh - it's the weekend and you've had a stressful week of work or school and you finally get some time to yourself. What better way than taking it out on virtual pixels in retro fashion than to launch up one of your favorite shoot em up or run n gun games? I'll answer that for you, nothing is better than that. Nothing. Something about paving your way through mindless drones and dodging bullets fly at your face is both relaxing and intense. A feeling that only fans of this genre understand.
Don't worry, if you haven't experienced this feeling before, read this list and you'll know what games reached our top 10 best run n gun games to start out with. Some of these are top of the line classics while others are still fresh. Some will challenge you, others will grasp your attention from beautiful soundtracks and unique art. No matter what, though, you're going to be sure to have a damned good time. We guarantee it.
10. Deadly 30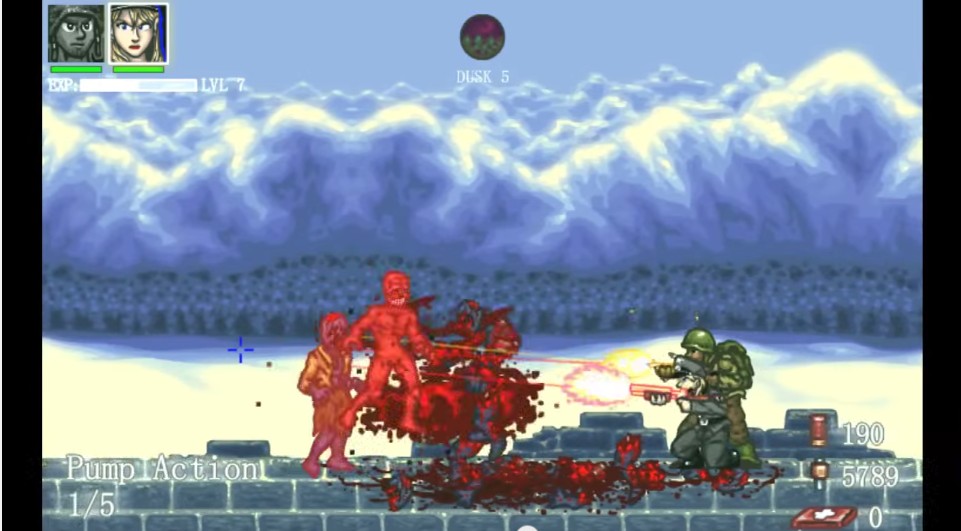 With its fun and cartoony mature graphics this zombie run n gun game mixed with tower defense elements feels fresh in the run n gun genre. You try to survive for 30 days against the horde of flesh eaters. The retro style atmosphere and challenge of surviving long enough to see another day keeps its fans happy. If you haven't had the opportunity to try out this game, you need to add this to your library and launch this gem that many overlook.
9. Shoot Many Robots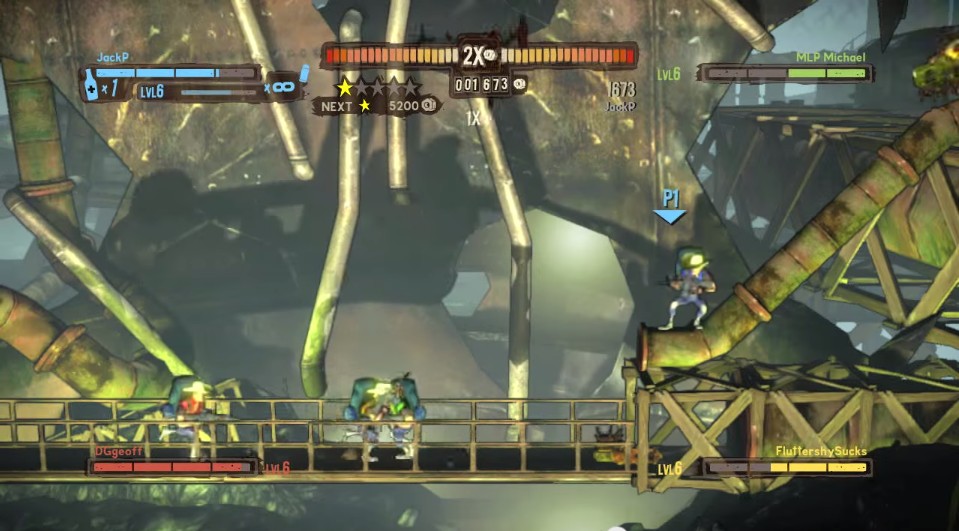 As the name may spoil, the purpose of this game is to shoot… many… robots. Personally, the name is the biggest selling point for me and the graphics are definitely unique. You're able to destroy robots and fight off enemies with a huge arsenal of weapons at your disposal. It's co-op feels natural and its single player mode is enjoyable. Destroying a massive army of robots side by side with your buddies - sign me up!
8. Gigantic Army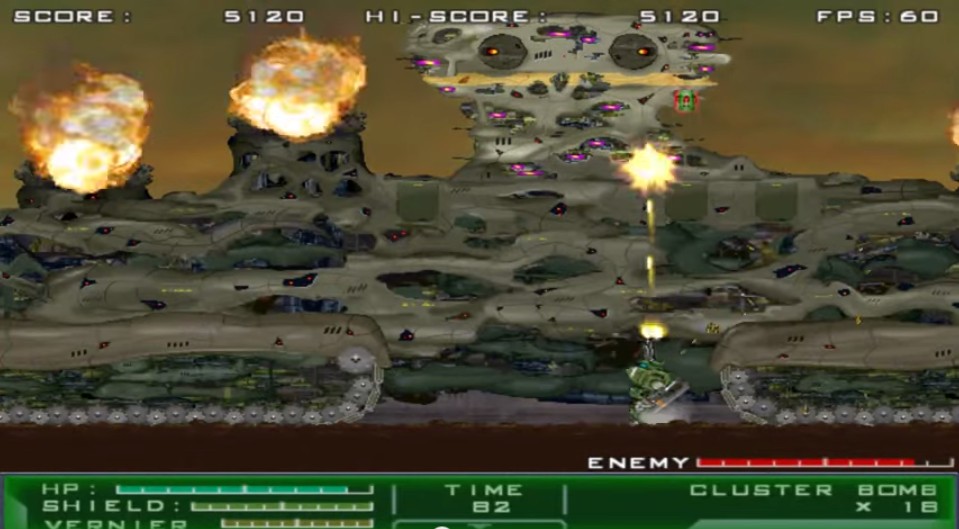 Mech shooters are hard to come by, run n' gun games are also hard to come by, what happens when the two collide? A metric ton of bad-assery. This game performs well and brings nostalgia to it's players. Explosions galore and mech fighting at its best truly shine from this title as you explore the levels and progress through the game. This platformer is nothing to scoff at, it has strong influences from other similar games such as Cybernator and Metal Warriors and was created by Astro Port.
7. Mercenary Kings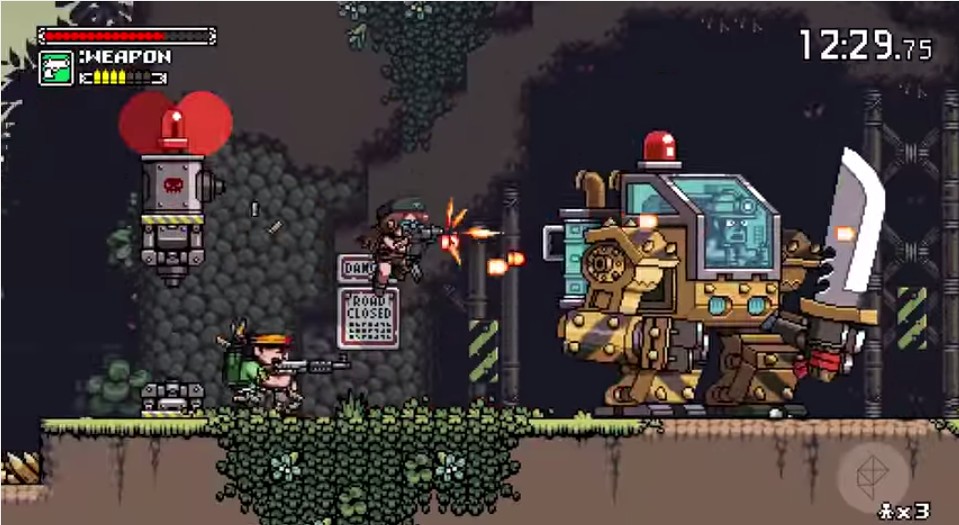 A fair game for the genre, this title pulls off what it set out to do, being an enjoyable shoot-em-up game with run n' gun features and a strong co-op. It may not have a strong footing when people think of run n' gun games, but it is still as enjoyable as its competition. There isn't anything it's truly lacking that other games aren't as well. One thing that sets this title apart is the comic on their website, whether you support the developers behind the name or not, they give everyone the opportunity to read the comics that pertain to the game. With vibrant colors and a nice read, everyone should give this game a chance.
6. Alien Hominid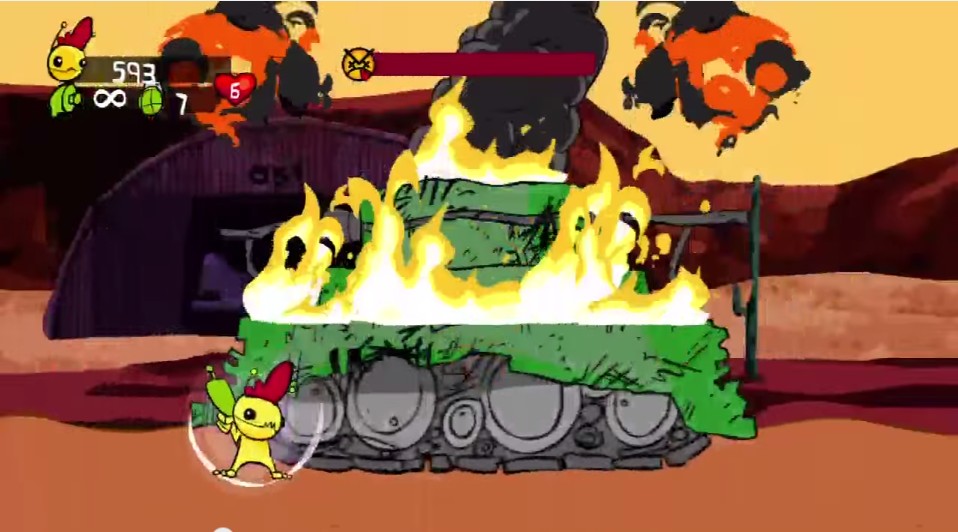 This adorable addition to the run n gun genre truly left its mark on GameCube. You play as a cute alien with a gun and a desire for explosion and death fighting bosses and mobs, alike. Destroying everything in your path. The gameplay is fun and if nothing else, nice on the eyes. There is a pretty strong fan following of the name and a website that has some pretty cool features as well, similar to how Mercenary Kings' background is. If you don't have a GameCube, don't worry. It's a pretty cheap steal off Xbox Live Market. If you also are lacking an Xbox then you probably know someone who does, at the end of the day though, this game is definitely worth checking out and sinking some major time into.
5. Metal Slug X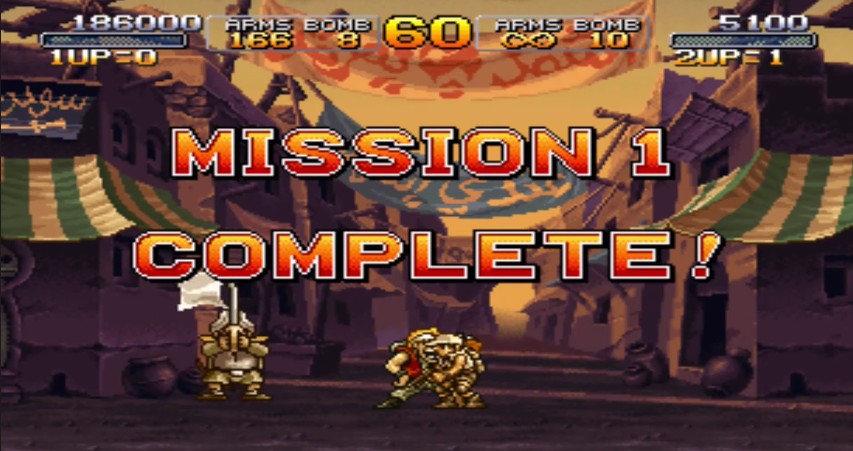 The Metal Slug franchise has been the leading name for shoot-em-up games and run and gun. Metal Slug X, where the term "ROCKET LAWNCHA" comes from in the video game universe. A game that can represent the name Metal Slug is sure to prove quality and worth your time. As you progress through you'll be in awe of the great environment and graphics. The audio and soundtrack will be sure to bring you back in time as you fall back in love with this astonishing game. Crack out this gem and be sure to shoot a path through your enemies.
4. Contra III: The Alien Wars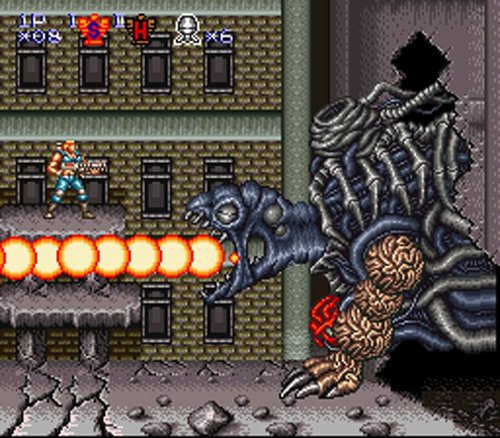 This game is a childhood favorite of mine. Cranking up this bad boy on the weekends was sure to give me a good time. Something about the nonstop action and awesome monsters kept my eyes glued to the screen. So - Why is it number 4, and not higher, you ask? Well, unfortunately it just doesn't have a PC port. Either it's too dated or was not as popular as I remember, for whatever reason the port just never came. If there was a PC version, this would most likely reach number 1 place on this list. Be sure to check this game out, though, as it's still one of the best run and gun titles on the market of all time.
3. Savant - Ascent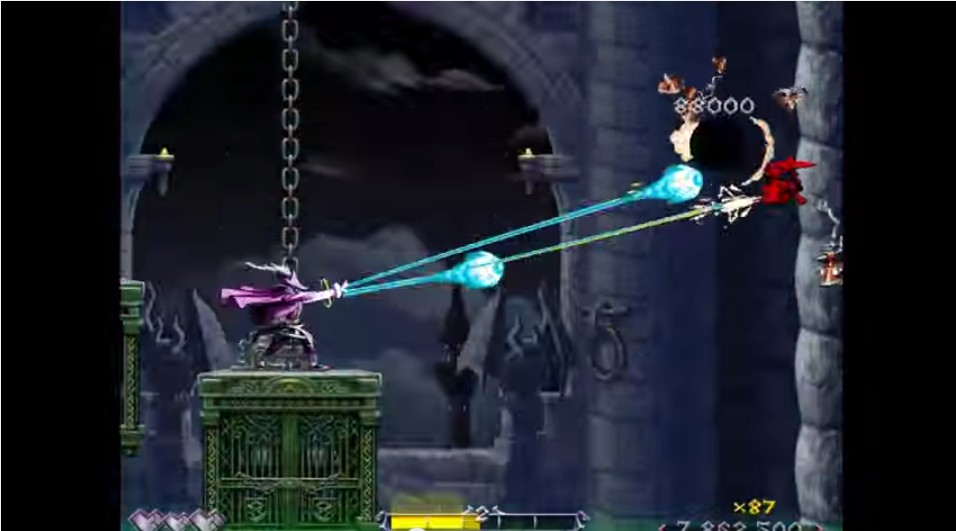 With one of the coolest protagonists out of any games to play as, you are challenged to climb to the top of a tower with enemies around every corner. As you progress through, you will unlock CDs that change the music and your abilities. The music is unique and perfectly placed and the way of unlocking abilities is one of a kind. As you climb further you will see for yourself the sheer difference between this game to its competitors. Although its rather fast to complete for a game, it's challenging and has a lot of replay value that many others don't come close to having.
2. Guns, Gore & Cannoli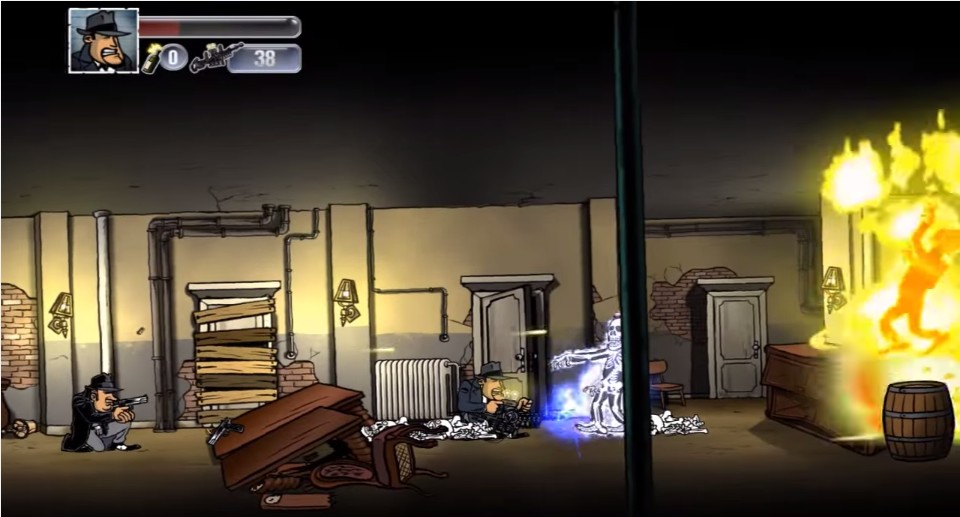 Boasting an immersive story, fluid graphics and an updated engine this game has a lot of hype surrounding its release and from gameplay footage it seems to go back to the roots of Run N' Gun, appeasing the fans and bringing in some fresh mechanics that don't take away from the original genre. Personally, I just love the idea of having a tommy gun as a gangster taking out the mobsters who have taken over the city. Explosions, bullets and one-liners galore, this game is one of the best in its genre to play of 2015. If taking out a city overrun by a mafia interests you, be sure to check out the great trailer here.
1. Metal Slug 3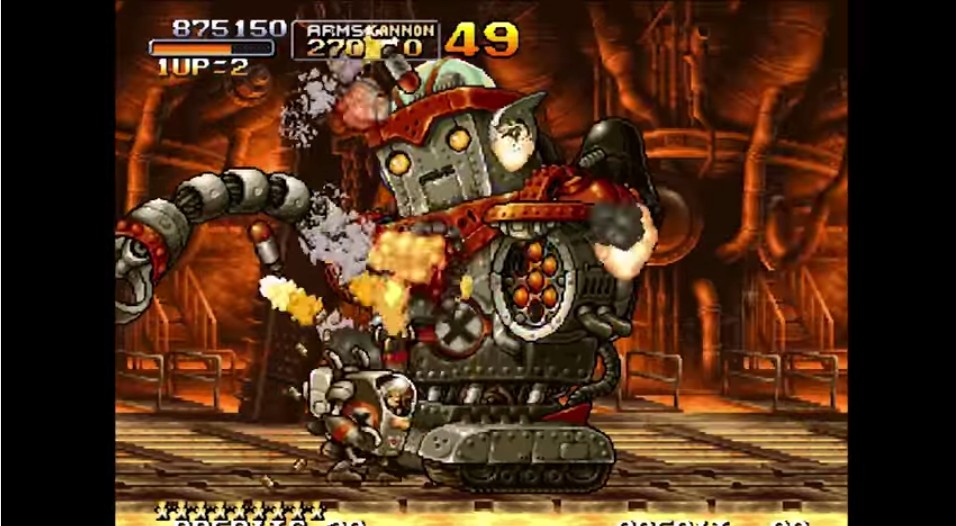 Another game from the Metal Slug franchise, this game released back in 2000. Even though this title is rather dated, it still is sold regularly with positive reviews on Xbox Marketplace and Steam; a pretty big accomplishment coming from an arcade-like game. You know that a game has been done well when it's 15 years later and people still play daily. Metal Slug 3 is hard to explain, simply because it's the core of what run n gun should be and if you haven't played or heard of it yet then you need to get this game and play it. NOW.
There have been a lot of run n gun games throughout the years, many didn't reach the list simply because there isn't enough room. What is your favorite game? Share with us in the comments below!