Hyper Scape's Faction War brings 24-man teams to battle royale
Updated: 20 Aug 2020 6:25 am
It's easier to pose cats for pictures than it is a bunch of rando's online.
Ubisoft's newest free-to-play title pits 24 vs 24 vs 24 vs 24
Hyper Scape, Ubisoft's free-to-play first-person-shooter released last month, pits four 24-man teams against each other in futuristic battle royal. Known as "Faction War," the new limited-time game mode breaks the traditional battle royal mold by upping team limits from single to double digits.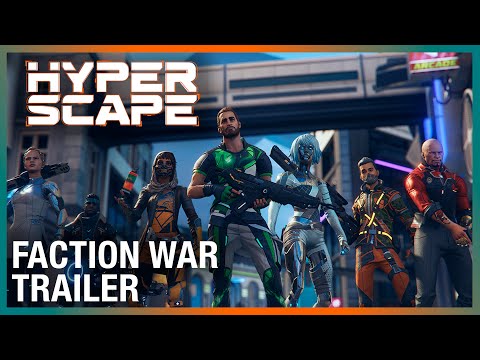 Hyper Scape Faction War Trailer
"Crown Rush" is Hyper Scape's own take on traditional battle royale. Instead of simply surviving to the last man, players can hold on to the "Crown" for 45 seconds to win the match. However, it's not as easy as it sounds. Holding the Crown is incredibly dangerous as it instantly broadcasts a player's location to the whole server.
Typically, Crown Rush only has two options concerning player counts. You can either join solo against 99 other players or join as a squad of three against 33 others. Faction War splits 96 players into four teams: blue, orange, green, and purple.
Faction War takes new and old battle royale concepts and blends them to appropriately cater to big-team battle royal. To keep things simple, Faction War replaces Crown Rush with the traditional "last team standing" victory conditions. Adding 24-man teams to Crown Rush makes it too easy for one side to defend the Crown if they get it fast enough.
Hyper Scape wasn't the first to add big teams to battle royale. Fortnite conducted its own experiments with 50V50, Teams of 20, and Teams of 33 limited-time game modes. While big teams add flavor to battle royale, they fall out of favor due to chaotic gameplay and lack of communication.
There's a reason why battle royal teams tend to stay small. It is much easier for groups of four and under to coordinate than teams of ten or more. Smaller units also force players to rely on each other and communicate to stay alive instead of relying on "safety in numbers." It's harder to overcome a tight-knit squad than it is a loosely affiliated mob.
Faction War is a limited-time game mode available until September 1st. Hyper Scape is free to download now on PlayStation 4, Xbox One, and Microsoft Windows.