[Top 10] Best LEGO Games for PC (Ranked Fun To Most Fun)
Updated: 16 Mar 2023 8:31 pm
LEGO games have many themes such as Star Wars, Marvel, and even DC
Which are the best LEGO games you can play?
LEGO games have been around for a long time, and contrary to popular belief, they are not just for children. The majority of the games are usually tied to an IP, which is similar to reliving your favorite characters in LEGO form in a good way.
We've ranked the best LEGO games available on PC right now.
10. LEGO Jurassic World - 2015 (PC, Nintendo Switch, PlayStation 4, Xbox One)
With LEGO Jurassic World, you can relive the epic storyline that made many children both love and fear dinosaurs. It consists of four movies that you can explore and follow as you progress through the game.
It's very similar to any LEGO game, but it has extra features like being able to play as dinosaurs and create your own hybrid by mixing DNAs, which is a nice addition to the core gameplay.
Choose LEGO Jurassic World if:
you are a fan of dinosaurs
you love jurassic park/jurassic world movies
creating hybrid dinosaurs
Game Feature:
Relive pivotal moments from each of the four Jurassic films in LEGO form.
Play as LEGO dinosaurs and wreak havoc: Choose among 20 dinosaurs, including the lethal Raptor and the magnificent Tyrannosaurus rex.
Produce your own dinosaurs and create hybrid ones. Be creative!
Showcase your newly created dinosaurs and populate Isla Nublar and Isla Sorna. Show it to your family and friends!
Fun Factor Score: 84/100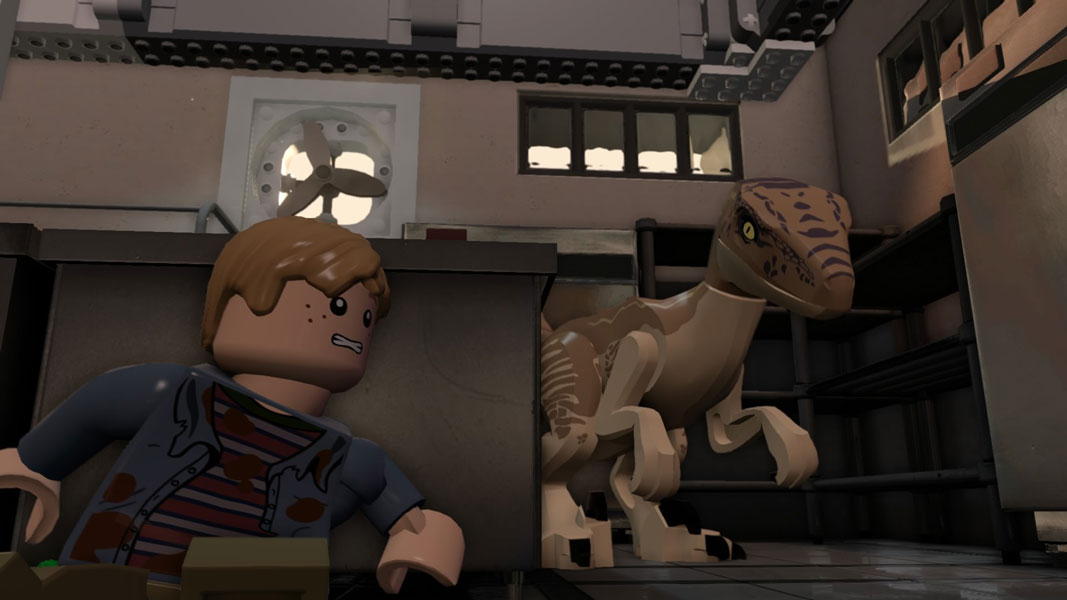 Relive Iconic Moments from Jurassic Park/Jurassic World movies, such as the T-Rex reveal.
9. LEGO Indiana Jones: The Original Adventures - 2008 (PC)
On paper, it may not seem like a good idea to turn India Jones into a LEGO video game, but it just works. It follows the plot of Indiana Jones' first three films: Raiders of the Lost Ark, Temple of Doom, and Last Crusade.
The story of LEGO Indiana Jones: The Original Adventures has changed into a more story for all ages, including children, similar to any of the movie licensed games that transform into LEGO, making it humorous and easier to understand by everyone.
It is one of the older games on this list, but the core gameplay of discovering and completing puzzles and unlocking several characters to play for later remains. They added phobia gameplay in which characters are afraid of specific objects/animals, such as Indiana Jones being afraid of snakes, which is a core gameplay element because you must use another character to clear the area.
Choose LEGO Indiana Jones: The Original Adventures if:
you are a fan of Indiana Jones movies
you love discovering treasures as you play the story
you are a LEGO games collector
Game Feature:
Fight against foes, unravel riddles, and search for some of the most priceless artifacts in the world.
Play co-op and take control of Indy, and the characters of Indiana Jones with your friends and family
Over 80 characters to be unlocked as you play the game.
Fun Factor Score: 86/100
Be Indy: explore and discover treasures, while whipping everything
8. LEGO Harry Potter Collection - 2016 (PC, Nintendo Switch, PlayStation 4, Xbox One)
The LEGO Harry Potter Collection includes two games in one: Harry Potter: Years 1-4 and Harry Potter: Years 5-7. These two games are based on the books, which tell the story of Harry Potter and his adventures in the wizarding world.
As you progress through the game, you will be able to cast spells, make potions, and solve puzzles, which is a standard LEGO game feature. All of these core gameplay mechanics are required to advance in the game. Explore Hogwarts, which has been dubbed one of the largest environments created in the LEGO games.
Choose LEGO Harry Potter Collection if:
you love the Harry Potter lore and universe
you love magic and potion-making
reliving the story of Harry Potter in Lego form
Game Feature:
Cast spells, prepare potions, fly broomsticks, and accomplish tasks to earn LEGO studs.
Over 100 playable characters, including Harry Potter, Ron Weasley, and Hermione Granger.
Explore iconic locations such as LEGO Hogwarts, which is a grand and immersive 3D environment as well as the largest and most detailed LEGO game location that has ever been built.
Fun Factor Score: 87/100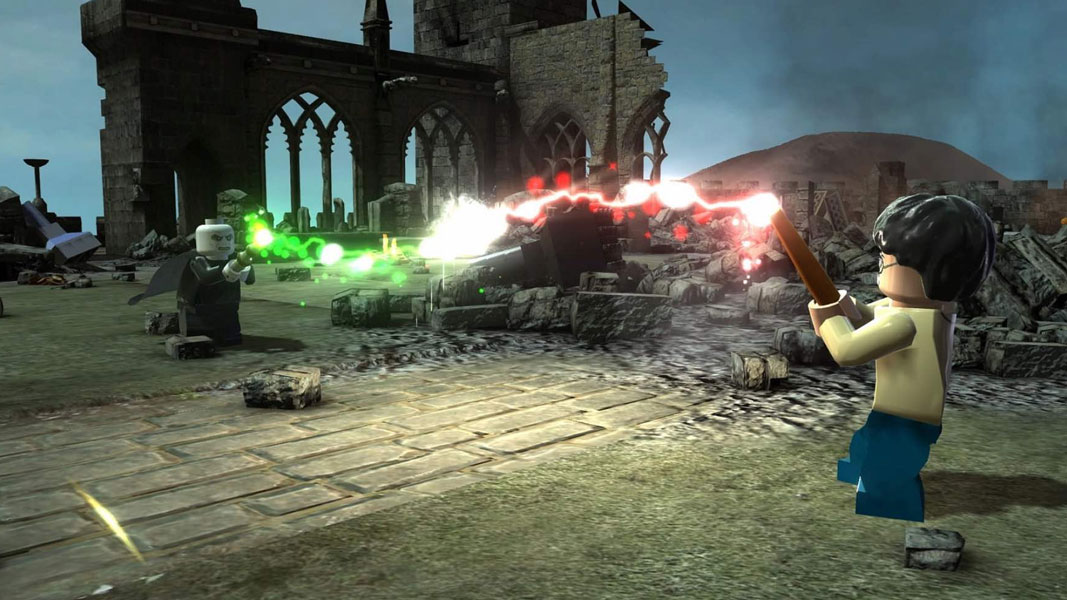 Unfold this iconic moment by going thru the story from start to finish in LEGO Harry Potter Collection, like Voldemort vs Harry Potter scene
7. LEGO The Lord of the Rings - 2012 (PC, Nintendo 3DS, Android, iOS)
LEGO The trilogy The Fellowship of the Ring, The Two Towers, and The Return of the King is the basis for The Lord of the Rings. However, it is a lighter version of the game with added humor.
As you progress through the story's iconic moments, you'll be fighting orcs, the witch-king, and other lore creatures, as well as exploring locations and discovering and collecting items. You will be able to unlock more playable characters as you progress.
Choose LEGO The Lord of the Rings if:
you love Lord of the Rings lore and movies
you are a fan of medieval fantasy setting
you want to see a light-hearted and humorous version of Lord of the Rings.
Game Feature:
Battle Orcs, Uruk-hai, the Balrog, the Witch-king, and other terrifying creatures across Middle-earth.
The heroes of Lord of the Rings come to life in a whole new way as LEGO forms of the characters speak the lines from the movies.
Unlock over more than 80 playable characters as you explore Middle-earth. Collect weapons and items for forging.
Fun Factor Score: 89/100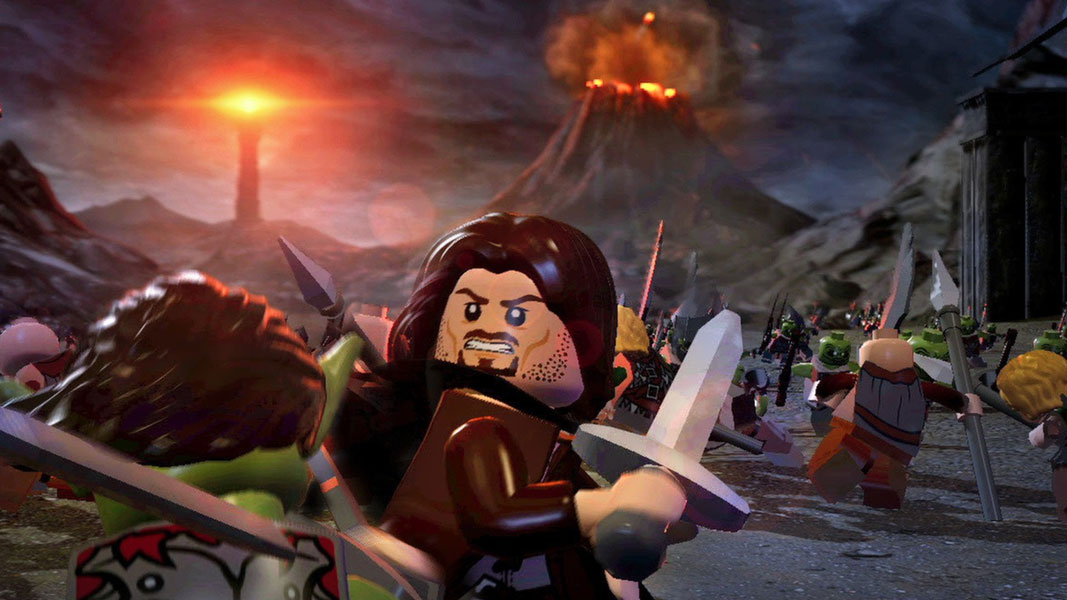 "For Frodo" - Aragorn , Lego Style
6. LEGO DC Super-Villains - 2018 (PC, Nintendo Switch, PlayStation 4, Xbox One)
What's great about LEGO games is that they turn media license characters with a dark undertone to their lore into a more family-friendly version of themselves. LEGO DC Super-Villains is an example of this, as it features characters such as the Joker, Harley Quinn, and other villains from the DC universe.
It is also the first title to include a fully customizable character in the story, which is a nice touch given that you can play both the Justice League and DC Super Villains stories. Furthermore, you can absorb powers to create the ultimate supervillain.
Choose LEGO DC Super-Villains if:
you love DC universe
you love DC universe villains like Joker and Lex Luthor
you love creating your own characters
Game Feature:
Step into the role of the ultimate bad guy in this DC LEGO adventure.
Throughout the game, players will design and control a powerful supervillain, unleashing mischievous antics and causing havoc in an action-packed plot.
Players will embark on an epic adventure alongside iconic DC Super-Villains such as The Joker, Harley Quinn, and numerous others from the Injustice League.
Fun Factor Score: 91/100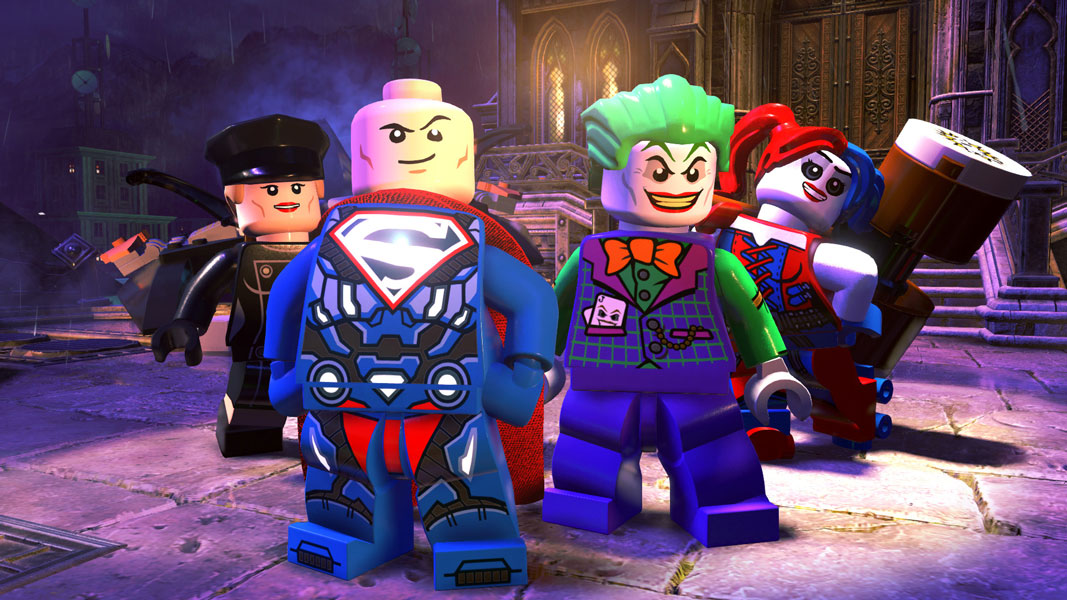 The super-villains! Follow such iconic characters in LEGO DC Super-Villains
5. LEGO City Undercover - 2017 (PC, Nintendo Switch, Xbox One, PlayStation 4)
LEGO City Undercover is an original title for the LEGO games because it is based on their city-themed toyline rather than a movie or comics tie-in. It's a fantastic game with an amazing story, amusing dialogue, and enjoyable gameplay.
Chase McCain, an undercover cop in LEGO City, is controlled by the players. You assist in the pursuit and capture of criminals, as well as the acquisition of disguises, which provide Chase with additional abilities. Unlockable characters are also present, as is customary in LEGO games.
Choose LEGO City Undercover if:
you like exploring a unique world in the form of LEGO
you like chasing and hunting criminals
you like playing as a policeman
Game Feature:
In LEGO CITY Undercover, play as Chase McCain, a police officer who must go undercover to catch the legendary, recently freed criminal Rex Fury and stop his citywide crime wave.
Two players can explore LEGO City, an open-world metropolis with more than 20 districts, car thieves to catch, humorous movie references to find, vehicles to drive, and hundreds of collectibles.
LEGO CITY Undercover combines smart, creative storytelling with LEGO humor for a fun, family-friendly experience.
Fun Factor Score: 93/100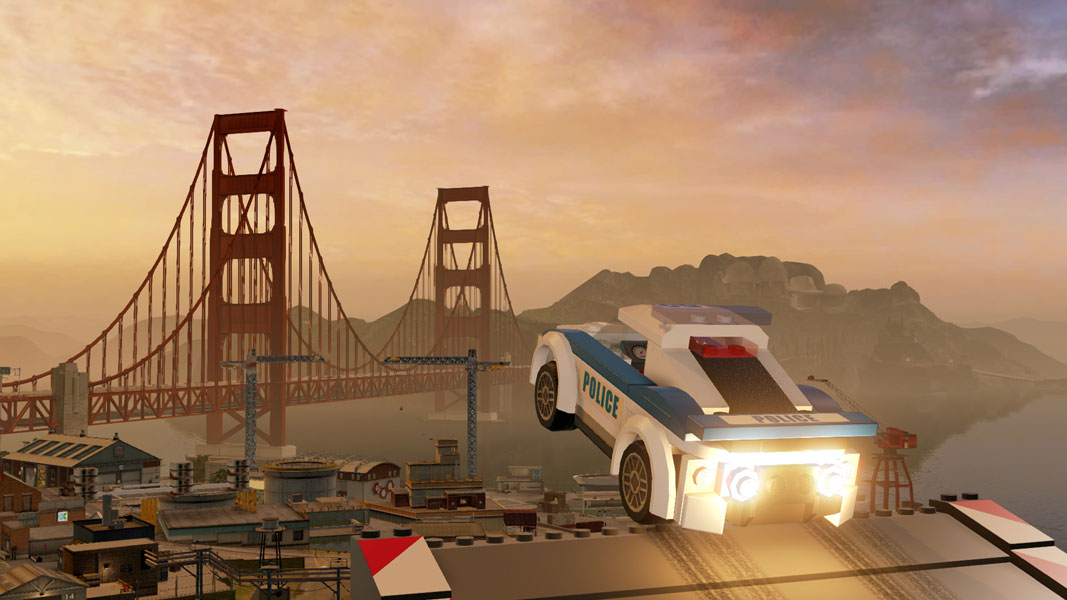 Become the best police the LEGO city has even seen and chase down criminals.
4. LEGO Batman Trilogy - 2008, 2014, 2017 (PC)
Lego Batman: The Videogame, Lego Batman 2: DC Super Heroes, and Lego Batman 3: Beyond Gotham comprise the LEGO Batman Trilogy. The first game is a classic, especially considering it was released in 2008, but the best game in the trilogy is Lego Batman 2: DC Super Heroes, the second game, which really opened up the game, and the third game, which expanded beyond.
LEGO Batman is a popular character in the LEGO universe because he is amusing in his own right. Some of the trilogy's gameplay features include the ability to hack computer terminals, unlock iconic characters, and play unique storylines for each game.
Choose LEGO Batman Trilogy if:
You love DC universe
You love Batman
You love exploring Gotham City
Game Feature:
Play through three games with Batman.
With over 50 characters to be unlocked.
Unique storylines for each game.
Fun Factor Score: 94/100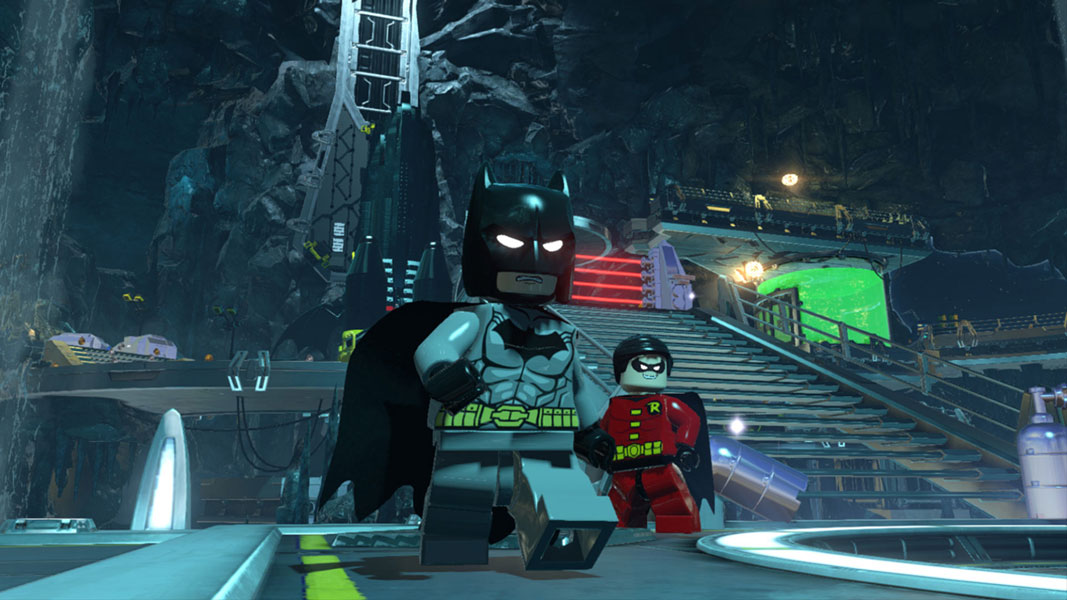 We had super villains, now we have the most iconic lego character so far, Batman!
3. LEGO Star Wars: The Complete Saga - 2009 (PC)
Imagine being able to play the first six Star Wars films in LEGO form; wouldn't that be amazing? The game to play is LEGO Star Wars: The Complete Saga. It consists of the video game Lego Star Wars: The Video Game (2005) and its sequel Lego Star Wars II: The Original Trilogy.
There are numerous things to do in this game, which has more than 50 levels in total and has high replayability as you play different characters. In terms of characters, you will be able to unlock 120 playable characters in the film, including iconic and minor characters.
Choose LEGO Star Wars: The Complete Saga if:
you love star wars
you want to relive your childhood memories when they first released the games
play through the stories of the first six movies.
Game Feature:
Gameplay Features such as improved Force Powers, new power-ups, and new Challenge Modes.
Utilize creative thought, cooperation, and unique construction settings to solve puzzles.
Over 120 playable characters, including Watto, Zam Wessell, and Boss Nass!
Fun Factor Score: 95/100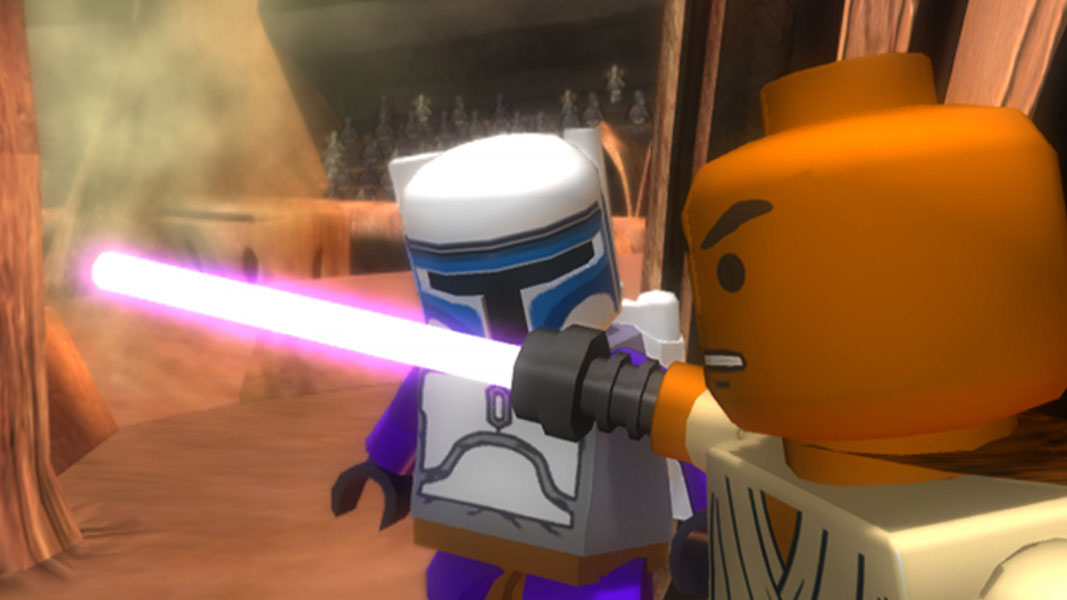 Mace Windu in action in the Attack of the Clones!
2. LEGO Star Wars: The Skywalker Saga - 2022 (PC, Nintendo Switch, PlayStation 4, PlayStation 5, Xbox One, Xbox Series X/S)
LEGO Star Wars: The Skywalker Saga is one of the newest games in this list as it just got released back in 2022. It is one of the most ambitious games because it covers all three Star Wars trilogies, from Episode I to Episode IX.
The story in LEGO Star Wars: The Skywalker Saga is nearly 1:1 with the movie tie-in, and you can freely explore the movie's iconic locations, solve puzzles, and fight enemies. You can even begin any number of trilogies.
What's amazing is that they didn't just copy-and-paste LEGO Star Wars: The Complete Saga levels for this game, but instead recreated them from scratch, creating a completely new experience for LEGO Star Wars fans.
Choose LEGO Star Wars: The Skywalker Saga if:
you love the Star Wars movies
you love sci-fi and playing as Jedi or Siths
you love exploring the galaxy with huge ships
Game Feature:
Players will be able to relive the epic story of all nine films in the Skywalker Saga, beginning with the trilogy of their choosing.
More than 300 characters available to play in the game
Players can visit famous locations. They can unlock and easily travel to 23 planets as they play the story or find intriguing adventures.
Ride and use more than 100 vehicles
Upgradeable abilities for each unique character.
Fun Factor Score: 96/100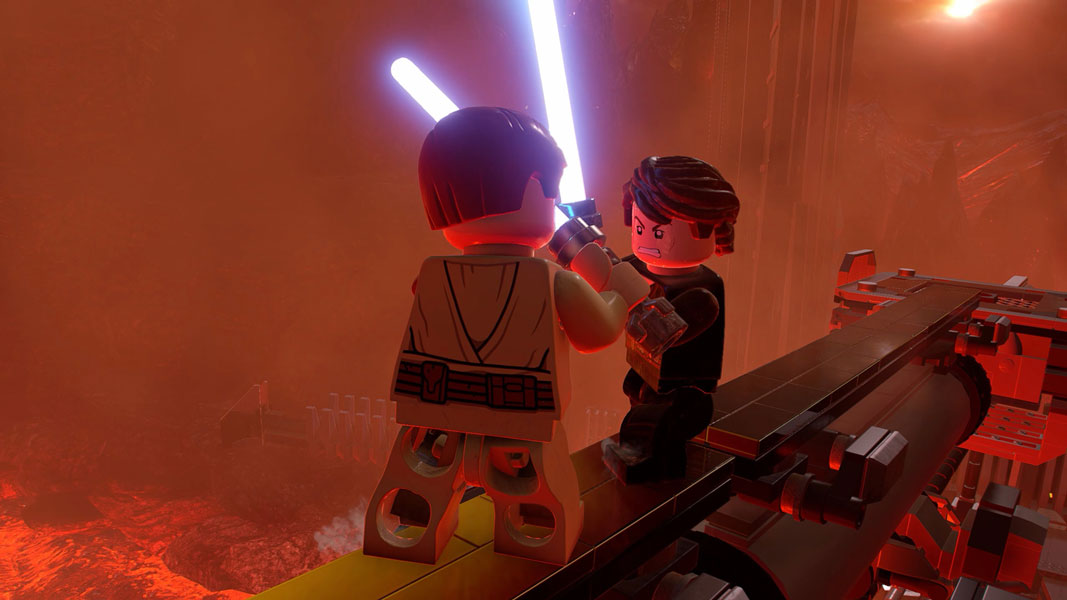 Obi-wan vs Anakin is one of the iconic moments of the game.
1. LEGO Marvel Super Heroes 1 and Super Heroes 2 - 2013 and 2017 (PC, Nintendo Switch, PlayStation 4, Xbox One)
The LEGO Marvel Super Heroes games are among the best LEGO games because they are incredibly fun with a large roster and an amazing story, especially since Marvel is still at the top of its game.
You can take on the roles of Thor, Spider-Man, Captain America, and many more. The first game takes place in New York, Earth, and Asgard, and pits you against supervillains such as Doctor Doom and Loki. The second game expands on that in the multiverse and space, as the story focuses on superheroes from various eras, with Kang the Conqueror as the main villain.
In this game, you can even design your own superhero. Although the first game has some basic customization and creation due to the powers being tied to the pieces, the second game greatly expanded on it, making it a fantastic feature in the game.
Choose LEGO Marvel Super Heroes 1 and Super Heroes 2 if:
you love Marvel universe
you like creating your own characters with unique super powers
you love playing many characters like Spider-Man, Wolverine, the Fantastic 4, and more
Game Feature:
Play over more than 100 Marvel characters, including iconic characters like Spider-Man, Captain America, and many more.
Help save Earth using your favorite heroes with their powerful moves and skills.
Create your own heroes and customizable characters
Fun Factor Score: 98/100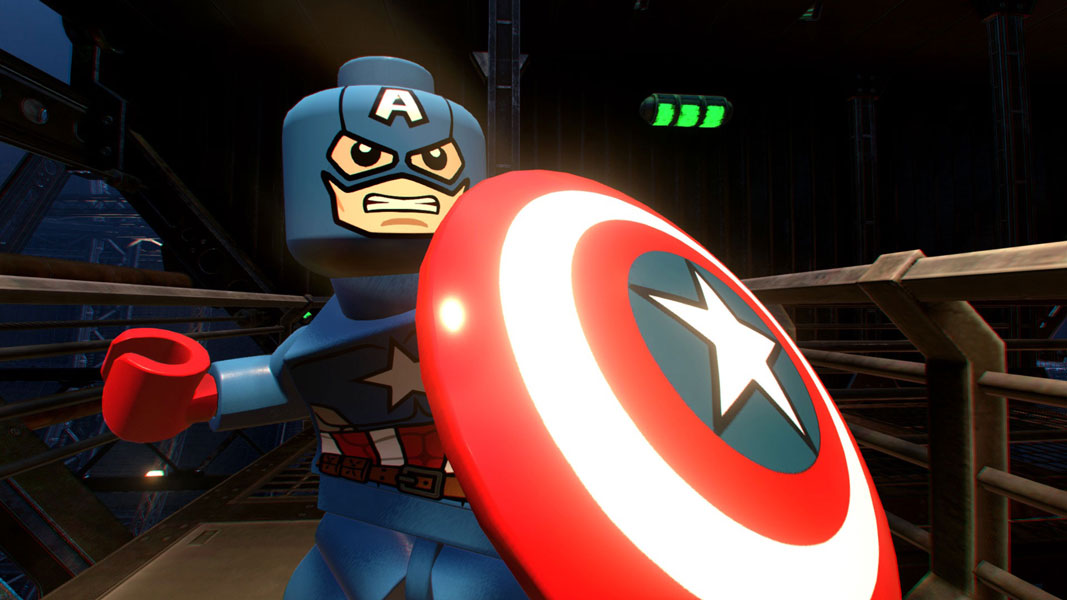 Captain America getting ready to battle in LEGO Marvel Super Heroes