[Top 50] Best Military Movies That Are Highly Rated
Updated: 14 Jan 2022 8:43 am
Cinema is such a beautiful art...
Stress, drama and gunshots... war is no joke.
We know that war has always been part of our history and, even with different opinions about it, there are stories around wars that can be highly interesting and even passionate. Do you have time to watch a good movie? Take a few minutes to watch any of these 50 cinematic gems. 
50. Ride with the Devil (1999) 
It's 1861 and the Bushwhackers, supporters of the Sudist cause, are fighting as guerillas. Jack Roedel and Jack Bull Chiles, who have been friends since their childhood, join this movement, without knowing that it'll put them through traumatic experiences and change them completely. 
49. Che: Part one (2008) 
A bibliographic film that portrays the life of Ernesto Che Guevara and his important role during the famous Cuban Revolution. The movie starts at the moment when Fidel Castro, Che Guevara, and other combatantsarrive on the known island and its outcome is the overthrow of the dictator Fulgencio Batista.
48. American Sniper (2014) 
Directed by Clint Eastwood, this cinematographic artwork focuses on the life of the lethal marine and sniper Chris Kyle. Kyle is sent to Iraq with the mission of protecting his comrades from any threat; thanks to his impeccable precision, this task is completed successfully. 
47. War Horse (2011) 
This movie shows the story of Joey, a horse raised by a British teenager called Albert and later bought by the British army. We see its story and life throughout the Great War and all the chaos that came with it. 
46. Black Hawk Down (2001) 
An attack on Black Hawk helicopters strands a platoon of soldiers in Somali territory. The soldiers, seeking to regain control of the situation and escape the battlefield, are forced to break through using force.
45. Fury (2014) 
A group of five American soldiers makes their way in a tank, nicknamed Fury, through german territory during World War II. Even though this movie is set during the last days of this great conflict, the imminent dangers keep coming at them while they try their best to survive. 
44. The Dirty Dozen (1967) 
A supposedly impenetrable Nazi fortress is the target, a senior U.S army commander finds himself in the position of training 12 criminals to infiltrate and accomplish this seemingly suicidal mission. 
43. The Thin Red Line (1998) 
A replacement of the U.S. Army arrives intending to secure the island of Guadalcanal and defeat the lines of Japanese soldiers who do not seem to back down from anything.
42. Merry Christmas Mr. Lawrence (1983) 
In World War II, Java, fallen British soldiers are found in a Japanese prison camp. They are treated as cowards for not committing suicide and allowing themselves to be captured. However, the Japanese commander Yonoi will use this mask to hide his homosexuality, which will later cause ideological clashes and enmity.
41. Casualties of War (1989) 
Based on true events, Casualties of War tells the story of a small platoon of soldiers who rape, abuse, and torture a Vietnamese woman. Private Eriksson tries to stop his comrades and make them pay for these acts while fighting all those who try to cover up these crimes.
40. Hacksaw Ridge (2016) 
Desmond T. Doss, a war hero with strong Catholic convictions, decides to go to war as a medic and without carrying a weapon. He finds himself involved in extreme situations, in which his beliefs will be put to the test. 
39. Courage Under Fire (1996)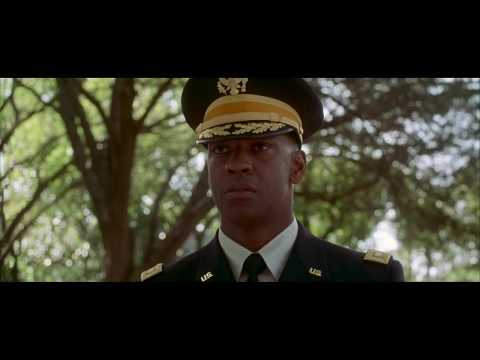 Lieutenant Colonel Nathan Serling accidentally destroys the tank of one of his comrades, thus costing him his life. However, the story develops around Serling, who, thanks to an investigation assigned by the army, finds himself on a journey that will help him find peace after having murdered a colleague.
38. Platoon (1986) 
An innocent young man known as Chris Taylor drops out of college and decides to enlist in the army, where he will encounter atrocious events that will sink him into fear and anxiety. This film portrays the military and psychological battles that are fought at the same time.
37. 1917 (2019)
Two British Army Lance Corporals, Tom Blake, and Will Schofield are sent on a near-suicidal mission: to deliver a message behind enemy lines so that their fellow soldiers don't fall into a trap.
36. Sergeant York (1941) 
A clash between Christian ideals and the desire to serve his country will haunt Alvin York as he enlists to fight in World War I. Even with regret, York will fight to get his comrades ahead.
35. Overlord (1975) 
British soldier Brian Stirner is the protagonist of this story that portrays the preparations for D-Day. The film focuses on portraying the lack of hope and the sacrifices that the military corps must make.
34. Inglourious Basterds (2009) 
The tale of two storylines that will end up coming together in a tragic and blood-filled outcome. Quentin Tarantino manages to set these stories in one of the most recognized events of humanity: World War II.
33. The Big Red One (1980) 
A platoon makes its way through Africa and survives for two years in Sicily. Narrated from the point of view of both the U.S. Army and the German platoons, this film ranks as one of the best of its time.
32. From Here to Eternity (1953) 
A dispute between men dedicated to serving their country leads to deaths, infidelities and personal problems that change the focus of the characters involved, Private Prewitt and his captain. A film that demonstrates the pride that exists between military men and how far they can take it.
31. The Deer Hunter (1978) 
Three friends eager to go to war return home after serving, but their lives are never the same thanks to the experiences they had on the battlefield.
30. They Were Expendable (1945) 
After the attack on Pearl Harbor, the Japanese attack the Philippines, and the protagonists are plunged into a fight they can't win, but won't stop fighting either.
29. Gallipoli (1981) 
The story of a young athletics lover who is going to represent Australia at the Olympic Games. What he doesn't know is that his life will change completely when his country goes to war and he is forced to escape to Turkey.
28. Letter from Iwo Jima (2006) 
Several letters have been found, that narrates the heroic fall of Japanese military forces that decided to fight, even though surrender seemed the easiest way out.
27. The Burmese Harp (1956) 
This film tells how a group of Japanese soldiers getskilled, although the war was already over, and focuses on the only survivor of this platoon: Mizushima, who was also the only man with the will to surrender to the British soldiers who razed his comrades to the ground.
26. Dunkirk (2017) 
Dunkirk tells the story of the rescue of British and French troops who had been cornered by German soldiers on the beach of the island with the same name: Dunkirk. With a hopeful but raw message, the film moves slowly and focuses on building tense environments.
25. Da 5 Bloods (2020)
4 Vietnamese soldiers risk their lives to return to their country to find the remains of their fallen leader and the treasure they had hidden there.
24. Full Metal Jacket (1987)
Physical, mental, and emotional training is what awaits a group of men who aspire to become strong Marines. Tough and dramatic, this '87 film was rated 92% on Rotten Tomatoes.
23. The Last of the Mohicans (1992) 
This film explores the life of Hawkeye, a white man who was adopted and raised by the Mohican Indians. His life will not be easy after saving the daughters of a British officer from an ambush, in which they would have been killed.
22. Saving Private Ryan (1998) 
A landing in Normandy leads a group of soldiers to rescue Private James Ryan in the middle of World War II.
21. The Great Escape (1963) 
A year of planning to escape from a Nazi prison camp. British and American officers work tirelessly to flee the hell in which they are trapped.
20. Three Kings (1999) 
A Special Forces officer and three other soldiers set out on a mission to find stolen gold after the Gulf War.
19. Patton (1970)
A bibliographic film that narrates the victory of the American General George S. Patton over the German Marshal Rommel and how he led his troops through Europe.
18. The River on the Bridge Kwai (1957) 
Japanese soldiers hold British soldiers captive and force them to build a bridge over the Kwai River. However, one of the British manages to escape and returns with reinforcements to rescue his companions. 
17. Chimes at Midnight (1965) 
The film focuses on Sir John Falstaff, a character created by William Shakespeare, and the fraternal relationship he has with Prince Hal. This film focuses on the betrayal of friendship and thanks to Welles, is today known as one of his masterpieces.
16. Paths of Glory (1957)
A tragic story about an ambitious mission and its failure that leads to a terrible punishment by France to General Mireau.
15. Ran (1985)
Family conflicts and resentment between brothers are cemented by a Japanese feudal lord who divides his domain among his greedy sons.
14. Grand Illusion (1937) 
French prisoners with high loyalty to each other are imprisoned by the Germans during the Great War, demonstrating the marked social differences in Europe at the time.
13. The Life and Death of Colonel Blimp 
The Life and Death of Colonel Blimp is a film with a bitter taste, as it shows the fall of the chivalry of a man who is forced to change to continue fighting for his country.
12. Stalag 17 (1953) 
Mistrust and betrayal in a concentration camp will turn the prisoners against each other and they will seek to discover who is really the one who does not belong there.
11. The Hurt Locker (2008) 
Fellow bomb specialists in Baghdad will have to face extremely dangerous situations that will put them in check with a possible explosion.
10. Come and See (1985) 
The heartbreaking story of a Belarusian boy who, after seeing the Nazi tortures, ends up joining the army and experiences the bloody Second World War.
9. Schindler's List (1993) 
Oskar Schindler, despite being of the Nazi party, risks his life to save more than a thousand Jews from the Holocaust.
8. All Quiet on the Western Front (1930) 
A teacher succeeds in convincing his students to join the German ranks, but these young men are unaware of the pain they have given themselves to on the battlefield.
7. The Boat (1981) 
A mysterious tape shows a fisherman who, upon seeing a sailboat, approaches, and boards it, but finds nothing but blood and when he wants to leave, his boat is gone.
6. Apocalypse Now (1979) 
This film focuses on Captain Benjamin Willard, who embarks on a secret mission that leads him to assassinate Colonel Kurtz. He is not only charged with murder but is also supposedly insane.
5. The Battle of Algiers (1966) 
The misery suffered by Algeria during the struggle for Independence from the French is shown to us by two rebels who star in this film.
4. Thirty Seconds Over Tokyo (1944) 
Thirty Seconds Over Tokyo narrates a successful bombing of Japan by Lieutenant Colonel James H. Doolittle and the U.S. Air Force.
3. Run Silent, Run Deep (1958) 
A traumatic sinking of a U.S. submarine leaves Commander Richardson as the sole survivor, who re-enlists on a mission to take revenge on those who sunk his comrades.
2. Paisan (1943) 
Roberto Rossellini tells six stories about the harrowing memories of some American soldiers during the bloody Second World War and the aftermath.
1. The Steel Helmet (1951) 
A Buddhist temple will be the battleground between American soldiers and communist troops during the famous Korean War.
Image Gallery