[Top 15] FM20 Best Right Wingers Who Are Amazing
Updated: 26 Mar 2020 3:52 pm
Who will be your right side bomber
This is what you want on your right side
Wingers and midfielders are vital when it comes to creating a deadly attack in the modern game. Going forward, they offer skill, pace, crossing and finishing ability, becoming the most dangerous area on the pitch for a lot of sides.
Therefore, wingers are definitely something you need to consider when optimizing your tactics ahead of a game and they're often substituted during matches too, as the extra pace in the wide areas has a great impact. Here are the most amazing right wingers in FM 2020:
15. Reiss Nelson
Age: 19
Position(s): AM (RL), M (RL)
Club: Arsenal
Country: England
Value: £20 million
Wage: £40,000 a week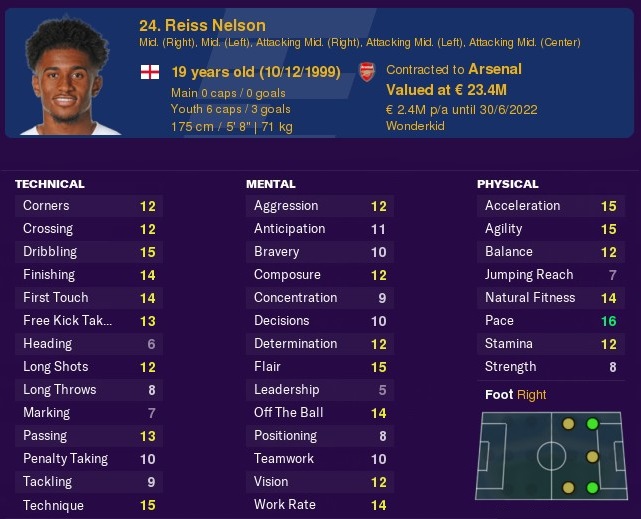 Very good potential
Great flair and pace stats 
Already the first-team caliber  
Reiss Nelson is one of the best youngsters on the right side. He's back in London after a successful loan spell with Hoffenheim last season and has already progressed to England's U21 side.
In FM20 Nelson brings a strong 16 pace and 15 acceleration to the right, along with 15 dribbling and 15 technique, making him a useful player almost anywhere straight away. If you can get him near maximum potential ability he will be an extremely good player at almost any club in the world.
Details on: https://fmdataba.com/20/p/147410/reiss-nelson/ 
14. Wilfried Zaha
Age: 26
Position(s): M (LR), AM (RL), ST
Club: Crystal Palace
Country: Ivory Coast
Value: £51 million
Wage: £130,000 a week.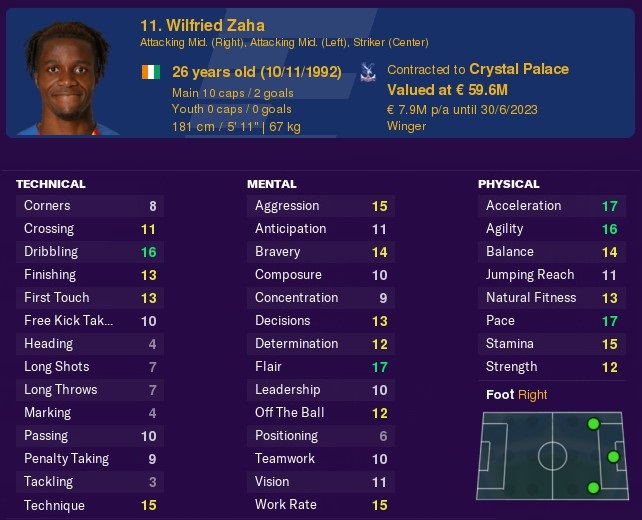 The fear he instills in opposition defenders is palpable
There's still room for him to get even better 
Possess such unpredictability in his feet
Zaha is a member of Crystal Palace's side, but he would fit straight into the first team line up of almost any major club. He is a fantastic and unpredictable dribbler, with very quick feet and amazing penetrability on the side. His qualities will earn him a big transfer sooner than later (sorry CP's fans), so if you want this brilliant winger on your right side of the pitch, better hurry up.
Details on: https://fmdataba.com/20/p/155132/wilfried-zaha/ 
13. Juan Cuadrado
Age: 32
Position(s): D/ WB/ M/ AM (R)
Club: Juventus
Country: Colombia
Value: £27 million
Wage: £105,000 a week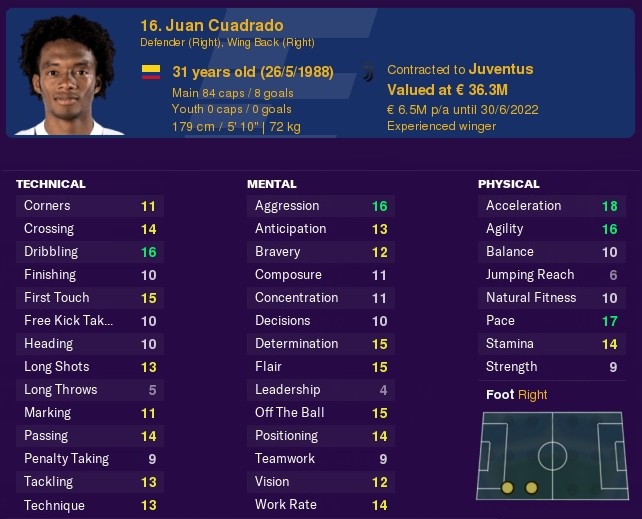 Fantastic versatility on the right side of the pitch
Very fast
Consistent performer 
Juventus aren't short of quality wingers and Juan Cuadrado is another Juve wide man. Able to be played up and down the right wing, Cuadrado is a tricky player for defenders to try and deal with. 
Cuadrado is somewhat cheap, but is also in his late professional years, so it's hard to see him playing more than five additional years at the top level. Thanks to Juve's excellent strength in depth, it's conceivable that you could pick up Cuadrado in a cut-price deal of £20 million. 
Details on: https://fmdataba.com/20/p/147243/juan-cuadrado/ 
12. Federico Bernardeschi
Age: 25
Position(s): M (R), AM (RCL)
Club: Juventus
Country: Italy
Value: £41 million
Wage: £125,000 a week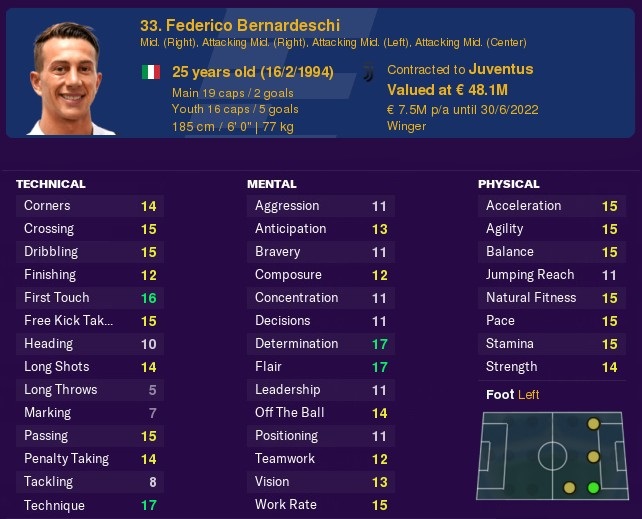 Very determined 
Naturally fit
High technic and first touch
Establishing yourself a regular in the Juventus setup is very difficult but Frederico Bernadeschi has managed to achieve this in his first couple of seasons at the Old Lady. Despite being only 25, though, he doesn't have much room to grow, so don't expect him to improve in the coming seasons.
At over £40 million in valuation, he'll cost well over £50 million to acquire, but you'll get first team winger with excellent technical skills for what you paid. He can contribute a lot, with runs down the wing, crossing and even long shots. 
Details on: https://fmdataba.com/20/p/155178/federico-bernardeschi/  
11. Jose Callejon
Age: 32
Position(s): M (R), AM (RL), ST
Club: Napoli
Country: Spain
Value: £20.5 million
Wage: £92,000 a week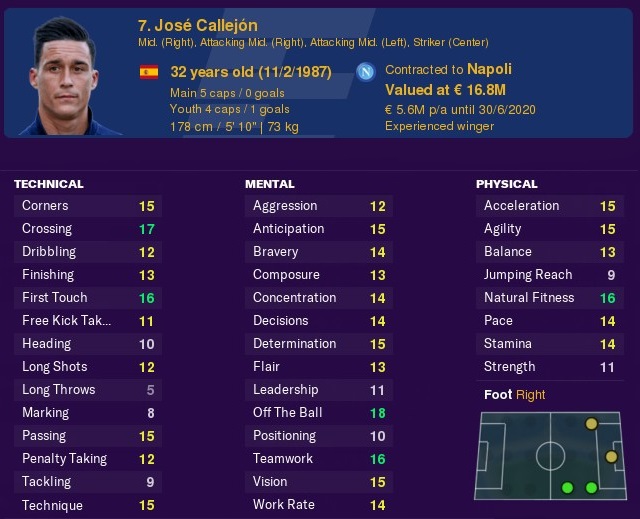 Excellent mental stats
Very good movement off the ball, on the edge of the offside trap
Great teamwork
It really is a wonder why Jose Callejon has been overlooked by Spain for so long, as the Napoli winger is one of the best wide men in the world according to the football manager.
Callejon is able to play on both wings and as a striker but he's definitely best in wide positions thanks to his lack of physicality and shooting ability. His mental attributes, though, are superb and make him a brilliant asset to have in big games. 
Details on: https://fmdataba.com/20/p/147404/jose-callejon/  
10. Leon Bailey
Age: 21
Position(s): M/AM (RL)
Club: Bayer Leverkusen
Country: Jamaica
Value: £32,500,000
Wage: £66,000 a week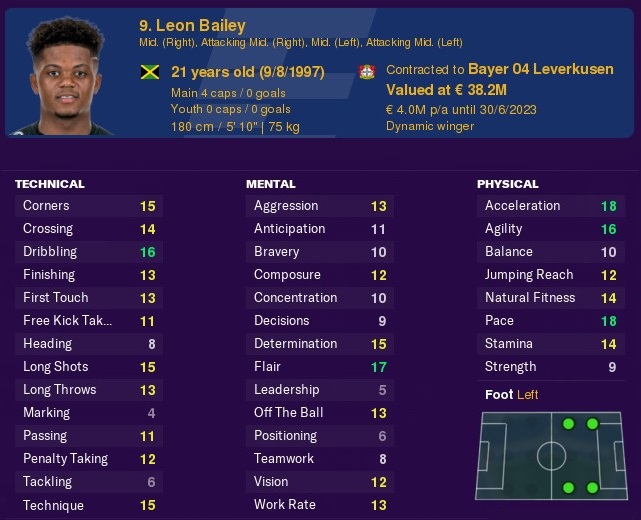 Great potential
Already contributes a lot in the current club
Amazingly high physical stats for his age
When it comes to footballing talent, Jamaica isn't exactly world-renowned, but Leon Bailey could well go down as the best player to hail from the Caribbean island.
Bailey is still a little green, as inconsistency is perhaps his only real weakness, but that will improve in time. On his day, he's unstoppable, as Bayern Munich found out this season. No wonder the likes of Chelsea and Arsenal have been rumored to be interested in the youngster.
Details on: https://fmdataba.com/20/p/147204/leon-bailey/ 
9. Angel Di Maria
Age: 31
Position(s): M (LC), AM (RLC)
Club: Paris Saint-Germain
Country: Argentina
Value: £39.5 million
Wage: £220,000 a week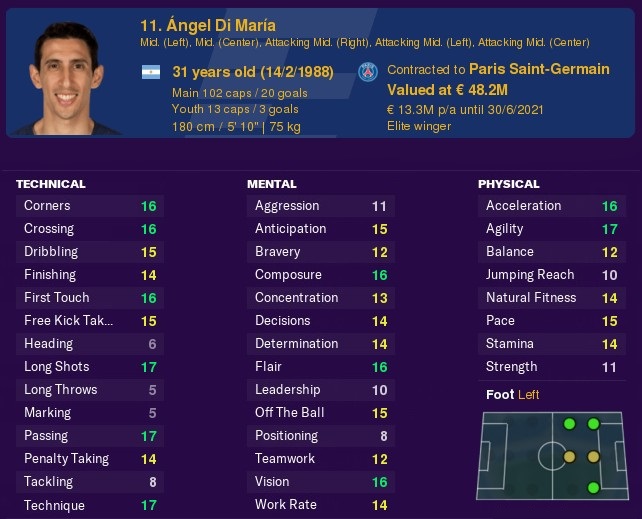 Excellent mental stats highlighting the fact that he will be a star in any league
Amazing physical stats at his age
Very versatile in the midfield and attacking positions 
Despite being 31-years-old, Angel Di Maria still has a lot of room to grow as a footballer in FM20. Di Maria can improve by 13 ability points, more than Leroy Sane, but that perhaps shows the level to which he's under-performing in France.
Like Insigne, physicality is his weak point, as Di Maria proved in his dreadful stint at Manchester United. You'll be paying in the region of £80 million for the Argentine, which is a steep price for someone of his age.
Details on: https://fmdataba.com/20/p/155192/ngel-di-maria/ 
8. Kingsley Coman
Age: 23
Position(s): M/AM (RL)
Club: Bayern Munich
Country: France
Value: £38,000,000
Wage: £135,000 a week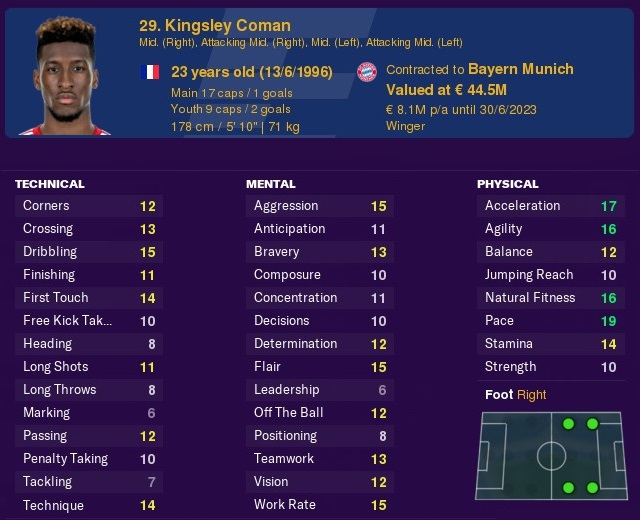 Fantastic physical stats
Amazing experience with only 23 
Has a lot of room for development
France is absolutely spoiled for choice when it comes to talented young wingers, as a player of Kingsley Coman's ability often struggles to break into the Les Blues side. Coman has already played for Juventus, PSG and Bayern Munich, winning 14 trophies with those European giants in total.
It was the blistering pace and tricky dribbling skills which first marked Coman as a talent. However, there is now more end-product developing in his game.
Coman's main assets are his speed (19 pace & 17 acceleration), work rate (15 work rate, 16 work rate) and skills on the ball (15 dribbling, 16 agility, 14 first touch). It would be possible to buy him, but expect to pay over £50m for his services. Nevertheless, you'll get fantastic winger, with very good potential and already a lot of the first-team experience in top clubs.
Details on: https://fmdataba.com/20/p/147132/kingsley-coman/
7. Federico Chiesa
Age: 21
Position(s): MR, AM (RL)
Club: Fiorentina
Country: Italy
Value: £35,500,000
Wage: £52,000 a week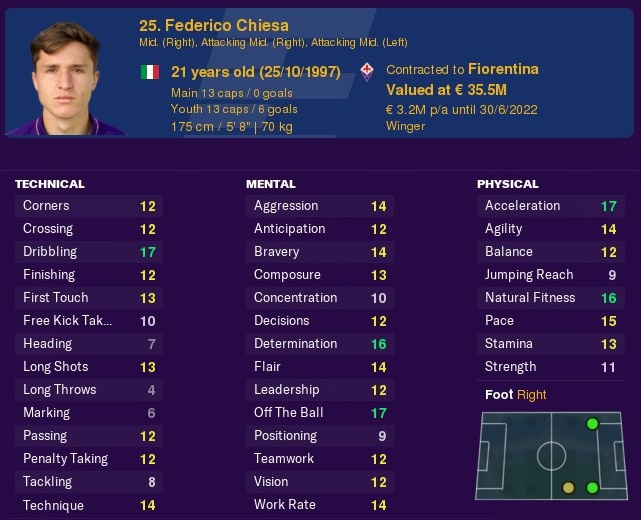 Very skillful     
Fantastic potential 
Fits right to your first team
Federico Chiesa is a right winger/midfielder with fantastic potential ability. And despite only being 21, he's made over 100 appearances for La Viola.
Obviously this is truly a hidden gem, and if you devote attention to his development you'll get a fantastic player for years to come.
The chances of Chiesa becoming a one-club man are slim, though, as the likes of Juventus are eyeing up the winger in a rumored £70m move. That said, if you target him, make a quick move.
Details on: https://fmdataba.com/20/p/147116/federico-chiesa/  
6. Ousmane Dembele
Age: 22
Position(s): M/AM (RL)
Club: Barcelona
Country: France
Value: £63,000,000
Wage: £200,000 a week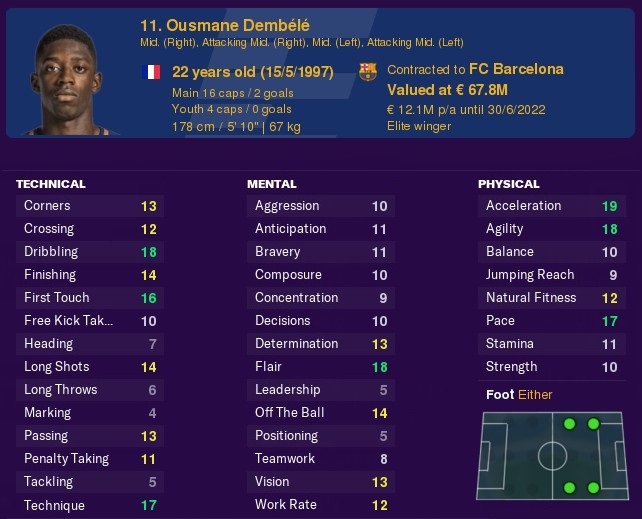 High dribbling and flare stats this early in age will develop to amazing winger
Physical attributes are just stunning
Already made to the national side
Ousmane Dembele has already been a part of the Barca side that won a domestic treble in 2018. The Frenchman will no doubt win more silverware in the coming years, helping to repay the £135,000,000 fee that the Blaugrana paid for him in 2017.
Attributes such as Dembele's 19 Agility, 19 acceleration, 18 pace, 18 dribbling and 16 first touch make him an absolute nightmare for defenders to try and deal with.
Details on: https://fmdataba.com/20/p/147083/ousmane-dembele/
5. Bernardo Silva
Age: 24
Position(s): M (CR), AM (CR)
Club: Manchester City
Country: Portugal
Value: £73 million
Wage: £150,000 a week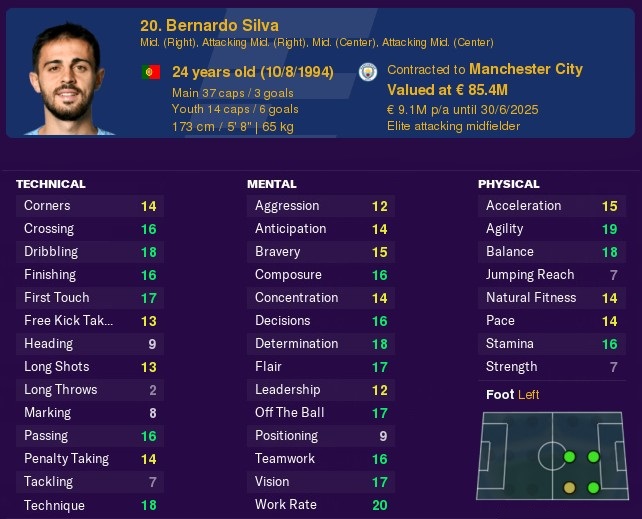 Fantastic versatility in the midfield
Unmatched work rate
Still some room to polish his skills
Sterling's Manchester City teammate Bernardo Silva gives the Englishman stiff competition as a wide attacker. Bernardo was part of the mass clear-out at Monaco in the Summer of 2017, signing for City for £44 million, which now seems like an absolute steal.
Silva is natural at right wing and both attacking and central midfield, making him a fantastic squad player. His ability as a midfielder is very well-rounded, as he is potentially one of the best in the world thanks to his variety of highly-rated attributes. His passing ability, skill, dribbling, pace, and footballing brain are all top-notch.
Details on: https://fmdataba.com/20/p/147071/bernardo-silva/
4. Raheem Sterling
Age: 24
Position(s): M (LR), AM (RL)
Club: Manchester City
Country: England
Value: £74 million
Wage: £200,000 a week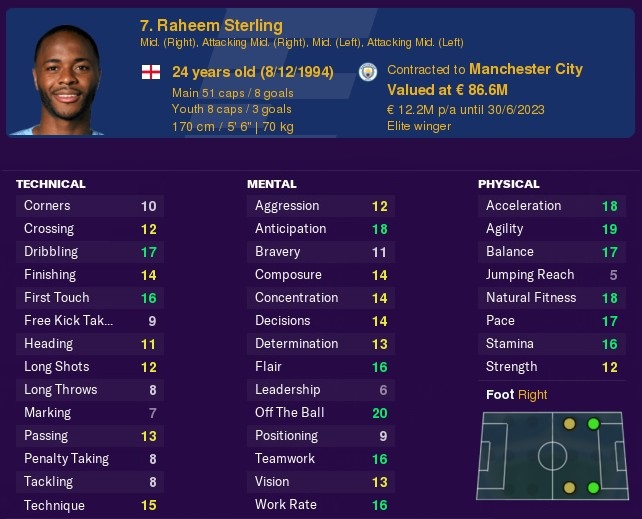 Fantastic pace
Tremendous physical attributes
Still have some room to improve
Raheem Sterling shocked the footballing world when he moved to Manchester City in 2015 for £50 million but he's comfortably paid back City's investment.
Sterling is arguably the most talented player in the England national team, already having over 50 caps to his name at the age of 24. Sterling's fantastic pace, skill and improving finishing skills have made him one of the most dangerous attackers in the world and one that would cost well over £150 million to purchase in the current market.
Details on: https://fmdataba.com/20/p/147074/raheem-sterling/
3. Mohammed Salah
Age: 27
Position(s): AM (RL), ST
Club: Liverpool
Country: Egypt
Value: £78 million
Wage: £200,000 a week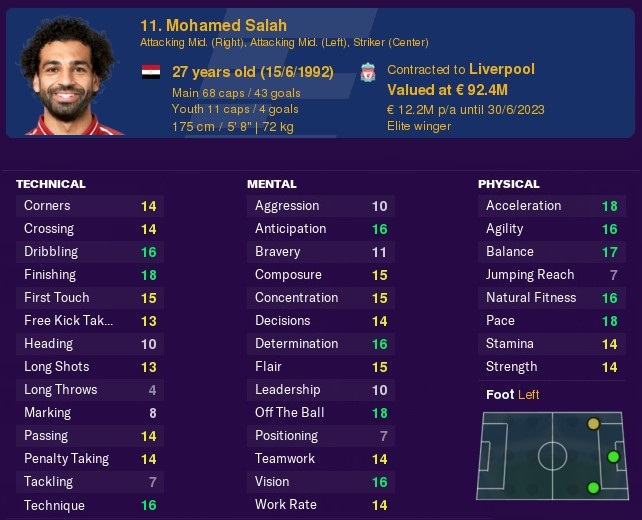 Proper superstar
Lethal finisher
Able to play all three positions upfront
Mohammed Salah might not be hitting the lofty heights that he's used to this season but the Egyptian winger remains one of the best wide men in FM20. Despite this, Salah has a strike rate of over two goals for every three games played, better than most forwards.
Mo Salah didn't pull any trees up at Chelsea but he's been back in the Premier League with a bang at Liverpool and will likely be away with the top division trophy at the end of the 2020 season. If the Reds are to sell one of their incredible front three, it'll likely be for a fee above £125 million.
Details on: https://fmdataba.com/20/p/147065/mohamed-salah/
2. Kylian Mbappé
Position: AMR, AML, ST
Age: 20 years old
Nationality: French
Club: PSG
Value: £91 million
Wage: £350,000 a week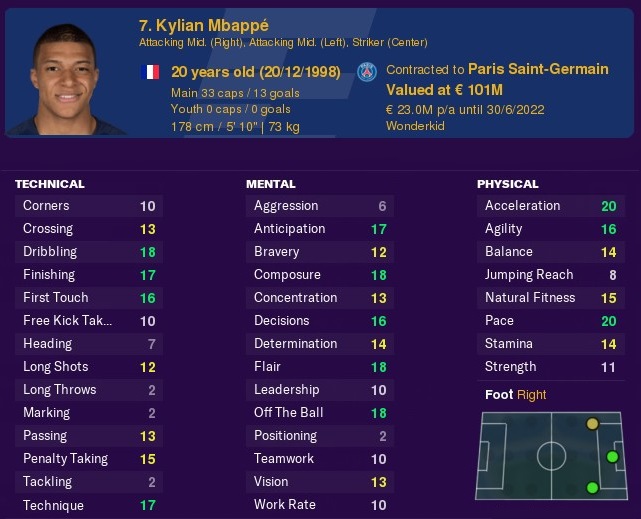 Already making an impact on the game
Amazing stats in combination with very high potential ability guarantee fantastic future
Unmatched penetrability down the wing
Kylian Mbappe Lottin is a French wonderkid who plays as Striker for Paris Saint Germain. He is also a French international who has represented the nation 33 times already.
He is already considered one of the best players in the world. He is renowned for his Dribbling, Speed & Finishing. Mbappe is a technically gifted striker who is extremely fast and accurate in front of goal. With a plethora of recognitions, Mbappe is considered the best young player in the world and many tout him to be a future Balon D'or Winner.
He also is the best wonderkid at the start of FM20.Kylian Mbappe is one of the best Strikers in FM20. His stats are excellent to start with and become monstrous even under a computer manager making him one of the if not the best player in the game.
 It is easy to see why Mbappe will be the most sought after star in FM 2020.
Details on: https://fmdataba.com/20/p/147063/kylian-mbappe/
1. Lionel Messi
Age: 32
Position(s): AM (CR), ST
Club: Barcelona
Country: Argentina
Value: £73 million
Wage: £1.2 million a week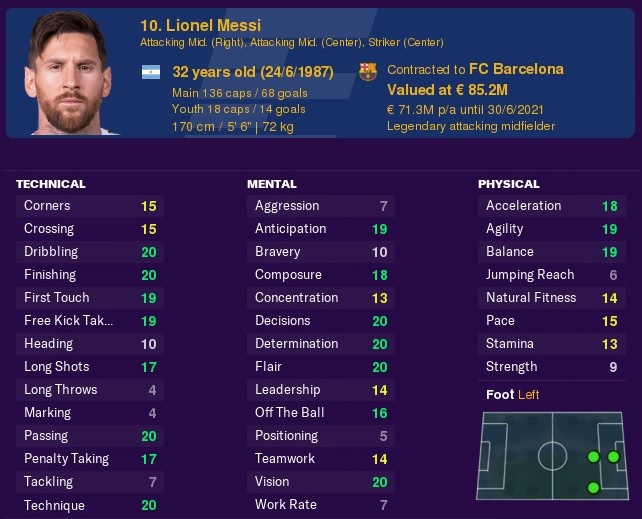 G.O.A.T.
The best player in FM 2020
Impossible to stop 
Lionel Messi is not only the greatest player on the planet right now but also of all time, and this is reflected in Football Manager 2020. Despite being 32 years old, he shows no sign of slowing down as the Argentinian won a record sixth Ballon d'Or in December.
Messi has too many records and achievements to list but one that perhaps underlines just how special he is, is that he scored more goals than he played games in the past decade. The best all-around player in the game, he has an unbelievable 10 perfect attributes and begins the game with a near-perfect CA of 195 having fallen from 199. 
Details on: https://fmdataba.com/20/p/147073/lionel-messi/
You may also be interested in: 
Image Gallery