Castlevania Successor: Bloodstained - 5 Interesting Things About The Upcoming Game
Updated: 20 Jun 2015 7:21 am
A frail beauty, fighting a fate adorned with crystal.
Embrace your mortality.
Bloodstained's announcement spurs the resurrection of a classic genre.
Castlevania became a popular platformer game over the past years, present in almost every console and game system imaginable. However, the series underwent a reboot, some players frowning at the game's divergence from its roots.
It has been several years since fans petitioned for the series to head back on its former track, but alas, Koji Igarashi was not a member of Konami anymore.
Now, a two-year wait ensues. This time around, fans are looking at something solid.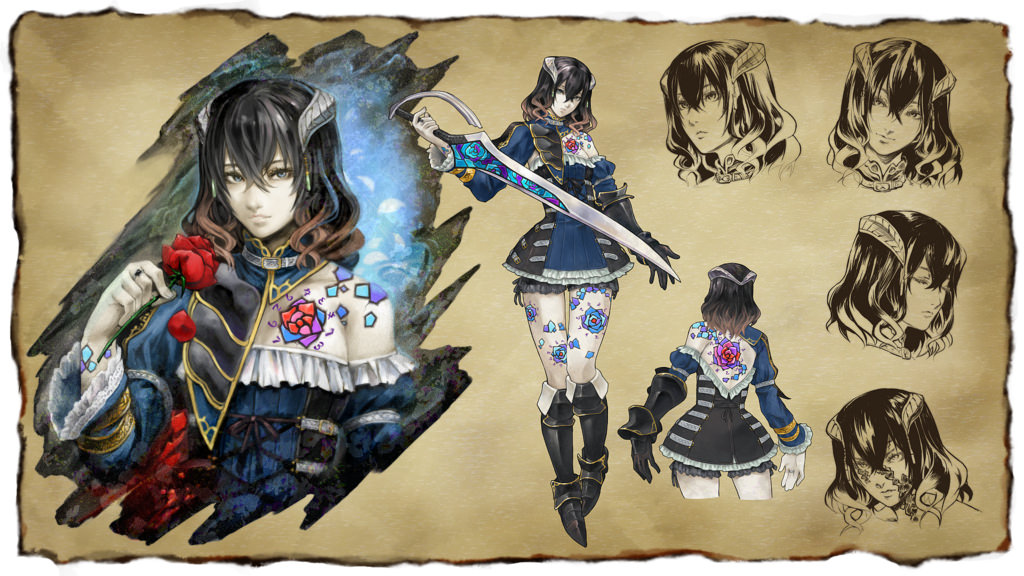 She's actually strongr than she looks.
Bloodstained: Ritual of the Night was announced to be released in March 2017 by no other than Igarashi himself. As a successor of the Castlevania series, it pays homage to its predecessor's signature 2D platforming, gothic-inspired setting, and the inclusion of RPG elements accompanied by hours of castle raiding.
The upcoming Igavania game, as the team dubbed it, is now on its planning stage. For the record, it has been funded with over $5.5 million when its Kickstarter campaign ended on June 13, 2015, gaining huge support from fans all over the world. Due to this, Inti Creates, the game's developer, will be making the game on XBOX One, PS4, Wii U, PS Vita and PC.
Whether you're a rabid fan wishing to sink your teeth into a trip down nostalgia lane, or a newcomer who would love to experience an old-school genre with a modern twist, this game has a lot of things to offer.
We're still far from the official release though, so here are 5 things that you would find interesting about Bloodstained, and these might just keep Dracula at bay for a while:
A Damsel Facing Distress Herself: A Vague Yet Fascinating Storyline

Roses are red – and blue.
Apparently, there are no vampires (yet) in the castle. Igarashi told himself that Dracula belongs to another game.
However, he unveils Miriam, an orphan whose skin crystallizes slowly due to an alchemist's curse. She got the magi-crystals when she was young, and its curse developed as she slept for 10 years. The demons infested the land during her slumber, and she woke up without a gist of what happened prior to her awakening.
Her past as an orphan urges her to protect her friends and loved ones despite her slowly deteriorating condition, causing her to rise to arms and wield her bejewelled blade to confront her destiny.
Running only on borrowed time, will she be able to save her friend and ultimately redeem herself from her demise?
Classic 2D Graphics, Plus Another 0.5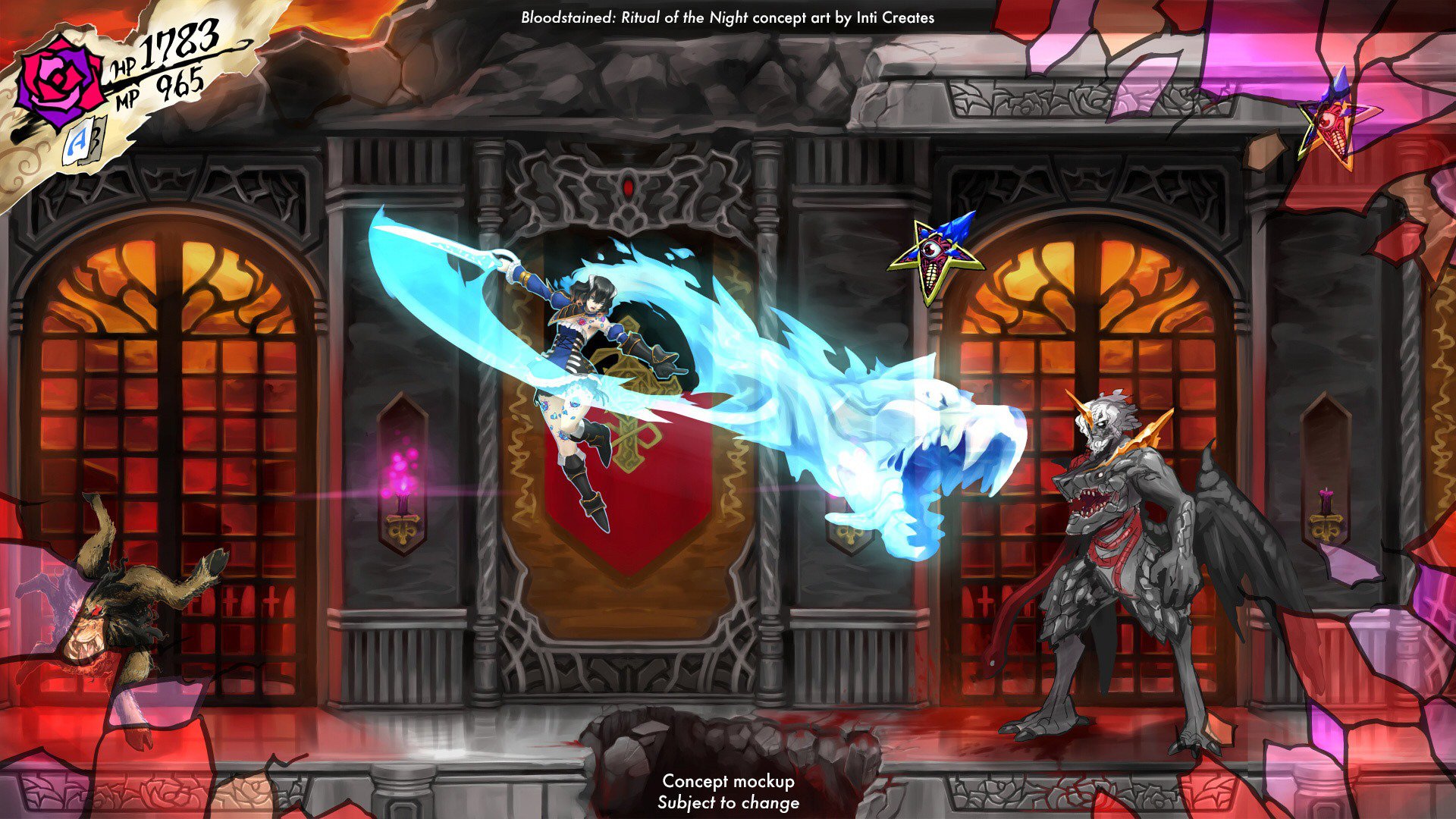 Ethereal Howl! ...and I just hope that I won't fall into this pit afterwards.
Castlevania has been renowned for its flat, 2D art that captured the eyes of the game's fans, and the gameplay won't change that much – it's an Igarashi creation. However, Bloodstained will be developed in 2.5D (meaning it's still a side-scrolling 2D platformer with modern 3D sprites and/or background) with the Unreal Engine 4 which could process simple, resource-friendly scenes to the most graphic intensive of projects.
But it should have the hand-crafted art feel!
Fret not: Igarashi explained that he would never disregard the fans' wishes for its classic style. The team is working on custom shaders that will give the game its signature, painting-like atmosphere.
And for purists, a part of the castle will feature a retro, "8-bit" section, so Miriam can make that nostalgic trip to her ancestors' realms which are merely made up of a bunch of pixels. Well...sort of.
An Epic Requiem

The castle looms; its very melody beckons you to explore its halls.
Roaming a gothic castle requires a good playlist to fight the boredom of staying enclosed in its walls for several hours. Poor Miriam; portable music players aren't available in her era.

From Castlevania to Bloodstained, she is the minstrel behind the symphonies.
Michiru Yamane, the lady behind Castlevania's music since Bloodlines until the Order of Ecclesia, will be working on the game's soundtrack, along with Ippo Yamada (Megaman series) and Jake Kaufman (Bloodrayne: Betrayal). This powerhouse is bound to deliver a sonorous experience that will send you dancing the bloody waltz and humming cheesy 8-bit tunes while traversing the cold castle floors.
You may check out the music samples from the project's Kickstarter page to have a taste of Bloodstained's tracks.
Do we go left or right? And oh, did I just level up?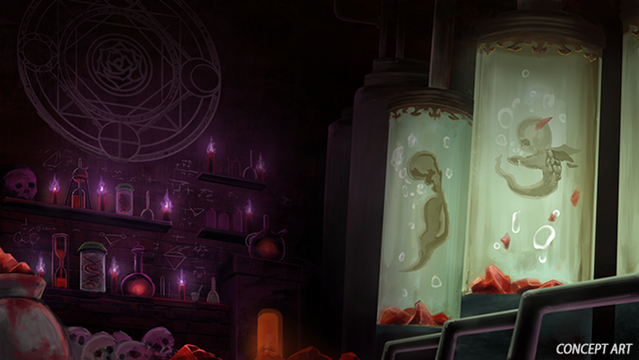 If you happen to step into a room like this, probably you're on the right track.
Just go to where your boots (or you fingers for that matter) lead you. And keep those EXP points flowing.
As a successor of one of the most iconic game series in history, Bloodstained beckons its players into an intricate maze of hallways and rooms along with a plethora of demons referencing to the Lesser Key of Solomon, invoking a more classic vibe to the game's signature monster killing to gain levels.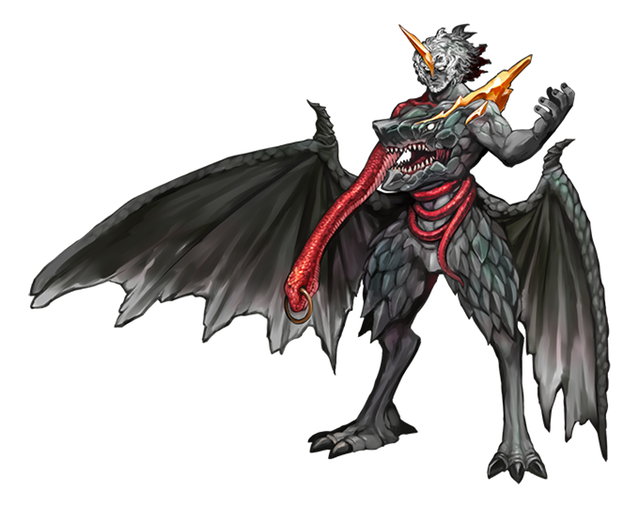 Astarot, 29th demon in the Lesser Key of Solomon. He's a duke, by the way.
Just like any RPG, level grinding may be a chore, but it's one of the ways to get Miriam ready to face her ultimate adversary at the castle's highest spire. Might as well deal with it, right?
Things will surely get tedious in time as you gain abilities to unlock certain areas, so warp portals are scattered throughout the castle, minimizing the pains of backtracking. Though Miriam's boots are made for walking, she would definitely appreciate a quick teleport.  
Scales go here, the eye goes there… Poof! A new weapon!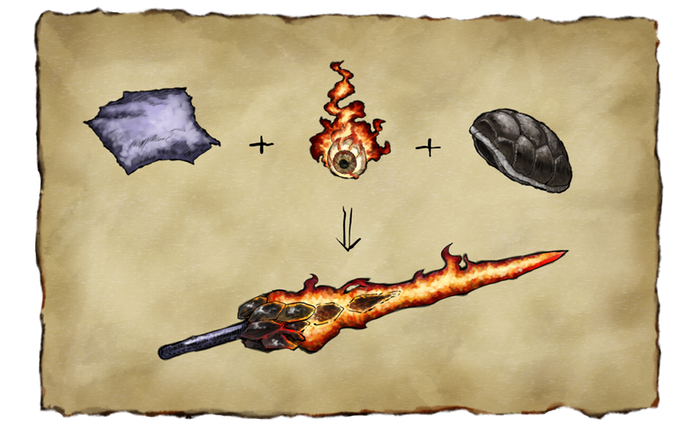 The math isn't that complicated.
Miriam is actually an alchemist-in-training, and due to her circumstances, she needs to keep up with the ever-increasing dangers present within the castle walls. Regular gear found in the hellish dungeon might suffice, but there will be times that these won't make the cut.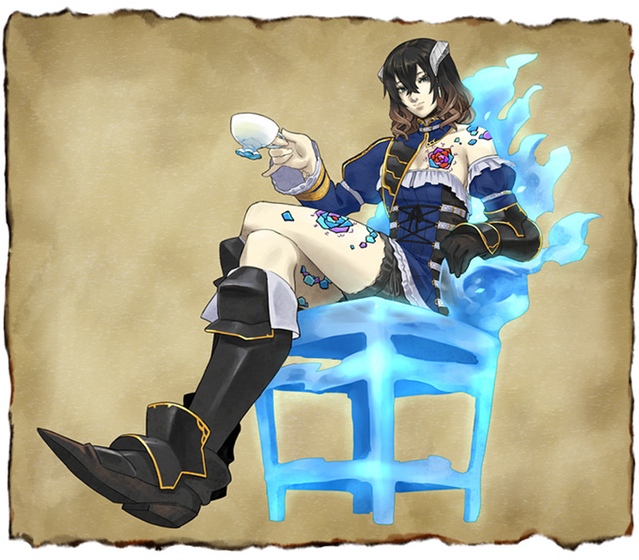 Magical Throne: an MP recovery skill. Sometimes, a hero needs her (tea) break.
Her alchemic knowledge bestows players the capability to synthesize her own arsenal of weaponry and abilities from enemy loot; Miriam might not need a blazing smithy or an arcane sanctum to craft a flaming blade or a freezing spell.
After years of wishing for the cult classic to return, Bloodstained promises a unique yet familiar gameplay to the fans of the original Castlevania titles while inviting Igavania newbies to experience what the fans have been raving about for years.
Will the game be worth the two-year wait?
Image Gallery