[Top 15] Best Zombie Survival Games To Play Right Now (Ranked Fun To Most Fun)
Updated: 04 Aug 2022 6:03 am
You can run, but you can't hide
In this article we will be rating the top 15 zombie survival games which you can jump into right now. We will be looking at new games, as well as classics in this genre, that get you ready to strap up your boots and head right into the midst of a hoard, wielding a machete or a bat lathered with barbed wire. 
We will be ranking these games from fun to most fun, number 15 will be fun, while number 1 will be the most fun zombie survivor game to play right now.
15: Dead Rising 2 (2010)
At number 15 is the memorable Dead Rising 2, a sequel which brought us back into the early days of crafting everyday items into weapons fit to slaughter mountains of zombies at once. 
This game is certainly nostalgic, and the franchise set the bar high for the semi open world of zombie slaying to become the next great genre of games. Sure there have been better games since its release, but it will forever stand as one of the greatest of its time.
It's set in a Las Vegas resort known as Fortune City. Chuck Greene, a former motocross champion, was in the city when an outbreak occurred and he must battle through a multitude of zombies and weird bosses, all while trying to secure medicine for his infected daughter.
The game is full of endless fun, as you craft together items such as boxing gloves and knives to turn yourself into a modern day Freddie Krueger. Not to be missed if you enjoy the original zombie survivor games.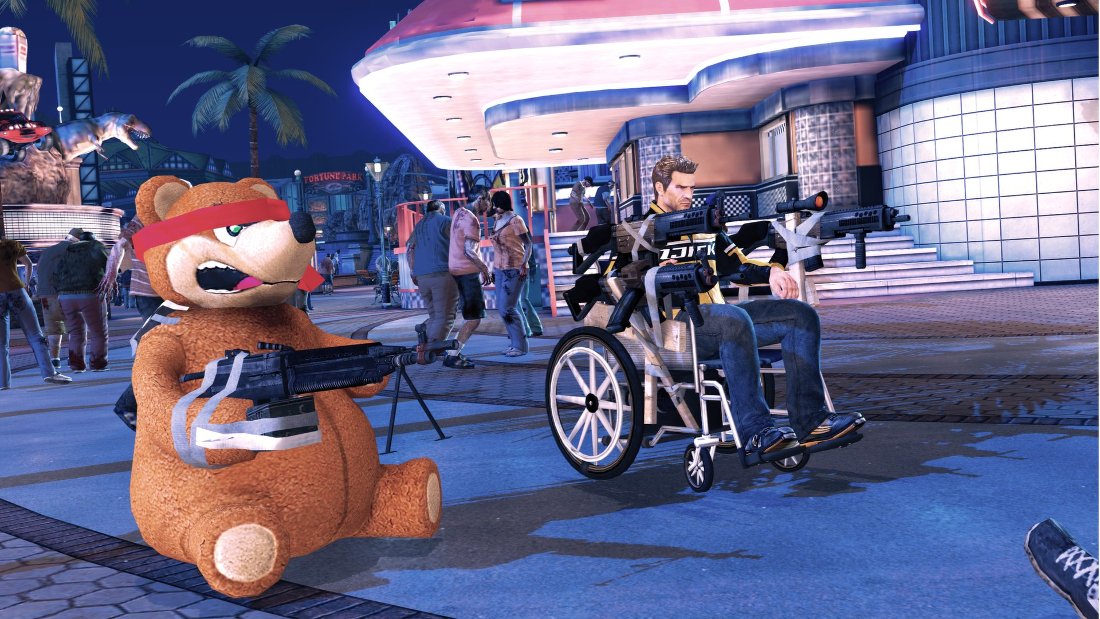 Bears got your back in Dead Rising 2
14: Unturned (2014)
Next up on our list is Unturned, a zombie survival game created by a sixteen year old, set in the zombie infested ruins of a broken society. 
The game features both multiplayer and single player modes, and has gained praise for its ability to keep players entertained for endless hours as they slay intense hordes of zombies. 
The arena game mode for multiplayer spawns you in the middle of the map with limited supplies and a few weapons scattered close by. It acts like a zombie version of the fortnite battle royal and is incredibly popular.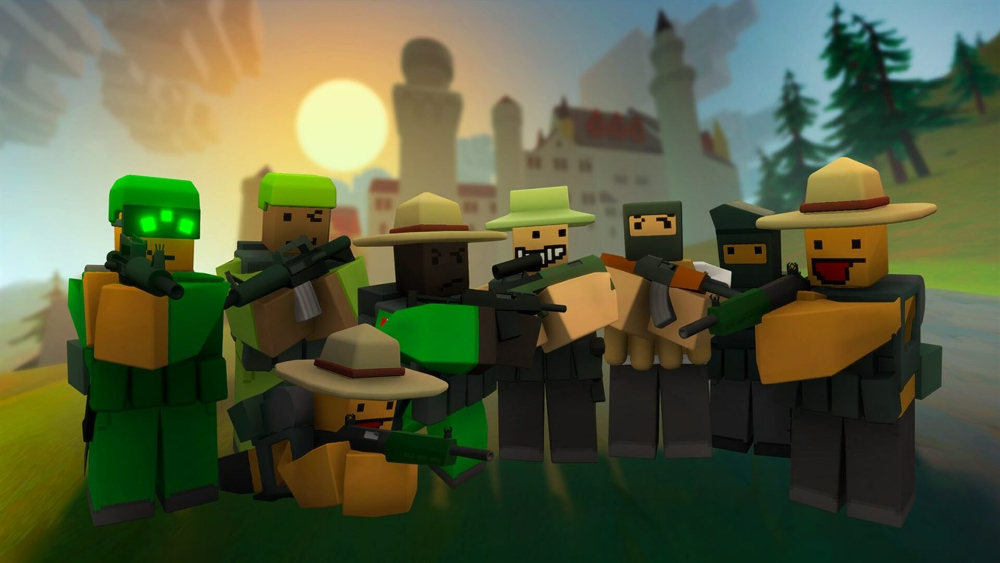 The whole squad ready to slay zombies
13: Dead Rising 3
When Dead Rising 3 was created, it showed us how zombie games could evolve on the next generation systems, and it did a fairly good job bringing in the new age of zombie slaying.  You're welcomed to Los Perdidos, 10 years after the events of Fortune city, and you're let loose in one of the best open world zombie maps of recent years, full of stunning views permitted by the next gen graphics.  
The gameplay is intense, yet very fun, as huge hordes of zombies can take over your screen at any one time. This was done to show off the potential power of the next gen consoles. Drive through these hoards with ease as you try to escape before the military blows the entire city to smithereens. 
The weapon crafting is some of the best we have ever seen in a zombie survival game, receiving an extreme upgrade in quality from Dead Rising 2. Hundreds of weapons are ready to be crafted and used in your zombie slaying arsenal.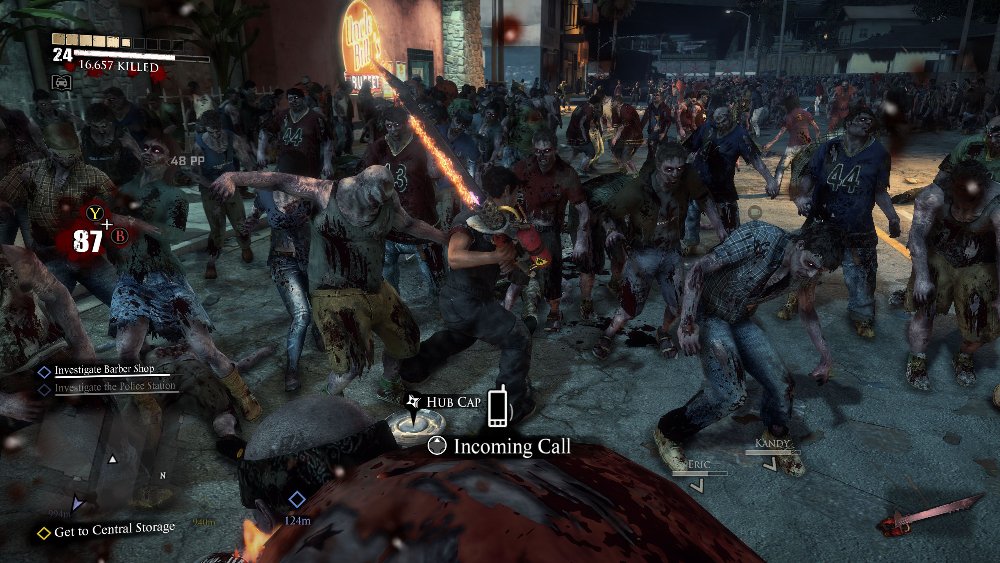 A Zombie hoard fit for a King Slayer
12: Project Zomboid (2013)
Number 12 on our list is a great zombie survival game known as Project Zomeboid. The game is often compared to a zombified version of the well adored Sims franchise , yet this one packs a little more action. It provides one question, how would you like to die?
In this classic you are tasked with making sure your character keeps a check on his hunger, water and sleep cycles, while trying not to become the next meal for a zombie. You build defenses simply to delay the inevitable death that's coming for you.
The game is a fun  play, and a proper representation of a hardcore sandbox game with a foucs on realsitic survial. You'll have to deal with boredom, depression, hunger, thirst, and illness, all while trying to survive the oncoming hordes of zombies.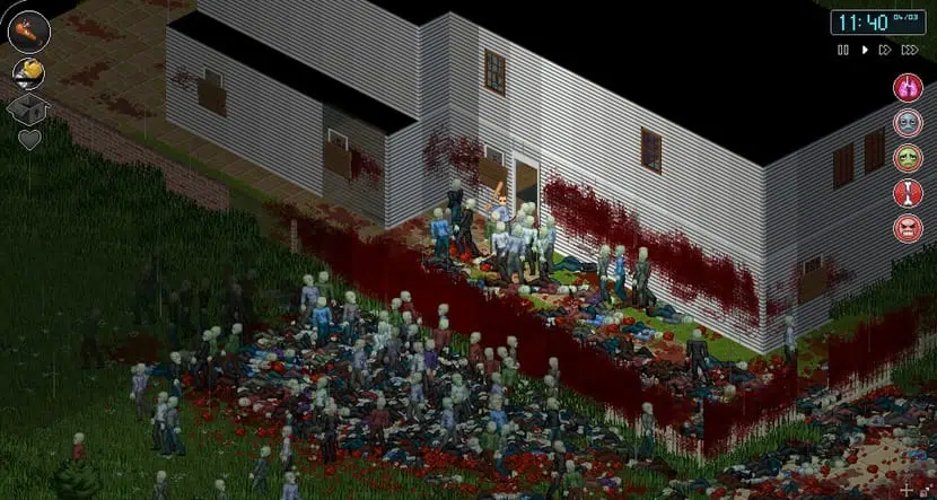 Can you hold back the hordes, or will you become tonights dinner?
11: Night of the Dead (2020)
Night of the Dead is a great open world zombie game, similar in aspects to the rewound DayZ, as it requires you to make fortified defenses to hold back horde after horde of flesh eating zombies. 
The premise of the game has a character known as Lucy, who awakens from a human experiment to find herself trapped in a city full of zombies. She must survive night after night, as she communicates with a group of survivors to escape from the isolated area.
The game keeps players interested as you farm and hunt for food, build fortresses and defend yourself against hordes, all while collecting items, weapons and costumes as you search the house. The level of crafting has also received great praise from audiences.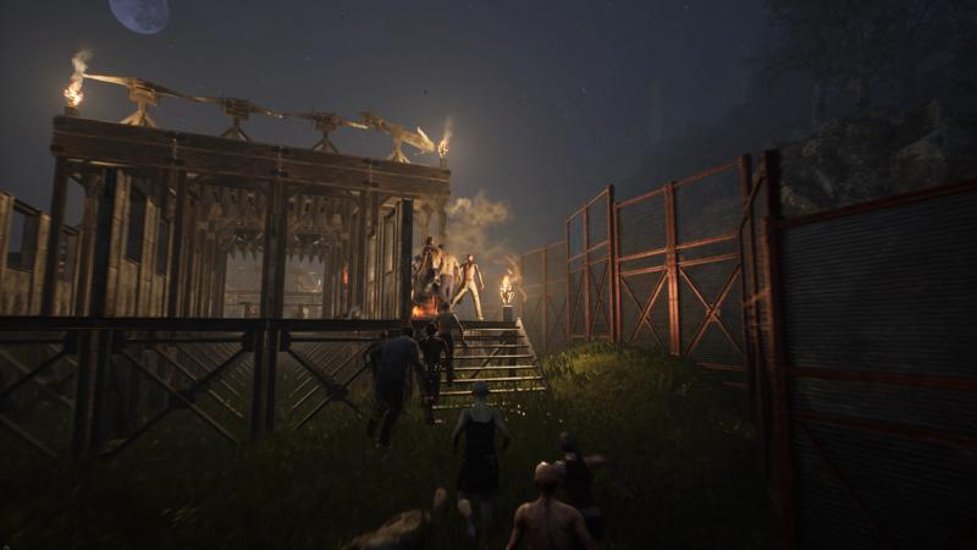 A base worthy of holding back the undead hordes
10: Dysmantle (2020)
Coming in at number 10 we have Dysmantle, a great survival game which brings you into a world where you can explore, fish, and above all else build a base strong enough to keep out the dead.
As you ascend from your shelter after many years, a new world awaits you on the other side. A world which is now inhabited by nasty and horrendous creatures who want you as their dinner. No other humans are to be seen, and nature now holds the reins in this emphatic game. 
The game has received praise for the ability to break around 99% of the objects for supplies if you have the correct tool, along with the building, crafting, hunting, cooking and farming aspects, gamers can stay entertained for days in this thrilling survival game.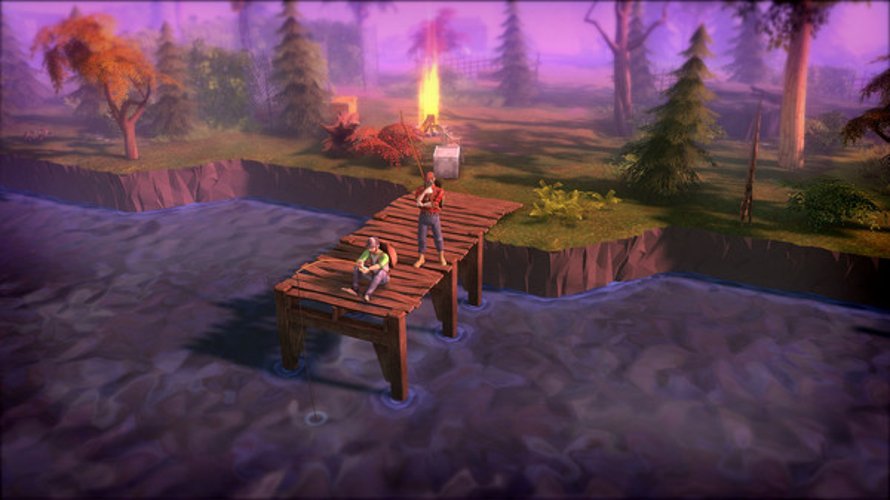 A quick pit stop between slaying hordes of the undead
9: DayZ (2018)
Number 9 on our list, DayZ, originally started out as a mod for ARMA2, that became so popular with fans it received its own game, a game which has but one rule in essence, stay alive no matter what you have to do.
In the game you are tasked with surviving in the post soviet republic of Chernarus, a place where a virus has infected a large portion of the population. Here survivors themselves double cross each other just to stay alive. 
The game is a complex and authentic survival game, offering the player the ability to hunt, craft, and build, all while trying to manage health preservation. Its huge open map offers a variety of beautiful landscapes as well as landmarks based on historical locations. 
The game has no checkpoints or saves, so when you eventually succumb to the zombies, you must start from scratch. This adds a nice level of awareness to the game, one which keeps players entertained for hours on end.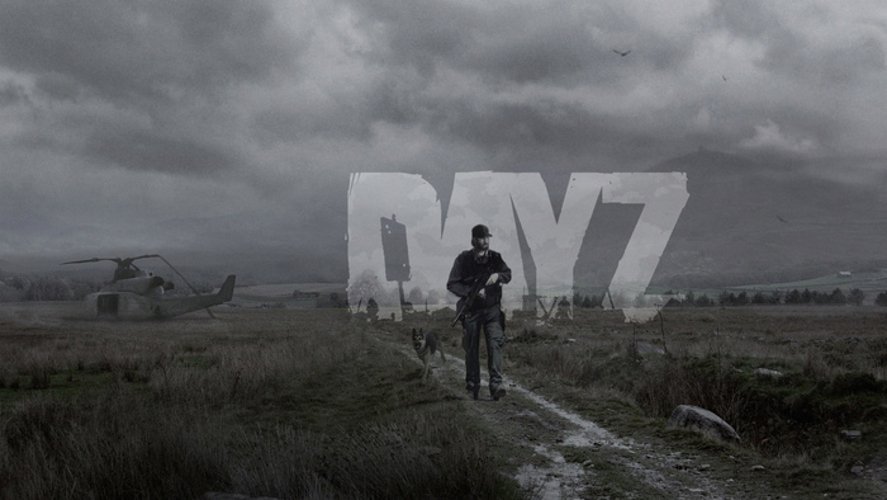 A dog is a mans best friend, especially when there are no men left. 
8: Dead Island Definate edition
Dead Island Definate Edition comes in at number 8 on our list. It is a game which has often been quoted as the zombie apocalypse of a lifetime, with the graphics being more beautiful than ever. You are caught in the midst of an epic zombie outbreak on the tropical island of Banoi. The only motivation you have is to survive, as you smash skulls and limbs of the dead with quality melee combat.
Explore the island for all it has to offer, from the deserted city, the silent beaches, and the open highlands, it's a map that has something for everyone. You feel the destruction, the horror and the madness as you immerse yourself into this game.
It remains one of the best zombie games ever released in terms of multiplayer, which gives the option of a 4 player story mode, set in one of the best open world zombie maps of all time.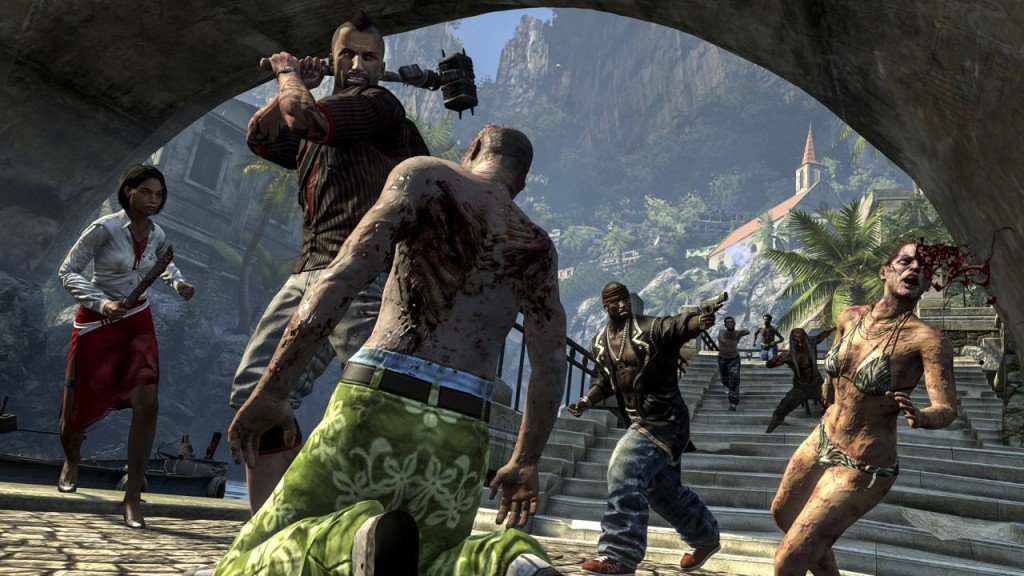 Hey batter, hey batter, hey batter, swing
7: Scum (2018)
Next on our list we have the well received Scum, a game centered around a prison break in a post apocalyptic world, where some would suggest staying inside the prison, as mutated monsters and zombies await all those who venture too far. 
You'll need to hunt the world for supplies and medicine, all while trying to stop other survivors from taking your gathered belongings. The human aspect feels realistic as your calories, health and other stats are tracked through a BCU monitor in game. 
The game provides four interesting attributes including, strength, dexterity, constitution and intelligence. These help players to create an avatar which falls in line with their specific playing style. 
The combat aspect depends on the player's skill level, but is also affected by the BCU monitor. In true survival fashion, wetness, medicine, cooking, hacking, crafting and hunting all play a major role in the game, giving us one of the most realistic and modernized zombie survival games of recent years.
Save bullets and slaughter the undead with an axe in Scum
6: Strange Brigade (2018)
Strange Brigade comes in at number 6 on our list, a game set in the 1930s when a long forgotten ancient witch queen rises from her tomb in Egypt, along with her obedient zombie monsters to try and take over the world. 
You will play as one of four well trained agents who aim to tackle the undead supernatural forces of the game. You can unleash fierce magical powers and powerful weapons such as the fire spitting Krakatoa on any who get in your way.
You explore through ruins, solive enigmatic puzzles, and find treasure, all while you blast your way through hordes of undead enemies in this thrilling survival game. It's certain to bring out the wanderlust in you. 
The game includes a campaign full of activities, including dangerous dig sites, amazing pyramids, and caves which leave you in a state of awe, all while sending undead foe after foe back to where they came from. The multiplayer aspect of this game has intrigued many gamers, so why not park up with your friends and take on the evil queen of ancient Egypt in a game that provides countless hours of exciting gaming.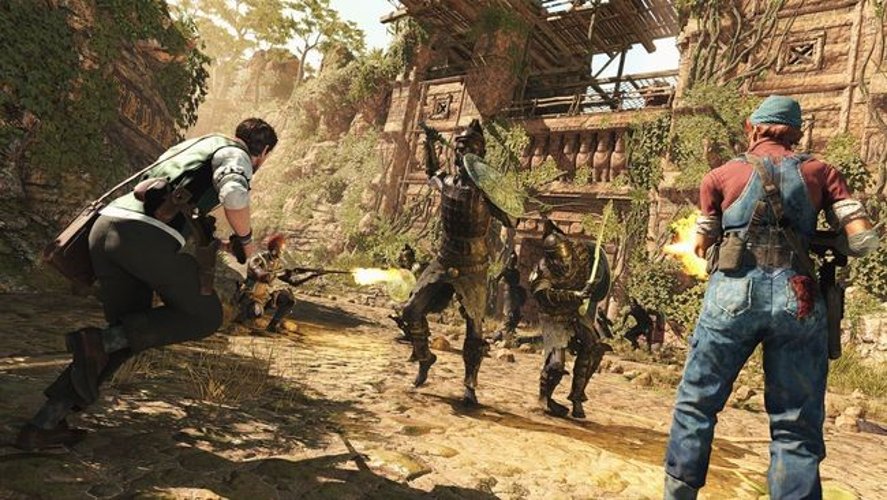 Team slaying is a great pass time
5: Days gone (2019)
At number 5 we have Days Gone, a game which lets you ride around on a motorbike and take out horde after horde of zombies, that sounds like a day well spent. 
The game is an open world survival game set in a harsh wilderness two years after a global pandemic decimated the population of the world. You step into the shoes of a former outlaw, Deacon John, who tries to find reason to live in a land surrounded by the dead. 
You will scavenge through abandoned settlements for equipment to craft items of value and deadly weapons to help you on your way. You can also interact with survivors who you can trade with, yet sometimes they would rather just take without asking.
The open world transferred on a motorbike is authentic and envirogating. As you travel through snow covered plains, forests and peaked mountains, you'll explore caves, mines, and rural towns, there's something all gamers can find worthy of doing in this game.
You can easily lose yourself in this compelling story of a man who feels betrayal and regret as he searches for hope after suffering a deep personal loss. This game brings out the inner human in all of us.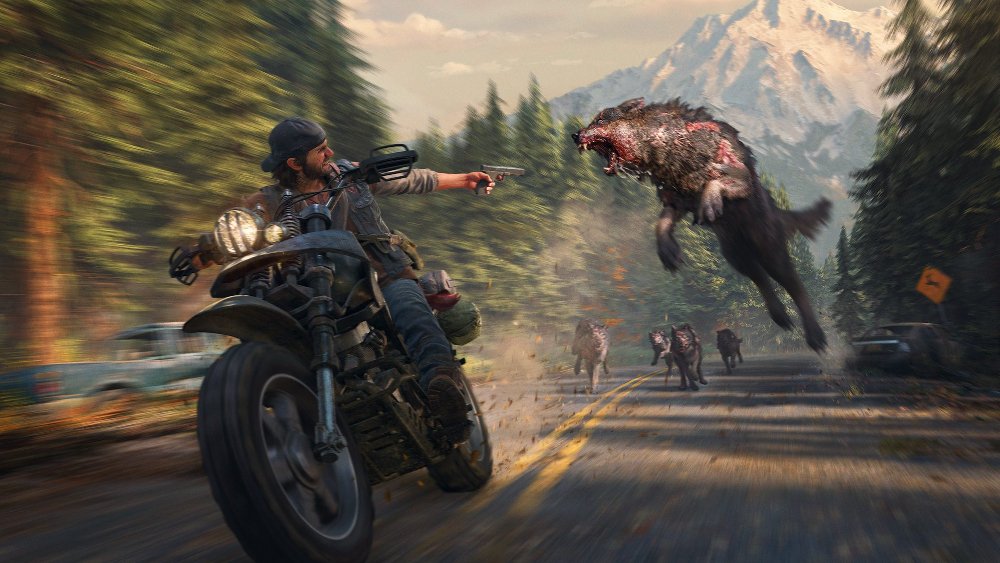 Zombies aren't your only problem in Days Gone
4: 7 Days to Die (2013)
 At number 4 we have the memorable 7 Days to Die, a game that has stayed relevant for almost a decade. It's a survival game which takes place in the aftermath of a third world war that is now overrun with zombies.
7 Days is a game that helped define the survival genre, with unrivaled crafting of its time and world building content unmatched in its day. It's a unique combination of a survival horror, first person shooter, tower defense and RPG. 
It presents authentic combat, looting, exploration and promotes the growth of your character, in a way that has kept fans engaged for years. You explore through unique biomes, handcraft and repair a multitude of weapons, design and build forts to suit your playing style, and all of this can be done in multiplayer mode as you work together to stop the zombies coming to claim you. 
There are endless skills to be mastered under five main attributes, and you can gain additional skills from reading books. The level of growth in this game promotes it as one of the best RPG games of its time.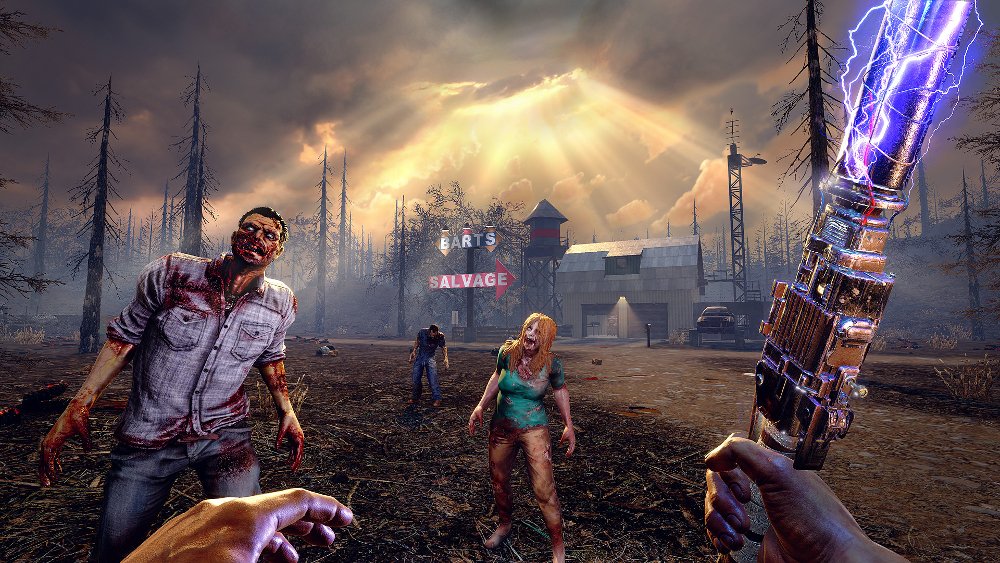 A makeshift lightsaber is a sure way to slay hordes of zombies
3: Dying Light (2015)
Number three on our list is none other than Dying Light, a zombie survival game created by the masterminds behind such titles as Dead Island and Call of Juarez. 
In this classic you are dropped into a city destroyed and overrun by a zombie virus, and instantly you are bitten. Come to discover the choices you will have to make in order to survive, without letting up your secret. 
The game has a vast open world as you use parkour to scale the rooftops, steering clear when you can of the thousands of walking dead who wish to claim you as their new brother. 
The combat is engaging and gory, with endless combinations to be made out of everyday items, you'll be sure to be entertained for endless hours as you slay your way through the Middle Eastern city of Harran. 
The day and night cycle give the game a realistic feeling as you change from the hunter during the day, to the hunted at night thanks to a special kind of zombie which can scare even the most fanatic of horror game players the first time it's seen. 
So why not join up with your friends as this game boasts a fantastic co-op scene and helps the protagonist push to save the survivors before the military decides to blow the city sky high in this epic new age zombie survival game.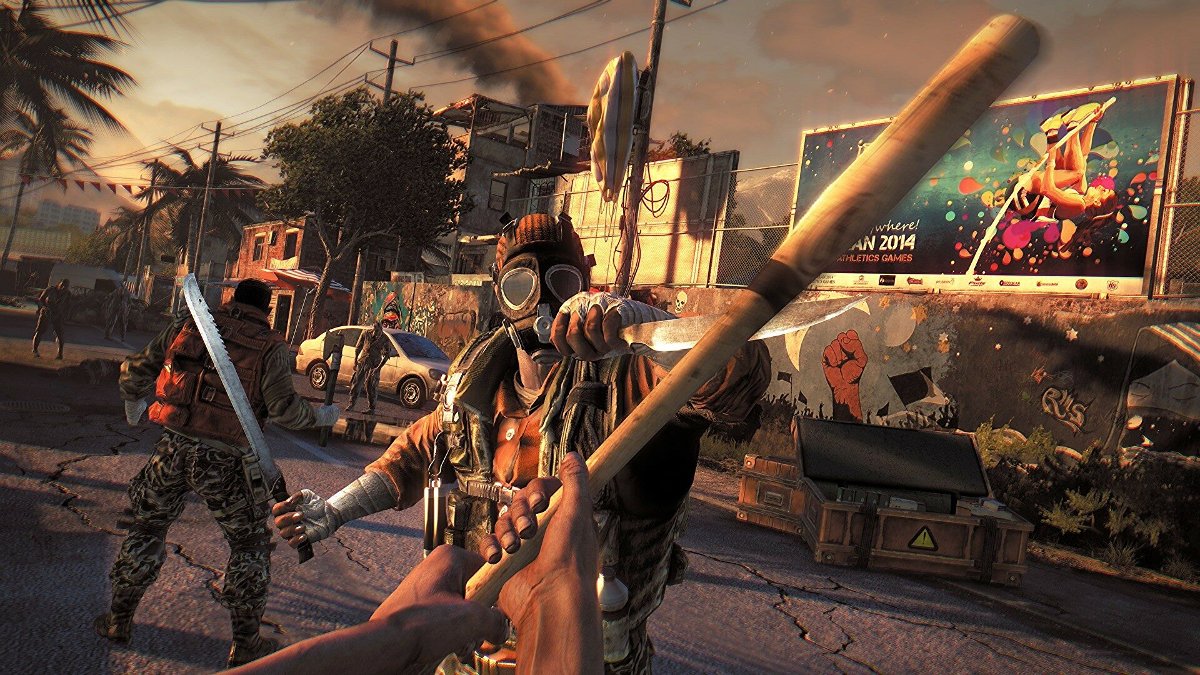 Nothing like a good old baseball bat to defend to take the head off your enemies
2: State of Decay 2: Juggernaut Edition
The runner up in our most fun zombie survival games article is none other than state of decay 2, a game which is slightly different from others on this list, as it is mainly a survival game where the zombies take the back seat. 
It's a game set in an enigmatic open world, just after a zombie apocalypse. Your small community of survivors seek to rebuild a small portion of civilization to help humanity survive the horrendous plague which has torn through the world. 
The premise of the game is very entertaining as you decide who to recruit to your team, where to settle your people and how to fortify and upgrade the house. You can send survivors on supply runs for items such as food and ammo, with the latter being used to fight off zombies attacking your base.
Each player's experience is unique in its own way, as they have their own special set of skills and traits, so no two communities are ever the same. The challenges also vary in each game based on which survivors you recruit, making it a game that can be enjoyed over and over again.
The fun doesn't stop there, as with co-op mode you can visit your friends' communities and help them if they get stuck in a tough spot, or, just enjoy their accomplishments, with the ability to bring back rewards to your own community is also included. 
All things considered this is up there with one of the best survival games of the present era, and certainly a game you won't want to miss out on.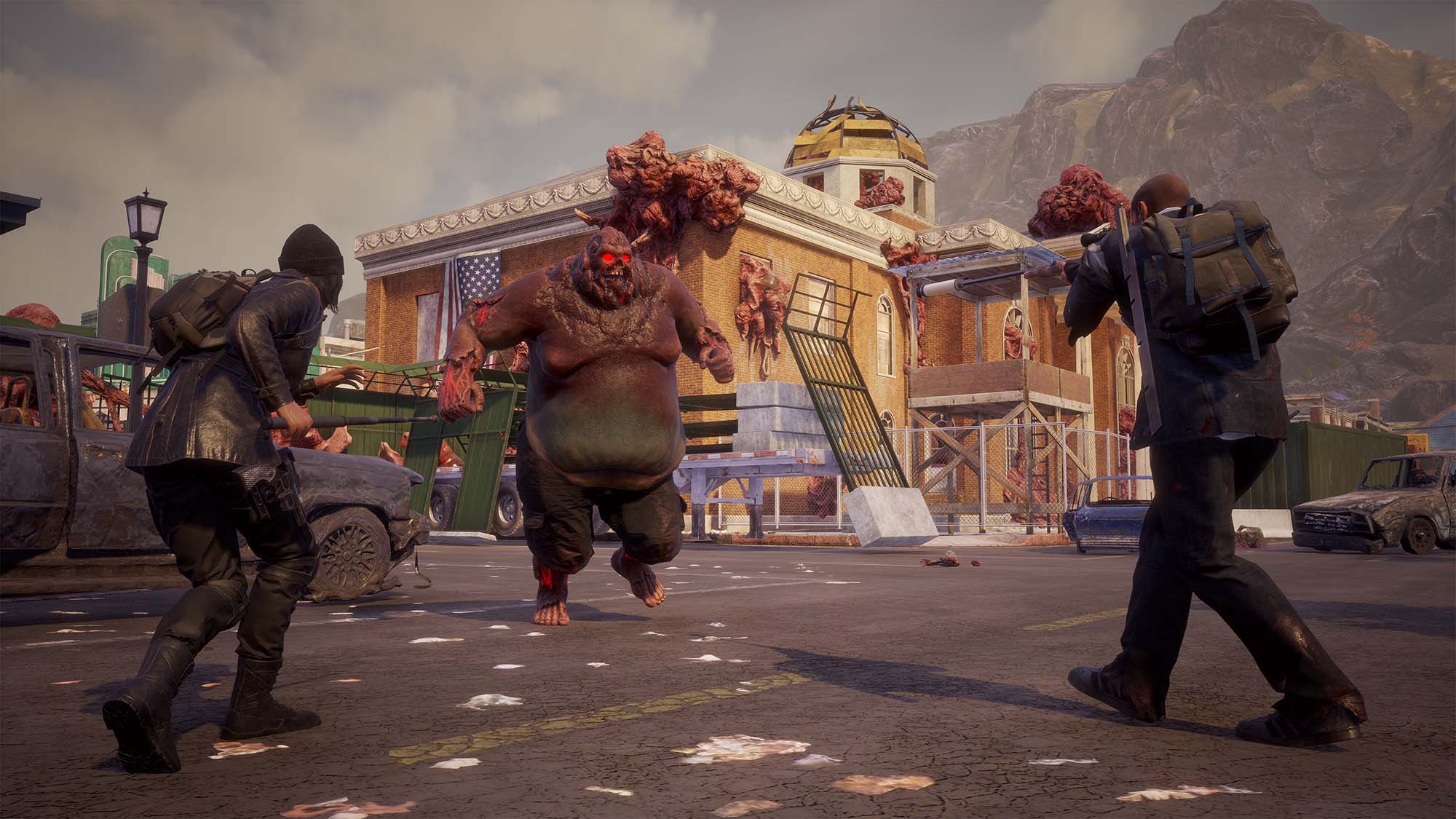 A big gun will take down a bigger zombie
 1: Dying Light 2 Stay Human
So we have finally reached number one on our list and of course it has to be the long anticipated sequel to number 3 on our list, Dying Light 2. It's a game with an exciting campaign full of battering zombies and human scavengers that'll do anything to get your stash. 
The game takes place 20 years after the events of the prequel, where Crane and the survivors managed to survive a bombing by the government, but ultimately lost the fight against the virus, as humanity has fallen back into the dark ages. 
You're wanderer with the power to help change the fate of the final city on earth. The protagonist is haunted by memories he cannot understand, so you set out to learn the truth. Uncover the dark intentions behind the wielders of power, choose sides and decide your own destiny.
Build upon your skills as you defeat enemies of both undead and human scavengers and traverse an incredible open world using a built upon parkour system that leaves zombies chasing your dust. The combat is similar to the prequel, yet we have an upgrade in the form of parkour combat, so why not drop kick a zombie from a zipline instead of covering your katana with blood for now, as there will be a time for horde slaying later. 
Shape the future of the city by engaging with survivors, all while monitoring your own actions, they all will determine the balance of power in the city, leaving it as a place forged by your own experience. This game is not one to be missed. call up your friends, set up your station, and help your character push for a new world, birthed out of a dying one overrun by the undead.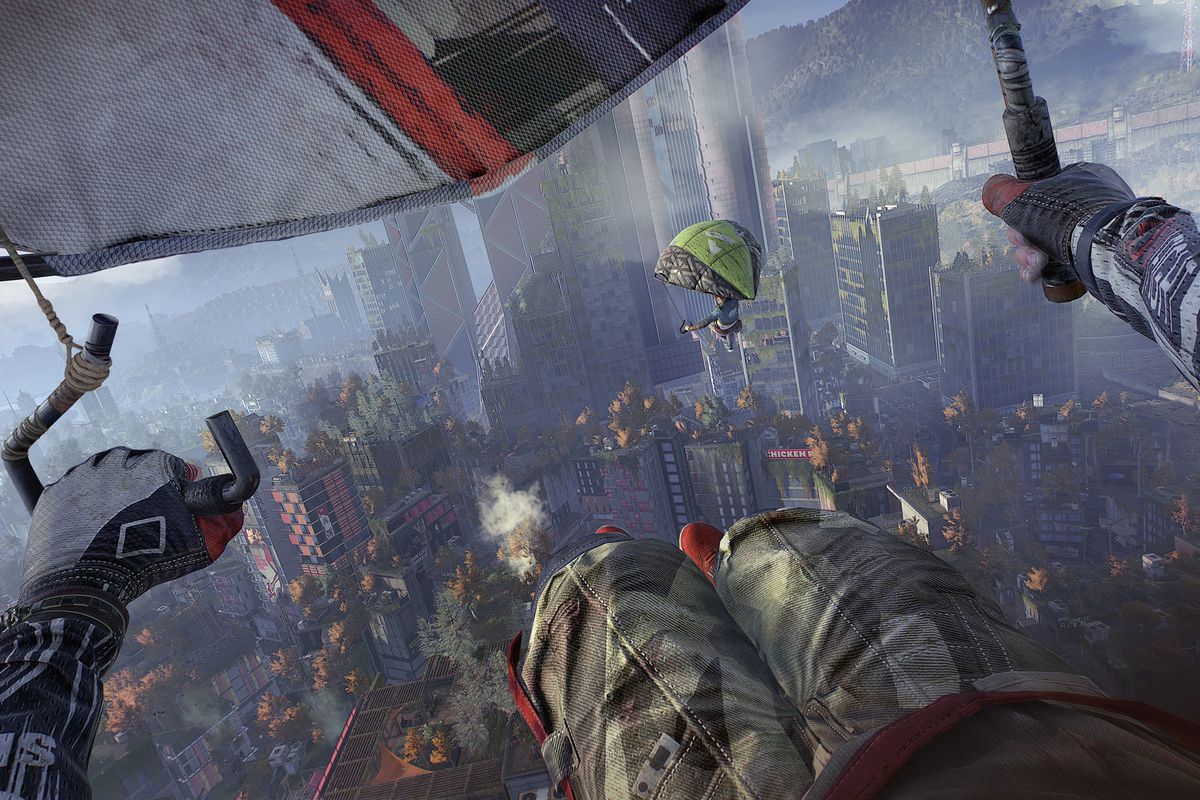 Drop kick a zombie from the sky, now thats class
You may also be interested in:
Image Gallery