Top 10 Black Ops 4 Best Class Setups That Turn You into a Killing Machine (2019 Latest Edition)
Updated: 25 Jan 2019 7:00 am
Zombie Hero's Before Battle
These classes will rock your opponents. Discover the best weapon classes in Black Ops 4 across all multiplayer game modes. These classes will take you to the top of the Black Ops 4 leader boards and earn challenges and score streaks. These classes can help you compete if you play in competitive modes like hardcore or game battles.
10. Class Name: Eye of the Tiger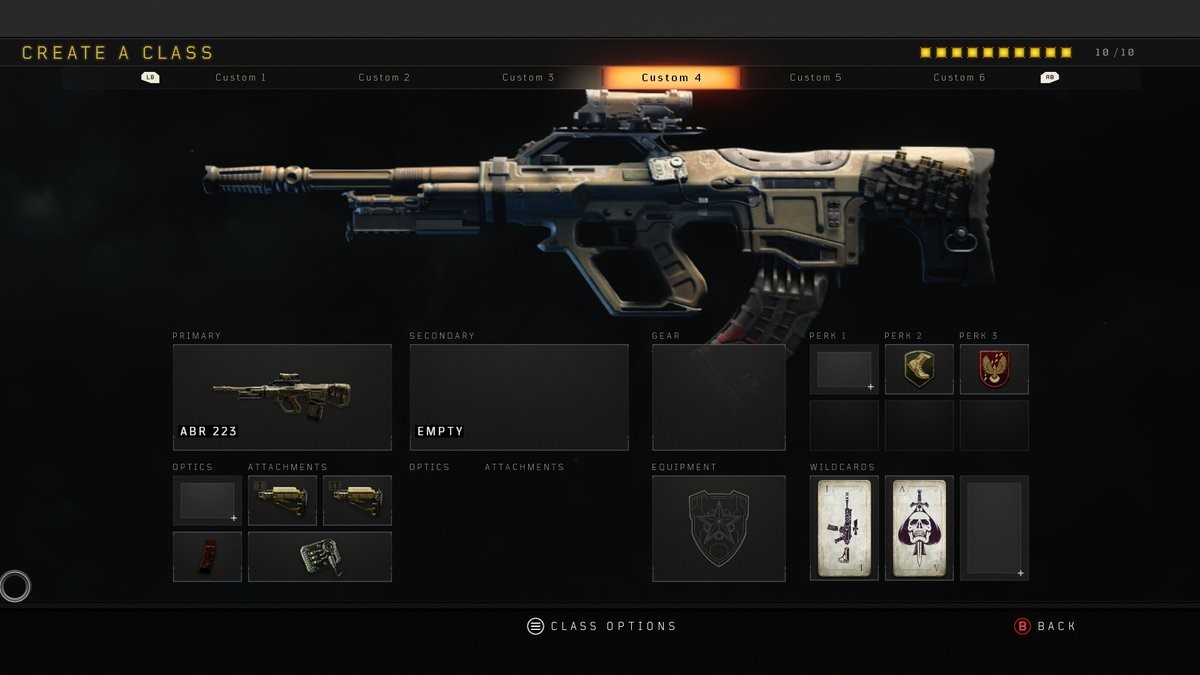 Primary: ABR 223
Attachments: Stock II, Extended Mags, Repeater
Secondary: none
Attachments: none
Gear: none
Equipment: none
Perk 1: none
Perk 2: Lightweight
Perk 3: Tracker
Wildcards: Primary Operator Mod, Primary Gun Fighter I
The ABR 223 is a top 2 weapon. Its highly effective at all ranges; hip-fire it or fire it down sights confidently. Your targets won't last long underneath the burst fire pressure. Its default sight is better than other scopes. This scope is better because it doesn't restrict your peripheral vision as much as others. The ABR 223 is the freest flowing weapon in the game. The fire rate is fast enough that you can compete in close quarters. And its accuracy and range make snipers fear you.
Having stock II equipped allows you to maneuver quickly while sustaining fire on your enemy making you a much harder target to hit. Extended mags gives the weapon more firepower and will prevent you from dying by running out of ammo. The operator mod repeater gives you the ability to hold the trigger and continuously fire bursts. This increases the fire rate of the weapon and the fire burst keeps the weapon accurate at a distance. Lightweight and tracker keep you quicker than your opponents.  
9. Class Name: Close Quarters Express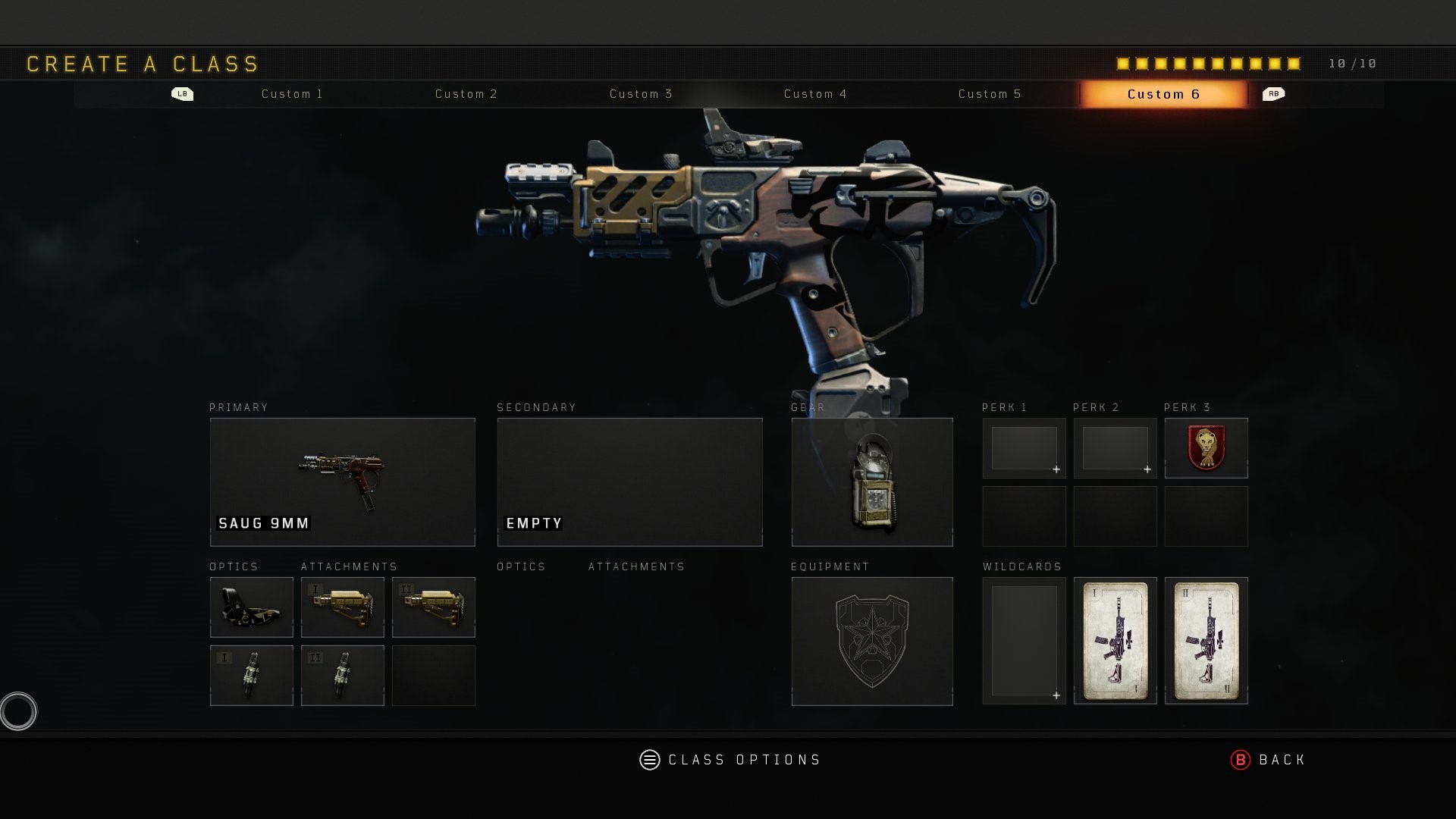 Primary: SAUG 9MM
Attachments: Reflex sight, Stock II, Fast Mag II
Secondary:
Attachments: none
Gear: Acoustic Sensor
Equipment: None
Perk 1: none
Perk 2: none
Perk 3: Dead Silence
Wildcards: Primary Gunfighter II
The SAUG 9MM is the best close quarters weapon in the game. It is the second most accurate in its class and it has one of the highest fire rates.  It is a highly maneuverable SMG that allows you to close the distance between your enemies quickly. It is accurate and works well with the 1.35x magnification the reflex sight provides.
Having stock II equipped allows your movement to be as natural as possible while aiming the weapon. This is the only attachment that lets you drop shot opponents while maintaining your aim. Quickdraw II makes your aim incredibly fast and lets you view more of your surroundings while aiming.
Dead silence and acoustic sensor work well together. With dead silence enemies can't hear your footsteps and you can hear your opponent's movements more clearly without having to listen to your own footsteps. With acoustic sensor you can hear enemies more loudly and can even detect enemies using dead silence.
8. Class Name: X-ACTO Knife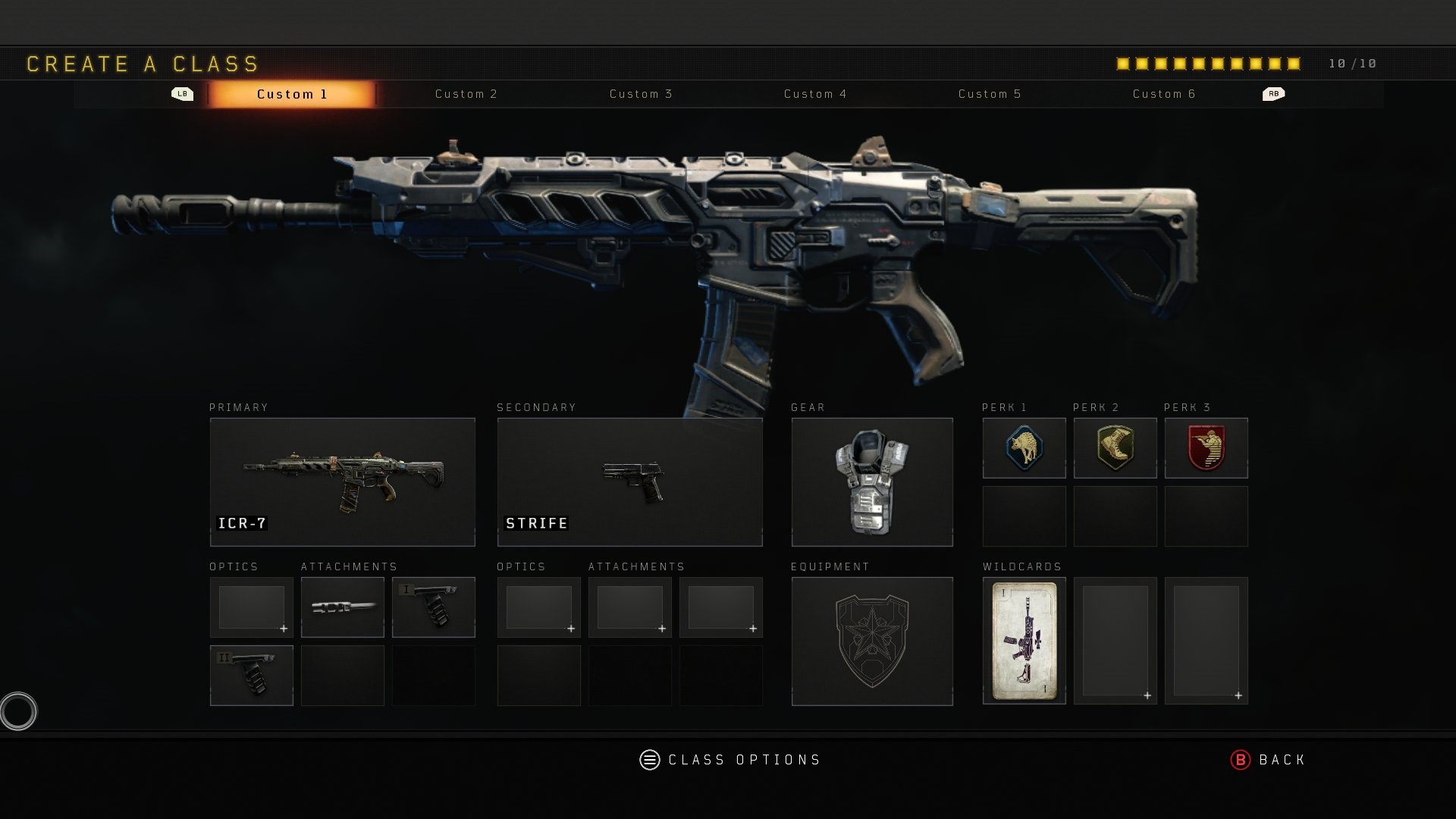 Primary: ICR-7 
Attachments: Long Barrel, Grip II
Secondary: Strife
Attachments: none
Gear: Body Armor
Equipment: none
Perk 1: Scavenger
Perk 2: Lightweight
Perk 3: Ghost
Wildcards: Primary Gunfighter I
The ICR-7 is a menace at all ranges but is  devastating from long range. The ICR-7 is the most accurate weapon in its class and can dominate large battlefields. Long barrel makes the ICR-7 even more deadly at its most effective range. Grip II keeps your shot group superbly accurate. With grip II, the weapon becomes virtually recoilless. Aiming for the head is the best tactic for the ICR-7 for quick kills.
The strife is the best backup weapon because of its balance between range, damage, and accuracy. It can kill with 4 shots to the body. Body armor keeps you alive when trading gun fire with enemies and earn kills without become a victim first.
Scavenger is crucial so that after you expend all your ammo you don't have to grab a random gun off of a dead body. With scavenger you can keep your primary weapon fully stocked and keep those killstreaks rolling in. Lightweight will quickly get you to a good fighting position. Ghost will prevent enemies from finding your fighting position.  
7. Class Name: Precision Rain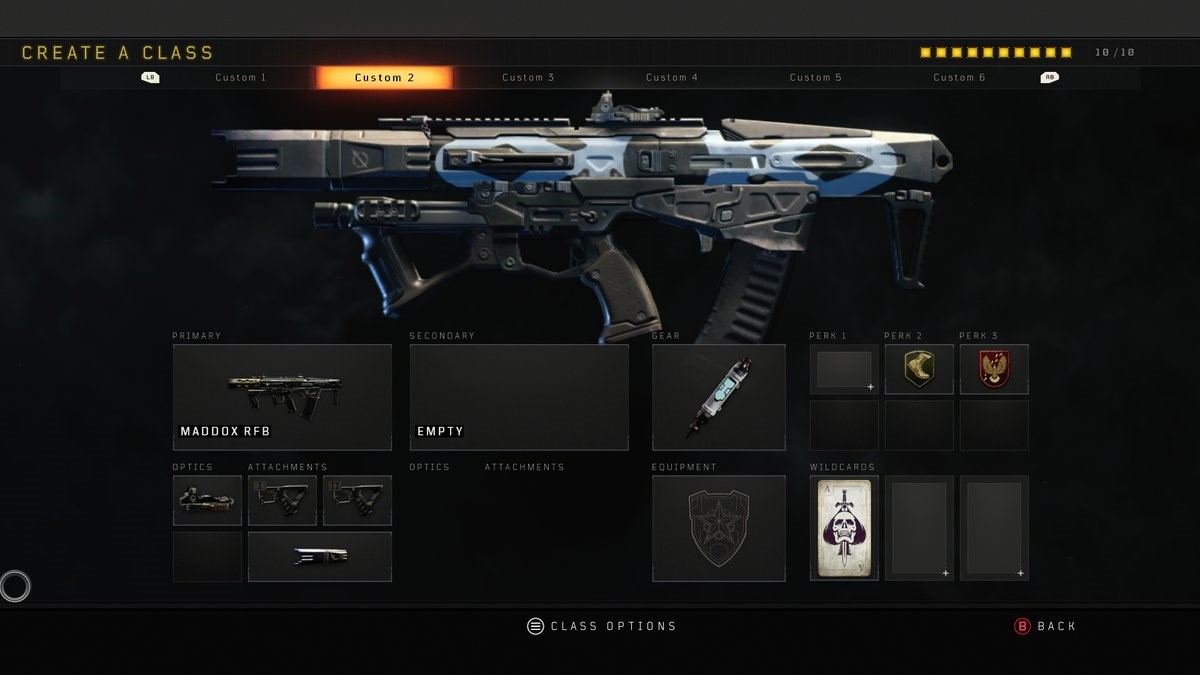 Primary: Maddox RFB
Attachments: ELO Sight, Quickdraw II, Echo Fire
Secondary: none
Attachments: none
Gear: Stim Shot
Equipment: none
Perk 1: none
Perk 2: Lightweight
Perk 3: Tracker
Wildcards: Primary Operator Mod
The top weapon in the BO4. The Maddox RFB is the complete package. Its fire rate is the fastest in its class and its accuracy is within the top two . The quickdraw II attachment dramatically increases the rate which you can ADS. The ELO sight is important to have to keep you accurate because it minimizes obstructions from your sight.
The operator mod echo fire makes this gun the deadliest weapon in the game. It increases the Maddox RFB's fire rate and accuracy past the point of insane. This is the class of choice for your most competitive moments and earning killstreaks.
Stim shot keeps you in combat by allowing you to heal without losing control of your weapon. Lightweight makes it easier to chase down enemies and reach objectives. Tracker will help you find nearby enemies and eliminate them.
6. Class Name: EAT (Eliminate All Targets)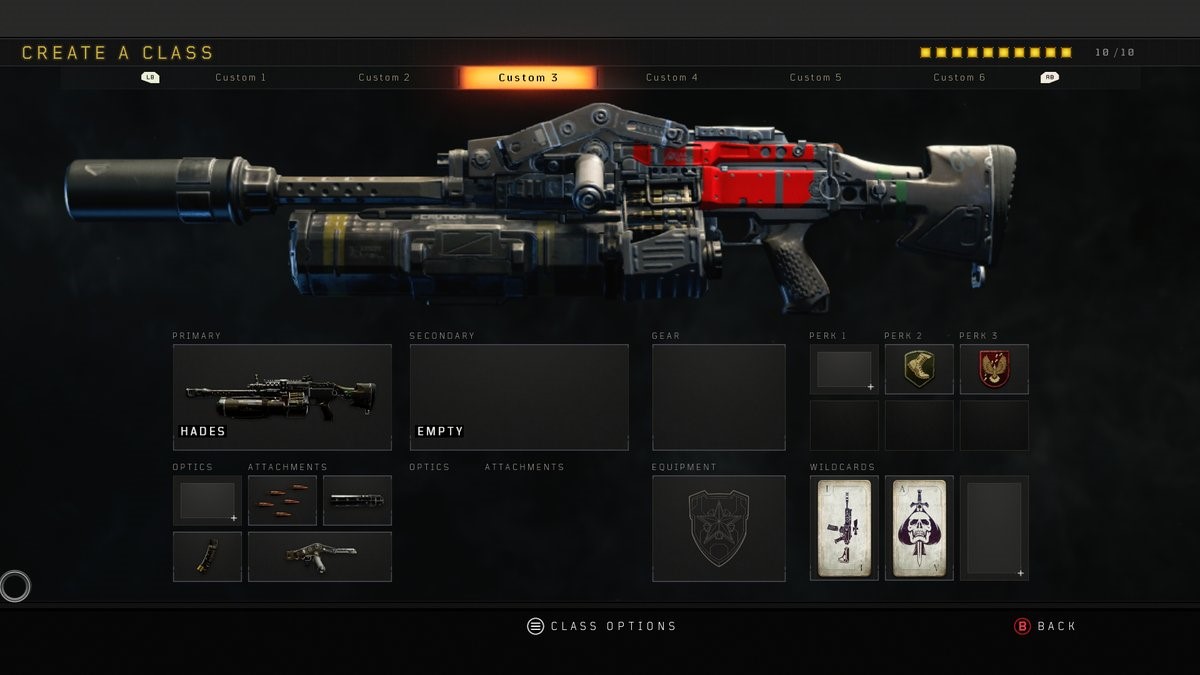 Primary: Hades
Attachments: Rapid Fire, Silencer, Hybrid Mags, Cross Bar
Secondary: none
Attachments: none
Gear: none
Equipment: none
Perk 1: none
Perk 2: Lightweight
Perk 3: Tracker
Wildcards: Primary Gunfighter I, Primary Operator Mod
The Hades is a fast LMG. It has the maneuverability of an assault rifle and its fire rate is faster than several SMGs. It has a 75-round capacity with hybrid mags attached. The silencer makes you less of a target by keeping you hidden on the map and reducing muzzle flash while firing.
Rapid fire makes the Hades so effective at close range that it can compete with the fire rate of submachine guns. Rapid fire gives the Hades a  balance of fire rate, accuracy, and range which makes it extremely deadly. The operator mod cross bar makes the Hades deliver accurate fire much quicker. Without having to wait on ADS to fire at an enemy, you can eliminate enemies more swiftly. This class works best within short to midrange. You can remain mobile and track your enemies with lightweight and tracker.
5. Class Name: Cyber Soldier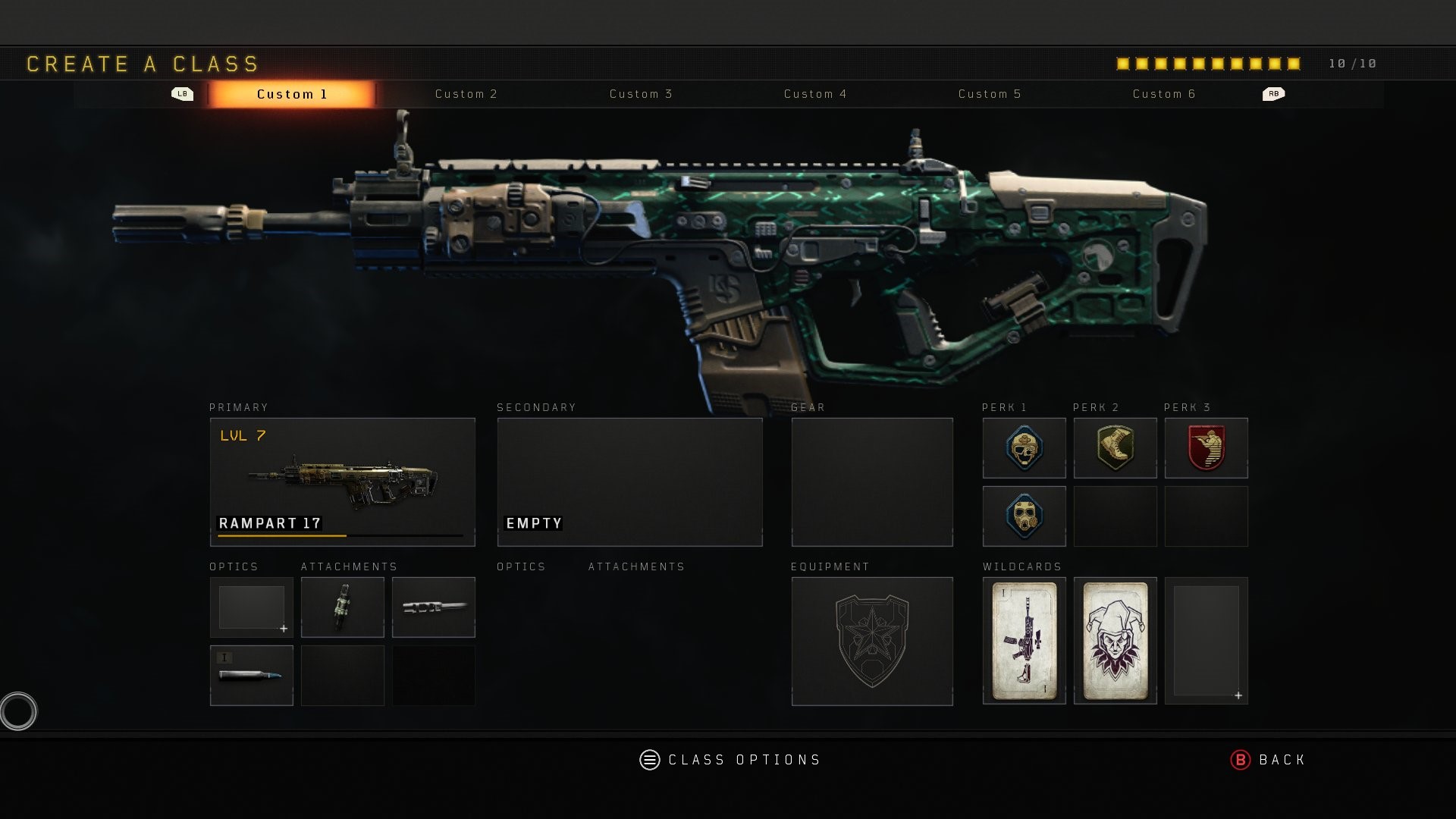 Primary: Rampart 17
Attachments: Fast Mags, Long Barrel, FMJ
Secondary: none
Attachments: none
Gear: none
Equipment: none
Perk 1: Engineer, Tactical Mask
Perk 2: Lightweight
Perk 3: Ghost
Wildcards: Perk 1 Greed, Primary Gunfighter I
The Rampart 17 is like the Scar from previous COD games. It has power and a slow rate of fire. Its specialty is midrange engagements. It takes enemies out quickly with an accurately sustained rate of fire. It is very important that you hit your first few shots with this weapon to kill. This weapon can kill within 3-4 rounds.
FMJ does work with this weapon. The Rampart 17 does high damage to enemies through cover with FMJ. With engineer, you can predict where enemies are by seeing where their equipment appears throughout the map. Engineer enables you to destroy equipment through walls and FMJs additional power helps destroy equipment faster. The Rampart 17 only gets 30 rounds, so fast mags is must have to prevent lag from slow reloads. Long barrel makes this weapon more competitive against tactical rifles and sniper rifles by reducing damage fall-off and increasing accuracy.
Lightweight is a must to move quickly from cover to cover and advance on your enemies. Tactical mask keeps you safe from many different pieces of equipment, especially Prophet's seeker. It's important to stay on the move so that your position remains unpredictable to your enemy. Ghost keeps you safe from UAVs while moving. Ghost is wise to have because UAVs are earned easily.   
5. Class Name: Water
Primary: Swordfish
Attachments: FMJ, Hybrid Mags, Long Barrel, Penta Burst
Secondary: none
Attachments: none
Gear: none
Equipment: none
Perk 1: none
Perk 2: Lightweight
Perk 3: Tracker
Wildcards: Primary Operator Mod, Primary Gunfighter I
This weapon is utterly amazing. Its unstoppable and arguably the best weapon in the game. The swordfish has low power, high accuracy and a fast fire rate. This gun is better than others by without attachments, but it becomes unstoppable with the operator mod penta burst. This weapon is an extreme rarity because it kills opponents with just a single burst fire to the body. The  5-round burst operator mod turns this weapon into a killing machine.
FMJ sends bullets straight through wooden and metal surfaces. Using the recon specialist and UAVs makes FMJ more effective because you can  shoot  enemies before they can make visual contact with you. Hybrid mags gives you more ammo and decreases your reloading time. Long barrel prevents your bullets from getting weaker over long-distances. Lightweight makes you faster than your enemies and tracker prevents them from eluding you.
3. Class Name: M14's Older Brother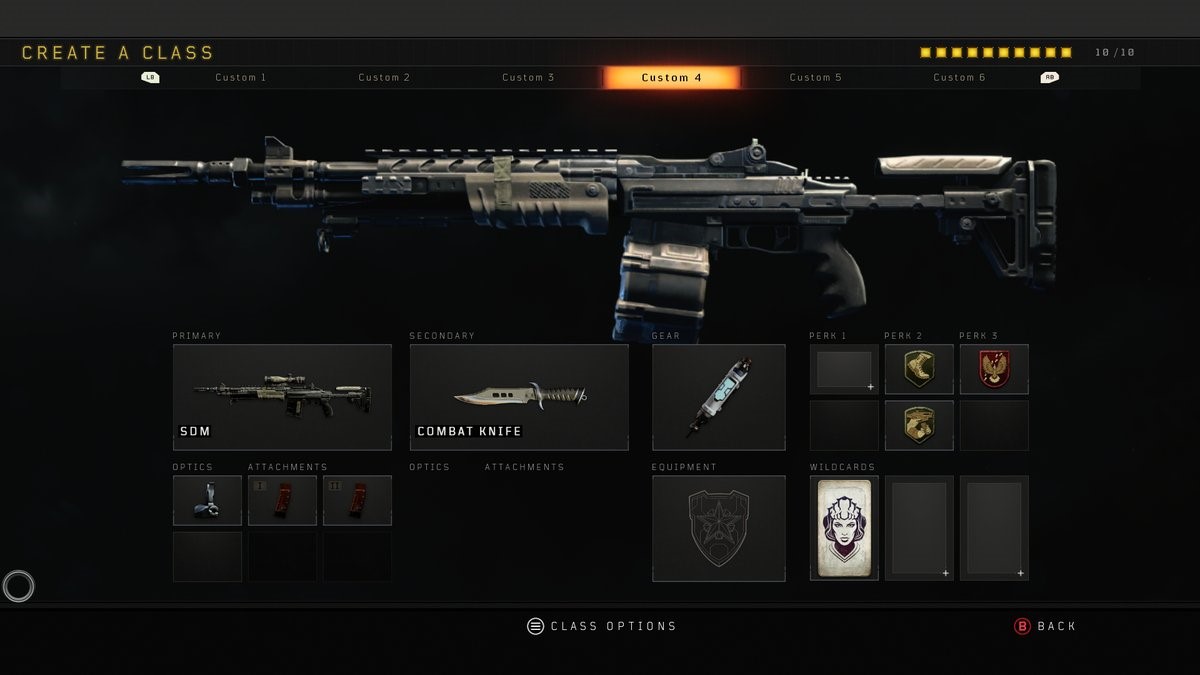 Primary: SDM
Attachments: Iron Sights, Extended Mags II
Secondary: Combat Knife
Attachments: n/a
Gear: Stim Shot
Equipment:
Perk 1: none
Perk 2: Lightweight, Dexterity
Perk 3: Tracker
Wildcards: Perk 2 Greed
The SDM can kill unlike any other weapon in BO4. The SDMis more powerful than the M14 in any other COD game in the past. It fires slower than before, but it is a reliable two-shot kill. Its ability to maintain an accurate sight picture while firing is phenomenal. This weapon has the maneuverability and fire rate of a tactical rifle and the power of a sniper rifle.
Using iron sights on this weaponallows you to kill up close and personal, but still dominate at a distance. Extended mags II allows you to have a 20 round magazine capacity. It is important that you use extended mags to cut the time you spend reloading.
The combat knife makes a valuable sidekick. It allows you to move quickly to objectives and melee any one in your way. Sliding is the best way to quickly get close to your enemy and slash them. Tracker makes it easy to catch enemies away running from you. Stim shot lets you return fire and heal up simultaneously. Stim shot also keeps you from having to hear "wah wah" when trying to heal before your heal has fully recharged. Lightweight, dexterity, and tracker keep you hot on your enemy's heels and earning kills.
2. Class Name: More Luck, Less Stress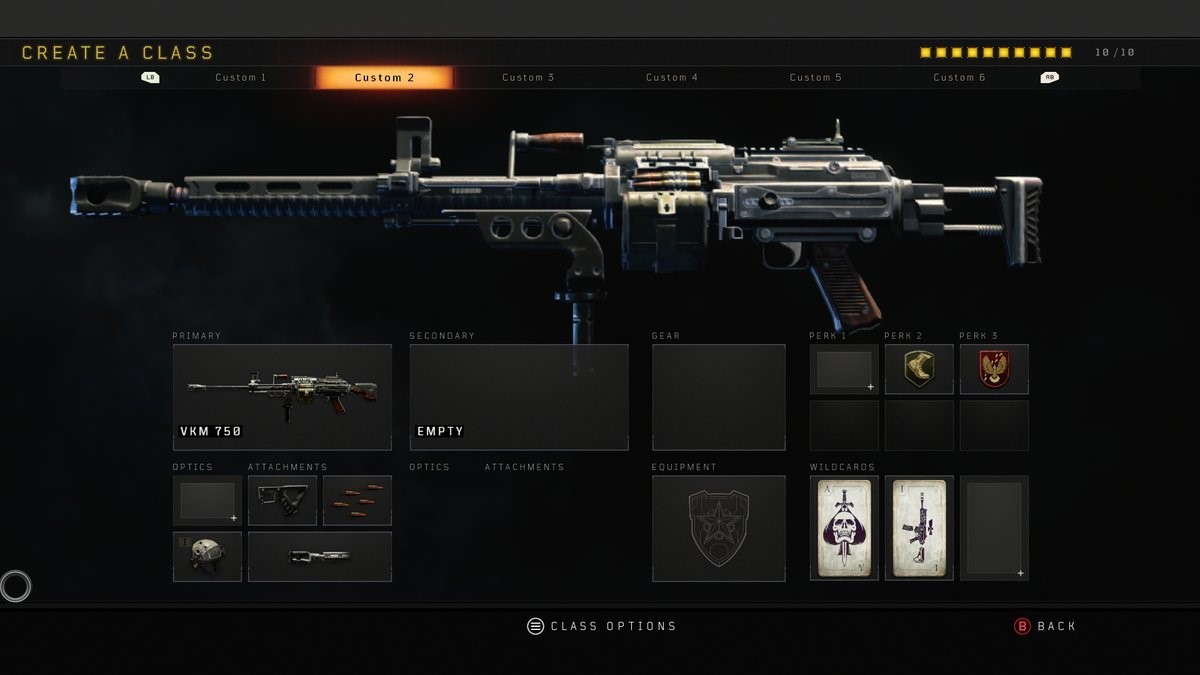 Primary: VKM 750
Attachments:  Quickdraw, Rapid Fire, High Caliber, Fat Barrel
Secondary: None
Attachments: n/a
Gear: none
Perk 1: none
Perk 2: Lightweight
Perk 3: Tracker
Wildcards: Primary Gunfighter 1
The VMK 750 is a steam roller and its slow rate of fire keeps you accurate and on target. Its slower fire rate also keeps you from running out of ammo so often. This is a headhunter's weapon because of its power and accuracy. By adding high caliber, the damage done by landing a head shot increases and makes the VMK 750 a two-shot kill average.
Without attachments accuracy is you friend, fire rate is not.Upgrading to rapid fire is essential. Rapid fire knock targets down faster and its effects are most noticeable at close range. Rapid fire also helps when trying to take out groups of enemies standing in a corridor or hallway. Quickdraw is a useful because it decreases the time it takes to aim down sights, which is a weakness of an LMG.
The Fat barrel primary operator mod is majorly important. It may be difficult to earn, but the work is well worth the reward. This mod increases the size of your rounds making it easy to demolishes enemies. By making the rounds larger it becomes much easier to land shots on your targets. We've all been there when you fire a round at your enemy and it zooms right between their legs or over their shoulder. With fat barrel that will happen less often. To be a killer you've got to be able to catch your enemy, which tracker and lightweight allow you to successful do.
1. Class Name: Commander-N-Chief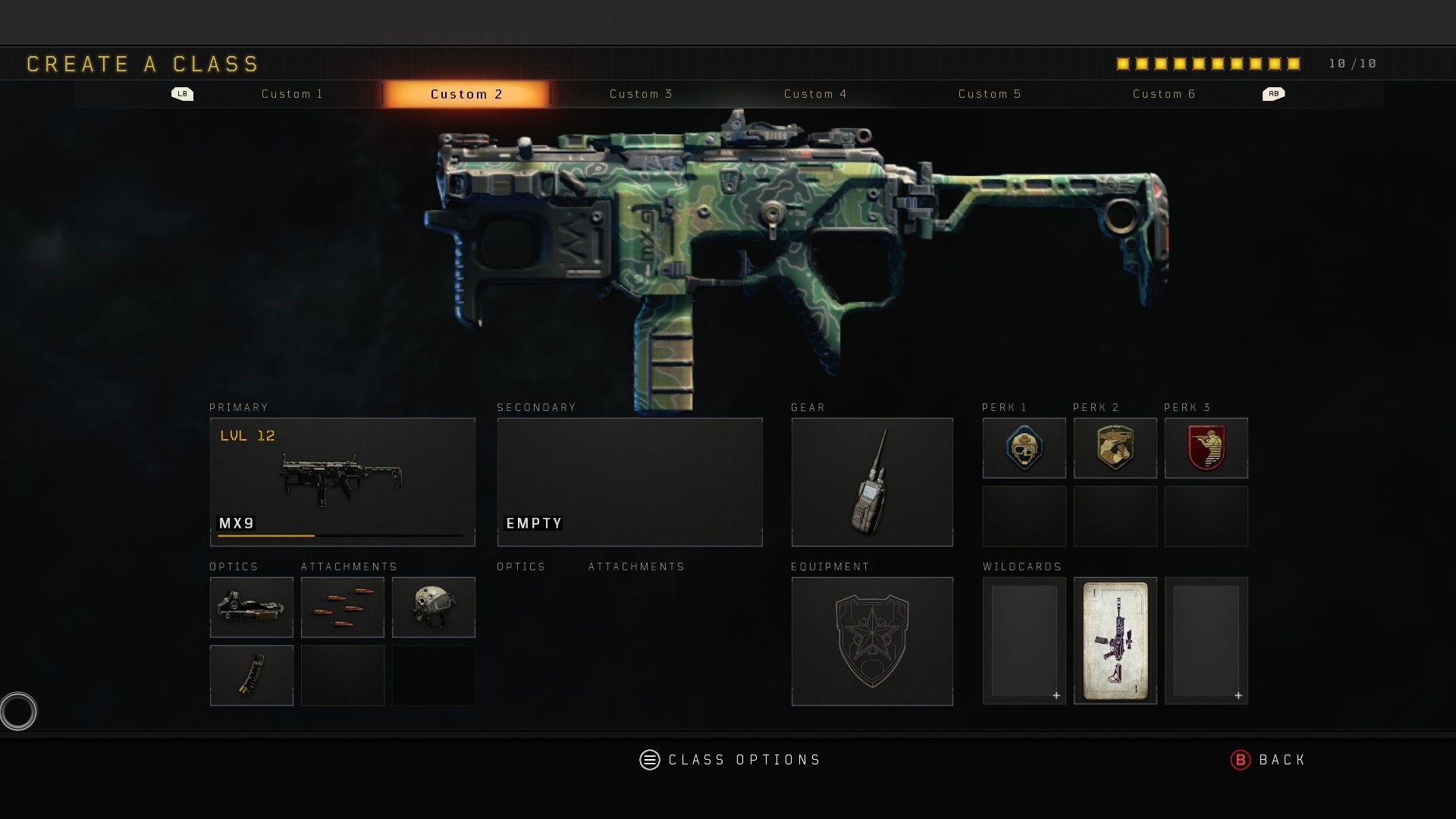 Primary: MX9
Attachments: ELO Optics, Rapid Fire, High Caliber, Hybrid Mags
Secondary: None
Attachments: n/a
Gear: COMSEC Device
Perk 1: Engineer
Perk 2: Gung-Ho
Perk 3: Ghost
Wildcards: Primary Gunfighter 1
Score Streaks: Care Package, Hell Storm, Strike Team
Specialist: Ruin
The MX9 packs a hell of a punch and can fire over long distances. The reason this weapon does so well in combat is because of its power. The MX9 is the strongest SMG. Its slower fire rate allows you to maintain accuracy from farther distances than other SMGs.
ELO sights are a critical attachment for success. They allow you to aim at targets without visual interference from sight posts and optic frames. Rapid fire is an awesome tool to have with the strongest SMG in the game. Hybrid mags bring the maximum ammo capacity to 45 rounds per mag and reduces the reload speed to nearly 1 second flat. Ghost prevents you from becoming an easy kill from someone who has you on their UAV. UAV can be earned with as little as 450 score while using COMSEC device.
Killing opponents becomes second-nature with this class, so choose better killstreaks. Using COMSEC device on this deadly class will earn you frequent killstreaks. COMSEC device gives the killstreaks attack chopper and strike team a bigger score cost reduction than any of the other killstreaks. Its wise to use Engineer while care package is equipped because it allows you to re-roll each care package you and increases the likelihood you receive something useful from the care package.
Also check out:
Image Gallery