[Top 15] Cities Skylines Best Mods For A New Experience
Updated: 28 Oct 2022 11:22 am
A beautiful city enhanced by the "Ultimate Eyecandy" mod, quite the sight.
Majority of games these days tend to look a lot like their competitors. So when games begin to get stale, do we just find another one? Well, with the vast community of mods in almost every game, there's always more content to explore and ways to refresh your gaming experience. So I've compiled an up-to-date list of the best mods for Cities: Skylines.
15. Harmony 2.2-0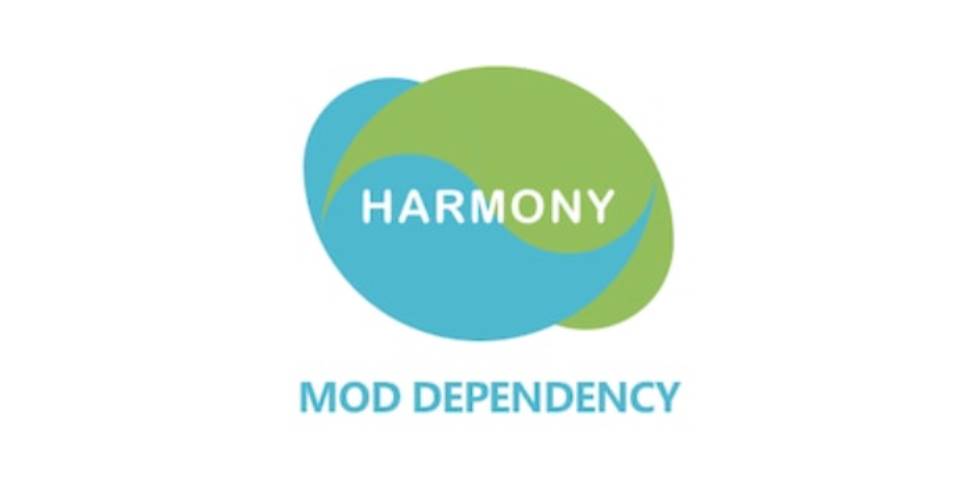 Logo for the Harmony mod (shown above), there's not much to show for this one.
Although this mod doesn't necessarily "do" anything, it is necessary for many other mods to work in-game (including multiple on this list). Because of this reason alone, it should be a no-brainer to add it to your mod list.
The only downside at the moment is that it is not yet compatible with the new Plazas & Promenades DLC. But, when one becomes usable, you can easily find it and other troubleshooting tips in the comments of the mod.
Get the mod here.
14. Large Recycling Center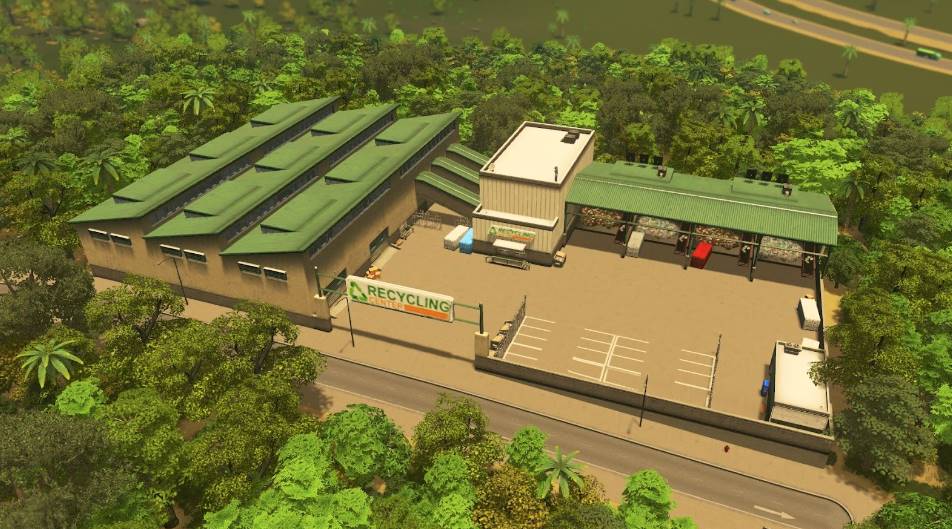 The Large Recyling Center (depicted above) is mainly for function, not style. Yay, recycling!
Although not the most exciting mod on the list, trash accumulation and collection is quite the hassle as your city begins to grow. Having large dumps take up space and pollute the area around them, as well as tiny buildings to actually dispose of said trash is never fun to deal with.
Now, this all in one building can store, burn, and even produce energy from your cims' trash. Although quite pricey to purchase and maintain, it might just replace your entire garbage system. And with no land or air pollution, it's a no-brainer to add to your city.
Get the mod here.
13. The Great Plan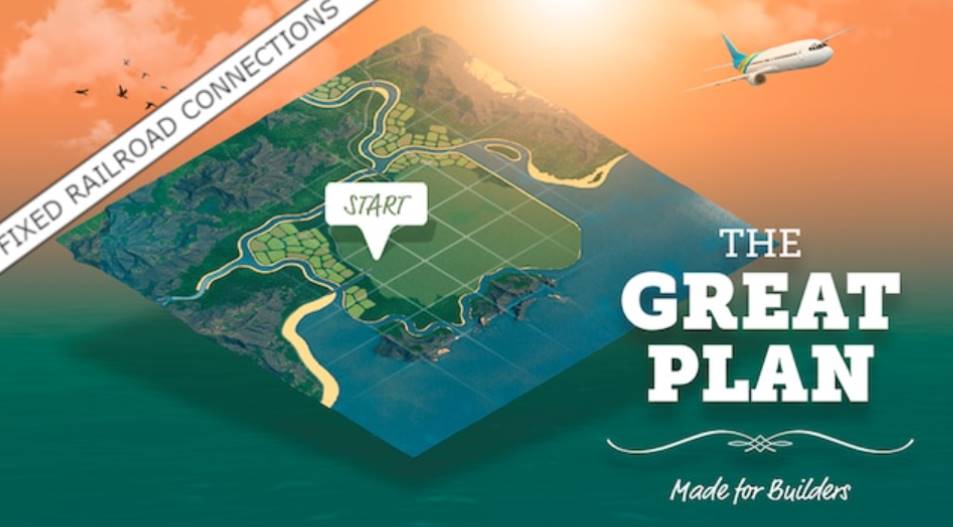 The thumbnail for The Great Plan map (pictured above) shows all 81 unlockable tiles of this beautiful mod.
Another benefit of mods is the ability to get new and creative maps without even having to purchase the DLCs. This map has almost everything you might be looking for as the groundwork of your next metropolis. 
This mostly flat map full of mountains, rivers, and natural beauty offers a large expanse of land to build the city of your dreams. From a mountainside village to a beachside party town, the possibilities are near endless. And with the network of highways and railways, your city will be bustling in no time.
Get the mod here.
12. First Person Camera v2.2.0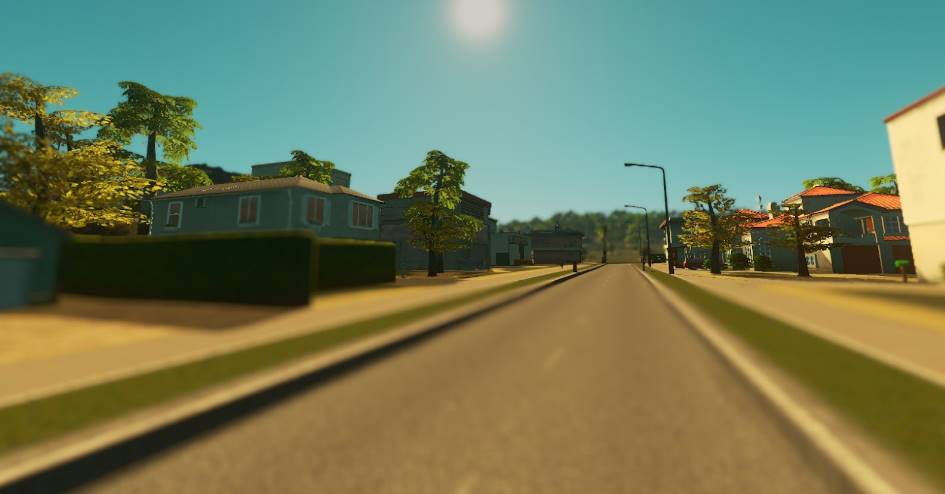 This screenshot of a suburb using First Person Camera (shown above) shows your city as your people see it, kind of boring.
This mod is rather self-explanatory. Have you ever wanted to experience your city from the perspective of one of its citizens? Well now you can. Gone are the days of "following" random people around your city, as this mod gives you the freedom to roam your streets in all their glory.
It not only gives you a less buggy experience of the "follow" mode, but also gives the option of a free-camera mode and "walk-through" mode. The only slight downside is that you need Harmony, which at this point you should already have… right?
Get the mod here.
11. Ultimate Eyecandy v1.5.2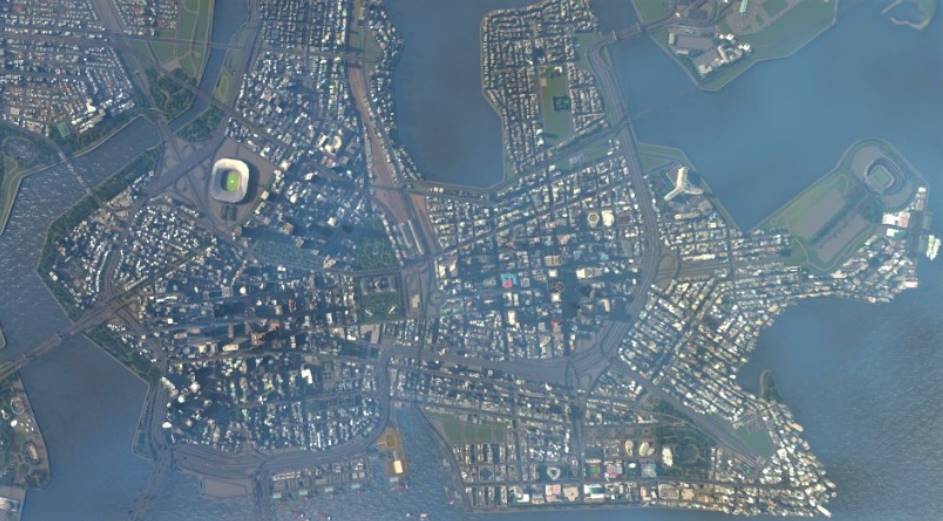 With Ultimate Eyecandy, you can have full control over the look of city, no more foggy screenshots (portayed above).
Do you want high-quality screenshots of your city without Photoshop? Or just want to be able to customize the look of the city while you play? Well now you can with Ultimate Eyecandy. Giving you several LUTs to customize as well as adjustable time of day, weather, fog, and even the position of the sun.
For casual usage, or for making a cinematic short film about your city, this mod allows you to see all the beauty strung throughout the streets. So if you're looking to upgrade your visual experience in Cities: Skylines, you might want to consider adding this to your mod list.
Get the mod here.
10. Roundabout Builder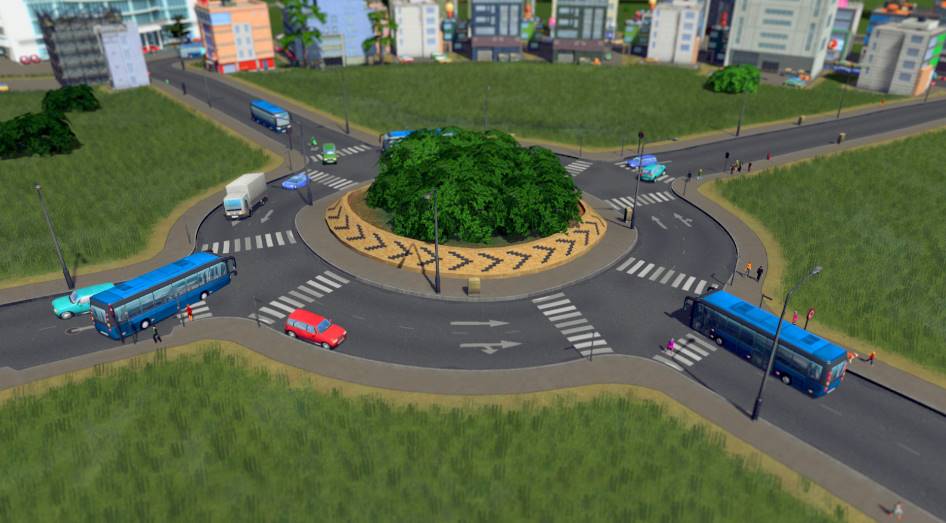 Roundabouts (depicted above) are simple ways to manage traffic flow, but not simple to make... until now.
Roundabouts are very useful in managing your city's transportation network, but they are always such a hassle to make. Having to clear the area you want it to occupy, having a small selection of designs and sizes to choose from, or even having to create your own.
Well, those are now issues of the past, as this mod effectively does everything for you. All you need to do is say where you want it, and done. It even automatically attaches and intersects streets with the newly made roundabout. So let your round imagination run wild.
Get the mod here.
9. Network Extensions 2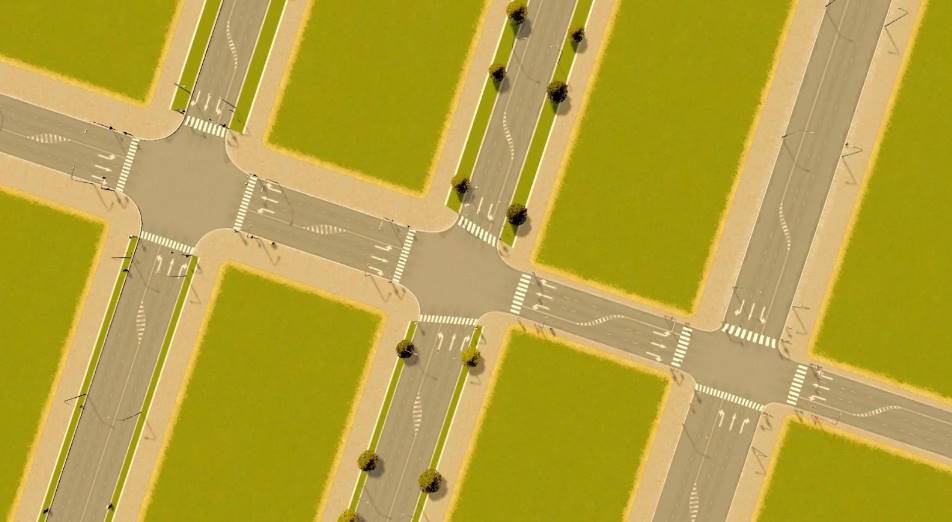 Roads (shown above) are boring, so add some variety with Network Extensions
Cities: Skylines has dozens of in-game assets and ways to customize your new cities and adds new things quite regularly. But maybe you want a bit more assets to use for more variety with streets, railroads, paths, and highways. Then this mod might be for you.
With multiple new roads for both aesthetic and functional differences, you can have even more choices in how you build your metropolis. Plus, you get the full view of your networks with rendered tunnels. So go ahead and give your cims more variety and grow your knowledge of transportation with this addition to your experience.
Get the mod here.
8. Ploppable RICO Revisited 2.5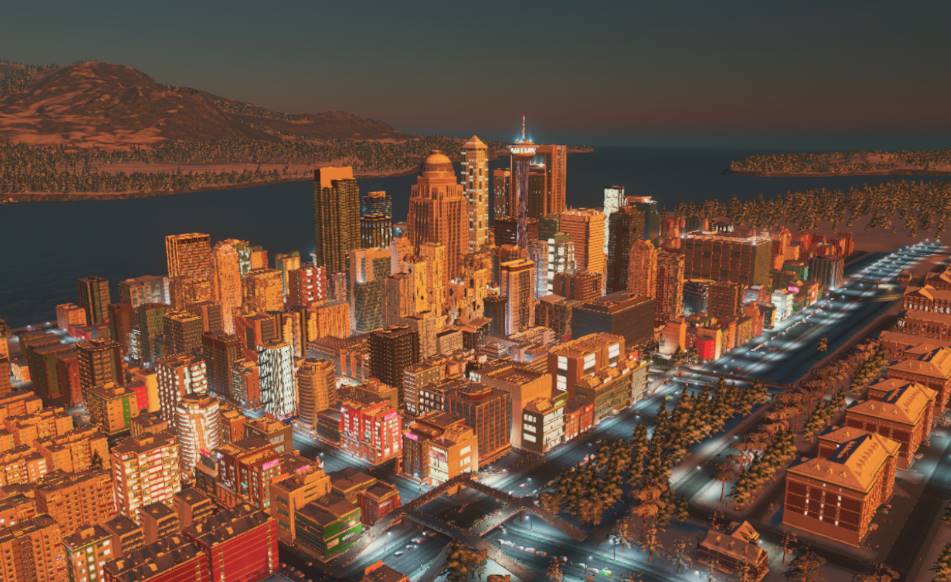 Don't like small buildings (not shown above)? Well now you can have big buildings (pictured above)!
Tired of having small Residential, Industrial, Commercial, and Office buildings? Well now you can finally have larger RICO buildings within your city for that extra bit of flare. But what about the additional mod assets you add in?
This mod covers that too and now you can have, like the name says, ploppable RICO buildings throughout your new cities. Customizing your city has never been so easy, or stylish. So get your mods ready and go crazy.
Get the mod here.
7. Parking Lot Roads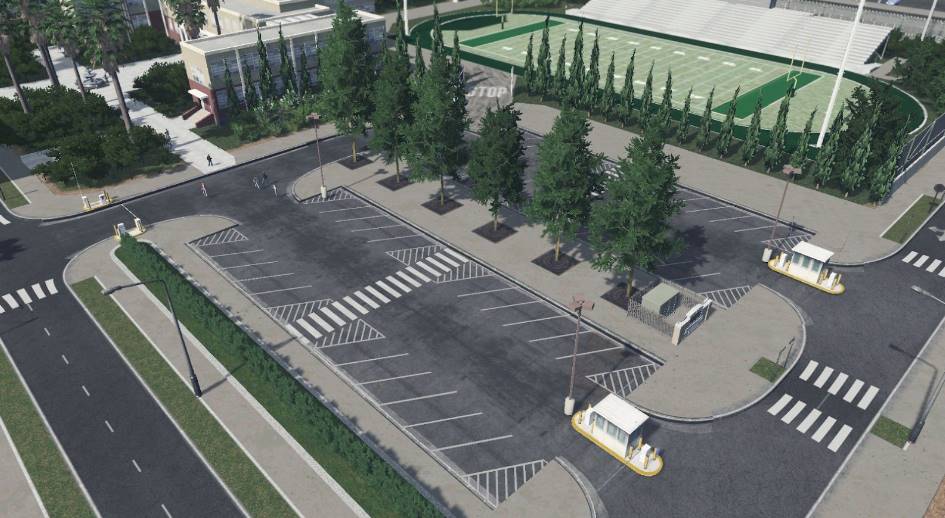 Parking Lot Roads (displayed above) can be a good way to fill empty space if you're feeling lazy. 
Continuing down the road of spicing up your cities, you can now add actual parking lots to your downtown areas and points of interest. Whether you want to make your city look more realistic or just need an excuse to take up space on your map, this mod might be for you.
With multiple styles, sizes, and layouts, you have free control of how your citizens will park throughout your city. Gone are the days of streetside parking and somehow fitting 1000 people into a stadium with only 10 cars in the lot. Although a bit more on the advanced side, you can still enjoy your city with a bit more realistic flare.
Get the mod here.
6. Prop and Tree Anarchy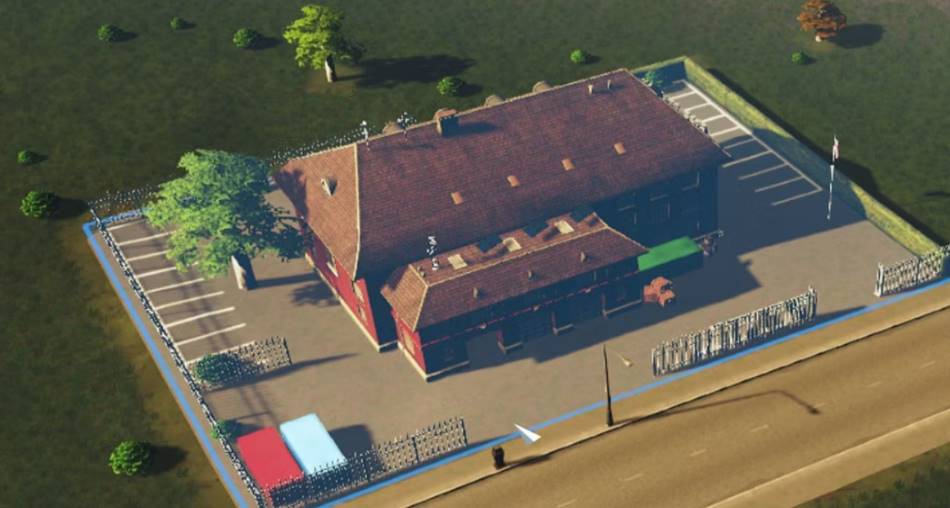 With Prop & Tree Anarchy (pictured above), you can put trees wherever you want, they could make nice living room decor.
As our first anarchy mod on this list, Prop and Tree Anarchy opens the doors to much more customization throughout your cities. You can now better customize your different properties by allowing you to place trees and props inside the zone of buildings.
Allowing you the freedom to literally change the look of a building with different prop mods, this also lets you do a bit more beautification and landscaping on properties that may look rather bland at their start. So if you're looking to get a bit more creative, this mod is a must-have.
Get the mod here.
5. Precision Engineering
Precision Engineering (sort of shown above) gives you more control over your roads.
Although Cities: Skylines is a rather polished game in comparison to other city-builders out there, it does have some finicky mechanics. One of the biggest ones being the road placement tools. The only real information it gives you is how much it's going to cost and its relation to the grid or sometimes other roads.
Well this mod allows you to have much more control of the most fundamental part of any city, its infrastructure. With info on road length, height, and angle, you can be much more precise. Plus, it even gives you more functions like adjusting height increments and setting limits on road length to ensure you're staying true to your plans.
Get the mod here.
4. Realistic Population 2 2.1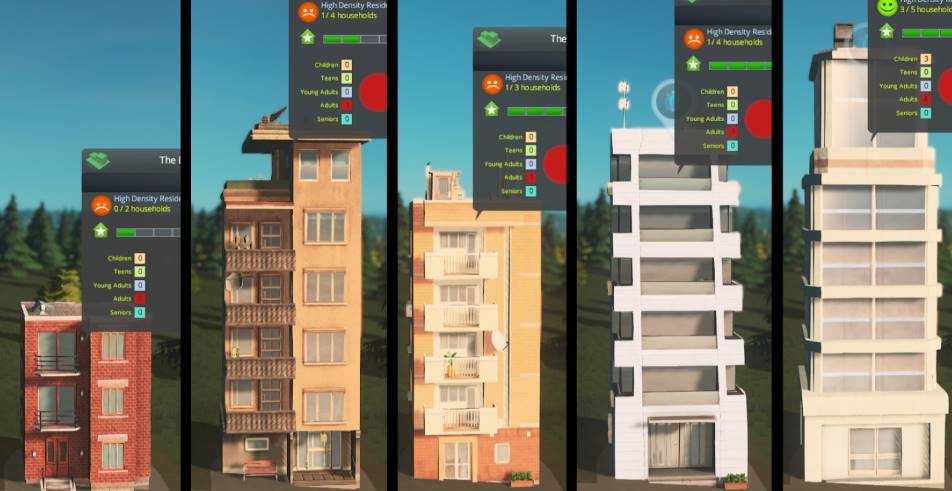 Realistic Population (depicted above) allows you to cram more people into your buildings, safely of course.
This might be the most influential mod on this list so far. Realistic Population does what it says it will. It changes the amount of people able to live or work in any given building. Rather than having a 10 story apartment building with 15 people or an entire office street of 100 workers, now you can experience the true potential of cities' scale.
Not only is the amount of citizens allowed in one building more accurate, but it even affects things like resource production and consumption. Now your city will be a real simulation, adding new challenges and opportunities to your playthrough, including more realistic tax income.
Get the mod here.
3. Network Anarchy Beta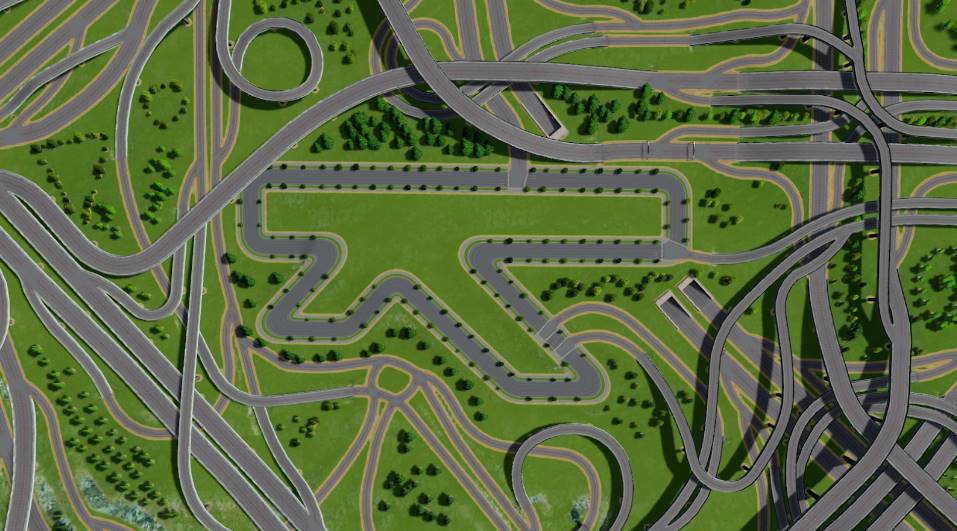 Network Anarchy let's you get wacky with your roads (shown above). Just remember, with great power comes more traffic.
A bit like the Prop and Tree Anarchy mod, this allows you much more freedom in the placement of your roads. From building insanely steep highways to having more intricate intersections and interchanges, this mod lets your imagination truly run wild.
Allowing for an even more in-depth use of previous mods like Network Extensions and Parking Lot Roads, this mod also has a lot of charm and usage by itself like tunnels, sunken and elevated roads. So if you want to get creative or cause havoc in the streets (literally) then this one's for you.
Get the mod here.
2. 81 Tiles 2 Testing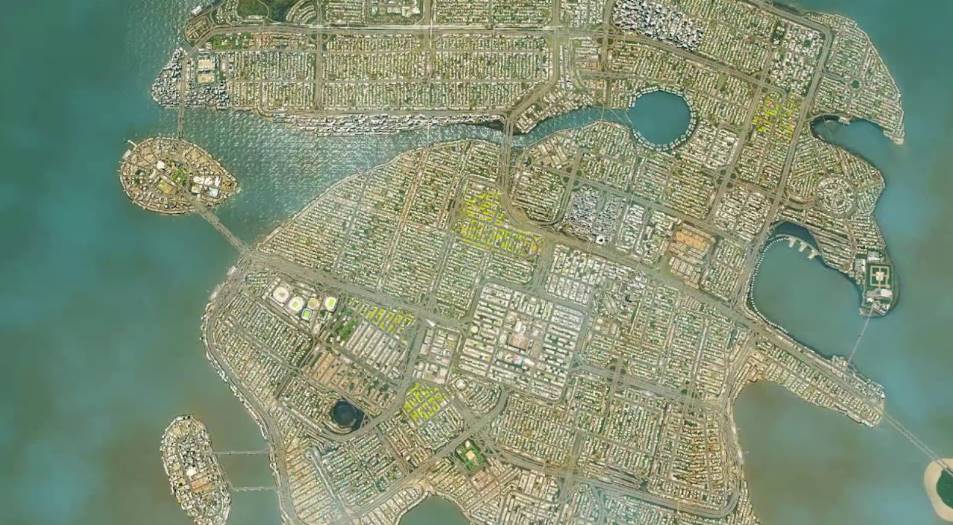 This mod allows you to use all 81 Tiles of the map to make some really big cities (displayed above).
Although still in its testing phase, this mod allows for so much creativity and sheer size for your next city. Unlocking all 81 tiles of your map, this mod truly lets your imagination run rampant throughout the lands. 
From sprawling urban cityscapes to large farmland or even just vast parks and nature reserves, the possibilities are endless. So get ready to conquer your maps from corner to corner and not just build a city, but an entire civilization.
Get the mod here.
1. Game Anarchy 0.8.1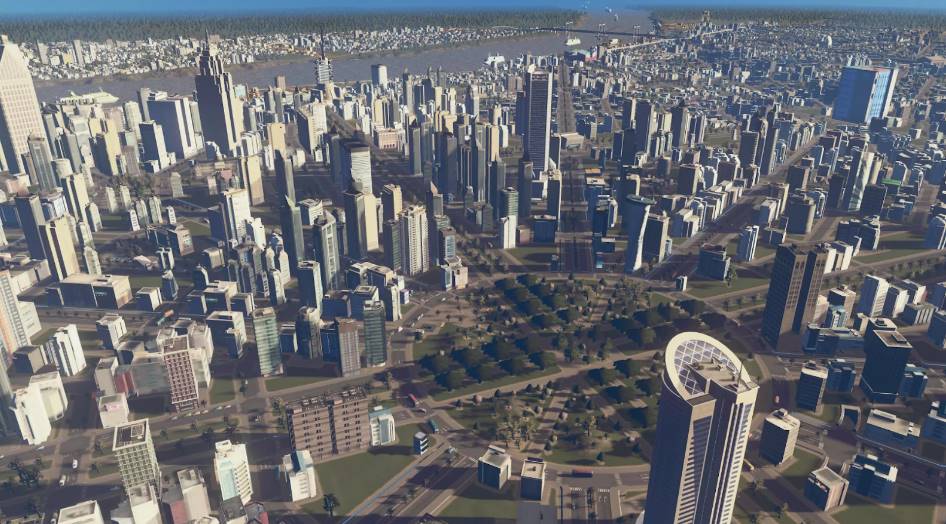 Game Anarchy pretty much lets you play in full creative mode (not shown above, this is just a random city).
Saving the best for last, this mod is one that lets you experience Cities: Skylines like never before. The true creative mode, the omega mod, Game Anarchy not only gives you things like unlimited money, max education coverage, max entertainment, max happiness, unlimited soil and resources, etc.
This mod also lets you stop worrying about more minute details like ground pollution and abandoned buildings. But it even goes as far to relieve the burden of basic things like the need for water pipes and utility poles. So if you truly want to change the game, then here you go.
Get the mod here.
You may be interested in: