[Top 5] MHW Best Longsword
Updated: 12 Mar 2020 12:04 am
Monster Hunter World's best Longswords!
Longswords require precision, skill, and a complete disregard for your teammates. The second you pick one up, the hunt is now all about you and how everyone else should get out of your way.
We've already gone over some builds for the beloved weeb stick, and today, we're covering the top Longswords you should be building with right now. These swords are chosen since they fulfill a single niche and should be built in case you ever need them. 
Here are the top 5 Longswords.
Disclaimer: This list will not include Safi Jiiva weapons since not everyone will have access to the Siege by the time they read this. The Safi Jiiva weapons will also blow every other equivalent weapon out of the water since you can upgrade and customize them to fit into any build or outperform other weapons in their niches. As a result, Safi weapons will be handled in a separate article.
5. Ruinous Extermination
MHW: Iceborne - The Immortal Exterminator Longsword Build! (Ruinous Extermination)
If you're looking for a comfy Longsword to hunt with that doesn't require Master's Touch or Handicraft, then look no further. While it may not be available until MR 100, the Ruinous Extermination wins the award for the comfiest Longsword. 
With pretty decent raw, miles of sharpness, dragon element, and Dragonseal, this Longsword is useful in almost every situation you can find yourself in.
What's Great About Ruinous Extermination
Lots of white sharpness, so you don't need Handicraft or Master's Touch
Solid raw, Dragonseal, and Dragon Element, so you're effective against Elder Dragons. If you're in the Guiding Lands. Raw is useful in practically every match up.
A level 1 slot adds further flexibility to any build you create with this weapon.
Ruinous Extermination Stats
Rarity: 12
Sharpness:

110 hits of white sharpness
40 hits of blue sharpness

Raw Damage: 957 (402 Effective Raw)
Affinity: 0%
Element: 180 Dragon
Slots:
Elder Seal: High
Defense + 10
4. Great Demon Halberd
MHW Iceborne LS Build ∙ Does Masters Touch Make Great Demon Halberd Viable? [Ruiner Nergigante]
The Great Demon Halberd doesn't look like too much when you first build it - 60 hits of blue and negative affinity can leave a bad taste. 
But try building it with Handicraft 4 and you'll reach 40 hits of white sharpness. Add on an affinity augment to fix its negative affinity problems and Master's Touch, and you have an extremely comfortable high raw build on your hands. 
If you're looking for specifics, I recommend this build: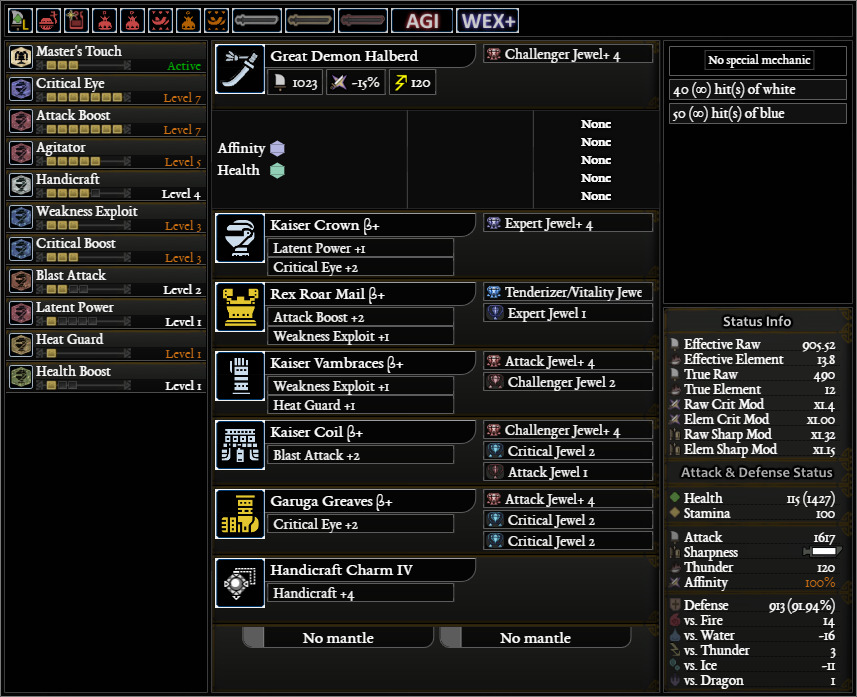 Since you're a light weapon, you can keep Agitator up almost constantly by latching onto the monster and claw attacking it 3x. With this build, you don't have to rely on Peak Performance in order to get to 100% affinity.
What's Great About the Great Demon Halberd
Massive raw.
A little bit of thunder element to help push its damage above some of its competitors against monsters who are weak to thunder.
Handcraft and Master's Touch can help increase the amount of sharpness you have. 
An affinity Augment can help offset the negative affinity this weapon comes with.
1x Level 4 Jewel makes building with this weapon a bit easier.
Great Demon Halberd Stats
Rarity: 12
Sharpness:

Handicraft 4:

60 hits of white sharpness

Without Handicraft:

60 hits of blue sharpness
50 hits of green sharpness

Raw Damage: 1023(375.38 Effective Raw)(412.91 Effective Raw with Handicraft 4)
Affinity: 15%
Element: 120 Thunder (12.75 Effective Element) (13.8 Effective Element with Handicraft 4)
Slots:
3. Radiant Flow
The Iceborne META Longsword Builds (MHW Iceborne MR 23-100+)
The Shara Ishvalda Longsword is going to be your best friend from the end of the story to MR 100. It has one of the highest raws available in the game, +30 Defense, and 2x Level 1 slots. It's flexible and can put up some very competitive damage numbers to the other weapons. 
However, be careful when you're using this weapon since you'll need Handicraft 5 to get the most out of it, and even then, you won't have too much sharpness to work with, so Master's Touch will be necessary.
What's Great About the Radiant Flow
Highest Raw damage before MR 100.
Flexible build options with two level 1 deco slots.
Shara is pretty easy to farm for what you need, and this weapon should be able to last you up to MR 100.
Radiant Flow Stats
Rarity: 12
Sharpness:

With Handicraft 5: 30 hits of purple, 30 hits of white
10 hits of white sharpness
50 hits of blue sharpness

Raw Damage: 924  (389 Effective Raw, 410 with purple sharpness)
Affinity: 0%
Element: (450 Dragon)
Slots: 
Elder Seal: (High)
Defense + 30
2. Magdaros Volcansword
I. CAN'T. BELIEVE. THIS. The Sleeper META LS (MHW Iceborne)
The Monster Hunter Math guys figured out that this Longsword can compete with our #1 Longsword, and for good reason. While it may have negative affinity, you can take custom augments and regular affinity augments in order to cancel out the negative affinity. If you want something comfier, you can still replace some of the affinity augments with a health augment and have -5% affinity which is totally workable.
This Longsword should be your go-to when the monster you're hunting is more weak to blast than they are to poison. Blast comes in handy against most monsters, and especially for breaking monster parts.
What's Great About Magdaros Volcansword
You'll be running a Handicraft 5/Master's Touch set with this armor, which comes with Blast Attack as a side effect.
Between this blast set and a poison set, you should be able to cover almost every single monster in the game.
This weapon's Raw is incredibly high. At base, it matches the Radiant Flow and comes with Blast to boot. Even if you slap on a Non-Elemental Boost to the Radiant Flow, the blast from this weapon will eventually overtake the 5% damage buff.
Magdaros Volcansword Stats
Rarity: 11
Sharpness:

With Handicraft 5: 20 hits of purple, 20 hits of white
Without Handicraft 5: 60 hits of blue sharpness

Raw Damage: 924 (336 Effective Raw, 389 EFR with purple sharpness)
Affinity: -20%
Element: 480 Blast
Slots: 
Defense + 45
1. Wyvern Blade 'Luna'
The Iceborne META Longsword Builds (MHW Iceborne MR 23-100+)
And now to discuss the best Long Sword in the game, the Wyvern Blade 'Luna'!
This weapon takes the cake because it has everything you will ever need. Poison damage allows it to outdamage every other non-Safi Longsword in the game, and with a massive chunk of white sharpness, you don't need to build Handicraft and can put in more damage skills.
On top of that, with the base 10% affinity and Peak Performance, if you can't hit a monster's weak spot all the time (as is the case in most multiplayer situations), this weapon can still deal a decent amount of damage at the cost of a little bit of sharpness.
What's Great About Wyvern Blade 'Luna'
Lots of white sharpness and base 10% affinity allows for flexible building
High poison and raw damage makes this set flexible against every monster except Zorah Magderos
Pretty comfy since you can run Health Augment and Peak Performance for your damage. Otherwise, Health Augment alone just makes every hunt comfier.
Wyvern Blade 'Luna' Stats
Rarity: 12
Sharpness:

60 hits of white sharpness
80 hits of blue sharpness

Raw Damage: 957 (412 Effective Raw)
Affinity: 10%
Element: 420 Poison
Slots: 
What about Safi'Jiiva?
At the time of this article's writing, Safi'Jiiva hadn't been released on PC yet. 
Long Swords won't benefit as much from the Safi'Jiiva armor bonus because they have attacks that will force them to sheathe. However, most builds will start revolving around the new Safi'Jiiva weapons. Just like before Safi's launch, element doesn't do much for Long Sword. As a result, you'll want to focus on raw damage. Of the Safi weapons, any of the abnormal status element Long Swords will work for you. Blast and Poison are great if you're focusing on solo damage, with Blast being a hair bit better than Poison. Paralysis is great if you want the additional CC in multiplayer.
If you're curious to see what the builds look like after Safi's release, then please check out this album. 
Thanks for reading! 
Also be sure to check out these articles:
Image Gallery