10 Things We Love About D&D Neverwinter
Updated: 13 Apr 2017 1:54 am
Neverwinter is an MMO RPG based on an old card game and books
Why Should You Play Neverwinter?
Neverwinter is an online version of the old books and games. It's completely free to play and highly interactive with people from all over the world. If you want to get started right now head here.
With that said here are 10 things i personally love about Neverwinter.
#1 The Enemy Size Stays True to the Original D&D Books

Enemies can be utterly terrifying
When it comes to enemies, your choices of who to defeat are endless. From battling the smallest Cobalts to the Cult Dragon of Icespire Peak, you can measure your strength and abilities in any form. Enemies are often so gigantic that they take around 20 players to take down and around 15 minutes to do so.
Enemies are also different depending on what area they are based in. We go from Icewind Dale with Frost Giants to Mount Hotenow with Fire Giants.
#2 The Game Has Absolutely Beautiful Graphics for an Online Role-Playing Game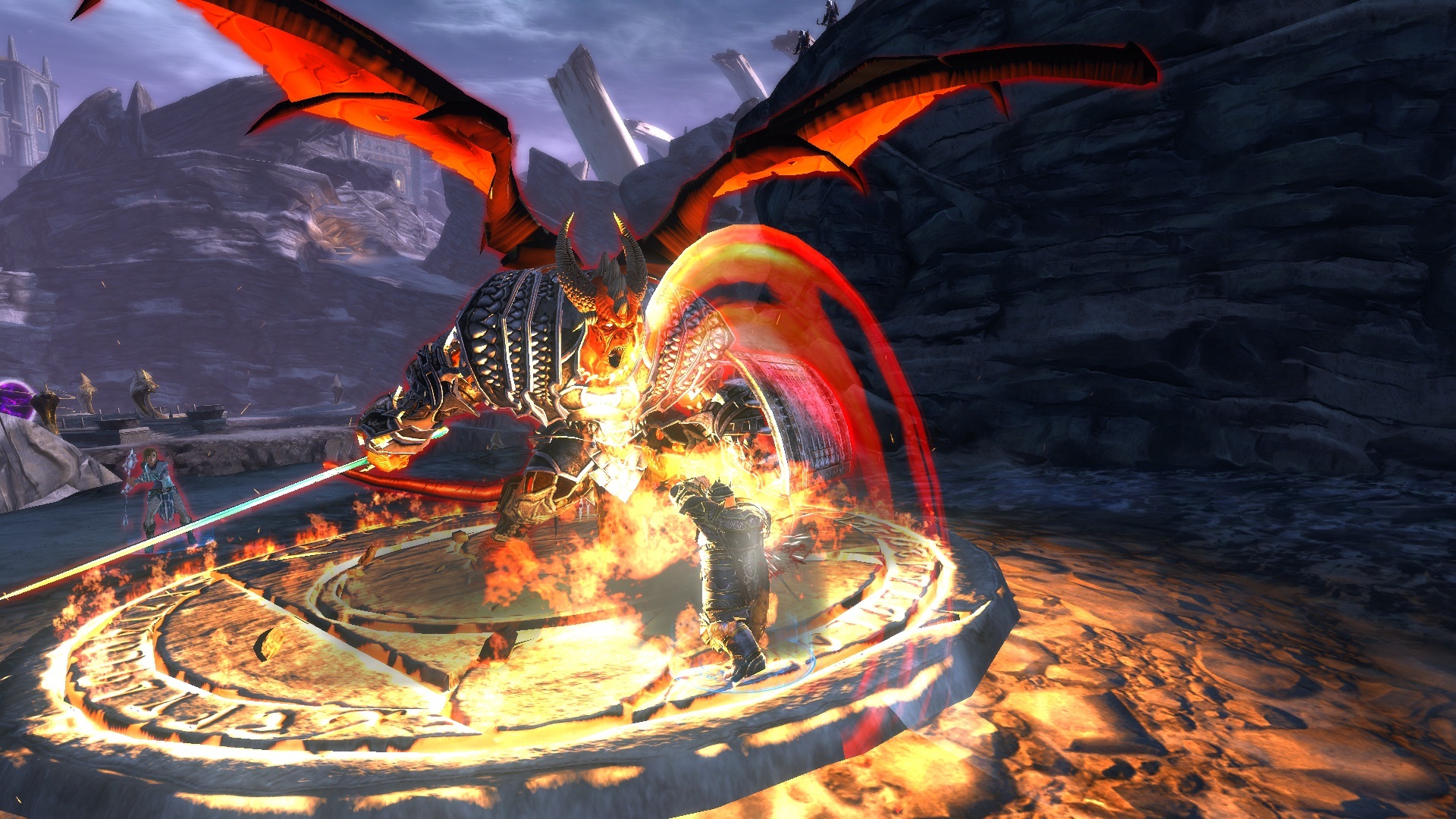 As you can see, the graphics will knock you dead – literally if not careful
With enemies at every corner, strong enough to take your character down if you're not careful, graphics make the action all the more better. With streaming colors and effortless movement, you feel as though you are swept quickly into the medieval world. To be honest, I can play for hours on end without getting tired just because of the graphics.
While the graphics are brilliant for gameplay, they're also brilliant for scenery. Different lands you travel to for your quests have different landscapes and weather. For example, Icewind Dale has brilliant snowy mountains that you travel into, discovering new beasts at each turn to defeat like the Ice Trolls. 
#3 It's Not Difficult to Level a Character Up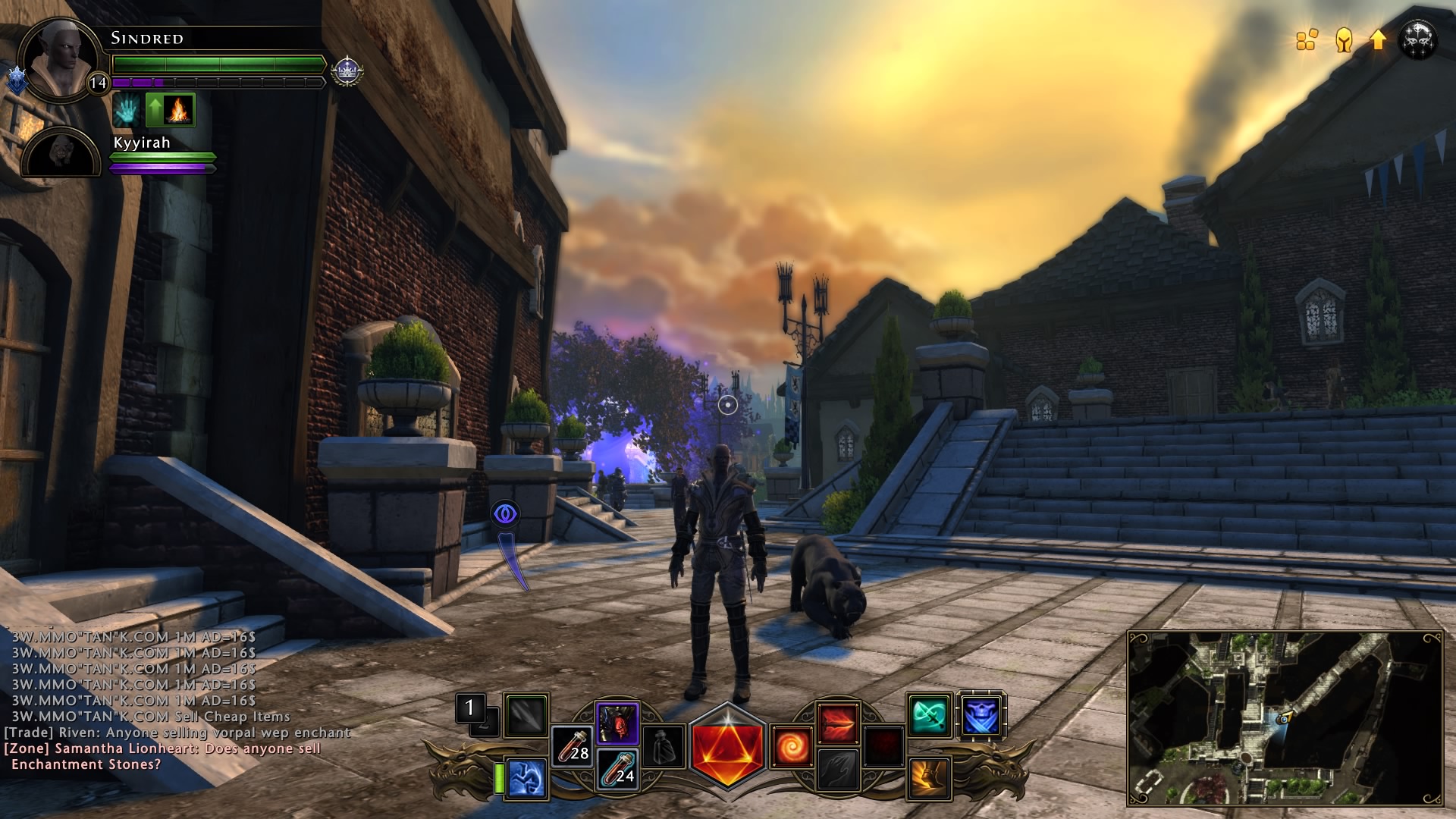 Protector's Enclave is the city centre for Neverwinter
While players are often frustrated with slow leveling of a character in a game, Neverwinter is very different. Your character doesn't level too quickly that you feel unaccomplished but it does move quick enough if you work smartly. Planning is the key.
There are many things that you can do to level your character up although my suggestion for the first 20 levels is to do the quests asked. The quests you receive during those levels all give you the start-up things you need. For example, a mount, clothes, armor, weapons, and basic powers based on your character.
After the 20 levels you have the opportunity to join in on activities like PVP (person versus person – 5 people on each team for capture the flag), Skirmishes and Campaigns. These activities work between levels of characters in tens (levels 20-29, 30-39, etc). This way you don't get over powered by top level 70 characters; that wouldn't be fair. 
#4 Many Different Items for Each Character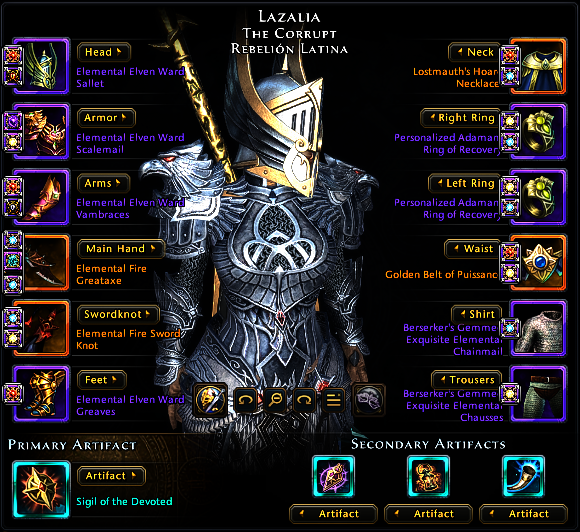 The items are not only powerful but extremely beautiful
While you can customize your character completely, you can also customize your items. There are many different items to choose from, whether you'd like to complete a set of armor or use different armor from different sets. Besides that you can also enchant your items with many different gems that you can create by leveling your gems.
Each gem enchantment will add to different characteristics of your armor and your character's power. Also, if you like the power of your armor but you don't like the look of your armor, you can customize the look to look like a different item or you can make the item invisible. 
#5 Each Character is Different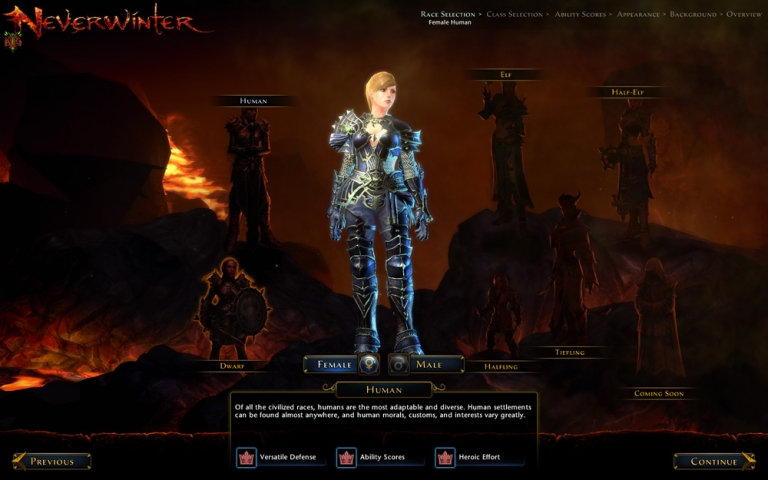 With endless choices in race, sex, and class, you can make a completely customized character
When creating your character, you are first allowed to choose the character's race; these races range from Dwarf, Tiefling, Halfling, Half Elf, Elf, and Human with more to come. Thereafter you can choose your class ranging from Trickster Rogue, Oathbound Paladin, Great Weapon Fighter, Fighter Cleric, etc.
Besides the important choices, you can also make the simple choices like facial features, scars, body shape, hair color, and hairstyle. Each of your characters can be completely unique in their own way and this gives you a sense of freedom and difference within the game. 
#6 The Different Mounts to Choose From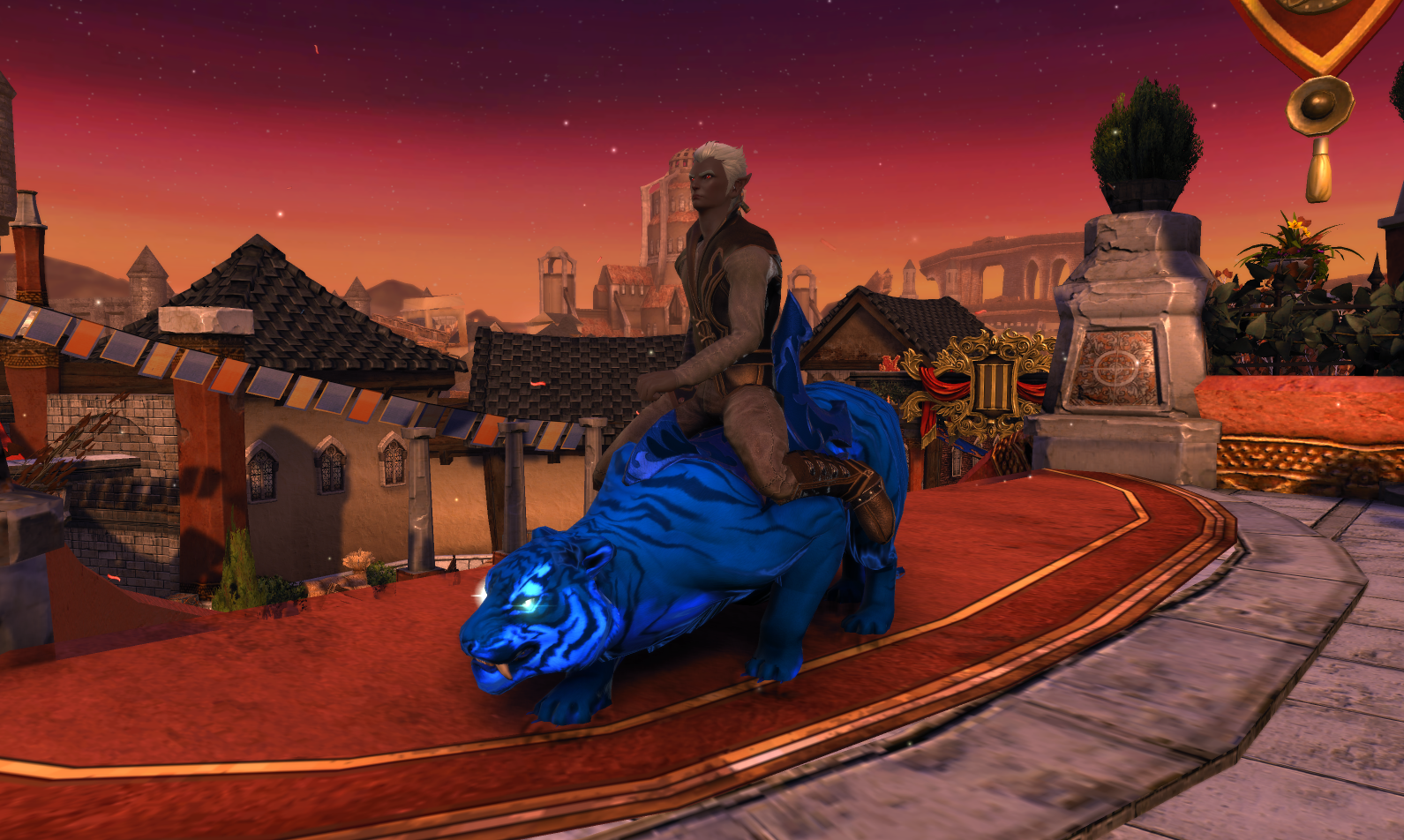 My favorite of all the mounts is the White Tiger
When you reach level 20 you receive a mount for hire. Compared to your last 20 levels on foot, this mount seems amazingly fast. However, they are not even close to being as fast as the mounts you can get with saving astral diamonds.
Besides their speed and beauty, there are many different mounts to choose from. The list seems to go on forever when it comes to them and it includes a Unicorn, Skeleton Horse, Owlbear and a Giant Beetle. 
#7 The Different Companions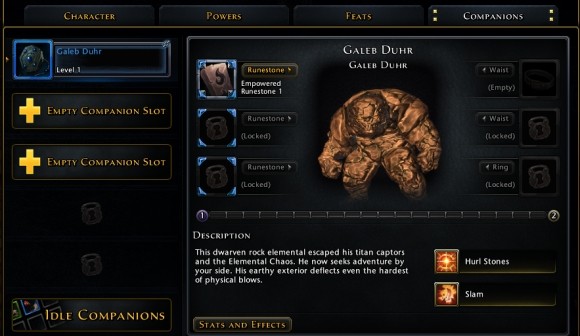 Companions will be with you until the end – or until you have to revive them
Companions are the best and sometimes the cutest, depending which ones you have. They, like the mounts, come in different shapes and sizes and they accompany you in defeating your enemies. They will stick by your side and attack your enemies along with you. You also get to upgrade your enemies as well as enchant your companions like your armor. 
#8 PVP is the Most Fun and Liberating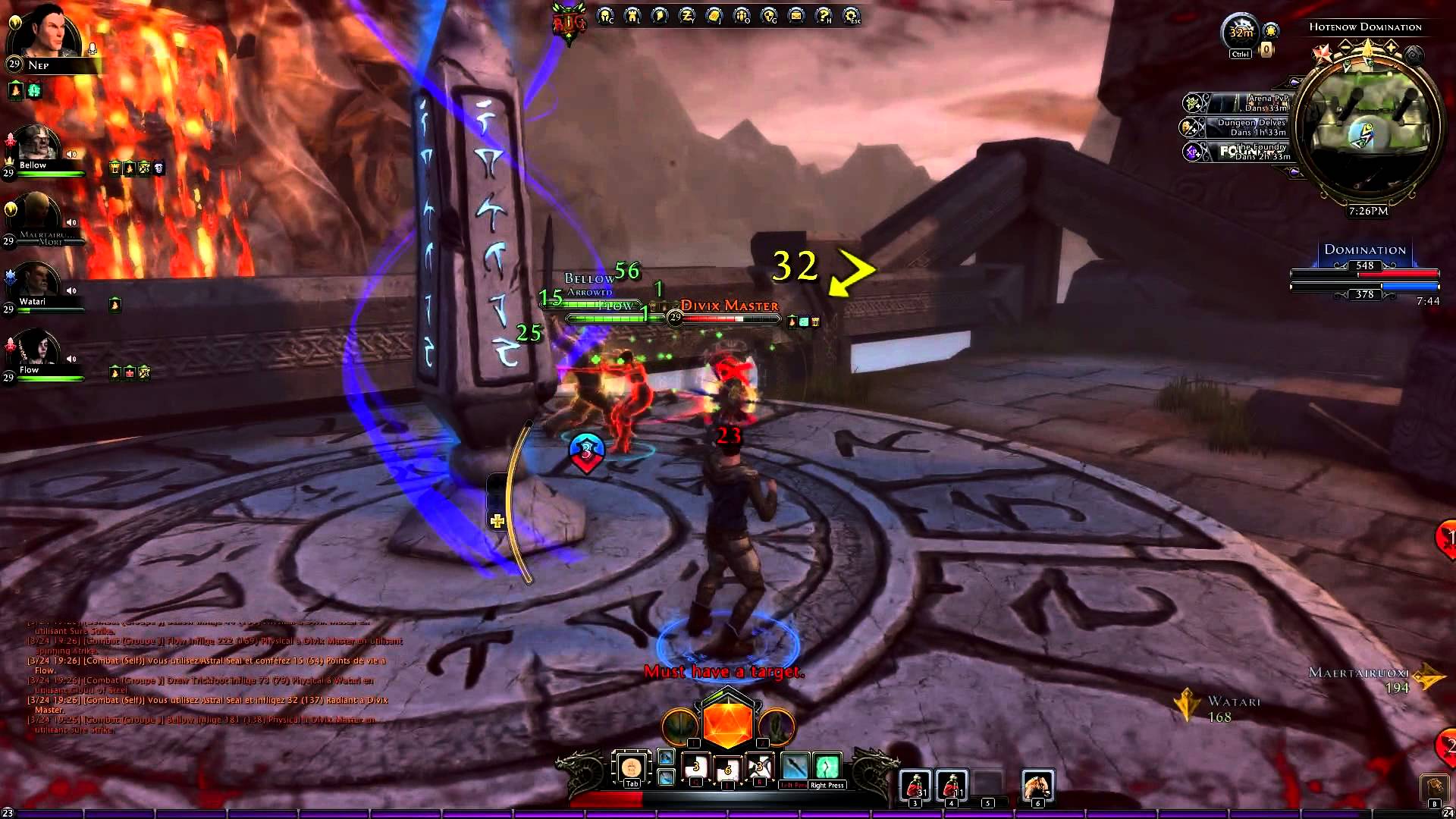 PVP inspires competition and comparing between online characters
Player vs player is standard like the capture the flag situation. Five people on each team fighting for the winning score. Attacks are often brutal, for example if you're in the lower hand of the tens level (level 30-34). You need to learn to use your powers in the smartest way to defeat your online enemies – and you may want to turn their speakers off. 
#9 Meeting Fellow Warriors from around the World

PVP allows intimate meeting of the same online characters from all around the world
While the game is great, you also get to communicate and enjoy the company of people all the way around the world. Other players may not always be friendly but what else would you expect from an online game? Nonetheless, you do get the friendly ones who would love to join your guild and team. 
#10 Annual Events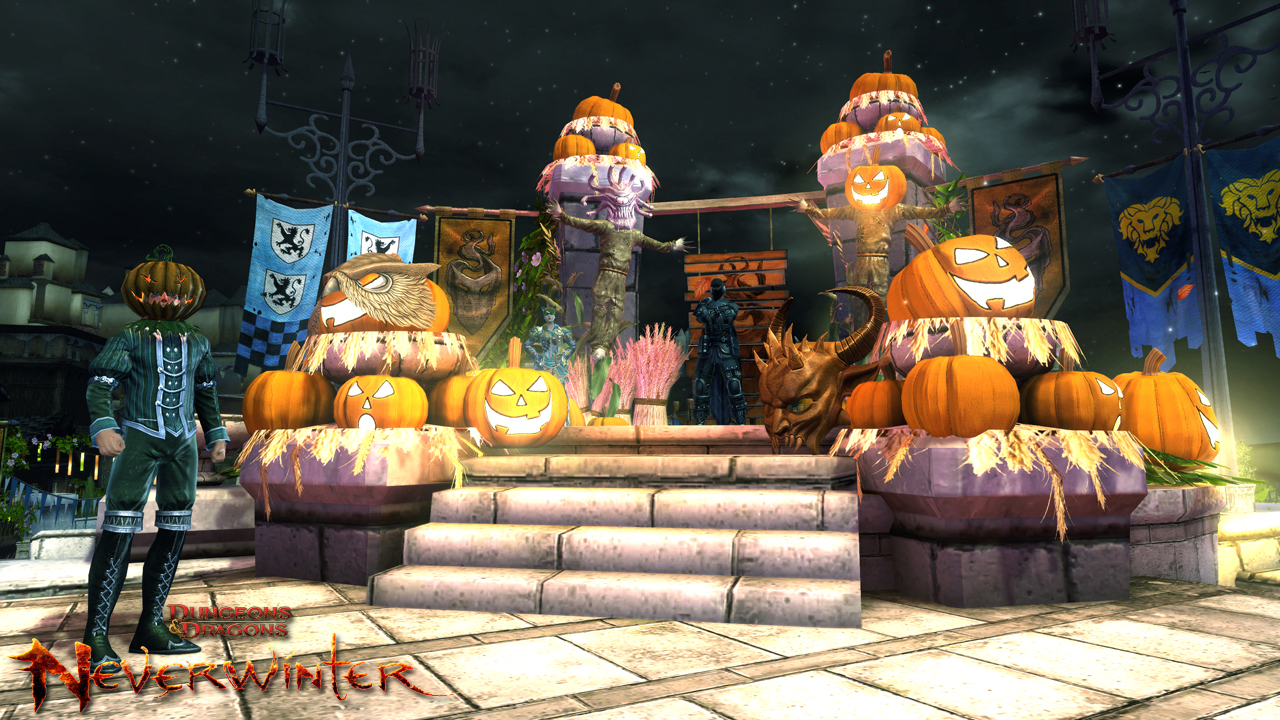 Neverwinter Halloween Festival
Every year Neverwinter customizes the main city centre, Protector's Enclave, to match certain events; these include Halloween and Christmas. Not only are there decorations absolutely everywhere, there are also events and quests that take place.
The quests you do for these festivals will gain you special outfits, companions, mounts and even armor and weapons. These items can also gain value over a certain amount of time and you can sell them to other players in the auction house.
In closing, the all around look and feel we get from this game is highly interactive and competitive with lots of extra features that draws us into the game. The fact that you can completely customize everything and anything about your character allows for uniqueness and a step ahead when it comes to competitiveness. It is by far my favorite game of all time. 
You may also be interested in:
Top 10 Items Worth Buying with Real Money in Neverwinter
D&D Neverwinter Characters Ranked Worst to Best
Top 5 Ways to Gain Astral Diamonds in D&D Neverwinter