[Top 10] Best Geek Clothing Sites We Love!
Updated: 28 Nov 2020 1:38 am
All of these t-shirts and not one of them is mine
We all know that being a geek is 90% mental and 10% clothing, but just like anyone else, we do love our clothing and still want to be stylish while showing off our geek.
We may not adhere to all the latest fashion trends, but that's what makes us unique as geeks are either all out in full-on steampunk or go more casual with a nice pair of pants, a nerdy shirt with a witty saying or logo, and a cool jacket to go with it.
No matter your geek style, we all have a favorite site, be it garb shops, street clothes, or even Etsy shops with a little bit of both. There's always that one site we regularly shop at or tell ourselves one day I'll get something from here.
But if you haven't found your go-to sight just yet, if you're still exploring the interwebs for that one perfect thing, then search no further cause here's my top ten list of the best geek clothing sites we love.
#10  Grindstore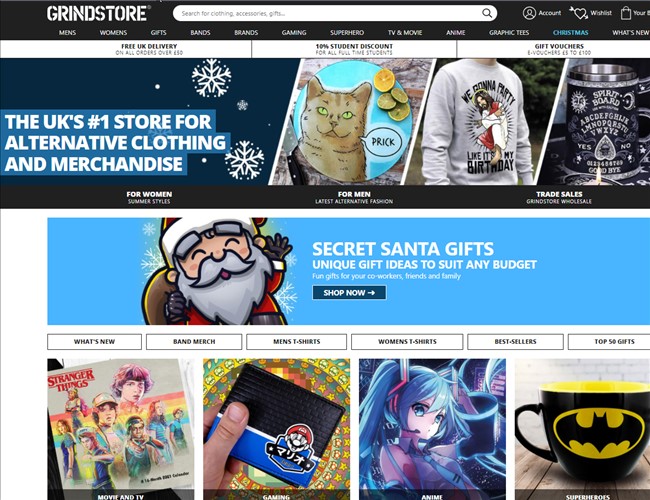 (All the pretty pretty shiny shiny) 
https://www.instagram.com/grindstore_official/?hl=en
With the holidays around the corner, I started scouring the internet for some tremendous geeky sites for clothes and other geek things for my kids as we're all nerds in our own way. During that search, I stumbled along Grindstore. Based in the UK, they are a mix of Spencers and Hot Topic, without naughty sale items. But, just like Spencers and Hot Topic, though they do have clothes and merch focused around all things nerdy. From Anime and the store's originals, they're one of my new favorite sites. The downside, you'll have to convert the cost as all items for sale do show in GBP (Great Britain Pounds) and not USD. 
What's unique about its clothes: The unique thing about their clothes is you will see many British terms towards their items. Sweaters are called jumpers, and tank tops are called vests. They also offer children's clothes, which is uncommon in the states to find alternative or geeky shops. As they are a UK business, make sure you double-check the measurements of any clothing you buy as all sizes are shown are UK based and not US-based. Most clothing items have a size chart; that way, you can double-check your measurements to ensure you get the right fit. 
#9  Blue Banana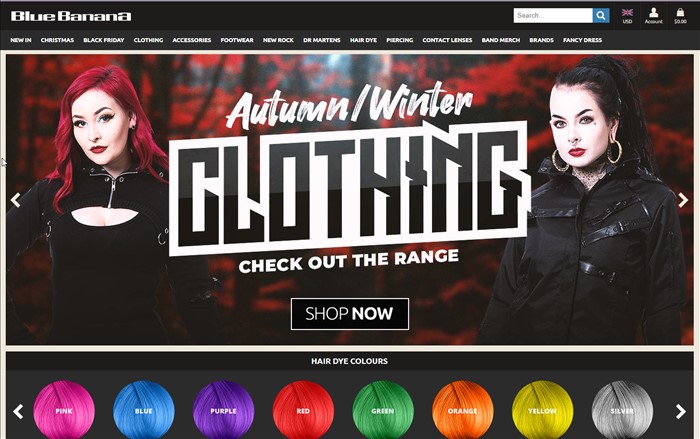 (for the dedicated goth in your life)
https://www.instagram.com/bluebananauk/
Another great shop from the UK that reminds one of Hot Topic in the late 90's early 2000's with some fabulous shoes is Blue Banana. They have a more comprehensive selection of merch that includes children's clothing, and their pricing shows in USD, so no guesswork on how much you'll be paying. What I love about this site is they also sell Dr. Martens and have my favorite, the classic 1460 boots. This site does seem to have it all, so it's an excellent one-stop-shop for all your geeky needs. 
What's unique about its clothes:  They have a great selection of men's and women's clothing along with children's clothing and shoes as well. Unlike Grindstore, they offer US and UK measurements, so you'll still have to keep an eye out to make sure you're ordering the right size. They also have a size chart for all clothing items so you can make sure you're getting the right fit. Many of their items are gothic or vintage, but they also have casual wear as well if you're looking for a t-shirt and jeans. And yes, you will see the occasional British slang like Jumpers for sweaters and vests for tank tops. 
# 8 Spencers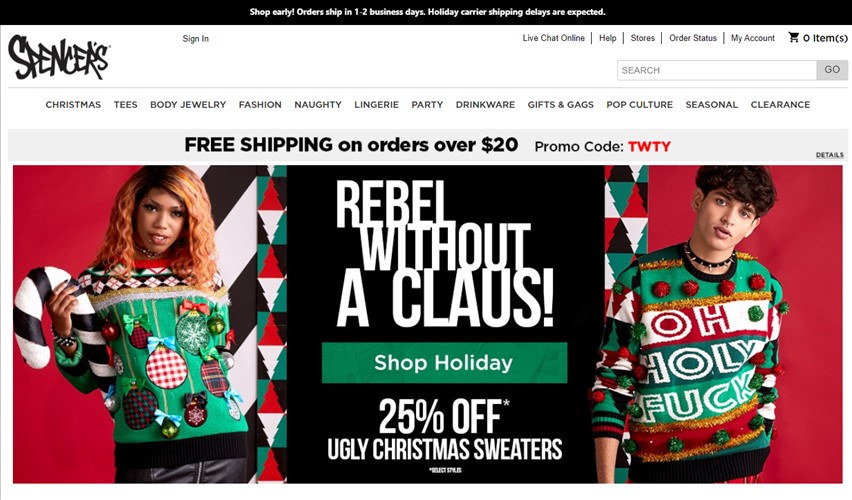 (Fart jokes and NSFW ahoy)
https://www.spencersonline.com/
https://www.instagram.com/spencers/
Oh, Spencers, where would we be without you and your gag gifts to let people know what we think of them. Along with your naughty items and frat decor, college dorm rooms would be lost in the world without you. But at the same time, I have to admit your pop culture items and fart humor is right up my ally, along with everyone else's reading this article. What has always surprised me with you guys is that you have some pretty awesome clothes. 
What's unique about its clothes: The clothing at Spencer's is unique cause they're not afraid to push boundaries. Even their ugly Christmas sweaters go from tame to WTF. It's a store right up any geeks ally, especially for geeks with a twisted sense of humor.
# 7 Hot Topic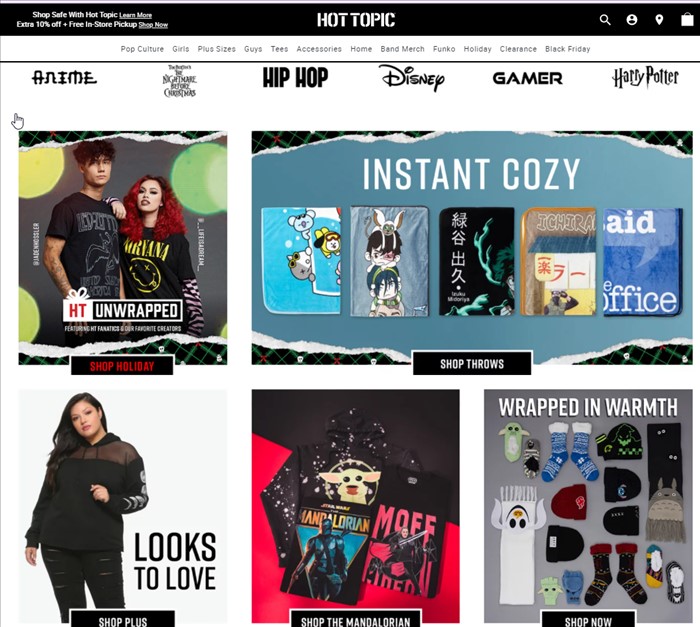 (The original store that made your parents go why)
https://www.instagram.com/hottopic/
Since high school, one of my favorite geek stores, Hot Topic, is an iconic goth and geek site that has been the bane of suburban parents for as long as I can remember. Hot Topic has been a popular place to shop for kids and adults alike that don't quite fit into the norm, and for many, it was a safe space. The store has grown and changed throughout the years and was even the topic of a South Park episode during the dark days of Twilight. 
What's unique about its clothes: Although they cater to teens and adults, the one unique thing about Hot Topic's clothing is they also offer plus sizes. They also cater to pop, geek, and goth culture with their accessories as well. They still provide corset shirts and a lot of their other classic clothing items as well. Hot Topics blend of old and new has kept this store and their clothing line a favorite of all geeks. 
# 6 Torrid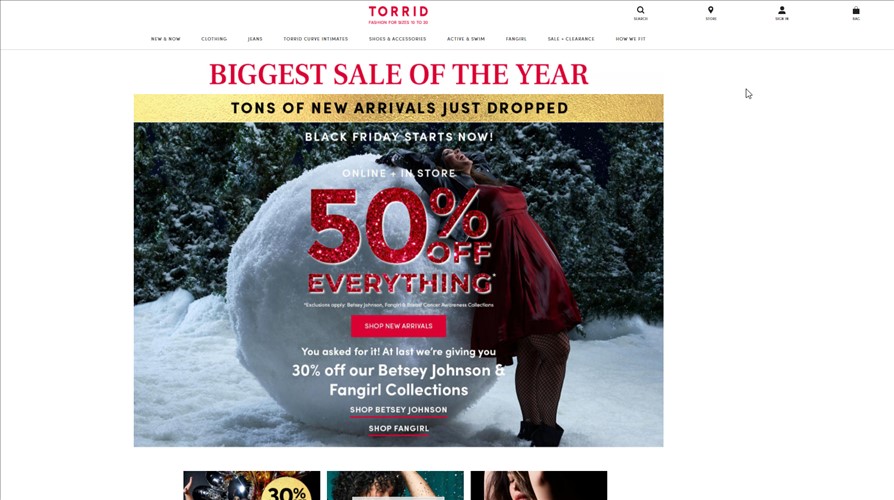 (These guys always have a kick-ass sale going on)
https://www.instagram.com/torrid/
Back in the late 90's Hot Topic did not offer plus-sized clothes, so they created Torrid for all your plus size goth needs. Today Torrid c has more of a retro vintage feel than a geeky goth feels, but they still hat tip back to their roots, which has earned them my number six spot. 
What's unique about its clothes:  The fact that they are an alternative store for plus size women is fantastic. While the store is now more known for their casual retro vintage, they still carry some classic items from when the store was the plus-size Hot Topic. Another reason Torrid is still one of my favorite geek shops is due to their fan collections. The store is licensed to sell Harry Potter, Outlander, even some sports team logos.
# 5  Armstreet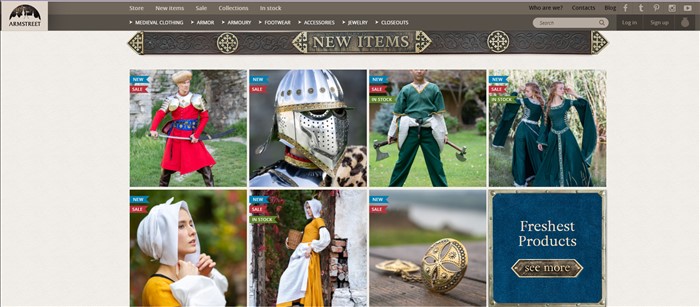 (For all your LARP and Reenactment needs) 
https://www.instagram.com/armstreetcom/
Looking around for that killer LARP outfit or the perfect accessories to help you blend your geeky side with your everyday clothes. Then look no further than Armstreet for all your costume needs. Based out of Ukraine, Armstreet started as a small eBay business for r other r Historical costume enthusiastic. They are among the top names in the LARP, SCA, and the Reenactment community with their website, studio, and Etsy shop. .movie makers and theater groups have also asked them for help with medieval costume designs. From weddings to Ren Fairs and everything in between, Armstreet will have everything that you're geeky heart is looking for. 
What's unique about its clothes: All items offered can be made to your measurement,s including the sho,e or you can buy premade sizes if available. The costumes Armstreet makes are based on historical designs or as close as they could get. They also make armor, so you can't go wrong with that. Armstreet has a wide selection of belts and jewelry that can be worn with everyday items to give you your own unique look. 
# 4 Opal moon Designs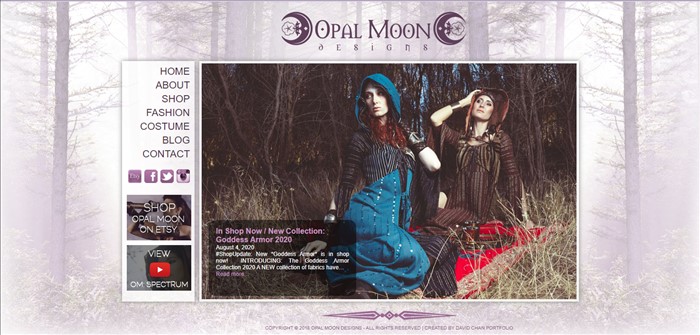 (Tribal meets fantasy)
https://www.instagram.com/opalmoondesigns/
Once upon a time, I was walking through the  Bristol Renaissance Faire in Bristol, Wisconsin, trying to find a unique outfit that was light in fabric but would still fit the faire. If you've ever been to a renaissance faire, you know the traditional fashion of the day, even in its lightest material, is still heavy.  While searching high and low for an outfit to help me escape the heat, I ran into a friend who worked there and told me about Opal Moon Designs. Since then, my obsession with their site and Etsy store as one of my favorite geek shops was born. 
What's unique about its clothes: The clothes have almost a medieval middle-eastern feel combined with gypsies and magic users. As the creator of Opal Moon Designs, Kerrie Kordowski calls it Tribal Sci-Fi. Her designs are out of this world, and you feel like you're wearing a piece of art. Opal Moon Designs is a must for any geek wardrobe. 
#3  Kmkdesigns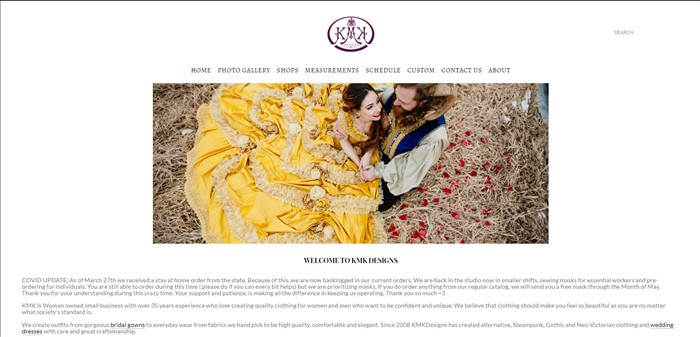 (This mother-daughter duo knock it out of the park every time) 
https://www.kmkdesignsllc.com/
http://KMKDesigns (@kmkdesignsllc) • Instagram photos and videos
In 2009 I was at Anime Milwaukee when it was still hosted at the UW-Milwaukee student union and by the Japanese Anime Association. Walking through the vendor's hall, I found this mother and daughter team Selling beautiful medieval costumes and some retro lolita wears as well. Sheridyn and Kaitlyn McClain are two of the most beautiful people I have met, and I still own a few of their items from earlier collections. As I grew out of (width) wise, I was able to hand down to my youngest daughter. The items still looked like they were just bought yesterday, and she fit perfectly into them.
 What's unique about its clothes: Although KMK doesn't sell Medieval clothing anymore, they still do a lot of awesome custom designs from every day to costumes and cosplay and bridal. This mother-daughter duo is a powerhouse based right in St. Paul, MN, that blends goth and steampunk along with other alternative styles to some of the most iconic pieces of fashion that I have ever seen. All items are well made, and the quality of fabric they use makes their clothing pieces that will last a lifetime.
#2 Firefly path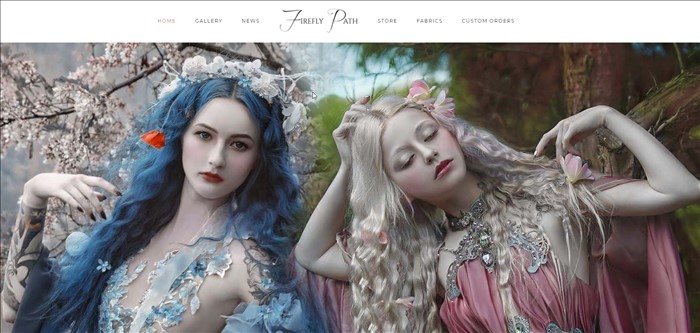 (Fantasy come to life) 
https://www.instagram.com/fireflypath/
I first stumbled across Firefly Path on Etsy a few years ago when a friend shared a link with me on Facebook of a gorgeous dress that she had seen. It was their elven bridal gown, and I was hooked from that day forward. Since then, they have grown into a household name and even have their most sought out patterns with their partnership with Simplicity. 
What's unique about its clothes: The most remarkable thing about Firefly Path's clothing is they have a very ethereal feel to their designs, along with some video game inspirations as well. One of their most popular dresses is their Legend of Zelda Hyrule dress. They also offer a line of capes that are both beautiful and whimsical, along with other accessories to help your fantasy outfit come to life.  
#1 Celtic Fusion Designs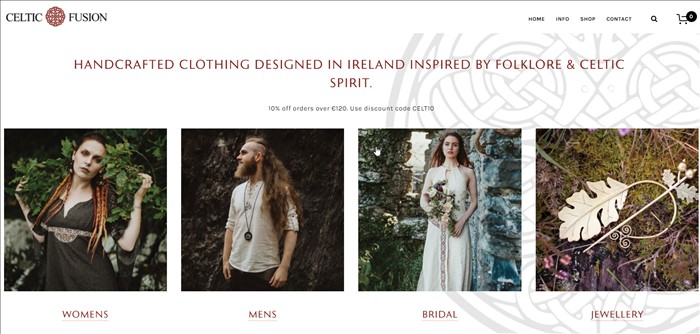 (Ethically made clothing at a good price) 
https://celticfusiondesign.com/
https://www.instagram.com/celticfusiondesign/
A few years ago, I was engaged to get married, and I couldn't fathom spending thousands of dollars on a dress I would wear just once. If you ever watched shows like say yes to the dress or even went bridal shopping, you know only the accessories alone add up quickly. I was on Instagram looking at alternative dresses and other wedding ideas when I stumbled along with Celtic Fusion Designs. They had gorgeous wedding dresses that I just had to find more of, which led me to their store's link that showed all pricing in GBP. I knew I could still get a dress from there but was a bit heartbroken as I was afraid the conversion rate would be much more. Luckily, they also have an Etsy link, and I was able to see the actual cost in USD. I was thrilled to see that the dresses were still under the thousand dollar mark, plus I worked with a charity in Ireland that helps restore native trees and reforestation. 
What's unique about its clothes: Although my wedding plans crashed and burned like Goku after a major battle, I started to explore their shop some more and noticed they were not just a wedding shop. Celtic Fusion also offers pagan style clothing made out of natural fibers and dyes safe for the environment. As beautiful as their wedding dresses are, casual and everyday clothing is just as if not more stunning, along with their shawls and other accessories. They indeed are a gem among all the geek stores out there, and I would highly encourage everyone to check them out. 
You may also be interested in: