[Top 10] Best Viking Music We Love!
Updated: 28 Nov 2020 5:20 am
The tales that these instruments can tell
After scouring my music library and my reenactment groups, not to mention the internet, while cross-referencing them with video links, smiling at some, crying at others, with a few making me even want to kick some ass. From movies to TV Shows to well-known folk bands that help bring us back to a time when Vikings roamed the seas while also tending to their villages and farms. Welcome to my top ten list of the best Viking music we love. 
# 10 Vikings - Album - The Secret of Kells OST - Written  and composed by Bruno Coulais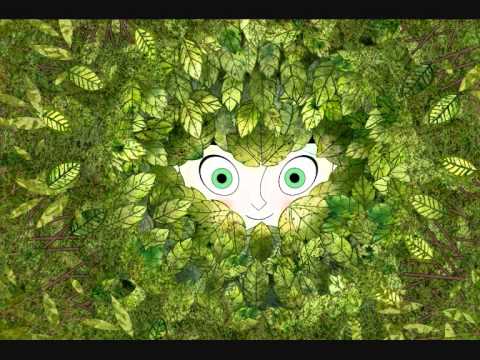 The Soundtrack for The Secret of Kells, written and composed by Bruno Coulais, is just the extra layer a movie needs to help push a story along from cold to omfg; this is awesome. The music pulls you in and helps tell the story of The Secret of Kells. It adds that layer of suspense and awe that one rarely sees anymore and that we're happy to see portrayed in this soundtrack.
(There's something in the air, and it doesn't feel right) 
The Soundtrack for The Secret of Kells, written and composed by Bruno Coulais, is just the extra layer a movie needs to help push a story along from cold to omfg; this is awesome. The music pulls you in and helps tell the story of The Secret of Kells. It adds that layer of suspense and awe that one rarely sees anymore and that we're happy to see portrayed in this soundtrack.
Why it's good: The music pulls you into the story and background of Ireland during the time of the Viking invasion. Whenever the Vikings are present, the music is sharp and deep. It gives you a feeling of foreboding and terror. The ethereal blending with the harsh and jagged sounds of an impending Viking attack makes the hairs on your body stand up like you're there. Bruno Coulais went out of his way for us not just to see and hear this excellent movie but feel it as well. 
#9  A Useful Servant - Album- The 13th Warrior Soundtrack written and composed by Jerry Goldsmith
(A long trip home with honor intact) 
After the Vikings and Ahmed Ibn Fahdlan have defeated the Wendol and Buliwyf is given a funeral befitting a king, it is time for our 13th Warrior to return home. Herger and Ibn chat before his ship departs back to his homeland. Herger promises to pray to all the Gods for Ibn's safe return to Baghdad, while Ibn reflects on how he has become a more useful servant to God. 
Why it's good: Composed by Jerry Goldsmith, who up until his death in 2004 has always been able to tell a story through music from the Twilight Zone to Star Trek Nemesis and everything in between. He has always been able to weave music to bring the film to life and make you feel it. The calm and quiet tones help the mind and body relax after watching and in many ways living the adventure with Ibn and the rest of the 13 warriors. It's also a great blend of Nordic and Arabic music that helps shape Ibn's world throughout the movie.
#8  Walpurgisnacht - Album - Luna - written and performed by Faun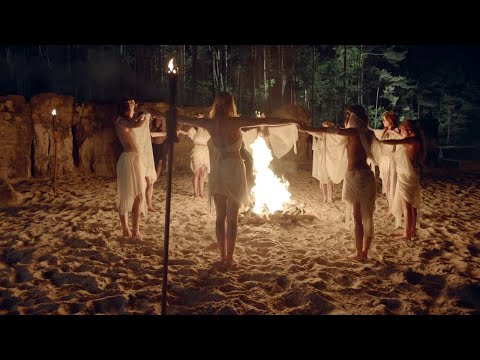 (Hear the fiddles, hear the fiddles, The fires are kindled!)
Faun, a Mittelalter style folk band, was formed in 1998 by Oliver s. Tyr, and former members Elisabeth Pawelke, Fiona Ruggeberg, and Brigit Muggenthaler. The band's current members include Oliver, Rüdiger Maul, Niel Mitra, Stephan Groth, Laura Fella, and Adaya. This German music style of mixing medieval folk, pagan folk, folk metal, and darkwave music gives this band a unique style not heard in the States. The band is also known for using  Nordic and Germanic languages in both old and modern dialects with  English and  Latin dash. This truly unique band is worth checking out. 
Why it's good: to understand why this song is so remarkable, one has to understand what Walpurgisnacht is as Walpurgisnacht, steeped in Germanic and Nordic folklore and celebrated for hundreds of years. The term translates to witches' night, and depending on what region you are in will depend on how one observes. Walpurgisnacht starts on April 30th  and ends on May 1st. It may or may not be celebrated in conjunction with Mayday as is depicted in the video but can be as both celebrate spring and to ward off any evil that will affect the growing season. The song itself is very catchy and upbeat and makes you feel like you're part of the celebration. The lyrics and video are rich with folk and pagan symbolism and, just in all, a fun song to play during festivals and parties.
#7 If I had a Heart - Album If I Had A Heart -  Written by Karin Dreijer Andersson (Sung by Fever Ray)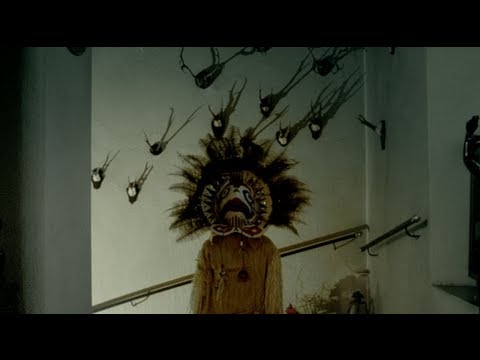 (A void that her raiding cannot fill) 
Fever Ray is the alias Karin Dreijer of the EM duo The Knife and is her solo persona. If I had a Heart was featured as the Opening Theme Song to History Channel's Vikings for all six seasons. This deeply melodic song stirs the imagination and captures an indescribable emotion. 
Why it's good: The EM and Viking Folk blend brings the listener into almost a trance-like state with its rich harmonizing beat and vocals. In comparison, the video brings you into a dystopian modern Viking world similar in design to A ClockWork Orange. As you listen to the song, you wonder if the singer will ever be fulfilled or continue to raid and steal until there is nothing but crushing loneliness and death. 
#6  Aurora - Album -  The Elder Scrolls V Skyrim Soundtrack - Written and Composed by  Jeremy Soule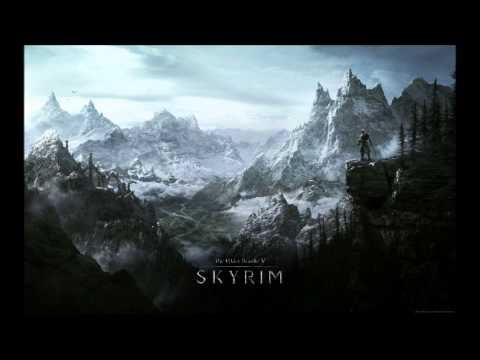 (Jeremy Soule does it again) 
Those looking for a great video game soundtrack filled with nordic melodies mixed with fantasy, then look no further than The Elder Scrolls Skyrim. The soundtrack itself is with Jeremy Soule hitting it out of the park once again. For fans of TES and Jeremy Soule, he's created another captivating score that pulls you into his world and the world of Skyrim whether you're playing the game or not.
Why it's good: I have a few favorite tracks to TES V Skyrim, but Aurora has always been one of my top favorites cause of that deep nordic sound we've become so accustomed to in the Norse genera. Whether it be historical or fantastical, Jeremy Soule has a way with music that lets your mind wander into the scenery of frozen tundras at night while the aurora borealis dances in the sky. It also ranks in my number six spot because Jeremy Soule entwines the nordic with the ethereal. It not only helps pull one into Skyrim's world but on its own makes Aurora a great piece to relax and meditate on when one wants to zone out and forget the world around them. 
 
#5   Once There Were Dragons - Album - How To Train Your Dragon The Hidden World - Written and composed by John Powell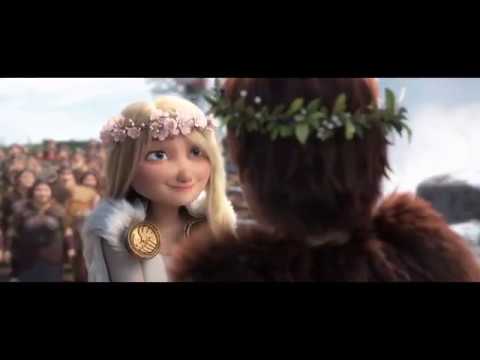 (A great song for a great ending)
The soundtrack to one of mine and my kid's favorite Dreamworks Series, and I am so glad we all got to grow up with Hiccup, Toothless, Astrid, and the rest of the Dragon Riders of Berk. Unlike the rest of the music on my list, this one is more geared towards children and families. Yet it still rates as some of the best Viking music we love cause, c'mon, guys, let's face it,  even kids need Viking music too.
Why it's good:  Played towards the end of HTTYD The Hidden World, it goes from Hiccup and Astrid's wedding to at least five years later with Hiccup, Astrid, and their two kids go in search of Toothless. The exhilaration you hear in the music upon being reunited with the dragons and the gentle, soothing sounds of Hiccup and Astrid's kids being introduced is musical storytelling at its best. It's calming, cheerful, and even pumps the adrenaline to make you feel the excitement like you're right there with Hiccup and the dragons.  
#4  Heyr himna smiður (Icelandic hymn) - Performed by Árstíðir -- Adapted by Composer Þorkell Sigurbjörnsson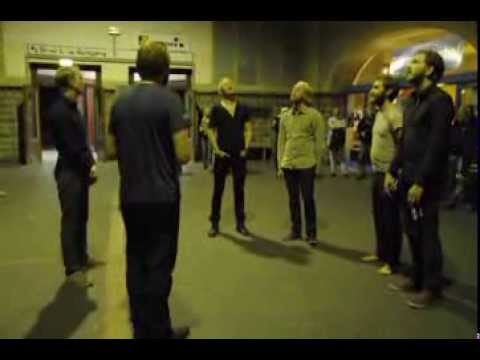 (Beauty can be found anywhere) 
The impromptu performance of a 13th-century Hymn by the Icelandic Indie Folk band Árstíðir put them on the global map. Árstíðir has since drawn a bigger audience and fan base, yours indeed among them. Sadly you will not find this song on any of their albums but can be rewatched repeatedly on the above link.
Why it's good: When realizing how extraordinary the acoustics were at the Wuppertal train station in Germany, the band couldn't pass it up. Yes, that's right, Árstíðir impromptu session performed acapella in a train station. Yes, you read that correctly, a train station. This video has been seen over seven million times and shows the power of music and how it connects all of us, even in the most unusual places. Although not technically Viking or Nordic pagan based, the hymn was around when the Vikings and Nordic pagan costumes started to die out, and Christianity takes over. 
 
#3  Helvegen - Album Runaljod – Yggdrasil -  Written and Performed by Wardruna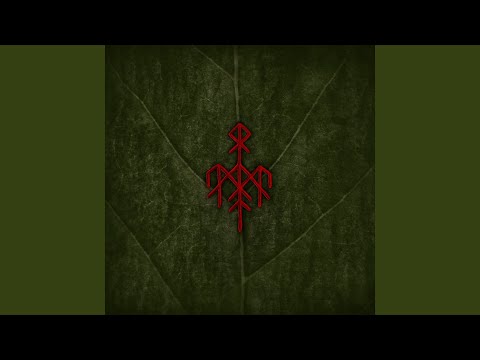 (Truly about a path to Hel)
One of my favorite Norwegian Nordic Folk bands, Warduna, really digs deep into the Norse Culture and performs songs that the Viking age would have heard or inspired. This particular song has been used twice by History Channel's Vikings in the second and fifth seasons of the show's run and the Norwegian comedy series Norsemen during Jarl Orm's funeral. 
Why it's good: For starters, the title of the song translated to English means The Path To Hel, Hel being the Nordic Goddess of the dead who like Hades judges you and the life you lived, which decides what hall of the Gods you will go to in the afterlife. The song is a funeral song with a deep and sad melody that calls the Gods to help lead the spirit on its path to Hel and cross the Bridge of Gjöll (Norse version of the river Styx) to pass into the afterlife. 
 
# 2  Kattegat Celebrates the Fallen &  Reunion and Final Rest- Album - Vikings Season 6 Soundtrack - Written and composed by Trevor Morris
Number two is a compilation I initially thought was just one moving tribute composed by Trevor Morris to our favorite Viking Queen, the shieldmaiden Lagertha. Two of his songs from the Vikings season six soundtrack played during Lagertha's funeral scene. As mentioned in my previous article Best Viking Fight Scenes That Are Amazing, I went over the Death of Lagertha by Hvitserk and how she was at peace with it and accepted her fate die slain by one of her beloved Ragnar's sons. Now we see and hear the whole of Kattegat mourn their beloved Lagertha, mother, farmer, shieldmaiden, and Queen is reunited with Ragnar in the halls of Vahalla. 
Why it's good: The music alone brings you to tears as we say goodbye to Lagertha, played by the amazingly talented Katheryn Winnick. In a way, we are also saying goodbye to Katheryn as the early episodes of season six were her last appearance on the show. To watch the funeral scene where this spellbinding ethereal music played, you can click here Vikings: https://www.youtube.com/watch?v=PLlpD-34cXY&t=16s History and cry along with the rest of us (funeral music starts at the 1.30 mark).  
Honorable mentions:
I love these songs, but they didn't quite make it into my top ten list as they're in movies that deal with Vikings. Still, the main story itself doesn't center around the Norse and Viking Cultures, or they come from films, tv show, or video game that's so popular they've made the top ten numerous times, but we still want to give them a hat tip for just being awesome. 
Aisling Song - Album - The Secret of Kells OST - Written  by  Bruno Coulais (sung by Christen Mooney)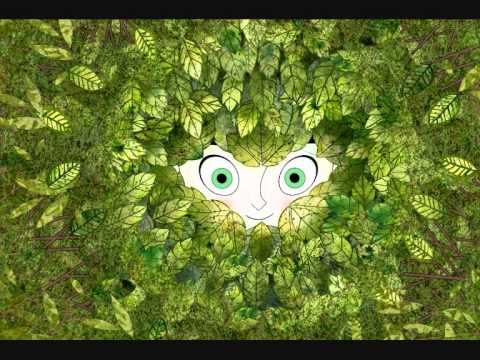 (You must go where I cannot. Pangur Ban, Pangur Ban Nil sa saol SEO ach ceo.)
Young Branden has angered his uncle with the foolishness only a child could possess and gets locked in his bedroom in the tower. Aisling, one of the fey folk, uses her magic to turn the cat pangur ban into a wisp so he can get the iron-based key to Branden so that he can go free and help Asling on her mission. 
Why it's good: Although not Viking and the movie itself is based more around the Book of Kells, which was also during the Viking raids' height to the UK, this song gets an honorable mention for the magic it has. Magic was a central theme to Vikings and the Celts and how its woven into their everyday lives. Even early Christian sites in both Scandinavia and Ireland show how the locals who were forced to build these structures blended the old and the new.  The movie and soundtrack to Thee Secret of Kells builds on layer after layer of storytelling and how all these seemingly unrelated parts all blend into one story. 
Dragonborn - Album - Skyrim OST - Written  by Jeremy Soule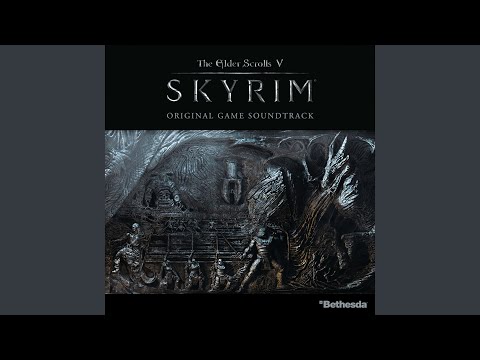 (Let's face it like Du Hast you've had this song on full blast at the gym on your headphone)
The song sings the Dragonborn praises and how they are chosen to keep evil at bay and protect Skyrim's realm, how the Dragonborn will free Skyrim from the imperials and dragons alike so that the people will be able to live a carefree life.
Why it's good: I remember when I first started playing Skyrim and heard this song before I even pressed start. It's the kind of music that makes you think the hell did I get myself into. It's the song that makes you select easy mode right away cause you know you're going to get your ass kicked. It's also a song that gets the blood pumping and makes you excited to play the game. It's also a great introduction to the world of Skyrim. 
 
The Misty Mountains Cold - Album - The Hobbit An Unexpected Journey OST - Written by Howard Shore (sung by Richard Armitage, The Dwarf Cast)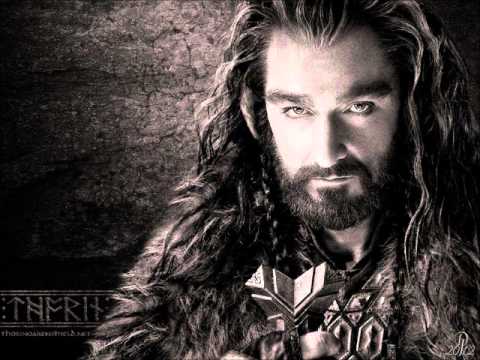 (To dungeons deeeeeeeeeeeep...)
We've all heard this song over and over again and swear we'll never listen to it again until we hear "Far over the misty mountains cold.."  and suddenly we all join in like we're the dwarves who lost their gold. It's the song we love to hate and belt out when drunk with friends because why not. Those dwarves were made homeless by a greedy king and dragon, it's not their fault, and they shouldn't have to suffer because of it. 
Why it's good: Just like Queen's Bohemian Rhapsody, we all know the lyrics to this song, even if we never watched the movie or heard it before. It's like a siren call that we all must answer and sing along to. It's sorrowful, it's moving, and you want to help the dwarves defeat Smog and get their home and gold back.  
#1  Federkleid - Album Midgard - written and performed by Faun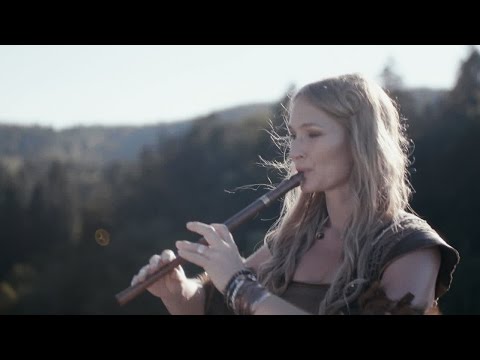 (Come and fly away with us, let the wind carry you far away from this place.)
Faun is also at our number one spot with Federkleid, another of the band's top hits that our list wouldn't be complete without. Like their song Walpurgisnacht, Faun does it again by mixing pagan and medieval folk music that brings us such an incredible story through song. The song is off their album Midgard, which came out in 2016 and draws extensively from German and Viking Mythology and Legends. 
Why it's good: The name of the song translates to Plumage, as you would see on a bird. The song itself is about flying away and exploring the heavens and getting away from the mundane. The rhythm and tempo are upbeat and joyful, making you want to get up and dance along with the band feeling the freedom they portray in their music. The music video illustrates this message even more by showing workers' daily lives in the field while a band of musicians walks by and asks the workers to join in the party and have fun, to forget about their worries even if it's just for a day. 
Also Be Sure To Read: