[Top 10] Escape From Tarkov Best Builds That Are OP
Updated: 13 May 2021 9:53 am
Tarkov: A person's best friend and worst enemy
Escape From Tarkov is one of those rare games that you're slow to pick up, but once you have you're not going to be putting it down any time soon.
This first-person shooter is one of the most rewarding (and one of the most infuriating) games out there for those of you who enjoy the hardcore, ultra-realistic gunplay, and getting the chance to shoot your friends in the legs. 
But getting to grips with it can be a struggle, especially if you're a newcomer. There's no map, you aren't given any sort of tutorial, and you generally just have to go in blind and hope for the best. 
Once you've got your head around that, then you've got to somehow get your head around the multitude of guns available and different sets of mods for each gun. Crazy, I know. 
But no need to fret, I'm here to help you along the way with the best builds in Escape From Tarkov that are OP. We'll tackle some high budget loadouts (including a ridiculous one), guaranteed to make your enemies faces' turn to mist, and a couple of cheaper ones for you newbies that still get the job done. 
And just for good measure, I've got some tricks at the bottom for making your own builds with confidence. 
As the Tarkov legend Pestily says; 
Let's crack straight into it. 
10. AK-101 5.56x45 assault rifle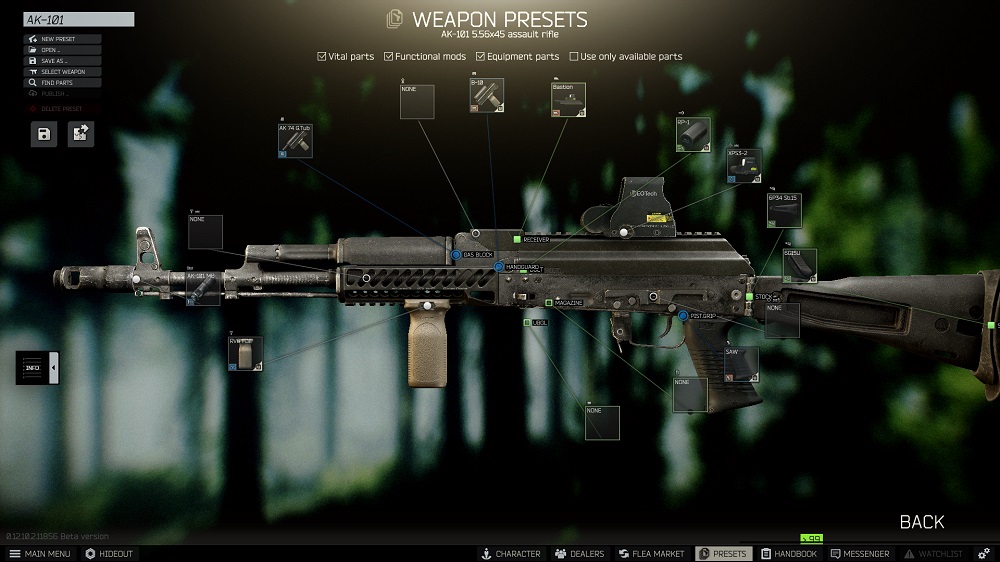 A lovely little budget build
We'll start off with a nice budget build, though the above YouTube clip shows a range of builds you can do with this gun. 
You'll have access to the AK-101 in the mid/early game. It's a popular gun so there's a decent chance of finding it on your enemies bodies or you can pick it up from the Mechanic LL2. 
This is a great build that gives you reduced recoil and a nice holographic sight so you can laser those hatchlings sprinting across the map. 
The Build
Izhmash 5.56x45 AK-101 muzzle brake & compensator
Magpul RVG grip
AK-74 Gas Tube
Zenit B-10 AK Handguard
AKademia Bastion dust cover for AK
Zenit RP-1 charge handle for AK
Eotech XPS3-2 holographic sight
Polymer stock for AK-74M (6P34 Sb.15)
Recoil pad from GP-25 for AK Accessory Kit
TAPCO SAW-Style pistol grip for AK
Cost: ~106,000₽
9. SIG MPX 9x19 Submachine gun
The Sig MCX: Best Build and Ammo Guide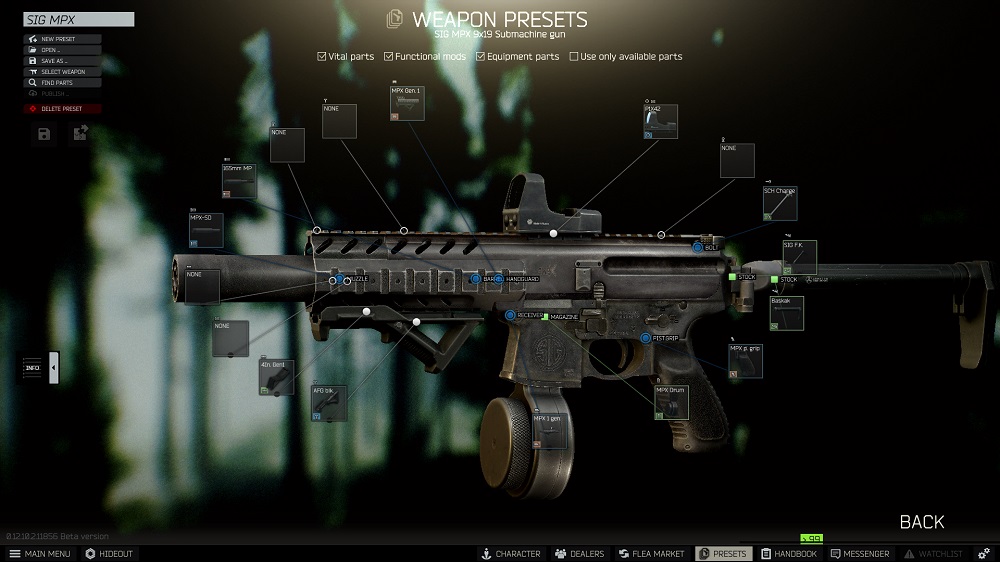 Silent but deadly
I've gone for another budget build here because if you're new to the game and struggling with gear fear, this is a great, effective gun that you can run with the confidence that you can earn the total of this loadout back with one or two decent raids. 
The SIG MPX is a lovely little submachine gun, it's got a great rate of fire and a decent recoil rate so is perfect for factory runs or any form of close-quarters combat. 
However, stick these attachments on it and it becomes a silent death machine. 
If you were looking for a slightly more expensive build, check out the linked YouTube clip which shows a great alternative. 
The Build
Handguard SIG MPX Gen. 1 for MPX
165 mm 9x19 barrel for MPX-SD
MPX-SD 9x19 Integrated silencer
SIG MPX Gen1 Handguard 4-inch rail adapter
Magpul AFG grip
Upper receiver of the first generation SIG MPX
F5 MPX Drum mag 50-round 9x19 magazine
Pistol grip SIG MPX
Armacon Baskak stock
SIG retractable stock pipe adapter
Geissele "SCH" charging handle for MPX
VOMZ Pilad P1X42 "WEAVER" reflex sight
Cost: ~130,000₽
8. TDI Kriss Vector Gen.2 9x19 submachinegun
THIS VECTOR BUILD IS THE NEW META SMG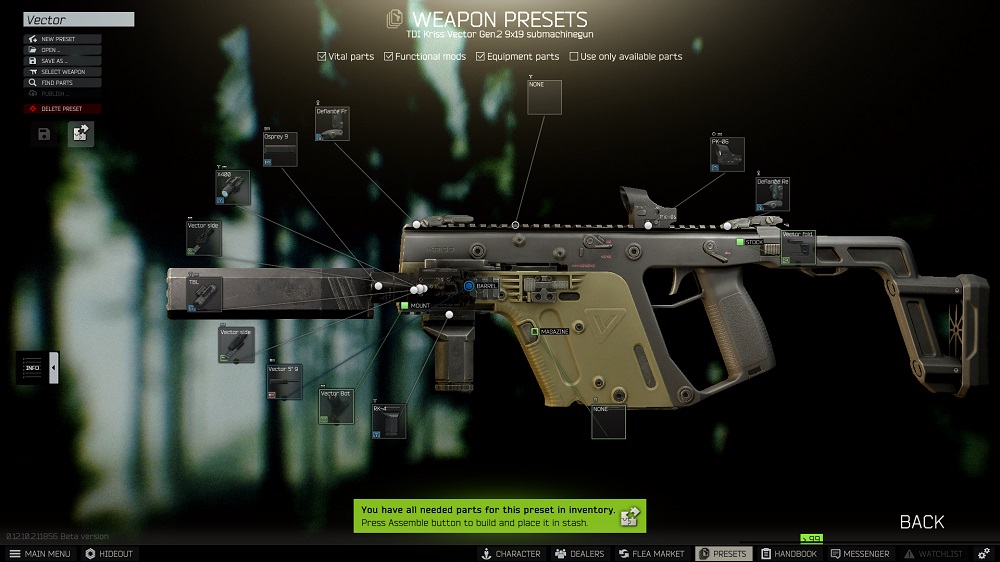 The ultimate SMG
Now we're creeping up the price ladder, but we're also creeping up the 'what just blew my face off?!' ladder. 
The Vector is truly an OP SMG. This little bundle of death is guaranteed to get you kills no matter how you use it. 
If anybody asks you what the best build for a Vector is, you can safely and simply answer: 
'Just put bullets in it.'
However, this build I've made is good for all-round combat and it's got a flashlight on it too for some night raids or a stroll through the darkest parts of Interchange.
The Build
SilencerCo Osprey 9 9x19mm sound suppressor
NcSTAR Tactical blue laser LAM-Module
KRISS Vector side rail x 2
X400 Tactical Flashlight
5" barrel for Vector 9x19
Zenit RK-4 Foregrip
KRISSVector Gen.2 folding stock
Belomo PK-06 reflex sight
Cost: ~220,000₽
7. AS VAL
Weekly Weapon Showcase #7; Tacticool AS VAL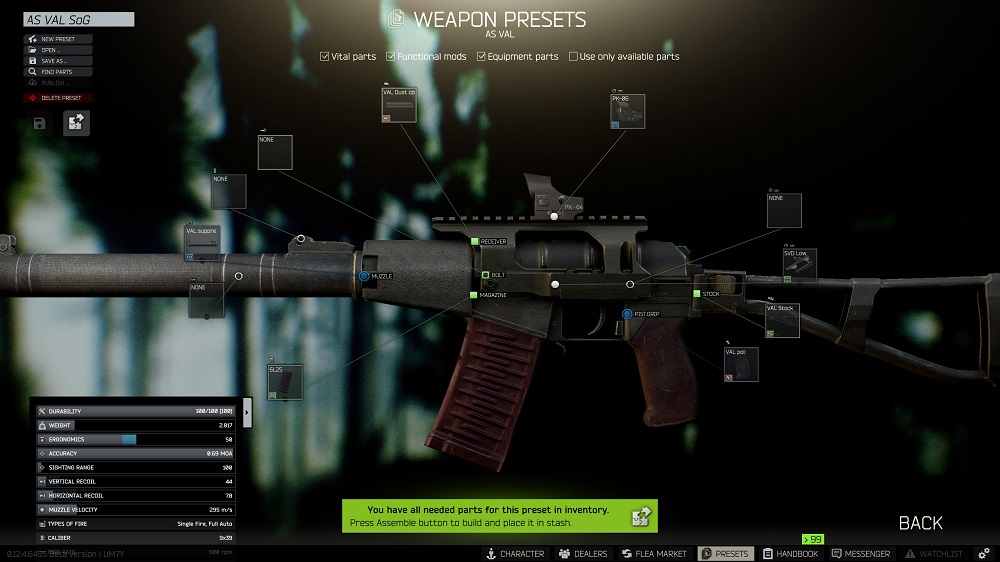 You won't get much cooler than this
The AS VAL is a cool gun. A very cool gun. 
It has naturally low recoil and comes with a silencer as standard. 
So what you're essentially buying into is straight, silent death… I told you it was cool. 
Due to the naturally good stats of this gun, there's not a huge amount of modding needed but these extra parts just give a nice finishing touch to ensure you're going to be wrecking as hard as this gun allows. 
The Build
AS VAL Dust Cover
Zenit RP-1 charge handle for AK
Belomo PK-06 reflex sight
TSNIITochMash AS VAL stock
SVD low side-mount
AS VAL pistol grip
20-round 6L25 9x39 VSS magazine
AS VAL 9x39 integral barrel-suppressor
Cost: ~200,000₽
6. Saiga 12ga ver. 10 12/76 shotgun
HOW TO BUILD THE BEST SAIGA 12ga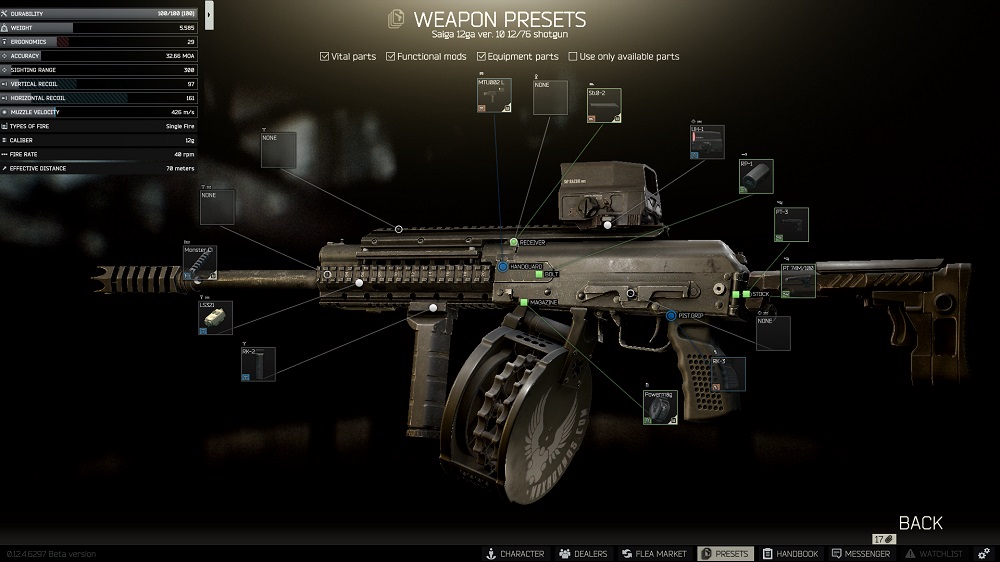 You might want to bring some ear plugs for this one
It just wouldn't seem right to have a Top 10 Tarkov Build list without a shotgun.
The Saiga 12ga gets a lot of stick. It's a very early game gun that Scavs often carry and if used with the wrong shells can be a bit of a wet blanket. But, when kitted out properly, it turns into a completely different beast. 
With a massive 20-round power mag, you can dump shell after shell into your enemies without a care in the world. You'll have to do a bit of adjusting for recoil but when you're having this much fun - you won't care. 
The Build
AK74/AK100 PT Lock
Zenit PT-3 "Klassika" stock
Zenit RP-1 charge handle for AK
MaxRounds Powermag 20-round 12/76 magazine for SOK-12 and compatible weapons
Izhmash SOK-12 Sb.0-2 dust cover
SOK-12 aluminium handguard MTU002 Long Top
Zenit RK-2 Foregrip
Vortex Razor AMG UH-1 holographic sight
Holosun LS321 Tactical device
Tromix Monster Claw 12ga muzzle brake
Zenit RK-3 AK pistol grip
Cost: ~220,000₽
5. DT MDR 7.62x51 Assault Rifle
GODLY RECOIL BUILD - Super Low Recoil MDR 7.62x51 Build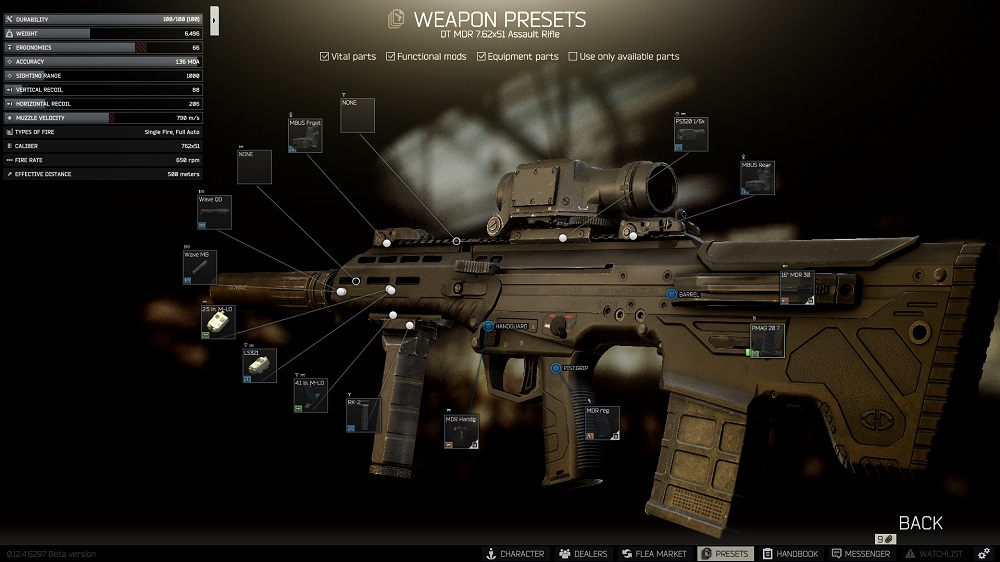 "Hi, can I get a bunch of death with a side order of no recoil please?"
The MDR is a gun that packs a punch. You can feel it at its best when used in close quarters/mid range - so it's perfect for your Dorms/Resort runs. 
The only downside here is that the biggest magazines available are 20-rounders. So you'll have to make each shot count here which shouldn't be too difficult with this build. 
With the attached suppressor, you'll be able to catch your enemies out and dispatch them before they even know what's happening. 
The Build
16 inch .308 barrel for MDR and compatible
Daniel Defense Wave Muzzle Brake 7.62x51
Daniel Defence Wave QD Sound Suppressor
PMAG SR/LR GEN M3 20 7.62x51 20 rnd
Valday PS-320 1x/6x Scope
Desert Tech foregrip for MDR blk
Magpul M-LOK 4.1 inch guide
Zenit RK-2 Foregrip
Magpul M-LOK 2.5 inch guide
Holosun LS321 Tactical device
Desert Tech pistol grip for MDR Black
Cost: ~500,000₽
4. Remington R11 RSASS 7.62x51
M1A & RSASS Build Guide - Top 4 Builds - Highest Ergo & Recoil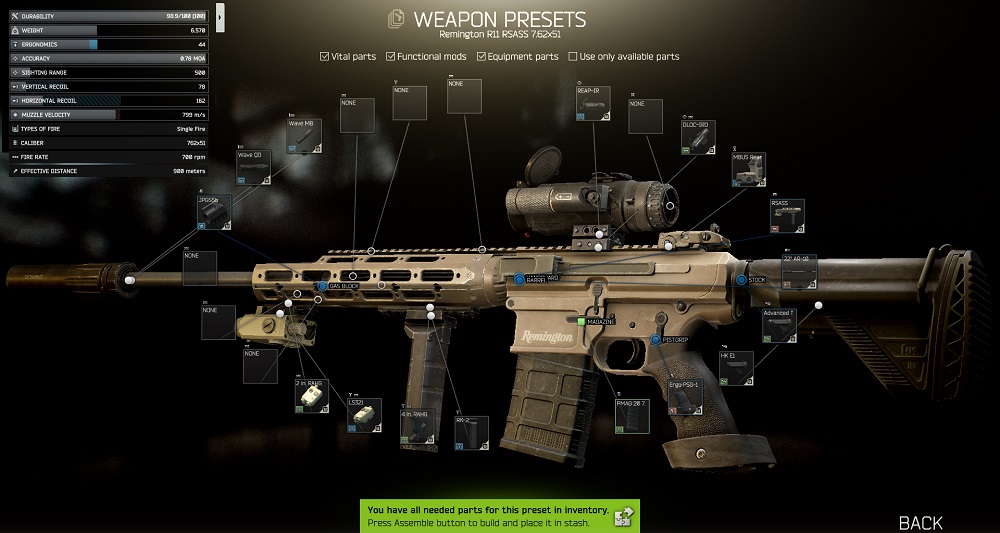 For all you billionaires out there
If we were creeping up the price ladder with the Vector, we're now hurtling up like our life depends on it. 
Everybody has a nice little nest egg for a rainy day right? 
Well, you can't make a death-machine-omelette without cracking some eggs because this build will cost you a cool 1.5 million rubles. 
With a REAP-IR thermal riflescope, when you're rocking this gun your enemies can run, but they certainly can't hide. 
The RSASS is a classic Tarkov gun and has been knocking around for a long time, so why not spruce it up and go hunting for some loot that will most likely get no way near what this gun actually costs. 
Because sometimes you just have to treat yourself.
The Build
SI Advanced receiver extension buffer tube
HK E1 Stock for AR-15 and compatible
22" barrel for a AR-10 and compatible 7.62x51 NATO
JP Enterprises Gas System-5b
Daniel Defense Wave Muzzle Brake 7.62x51
Daniel Defence Wave QD Sound Suppressor
PMAG SR/LR GEN M3 20 7.62x51 20 rnd
UNV DLOC-IRD Mount for sights
Trijicon REAP-IR thermal riflescope
REAP-IR scope eyecup
Remington Arms handguard for an R11 RSASS
Remington RAHG 4 inch guide
Zenit RK-2 Foregrip
Remington RAHG 2 inch guide
Holosun LS321 Tactical device
HK Ergo PSG-1 style pistol grip for AR-15 based systems
Cost: ~1,550,000₽
3. Springfield Armory M1A 7.62x51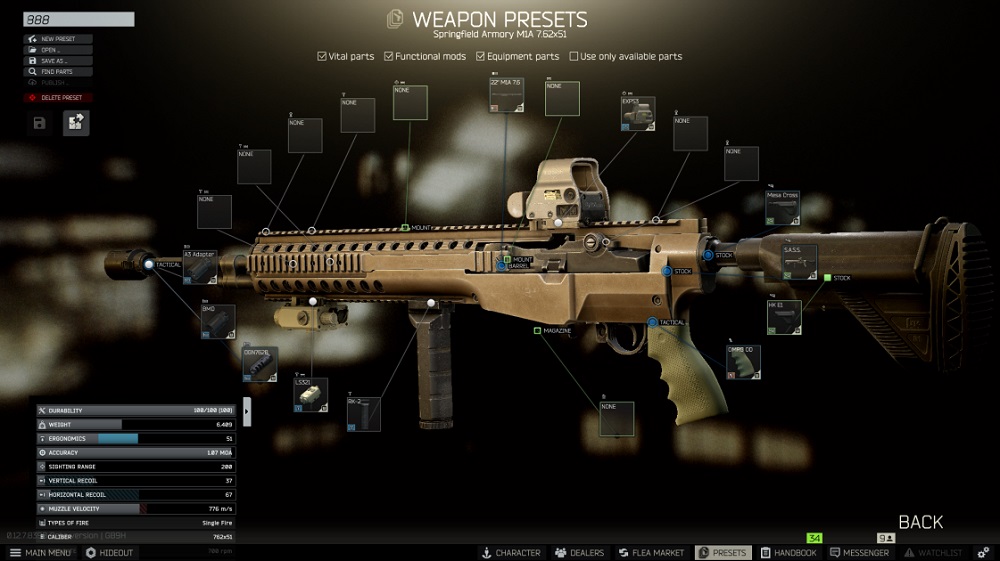 This will be your second favourite fictional Springfield
If you're the type of player who goes for pure accuracy and doesn't need much mobility, then this loadout is your perfect match. 
The M1A Springfield is a gorgeous gun that is perfect for getting accurate follow-up shots off with class and ease.
I've put a holographic sight on this one but it is also very effective with a sniper scope.
So jump into Woods, get up on the hills and start plucking some heads! 
The Build
Troy S.A.S.S. Chassis stock for M14
Mesa Tactical Crosshair Hydraulic buffer tube
HK E1 Stock for AR-15 and compatible
Zenit RK-2 Foregrip
Eotech EXPS3 holographic sight
Hogue OverMolded Rubber Grip
Holosun LS321 Tactical device
22" barrel for a M1A 7.62x51 NATO
Direct Thread adapter for the Lantac Blast mitigation device
Lantac Dragon 7.62x51 muzzle brake
Lantac "Blast mitigation device" 7.62x51
Cost: ~405,000₽
2. HK 416A5 5.56x45 Assault Rifle
Top Three Low Recoil HK416 Builds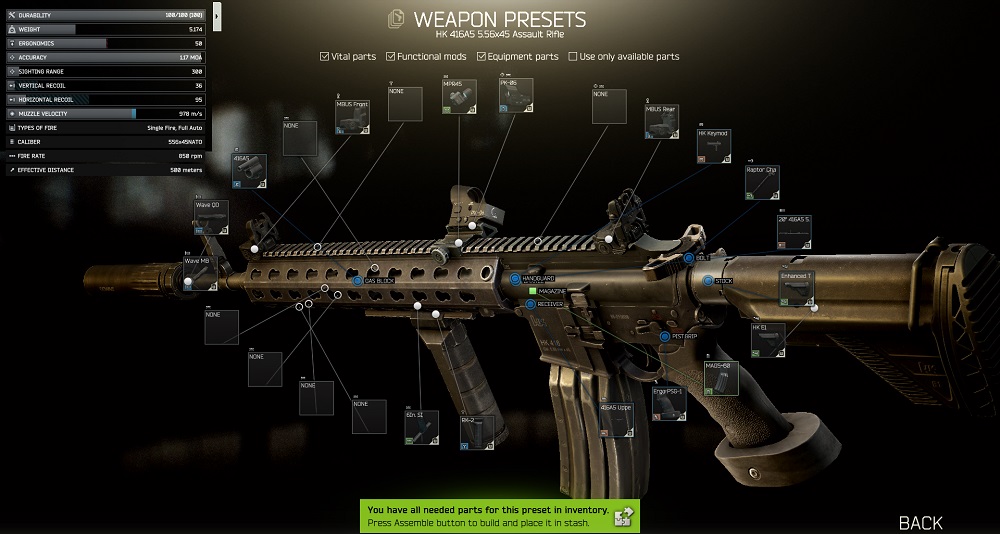 Not quite billionaire territory, but close
If you're on the business end of an HK, you know you're either up against a very good player, or just a very rich player - most likely both.
It's precise, it's easy to control, it's got a great firing rate, and it costs an absolute bomb. 
If you like the look of this and you're in early/mid game, you're going to either have to just enjoy the view, or wrestle it out of an endgamers cold, dead hands. 
All in all, if you have money to burn, you're going to want to get your hands on one of these. 
The Build
HK "Enhanced Tube" buffer tube
HK E1 Stock for AR-15 and compatible
Raptor charging handle for AR-15 Grey
60-round MAG5-60 5.56x45 STANAG magazine
Upper receiver HK 416A5 5.56x45 for 416A5
20" barrel for 416A5 and compatible 5.56x45
HK 416A5 Regular Low Profile Gas Block
Daniel Defense Wave Muzzle Brake 5.56x45
Daniel Defence Wave QD Sound Suppressor
HK MRS 14" keymod foregrip for 416A5
Strike industries keymod 6-inch guide
Zenit RK-2 Foregrip
NcStar MPR45 Backup mount
Belomo PK-06 reflex sight
Magpul MBUS Gen.2 Frontsight
Magpul MBUS Gen.2 Rearsight
HK Ergo PSG-1 style pistol grip for AR-15 based systems
Cost: ~625,000₽
1. Colt M4A1 5.56x45 Assault Rifle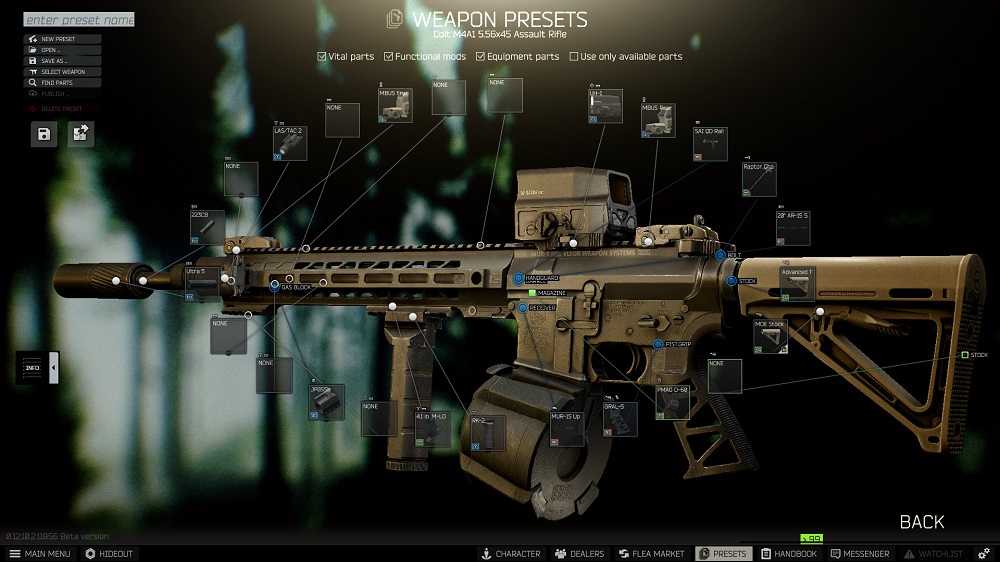 It's always you, isn't it?
No Top 10 Escape From Tarkov Best Builds That Are OP article would be complete without the godfather itself. The ultimate meta. The M4A1. 
Perhaps the most famous of assault rifles for gamers out there, this bad boy appears in most first-person shooters and there's a reason for that. 
It's amazing. 
If kitted out correctly, this gun is arguably the best gun in the game. 
It can be modded to have incredible recoil, great ergonomics, and a super-fast fire rate that will put all but the most kitted out PMCs straight to sleep. If sleep means full of holes and back in the lobby. 
Be ready to shell out though, because this gun does not come cheap - but my word is it worth it. 
The Build
Thunder Beast Ultra 5 Sound Suppressor
Thunder Beast 223CB Muzzle brake 5.56x45
LAS/TAC 2 tactical flashlight
Magpul MBUS Gen.2 Frontsight
Vortex Razor AMG UH-1 holographic sight
Magpul MBUS Gen.2 Rearsight
SAI 14.5" QD Rail foregrip for AR15
Raptor charging handle for AR-15
20" barrel for AR-15 and compatible 5.56x45
SI Advanced receiver extension buffer tube
MOE Carbine stock
Magpul PMAG D-60 5.56x45 60-round magazine
Naroh Arms GRAL-S Pistol grip for AR-15-compatible weapons
Vltor MUR-1S 5.56x45 Upper receiver for AR systems
Zenit RK-2 Foregrip
Magpul M-LOK 4.1 inch guide
JP Enterprises Gas System-5b
Cost: ~750,000₽
So there we are, my Top 10 Escape From Tarkov Best Builds That Are OP. 
As I said at the beginning - it can be really tough trying to figure out what everything does in this game and modding weapons is no different. 
My best bit of advice is to give the Tarkov Gunsmith a visit. Here you can make builds for any weapons you want. It tells you if you've made a compatible build and even gives you an estimate on how much it costs.
Top Tip: If you're making an in-game build in the modding section and an option for a part isn't coming up - it's most likely because you haven't 'discovered' that part yet. So just hop into the flea market, search for the item, then examine it and you should be good to go.   
If you have a favourite build or if you disagree with any of the ones I've listed here, then feel free to drop a comment and let me know. 
Good luck out there Comrade. 
If you enjoyed reading this, you may also be interested in: