Top 11 Games Like The Elder Scrolls
Updated: 01 Nov 2019 7:12 pm
Explore the beautiful provinces of Tamriel and become the most powerful warrior ever known.
The Elder Scrolls has a very special place in my heart, I spent countless hours exploring aimlessly the stunning landscapes, discovering dark dungeons and looting ancient relics.
I take joy on dragon shouting people off of cliffs, riding horses on completely vertical slopes and so much more than this franchise has to offer.
Sadly, at some point I need something different to play, breathe some new air; not just any game can do such a task. After doing some research I bring 10 games that will make you lose the sense of time.
11. Assassins Creed Odyssey
Assassin's Creed Odyssey: 16 Minutes of Gameplay
Get in the shoes of a spartan assassin and explore the old greek empire at its finest moments. This entry of the fan-favorite franchise re-invented itself adding a bunch of new mechanics to the formula, like experience and level systems and a wider set of weapons to choose from.
What makes Assassin's Creed Odyssey so awesome:
Explore a historically accurate rendition of the ancient greek cities, yes historians were hired to make this game as realistic as possible (historically speaking).
Uncover more about the Assassin's past by retracing the lives of the ancestors of the modern-day creed.
You can actually kick people off cliffs and high places with a very strong spartan kick (and scream the name of the place your character was born in the process, loudly).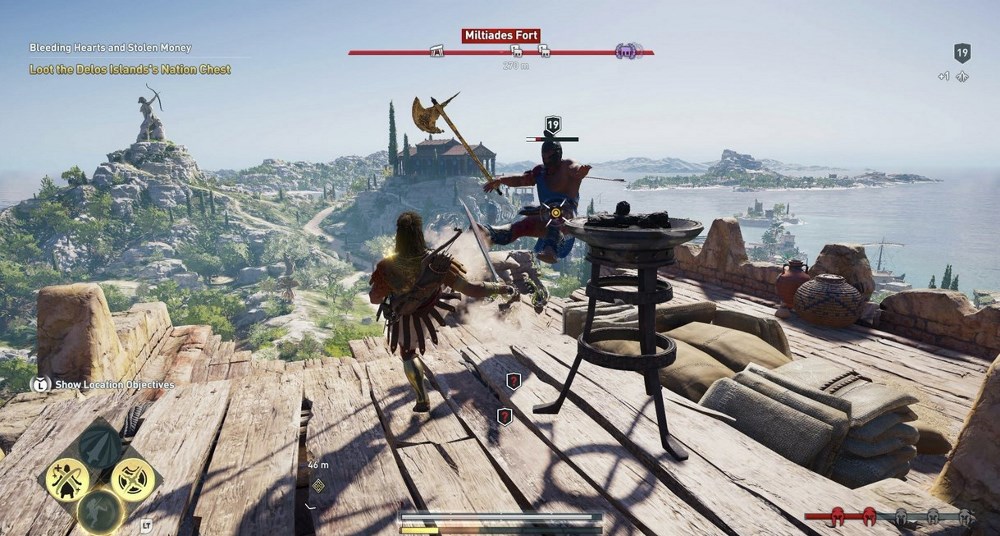 I wasn't joking about the spartan kick.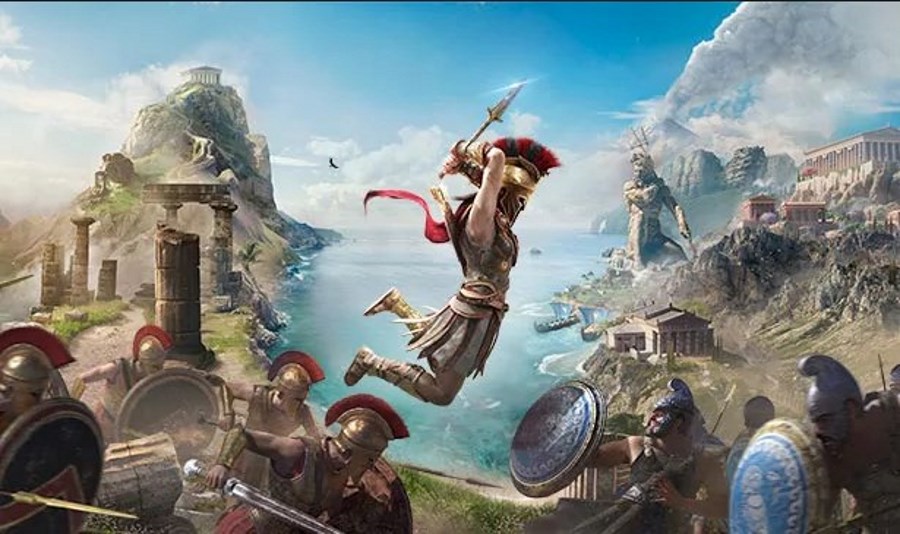 Experience iconic moments of history through the life of the ancestors of the assassins.
10. Assassin's Creed Origins
ASSASSIN'S CREED ORIGINS Gameplay 4K PS4/Xbox One/PC
If you liked the previous entry believe you're going to enjoy this one too. You are tracing the life of a young man member of the Creed, and you have to explore the ancient Egyptian empire who finds himself in the middle of a huge plot around a very powerful item that the assassins have sworn to guard: The Apple of Eden.
What makes Assassin's Creed Origins so awesome:
Explore ancient Egypt recreated as true to history as it can be (those historians work very hard).
Interact with iconic characters like the empress Cleopatra and help recreate historic events that happened in real life as well.
Enjoy the new combat mechanics that will make you think before attacking, use dodges and long-range weapons to your advantage.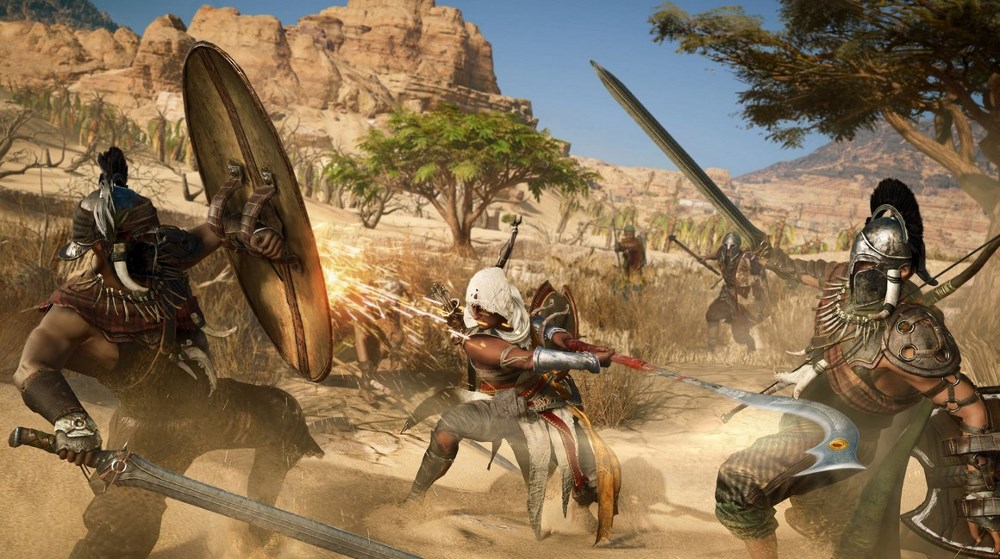 Use your assassin training you fight off heavy enemies and then get away to safety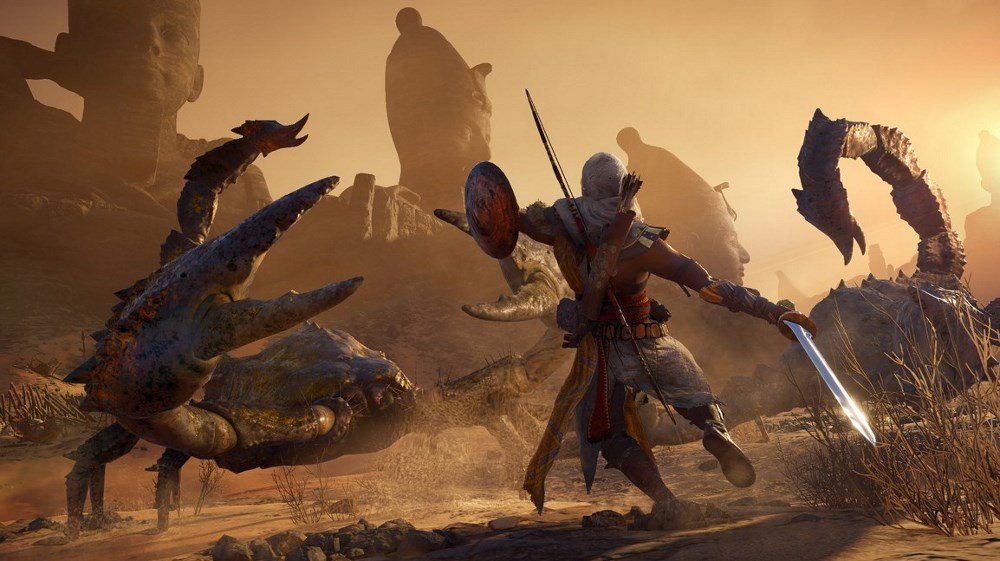 Experience the extra content that lets you see a fantastic side of Egyptian mythology.
9. Conan Exiles
Getting Started In Conan Exiles | Conan Exiles Gameplay | Let's Play Ep 1 (2019)
You are warrior crucified in the middle of the desert, all hope seems lost and you are just waiting for death until Conan comes to free you and give you another chance, you'll have to find a way to survive and thrive in the harsh world ruled by barbarians. Good luck.
What makes Conan Exiles awesome:
Customize your character, climb the ladder and become a warrior that all barbarians fear.
Survival elements, gather resources, weapons, and clothing, explore the desert and loot its valuables.
Level up and learn new abilities, gather resources, craft and thrive.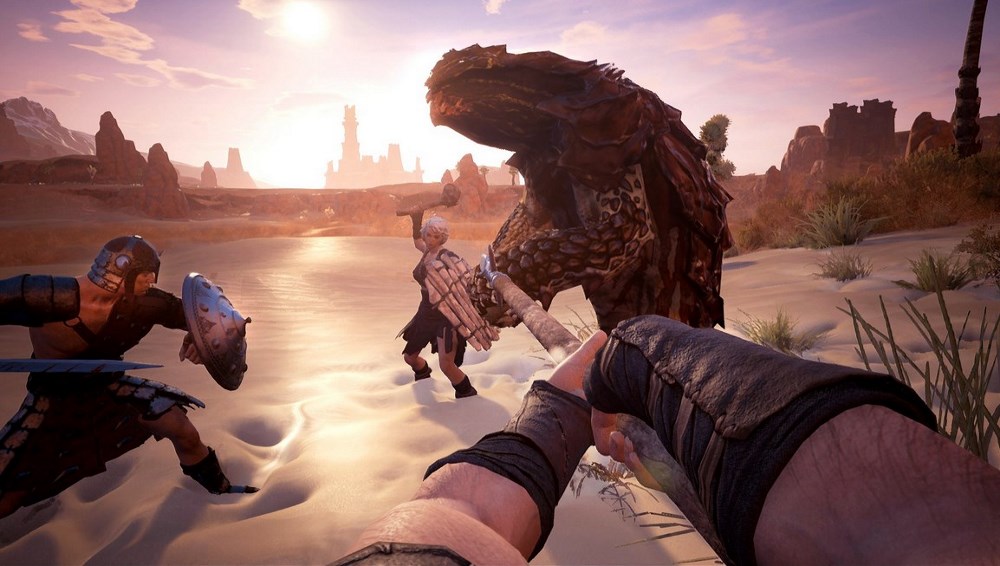 Improve your weapons and skills to face bigger enemies.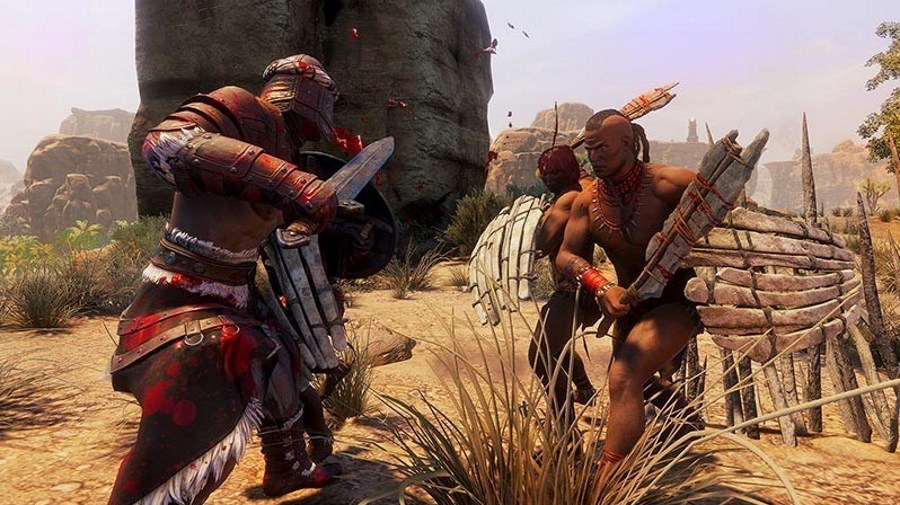 Learn how to survive in a world full with barbarians.
8. Zelda Breath of the Wild
Zelda Breath of the Wild (Switch) - Hinox Side Boss
You probably have heard about this game, there's a good reason for that, this game changed the Zelda formula and people loved it. You get to play as Link, explore every single corner of 
Hyrule, discover and loot dungeons, assault critter encampments. There is always something to do in this game, and I'm not talking about the main quests at all.
What makes Zelda: Breath of the Wild awesome:
A high degree of freedom to play at your own pace, you can go anywhere from the beginning of the game.
Extremely varied set of weapons and items, clothes grant special abilities while worn.
Craft items, cook, fish and many more relaxing mini-games for when you don't feel like fighting.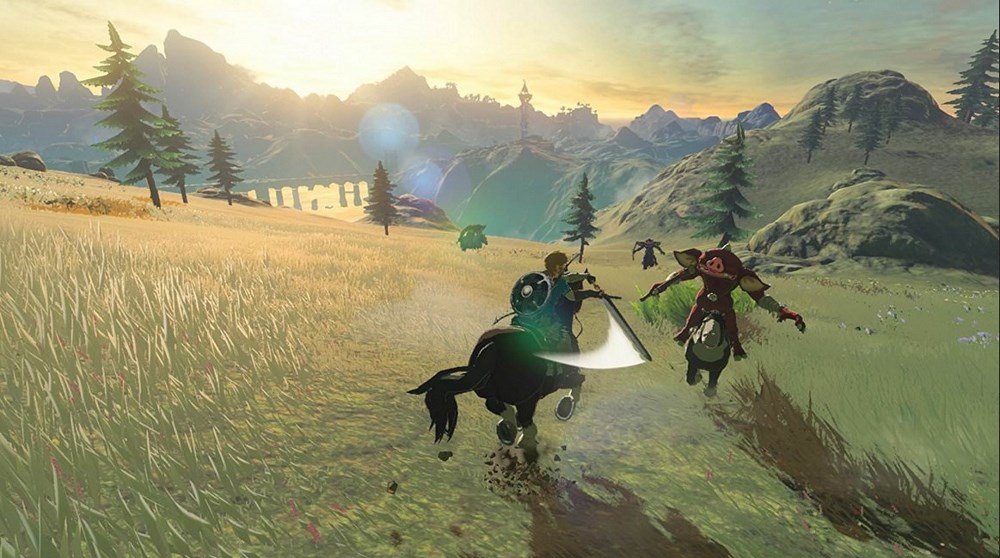 Explore the beautiful lands of Hyrule. Every place offers adventure.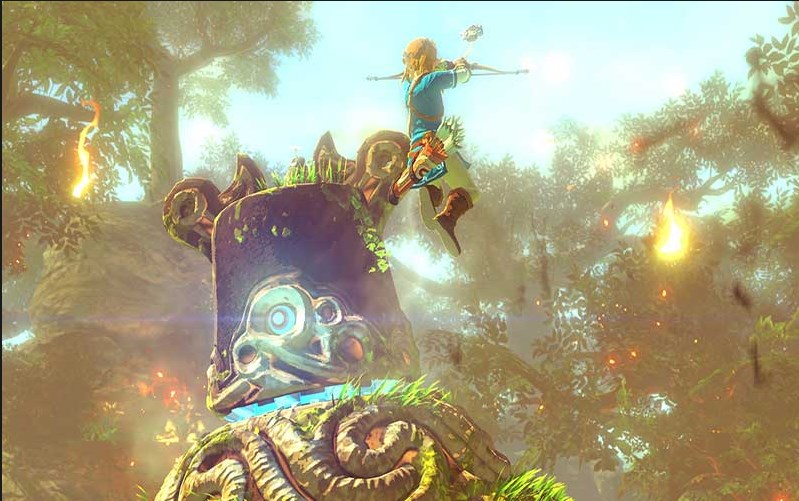 Fight ancient creatures, grow stronger and learn how to defeat them.
7. Middle-Earth™: Shadow of Mordor
Middle Earth Shadow of Mordor Walkthrough Gameplay Part 1 - Prologue (PS4)
The well-loved world of Lord of The Rings has a lot of interesting lore and places fans have dreamed to see for ages. You can finally explore and experience the life of a warrior in the Middle-earth, you will live many adventures, conquer everyone who opposes you, make enemies along the way, and fight them as they try to take revenge.
What makes Middle-earth™: Shadow of Mordor awesome:
Explore the fantastic world of Tolkien, get lost in the adventures of one of the best franchises out there.
Enjoy the satisfying combat mechanics, your rivals will react accordingly as you defeat them in battle. Watch your back because they will hunt you down if given the chance.
Improve your abilities as you level up, become the strongest warrior and crush all those who oppose you.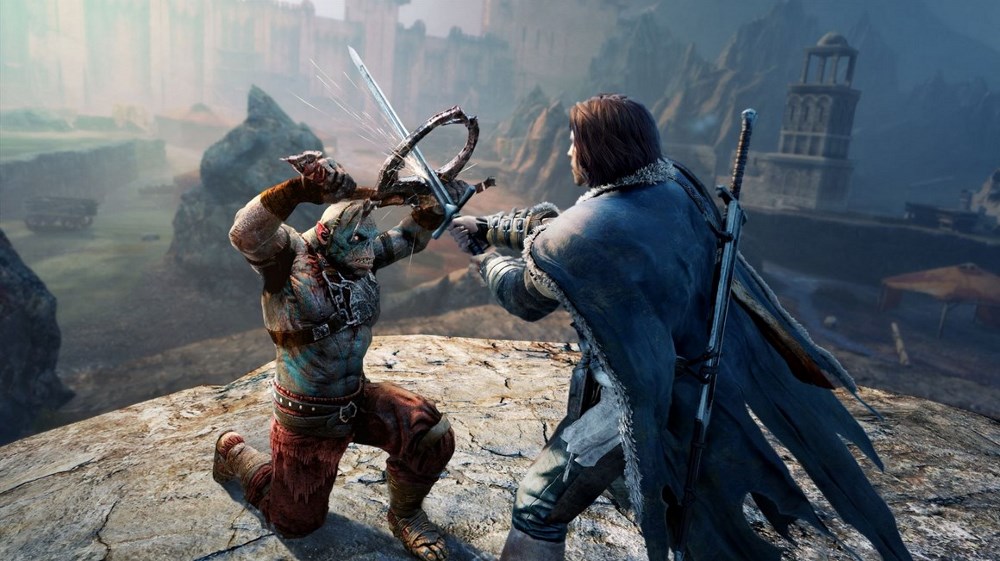 Impose your power before your enemies and make them bow to you.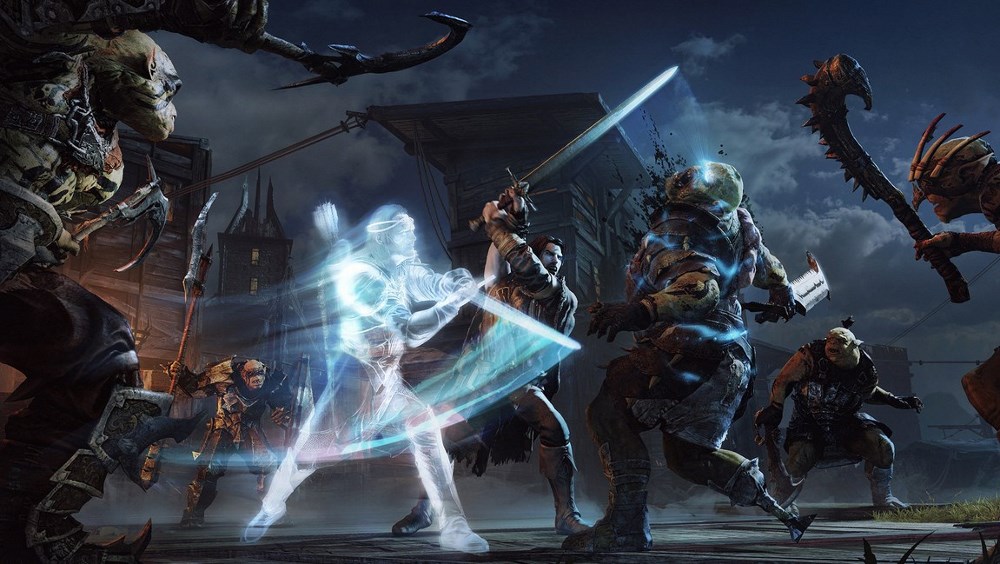 Learn and use your magical abilities to defeat big crowds.
6. Kingdom Come Deliverance
Kingdom Come: Deliverance - Sword Fights Compilation
Have you ever thought about how life was like in the feudal ages? This game was designed to be as historically accurate as possible, you start being a lowly peasant who is pushed into the arts of combat, become a renowned knight across the kingdom. You will have a lot of gaming time on this game once you get a hang on the mechanics.
What makes Kingdom Come Deliverance awesome:
Simulator mechanics, a historian was hired to ensure this game is as realistic as possible.
Experience feudal life in this rich world, there are many details in the combat, the survival, and even social interactions of your character.
A deep interesting story that you can participate in, your actions will have an effect on politics and society.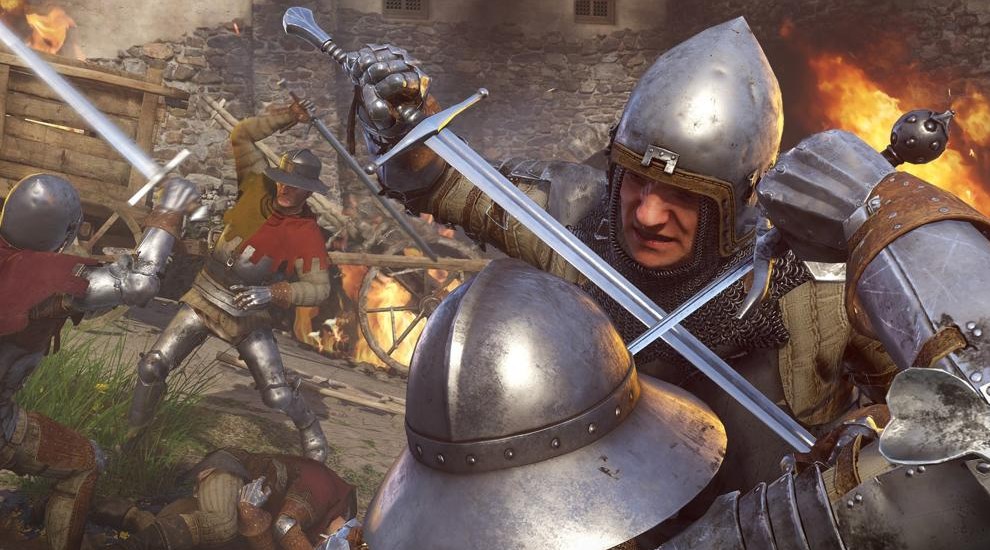 Go from being a peasant into a legendary knight.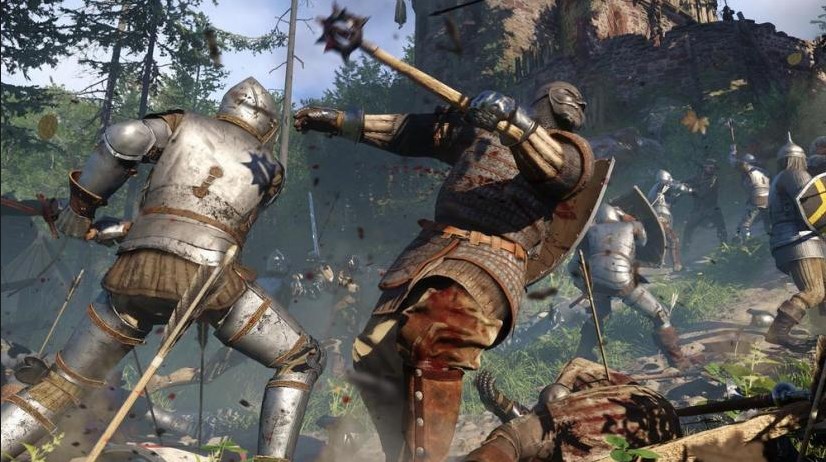 Experience the chaos and mayhem that takes place in war.
5. Mount & Blade II: Bannerlord
7 Minutes of New Mount and Blade 2: Bannerlord Gameplay - Gamescom 2019
Some of us can never get enough of medieval fantasy, this game lets you control the big picture of battle with an overview of the world, managing resources and units, command them to attack, and then dive down into the battlefield, fight side by side with your army and lead them to victory.
What makes Mount & Blade II: Bannerlord awesome:
A mix of top-down view and third-person combat, plan every aspect of your attack and then join your soldiers during the assault
High level of customization for the armor and weapons that your character brings into battle.
Resource management, travel to different cities to meet merchants that can provide the resources to fuel your army.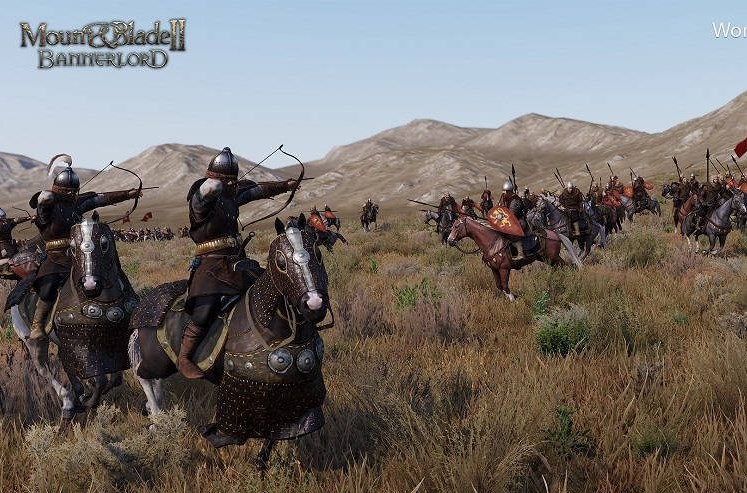 Plan a strategy and command your army to victory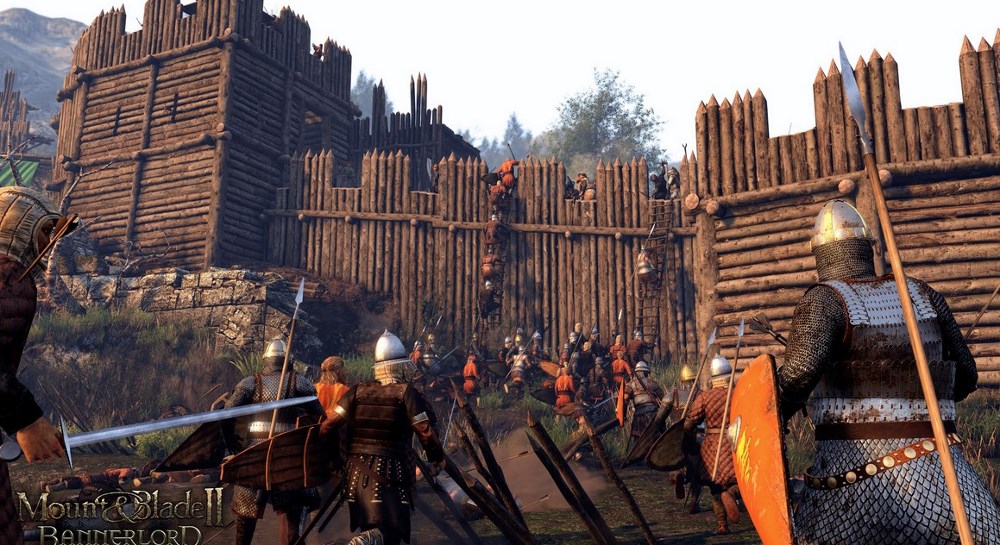 Assault cities and strongholds, find weak points and exploit them.
4. Red Dead Redemption 2
Red Dead Redemption 2 - Combat & Open World Free Roam Gameplay
One of the most hyped games from Rockstar, the creators of the Grand Theft Auto games, you live in the old wild west and you are free to do whatever your heart desires, become a hunter, travel to different towns to buy and sell resources. You are free to choose your path, wither it's good or evil.
What makes Red Dead Redemption 2 awesome:
An incredible level of detail on all the mechanics, animals and people react to weather and other characters just as they react to you.
Freedom of choice, you can be a law-abiding citizen or a criminal, achieve your goals however you want.
Immersive world, there's a lot of things to do, from secret quests to mini-games, you will spend a lot of time on this game.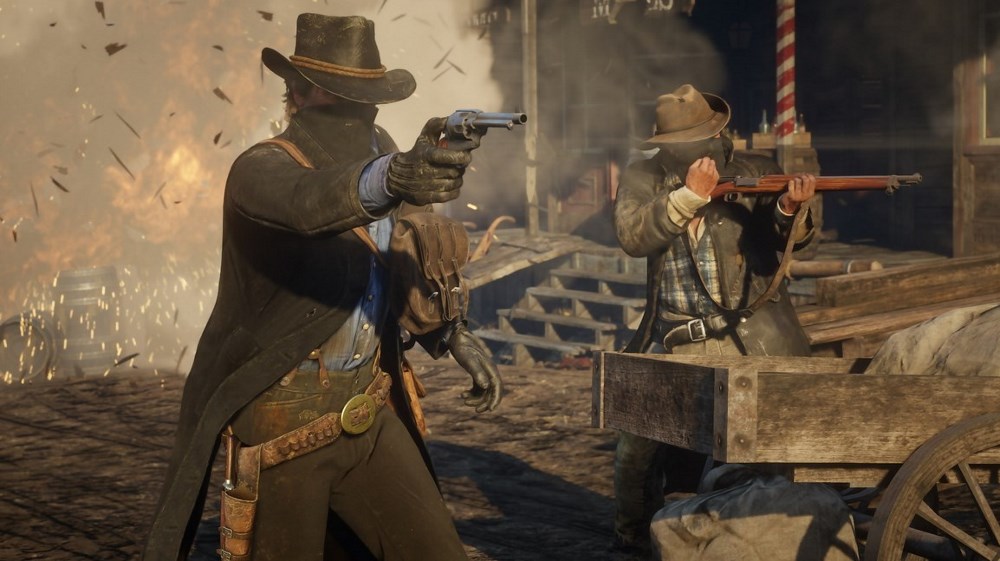 Experience the adrenaline of the wild west life.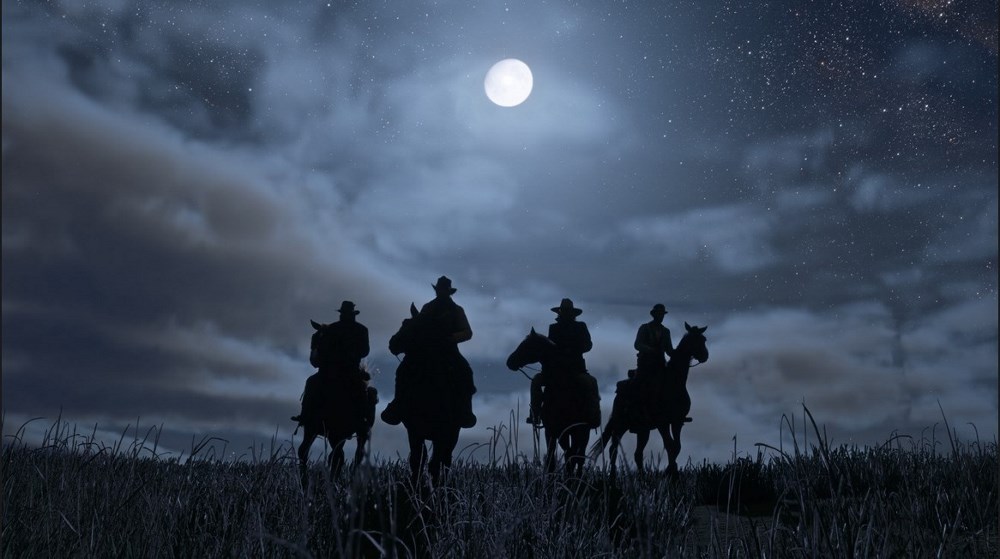 Explore the beautiful landscapes as you engage on your journey.
3. Dark Souls 3
Dark Souls 3: Abyss Watchers Boss Fight (4K 60fps)
If you are looking for a challenge this game has that and more. Explore incredible complex scenarios, fighting endless waves of monsters, discover the stories of those who perished in adventure, and of course, defeat a handful of absurdly hard bosses that will test your skill and patience.
What makes Dark Souls 3 awesome:
Complex combat mechanics, this game will force you to think of each move you make to survive a battle.
An interesting world with a lot of lore behind every boss you face.
Challenging enemies that will punish your mistakes and attack without mercy.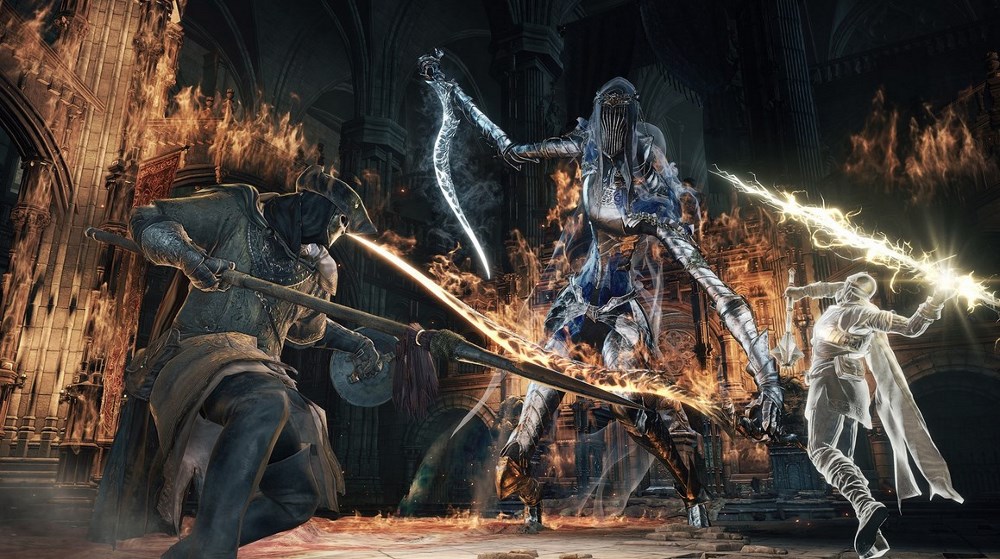 Invite other players to help you defeat the hardest bosses.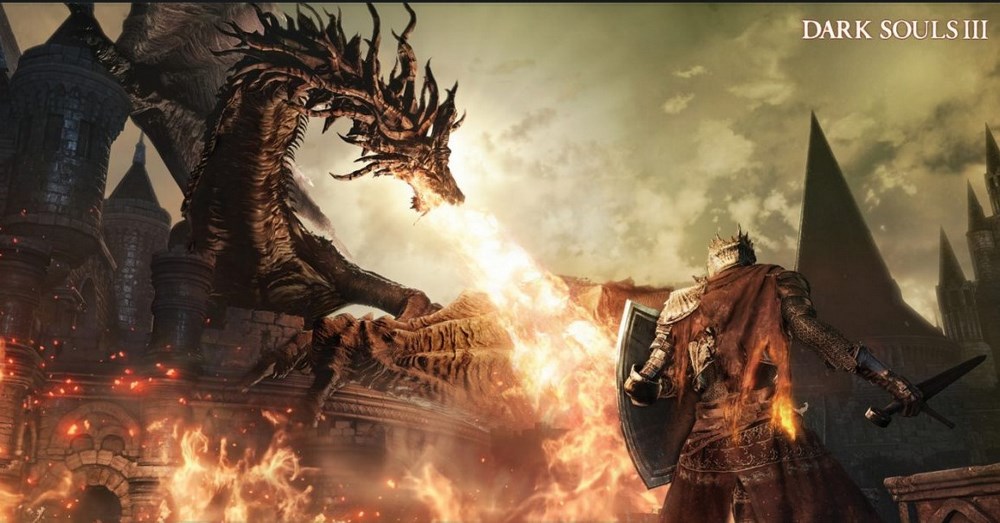 Engage on epic battles with gigantic and intimidating creatures.
2. Minecraft
Minecraft: Survival - Gameplay Walkthrough Part 1
Hold on, you probably think this is a joke, but it isn't, Minecraft is one of the best open-world games ever created, you are free to do anything you want, you can explore the gigantic world (around the size of Pluto if you were wondering), build your own house, discover ruins and towns on the surface, or go underground and search for diamonds.
What makes Minecraft awesome:
Easy to grasp mechanics, it's very easy to play yet incredibly complex with all the options it offers.
Play alone or with friends, there are many servers with different kind of gimmicks for you to enjoy endless hours with other players.
Player freedom, you are not pushed around by main questlines hurrying you to save the world, you play at your own pace and with your own rules.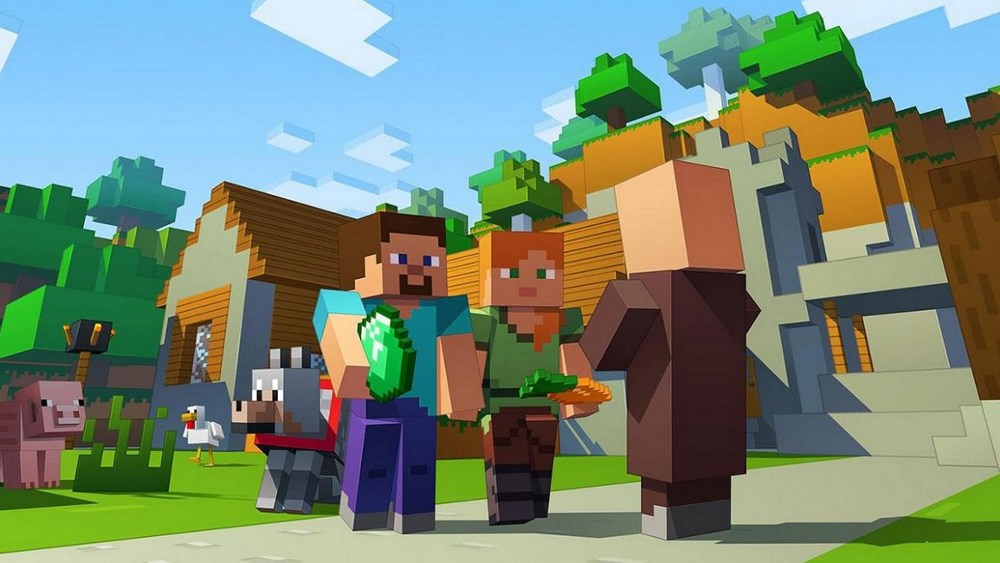 Discover towns and interact with the funny looking merchants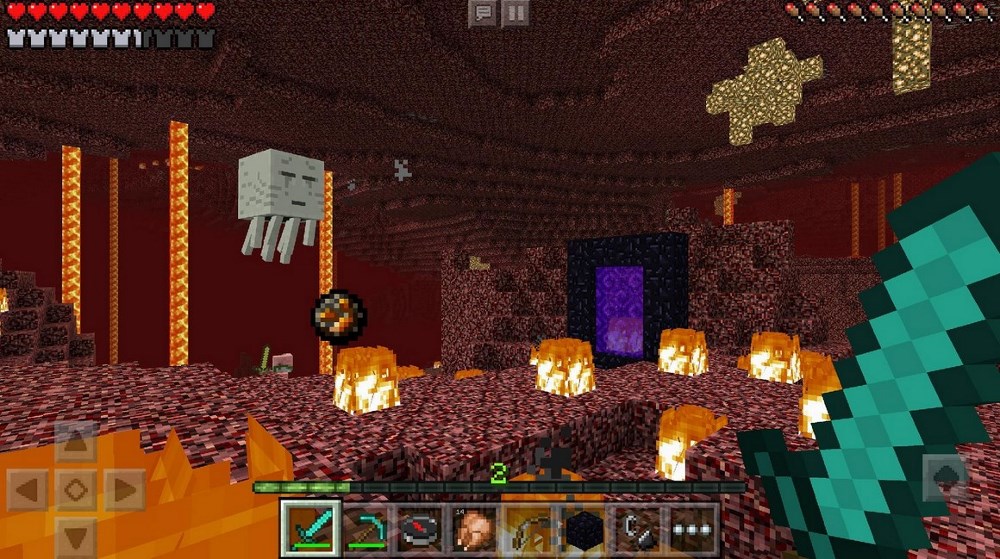 Travel into other dimensions with new resources and creatures.
1. The Witcher 3
The Witcher 3 Combat Gameplay - Killing Monsters, Humans & Cannibals
A well deserved top spot goes for this spectacular game, you play as Geralt of Rivia, you travel the world in search for your lost daughter, people hire you to get rid of dangerous magical creatures, you have a wide range of weapons, potions, crossbows and magic to defend yourself against the supernatural monsters that you have to get rid of,
What makes The Witcher 3 awesome:
Incredible visuals with beautiful landscapes, the characters have very credible gestures when you talk to them.
Creative design, this game is based on ancient European folklore, including a lot of mythical creatures that stand out from the average fictional monster.
Interesting story, discover more about the life of the witcher, his past and the people around him.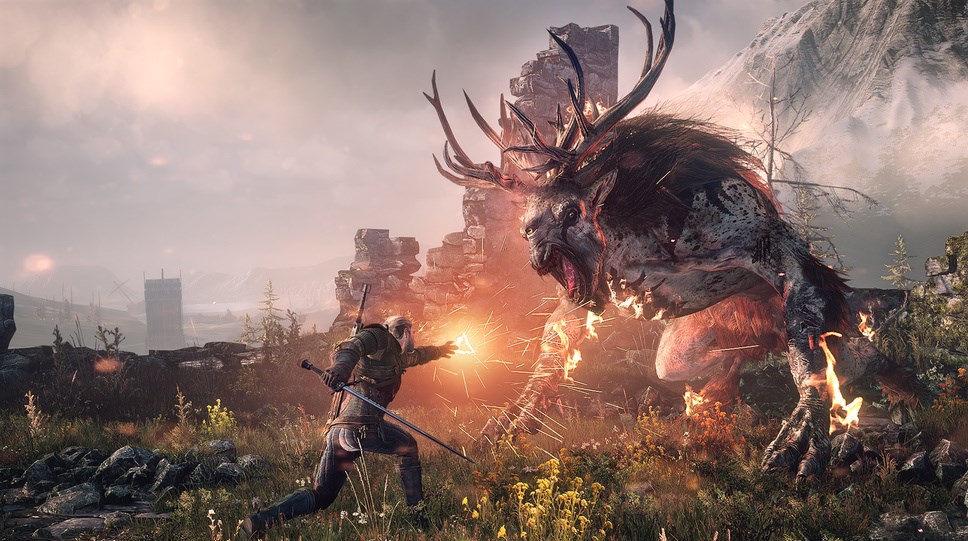 Use your magic and knowledge to hunt down mythical creatures of legend.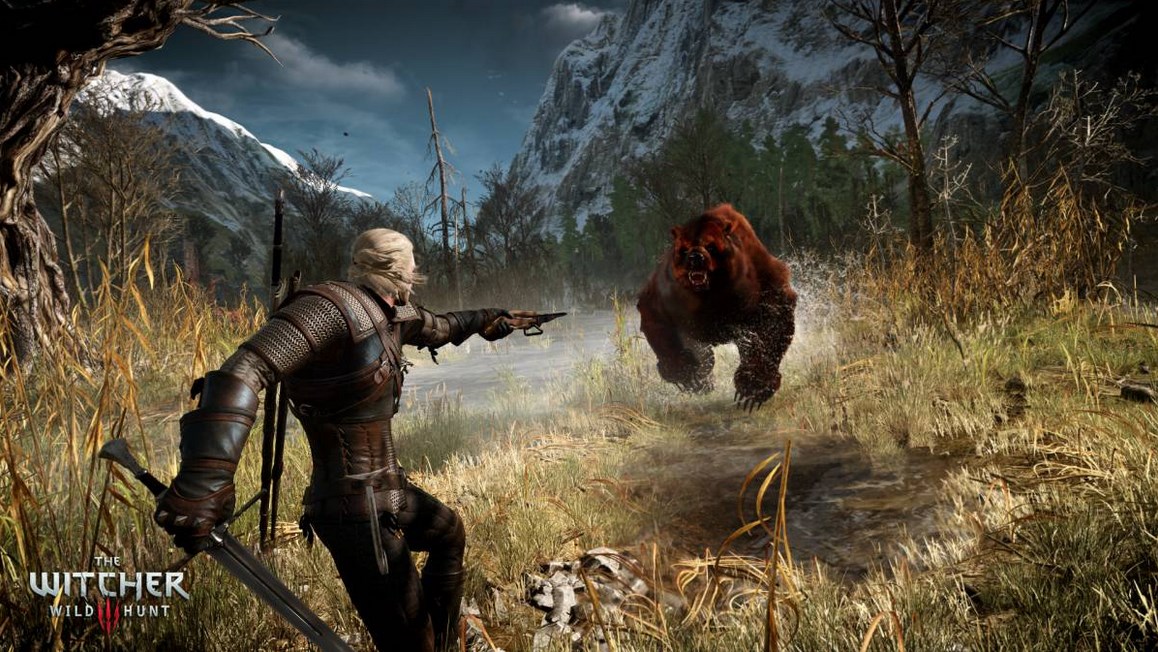 Survive in the wild forests, fight creatures and bandits along the way.
You may also be interested in:
Image Gallery