Top 10 Games Like South Park: Stick of Truth (Games Better Than South Park: Stick of Truth)
Updated: 15 Aug 2019 1:15 am
Randy, Eric, Kyle, and Stan (Top to bottom left to right) come upon a tied up Mr. Slave.
What Are The Best Games Like South Park?
Even if you don't know what South Park is about chances are you've heard of it. In their game The Stick of Truth, it follows you, dubbed Douchebag, moving to the town of South Park.
You begin playing with the neighborhood boys and join in on a fantasy game with humans and elves fighting each other for the powerful Stick of Truth. When aliens crash land and a mysterious goo is turning people and animals into Nazi zombies you must find out what it is and a way to destroy it before all of South Park is a mass of undead anti-semantics.
If you enjoyed South Park then the 10 point-and-click games below will leave you confused at the absurdity just as much if not more. Some of the games are classics with a reboot so it might even be worth checking out the originals.
10) Day of the Tentacle Remastered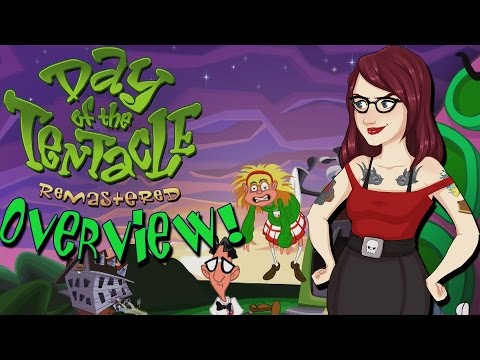 Day of the Tentacle Remastered gameplay
Also known as Maniac Mansion 2: Day of the Tentacle (1993)  takes place 5 years after Maniac Mansion (1987) which features Purple Tentacle, a creature created by Dr. Edison, drinking toxic sludge pouring out from the lab causing him to sprout two small arms and a massive increase in intelligence that gives him a burning desire to take over the world.
Since Purple Tentacle has turned so villainous Dr. Edison wants to destroy him. His brother, Green Tentacle, doesn't want his brother nor himself killed so he sends a letter to Bernard Bernoulli begging for help. Bernard then goes out on a quest to save the tentacles with his roommates Laverne and Hoagie.
Once freeing the brothers, Purple Tentacle escapes resuming his quest to take over the world. Unresponsible use of time machines ensues to prevent Purple Tentacle from becoming the monster that he is in the present day.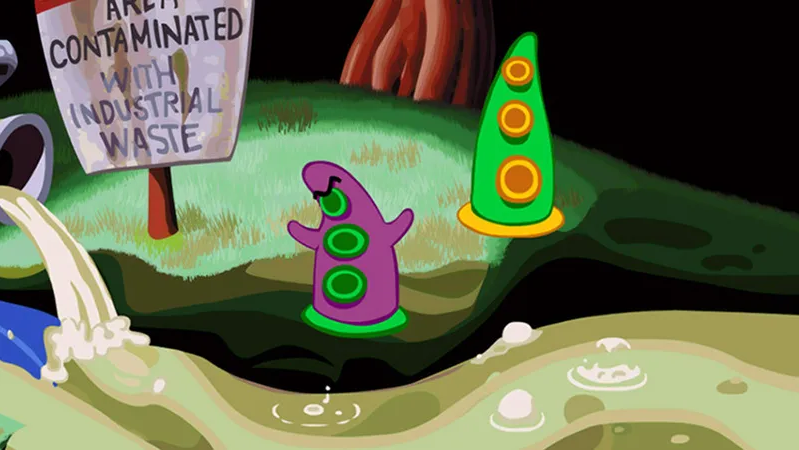 Green Tentacle looks on helplessly as Purple Tentacle discovers his newly sprouted arms and genius level intelligence.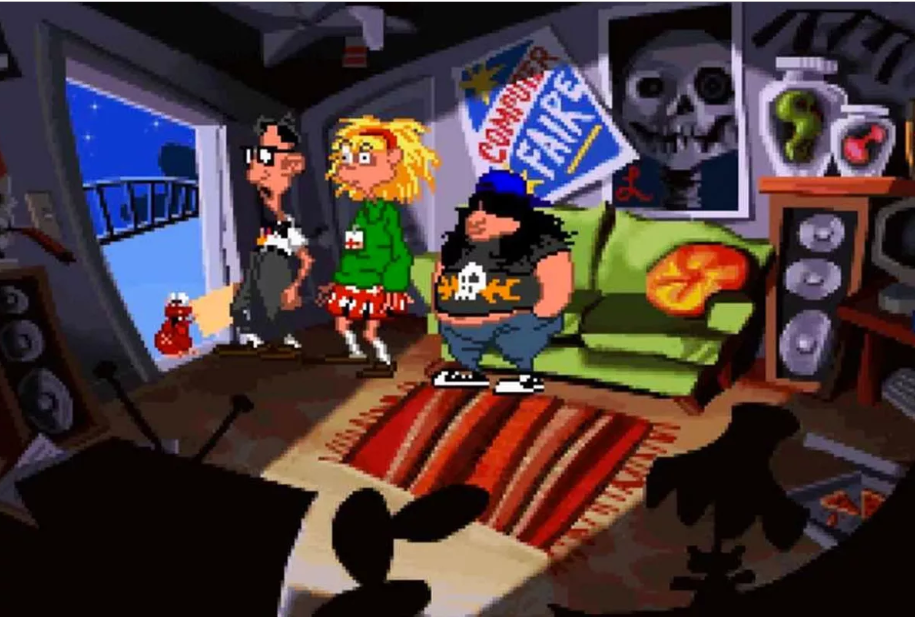 Original Day of the Tentacle graphics with (left to right) Bernard, Laverne, and Hoagie opening up the door to receive a letter from a hamster.
Image Gallery