[Top 25] MTG Best Auras To Have In Your Deck
Updated: 23 Sep 2022 12:00 am
Power! Radiant power!
Auras Reward the Wise
Auras occupy a strange design space in Magic: The Gathering. They can offer powerful ongoing buffs to your other permanents. But unlike other spells that do the same, auras are particularly vulnerable to removal. For example, if your creature gets removed, even with a simple bounce effect, the aura attached to it goes to the graveyard.
What this means is that your opponent effectively removes two of your cards with just one of theirs: what's known as a two-for-one. In Magic, two-for-ones are almost always bad when you're on the two end of the stick.
Any good card in Magic advances the state of the game towards your win condition. A two-for-one in your opponent's favor, then, does double duty in moving you away from your win condition. Thus, auras must be particularly effective to be worth a slot in your deck. So here are 25 auras that just might be worth considering.
25. Kenrith's Transformation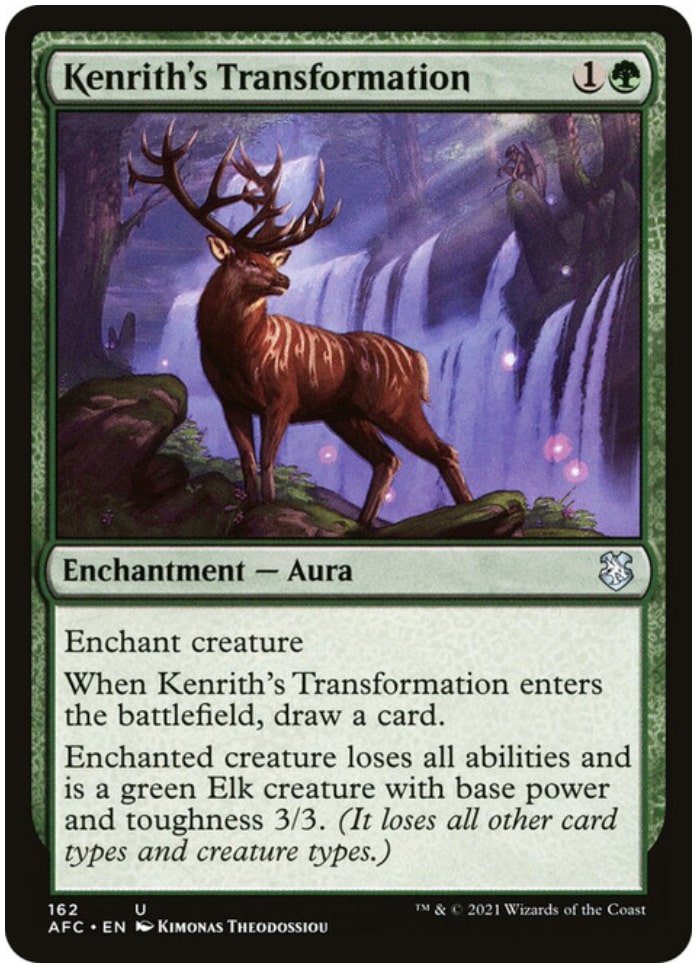 "Be at peace."
Speaking of removal, the first on the list is one of the best aura removal spells out there. It strips its target of all abilities and, when played on a large creature, shrinks its power. You could use this on a small creature of your own, but you'll almost always want to nullify an opponent's threat instead.
Now, there are other auras out there with similar effects. But Kenerith's Transformation replaces itself by drawing you a card when it enters the battlefield (ETB). Doing so effectively balances the two-for-one downside that auras usually have. This makes it particularly good as removal in enchantress decks that want to play as many enchantments as possible.
Pros:
Functions as removal
Replaces itself on ETB
Strong in enchantress decks
Cons:
Still leaves your opponent with a creature
24. Quicksilver Dagger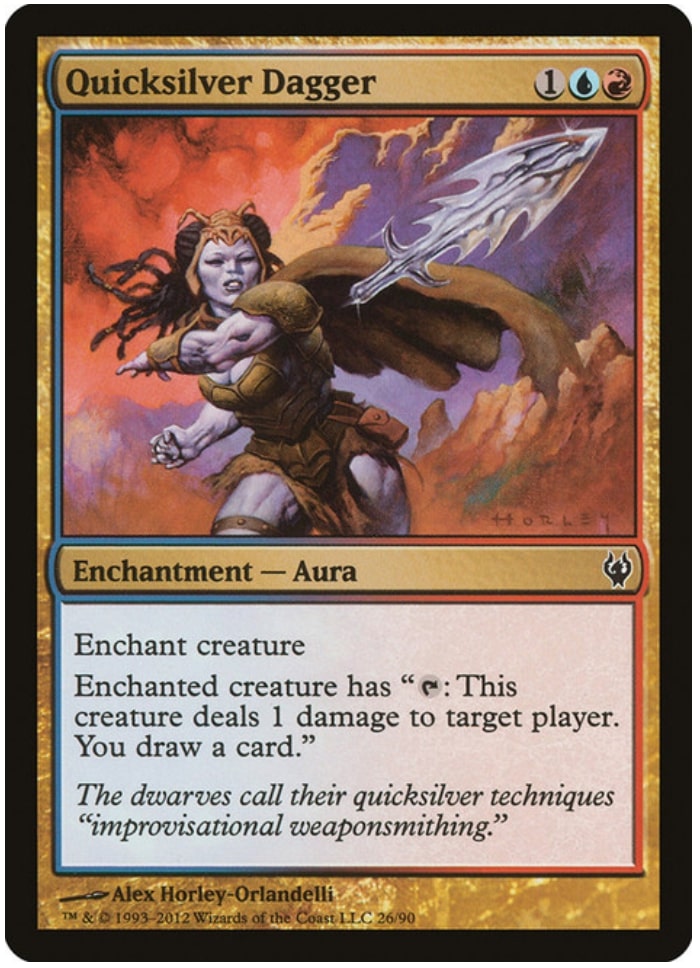 "Think quick!"
Quicksilver Dagger is a card that isn't tremendously powerful on its own. While it can replace itself, you'll need to use it at least twice before it's worth the cost.
Quicksilver Dagger's home is in a deck that loves tapping and untapping. It's a build-around card that skilled deck builders can make good use of. The first example of such a card, it can be paired well with other auras you'll find later down the list.
Pros:
Can potentially draw lots of cards and deal decent damage in the right deck
Cons:
Needs to be built around and set up properly
Doesn't protect itself or its target
Slow
23. Spirit Mantle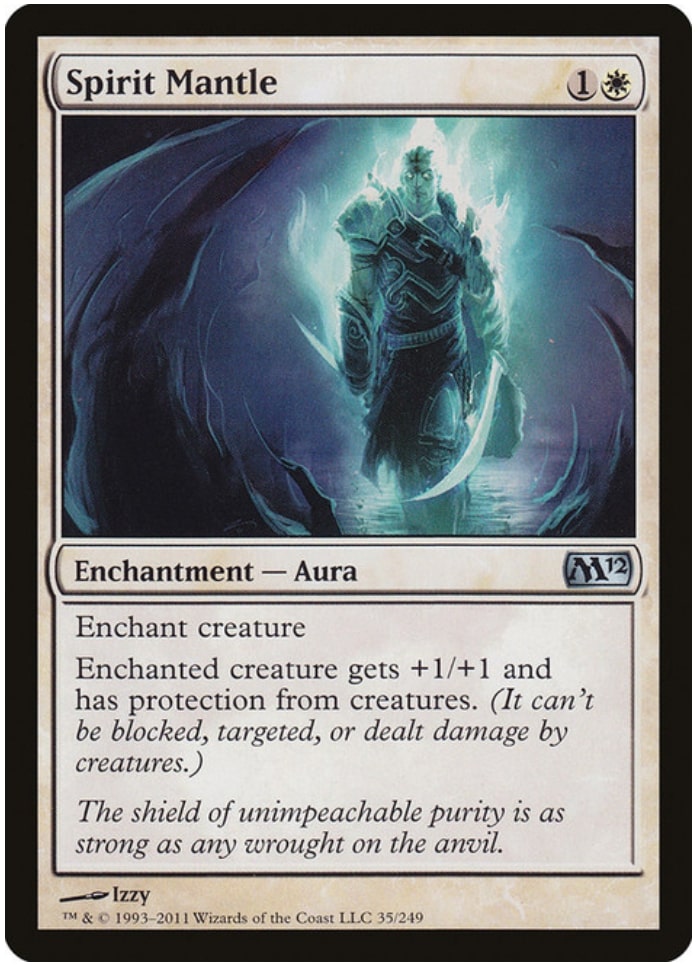 Pureness within, without.
Spirit Mantle is an aura that wants to be in an aggressive deck. The creature it enchants will be able to attack freely without concern for being blocked. Spirit Mantle enables on-damage combat triggers and can potentially net you a final blow. This aura can be also used on a friendly blocker in a pinch, allowing your small creature to block a bigger one. It can also nullify negative static abilities, like deathtouch.
However, Spirit Mantle doesn't protect itself or its enchanted creature from other spells or abilities, like instants and sorceries. It also doesn't replace itself, limiting it from being truly powerful.
Pros:
Enables safe attacks and blocks
Good in aggressive decks
Cons:
Doesn't protect itself or its target beyond creature-based removal
Doesn't replace itself
22. Ethereal Armor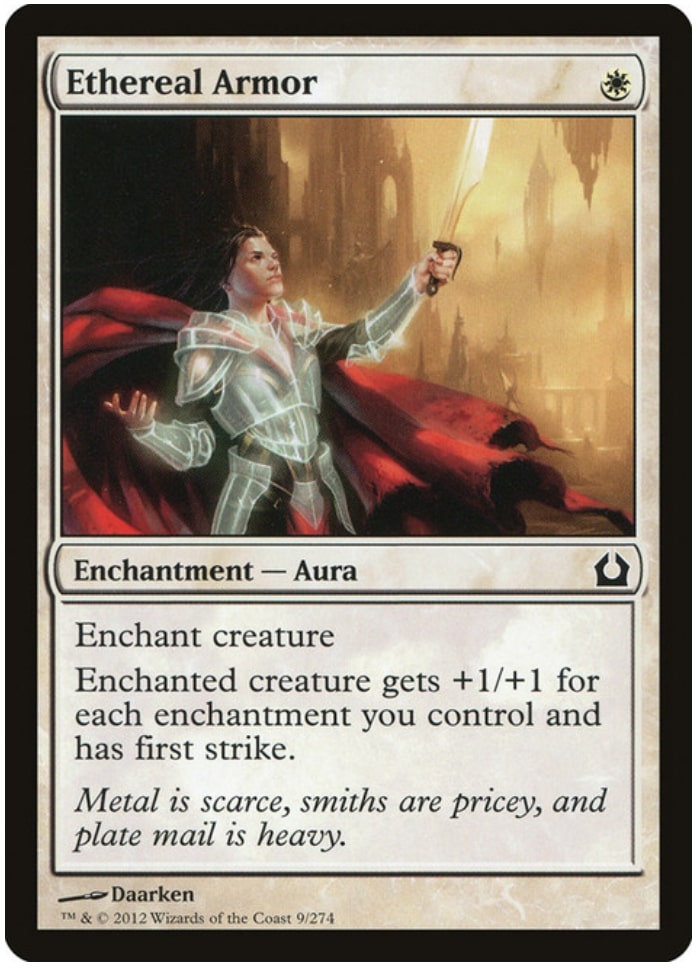 Only as strong as its wielder's soul.
Great in enchantress decks, Etheral Armor has a high ceiling. +1/+1 for each enchantment you control can add up quickly in the right deck. Note that it counts itself, so it always gives at least +1/+1. Like Spirit Mantle, it enables safe attacks and, if need be, blocks.
However, Ethereal Armor has all of the classic aura weaknesses. It doesn't replace itself, nor does it protect its target outside of combat. Only worth considering in very enchantment-heavy decks.
Pros:
Cheap, with a high damage potential
Great in enchantress decks
Cons:
Doesn't protect itself or its target outside of attacking and blocking
Doesn't replace itself
21. Indestructibility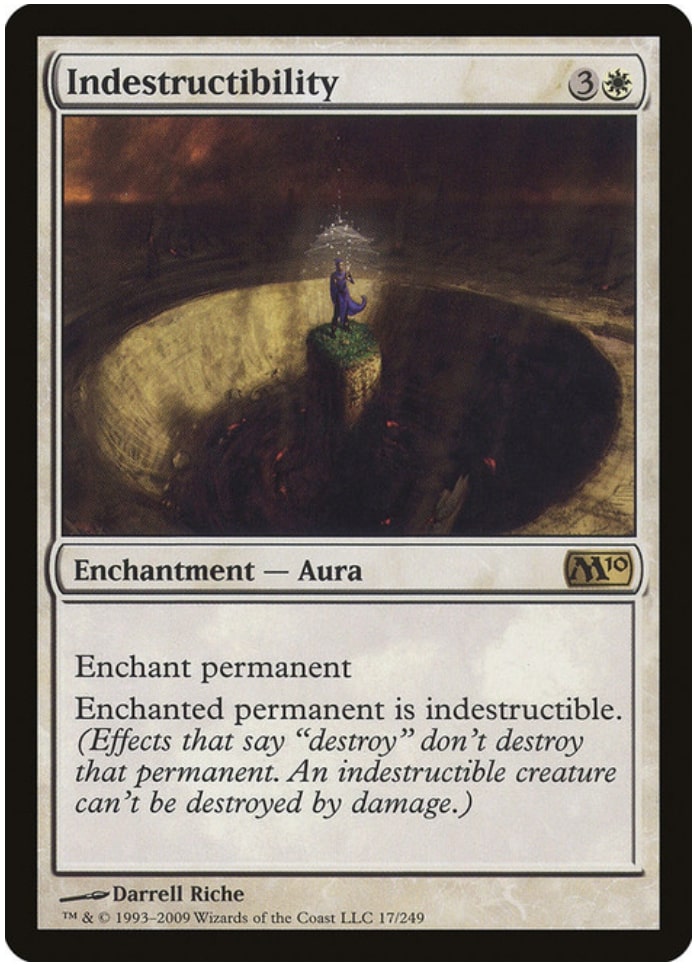 "Hmph. No one could survive my full p—!"
Simple and effective, Indestructibility does exactly what you'd expect. The first aura on the list to really protect the permanent it enchants. Note that this isn't limited to creatures. So if you have a key land, enchantment, artifact, or planeswalker on the battlefield you need to protect, this is a strong option.
Indestructibility is a bit slow at four mana, but not terribly so. Especially if it keeps your win condition around. Just anticipate that your opponent(s) will try to remove this as quickly as possible, and it can't defend itself. If they do spend a card getting rid of Indestructibility, though, and another to remove the permanent it enchanted, that's a two-for-one in your favor.
Pros:
Can protect any permanent from being destroyed
An unreliable two-for-one in your favor, in some scenarios
Cons:
Doesn't protect itself and is a high-priority removal target
Doesn't replace itself
Slightly slow
20. Spellweaver Volute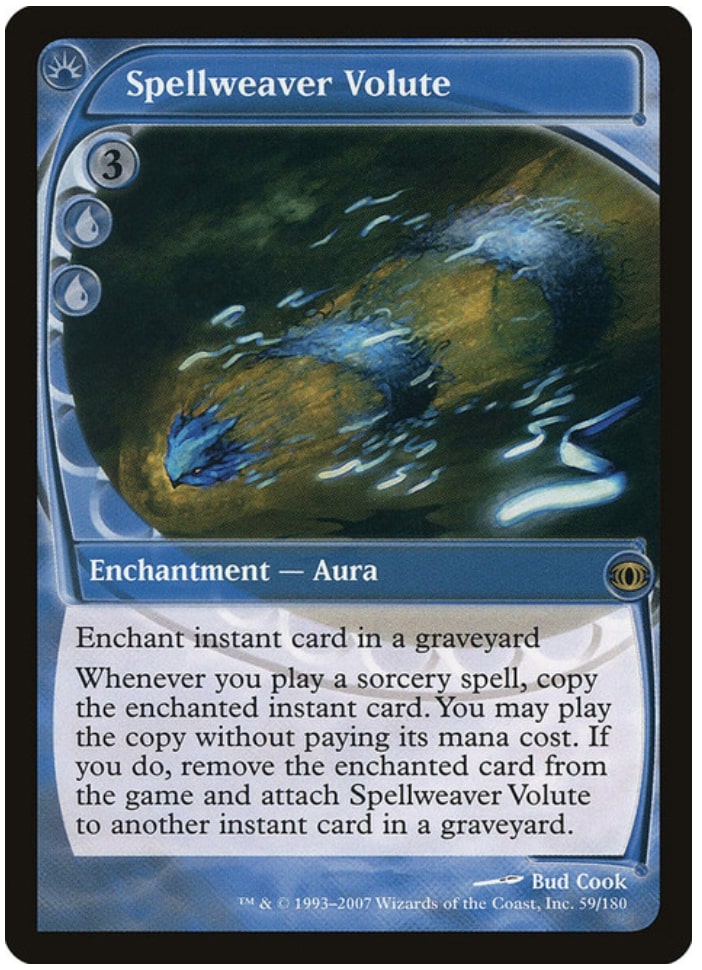 Weird in all the best ways.
Spellweaver Volute is a true oddball of a card, as many from the Future Sight expansion are. Its power does not come from sheer throughput. Rather, it's powerful because its effect is completely unique in a game comprised of over 20,000 cards. A true gem for spellslingers and fringe deck builders out there. 
Build your deck right, and Spellweaver Volute can potentially allow you to storm off using your graveyard as a second hand.
Pros:
Completely unique ability
Cons:
Requires a very particular kind of deck to have any meaningful effect whatsoever
Slow
19. Paradox Haze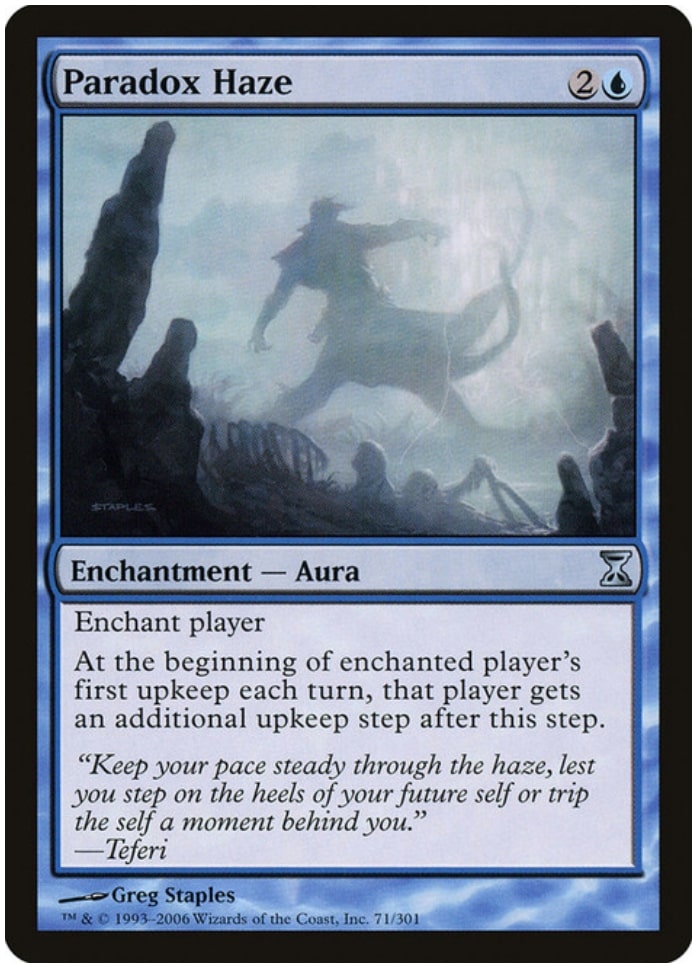 "Wait, but didn't you just—?"
At first glance, Paradox Haze looks like the most do-nothing of all the do-nothing cards. However, some digging through Magic's card pool will reveal many powerful effects that trigger on a player's upkeep. There are positive upkeep triggers and effects, like on Oloro, Ageless Ascetic, and negative effects, like curse-type auras.
Paradox Haze is another enchantment for the master deckbuilders out there. It's a bit less fringe than Spellweaver Volute and can do real work in the right list.
Pros:
Completely unique ability
Cons:
Requires a very particular kind of deck to have any meaningful effect whatsoever
Doesn't protect itself
Doesn't replace itself
A bit slow
18. Second Wind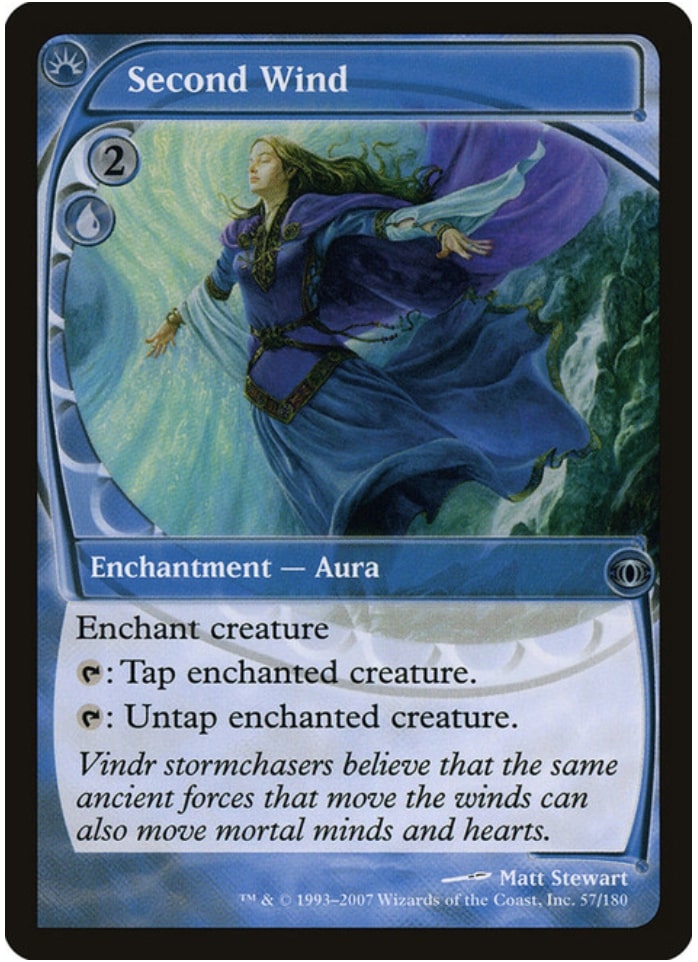 Freedom in stillness. Stillness in freedom.
Another entry from Future Sight, Second Wind is a bit less fringe. Tapping and untapping is a fundamental and frequently occurring part of every game of Magic. Most creatures can attack and block, and many have powerful tap effects.
Sure, there are other auras that allow you to tap and untap your creatures. But most grant this to the creature they enchant as a new ability. Second Wind is entirely unique because you are actually tapping the enchantment itself to get its effect. Note that, as an enchantment, it can use its ability right away since it's unaffected by summoning sickness.
This card can be played to buff one of your creatures, and you'll likely use it this way. A creature already enchanted with Quicksilver Dagger would be a great target! But Second Wind can also be used to enchant and tap down one of your opponent's creatures. A good card to consider in a deck that loves tapping and untapping.
Pros:
Completely unique style of this ability
Can enhance your creature or lock down an opponent's
Cons:
Requires a particular kind of deck to unlock its true power
Doesn't protect itself or its target
Doesn't replace itself
17. Pariah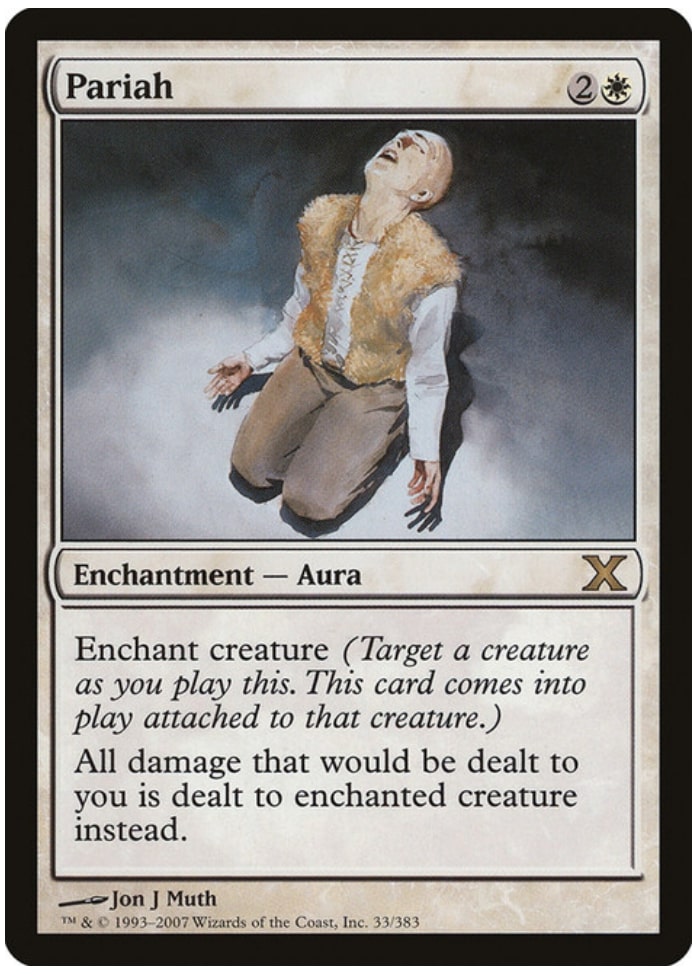 "Why me?"
Pariah is another aura that can be played on a creature you control or an opponent's. But rather than protect any permanent on the battlefield, Pariah protects you.
It's also a great combo piece in certain decks that include cards like Stuffy Doll and Brash Taunter. These decks run indestructible creatures who redirect damage they receive to other targets. Pariah is an interesting option to consider that can act as slight protection, pseudo-removal, and a combo enabler.
Pros:
Cons:
Requires a particular kind of deck to unlock its true power
Doesn't protect itself
Doesn't replace itself
16. Treachery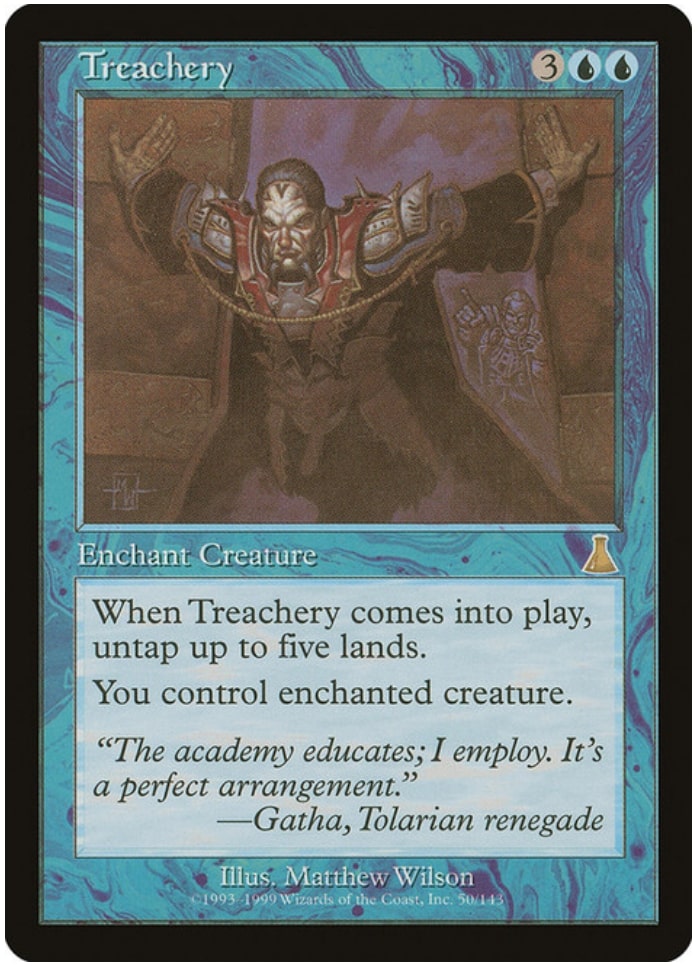 "The best negotiations are the ones that I win."
Want your opponent's strongest creature? Treachery lets you take it. The upside of untapping the same amount of lands as you used to cast it means Treachery is effectively mana-neutral (read: free) to cast. But wait, there's more: Treachery still has some tricks up its sleeve.
Some lands in Magic tap for more than just one mana. So by targeting them with Treachery's ETB trigger, you can go mana-positive. In fact, this aura has a great home in blink decks that can generate tons of mana by abusing its ETB. The good news for this enchantment is that the floor is relatively high and the ceiling is even higher.
Pros:
Not only removes but steals your opponent's best creature
Anywhere from mana-neutral to mana-positive
Great in blink decks
Cons:
Doesn't protect itself
Doesn't replace itself
Still slow at five mana despite its mana-generation potential
15. Curse of Bounty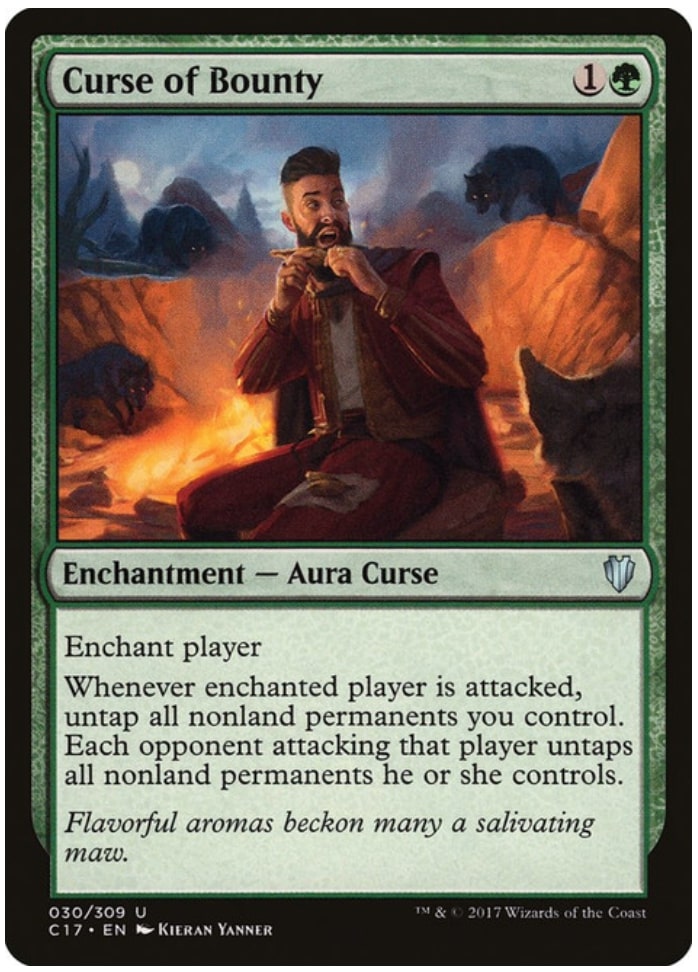 "Oh boy, dinner!"
Curse of Bounty can do a lot of work for only two mana. Designed for multiplayer, it could potentially let you untap all your nonland permanents up to four times in a commander game turn-cycle. Another aura that's particularly good in decks that love tapping and untapping. Also good in decks without vigilance that love attacking, and want to be able to block on the crackback. The major downside, of course, is that it lets your opponents do the same, which could be disastrous.
Pros:
Enables more tapping and untapping
Enables safer non-vigilant attacks, since you can block after
Disincentivizes attacking you
Cons:
Enables your opponents to do the same, could be devastating
14. Curse of Opulence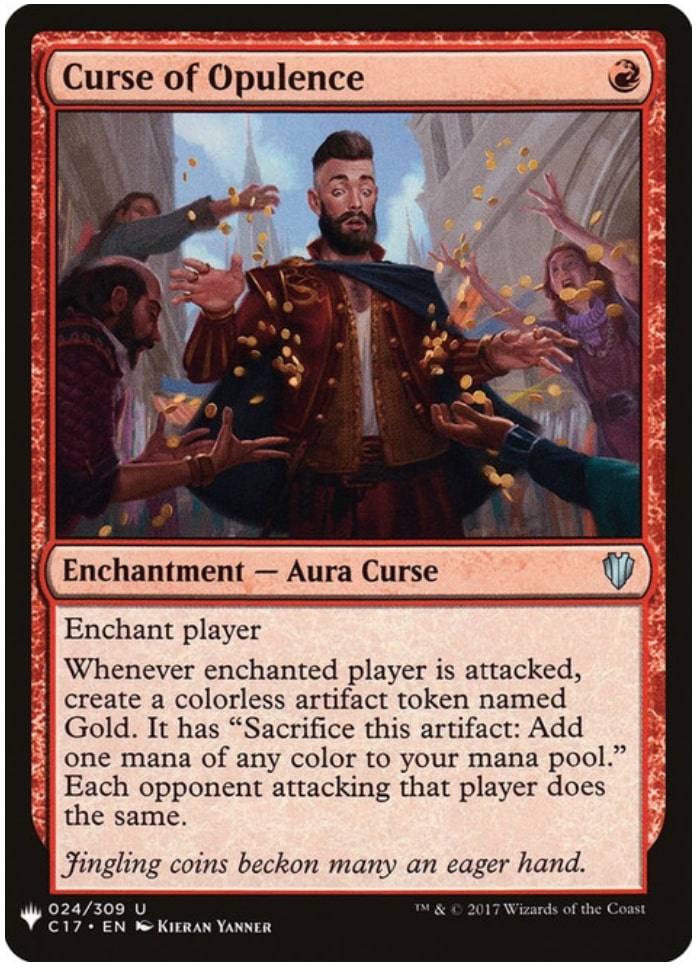 Buyer beware.
Another curse from the same cycle as Bounty, Curse of Opulence is much safer to run out. Sure, everyone else gets to ramp too (except one unlucky soul), but it will be disproportionately in your favor. It again incentivizes attacking creatures to go elsewhere than at you. Cheap and efficient at just one mana, Curse of Opulence is a great fit in any multiplayer deck running red.
Pros:
Great ramp in red
Disincentivizes attacking you
Enables multi-color decks
Cons:
Also benefits your opponents
13. Hyena Umbra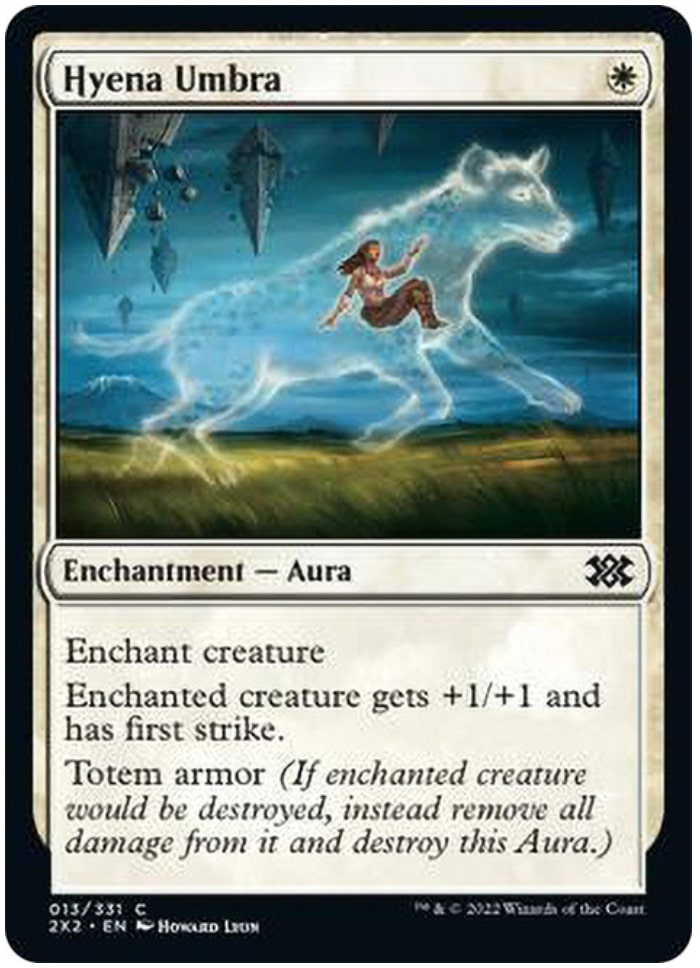 Swiftness, ferocity, tenacity.
Back to more traditional auras, Hyena Umbra is efficient and effective. It's a bit like Spirit Mantle and Ethereal Armor, but with the upside that it protects its target with pseudo-indestructibility. Hyena Umbra doesn't protect itself, but it protects its target so well that it doesn't really need to. This aura does so much for so little, it's a great option in any aggro deck.
Pros:
Protects its target
Enables safer attacks and blocks
Efficient
Cons:
12. Flickering Ward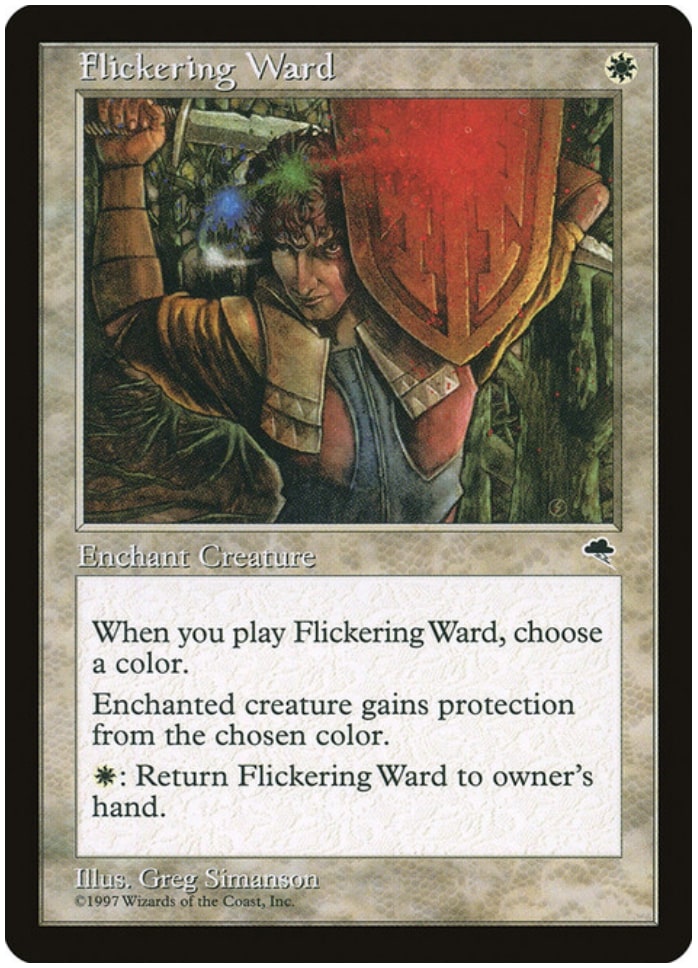 "I've got just the thing for this."
Talk about efficient — Flickering Ward is an incredible one-mana aura. It protects its target from an entire fifth of the game. And if you ever need to change the chosen color, you can do so by returning it to your hand. You can use Flickering Ward's ability at instant speed, so it can also protect itself as well as its target.
Put this in an enchantress deck that draws cards when you cast or play enchantments to unlock its true potential. Just be careful about what colors you choose. If you grant your creature protection from white, for example, you won't be able to target it with any of your other white cards. And any other white cards currently attached to it (equipment, other auras) will fall right off.
Pros:
Very efficient
Protects itself and its target
Incredible in enchantress decks
Cons:
Doesn't replace itself
Can disable color synergies in your own deck
11. Bear Umbra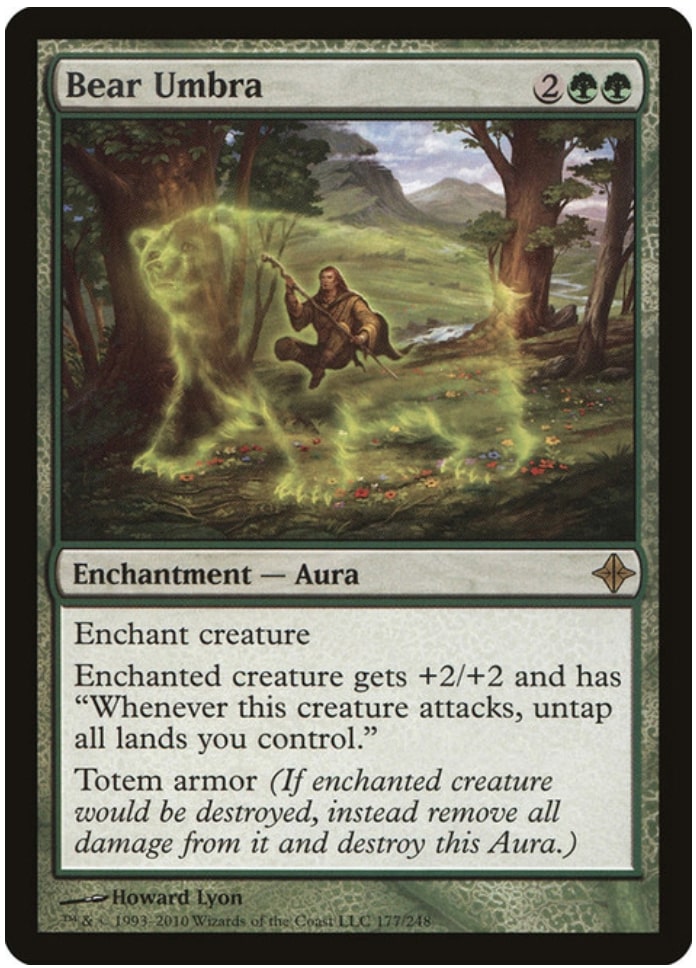 Strength, power, resilience.
The second and final Umbra on the list, it's Bear Umbra. +2/+2 is nice, but the real power of this card is its ability to untap all your lands whenever the creature it's enchanting attacks. And that creature will feel quite free to attack with the pseudo-indestructibility of totem armor. Keep in mind that this can go mana-positive like Treachery. An all-around strong aura.
Pros:
Protects its target
Enables safe attacks and blocks
Effectively generates mana
Cons:
10. All That Glitters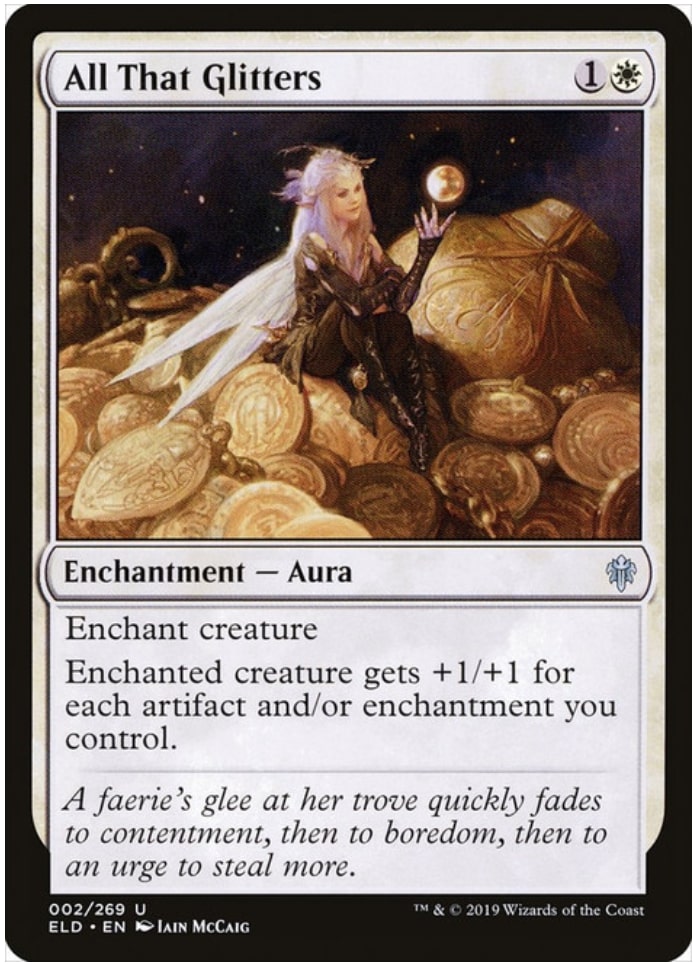 "I think I'll have another."
At first glance, this looks a lot like Ethereal Armor without the first strike. And you're right, it does. Then why is it so far up the list — in the top 10 even? That's because it counts enchantments and artifacts towards the buff it grants.
It may seem like a small difference at first, but between artifact lands, 0-drop artifacts, and the prevalence of treasure tokens, that difference becomes massive. It can grant such a boost in power that the usual downside of auras becomes negligible since the game is over sooner. Also note that, like Ethereal Armor, All That Glitters will always give a creature +1/+1 since it counts itself. This can do absolute work in a ton of different decks, even being a win-con in its own right.
Pros:
Very mana efficient
Great in attacking decks, or even decks that have just a few evasive creatures
Its upsides shore up its downsides
Pros:
Doesn't protect itself or its target
Doesn't replace itself
9. Eldrazi Conscription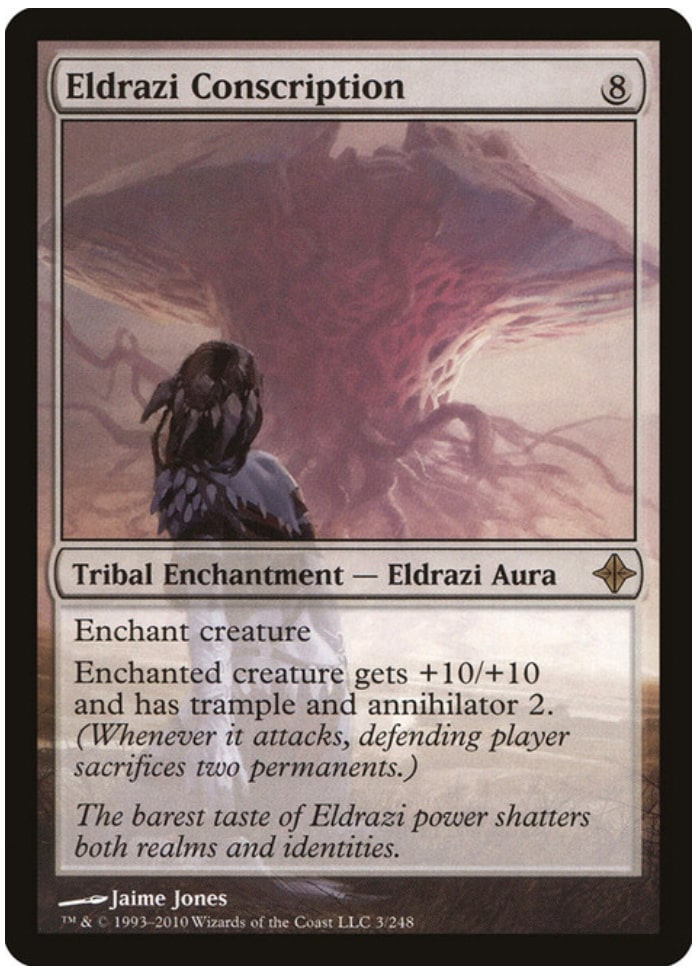 Its twisted body is a reflection of its mind.
Want to make your creature big? Like really really big? Well, now you can for the low, low price of eight mana and that creature's soul.
It's obvious that such a huge power and toughness boost along with trample is good. But what really pushes this card is the fact that it also gives its target annihilator 2. Forcing opponents to sacrifice is excellent because it gets around effects like hexproof, shroud, and indestructible.
Similar to All That Glitters, Eldrazi Conscription is, through and through, a finisher. This means that the normal downsides of auras aren't as relevantly weighted against it, though they are still present. Granted, it's not as good against token or weenie decks. Everyone else, though, will tremble in horror at the sight of your Eldrazi-fied monster.
Pros:
Incredible stat boost 
Forces opponents to sac permanents
Cons:
Doesn't protect itself or its target
Doesn't replace itself
Very slow
8. Animate Dead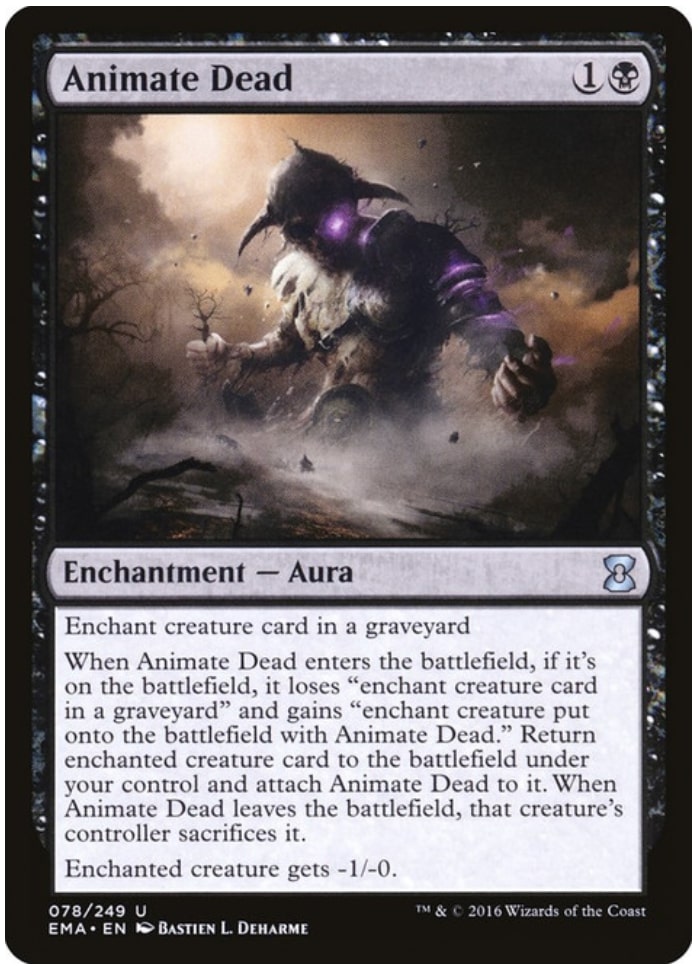 "Rise and serve your new master!"
Animate Dead truly is an oldy-but-a-goody. You can just read its long textbox as, "Reanimate target creature as long as this aura is attached to it. It gets -1/-0."
It does have the usual shortcomings of auras. That is until you squint really hard and view it as a sorcery instead. The going rate for a reanimation sorcery is about four mana for something in your graveyard. So a card that reanimates a creature from any graveyard for only two mana is just incredible. The -1/-0 is so negligible it won't even make the cons list.
Pros:
Incredibly efficient
Can target a creature in any graveyard
More like a sorcery than an aura
Cons:
The usual shortcomings of auras, unless you consider it as a sorcery
7. Angelic Destiny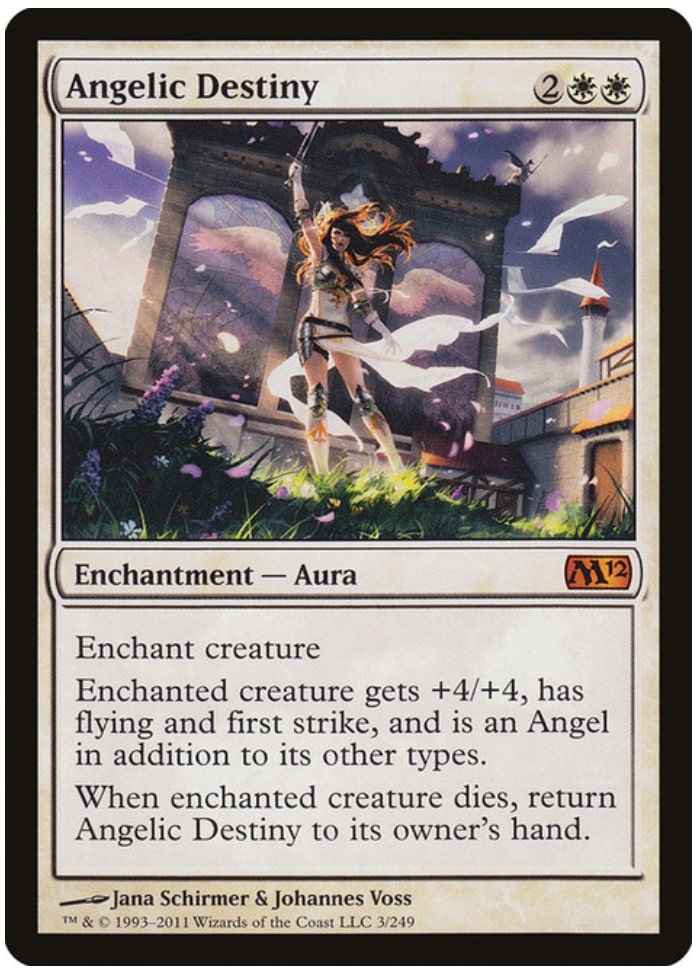 At that moment she dedicated her life to one thing: Justice.
If you're looking for a traditional style of aura to buff your creature, look no further. Angelic Destiny gives a significant stat boost with evasion and allows its target to trade when it does get blocked. Don't overlook the Angel typing either — in the right deck it's a real buff.
The icing on the cake is that when the creature it's enchanting dies, Angelic Destiny replaces itself with, well, itself. The creature does explicitly have to die, not be exiled or bounced, so it's not foolproof. But Angelic Destiny is so effective at what it's doing that it's hard to go wrong including this in your deck.
Pros:
Excellent buffs to the creature it enchants
Recursive
Strong for its mana value
One of the best all-around auras available
Cons:
Doesn't truly protect its target
Need to pay the full mana cost for every recast
6. Gift of Immortality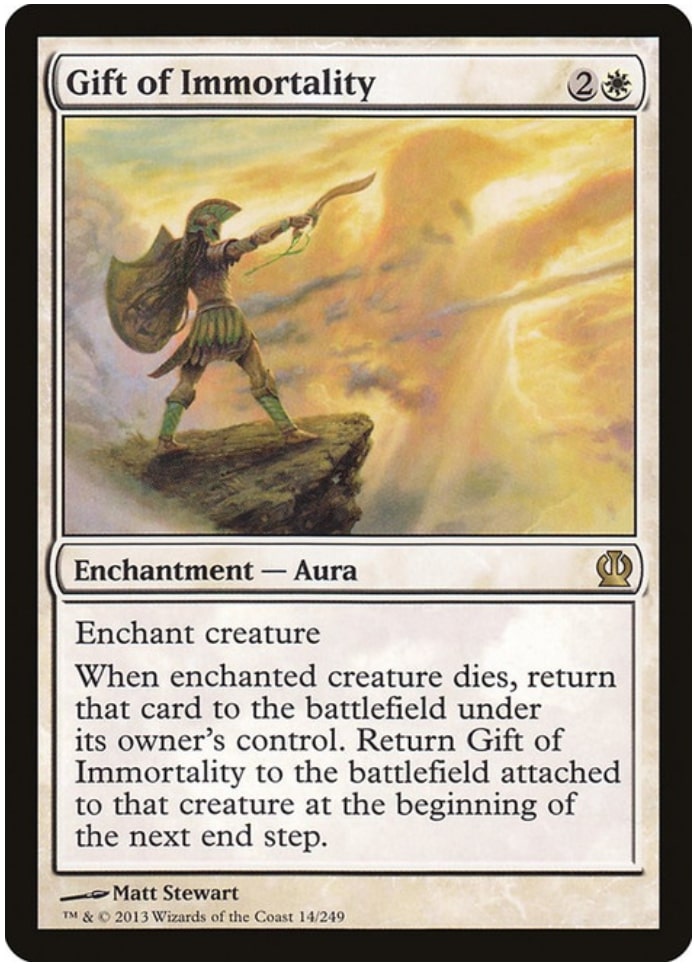 "Fear not, for I shall return before long. Look for me in the glory of the rising sun."
Gift of Immortality is like Indestructibility but better in almost every way. Granted, there are some advantages to sticking on the field perpetually. But Gift of Immortality allows you to take advantage of ETBs and dies triggers. What makes this truly powerful is the fact that it also re-attaches itself to the creature that died.
Combine this with Angelic Destiny and your opponents will struggle to outlast your creature's power, perpetuity, and recursion.
Pros:
Protects its target by taking advantage of the death mechanic rather than preventing it
Allows for dies triggers and ETB synergies
Well-costed at three mana
Cons:
There is a window before the next end step that an opponent can remove the creature again, nullifying Gift of Immortality's effect, but this is still a one-for-one at the worst
5. Rancor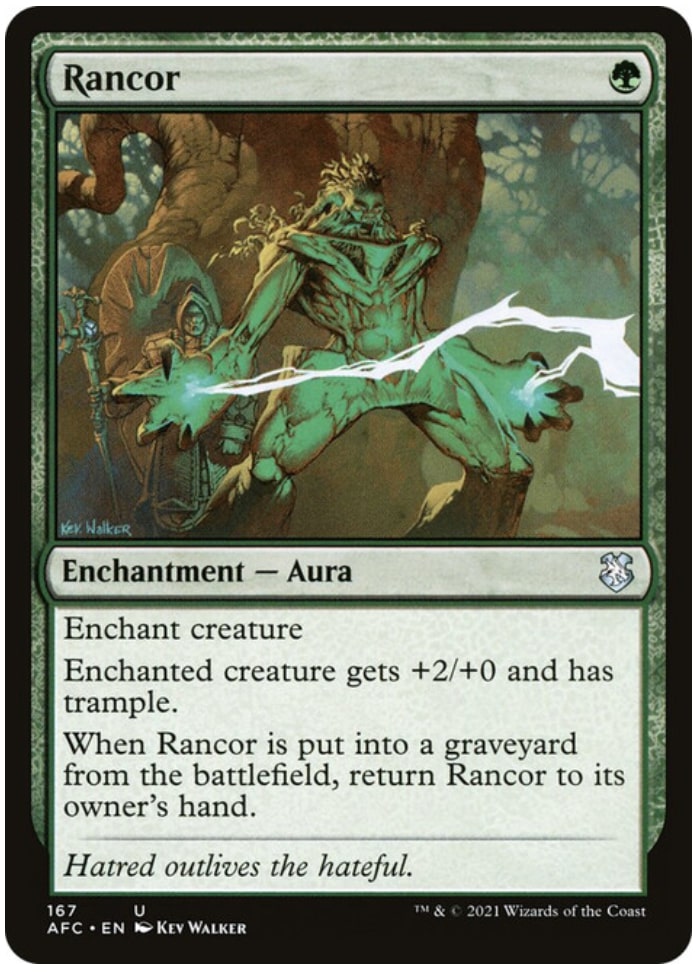 Hatred is a virus that always seeks a new host.
Take all the raving about Angelic Destiny and insert it here. Rancor is a similar, smaller version, but for only one mana. The last of the traditional buffs on the list, what pushes Rancor to the top-5 is its recursion and sheer efficiency. The creature it buffs can be destroyed, exiled, bounced — whatever. As long as Rancor hits the graveyard, it immediately goes back to your hand.
Pros:
Incredibly efficient
Powerful creature buff
Recursive
Cons:
Doesn't protect its target
4. Pattern of Rebirth
Potential incarnate.
Unlike the auras we've seen before, this one wants the creature it enchants to die. Slap this on a 1/1 token, sacrifice it, and go get the biggest, baddest creature from your deck. Not only does this search for your most powerful threat, but Pattern of Rebirth puts that threat directly onto the battlefield. In longer formats like commander, you can do incredible work with this, especially if you can get it back from your graveyard.
Pros:
Turns the downside of auras into a positive
Tutors from your library
Puts your best creature directly on the battlefield
Cons:
Can make you the archenemy in commander
3. Splinter Twin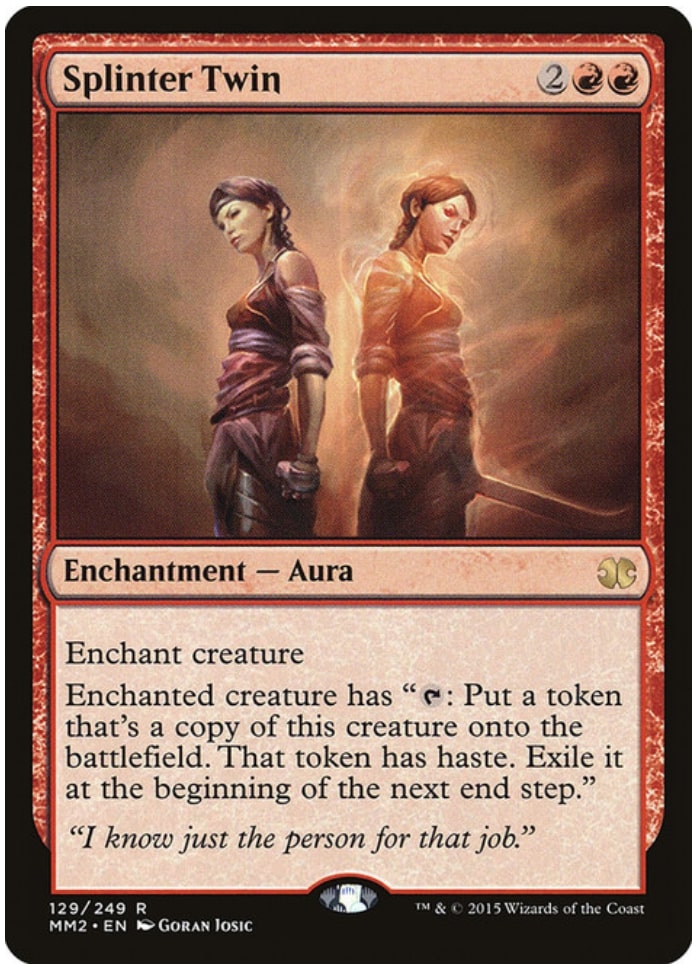 "If you like me, you're gonna love this."
To infinity, and beyond! While there are some infinite combos with Pattern of Rebirth, it's what Splinter Twin is known for. Splinter Twin has been called "the best of the fair decks." That was before it was banned in Modern, to the chagrin of many Modern players.
By enchanting a creature that untaps a permanent when it enters the battlefield, Splinter Twin's owner can create a small but infinite army. It still finds a lot of love in formats like commander, where you can tap and untap it to victory.
Pros:
Can go infinite
Can also just copy your best creature
Doubles-up ETBs
Cons:
Prime removal target
Requires a particular kind of deck to truly be effective
2. Pemmin's Aura
"Let's see here..."
Pemmin's Aura may seem innocent at first, but just like Splinter Twin, it's quite capable of going infinite. Just hook it up to any creature that produces more than a single blue mana. You can use Pemmin's aura to repeatedly untap it for a blue and generate infinite mana. I bet there's a lot you could do with infinite mana. Oh, it can also give the creature it enchants hexproof, because why not?
Pros:
Can go infinite
Protects the creature it enchants
Gives evasion
Can be used as removal in a pinch
Cons:
1. Power Artifact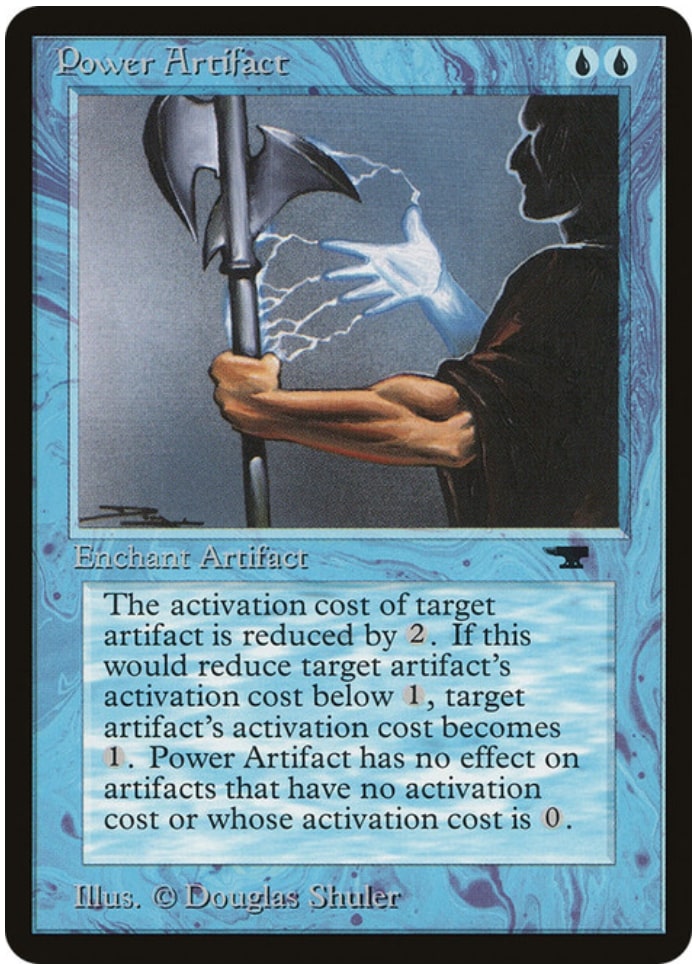 A simple spell that unlocks an artifact's true power.
In theory, there are more possible targets that generate enough mana to make Pemmin's Aura go infinite. But Power Artifact cuts straight to the point. Play Grim Monolith or Basalt Monolith, then just enchant either with Power Artifact and you're infinite. Granted, this mana is generic. But with so many mana filtering cards these days it will be easy to change it into any color you want.
Pros:
Cons:
Do you not like infinite mana?
The Thing About Auras
As you can see, auras bring a wide array of buffs and abilities to the table. Some eke out mild but consistent value over time, while others can generate infinite resources. The trick with auras is to make sure you deeply consider why you would want to include one in your deck. With most of them, there's a real downside of potentially getting two-for-one'd. So build your deck right and you'll be able to make use of some of the most unique abilities in the game.
Also Be Sure To Read: