Top 10 Best Free PC Games coming in 2017
Updated: 15 Dec 2016 12:24 am
World of Speed looks to scratch the Gran Turismo itch for PC Gamers.
Gaming on a Budget
According to my bank statement, the cost of gaming has gone up significantly despite Steam Sales, Humble Bundles and free games with subscriptions becoming major holidays in our society. Alongside DLC and season passes, gamers can buy expansion packs, supply drops, packs of digital cards and $10 horse armor. If a gamer looks at the new releases every week, it seems like every new game have a standard, ultimate and Nacho Supreme edition when they are released, with each edition more expensive then the last. Free to play games have undoubtedly broken that mold (sort of) with full game access at (technically) zero cost. Compiled here for your reading and viewing pleasure is a list of the best 10 Free to play games coming out in 2017.
1. Fortnight
Fortnite Gameplay Trailer
What is it? Fortnite is Epic Games' take on Tower Defense games. First announced 4 years ago, the game takes place after an event called "The Storm" wrecks the world and fills it with creatures called "Husks". Players will scavenge, loot, demolish and build elaborate and creative bases that they will then defend from enemies.  The game is currently in closed Alpha with sign-ups available and is only being developed for PC at time of writing.
What to play while you wait: Left 4 Dead, Any COD zombie map
2. Unreal Tournament
Unreal Tournament season announcement trailer
What is it? Unreal Tournament is the latest addition to the storied series of Arena Shooters first introduced in 1999. The developers, Epic Games, promise new features like wall-running mixed with the nostalgia inducing action of old school Arena shooters (and rocket jumps, don't forget the rocket jumps). Epic Games have also put an emphasis on developing a strong bond with the gamers and mod Community from day one. The game is currently in the open pre-alpha stage (yes, that is a thing) and is downloadable from the Epic Games website.
What to play while you wait: Overwatch, any of the old Unreal Tournament games, Quake III: Arena
3. Dreadnought
Dreadnought teaser trailer
What is it? Large scale, PvP spaceship combat is the name of the game in Dreadnought.  Class based combat using customizable capital ships will let players live out their Star Wars and Battlestar Galactica dreams in 5 vs. 5 games. The developer YAGER is best known for a little game called Spec Ops: The Line so Battleship and cruiser combat INNN SPAAACE seems like a bit of a far cry from their normal productions but the game looks very promising. You can sign up for the closed Beta here
What to play while you wait: Fractured Space, World of Warships, Eve Online
4. Total War: Arena
Total War: Arena will place history's most famous Commanders in the palm of your hand.
What is it? The Total War series has been a staple of PC gaming since the 90's and now Creative Assembly have decided to throw their lot into the free to play market with their hallmark take on strategy games. Total War: Arena will put players in the caligae of ancient history's most famous commanders as they lead armies to glorious victory. The game will focus around Total War's famous strategic combat system. Perhaps even more exciting about this project is the participation of Wargaming.net, the creators behind World of Tanks and World of Warships. who is partnering with Sega to release the game. A Beta for Total War: Arena closed several months ago and the games release date is currently pending.
What to play while you wait: Warhammer: Total War, Dawn of War II, Rome: Total War
5. Crossout
Crossout announcement trailer
What is it? Crossout is a Vehicular combat game from Gaijin Games, who are best known for their World War II MMO Warthunder. In Crossout, you will play a post-apocalyptic scavenger who builds and customizes their vehicle to do battle across the wastelands. The games key features include weapons from the mundane like chainsaws to the exotic like drones, highly customizable everything, trading of anything you collect in game with other players and PvE raids that feature bosses designed by players. The game is currently in closed beta that you can sign up for here.
What to play while you wait: Mad Max, Convoy, Twisted Metal
6. World Of Speed
World of Speed announcement trailer
What is it? World of Speed is an online racing game with a unique twist. While most racers like Forza and Need for Speed are primarily single player focused, World of Speed is including a feature called Team Races. Per their site, team races require "not just …the personal skills of each player, but also…the smooth interactions of all team members." Specific jobs and selecting cars for the right race across the teams will be important for success. The game will also feature real world locations and an extensive roster of licensed vehicles. The beta sign up can be found here.
What to play while you wait: Gran Turismo, Need for Speed (any of them), Forza horizon 3
7. The Elder Scrolls: Legends
Elder Scrolls: Legends gameplay teaser
What is it? The Elder Scrolls is a wildly popular Action RPG series from Bethesda that features fantastic storylines, tight combat and extensive magic systems… so naturally there is a card game based on it coming out. Owing more than a few design features to Hearthstone, Legends looks to muscle its way into the digital collectable card game genre with the full weight and popularity of the Elder Scrolls franchise behind it. The game is currently in open beta and can be downloaded here.
What to play while you wait: Hearthstone, Magic the Gathering
8. Bless Online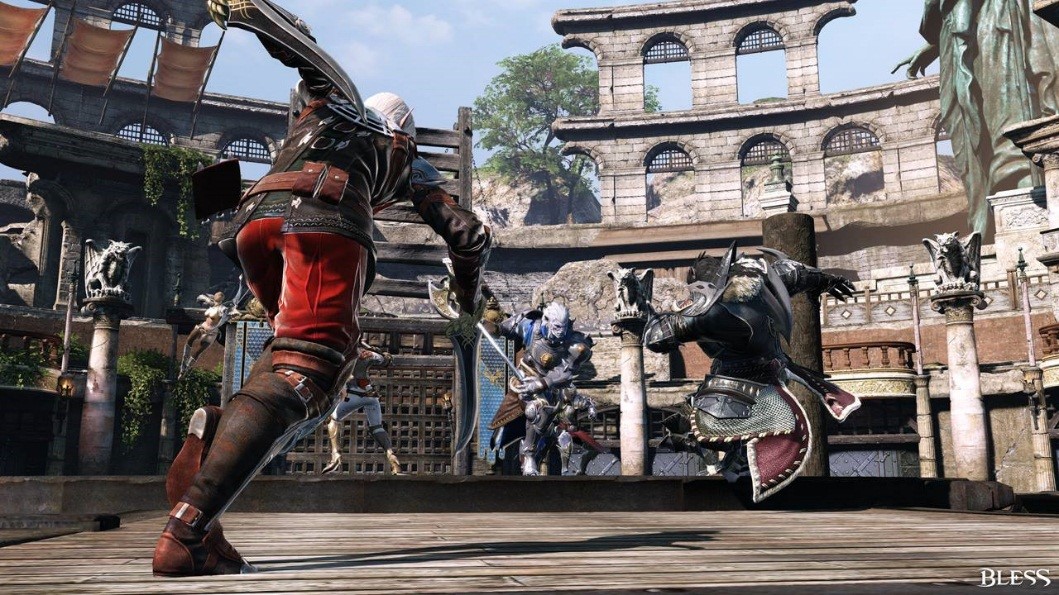 PvP will be a major part of Bless Online
What is it? Bless Online is a MMORPG from Aeria Games. Bless Online is shaping up to be a standout MMO that takes the best of games like World of Warcraft, Guild Wars and the like; while adding some interesting new features like a focus on open world PvP and castle sieges. North American closed betas are still waiting to be announced but our overseas readers in Russia or Korea can join the beta several ways as listed here.
What to play while you wait: World of Warcraft, Guild Wars 2, Elder Scrolls Online
9. Gwent
Gwent Beta announcement
What is it? Gwent started life as a minigame within a game. That game just so happened to be The Witcher III, one of the most highly rated games of all time. Gwent is a collectible card game similar to Hearthstone or the previously mentioned Elder Scrolls: Legends. It's originality stems from the need to not just overpower your opponent but bluff and trick him along the way. The concept looks interesting and should appeal to players who may want a more thinking-man's game to Hearthstones power play mindset. Players can sign up for the beta here.
What to play while you wait: Elder Scrolls: Legends, Hearthstone, Magic the Gathering
10. Revelation Online
Revelations Online Beta trailer
What is it? Revelations Online is another MMORPG that has clearly taken its cues from World of Warcraft. What sets it apart from even other games on this list is the setting (steampunk), beautiful graphics, Aerial combat (finally) and a unique social aspect to the game where players can develop relationships for their characters with other player characters. Beta sign-ups are available now.
What to play while you wait: Eve Online, Wildstar, Knights of the Old Republic
Gaming doesn't have to expensive. The rise of the free to play platform has seen the development of many quality games over the last few years. 2017 looks to continue that new tradition with a slew of games with both new and old concepts for gamers to play. It should be noted, that while these games are free to play, inevitably there will be micro-transactions but if you like a game, what's the harm in throwing a few dollars in its direction. Happy gaming.
Would you like to know more?
Some more free games for you to play… now with Zombies!!!
World of Warcraft isn't the only MMO looking to be #1
What's the difference between a Roguelike and Metroidvania game… and other gamer terms you should know
Image Gallery