Top 5 Best Dragon Age: Inquisition Weapons and How to Get Them
Updated: 22 Nov 2018 12:33 pm
As you progress through Inquisition, you'll need stronger and more badass weapons to take down demonic forces.
Inside the world of Dragon Age, you're constantly faced with the need to destroy endless darkspawn, leave Venatori quaking at your feet, and slay mighty dragons. As the Inquisitor, you need the best weapons or else you'll wind up in loops of dying from the Fereldan Frostback dragon.Whether you're chopping the heads off bandits or making a Red Templar dance with magical electricity, you'll want to do so with style and strength.
The best weapons in the game are arguably the ones that you yourself create, but these involve long, dangerous hunts for schematics and rare materials you can only get in extremely specific locations. Instead of spending all your time looking for vicious bears, listed below are the 5 most powerful weapons you can find -without- crafting. This leaves you more time to get through the game without long boring stops at Skyhold and its many loading screens.
5: Best Mage Weapon


Isana's Song is lined with lyrium and exudes strength and elegance. 
Your best mage staff is going to be the unique Isana's Song, which is located in the Ruins of Heidrun Thaig during the quest 'Push the darkspawn out of their nest', part of The Descent DLC. Isana is the Dwarven word for lyrium, and the staff's description even states the staff 'gives a faintly audible hum when touched: A wistful tune, as if it were thinking of a faraway or forgotten place', alluding to the living nature of all lyrium. As if the insanity from red lyrium wasn't bad enough, now you can have a staff that hums while you slay dragons
DPS: 141-144; Damage: 87-89 Electricity; requires Lv. 21 and is only usable by Mages.
Special stats: +7% Critical Chance, +41 Magic, +7 Willpower, and 10% chance to inflict Chain Lightning damage at 100% weapon power.
4. Best Daggers
For your best daggers, there are two which both have excellent stats for stabbing your friends in the back. Without going into random trials rewards, the two unique daggers are The Bosun's Blade and Bleeder of Souls, and especially since you can get them early in the game, together they are a deadly combination that makes your rogue Inquisitor nearly unstoppable.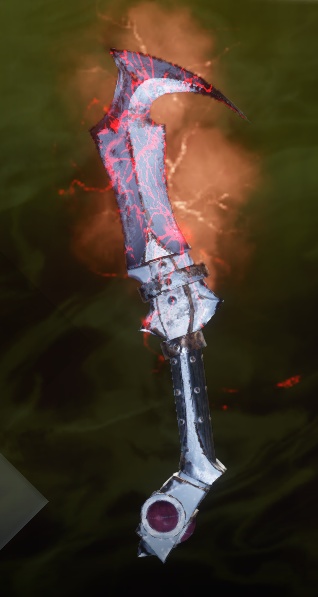 The Bleeder of Souls will heal the wielder as it's used. 
The Bleeder of Souls is located in Redcliffe Castle from Hanley D'Urvain, a Venatori Spellbinder who is caught torturing a Chantry priestess during In Hushed Whispers. Thus, this blade is only attainable if you side with the mages (proof that good deeds bring good rewards).
DPS: 203-208; Damage: 59-61; requires Lv. 4 and is only usable by rogues.
Special stats: +20 Damage vs. Living, +1% Bleed on Hit, +13% Critical Damage Bonus.


The Bosun's Blade attacks for 500% damage from the back.
The Bosun's Blade is found with the Trespasser DLC (you don't need to play the main Trespasser quest yet) and is given to you automatically after completing the Locate Heretic Sister war table operation. Best used with the Flank Attack, this particular blade is extra effective when stabbing from the back. Solas would make a great rogue.
DPS: 198-206; Damage: 77-80; requires lv. 7 and is only usable by rogues.
Special stats: +23% Flanking Damage Bonus, Cowardice: All attacks deal +500% from behind the target but only 10% damage from the front.
3.  Best Bow

The Inquisitor can fell mighty dragons and darkspawn with ease using Tezpadam's Bane.
One of the best bows in the game is Tezpadam's Bane, a unique bow which is found in the Wellspring as part of The Descent DLC. You have to fight the Guardian to get it, but it proves its worth as its damage is 187-193 (or 211-218 DPS), and it outshines other bows with its hit on a kill: the target explodes for 150% weapon damage. Kill a darkspawn, kill everything else with up to 290 damage. A great way to nail down those pesky hurlock alphas before they can knock out Bull or Cole. (Honestly, I would recommend just leaving them at home. )
Tezpadam is the dwarven word for deepstalker, which the creature is almost as annoying as Bull dying every battle. Seriously, he calls himself a 'Warrior'.
DPS: 211-218; Damage: 187-193; requires Lv. 21 and is only usable by rogues (not Varric).
Special stats: +12% Armor Penetration, +41 Dexterity, +7% Sunder on Hit, On Kill: Target explodes for 150% weapon damage.
2.   Best One-Handed

The Bitter Axe includes old Hakkonite runes in its design. 
For a one-handed weapon, the Bitter Axe is your best bet at 212 max damage, far beyond the damage of swords and most maces. This weapon's special feature is that when you kill your target, they explode for 100% of your weapon damage, damaging nearby enemies with pure rage. Best combined with the Isatunoll shield, you'll almost be as untouchable as Cassandra.
The Bitter Axe is found in the Frostback Basin after closing a fade rift (Jaws of Hakkon DLC).
DPS: 298-310; Damage: 204-212; requires Lv. 21 and is only usable by warriors.
Special stats: +16% Attack, +15% Critical Chance, On kill: Target Explodes for 100% Weapon Damage.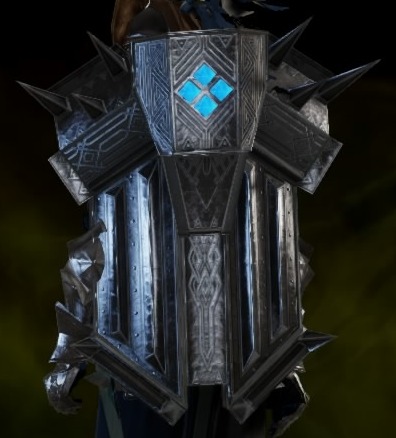 Isatunoll shield features a strong dwarven design.
The Isatunoll shield can be found in a chest in the Deep Roads after completing either Deep Roads Expeditions: Forgotten Caverns Bridge or Bastion of the Pure Bridge, both in The Descent DLC. This shield has the ability to grant a temporary Walking Fortress, making you completely immune to attacks for the duration. Just think: Once you get all these weapons, you'll never have to go to the Deep Roads again.
Armor: 37; requires Lv. 18 and is only usable by warriors.
Special Stats: +30 Front Defense, +5% Magic Defense, +59 Maximum Health, +5% Melee Defense, +10% chance to grant 5 seconds of Walking Fortress.
1. Best Two-Handed

The Stone Breaker can be used to destroy more than just stones. 
The heaviest-hitting two-handed weapon is going to be the Stone Breaker, at a whopping maximum of 367 DPS. This weapon is rewarded after defeating the Guardian in the Wellspring as part of The Descent DLC. Bioware really tries to entice the player to the Deep Roads with all these great weapons; so even though the Deep Roads -still- suck, at least you can get most of the greatest weapons in the game in one fell swoop.
DPS: 352-367; Damage: 349-363; requires Lv. 21 and is only usable by warriors.
Special Stats: +12% Critical Damage, +7% Stagger on Hit, +41 Strength, 10% chance to use Shield Bash on a hit.
Okay, that was actually 6 weapons and a shield. But these items will outfit you and 4 other followers and make the Inquisition the most powerful force in all of Thedas. Solas and the Tevinter Imperium, be warned. We're coming for you.
You may also be interested in:
Dragon Age: Inquisition
Dragon Age: Inquisition - Trespasser
11 Best Dragon Age Inquisition Mods You Should Be Using Right Now