Top 10 CSGO Deagle Skins (Best CSGO Deagle Skins)
Updated: 26 Nov 2020 1:25 pm
The sheer power of the Deagle...
Here are the best CSGO Desert Eagle Skins
The Desert Eagle, more commonly known as the Deagle.
Any CSGO player isn't complete without it. It's hard to argue what's more satisfying than a sweet One Deag (seriously, try me).
One or two headshots can change the course of a match and to match your sick "Juan" Deags... you have to have the best skins. Some let's check them out, Juan by Juan!
10. Directive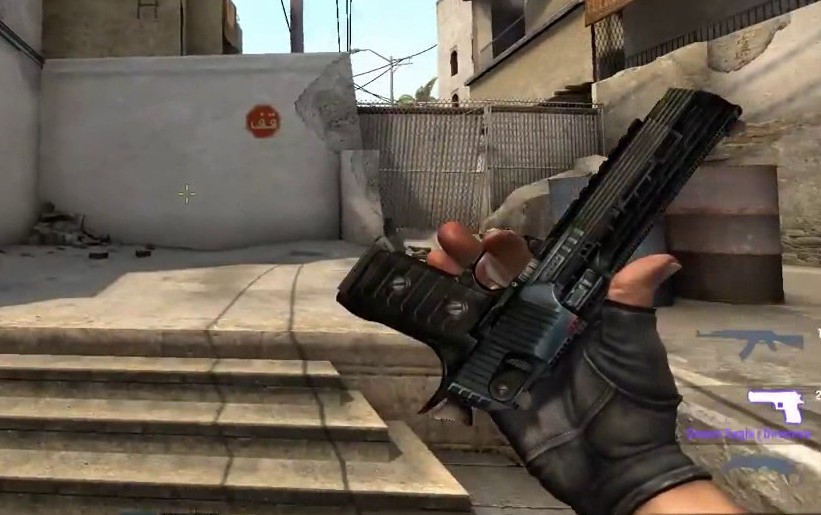 Dead or Alive...
This skin gives me pleasant flashbacks to everybody's favorite robot police officer. The futuristic design down the side paints a picture of a stark future, filled with crime and the only way to stop it, machines! And now, of course, you. Since you have the Directive and you are judge, jury, and executioner filling skulls with your .50 Cal lead. 
The good thing is the future doesn't have inflation! The Directive is fairly priced for a Deagle skin coming in at Minimal Wear StatTrak for $7.84 when writing this. This skin is also one of those skins that kind of looks cooler as it gets more messed up. So Factory New isn't a necessity. Want that Factory New StatTrak though? It is currently listed at $54.80, your move...
Check out the Directive in action 
Desert Eagle Directive Skin Showcase
9. Hypnotic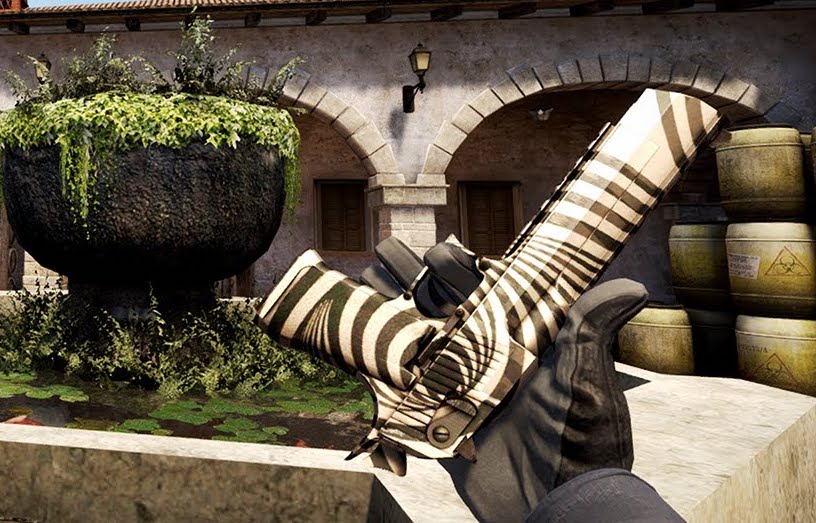 Look into my Deagle...
You are getting sleepy… very, very sleepy... Hypnotize, taunt, confuse and annihilate your opponents with this skin. This one has been around for a while and is still coveted by many. It's a trippy looking skin and you almost have to be careful when spinning it around you don't put yourself into Hypnosis. The other sweet part of this skin is you keep the shiny classic Deagle look.
The Hypnotic has stayed relevant for a long time and its relevance matches the prices demanded for it.
As I write this the Hypnotic is listed on the Steam Marketplace for $37.45 StatTrak Minimal Wear and a Factory New without StatTrak at $12. Maybe you can hypnotize your friend into giving you theirs...
Check out the Hypnotic in action 
CS:GO - Desert Eagle Hypnotic Gameplay.
8. Kumicho Dragon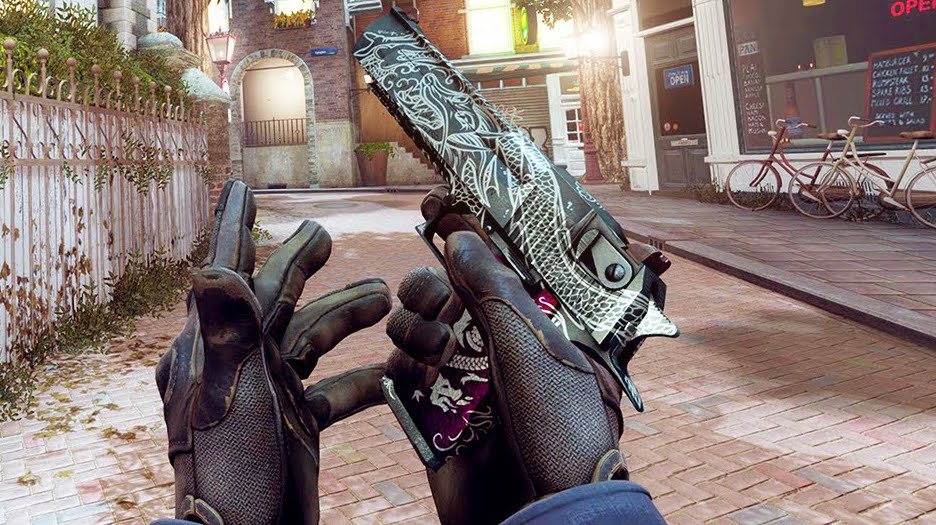 Game of Deagles...
If you like sick dragon designs, this is the Deagle for you. Running around with this Deagle skin you'll feel like a member of the Yakuza annihilating the enemies of the Japanese criminal underworld. The only thing missing is a samurai sword, so the knife will have to do. The intricate designs flow nicely as the skin is inspected, fired and reloaded. So get on your best suit and strap on this Deagle.
When going into the black market to purchase this Deagle you have to be careful that you don't set the wrong man off. You might lose a finger... or your Steam Wallet. This skin will currently run you at $76.50 Factory New StatTrak or $14.40 Factory New non-StatTrak. I hope you brought enough Yen...
Check out the Kumicho Dragon in action 
CS:GO - Desert Eagle Kumicho Dragon Gameplay
7. Golden Koi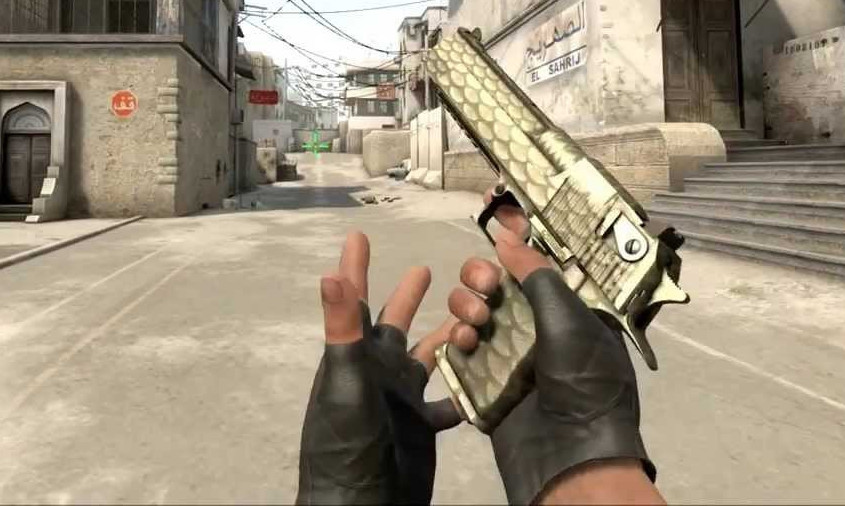 Here fishy fishy...
If you want to do something in style and do it with flash... make it gold. This skin combines the awesome style of a Koi fish scales with the royalty of gold. It works! This Deagle is in your face and gorgeous. You may argue that it's just a fish, but you can't say much when you are on your back from a "Juan" deag down A long. 
Much like Koi fish, this skin seems to be kind of rare. You can snag it up on the Steam Market but expect to pay some fees for exotic fish. StatTrak this skin is listed at $93.63 Factory New and $15.02 Factory New non-StatTrak (at the time of writing this). Go fish?
See the Golden Koi in action
CS:GO Skin Previews - Desert Eagle Golden Koi
6. Pilot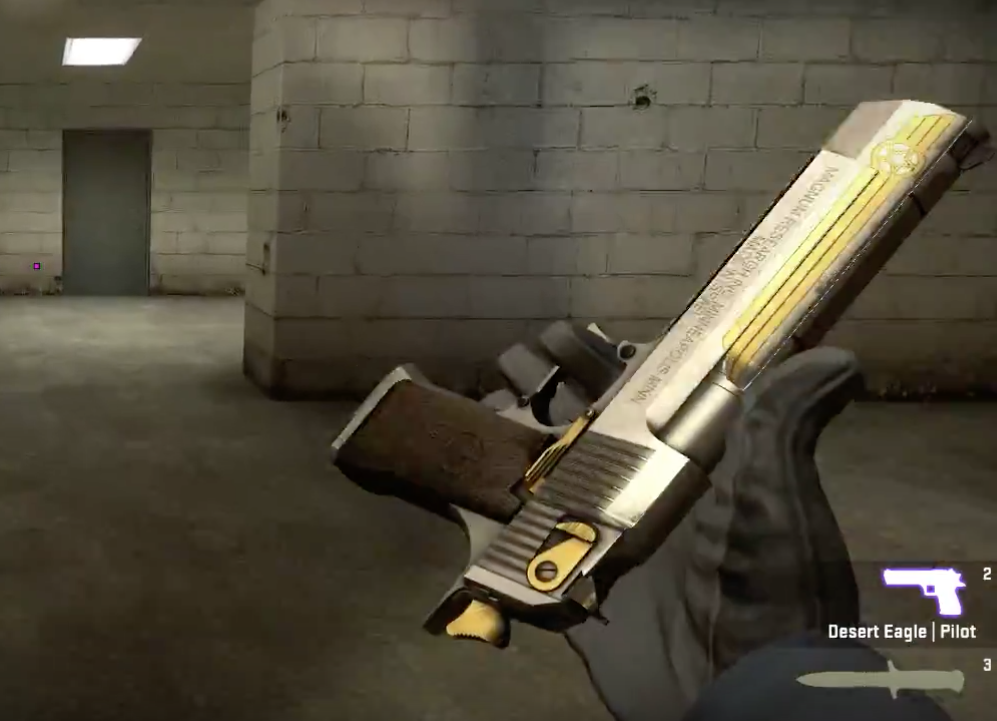 This your captain speaking...
Fly your way to an Ace of 'one deags' with this skin. Fans of the simpler skins will like this newer skin which graced our presence with the baggage collection. With the gold wings and star of an ace pilot, you'll be dropping 5 opponents a round in no time. The simplistic design here is what works with the awesome accents of the gold making it pop when it's in your hand. To top everything off a nice leather looking grip.
New skins are usually more expensive in the beginning, then they dip as time goes on (so don't jump on new skins right away if you don't want to overpay). The pilot, strangely enough, has done the opposite. It started at around $18 and it now sits at $47.93 for Factory New. If you want a cheaper skin but same kind of look, check out the Heirloom.
Check out the pilot in action 
Desert Eagle Pilot Gameplay
5. Sunset Storm 2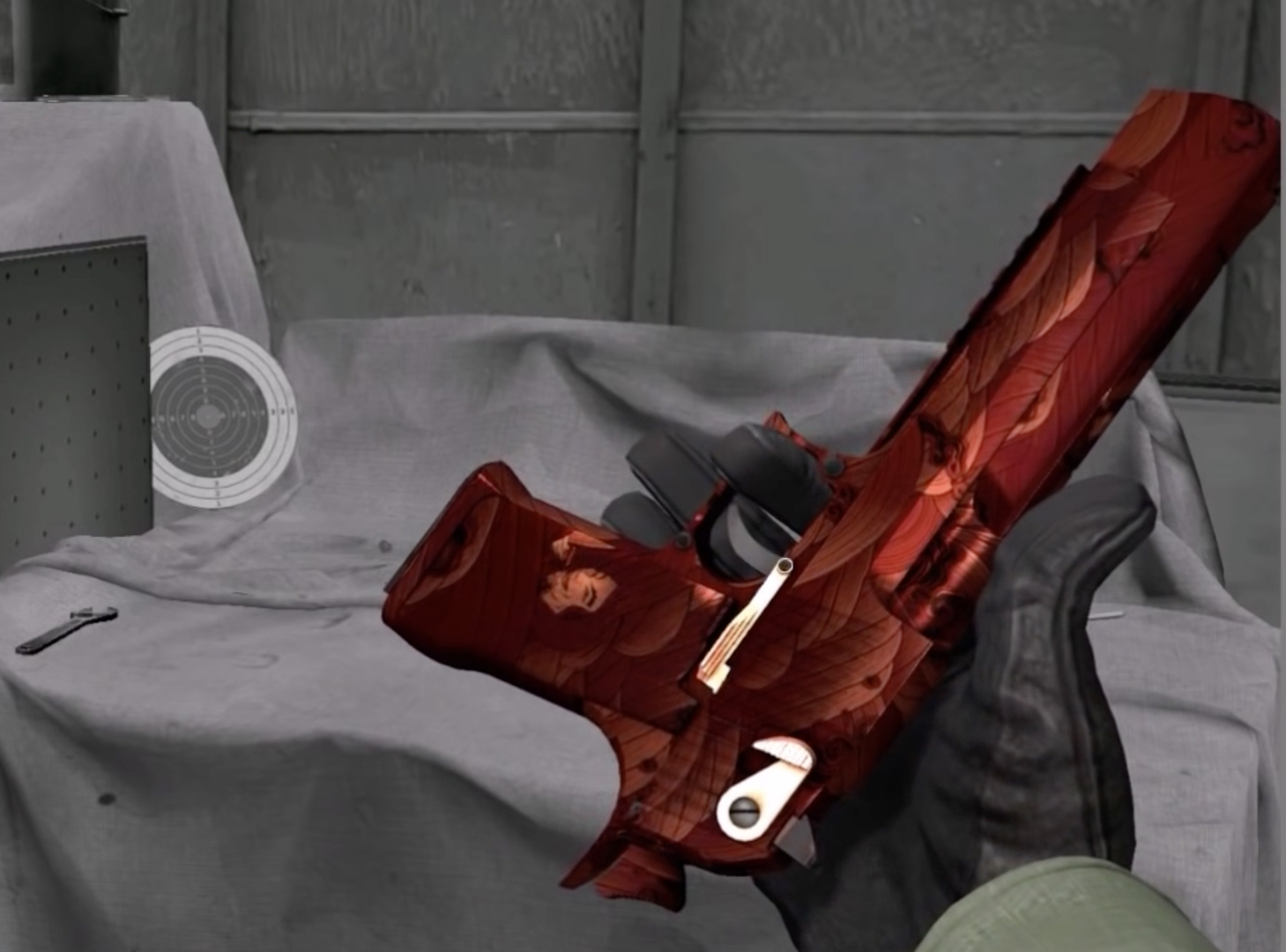 A beautiful storm...
Those of you who don't know, there are two Sunset Storm Deagle skins that look similar to one another. One with the Kanji character 壱 and one with 弐. If you don't know they basically mean 1 and 2 respectively. Both Sunset Storm skins tell a story and you can get lost in them. The primary difference is the grip, which an evil looking figure appears on the second version.
This is why the "2" is here and not the "1". The asymmetrical placement of that demonic looking character smiling at all the death and havoc that you rain down on your opponents is flawless. The Sunset Storm 2 is also affordable on the Steam Market now listed at $19.60 for Factory New. Not bad! The Sunset Storm 1 is similarly priced.
Check out the Sunset Storm 2 in action 
CS:GO Desert Eagle Sunset Storm 弐
4. Mecha Industries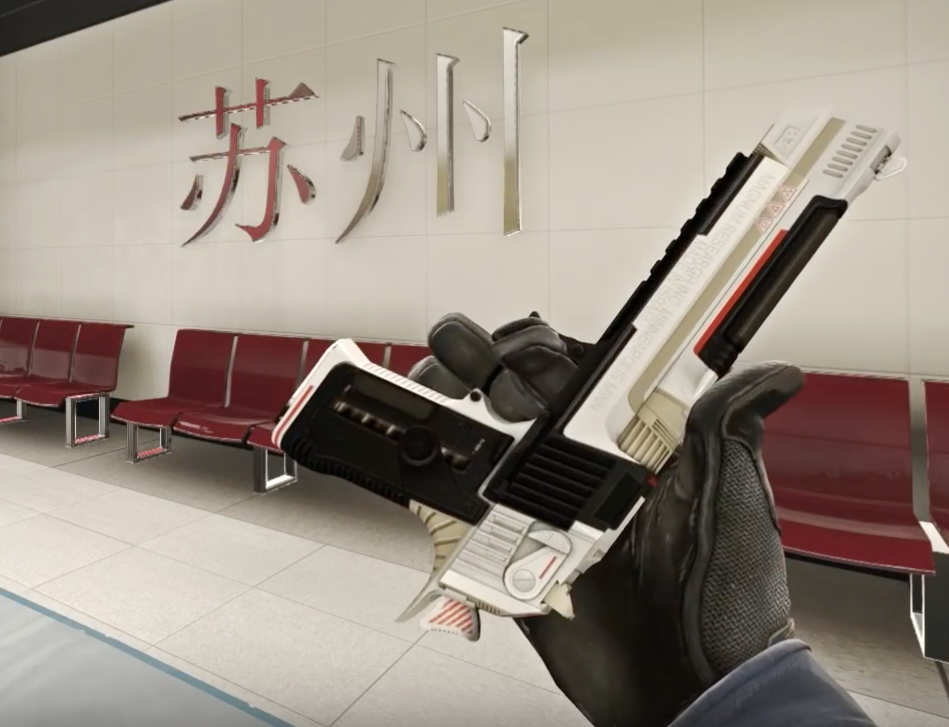 Robot Wreckage...
The skin created in the fiery forges of the machines who hired you to take everyone out. This skin makes a statement. The two-tone metallic black and white gives a familiar yet new and improved feel to the vanilla skin. The red accents make it feel more artificial and a touch of gold for style. This is the skin you want for machining your way through bodies.
The Mecha industries skin is attractive, deadly and has the price to match. To get one of these boys Factory New StatTrak you will have to pay $79.28 as of when I am writing this. Even a non-StatTrak Factory New will run you $23.02. Maybe we can have the machines to do our work so we can afford these Deagle Skins...
Check out the Mecha Industries in action
Danger Zone case skins
3. Hand Cannon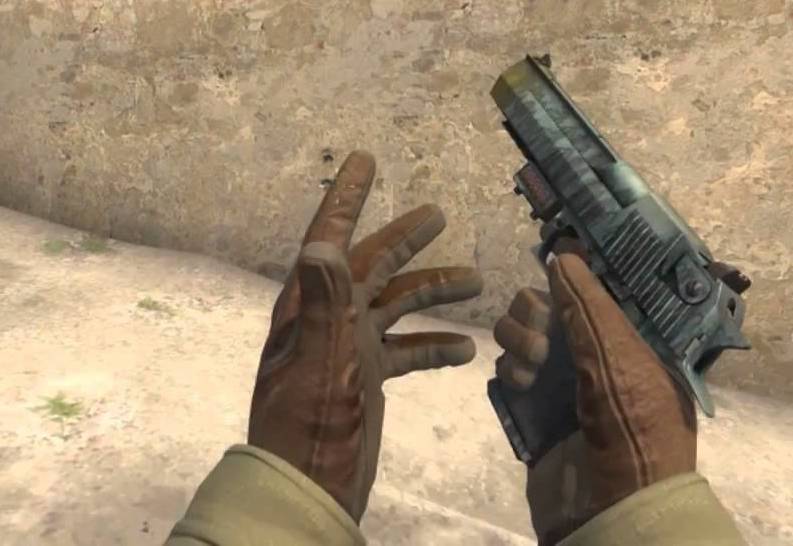 Rustic yet familiar...
The multi-level irony is one thing I love about this skin so much. The Deagle itself is a Hand Cannon, but the skin looks like one of those old aged cannons. Brilliant. Irony aside, the skin is beautifully designed for those who want to make a statement. Set this cannon up and blast your "juans", one cannonball at a time.
Souvenirs are available for this skin and seem to be popular still. This raises the value of the gun significantly with those Souvenirs going for $225.45! Luckily you can get the skin regular Factory New for $47.03. Still, not cheap but you don't have to lose an arm for the Cannon.
Check out the Hand Cannon in action 
Desert Eagle Hand Cannon Skin Showcase
2. Code Red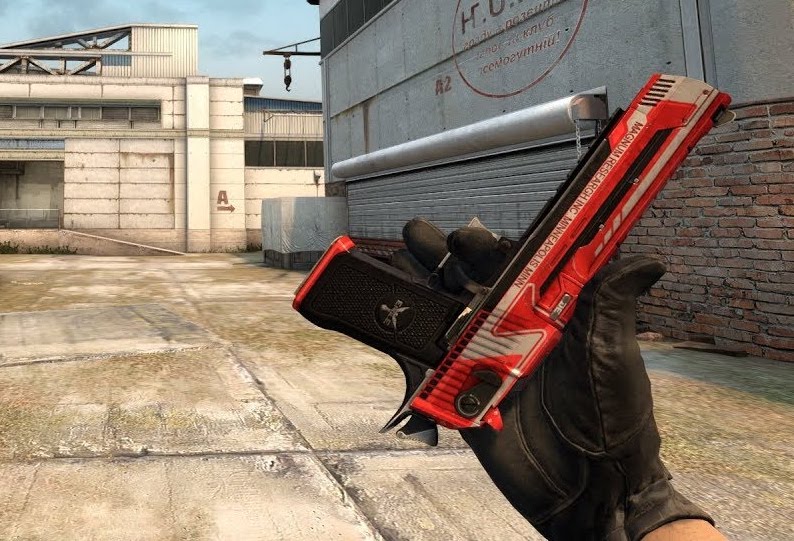 Sound the alarm...
We have a code red! Are you ready to sound the alarm and lay anyone down who answers the call? This Deagle skin comes with red already on it to mix with the amount of blood you will shed. After every kill their bodies will be filled with nothing but pain and envy for this skin. The Deagle spin animations on this Deagle scream "I mean business" keeping true to the somewhat consistent robotic theme to Deagle skins.
To remind you always exactly what you are holding is a nice logo on your grip that reads "Eagle". Soar high my friend and sound the code red but also remember to bring your wallet. This skin will set you back $303.83 currently listed on Steam Marketplace for Factory New StatTrak. Good news is the price drops $56.25 for regular Factory New. Did you order the code red?
Check out the Code Red in action 
CS:GO - Desert Eagle Code Red Gameplay
1. Blaze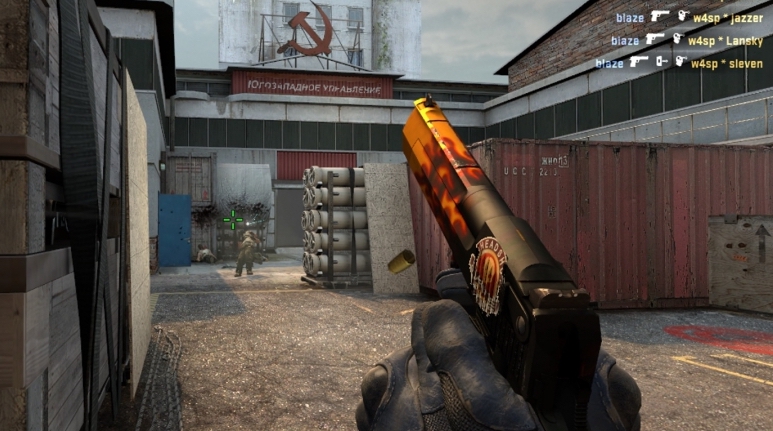 Triple Juan Deag...
Was there ever really any doubt what the number one Deagle skin was? There is no contest, as many awesome Deagle skins out there the Blaze remains on top. It's like a hot rod ready to run over anyone that gets in it's way. Nothing but hot lead shooting from the barrel destined for nothing but headshots. Set the world on fire with the Blaze, simple but beautiful design.
The demand for the Blaze is always there and ask anyone in a match what the best Deagle is. They will almost always say the Blaze is the best skin (and anyone who says Cobalt need to uninstall). The Blaze is currently listed on the Steam Marketplace at $98.57 for Factory New. No StatTrak to be found, probably because everyone wants to keep them. 
Check out the Blaze in action 
CS:GO Desert Eagle Blaze
For a bonus check out this Deagle Ace with the Blaze... SICK
Blaze Insane Deagle ACE in Official Match
You may also be interested in...
Image Gallery