[Top 10] Demon Slayer Best Fights You Need To Watch
Updated: 17 Jun 2022 6:07 am
Let's give you a good dosis of great anime fights!
If there is something Demon Slayer does best in the anime, are the animated fighting sequences.
You may be a fan of the anime Demon Slayer or just a fan of a good fight scene. If you're both, then this is your article. Demon Slayer is animated by the studio Ufotable known for also animating the famous anime Fate/Zero, and Fate/stay, among others. Considered one of the best animation studios in Japan, Ufotable stands out because of its epic fight scenes with CGI and 2D animation.
Demon Slayer has a lot of good memorable fight scenes during the first season, movie, and running season. That's why we gathered the best fights you need to watch to relive these unique and incredible moments Ufotable gave us to experience Tanjito's journey.
These fights are in no particular order, but just awesomeness.
10. Tanjiro vs Kyogai the Drum Demon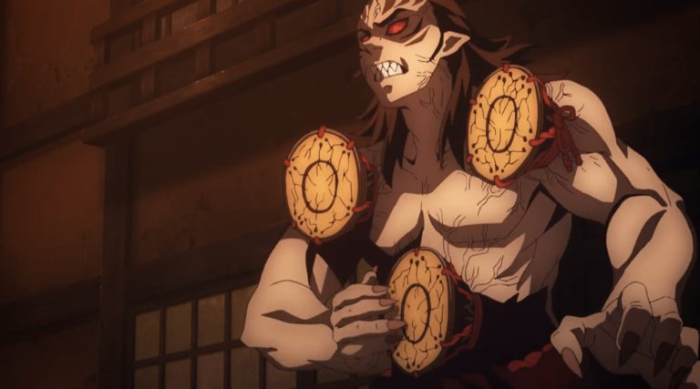 This was a battle that took place in the Tsuzumi Mansion when Tanjiro entered here to save Nezuko. In the mansion was Kyogai, also known as the Drum Demon due to his abilities that rotated the room around depending on which drum he plays. This cool fight was the first battle Tanjiro had to confront a demon in a very fun way where the room moved around making it hard for our protagonist to fight. It reminded me of the old days when Donkey Konga was a thing, so it deserved to be on the list.
9. Tanjiro vs Inosuke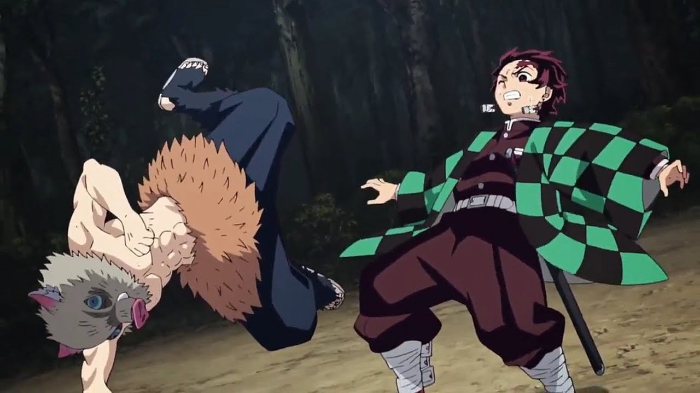 Our main characters had to meet at one moment and it's not always in a friendly way. When Inosuke was beating Zenitsu because he didn't want to fight, Tanjiro came to defend him from the boar-headed man. This fight is epic because it's one of the few that doesn't use swords or powers, it is a melee fight of pure punches and kicks. But imagine you're beating someone with a mask and then it's revealed a beautiful face is behind it, would you keep fighting or call it a day?
8. Zenitsu vs demon
Demon Slayer has a lot of action, but it also has good comedy. When Zenitsu is introduced, he is a shy blonde boy who is afraid of a lot of things and when he was in the Tzusumi Mansion trying to leave and save a kid, a demon showed up. Our characters were in great danger and Zenitsu couldn't handle it and fainted falling into a deep sleep. But that wasn't all, Zenitsu showed his true power while doing a "sleepwalking" action where he displayed his true voice and lighting technique by defeating the demon in one movement.
7. Inosuke vs Spider Demon Father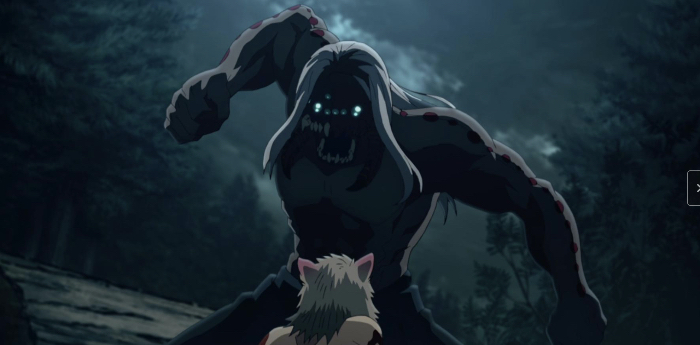 In the final moments of the first season, we have our characters in a forest full of demon spiders that want our demon slayers dead. There is a whole family of demons that control the forest and kill every person who dares to enter. One of the toughest demons is the father that counters our heroes and leaves Inosuke alone to fight. This fight is epic due to we can see how some demons have a final form that will make them almost impossible to beat, but thanks to Giyu, the demon was no threat to the Demon Slayers as a team.
6. Zenitsu vs Spider Demon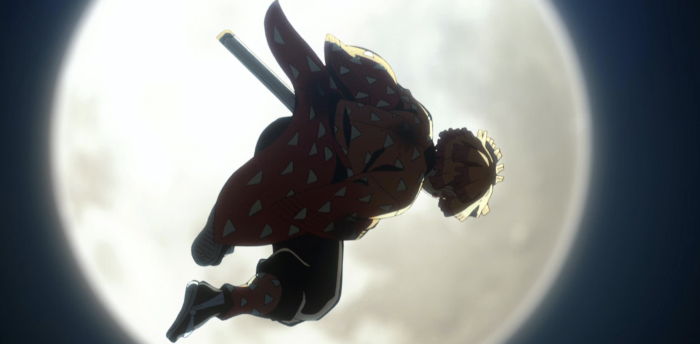 So we know Zenitsu can be a very powerful swordsman, but can it overcome his ability on each fight? The answer is yes, a very EPIC yes. 
When Zenitsu is alone in the forest and cornered by a spider demon, he gets poisoned and at the edge of his fear. But again, when Zenitsu reveals his true powers he astonishes demons and the audience by moving and defeating the demon in one single lighting technique. Just how powerful Zenitsu is?
5. Nezuko vs Temari Demon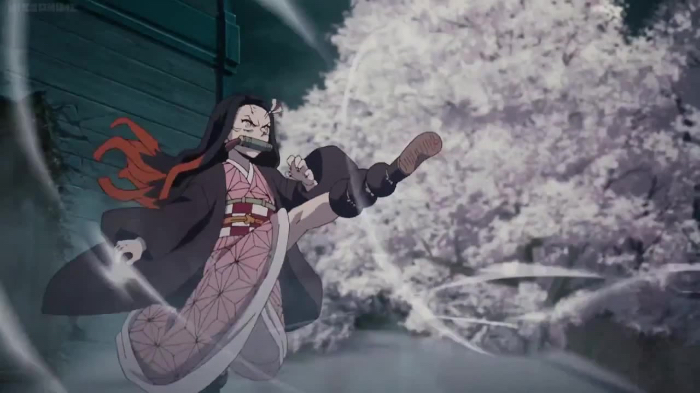 This is one of the first powerful demon fights we encountered in the series. And it's a great opportunity to show demon abilities and the main characters' fighting growth.  In this fight, we have Tanjiro and Nezuko fighting two demons but I want to focus on Nezuko. Although Tanjiro also learns about his ability with water technique, Nezuko is the one with more growth. As an audience is the first time we see her fighting a powerful demon with incredible power, so much that she loses one leg in a very funny scene. But like all characters, she learns and fights back defeating the demon and becoming more powerful.
4. Shinobu vs Spider Sister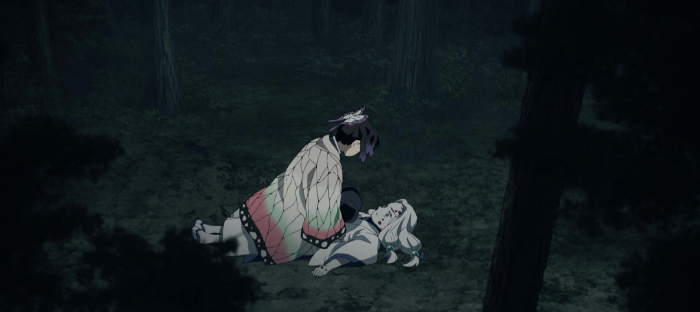 Shinobu deserves to be on this list. One of the deadliest demon slayers, her lovely and calmed personality counterparts her deadliest humor and love of making demon suffer. Even when they are in agony, she never looses her lovely voice and sarcasm. We had to include again the spider family but there are a lot of members to kill, so bare with me one las time. In this fight, we have SHinobu fighting the spider sister which controlled the web threads around the forest. A fast and easy fight but what do we expect from a strong character, she likes to kill fast.
3. Tanjiro vs Rui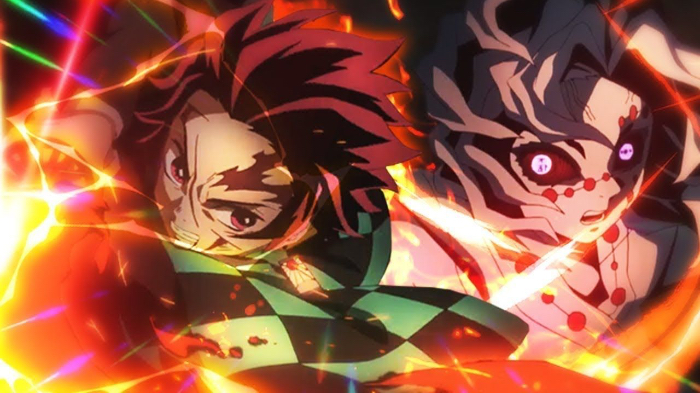 The last boss, the last member of the family. Rui, the spider youngest son. With a lot of episodes and minutes on screen, this epic and almost impossible to win fight has a lot of action and beautiful moments. The music is stunning and the dialogue of our characters was very heart warming. Even though Tanjiro was not the one defeating Rui, we have to give him a lot of credit on keeping him busy until Giyu arrives. At the end, Rui regrets his decisions and ponders on why he wanted a family so bad. His spirit meets his spider family and he begins to recover his human memories. At least he had a happy ending but he certaincly deserved death.
2. Tanjiro vs Enmu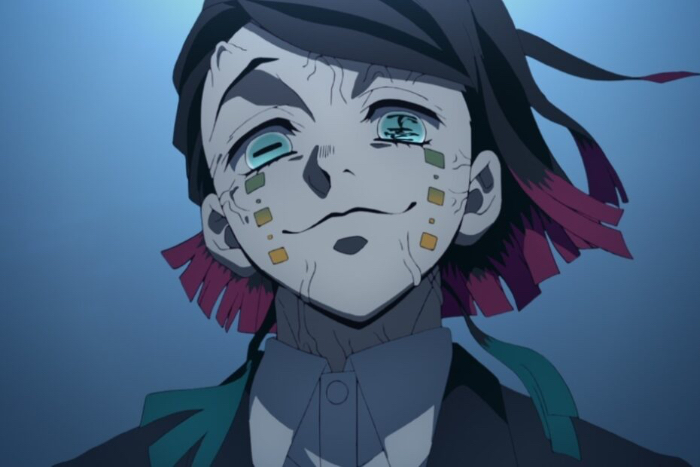 So we're now in the movie Demon Slayer: Mugen Train. In here we have two powerful demons that needed to be cleansed from the world. Our first boss is Enmu, the demon that controlled the dreams of the characters and was trying to kill them in their sleep. Of course some of our heroes would counterattack and would manage to wake up to fight him. Tanjiro had this amazing sequence of fighting enmu once he discovered the secret for waking up from the dreams: by killing himself over and over. With this technique he fought with Inosuke against Enmu giving the audience a great animated fight. 
1. Rengoku vs Akaza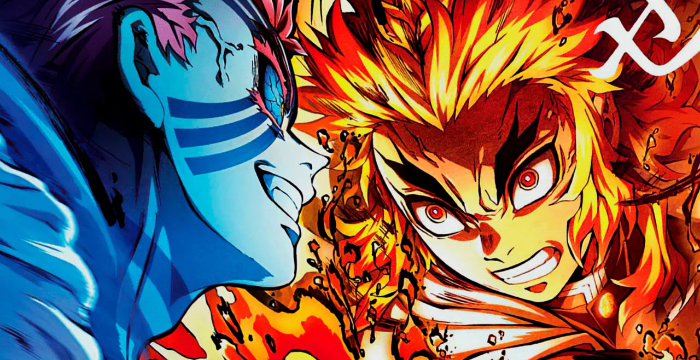 We're introduced to Rengoku in the first season but it's not until the movie that we experienced how he fights. One word to describe him: AMAZING. He is definately one of the most powerful characters in the anime and it's not until the fight with the demon Akaza that we see his full potential. The fight is beyond expectations with incredible animation, action scenes and fire effects. One of the most memorable fights, if not the best, of the entire franchise.
You may also be interested in: