[Top 10] Best D&D YouTube Channels That Are Fun To Watch
Updated: 16 Feb 2023 12:43 pm
The 3 GM's for Critical Role's world Exandria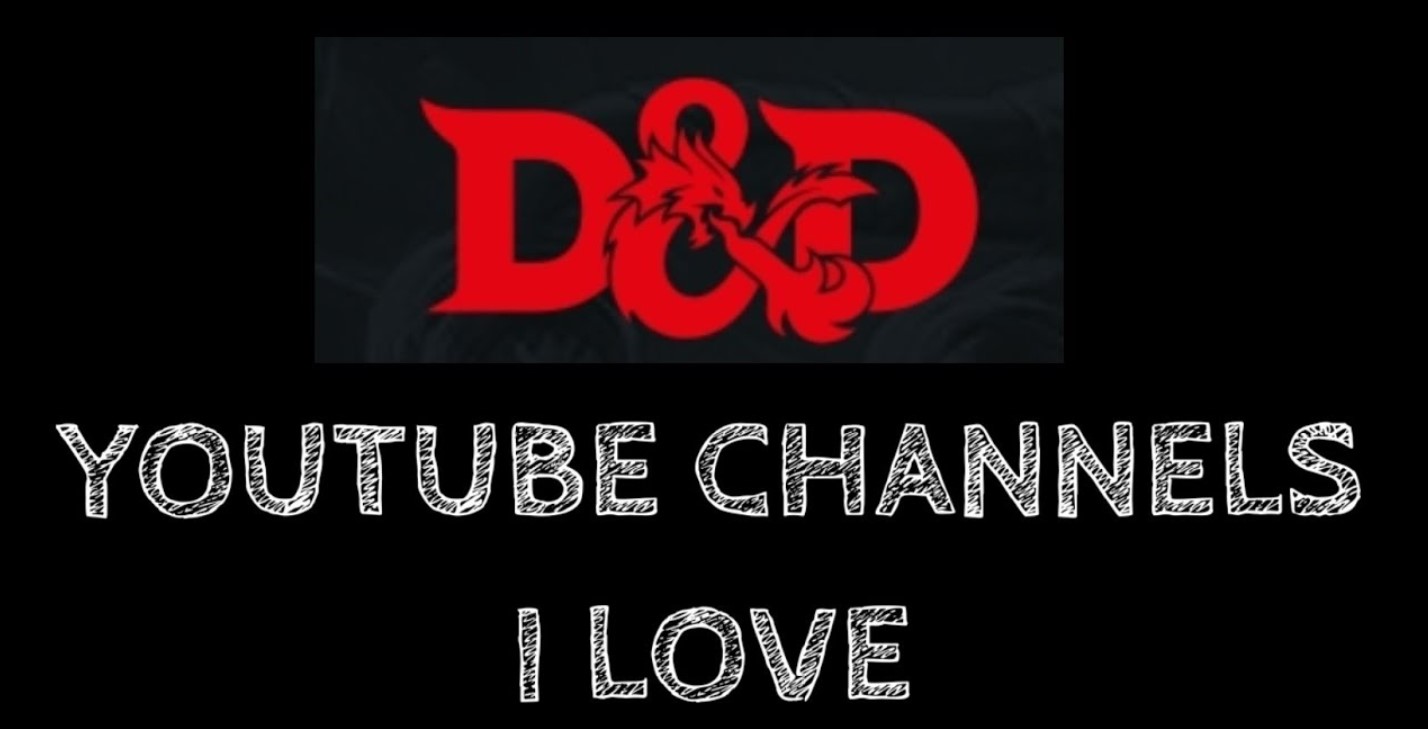 The logo for Dungeons and Dragons next to cool graphic words of 'YouTube Channels I Love'
D&D is such a loved game nowadays, everyone is playing it. Voice actors, friends, nerds, and even jocks. And now even YouTubers. Not only do YouTubers play it but now some YouTube channels are even based around it. Here are some of the best D&D YouTube channels to watch and why you should watch them. 
10. Dungeons and Dragons (Dndwizards)
https://www.youtube.com/@DNDWizards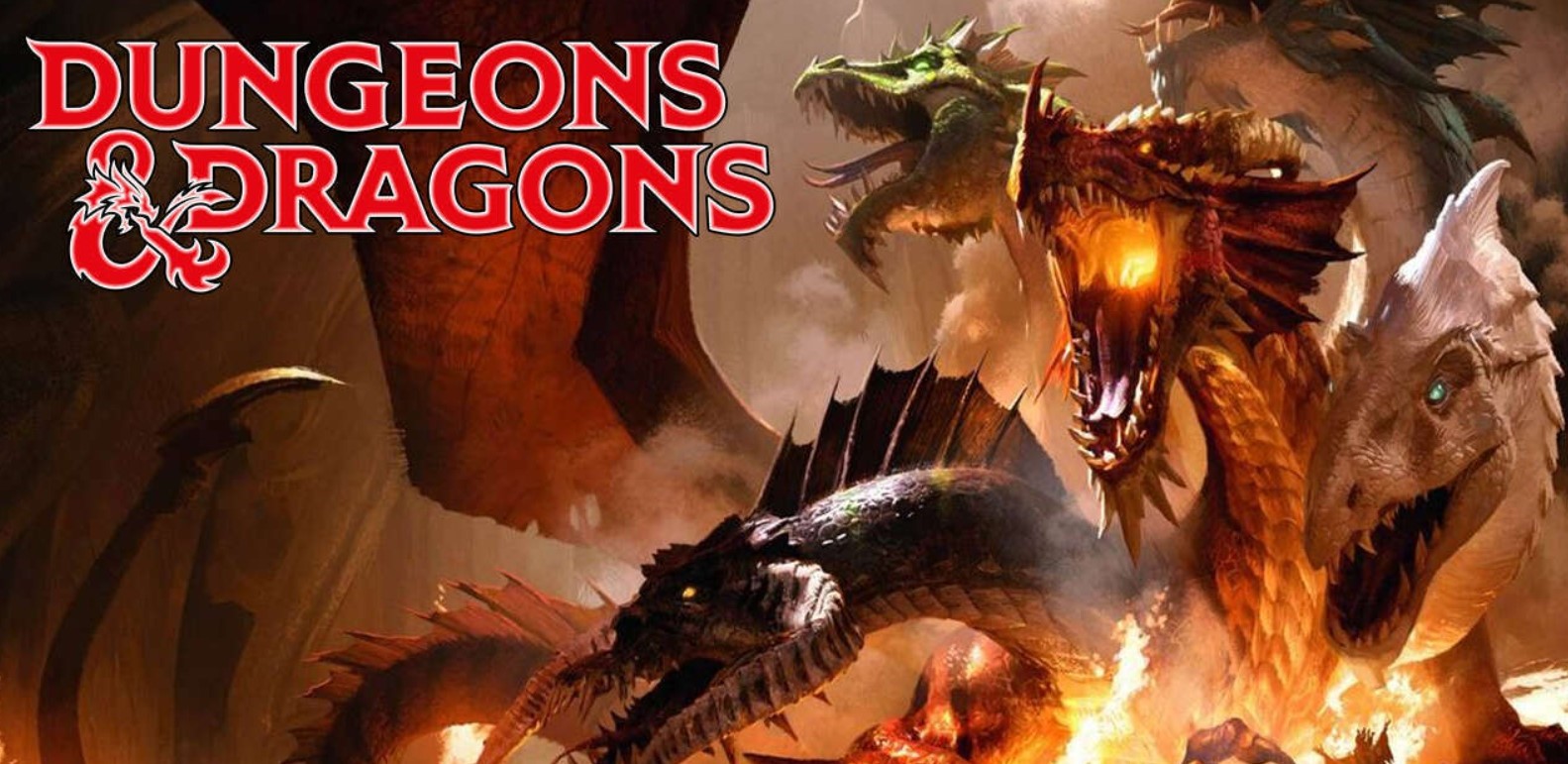 The original Dungeons & Dragons title with Tiamat, the god of Dragons in the background.
Need a good YouTube Channel with D&D info? Well, why not go straight to the source? Run by wizards of the coast (makers of D&D 5e and more) they'll keep you up to date. 
The channel gives you tips for learning about D&D and how to play it. As well as info on other popular YouTubers and creators who use D&D. Not to mention, new feats, skills, and many others and how they work when they, right when they come out. 
As I said before when starting with D&D why not go to the source? They have many options for you to choose from. From information to news to unboxings. And who says learning info about your favorite fantasy game can't be fun? Take a listen and get to know the newest and coolest things for your next session. 
Channel link: https://www.youtube.com/@DNDWizards/videos 
9. Puffin Forest
https://youtube.com/@puffinforest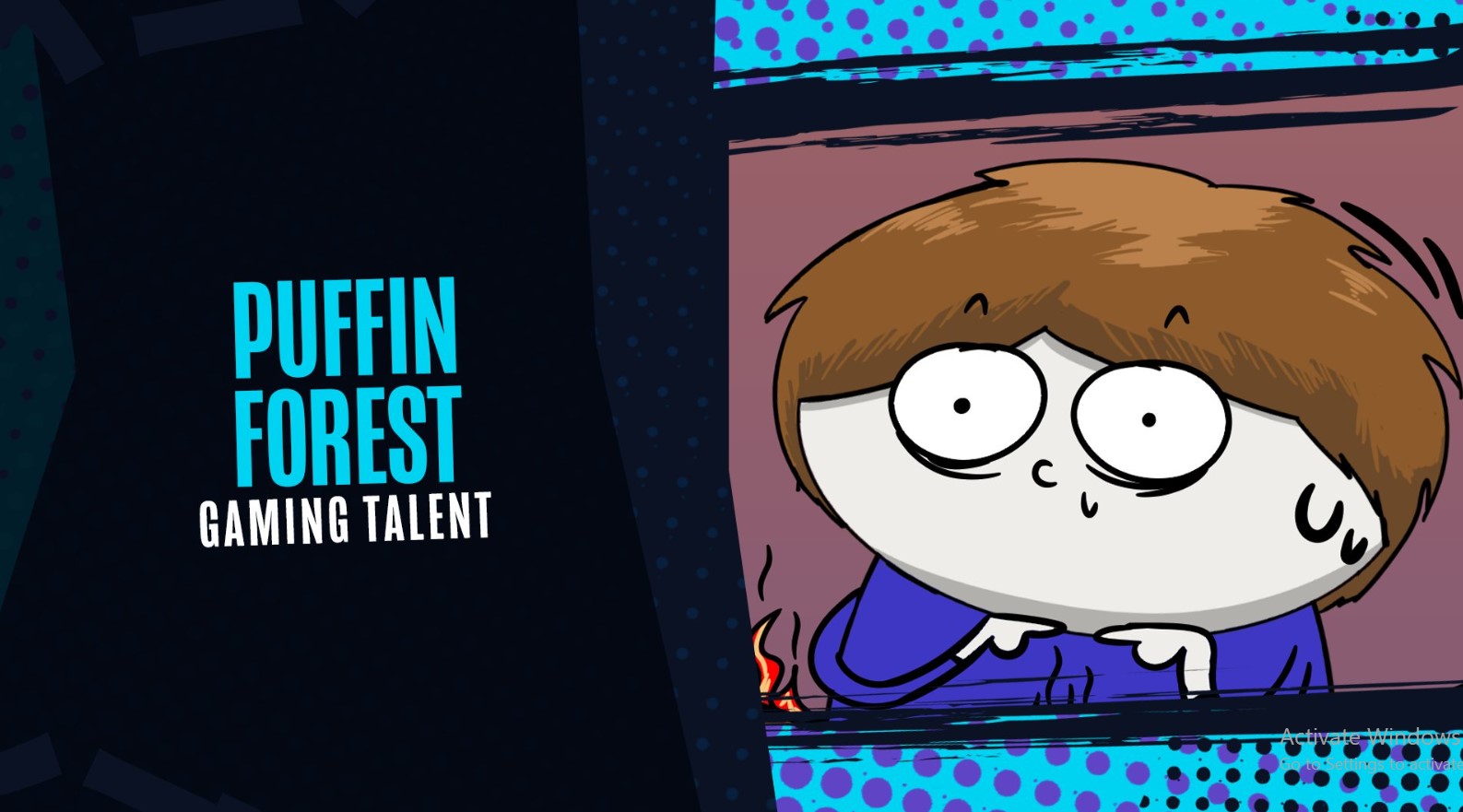 The creator of Puffin Forest's drawing of himself anxiously next to his name and title.
Don't be misled by the cruder art style this channel is hilarious. A channel set on telling different funny and interesting D&D stories that will help you get the newbies to get into it more. While still giving funny content that the kids experienced can relate to and laugh with. 
Puffin Forest is a YouTube channel that commonly focuses on telling cool D&D, and sometimes other TTRPG, stories that will entertain you. From testing a character with every single class multi-classed together, to DM stories about stupid or silly groups. Along with these stories they also have D&D sessions of their own and others discuss other popular D&D and Geek culture things. 
Having a down-to-earth voice telling these funny stories that even the narrator cracks up with sometimes when saying them helps you connect with the channel. Showing all different types of players and DM's and just the pure silliness that can come out of D&D. Or maybe stupidity sometimes. Either way, it's entertaining for us, so what else could we ask for?
Channel link: https://www.youtube.com/@puffinforest/videos 
8. One-Shot Quips
https://youtube.com/@OneShotQuips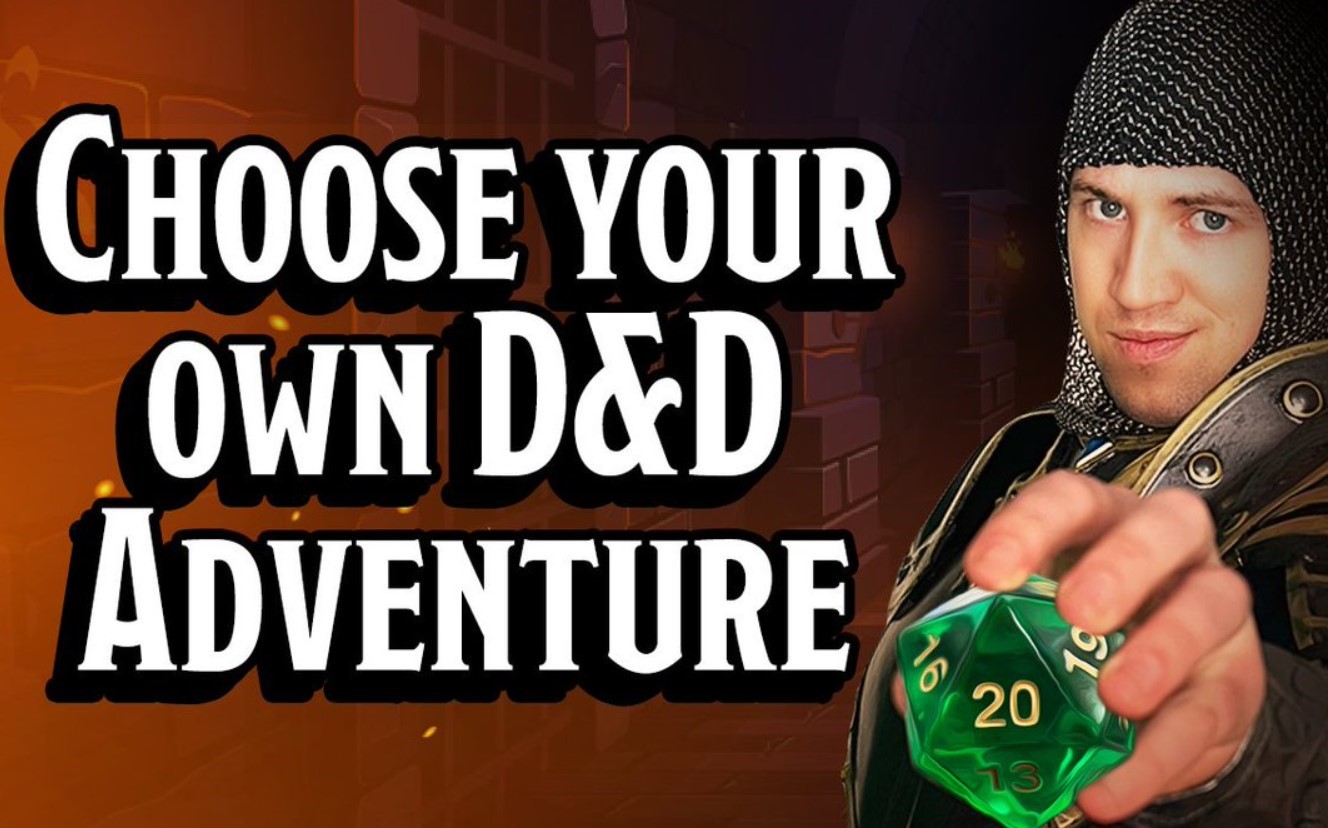 The YouTuber from OneShotQuips in armor holding a large D20 next to his title about a 'Choose Your Own D&D Adventure'.
If you like the idea of the last channel but don't know if you are ready to sit down for a long story. One-shot quips have got you. Short relatable videos with a funny guy to back it up. 
A channel of little shorts based around D&D things people in the fandom relate to. Whether it is stereotypes that people tend to have in the game or what type of player you are. This channel also does giveaways and donations to schools and places where they may not have enough money or resources to play D&D by themselves. And if that doesn't warm your heart they also love to support smaller D&D streamers while having them do silly things that make all of us laugh. 
These short little videos are good for a quick watch to make you chuckle without taking too much of your time. With a funny and maybe a slightly over-the-top creator and narrator it will be hard to not laugh. But it will be impossible to not relate to something there if you are a D&D nerd. 
Channel Link: https://www.youtube.com/@OneShotQuips/videos 
7. XP to Level 3
https://youtube.com/@XPtoLevel3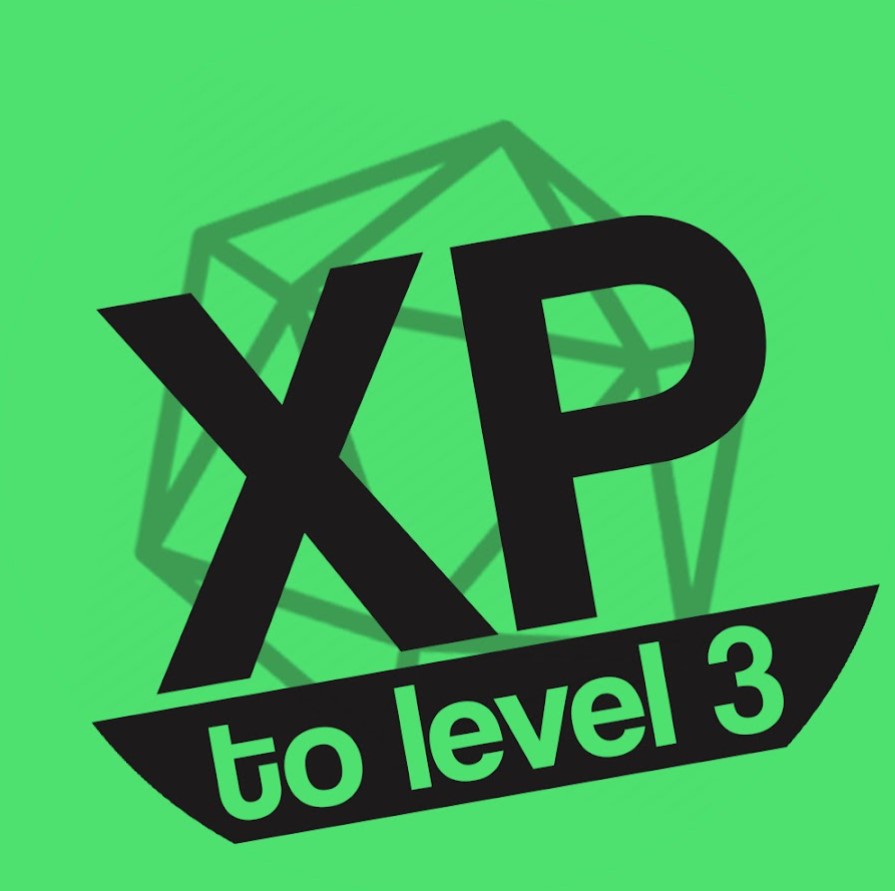 The channel icon for XP to level 3 with a large D20 DIce in the background.
Here is one for our seasoned D&D players. This channel is made by one guy, who loves to poke fun at common D&D things. From how people play a rouge to if someone played D&D like Skyrim. Funny things that we D&D geeks get.
This is another smaller video channel. They make skits on all different D&D things. From how different races are played to how people in real life would react to D&D things. You can also find commentary on new D&D add-ins on this channel. And they even have some tip videos for you. 
This channel is not only able to give some seasoned information but can also be SUPER funny. With his exaggerated expressions and true knowledge of all things D&D., It helps all of us D&D people have a place to relate to each other. 
Channel Link: https://www.youtube.com/@XPtoLevel3/videos 
6. Ginny Di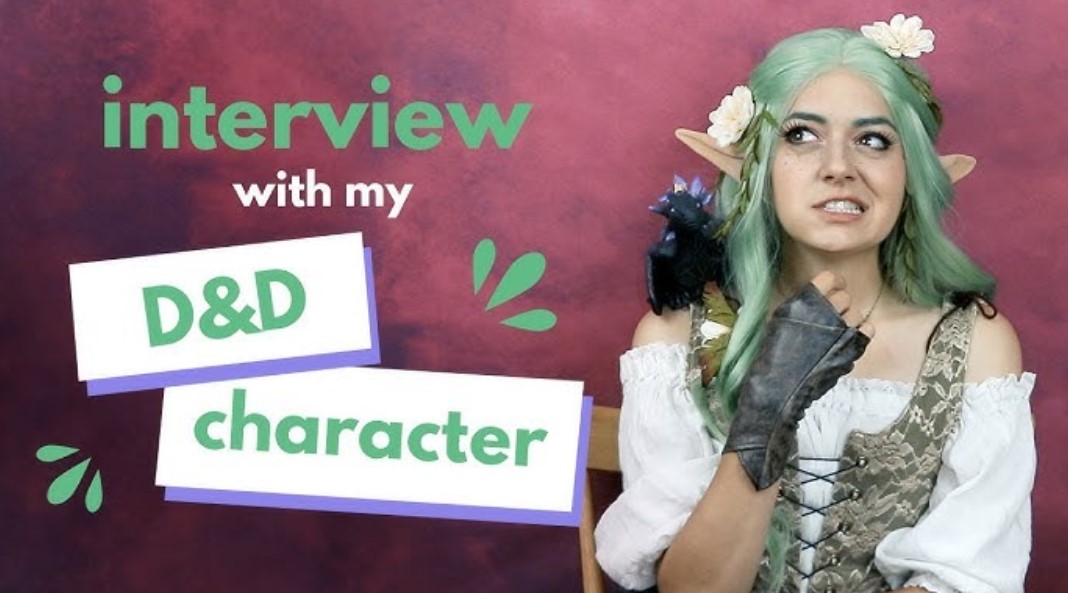 Ginny Di dressed as her D&D character Aisling, an elf, thinking about her interview questions.
In the past, it has been really hard to find females involved in a lot of Nerd and Geek culture. But I'm glad to say that has started to change a lot more nowadays. Here is an example. A good female representation on D&D that will give you some good content. 
From videos on how to make your characters more rounded to songs about D&D, this channel has it all. Roleplay and POV, tips for character building. Things to roleplay in the game, or maybe even use outside of the game if you. Even includes things for DM's like NPC'S you can use and what you would like out of your players. 
This channel gives you help with all your D&D gaming needs. With insightful fun commentary by a female geek herself. This channel can make you have a more fulfilling experience with your character or players.
Channel Link: https://www.youtube.com/@GinnyDi/videos 
5. Jocat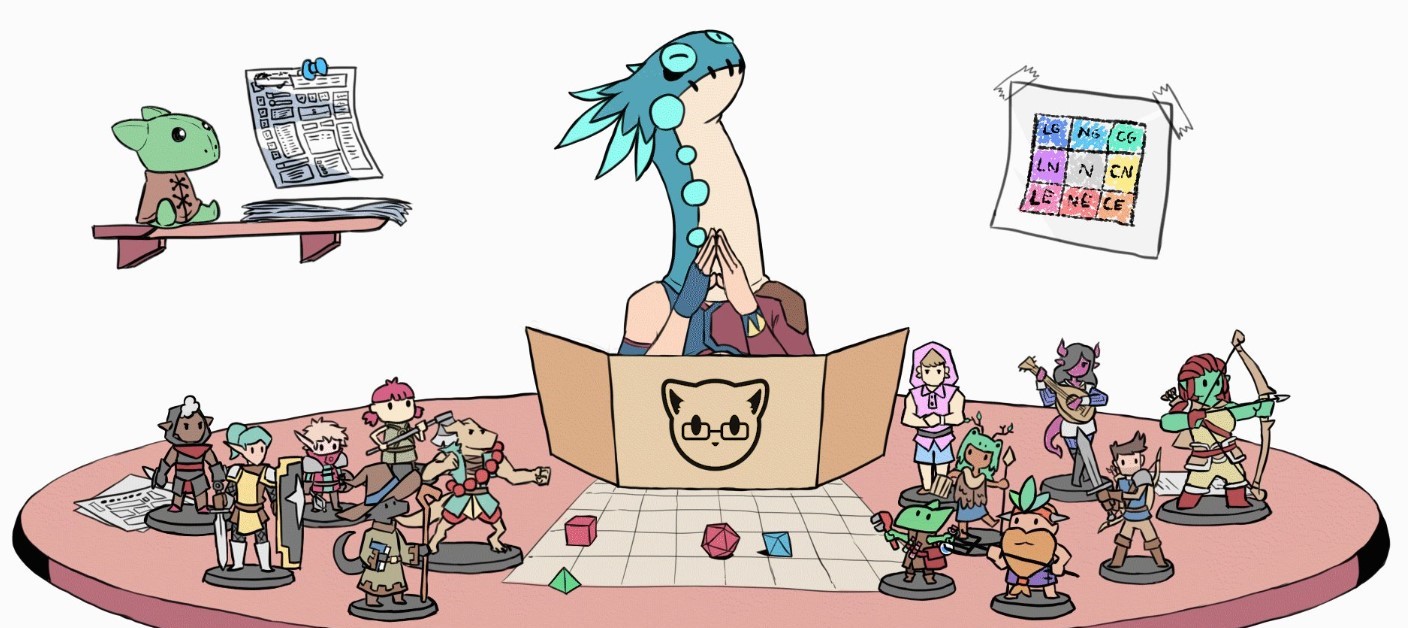 Jocat's Main Character in the 'Crap Guide to DnD' series behind a DM screen surrounded by a bunch of mini's and other objects from the different parts of the series.
Famous for his "Crap Guide to DnD" series this funny comedy-based YouTuber has a large center around D&D and geek culture. Not to mention his funny and insightful commentary on the game itself. Come have fun and don't take it all too seriously. 
This channel's funny comedy videos are based around him and his audience. And also has several sketch videos based around D&D things. One is his popular "Crap Guide to D&D" series, multiple videos on all the different classes, races, equipment, and roles in D&D. However he tells the info in a quick pace hilarious way that even noobs could understand. And when you are done with all that they also have their D&D game series if you want to sit in and watch the tips at play.
This channel is truly one of my favorites. Giving information in a way that doesn't even feel like learning makes me always wanna come back for more. Awesome animation in black and white and even color sometimes just ties it all into a neat bow. Trust me you won't regret checking him out. 
Channel Link: https://www.youtube.com/@JoCat/videos 
4. World of lo-loverse
https://youtube.com/@WorldofIo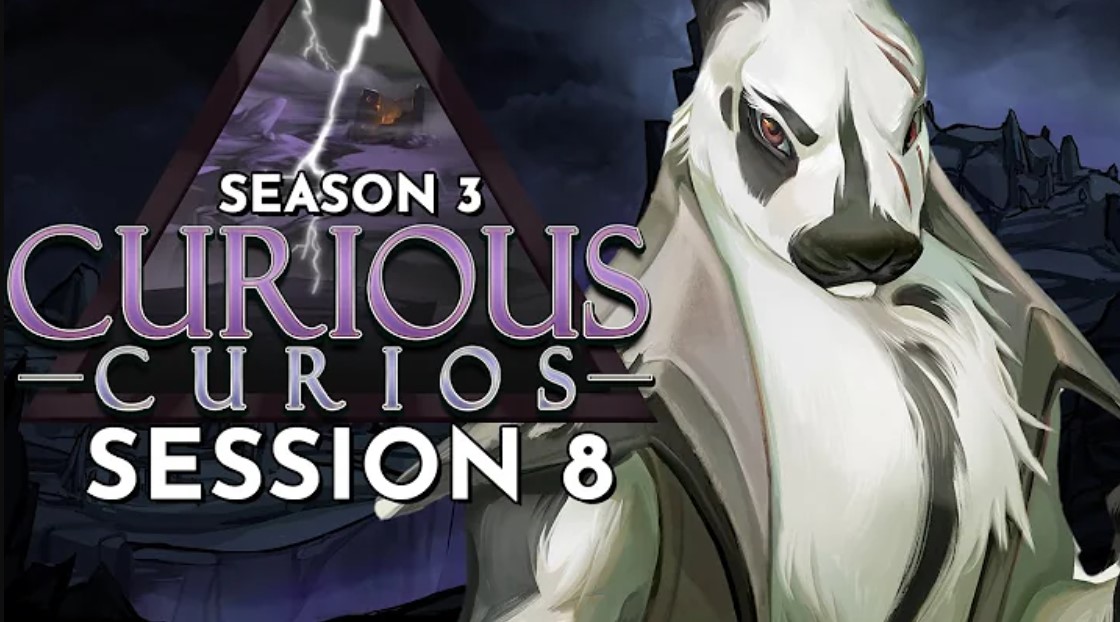 The tough Harengon character named Remo who is playing in the 8th session of the 3rd season of Curious Curious.
All of these options are great but if you're looking for a true group of people just playing D&D this channel can help. And this group of people can also get quite large so you get the perspective of multiple different players. Not just the amount that fits around a table. 
This channel has several different campaigns going on all for you to choose from. They even do crossovers of campaign groups to join your favorite characters together. Along with small animations of funny moments in the game. And it's all online! So if you have a group that is the same way you get recognition. And you also get to see everything happening, not just imagine it. 
Including cool intricate battle maps, that hold the players seeable to us at all times. And a funny group of friends playing just like you might look at home, you will get in and enjoy this group. And maybe even feel a part of the action.
Channel Link: https://www.youtube.com/@WorldofIo/videos 
3. Geek and Sundry 
https://www.youtube.com/@GeekandSundry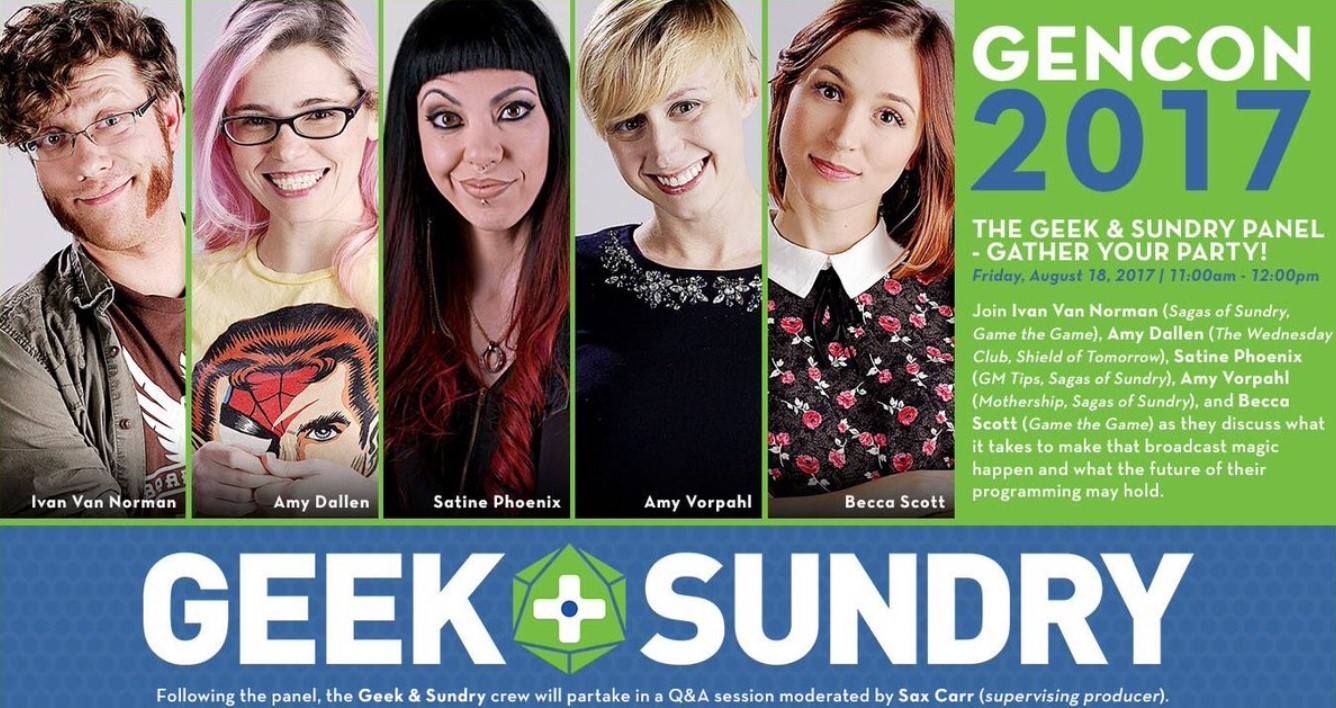 Several of the leaders in Geek and Sundry next to their gencon 2017 schedule.
Geek and Sundry is a large group-run D&D account that has some huge names. From famous voice actors, tv stars, and more. They will definitely have something you will be able to find interesting. 
From the first two seasons of Critical Role (explained more in the final channel on this list), to trying out the new D&D content, this channel has so much to offer. They have interviews on upcoming D&D media, all different versions of D&D. They even explore a whole bunch of other games, from board to other TTRPG. And their guests are amazing and from all over. 
A bunch of popular guests. Info and gaming examples of how to use new and existing D&D items. And of course, filmed D&D sessions. This is a great channel for a TTRPG lover. With enough content to fill your days with. 
Channel Link: https://www.youtube.com/@GeekandSundry/videos 
2. Dimension 20
https://www.youtube.com/@dimension20show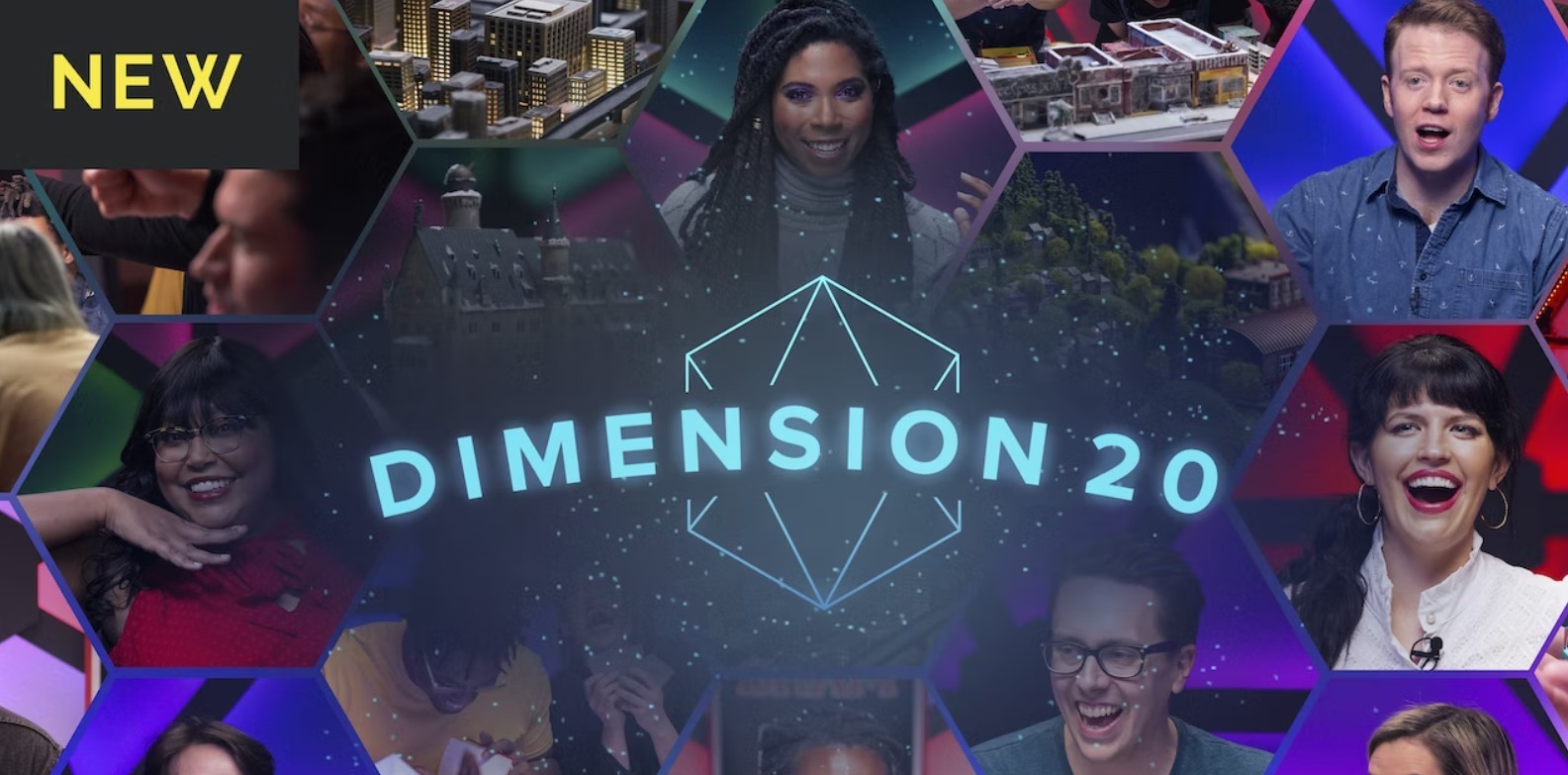 A large collection of the players and GM's of Dimension 20, showing screenshots of several different looks they have during their games, surrounding their logo.
Looking for a Youtube channel to watch some good D&D games. Well, look no further. Led by 2 of the best DM's on the internet, Dimension 20 does it all. With interesting characters, intense stories, and funny moments that will get you laughing. 
Dimension 20 is a D&D gameplay channel that includes one-shots, and full campaigns. All in different subjects from fantasy princes in a campaign to a group of villains from the underground finding people to kill. All with cool stories and amazing set pieces and lighting, to get you into the spirit of it. And if you aren't interested in the long videos they include shorts and small animated bits as well. Or even join them for the mini-auction and giveaway to gain some new pieces. 
The channel is an extremely fun and exciting deep dive into D&D and all the different ways it can be used. No more bland stories just about a group going on adventures. Come along with amazing characters, voice acting, set designs and so much more. 
Channel Link: https://www.youtube.com/@dimension20show/videos
1. Critical Role
https://www.youtube.com/@criticalrole
The cast of Critical Role surrounding their new table for their 3rd season of D&D, setting up for a game.
A bunch of famous voice actors all in one room playing D&D? Uh yes, please! This channel is a collection of multiple different D&D campaigns, with amazing stories and several different guests. Some of which you may recognize. 
"A bunch of needy ass voice actors sit around and play Dungeons and Dragons." That is the intro to the main 3 campaigns of this channel. This channel includes a group of people well-known in the geek community, along with several popular D&D friends who make a channel of D&D gameplay that is just amazing. The main cast features: 
Matt Mercer aka Levi Ackerman,
Travis Willingham aka Roy Mustang, 
Laura Bailey aka Jaina Proudmoore 
Marisha Ray aka Laura Arseid
Sam Riegel aka Phoenix Wright
Ashley Johnson aka Ellie for The Last of Us 
Liam O'Brien aka Jushiro Ukitake
Taliesin Jaffe aka Basil Hawkins
With such an amazing cast of some of our favorite voice actors you already know the show is great. Along with other high names in D&D (including several from Dimension 20), this show has so many people you will want to tune in for. And even if you don't know these people you will still stay tuned in for the amazing stories, made by some of the best DM's in the world. 
Channel Link: https://www.youtube.com/@criticalrole/videos 
Want More Geeky Content?:
[Top 5] D&D Best Beginner Classes That Are Fun To Play  
5 YouTubers All Gamers Should Subscribe To
90% Of Gamers Use Youtube To Discover New Games