[Top 3] Marvel Snap Best Agatha Decks And Why They're Good
Updated: 03 Mar 2023 11:01 pm
Agatha is a one-of-a-kind card in Marvel Snap that can play cards instead of you. She has some rules that she follows, and knowing these rules is necessary if you want to make a good Agatha deck.
She will always play herself if possible - which is why in nearly every Agatha deck Wave is being played. And once Agatha is out of your hand, you will be able to play the game again. 
A lot of Agatha decks are based around getting her out of your hand as soon as possible for the 14 power, and then proceeding to play the game manually after that. Keep in mind that all boosters that you get while she's in your deck are going to be Agatha boosters.
3.Agatha On Curve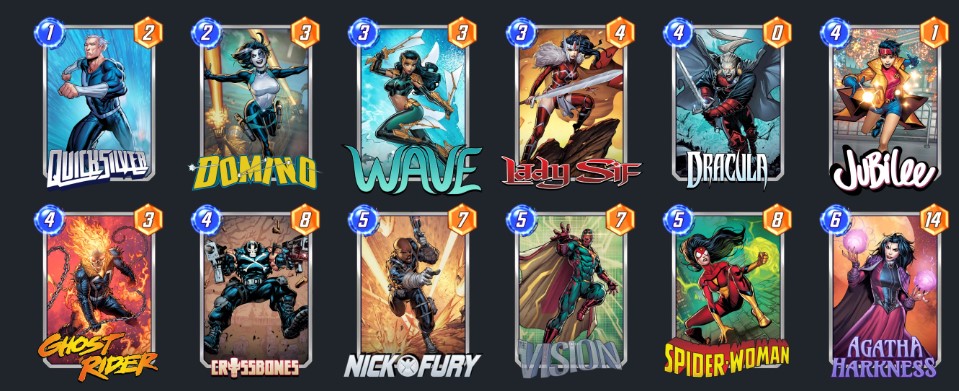 This deck tries to get the most out of Agatha's decision making in case you don't get to cheat her out early in the game. It gives Agatha options to play early on in the game with Quicksilver and Domino, and it also has other cards that are good at creating value each turn.
You have ways to get Agatha out of the hand earlier with Wave and Lady Sif. Obviously if you discard Agatha, you're gonna want to hope that you pull out Ghost Rider so that you get Agatha's Power on board.
What Is Great About This Deck:
Has ways of cheating out Agatha
Makes the most of Agatha's randomness by running generic cards that add a lot of value by themselves
It runs Quicksilver and Domino so that you don't miss out your first 2 turns
Cardlist:
Quicksilver
Domino
Wave
Lady Sif
Dracula
Jubilee
Ghost Rider
Crossbones
Nick Fury
Vision
Spider-Woman
Agatha Harkness
2.Zabu & Agatha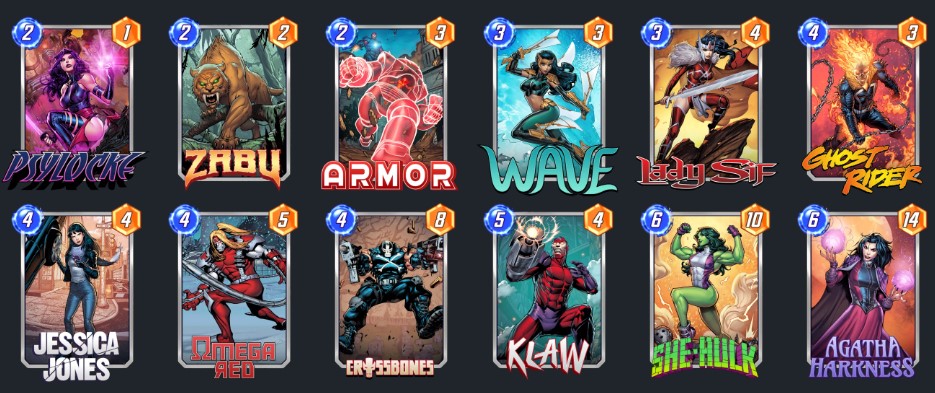 This deck focuses on playing Zabu early on and getting the value later with your 4-cost cards. Even Agatha that plays cards randomly can manage to get some good plays before the game ends since you're still getting good value with the cards you play.
You might want to switch some cards out since Klaw and She-Hulk are a little out of place in an Agatha deck, but the point of the deck still stays the same, you have options to discard Agatha and you also have strong cards that Agatha probably can't screw up too much.
What Is Great About This Deck:
It has a lot of strong cards that give you a lot of value
If you get Zabu in the opening hand, Agatha will be able to play a lot more cards
It has the standard ways of cheating out Agatha
Cardlist:
Psylocke
Zabu
Armor
Wave
Lady Sif
Ghost Rider
Jessica Jones
Omega Red
Crossbones
Klaw
She Hulk
Agatha Harkness
1.Discard Agatha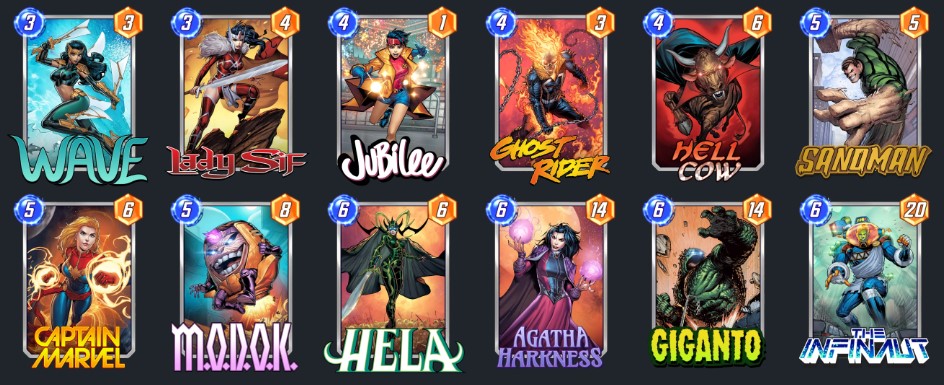 This deck fully focuses on Discarding Agatha and other strong cards and then bringing them back with Hela's effect. You only have to hope that you either pull out Wave or that one of your discard cards discards Agatha. Then you can play the game properly and get insane value from Hela.
Hela is obviously the centerpiece of the deck, but even if you don't draw her or she ends up discarded you can still get good value by using Ghost Rider's effect and playing one of your powerful 6-cost cards.
What Is Great About This Deck:
It focuses only on Discard so it's more consistent than the previous decks
It's better at getting Agatha out of your hand so that you can make optimal plays
If it works, it can bring out a lot of powerful cards quickly to finish up the game
Cardlist:
Wave
Lady Sif
Jubilee
Ghost Rider
Hell Cow
Sandman
Captain Marvel
MODOK
Hela
Agatha Harkness
Giganto
The Infinaut
You may also be interested in: