[Top 12] Nintendo Switch Online Games
Updated: 04 May 2023 9:37 pm
Retro fun awaits you (as long as you're willing to pay subscription fees)
The Nintendo Switch Online subscription service and its Expansion Pack allow players to explore select titles from Nintendo's rich catalog of classic games. Since its introduction the number of titles available has gradually expanded to over 100 games, and with only so much time in a day, which ones should you be sure to prioritize? Keep reading to uncover the 12 games you definitely need to play. 
12. WarioWare Inc.: Mega Microgame$! - 2003 (GBA)
WarioWare Inc.: Mega Microgames$! is one of the most recent additions to the Nintendo Switch Online library and it's a very unique entry to start off a list. Wario, the lazy and greedy counterpart to Nintendo's mascot, decides the path to riches lies in developing video games and he enlists his friends to create games for him. These games specifically take the form of "microgames," extremely short mini-games you only have a few seconds to complete, and their creativity and absurd humor are what make WarioWare worth trying out.  
There are over 200 microgames spread across 9 different stages and some examples of the simple tasks they command you to perform include cutting into a steak and sticking a finger up a nose. Completing one microgame after the other within their short time limits makes for pretty innovative gameplay and their sometimes peculiar subject matter leaves you wondering what you're gonna see next. The microgames also feature varying art styles that help contribute to WarioWare's distinctive vibe.
It takes focus to make it through a sequence of microgames because the more you complete the more they'll speed up. If you slip up too many times you'll be forced to start over. So despite their simplicity, microgames can definitely still test your reflexes and offer a unique challenge.
Fun factor: 84/100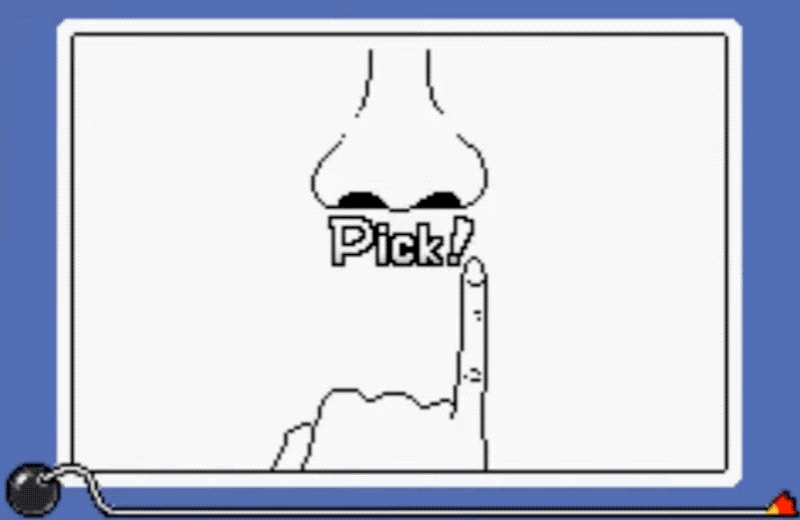 Yes, this really is one of the many WarioWare microgames!
11. Kirby Super Star - 1996 (SNES)
Kirby Super Star is composed of different platformer games and mini-games that'll have you going from chowing down in eating contests to quelling threats against Dream Land. The bright and colorful design of the Kirby world is on full display in each of these games and all of them combined make this title a great entry in the Kirby series. 
You'll come across a variety of stories and well-animated characters as you try out each game, some of which offer multiplayer gameplay. One highlight is The Great Cave Offensive where you guide Kirby on a treasure hunting expedition in a large cave and try to gain as many riches as you can.
During your expedition, you'll even discover a few Easter eggs from other Nintendo franchises. There's also a variety of ways to fight enemies on account of Kirby's trademark copy ability. By inhaling enemies you can take on their ability and perform their attacks, and it's fun exploring how many different abilities there are. In this particular Kirby entry, you can also use the copy ability to create cute little partners that will assist you in fights.
Fun factor: 85/100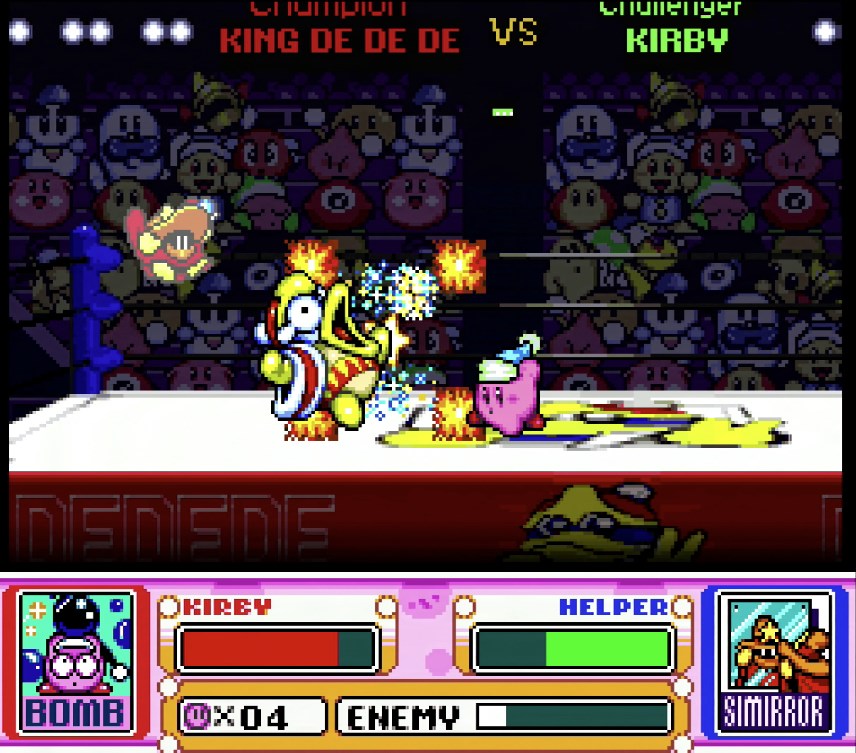 Kirby and a helper vs. King Dedede
10.  Star Fox 64 - 1997 (N64)
Star Fox 64 is a 3D rail shooter and the second game in the Star Fox series. As Fox McCloud, leader of the Star Fox crew of mercenary space pilots, you travel through a series of planets on a mission to defeat the evil Andross and ensure the safety of the Lylat System. In this title, you'll experience a lot of cinematic action in an interesting sci-fi setting.
You're quickly thrust into battle in the opening stage of Corneria, an area that is under attack from Andross. As your teammates fill you in on mission details, you'll pilot your Arwing spaceship to shoot at enemy spacecraft and dodge returning fire. At times the gameplay switches from rail-style action to an "all-range mode" that allows you to fly around freely in dogfights against bosses.
There are multiple level paths you can take on your way to reaching the final boss battle against Andross. This also means that there are multiple endings depending on which stages you complete. You're thus challenged to return to earlier areas of the game if you end up beating what isn't actually the true final boss…
Fun factor score: 86/100
6. Super Mario 64 - 1996 (N64)
In the first 3D entry of the Super Mario series, Bowser takes over Princess Peach's castle by stealing its Power Stars and it's up to Mario to get them back. Only by recovering enough of them can Mario go up against Bowser and eventually free Peach and the castle's Toads from his thrall. 
Super Mario 64 introduces the gameplay format that's been standard in mainline 3D Mario games ever since. You're tasked with collecting star items across levels divided into different missions and you'll need to perform feats like wall jumps and ground pounds to successfully navigate your environment. You'll also come across the early 3D designs of many familiar Mario enemies and characters.  
The gameplay of SM64 emphasizes movement and open exploration. You have the freedom to roam about and find power stars in a nonlinear order, and with stars in locations like the watery depths of a sunken ship and the interior of a volcano, there's great variety in the areas you can explore. Along the way you can also unlock power ups that grant you special abilities, such as that of flight!
Fun factor score: 89/100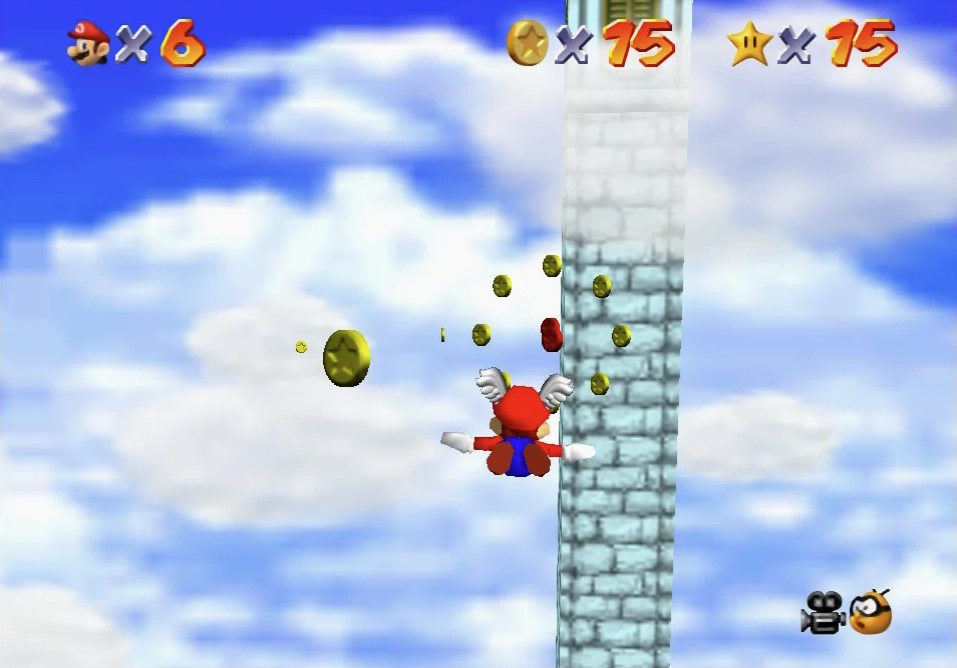 Mario takes to the skies
5. Super Mario World - 1991 (SNES)
The 1991 platformer is the 4th in the Mario series and marks the introduction of Mario's dinosaur friend Yoshi. In this entry, Mario must travel through seven worlds to take down Bowser and the Koopalings after they've kidnapped both Princess Peach and Yoshi's friends. 
This colorful game features Mario platforming at its best. It contains many diverse levels that take you from caves to haunted houses, and it's filled with secrets that encourage you to keep replaying to uncover as many as you can. There are even two hidden eighth and ninth worlds with levels that I guarantee will test your skills (and your patience!).
The addition of Yoshi adds a new layer of fun to the traditional Mario platforming experience. It's satisfying to gobble up enemies and he can function as an extra buffer against damage. And if it doesn't bother you too much, you can sacrifice your Yoshi to the depths of a pit to extend the length of a jump.
Fun factor score: 89/100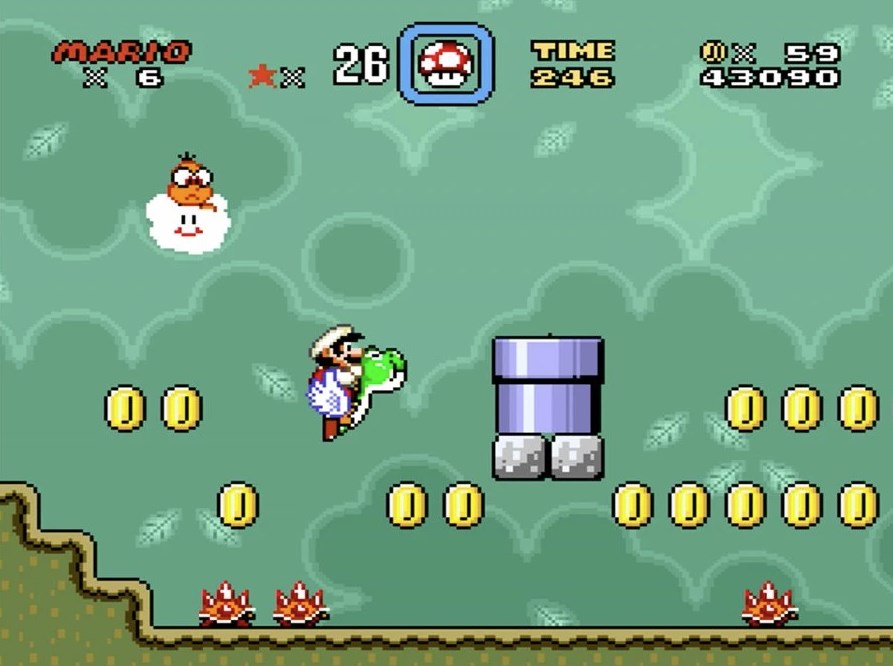 Yoshi can fly if he eats a blue shell
4. Super Metroid - 1994 (SNES)
In this renowned 2D side-scroller, space bounty hunter Samus hands off the last of the dangerous Metroid aliens to researchers only for them to be attacked by the monstrous alien Ridley, leader of the space pirates. They steal the Metroid and Samus heads to the planet Zebes in pursuit of Ridley and the Metroid. 
Super Metroid lets you embark on a sci-fi adventure filled with combat and open-ended exploration. You arrive on the surface of Zebes with only your ship and yourself, and it's up to you to figure out how you want to progress through the planet. The atmospheric environments you travel through combined with an at-times suspenseful soundtrack create a truly immersive experience in an alien world. 
As you progress, you gain new abilities that increase the range of actions Samus can perform and enable you to access new areas. You become capable of shooting missiles and you can acquire a grappling beam upgrade that allows you to swing across long distances. There's a high sense of reward as you gradually upgrade Samus's power suit and become faster and stronger. 
Fun factor score: 90/100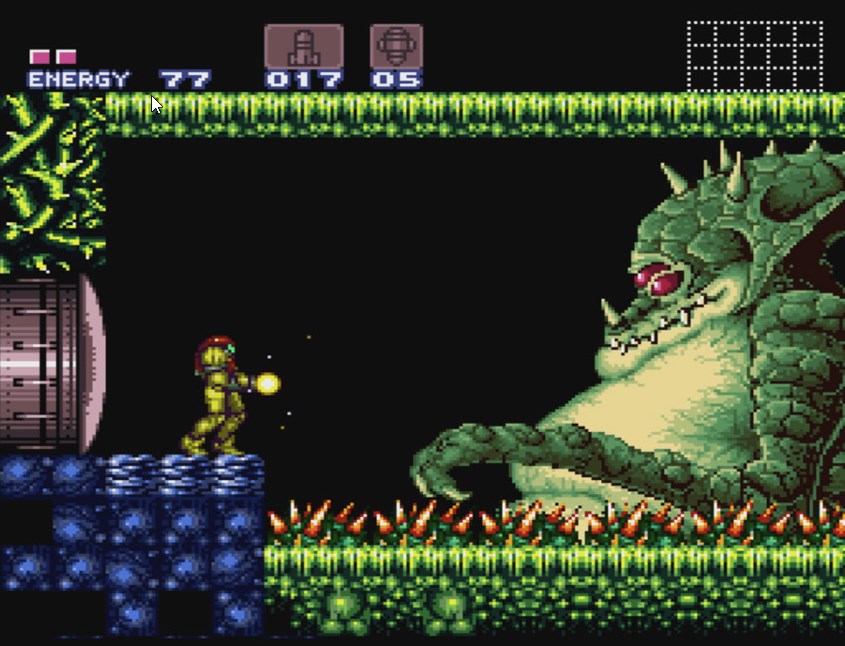 Samus approaches Kraid, a boss so big it can't fit in the screen
3. Earthbound - 1995 (SNES)
Earthbound is a SNES-era RPG and it's the second entry in the Mother series. You take on the role of Ness, a young psychic who learns he must embark on a journey to team up with three other youths to defeat the malevolent alien force Giygas. 
With its quirky and imaginative dialogue, creatures, and settings, Earthbound really stands out as a unique and whimsical game. You guide Ness and his friends through a series of memorable locations such as a cultist village and a cavern full of talking monkeys, and you get to battle equally memorable enemies, like piles of barf and googly-eyed walking nooses. The adventure culminates in an unsettling final boss fight against Giygas, whose weakening is signaled by your screen erupting into static. 
While otherwise similar to typical RPGs, the battle system in Earthbound features a unique mechanic where your HP "rolls" up or down like slots on a slot machine, which gives you time to heal up during a turn even if a character's been dealt a fatal blow. The length of the game also allows you to really see the growth of your party in their stats and abilities. As you level up you increase your stats and unlock more powerful psychic attacks to use in battle, and with plenty of battling to do across your long journey, you truly feel unstoppable by the end stages of the game. 
Fun factor score: 90/100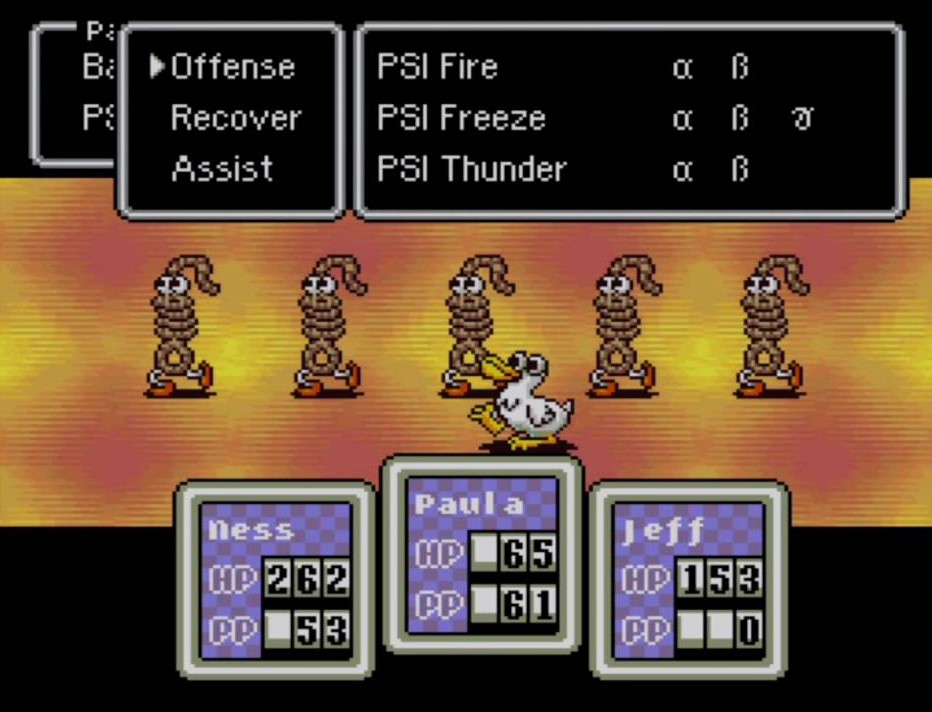 I'm not kidding about these enemies!
2. The Legend of Zelda: Ocarina of Time - 1998 (N64)
With its fun gameplay, engaging storyline, and iconic music, Ocarina of Time is a wonderfully crafted game that offers much to see and do. Over the course of your journey you'll defeat all manner of monsters, learn ocarina melodies, explore dungeons and temples, use magic, plunge to the bottom of a massive lake, capture ghosts in bottles, accidentally become engaged to a princess (!), and accomplish plenty more. Additionally, side quests and numerous collectibles will encourage you to explore every nook and cranny of Hyrule. 
One of the most unique elements of the game is, of course, the Ocarina of Time itself. Playing a certain melody on it grants you the power to go between the present and future, which changes Link's form from child to adult. Using the ocarina to time travel is vital for saving Hyrule and this mechanic lets you see how different areas in Hyrule change for the worse after Ganondorf's takeover.
Fun factor score: 95/100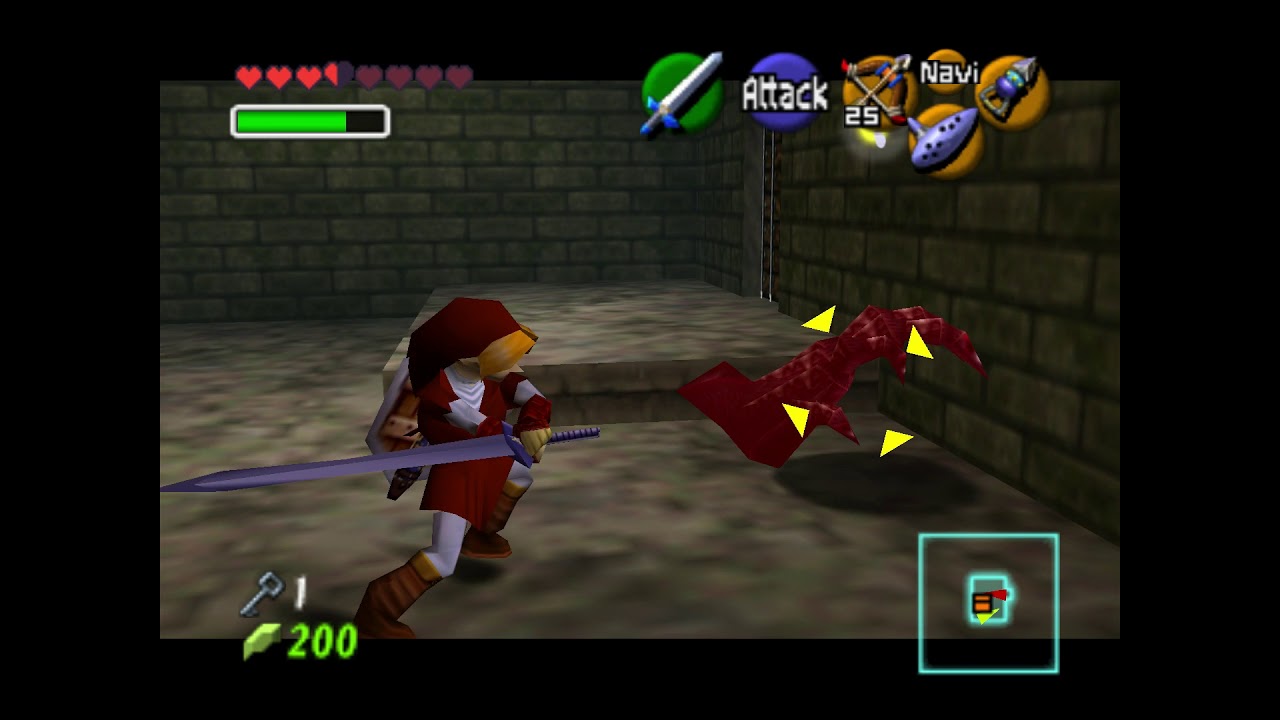 Be on the lookout for disembodied hands hiding in certain dungeons
1. The Legend of Zelda: Majora's Mask - 2001 (N64)
Majora's Mask is the direct sequel to Ocarina of Time and it reuses assets and gameplay mechanics of its predecessor to create a new and distinctly darker adventure. After the events of Ocarina of Time, a new foe sets the moon on course to crash into the land of Termina and Link must prevent the world's destruction by reliving the same 3-day cycle prior to the world's end. It's an incredibly unique game because of this gameplay mechanic and its themes, and it thus makes it to the number one spot on this list.
Central to Majora's Mask is how Link can play the Song of Healing on his ocarina to help the souls of fallen beings pass on and thereby gain masks that transform him upon wearing. There are three different races of humanoids the masks can transform Link into and each have their own unique abilities; Deku Link can float in the air, Goron Link can roll across terrain at great speed, and Zora Link can zip about underwater. Switching between forms is essential as you make your way through dungeons in different areas.
While Majora's Mask's time limit creates some pressure, it also offers a unique style of gameplay that provides a special kind of immersion in Termina's world. As you repeatedly reset the 3-day cycle, you get to familiarize yourself with the inhabitants of Termina and observe how different characters cope with the end of the world. And with only so much time to assist others with their problems, the game questions the limitations of a hero–is it really possible to save everybody from their respective fates?
Fun factor score: 96/100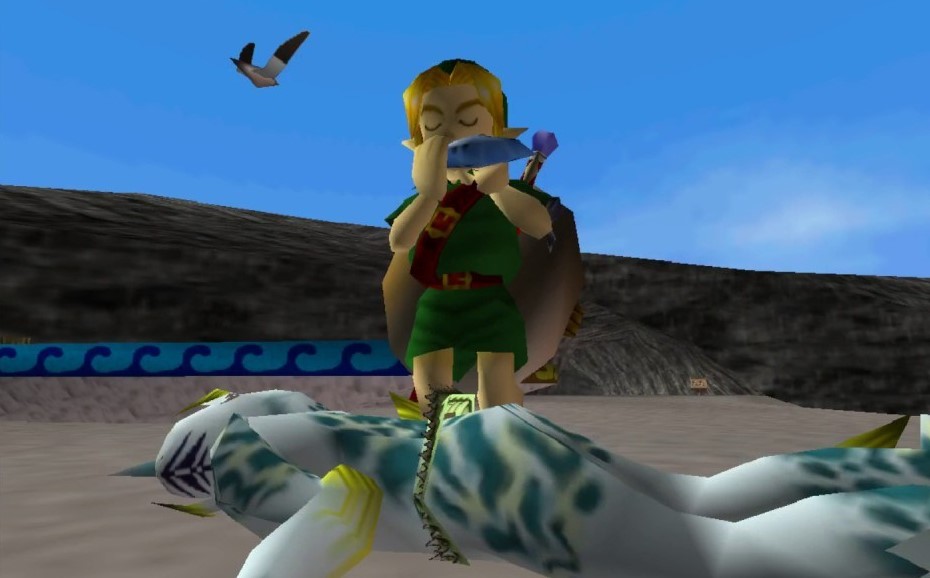 Link performs the Song of Healing to help a dying Zora...yes, this game gets dark
You may also be interested in: