ACNH: How To Buy Turnips
Updated: 08 Mar 2022 8:24 am
I didn't think a pig with a snotty nose could be so cute.
Daisy Mae is ready to take all of your hard-earned bells for a few bundles of turnips.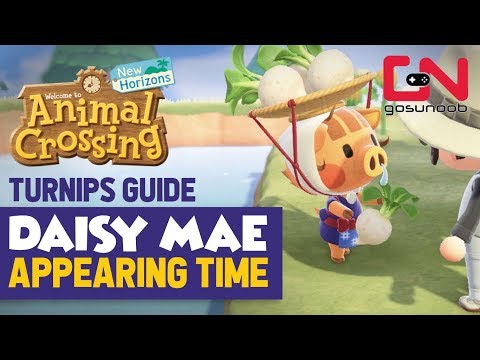 How to buy turnips in Animal Crossing: New Horizons
There are many ways to earn Bells in Animal Crossing: New Horizons. Players are able to sell fish, furniture, weeds, fruit, bugs, resources, and even garbage. While players can earn enough Bells to pay off their early loans and buy a couple of items, there is a way to make a significant amount of Bells relatively easily. Turnips! Turnips function as a kind of in-game stock market, and it's undoubtedly the best way to earn millions of Bells at a time. Want in? See how you can buy turnips below. 
How To Buy Turnips In ACNH: 
You won't be able to purchase turnips until your Nook's Cranny is upgraded. Once that is done, you will receive weekly visits from a congested pig named Daisy Mae. She is the granddaughter of Sow Joans (a play on "Dow Jones",) in previous Animal Crossing games. 
Daisy Mae only comes on Sunday mornings between the hours of 5 a.m. and 12 p.m. You can either time travel to Sunday morning, or wait for Sunday to come. 
Daisy Mae won't be in the plaza on Sunday morning. She can go anywhere on your island, so finding her may take some time. 
Once you spot her, approach her and initiate a conversation. She'll introduce herself and ask if you'd like to buy turnips. The prices range anywhere from 50 Bells to 150 Bells. Don't worry, you'll be able to sell these for a lot more. 
Let her know how many turnips you'd like, and she'll give them to you on the spot. There is no limit to how many turnips you can buy. The only thing you're limited by is the amount of Bells you have! Remember to purchase enough, because Daisy Mae won't be back until the following Sunday.
You May Also Be Interested In: