[Top 10] Animal Crossing New Horizons Best Bugs
Updated: 05 Aug 2023 9:39 am
Get you nets ready for action!
Bug haters beware! These winged critters and creepy- crawlies with pincers will send chills throughout you. It's worth it though, as a handful of them are worth a massive sum of Bells. It definitely requires some hunting and dedication. The money reward and rush with finding them will leave you feeling accomplished! 
1. Queen Alexandra's Birdwing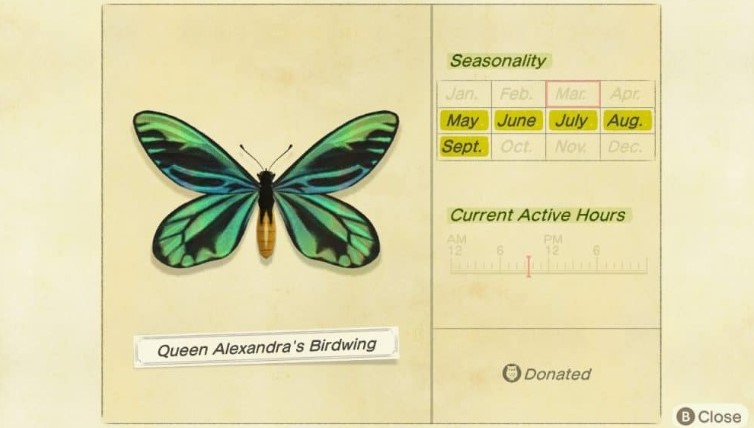 Pictured is the fabulous Queen Alexandra's Birdwing
Bow down to Queen Alexandra's Birdwing. This butterfly is much larger than standard ones. Its wings are dressed with shades of greens and a hint of blue. They can be found on your home island as well as any other island. 
Bell Worth and Donation:
This beauty sells for 4,000 Bells at Nook's Cranny 
It can be sold to Flick for 6,000 Bells
Donated it to Blathers at the museum for display
Earn a stamp for it in your Critterpedia Book
Location and Time:
It can only be found between the hours of 8am and 4pm 
Northern Hemisphere: May- September 
Southern Hemisphere: November- March 
2. Agrias Butterfly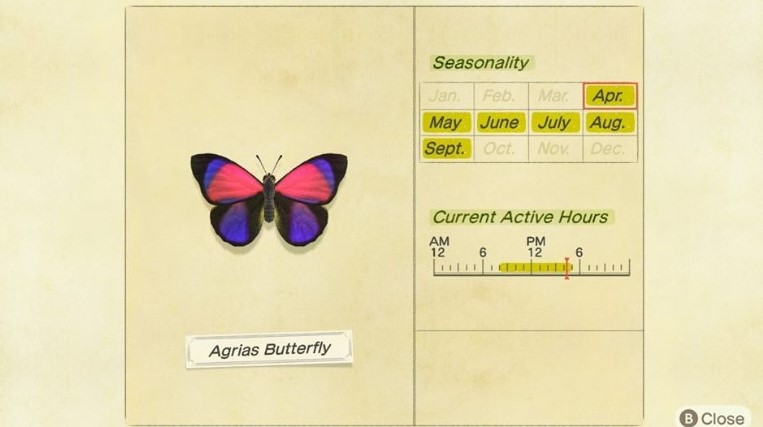 Whip out that net when you've spotted the lovely Agrias Butterfly
Agrias Butterfly will be hovering quietly amongst an island. Wonderful wings of dark purple and pink cover its wings. If you're in need of quick cash, be on the look out for this insect. Agrias will fill your pockets with some spending loot. 
Bell Worth and Donation:
3,000 Bells are rewarded for its capture at Nooks Cranny
Flick will buy it for 4,500 Bells
Donation to Blathers will add its spot in Critterpedia
Location and Time:
The Agrias Butterflies peak hours are from 8am to 5pm 
Find it from April- September on Northern time
Southern Hemisphere time it can be caught November- March
3. Atlas Moth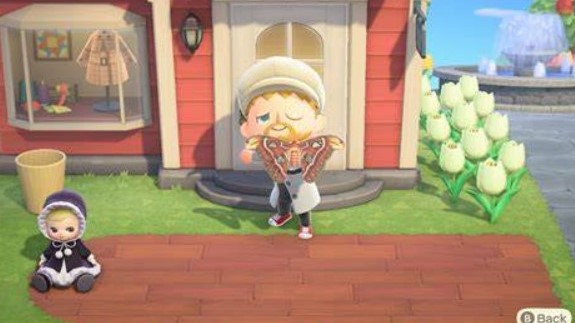 You can see the Atlas Moths humongous wingspan from a mile away
You can't miss this massive creature. It's found resting on trees in the late evening to early morning. Its colors consist of browns, oranges, and reds. It has real neat shapes and patterns layered on its wings and body. 
Bell Worth and Donation:
Sell it to Nooks Cranny for 3,000 Bells
The reward is 4,500 Bells when given to Flick
A spot in Critterpedia is ticked off when donated to the museum
Time and Location:
Find this fella from the late hour of 7pm to 4am
Northern Hemisphere availability is April- September 
Southern Hemisphere months are October- March
4. Orchid Mantis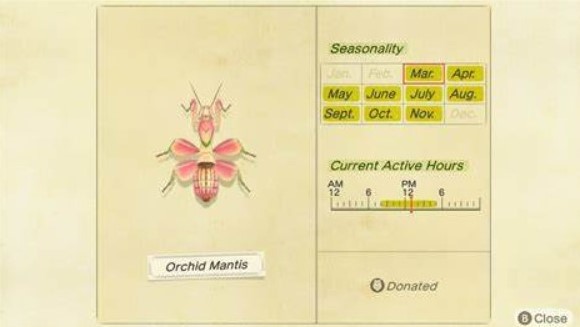 Gently approach the delicate, flower perching, Orchid Mantis
This sweet animal is a little more difficult to spot. It lurks on white flowers when the sun is out. Its body is light pink with tan tones. It's easy to miss as it sways along with the flowers. It has to be snuck up on and will disappear if approached too quickly. 
Bell Worth and Donation:
This little lady takes you home with 2,400 Bells from the shop
Flick will be happy to exchange 3,600 bright Bells for it
Blathers will be pleased to put it on display in the museum 
Adds a spot in your Critterpedia Book
Time and Location:
She can be spotted anytime from 8am- 5pm daily
March to November are its peak months for the Northern World
September to May are its breeding months for the Southern World
5. Wasp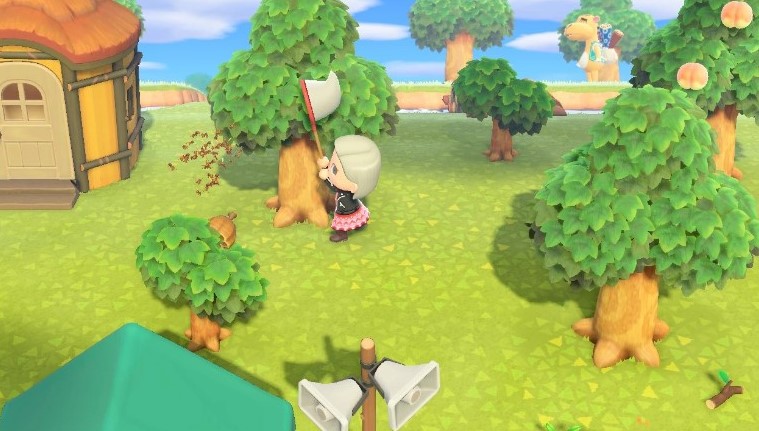 Eek! Capture the stinging wasps before they release their wrath on you!
These nasty little fellows occupy hives that fall out of trees after shaking them. They swarm in groups and attack your character leaving a swollen eye. Have your net on hand because they're actually worth a decent amount of coins!
Bell Worth and Donation:
2,500 Bells are placed in your pocket when cashed in at Nook's Cranny
A whopping 3,750 Bells are gifted to you when brought to Flick
They earn a spot in your Book of Critters 
Blathers reluctantly cages them up in the museum 
Time and Location:
These buddies lounge around all year round
Anytime of the day they can be discovered 
Shake random trees and prepare to capture them
6. Scarab Beetle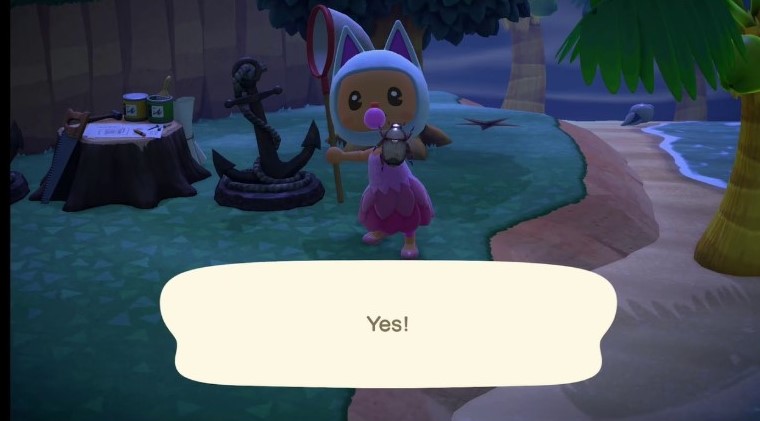 Night owls will rejoice when they feast their eyes upon the Scarab Beetle!
Six legs and a hard, silver shell clothe the Scarab Beetle. It is one of the most rare bugs in Animal Crossing. Luck is your only friend when searching for this little guy. Sometimes, it can take hours of searching until it randomly spawns. If spotted, it will be latched onto a tree and must be approached with caution. 
Bell Worth and Donation:
10,000 Bells will rain over you after selling it to Nooks Cranny
Flick will rejoice and place 15,000 Bells into your hands
Blathers has a special spot for it in the museum
Critterpedia will add it to your bug book
Time and Location:
Can be found late to early hours of 11pm- 8pm 
Southern Hemisphere Residents have January- February to find it
Northern Hemispheres seeking months are July- August
7. Golden Stag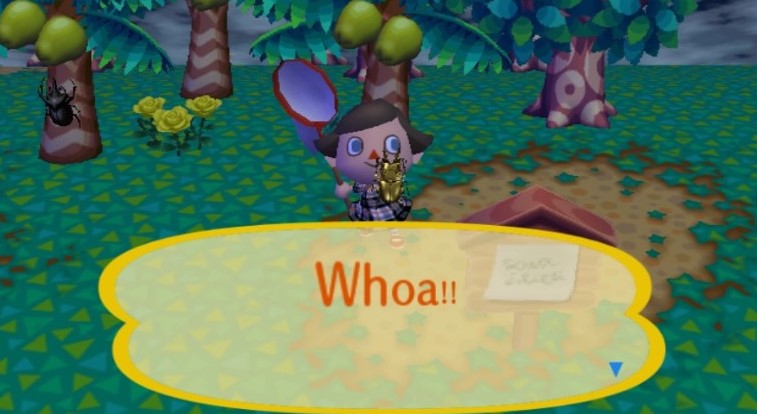 The Golden Stag only comes out once in a moon, so keep an eye wide open
The glimmering, golden shelled Stag is another extremely rare treasure. It's one of the highest paying insects when found and sold. They only form on coconut trees and scare quite easily. Once spotted, don't get too excited. Slowly make your way to sneak up on the golden god, or else you might not see it again for months. 
Bell Worth and Donation
Nook's Cranny swaps you 12,000 Bells for this little dude
Flick will cash it out for 18,000 Bells
Donate it to Blathers for a main spot in the museum
Happily cross it off from you Critterpedia app
Time and Location:
5pm to 8am are the hours you might come across a chance to capture him
Find it from July to August if you live on the Northern Hemisphere
From January to February, the Southern Hemisphere has a chance to hunt for it
8. Horned Hercules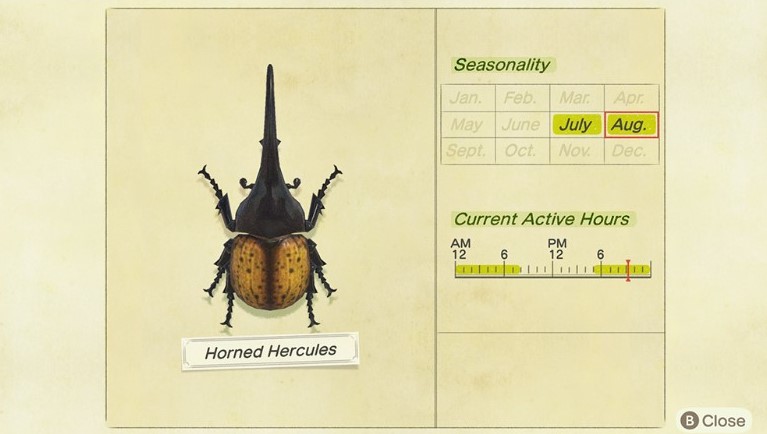 Nets out! The Horned Hercules is worth more than he looks
Horned Hercules looks exactly as it sounds: large yellow body structure with a black horn stemming from his head. This big bug luxuriates on the coconut trees. This makes it a little easier to search for as you can skim the beaches up and down versus a whole island. Big bucks and bragging rights are the rewards for Hercules capture. 
Bell Worth and Donation:
This horned treasure will get you 12,000 Bells over at Nook's Cranny
Flick will pick it up off you for a sum of 18,000 bucks. 
Blathers has a special spot for this guy when donated to the museum
Critterpedia proudly places a spot for him in your book
Time and Location:
Evening to morning hours of 5pm- 8am are this bugs spawning hours
If living on the Southern Hemisphere, January and February are your hunting hours
July and August are the two possible months to locate the insect
9. Tarantula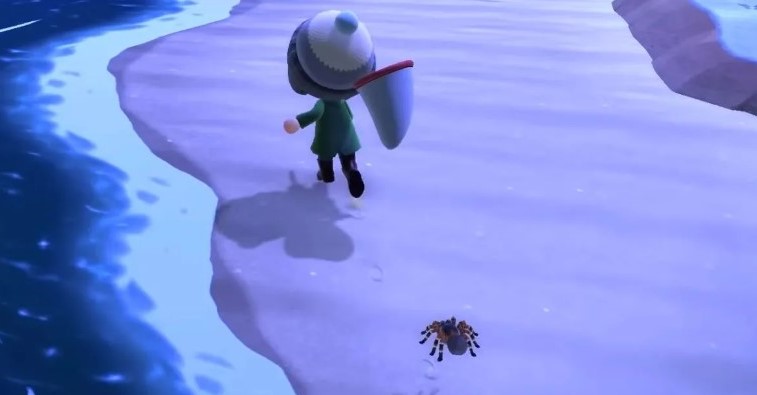 Slip on your best shoes as you hunt for the mighty Tarantula! 
Hairy, quick, and furious! Tarantulas are a cool arachnid to come in contact with. Only lurking at night time, they can't be missed scurrying amongst the island ground. Tarantulas are a bit tedious to catch and will bite you if not appropriately approached. Tip-toeing towards it, he will raise his legs. Once all eight legs are on the floor again, pounce away! He won't be a happy victim, but at least you will be!
Bell Worth and Donation:
Timmy and Tommy offer a nice 8,000 Bells for this fuzzy beast
Tarantulas can be vended to Flick in exchange for 12,000 Bells
Cage this bad boy up for display at the museum
Critterpedia has a special spot for his picture to be viewed
Time and Location:
Tarantulas will be crawling on island from 7pm- 4pm
November to April are the key months for search in the Northern Hemisphere
May to October is the time for Southern Hemisphere residents to seek these crawlies out
10. Scorpion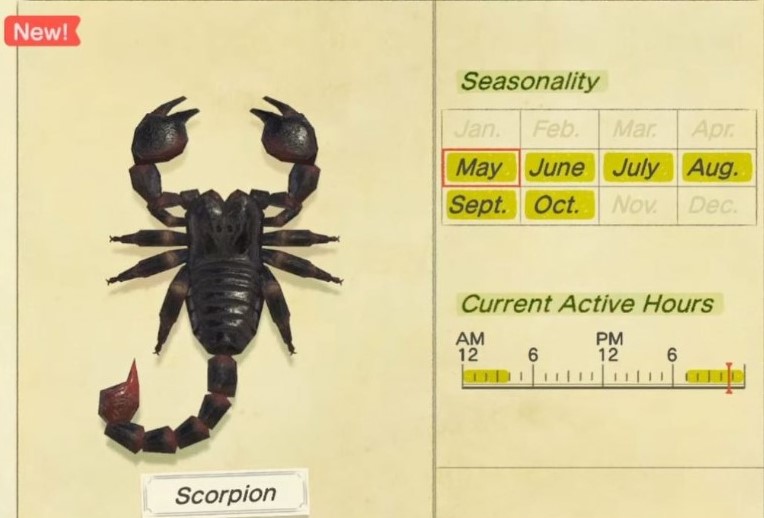 When the sun goes down, the Scorpions come out to play!
Just like our friend the Tarantula, Scorpions are brisk and clever Arthropods. If you're exploring during dark hours, be vigilant as there's a possibility one could be scurrying through the grass. If not carefully and slowly snuck upon, they will sting you resulting in a character black out. Walk up at a slow pace with your net in hand and ready for action! 
Bell Worth and Donation:
Skip on over to the shop to trade this small beast in for 8,000 dollars
Flick will be filled with joy to take it off your hands for 12,000 Bells
Blathers specially will place your donation in the museum 
Another rare bug will be checked off your Critterpedia app
Time and Location:
Scorpions will be lurking in the fields when the sun has set from 7pm- 4am
May through October offer the Northern Hemisphere a chance to capture one
Southern Hemisphere residents can seek for a scorpion from November- April
You may also be interested in:
[Top 15] Animal Crossing New Horizons Best Villagers
[Top 10] Animal Crossing New Horizons Best Villager Houses That Look Awesome