ACNH: How To Get Brewster
Updated: 08 Mar 2022 6:30 am
For someone who makes his living selling coffee, he's the calmest island resident.
If you're not already addicted to caffeine, now you can be! Brewster is here, and here's ready to serve your island.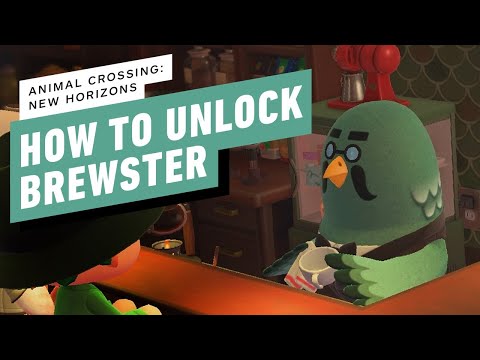 How to get Brewster in Animal Crossing: New Horizons 2.0
Animal Crossing's beloved coffee-addicted pigeon, Brewster, is yet another permanent character that you can invite to live on your island in the 2.0 update. As an old friend of Blathers, Brewster will set up his cafe in the museum and provide the island with coffee and coffee-related DIY recipes and furniture items. There is a set of conditions that you must meet before you're able to find Brewster and invite him to your island. Firstly, you must have the 2.0 update downloaded to your Nintendo Switch (duh.) Secondly, your island must have a 3-Star rating, as determined by Isabelle. Thirdly, you must have donated at least sixty items to the museum and at least one of each item. This includes art pieces sold by Redd, creatures you find while diving, fish, and insects. With all that squared away, you're ready to welcome our feathered friend! 
How To Get Brewster In ACNH:
Pay Blather's a visit in the museum. When you speak to him, he'll reminisce about his old friend Brewster, and ask you to find him. 
Head over to Kapp'n (he'll be on your pier) and pay him 1,000 Nook Miles. He'll take you to a deserted island, and sing you sea shanties along the way. 
Once you arrive at the deserted island, look around and you should see a sage-green pigeon walking around. This is Brewster!
After a brief conversation, Brewster will agree to move to your island. You can now either pillage this island of its natural resources or head straight back to your island.
Once you're back on your island, speak to Blather's again to let him know that Brewster has agreed to come. The museum will be closed the following day for renovations, and the day after that Brewster will be a permanent addition to your island. 
You May Also Be Interested In: