[Top 5] Rainbow 6 Siege Best Blackbeard Loadouts
Updated: 14 Sep 2021 8:18 pm
Popular as the most nerfed operator in Siege. Still one of the most feared.
To this day, when a callout from your teammate says 'Blackbeard', it means be careful of fighting him one on one in corners, because you'll probably lose. Despite all the nerf, his rifle shield still makes it hard to deal him a headshot. And with his loadout choices, this navy seal remains to be one of the most dangerous operators to encounter, especially one on one.
5. MK17 CQB with 1.5x Scope, Extended Barrel, and Angled Grip + D-50 with Suppressor + Stun Grenades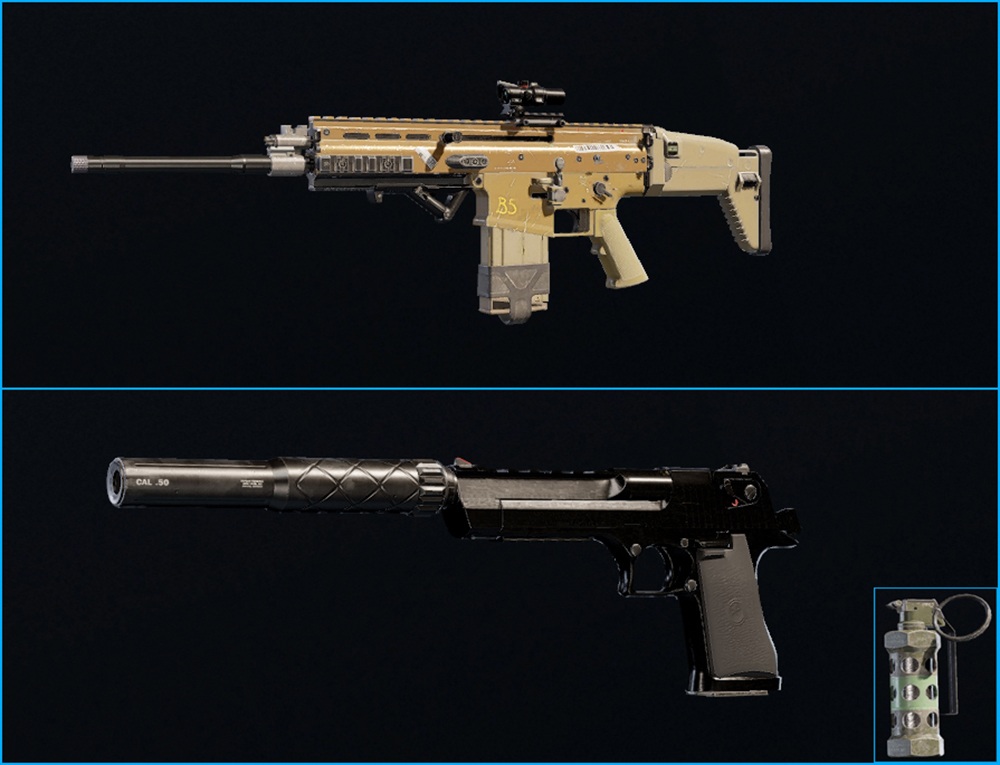 Deal maximum damage from long range
His unique gadget, the rifle shield, makes Blackbeard an excellent long range fragger because it largely lessens freak headshots from a counter fire. With this loadout, you're letting go of recoil benefits from other muzzle attachments to make sure that you deal maximum damage even from long range. And since stealth is very important in Siege, whenever possible, shoot enemy gadgets and cameras with the suppressed handgun.
The stun grenades will come in handy when you have to go in and engage enemies from close range. The 1.5x scope on your primary will provide just enough zoom to not let you be at a disadvantage in close range. Pop your stun grenades on spots where you expect enemies to be and go for the kill. Just be careful not to blind yourself.
Excels in:
4. SR-25 with 2.5x Scope, Muzzle Brake, and Vertical Grip + D-50 with Suppressor + Stun Grenades

High damage and low recoil
The SR-25 is one of the best sniper rifles in Siege with its low recoil that only goes on a straight pattern and very high damage at 61. With the muzzle brake, you'll make the recoil even lower, so this loadout excels in accuracy. Making sure that as long as you time your shots well, all those high damage shots will count.
And with the most loved scope in Siege, the 2.5x scope, formerly known as ACOG, you'll be a long-range menace without suffering too much of a disadvantage in close range. 
Excels in:
Medium to long range
Accuracy
3. SR-25 with 3.0x Scope, Suppressor, and Vertical Grip + D-50 with Muzzle Brake and Laser + Stun Grenades

Create panic into your enemies' hearts
A great loadout for long-range support and recon. Even with the suppressor, the SR-25 still does 51 damage, and that's a lot, considering that your enemies wouldn't know where the shots are coming from because the suppressor hides the directional threat indicator and the sound of the gunshots. And with the 3.0x Scope, you'll be able to have a much clearer view of your enemies, meaning more accuracy and you can aid your teammates with callouts from long range.
Since your primary already has a suppressor, your secondary doesn't need to have one, and that's why with this loadout, you're going with the muzzle brake and laser to ensure maximum damage when switching weapons.
Excels in:
Long range support and recon
Stealth
2. MK17 CQB with 1.5x Scope, Compensator, and Vertical Grip + D-50 with Suppressor + Stun Grenades

Maximum recoil benefit
With the vertical grip and compensator, you're going for maximum recoil control on your assault rifle, ensuring that most, if not all of your shots make the target. The compensator provides a more stable recoil for long sustained fire, and the vertical grip supplements that. And with some good cursor placement, the 1.5x scope will help you hit heads with ease at close to medium range, while still giving you a good view of your enemies from long range.
Excels in:
Close to medium range
Accuracy
1. MK17 CQB with 1.5x Scope, Flash Hider, and Angled Grip + D-50 with Suppressor + Stun Grenades

The suppressor on the D-50 really looks like something straight out of a James Bond movie
The faster you go into aim-down-sights (ads), the faster the rifle shield will protect your head. That's what the angled grip is for. It serves as both a defensive and offensive measure. With the angled grip, you're letting go of some recoil benefit, in favor of being able to aim, and protect yourself from headshots faster. 
And the flash hider will give you the best recoil control during the first few shots. So, you'd want to use your primary with controlled trigger aggression. Plus, it hides the muzzle flash so your enemies will take longer to notice where the shots are coming from while also providing a clearer vision for you while you're shooting.
Excels in:
Close to medium range
Speed
Attention operator, please be advised. There is a new directive from Six. Read up on these related articles, and prepare for deployment:
You May Also Be Interested In: