[Top 15] Stardew Valley Best Multiplayer Mods That Are Fun
Updated: 01 Jun 2023 2:36 am
A world filled with multiplayer goodness!
For all you groovy guys, gals, and nonbinary pals, today we will be counting down the top 15 Stardew Valley multiplayer mods that are fun! If you're a massive fan of Stardew Valley and are looking for the next big way to enhance your multiplayer experience, look no further! For modders and lovers of enhancing an already great game, here we list today the best of the best, with quite some amazing contenders starting out this mighty list.
15. Lookup Anything Mod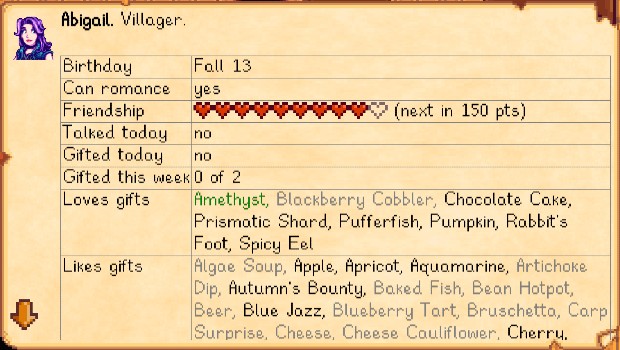 Stardew Valley Wiki is a thing of the past.
While the tried and true method of playing Stardew via dual monitor, one wielding game other yielding the Stardew wiki, i believe this to be a much easier (and much more pain free) option. With both you and your multiplayer friends downloading this ever so helpful tool, gameplay will be a breeze for all parties involved.
This mod helps in one simple way, by giving you everything you can get in the Stardew wiki with the simple click of a button!  Time will be saved and no more having to click out of the game to double check the wiki, you and your friends can play to your heart's content! Speed run those heart events, marry the character of your dreams, learn all the ins and outs of your farm at the snap finger.  All this can be yours with a little help from a simple mod.
What's Great About Lookup Anything?
Allows you and your friends to quickly look up details about NPC.
Forego the wiki, it's all in game!
Learn details of your farm such as crop growth, french life, and animal moods.
14. Multiplayer Horse Reskin Mod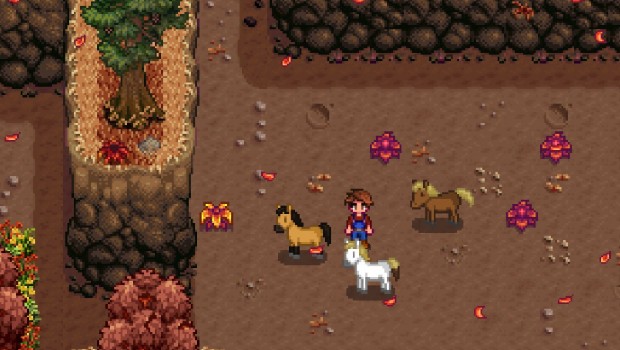 Re-skin's never looked so good!
It's simple, i'll give it that. Your trusty steed is in dire need of a redesign, and luckily this mod delivers. For you and all your friends, this is a mod that not only adds a little flare to the base game, but is also multiplayer! Guaranteed to add a little extra love with distinct different horses, and get you around much quicker and easier than ever before.
This mod, as stated previously, does not have much. That being said, what you get is guaranteed to make you and everyone else smile even just a little. With a right-click and a moment of your time, all players will be allowed to change skins for their designated horse. This ensures a sure fire way to bond to your running companion, and make it a little easier to distinctly tell all friends apart!
What's Great About Horse Reskin?
Choose different skins for your horses in multiplayer.
Easy to access changing menu.
Horse skins stay for all farmhands.
13. Multiplayer Hub Mod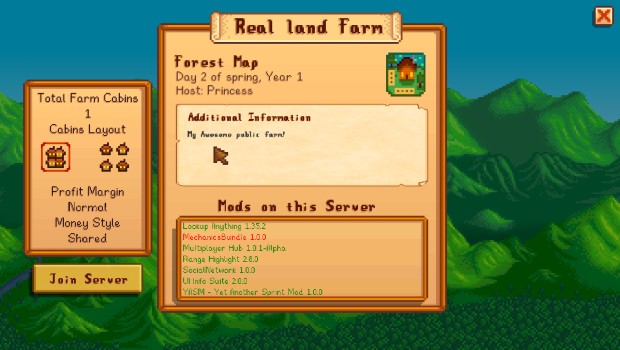 In need of a friend? Simple solutions await!
If you're like me and you struggle to find friends who are up for your all night Stardew sessions, this is just the mod for you. All your friends are boring and don't play such a wonderful game? Forget them! Everyone you know is asleep and unable to play? Not a problem! With the multiplayer hub, finding multiplayer friends will be the least of your problems.
This mod allows for a list of servers that you as the player may join to fulfill all your multiplayer fantasies. Whether you decide to publish your own server, letting others join as you build it from the ground up, or if you desire to join a whole other server on its own. This mod gives you all kinds of opportunities for multiplayer adventures, and maybe even a chance at new friends.
What's Great About Multiplayer Hub?
Browse servers without leaving the game.
List your server and let others in.
Works with unlimited players mod.
12. Multiplayer Time Mod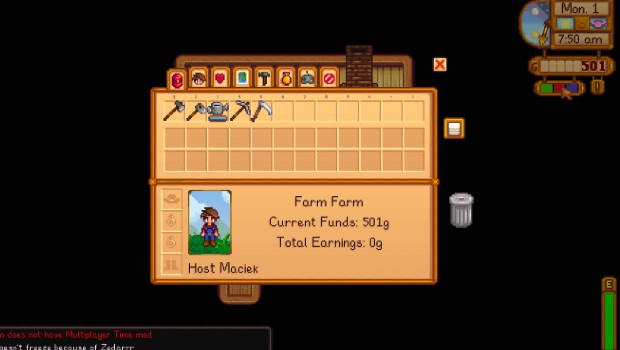 Time constraints have never bothered me!
Have you ever been so incredibly annoyed with the lack of time management available in multiplayer. No longer do you have the pause necessary for a full day's work when opening your menu for a brief pause because of multiplayer constraints. Thankfully with this beautiful mod, this is a problem of the past!
This mod now allows for a full stop on in-game time when you or your other friends and family do simple in-game things! Opening the menus? Well now you have a brief period of in game pause! Thank the modding gods for your brilliant, newly managed time skills.
What's Great About Multiplayer Time?
If the player is not free to act, time is paused.
Can give items to other players when inventory is opened.
Convenient bar radius to tell if time is stopped.
11. Custom Companions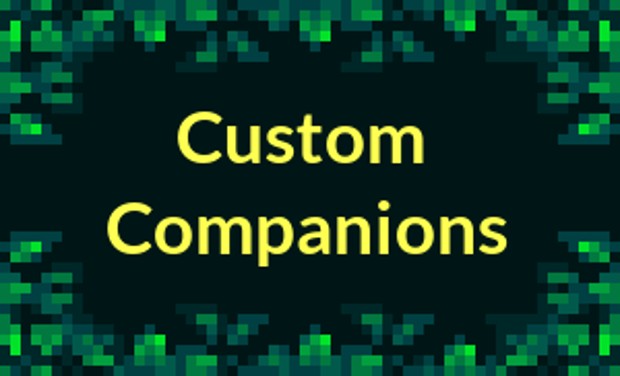 Cute furry friends for both you and your pals.
One of my favorite parts of gaming, at least on a fun non essential level, has been all the fun little companions you get along the way. Thankfully with this mod, this is now a fun fresh option for you and your friends! Loneliness is a thing in the past as you and your buddies bond over some cute fuzzy friends.
This mod gives allowance for a companion to follow on all your Stardew adventures. Supported not only in single-player, this is a fun one to enjoy in multiplayer too! If you're a lover of animals and fun little guys to gawk at while you play, give this one a shot!
What's Great ABout Custom Companions?
Many fun options.
Supported in both multiplayer, and single-player.
Supports different mods.
10. Tractor Mod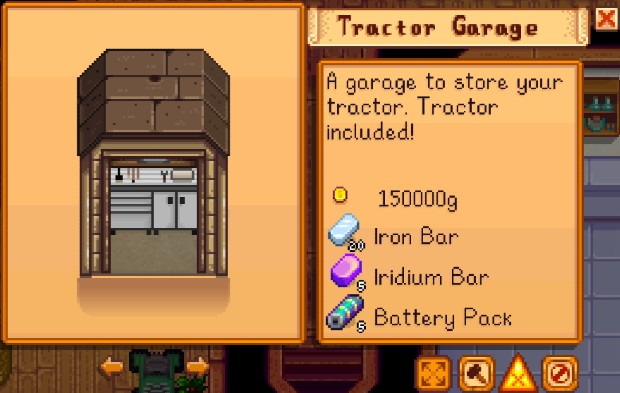 Another beautiful piece of equipment for any thriving farm.
This next one is more of a quality of life mod than anything else. If you've been playing Stardew for a while, it's very likely that you have heard of this beauty of a mod. Very easy to use, cuts back dramatically in time, and a fun little extra for your farm to boot! What's not to love?
Now available in multiplayer, this mod helps dramatically with all available assets of farm life. Used well in multiplayer, it's guaranteed you and your farming pals will take care of your humble home in a breeze. With the ability to quickly use different tools, plant seeds, fertilize, and just drive around, this is a much needed mod for any and all players.
What's Great About Tractor Mod?
Use different tool features with ease.
Change tractor textures.
Tend your farm with ease.
9. NPC Map Locations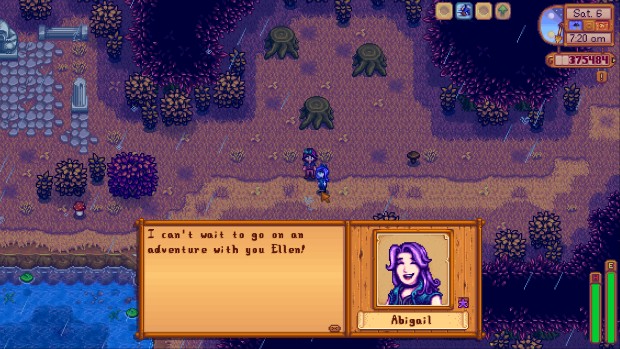 Looking for a time saver? You got it!
It is in my humble opinion that finding the NPCs in a game is one of the most frustrating aspects of gameplay. You can never find them when you need them, spending long hard days just to give your favorite villager a measly fruit. It's frustrating, tedious, and exhausting, and now it finally has a fix.
Another beauty that works both inside, and outside your friend group, this mod is a true game changer. It's as straightforward as it comes, allowing you the ability to see the locations of all NPCs directly from your map. Save you and your friend time by downloading this mod, and make the game easier than ever (and more fun).
What's Great About NPC Map Locations?
Easy to see on map NPC locations.
Both multiplayer and single-player.
Compatible with LInux, MacOS, and Windows.
8. Multiplayer Portal Guns
Have the showdown of a life time with this quirky mod.
Have you ever felt the desire to play a game of portal within the expanses of Stardew's great domain? I can't say that i have but now that you mention it, doesn't sound too bad! This next mod is a fun one, especially fun for you and all your friends! The more the merrier will make this a great deal of fun stupidity for you and your little or large community of farmers.
With the small expense of one wood, you and your players can create a portal gun. With such a little expense, you will get a great deal of excitement, being able to teleport players and NPCs with the touch of a button. Craft portals, teleport to your heart's content, and most of all have fun! This is not a mod you are going to want to miss with your next multiplayer escapade.
What's Great About Multiplayer Portal Guns?
Craft a portal gun for a small price.
Teleport players and NPCs with the click of a button.
Unlimited teleporting fun!
7. Chests Anywhere Mod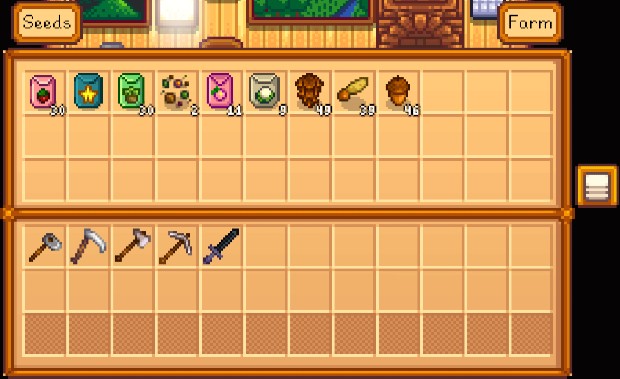 All your items at the tap of a button.
I think one of the biggest problems I have while I'm spending my nights grinding away in the mines is the lack of space. With so much time to collect many fantastic items, I always find myself having to cut the trip short due to lack of inventory. I have found myself constantly wishing for the ability to just access my chests, drop off some items, and continue on my merry way. Thankfully, we may have a fix to this problem.
With this multiplayer compatible mod, you and all your friends now have the fantastic ability to access your chest from anywhere. Whether that be during a particularly bountiful foraging trip, or a day in the minds, this mod has got you covered. With accessibility like this, it's guaranteed to make your next playthrough a breeze!
What's Great About Chests Anywhere?
Access your chest from anywhere in the game.
Edit chest names or categories!
Open shipping bins before shipment.
6.  Skip Fishing Minigame Mod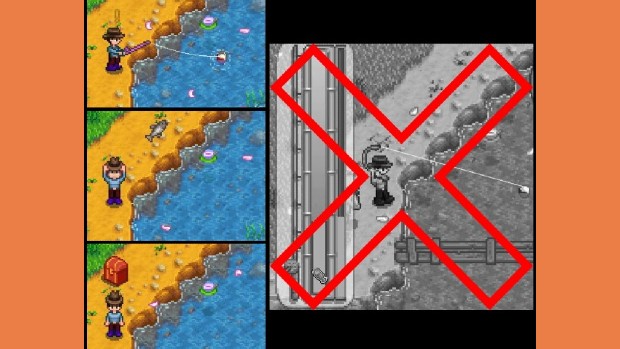 All that pesky fishing will be easier than ever!
I'm not ashamed to admit that I am absolutely horrible at in-game fishing. With touchy controls, out of whack fish, and a horrible minigame to boot, it's no wonder this is one aspect of gameplay that many hate. Thankfully with a mod like this, this is now a problem of the past.
Now available in multiplayer, this is a mod that will absolutely change the trajectory of your life. With this mod downloading the fishing minigame is no longer a worry for all you farmers. It's a change we all know we needed, and now you can share that vindication with friends and family in all of your multiplayer hubs.
What's Great About Skip Fishing Minigames?
Skip the fishing minigame
Auto-fish available in config
Continue getting fishing EXP
5. CJB Cheats Menu Mod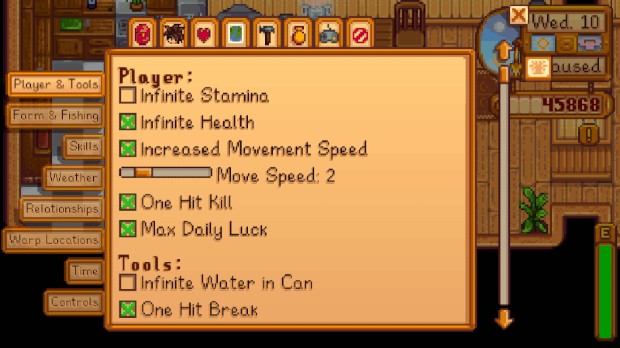 The world at your fingertips.
This mod is a must have for any multiplayer playthrough. Guaranteed to make your life easier in more aspects than one, a help to get you out of any sticky situations, and full of many glorious cheats. It seems too good to be true!
This mod allows for a new custom menu of all of the cheats of your dreams.Whether that be changing the weather, giving yourself a few extra bucks, or changing your health and speed. With such a mod like this your farm is guaranteed to be stress free. And yes, it is multiplayer compatible.
What's Great About CJB Cheats Menu?
Custom menu for cheats in all aspects of gameplay.
Android compatible.
Compatible with other mods.
4. Balanced Valley Mod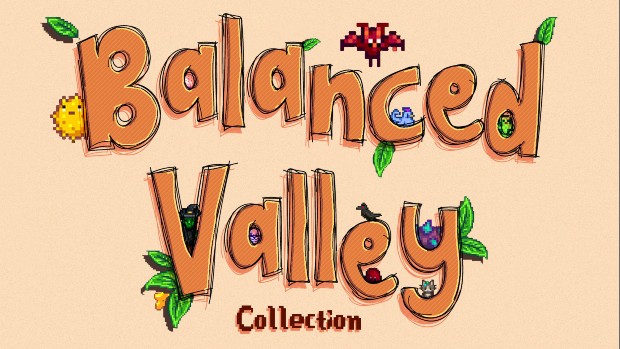 Everything is better with a little bit of balance.
Here we have another fantastic mod for you and all your players looking for a little bit of change from the original style. Whether you've been playing for awhile and are now suffering the 3rd year drop-out, or are a new player looking to prolong your game as much as possible, this is sure to do it. Now introducing the balanced valley!
For all you lucky hosts, this mod is applicable in multiplayer as long as it is installed by all parties. This mod has everything, and by that I mean literally everything. With new farming style, added realness in farming, selling, extra balance to farms crops and trees, you're sure to never run out of time. Changes in fishing with added difficulty modes, and different ranching styles applicable, this one you and your players simply cannot miss out on.
What's Great About Balanced Valley?
Added realism to in-game aspects
Available in multiplayer and on mobile
New play styles.
3. Stardew Valley Expanded Mod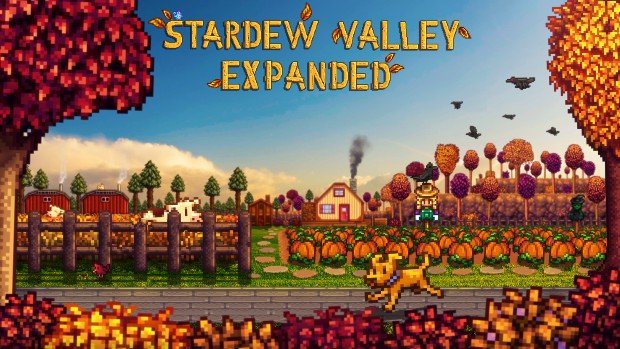 One of the most popular mods out there and for good reason!
One of the most popular mods Stardew has created to date is available in multiplayer! If you're obsessed with Stardew Valley and looking for a whole new game in that world, look no further. This mod contains anything and everything you could ever possibly want for any solo or multiplayer run.
With brand new characters, loads of locations, and whole new interactions never before seen, this is guaranteed to spice up any long term playthrough with you and your friends. Explore the valley like never before, romance new partners and gain insightful stories. You are sure to never get bored with Stardew Valley Expanded!
What's Great About Stardew Valley Expanded?
Brand new characters.
Brand new locations.
Brand new Stardew experience that includes the original.
2. Unlimited Players Mod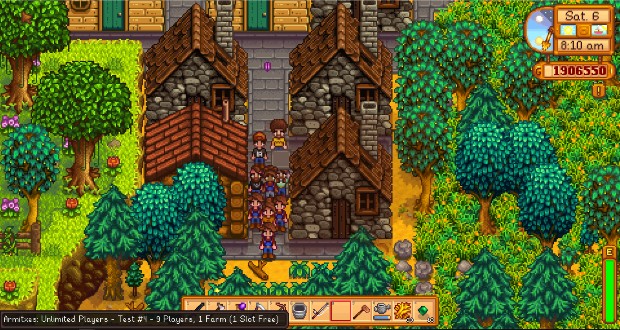 A hilarious chaos of multiplayer fun!
If you're looking for unlimited fun and a bundle of chaos in your next multiplayer run, look no further than here. A simple yet insane mod it is, allowing unlimited players into any of your multiplayer stardew games. It's a load of crazy shenanigans, a bundle of party fun, and something guaranteed to add even just a little bit of laughter to your next big playthrough. Honestly, this is one you cannot miss.
What's Great About Unlimited Players?
Unlimited players allowed on any multiplayer game.
Only the host must have it installed.
Can remove cabin requirements.
1. Warp To Friends Mod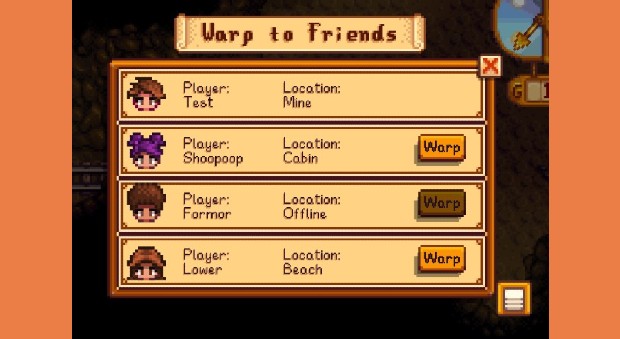 Fast travel across the valley!
When I say this one is a game changer, I don't mean it lightly. Simple as it may be on the surface, this mod is at number one for a reason. Guaranteed to make life easier for you and all your players, it's a simple fix to a problem you may have not even known you had. 
With this mod, you as the player have the ability to quickly warp to any player of your liking in a matter of seconds. Cut back quickly on travel time, join your friends last minute on an adventure, and make your life much, much easier. This is one that I seriously implore any good host to install. Make you and your friends life easier in the long run with this beauty of a mod.
What's Great About Warp To Friends?
Warp to friends from anywhere.
Menu of all Farmer's with locations.
Config menu.
Whether you're just starting out with the multiplayer madness, or a veteran to the fun, this list has something for everyone. Multiplayer games already offer so much in terms of social goodness and friendship building, and mods can play a big part in all of that. Never miss out on that extra boost of fun with these mods, and play all the better because of them.
You May Also Be Interested In: