Hideo Kojima's Death Stranding Will Not Be Playable on PC
Updated: 16 Jul 2018 2:03 pm
Lots of scary stuff
Another PS4 exclusive
Death Stranding, an upcoming game from the studio Kojima Productions, was announced at Sony's E3 back in 2016, and has been kept under wraps until 2018's E3. The game has been announced as a PS4 exclusive, unlike the studio's previous massively popular titles. Here's why:
In case you didn't know already, Kojima Productions is a studio founded by Hideo Kojima, the creator of the super hit Metal Gear Solid series. His studio was originally established under the Japanese entertainment conglomerate Konami in 2005 as a daughter studio. From 2005 through 2015, Konami continuously published Kojima's Metal Gear Solid games, with each release being a success. In 2015 however, Konami finally dismantled Kojima Productions due to disagreements between Konami and Hideo Kojima. Soon afterwards, Hideo Kojima announced that he would be reestablishing Kojima Productions as an independent game studio which would include other former Konami employees. He also announced with Sony Entertainment that Kojima Productions would start developing a new game series exclusive to the PlayStation 4. In 2016, the studio revealed its project and gave it the name Death Stranding, but left Metal Gear Solid fans waiting for more info ever since. At long last, E3 2018 gave us some Death Stranding gameplay to stir the crowd.
If you've seen any of the game trailers, you would know that Death Stranding will be nothing like any other game. Some visuals in the game trailers leave some viewers completely confused. Other viewers see the game as horrendous, and even more viewers think the game is going to be amazing. This begs the questions: What in the heck even is Death Stranding? What has Kojima worked so hard on, and why has he kept it so secret? Lucky for us, Kojima broke his silence about the game at the 2017 Game Awards. First off all, in its simplest form, Death Stranding will be an open world RPG, like many other recent releases. But the main difference: there is no real death. Huh? Let me restate that. Unlike recent games, or any other game, dying in the game does not mean game over. What??? Okay, let me REALLY explain what that means. If you have played any game, you will know that your character will die at some point. That usually means you either lose all your belongings and start over, or you start over at the point just before you died, like at a checkpoint or the beginning of a level. But Kojima doesn't accept that game mechanic. He told us last year that Death Stranding will kind of "embrace" death. As we saw one of the game trailers(check out the trailer if you haven't already), when the main character(whose name is Sam by the way) dies, he is transported to this upside-down world that is submerged in water. But this isn't a sort-of in-game "heaven" or "hub" that most other games have. Kojima explained that the player can leave this world whenever he wants and go back to the exact moment when the player died. And instead of returning to the dead body, the player can sort of "roam" around like a ghost and pick up everything they seemingly lost in their death. In that way, you don't really "die" in the game. It's important to note that Kojima firmly told us that, "Death will never pull you out of the game." Think of that like of a blip in your progress. There are no restarts or checkpoints, just the story. Of course, the game will be more than just that. But this sort of "death" mechanic will be one of many which define Death Stranding, which will delve deep into the ideas of life, death, and time in the main storyline.
Hideo Kojima in cosplay
But that was last year. This year, Kojima sent some long awaited gameplay to E3. And it looked as wacky as the trailers. It also finally lets you guess at what the game is about. You can see here for yourself, but I'll give you a summary. The main character, Sam, seems to be busy trying to deliver some sort of package. He swims through rivers, walks over miles of emptiness, and climbs through ruins. He suffers on his journey both physically and mentally, while everyday, he looking at a picture of what appears to be his family. One day, he crosses paths with this invisible creature that is only able to be seen its footprints. Sam seems to be in trouble, until a girl named Lea finds him at that very moment and warns him to hold his breath while the creature is near. This saves his life, as the creature seems to be unable to sense humans without human breathe. Later, further along in the gameplay, Sam meets a whole horde of these creatures. Someone on Sam's communications device tells him that if the creatures eat him, he will survive, but a crater will be created. Pause. Let's talk about the craters for a second. First, sounds like craters are bad(obviously). Second, in another game trailer, we saw that a crater get created when Sam "died". This goes back to some death mechanics we talked about before. Now moving on with the gameplay. For whatever reason, Sam decides that he must get through the horde, and for the first time, we see him open his package. In his package there is a baby in a small incubation chamber. Sam plugs this chamber into himself, and suddenly both the baby and a sensor on his shoulder come to life. Out of nowhere, we see these man-eating creatures for the first time. Let's stop there. That was a lot to process, right? That was probably the main goal of Kojima Productions - to create a game so weird, no one would question it!
Seriously, we've only seen a glimpse of this upcoming PS4 exclusive, and many gamers can't wait to see what all of that even means. All crazy aside, Death Stranding looks like it will be about Sam going after his family, which was taken by someone. And these man eating, invisible monsters stand in the way. We'll keep updating you on this crazy RPG as details emerge.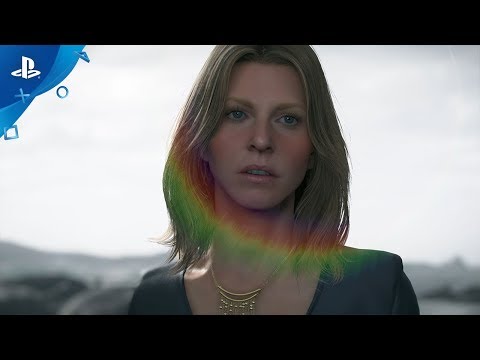 Death Stranding E3 Trailer
Image Gallery