NASCAR Heat 3 Release Date, Gameplay, Story, News
Updated: 02 Sep 2018 7:29 am
Race your way to HMS in the Cup series. ...or another team if you desire!
NASCAR Heat 3 Story, Release Date, Gameplay, News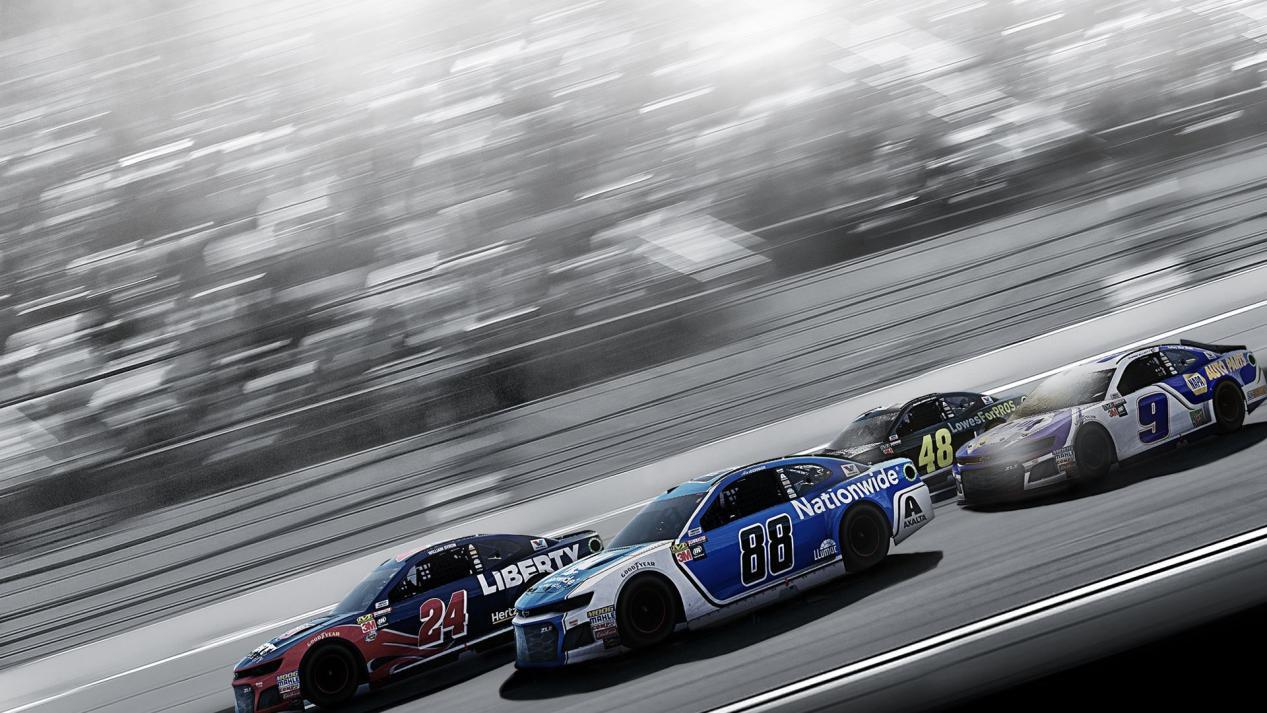 Race your way to the top of the Cup series in NASCAR Heat 3!
NASCAR Heat 3 is the latest video coming out based around the most popular motor sport in America. There are quite a few new additions to the stock car racing series this year, including the ability to manage teams and run the Xtreme Dirt Tour. Let's take a look at what all we know about NASCAR Heat 3 thus far.
NASCAR Heat 3 Story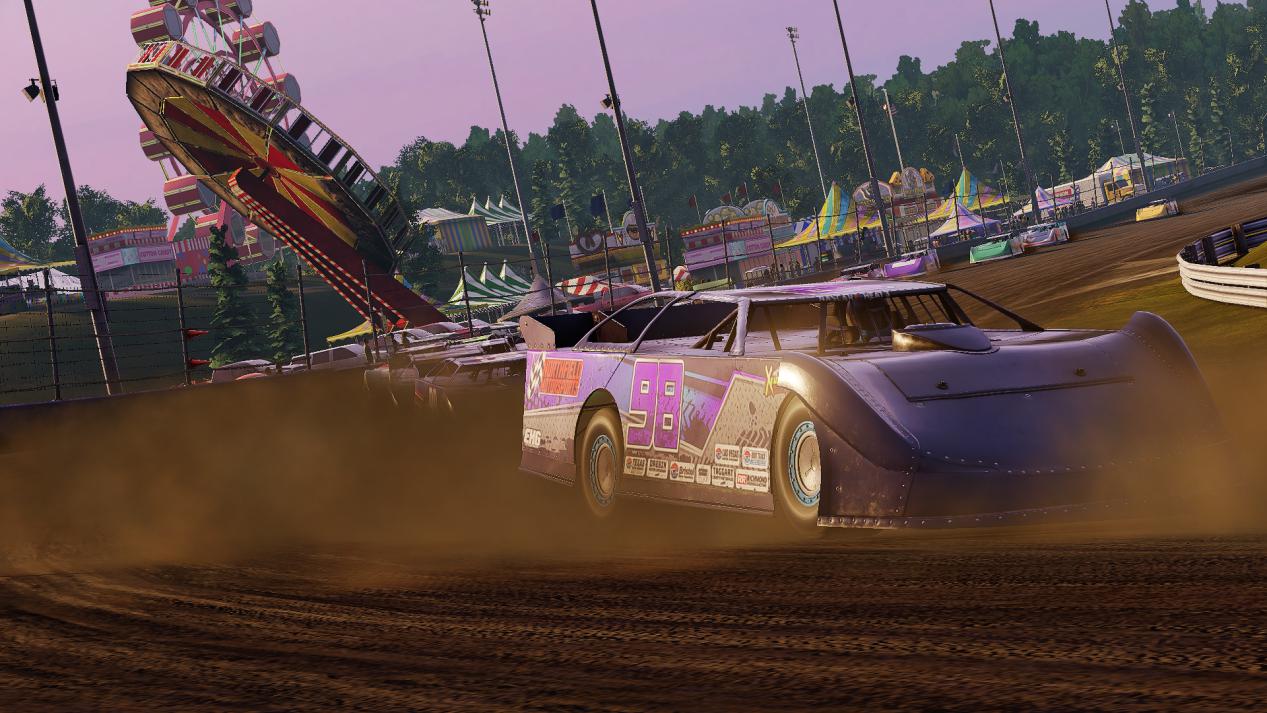 It's time to sling dirt in the Xtreme Dirt Series, new to NASCAR Heat 3!
The story of NASCAR Heat 3 is based on your personal journey to climb the stock car ranks. You start in dirt racing and build your way all the way up to the Monster Energy NASCAR Cup Series (MENCS). Your goal is to sign contracts with the biggest teams in the sport, or even own your own team in each series! You can own and manage cars in one series while racing in another, so the options of what you do with your career with your own story are quite open ended overall. 
NASCAR Heat 3 Release Date
NASCAR Heat 3 has been in development since 2017, and was formally announced to the world on July 15th 2018. The game is once again being lead by 704Games with CEO Paul Brooks at the helm. The game is releasing on September 7th 2018, just under two months after the official announcement date.
NASCAR Heat 3 Gameplay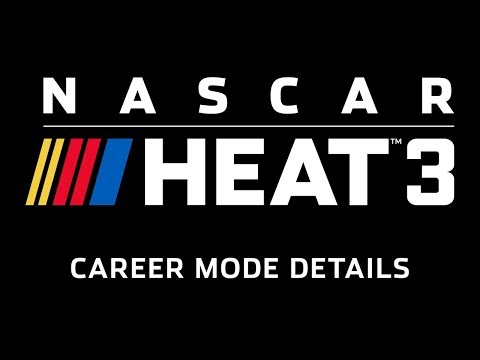 NASCAR Heat 3 is a racing game, so the core focus is on lining up for races and trying your best to get first place. There are a variety of options available in the game as far as gameplay modes are concerned and what your goals are in each mode. For example, you start off in Career mode in the Xtreme Dirt Tour. Which is a new fantasy dirt racing series that races on 8 tracks, fully new to NASCAR Heat with your goal being to finish up front on a consistent basis and get noticed from team scouts from the upper NASCAR series. You will get Hot Seat offers from that series for the Camping World Truck Series, and if you finish well in those events you'll put yourself that much closer to securing a ride in the Trucks.
The goal is to climb the ladder from the dirt series all the way up to the Monster Energy NASCAR Cup Series, and you do that in Career mode by getting good finishes in each series, especially in the Hot Seat events. You can also be an Owner in NASCAR Heat 3 if you choose, a new feature for the Heat series. You can have your own car and team, which you hire, to help you have more success on the ownership side of things. The funds you earn in the Career mode can be used to hire new workers, invest in the R&D for your cars, and more. You need chassis that run good on particular track types, such as short track, road course, etc. So you need to invest quiet a bit in your team to be successful.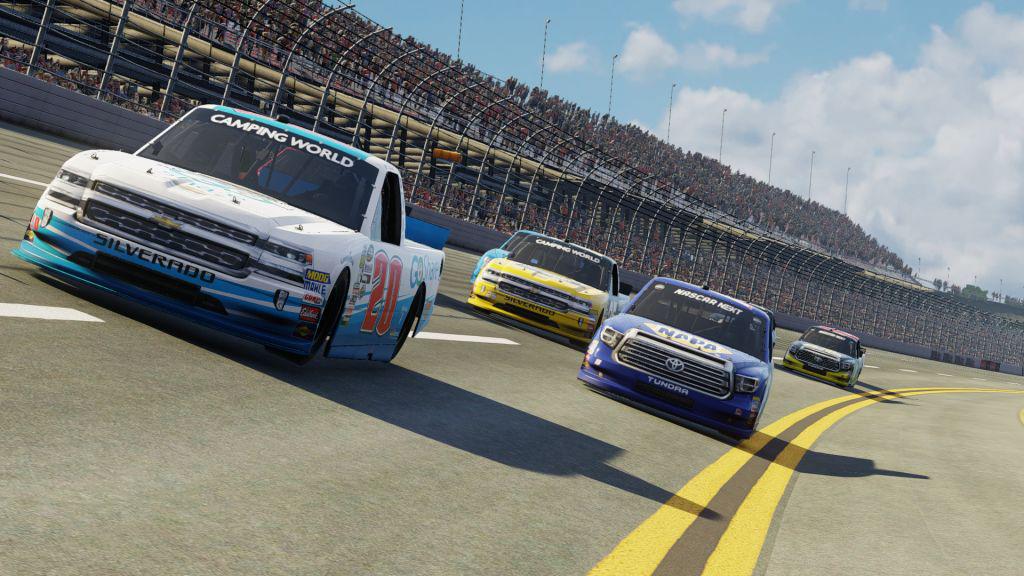 Prepare to draft on the high banks of Daytona and Talladega in the greatest NASCAR console game to date! 
There is also co-op and online multiplayer in NASCAR Heat 3. You can play split-screen on the couch with a friend if you like that option, as well as online with a full field if you'd prefer that instead. You can race with up to 39 other people, so you can have a full NASCAR field with real other players! eSports is a big focus with NASCAR Heat 3. You have the ability to join (or create) tournaments and compete against others, adding a level of depth to the online aspect that hasn't been seen in the previous NASCAR Heat games.
And this year we have a back view button and a camera control option, standard in most racing games but new to the NASCAR Heat games. This is a great new feature to be excited about, one that can be great not only in online but also in Career mode, since it'll help you have a better view of the surrounding vehicles. This feature, as basic as it may be, has been notably absent from the other two NASCAR Heat games, so it's a big point for this game that it's included this time around.
The game offers incredible replay value, whether you're playing solo or with others online. In the solo side of things you have the Career mode, which essentially never ends. It's not as if you win the MENCS Championship the Career mode ends. It doesn't, it keeps going. You can build a long lasting dynasty! And there are unique tracks that are only available for certain series. For example, only the Truck Series gets Eldora. Only the Cup series gets Sonoma. So there's not only replay value in the Cup series but for the others as well!
By far the biggest new addition to NASCAR Heat 3 is the Xtreme Dirt Tour. It's a series that races exclusively on dirt and has 8 fully unique tracks, unique from the rest of the series in the game. There are real world dirt race tracks such as the ones at Texas and Charlotte. Then you have fantasy ones at Bristol and Richmond, which puts dirt on asphalt tracks. Plus a road course in dirt! This series alone gives a lot of play and replay value to NASCAR Heat 3, especially when you pair it up with Career mode and take it to the Trucks and beyond.
NASCAR Heat 3 Trailers
We've had a few trailers for NASCAR Heat 3 already. Check out this one, the announcement trailer: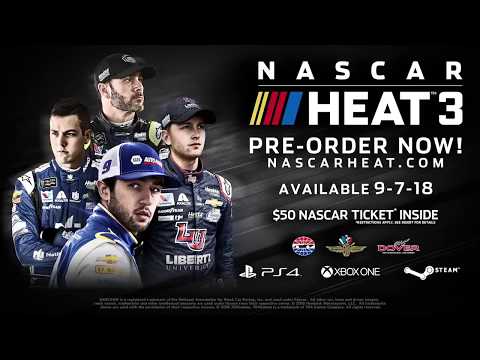 You notice we have Ray Evernham, Jeff Gordon's former Crew Chief, talking about NASCAR and how it's the hardest motorsport in the world. It shows a bit of the new dirt series we've talked about as well as the 3 main NASCAR series, which all were brought along in NASCAR Heat 2.
Then we have the next trailer released right here: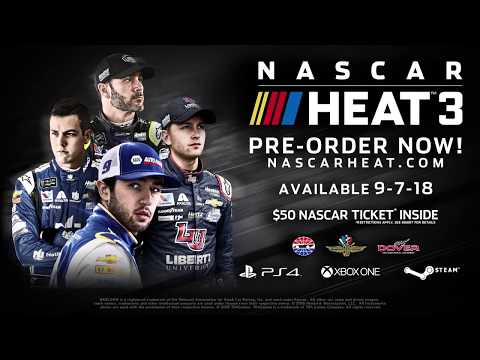 We see here not only are the engine sounds much better in this game than we've had, but there's a racing line even in practice mode. That's incredibly helpful when preparing for a new track you've not been to yet.
The next in depth trailer is this one, which goes into the career mode of NASCAR Heat 3: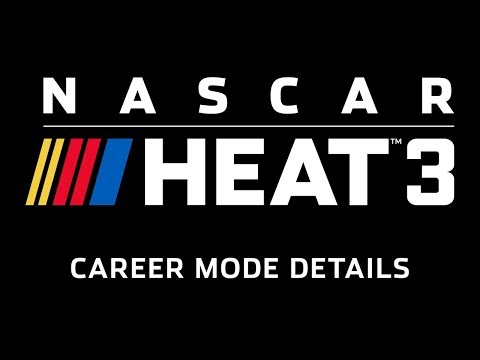 This one talks about the Xtreme Dirt Tour and the tracks it offers. It also mentions the hot seats, as well as the owner mode and the different areas you have to work on to be a success in this mode.
This final trailer has some nice details to share as well: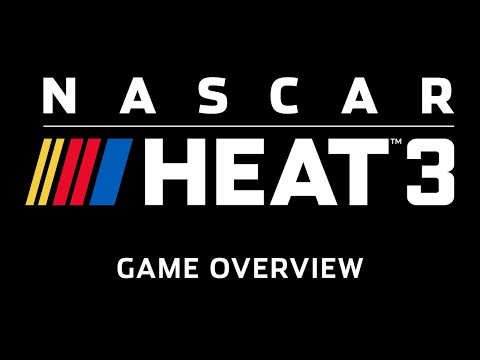 Cars won't be as loose on contact as they were in the previous 2 entries. There are also new options for pre-built setups you can use for each track. And there are race stories built around each event too, such as if a driver fails inspection and has to start at the back. You'll have the rivalry system in this game too, carried over and improved from NASCAR Heat 2.
NASCAR Heat 3 News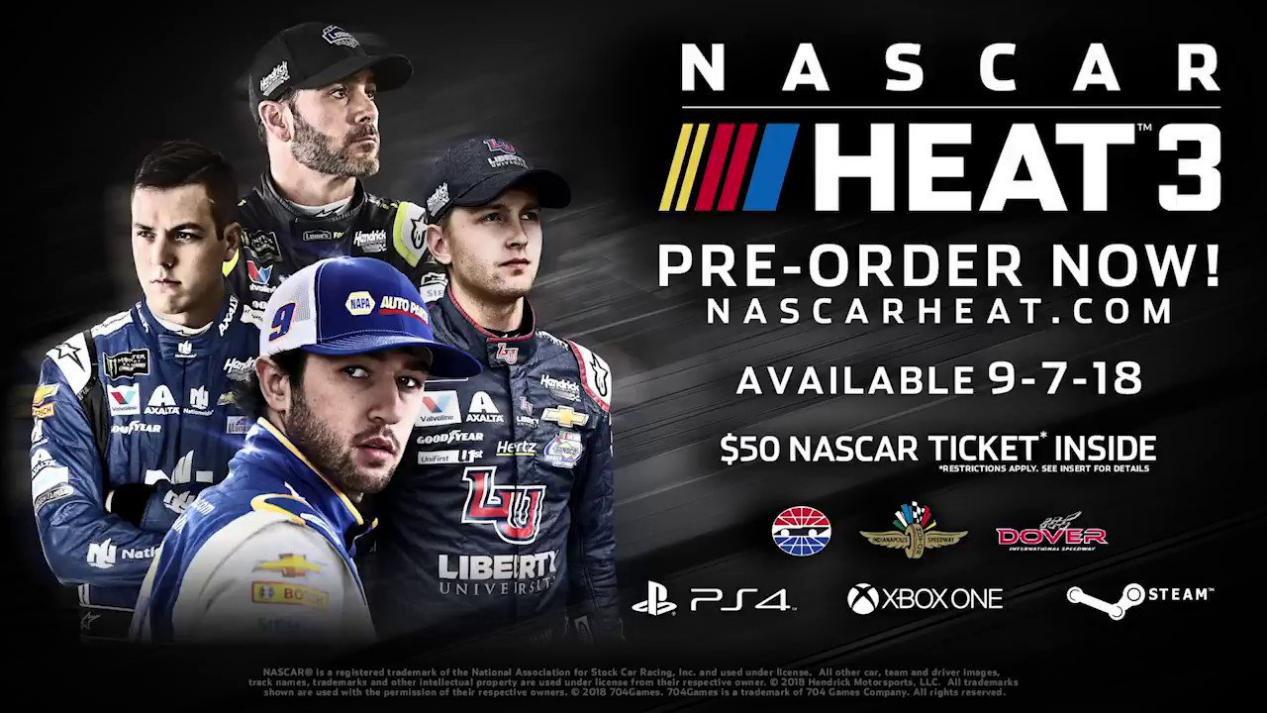 You get a $50 NASCAR ticket with purchase of the game!
One of the more interesting things 704Games did last year with NASCAR Heat 2 was include a $50 ticket voucher for real world NASCAR races. You could use the $50 voucher for the top 3 NASCAR series, the Camping World Trucks, Xfinity, or Monster Energy series. The same deal is being offered with NASCAR Heat 3; you get the $50 voucher if you buy the game! The voucher is good at any of the 8 SMI tracks (Atlanta, Bristol, Charlotte, Kentucky, Las Vegas, New Hampshire, Sonoma, Texas) plus Indianapolis and Dover, up until 2019.
All you have to do is call whichever track office you're wanting to use the voucher on and they'll walk you through it. Keep in mind you can not only pick any of the 3 series by track but also by individual event. Any race at Charlotte you can use that on, whether the All-Star Race, the Roval event, or the Coke 600. (Or any of the Truck/Xfinity events there). Any event, as long as it's one of those series, and you've got the savings!
704Games announced on August 21st 2018 they have a new round of investment from Motorsport Network, who has the largest audience of auto and motorsports enthusiasts in the world! Motorsport Network joins HC2 Holdings Inc., Leo Capital Holdings LLC, Gaming Nation Inc and PlayFast Games, LLC as investors. This is the first time that Motor Sport Network is investing in a NASCAR game, with the license extending through to 2029.
"Having Motorsport Network join 704Games creates new opportunities for the company as we believe its wide international reach and technical resources will expedite our growth in key areas," said Paul Brooks, CEO of 704Games. "Motorsport Network's media platforms in the U.S. speak directly to NASCAR fans every day and that is a huge benefit as we continue to grow into competitive gaming and esports." This is big news not only for NASCAR Heat 3 but certainly for the future of the franchise. 
You may also be interested in the following articles:  
Image Gallery