[Top 15] Apex Legends Best Skins That Look Freakin Awesome!
Updated: 08 Jan 2021 2:33 am
What's better than racking up kills in Apex Legends? Looking Freakin Awesome while you do it!
Are you ready to find out the best freakin skin each Legend in Apex Legends has to offer?
Fans of the popular free to play Battle Royale are loving the return of two iconic legendary skins and I can't blame them. Season 7: Ascension has given us a bit of everything: the exciting new legend Horizon, the return of Winter Express and bad-ass skins! Who doesn't love skins? So get comfy, as we dive into the most freakin awesome skin each Legend has to offer.
(Note: some of these skins are super rare! No worries- Respawn Entertainment does a great job rotating and reintroducing skins in the game store.)
15. The Wisecracker (Mirage)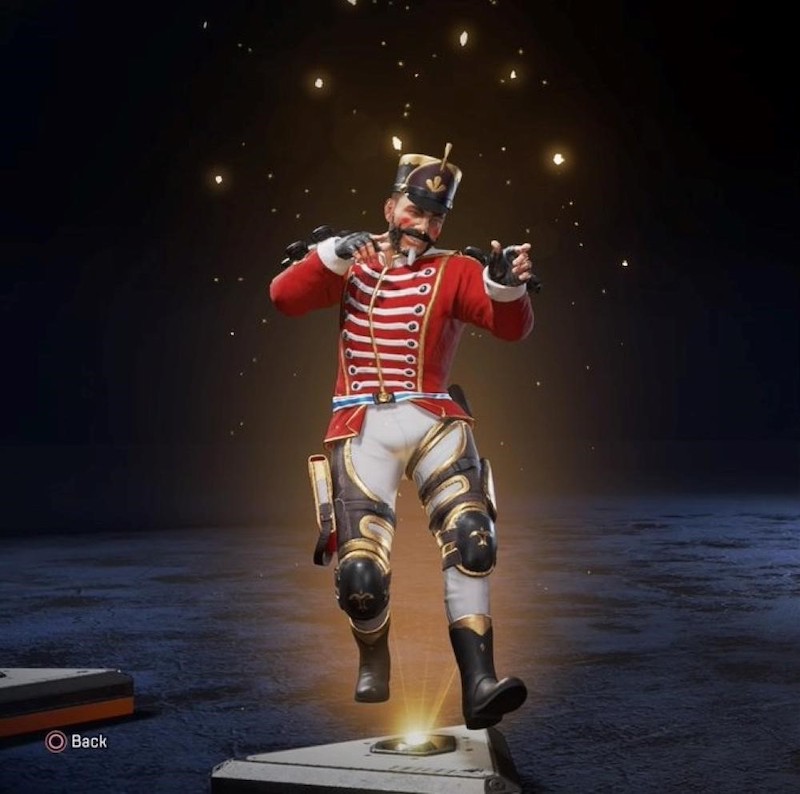 Winter Express has returned! Holo-Day Bash is in full effect, and I am drooling over the return of Mirage's legendary Wisecracker skin.
What makes The Wisecracker awesome?
What isn't awesome about a golden-braided scarlet jacket with white jodhpurs and black buttons? Gonna be hard to disguise all that fancy when you roll up in a gunfight.
The cap, white facial hair and red cheeks tie the look together. 
Do you like spreading cheer? I love bamboozling my little nutcracker self to the high ground. 
The Wisecracker is epitome Mirage. It's everything Respawn Entertainment needs to keep doing with the affable character. 
How to Get the Wisecracker:
The Wisecracker is available in the Nutcracker Bundle on the Apex store for 2,000 Apex Coins.
Check out the Wisecracker in Action!
14) Brudda Bear (Gibraltar)
Another iconic skin brought to us during Holo-day Bash transforms the already intimidating Gibby into a giant, terrifying, Polar Bear!
What makes Brudda Bear awesome?
The Eva-8 gives Polar Bear Gibby a menacing look, Brudda. 
To date, Gibraltar has had some of the meanest and best-looking skins including Call to Arms, Bunker Buster, Monster Mash and not to forget Gibraltan. However, this skin offers something unique. He's a freakin  Polar Bear who looks abducted from the Daft Punk Disco sector of the North Pole. This ain't your Cola offering Polar Bear. Perform a finisher in the Brudda Bear skin. Go ahead, big guy- maul somebody.
How to get Brudda Bear:
This skin is available in rotation through 4 January 2021 so there's a little bit of time to add it to your collection for 1,400 Apex coins.
Check out Brudda Bear in Action!
13) Outland Warrior (Bangalore)
Bang LOVES to bring the thunder! And she BRINGS ITit in the Outland Warrior skin.
What Makes Outland Warrior awesome:
Wakanda Forever! this freakin awesome skin screams Black Panther vibes.
Bangalore was the first Legend I played as, and this is the kind of love she deserves for being such an awesome character, 
Is that a necklace of Prowler teeth around her neck? I don't know, but the attention to detail is awesome! The kneepads clearly made from the bones of some unfortunate creature are a nice added aesthetic as well.
How to get Outland Warrior
A Legendary Hunt exclusive, fans have been clamoring for the return of this skin! Only long tenured fans are likely to have this on their mantle piece. 
Check out the Outland Warrior in Action!
12. Plague Doctor (Bloodhound)
Bless my sight! Bloodhound's Plague Doctor mask is freakin awesome!
What makes Plague Doctor awesome: 
Not to be a downer but Bloodhound wasn't the only Plague Doctor in 2020. It's macabre. It's tongue-in-cheek. It's awesome. 
 I'm in love with the turquoise accent color. hen Respawn Entertainment works with turquoise and also jade, they create something Legendary every time. More to come on that
Ashes, ashes we all fall DOWN!- I love the macabre. 
How to get Plague Doctor
This legendary skin is available for 1,200 crafting materials. 
Check out the Plague Doctor in Action!
11. From The Ashes (Lifeline)
Do my eyes deceive me or has Lifeline gone full demonic?
What makes From The Ashes awesome? 
WHAT ARE THOSE!? A horned Lifeline is transformed into a black galosh wearing demon equipped with a belt of horned skulls- I mean WHAT! Glowing red marks cover her torso and her fingertips are hot to the touch while still throwing her signature peace sign!
Lifeline's medical supplies are replaced by a decorative thigh guard and while I will question the functionality- I like the devil tail twisting out from it as a nice little aesthetic.
A helluva healer? Having a demon squad healer is bad ass incarnate.
How to get From The Ashes
If you bought the Season 3 battle pass, chances are you have this skin while everybody else prays to the Skin Gods to see it returned to the store. 
Check out From The Ashes in Action!
10. Caustic- Prince Of Darkness
Caustic's catch-phrases are often filled with contempt, and this skin reveals the royal reason why.
What Makes Prince Of Darkness awesome? 
All Hail Caustic the King of the Bunker! This skin gives the gas-wielding Legend a regal crimson and gold armor with a golden crown and- you guessed it- SKULLS! The freakin awesome skull in the center of his chest glows green and has what appear to be gas tubes flowing into it. WHAT!?
Caustic is merciless with those Nox Gas Canisters in close quarters so- why not dress royally as you choke the air out of the room?
This season 2 gem remains my favorite and only Caustic skin to play with. All other experiments have been deemed incompetent.  
How to get Prince Of Darkness
Fingers crossed we see this Season 2 battle pass skin again, because it was a pretty awesome unlockable at the timE. a lot of people still rock it.
Check out Prince Of Darkness in Action!
9. Plastic Fantastic (Pathfinder)
Is that Pathfinder or an Autobot? Whoever it is is FANTASTIC!
What Makes Plastic Fantastic Awesome
Plastic Fantastic is the only skin on the list that is not only bad ass and freakin awesome- it's fantastic. The skin ditches Pathfinder's happy demeanor for a furrowed pout on a green chest screen. 
I want this toy for Christmas! He looks fully poseable and ready to kick some ass! I love how well the blue and yellow go together. 
I want to see Optimus Prime and Pathfinder in a Real Steel style street fight because I got money on this bad ass looking Robot.
How to get Plastic Fantastic
This skin was available during the System Override event early in 2020 for roughly $20. You'll see further down the list though, Respawn Entertainment has listened to fans requests and returned favorite skins to the store- so always keep a look out. 
Check out Plastic Fantastic in Action!
8. XL-R8 (Octane)
An homage to Ben-10? I'm in! Fans of the popular cartoon show definitely appreciated this skin's name.
What makes XL-R8 Awesome
Cybernetic Octane? Fasten your seatbelts because Octane looks like he 3D-printed himself a brand new yellow body with some pretty awesome cross-square patterning that erupts into a collar. I like the yellow goggles providing a bold new vision of Octane
This skin is different and I dig that! The more I look the more I like. Is he now Pathfinder's kid brother? a cybernetic version of Abraham Sapien from Hellboy? He looks cool!
I am geeking out over this skin! It's pretty rare to see in lobby as well. I wish I had it. 
How to Get XL-R8
This skin appeared during the System Override event of March 2020 and has yet to be made available again. Whomp!
See XL-R8 in Action!
7. Purple Reign (Loba)
Mama's got a brand new bag-Purple Reign reimagines the sexy Loba, and I am into it. 
What Makes Purple Reign awesome? 
Who doesn't love Prince? While it is an interesting homage, I can't get over the short pink hair Loba is rocking! What cybernetics are those on the side of her face? 
Loba angry red demon eyes are a nice reminder not to mess with the Black Market queen.
I am a hardcore Loba main constantly using this skin. There's something awesome about the depth of content surrounding each Legend these days. Props, Respawn. Props!
I am all in for purple Loba. And I really like the comfort Respawn has with reimagining their Legends; taking out what you would think are key elements to the character and innovating their appearance. Short-haired Loba? Sign me up.
I want to see other cool things they can do with Loba's hair and the hair of  other Legends. Hmmmm...
How to get Purple Reign
This skin can be crafted with 1,200 crafting materials! Whew, I love when the best skin is readily available. 
See Purple Rain in Action!
6. Relic Of Death (Revenant)
I'm Revenant and I am not affiliated with Legends of the Hidden Temple! 
What Makes Relic of Death Awesome:
Let's just get right to those skulls! I love skulls. It's a game where you drop on the map and shoot at other Legends. I want their skulls. I miss Skull Town. I WANT SKULLS! Ahem. 
Skulls.
Revenant is given an awesome headdress which dazzles. Most of good Rev's looks feel like Titan A.E. fanart.. There isn't much you can do with a robotic pirate I guess. This skin is nice though. This is effort. Thank you, Respawn Entertainment.
You still ogling that skin?. Notice the jeweled inlay leading into a talisman which at the center has a- OH MY GOD IT'S ANOTHER SKULL!
As a fan of Legends of The Hidden Temple growing up, this Blue Barracuda is starting to feel the tremors of doom over this freakin awesome Lost Treasures getup. 
Not counting Rev's skull, there are eight skulls on the front alone. BUT THEN YOU TURN HIM AROUND AND- nope, I won't spoil how many more there are for you. Go check it out in the gameplay below. 
How To Get Relic of Death 
This skin was available as part of the Lost Treasures event that finished up 7 July 2020. Play these events folks! 
See Relic of Death in Action!
5. The Devil You Know(Rampart)
The most elegant cosmetic on this list, this sentry-gun wielding legend is dressed to the nines in gold and jade! 
What makes The Devil You Know Awesome
LOOK AT HER! The beloved Legend looks absolutely amazing in this gold and jade armor. Very fancy, and a very nice nod to the Legend's Indian heritage.
This super fancy legendary skin has our favorite Indian legend dressed in gold and jade armor. There's more fine attention to detail here as Rampart's skin has golden lotus flowers bespeckling her chest and arms. 
I like the availability of this skin. You don't have to wait for it to come around in the store or grind through treasure pack events- this skin is available to be unlocked with enough crafting materials 
More on the availability- Most legends have OK aesthetics when they get introduced- the artists behind Rampart got to work immediately and provided a legendary skin that is, well. Legendary. 
How to get The Devil You Know
This skin is available for 1,200 crafting materials and WORTH IT!!
4. Hallowed Spirit (Crypto)
Is that ancient manbeast playing with a drone? Oh, that's Crypto? Okay. 
What Makes Hallowed Spirit Awesome
Lots of detail to go over here and I don't know what that big cat face could be but I looove the snarl! The eye in the sky has some pretty dope jade accenting and a neat animal fur hanging over some intricately designed armor.
All Hail The Champion! Fun aside- This skin isn't rare if you've got some money to throw at The Champion Edition bundle. 
I like when different Legends have skins which go together. It'd be cool dropping in with the whole champuinship skin set
I love what this skin fundamentally represents- The developer's ability to stray far from the original concept while creating something fundamentally freakin awesome and intricate for game lovers to enjoy.
How to get Hallowed Spirit
Hallowed Spirit is available in the Champion Edition Apex Legends released with Season 7 in November. It retails for $39.99. 
Watch Hallowed Spirit in Action!
3. Solaris (Horizon)
Did Horizon Gyrocopter from Azeroth? This seems World of Warcraft inspired- take my crafting materials!
What Makes Solaris Awesome
Let's talk about the incandescent star on her steel plated chest armor. Horizon doesn't look like a legend- she looks like a hero!
I love accessible skins. Yes, I play with rare skins and flaunt my System Override cosmetics but it's important for newcomers to be able to look just as cool as old heads like me. Plus, Horizon is a new legend and I am looking forward to seeing her future skins because she doesn't have an array of options yet.
Horizon has steampunk vibes out the wazoo. I need some fanart of her in a Gyrocopter. PLEASE LINK BELOW!
How to get Solaris
Solaris is available for 1,200 crafting materials and is classified as a Legendary skin. 
Check Out Solaris in Action!
2. CyberPunked (Wattson) 
This skin turns Wattson into an absolute cyberpunk BABE!
What makes Cyber Punked Awesome
BABE ALERT! I can't stop playing CyberPunk 2077, but move aside John Wick- horned Wattson looks hot in those Doc Marten-style boots and bubblegum pink hair.
Developers at Respawn Entertainment delivered again with this cool eyepatched Wattson look. Maybe I will stop being critical of Revenant's skin collection where he looks like a spray-painted sardine can. Nope. But this Wattson skin is tight
If anyone needs me, I'll be blasting Blink-182 as I play as this electrifying piece of eye candy.
Whether Respawn Entertainment ties in elements of the Legend's base look or go completely off script. they deliver. 
How to get Cyber Punked
Cyber Punked was available during the season 4 battle pass and has not returned to the store since. I know, I hate it too.
Check out Cyber Punked in Action!
1. Voidwalker (Wrath)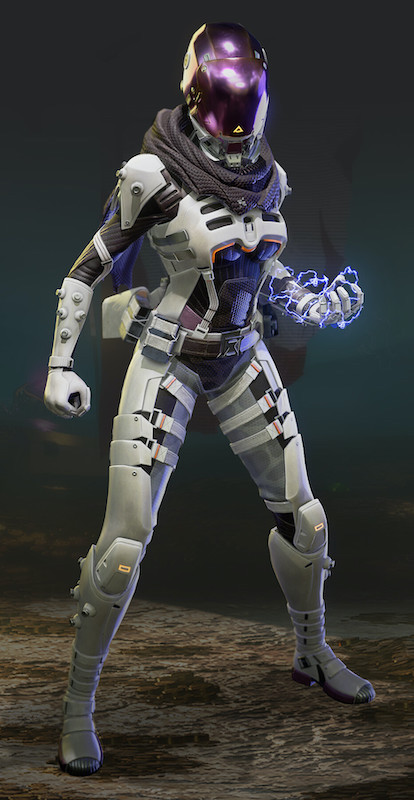 Phasing into number one is Wraith's bad-ass astronaut style void suit.
What makes Voidwalker Awesome
It's not always the flashiest, most gaudy design that holds the coveted title of best, Wraith's Voidwalker suit thrills in its simplicity. 
You know the designer saw Avengers Endgame. Iron Man deserves royalties on this skin.
Attention to detail alert! The purple in her helmet is accented into the black on her stomach. HOT!
Are you ready to enter the void? I am mad over this look. The only thing it is missing? SKULLS! I guess I can get those with my kills.
How to Get Voidwalker
This skin was previously locked in to the Voidwalker event in September 2019 but was brought back into the store in July of 2020 giving hope we will see it, along with other rare skins in this list, returning to the store sometime in the foreseeable future. 
Watch Voidwalker in Action!
There you have it! A definitive list of the best skin for each Legend. What is your favorite character to main? Which Legend do you think has the best skin? Let us know in the comments below!
Be sure to check out: 
[Top 15] Apex Legends Best Moments 
[Top 5] Apex Legends Best Assault Rifles That Wreck Hard!
 Top 5 Apex Legends Best Areas To Land (Apex Best Landing Spots)
 Apex Legends Best FPS Settings That Give You An Advantage
Image Gallery