Destiny 2: How To Access 30th Anniversary Pack
Updated: 26 Mar 2022 8:14 am
Check out how Bungie reminds Destiny 2 players who made Halo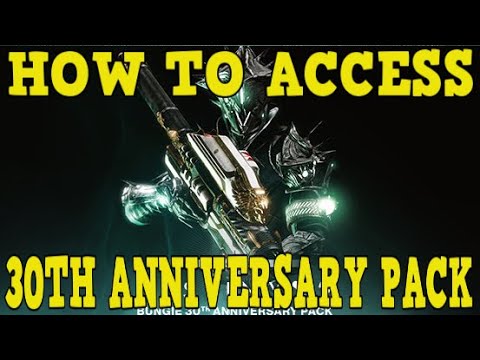 Destiny 2 - Bungie 30th Anniversary Pack (by Profane Gaming)
Since December 7th, 2021, Bungie has made its 30th Anniversary Pack for Destiny 2 available for players to purchase.
It currently sits on Steam, Xbox, and Playstation storefronts for $24.99. However, you can also buy the Anniversary Pack bundled with the Deluxe Edition of the Witch Queen Expansion for $99.99.  
Both editions include several pieces of content that call back to Bungie's history, including the legendary Exotic missile launcher from Destiny 1, the Gjallarhorn, a new dungeon called the Grasp of Avarice — an allusion to Destiny 1's well-known Loot Caves — as well as numerous new weapons, ornament sets, Sparrows, and more.
To get all this great content, here's how you can access the 30th Anniversary Pack for Destiny 2: 
How to Access 30th Anniversary Pack in Destiny 2
First, purchase either the Bungie 30th Anniversary Pack or the Deluxe Witch Queen Expansion pack on Steam, Xbox Live, or Playstation Store. 
After it has been purchased, download all DLC content. 
Launch Destiny 2.
In-game, you'll be notified of all the DLC's contents and how to obtain them.  
You may also be interested in: