Madden 20 Best Defense Teams [Top 10]
Updated: 03 Aug 2020 12:55 am
Laugh at your opponent as you sack his QB.
This is why they say "Defense Wins Championships"
Offense is more fun, yes, but defense will win you games. Madden 20 gives you more defensive freedom, strategy, and playability than any other Madden game before it. Here are the best defensive teams in Madden 20 and why they're so solid. 
10) Atlanta Falcons 
Defense Rating: 82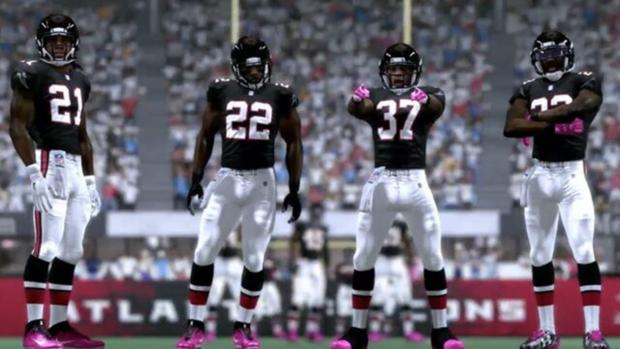 A few scary faces to go up against. 
First on the list - the Atlanta Falcons:
The Atlanta Falcons have a strong offense, but their defense is no joke either. Middle linebacker Deion Jones and cornerback Desmond Truant are lightning bolt fast and they'll get you that turnover whenever you need it.
Key takeaways: 
Use Deion Jones and Desmond Truant to guess runs, pressure the quarterback, and stop the short game.
Safety Keanu Neal is a force - use him to intercept and pick off the long ball.
Swat, pick, and guess - you gotta take chances with the Falcons to force turnovers.
Check out the Atlanta Falcons entire roster ratings here: https://www.madden-school.com/madden-20-atlanta-falcons-player-ratings/
 
9) New Orleans Saints 
Defense Rating: 82 

Looking good while having fun.
Heavenly on the field. Number 9 - the New Orleans Saints:
Cornerback Marshon Lattimore is who you want to use if you're playing with the Saints. Lattimore can do more for your defense than just cover receivers. Use his quickness to defend the best receiver or guess where the ball's going. Whatever you choose, he'll get the job done. 
Key takeaways:
Lattimore has a speed rating of 93 and an overall rating of 85, use him… often.
Saints playbook is stacked with great plays. Study them and find the best ones.
Left end Cameron Jordan will get you the job done at the line!
More on the Saints roster ratings: https://www.madden-school.com/madden-20-new-orleans-saints-player-ratings/
8) San Francisco 49ers
Defensive Rating: 82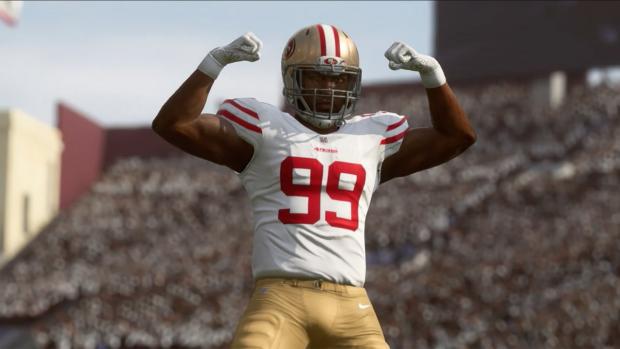 Big strong Deforest Buckner. 
Taking the 8th pick - the San Francisco 49ers:
The 49ers defense does not disappoint in the NFL, nor do they in Madden 20. Cornerback Richard Sherman is a superstar, and his grit and strength follow him onto the virtual field. 
How to win:
Use Sherman to swipe loose balls, hit receivers hard, and get interceptions.
Defensive tackle Deforest Buckner and Left Tackle Joe Staley are great at pressuring the quarterback.
With the best passing defense in the league, play as safety or cornerback to have the most fun.
Learn more about the 49ers defense here: https://www.madden-school.com/madden-20-san-francisco-49ers-player-ratings/
7) Los Angeles Chargers
Defensive Rating: 84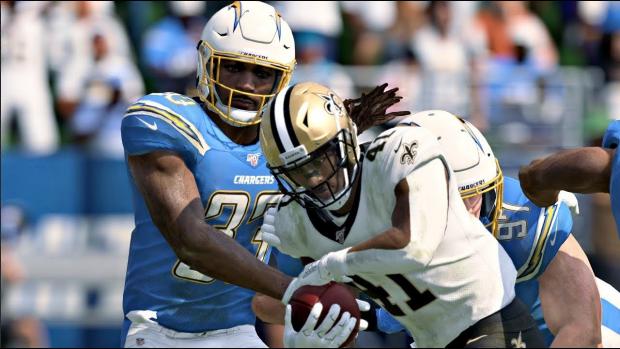 Hold that ball tight when up against the Chargers.
 
Charging their way into number 7 - the Los Angeles Chargers:
The Chargers could have attributed most of their wins in 2019 to their defense. Right and left end Melvin Ingram III and Hunter Henry work sync upin pass rushing to make sure the quarterback doesn't go untouched. 
Key points:
Call blitzes often so Ingram III and Henry can get to the quarterback.
Cornerback Casey Hayward JR will cover your opponent's receivers like a glove..
Left end Joey Bosa is a beast! Use him to work with the rest of the line.
More on how the Chargers defense can win you ball games: https://www.madden-school.com/madden-20-los-angeles-chargers-player-ratings/
6) Baltimore Ravens
Defensive Rating: 84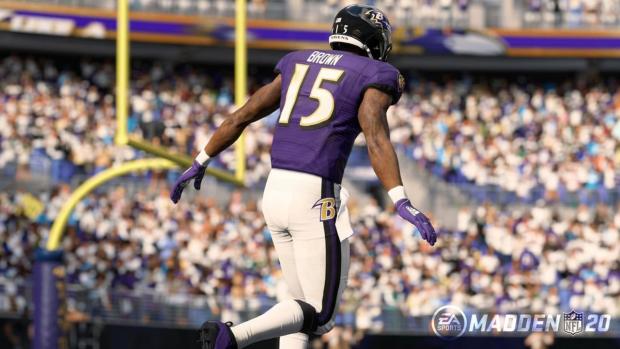 Flying high is the Ravens defense.
Number 6 - the Baltimore Ravens:
You couldn't talk about the Ravens defense without mentioning safety Earl Thomas III. He's good, really good - and quite fun to play with. Hang out with him in the backfield and make sure your opponent knows not to throw a bad ball... or it will get picked off. 
Using the Ravens: 
Pick off balls in the backfield all day with Earl Thomas III.
Defensive tackle Michael Pierce and right guard Marshal Yanda are solid at the line.
Scan over the playbook, it's loaded with winning strategies.
See all the Ravens player's ratings here: https://www.madden-school.com/madden-20-baltimore-ravens-player-ratings/
5) Dallas Cowboys
Defensive Rating: 86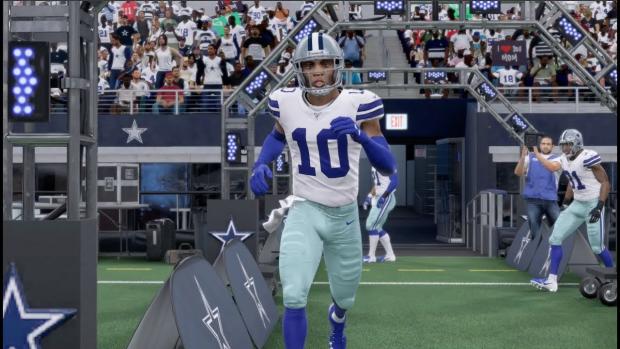 Tavon Austin ready to win you some ball games.
Yee Haw - it's the Dallas Cowboys:
The Cowboys defensive line is a brick wall. With center Travis Frederick and left tackle Tyron Smith, your opponent's running game will be non-existent. Time their special abilities just right and they'll get through almost anyone. 
Key Strengths:
Use Travis Frederick and Tyron Smith to stop the running game and hold the line!
Cornerback Byron Jones is quick, and his pass defense is supreme.
Watch for players special abilities, and time them just right!
The Cowboys player's ratings: https://www.madden-school.com/madden-20-dallas-cowboys-player-ratings/
4) Los Angeles Rams
Defensive Rating: 86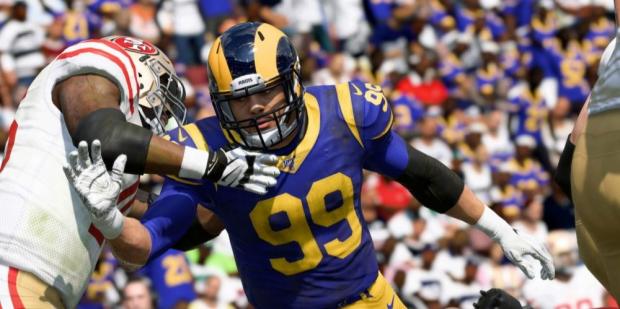 Aaron Donald looking fierce on the field. 
Number 4 - the LA Rams:
Right end Aaron Donald is one of the best defensive players in the NFL, and Madden doesn't sell him short. Blast through the offensive line and you will sack the quarterback almost every time. 
Using the Rams Defense: 
Aaron Donald is a must use… and he's also a tank!
Cornerback Aqid Talib is a top player - and great at intercepting passes.
Left Tackle Andrew Whitworth is a solid player to use for
The Rams players ratings in Madden 20: https://www.madden-school.com/madden-20-los-angeles-rams-player-ratings/ 
3) Minnesota Vikings
Defensive Rating: 86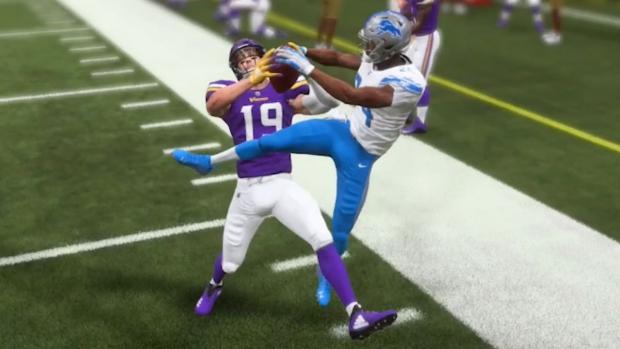 The Vikings know their way around the football. 
Destroying everything in their path, number 3 - the Vikings:
The Vikings defense is stacked! Have fun with free safety Harrison Smith in the backfield and try to guess the pass. His 91 acceleration rating will get you there. 
How to win:
Harrison Smith's speed will get you interceptions and stop touchdowns.
Cornerback Xavier Rhodes is a great player to use when guarding the pass.
The defensive line is solid and each has its own skills and attributes.
Check out all the other defensive players to use when playing with the Vikings: https://www.madden-school.com/madden-20-minnesota-vikings-player-ratings/
2) Houston Texans
Defensive Rating: 88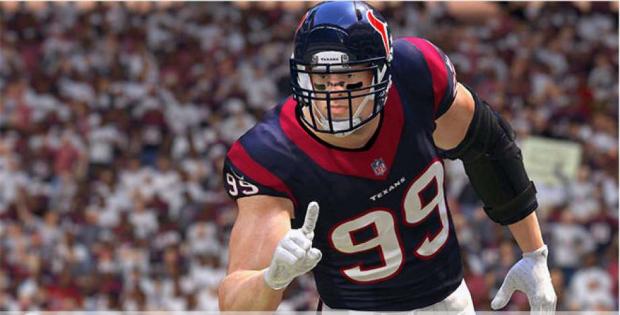 J.J. Watt is TERRIFYING.
Number 2 - the Houston Texans:
The Texans are solid. Left end J.J. Watt and linebacker Jadaveon Clowney are the best defensive players in the league. Use them to sack the quarterback and stop the running game early. 
Keys to success:
J.J. Watt and Jadaveon Clowney are critical to use for a win. 
Free safety Justin Reid is quick with apeed rating of 92.
Use cornerback Jonathan Joseph to guard those receivers.
More on the Texans defense: https://www.madden-school.com/madden-20-houston-texans-player-ratings/
1) Chicago Bears
Defensive Rating: 88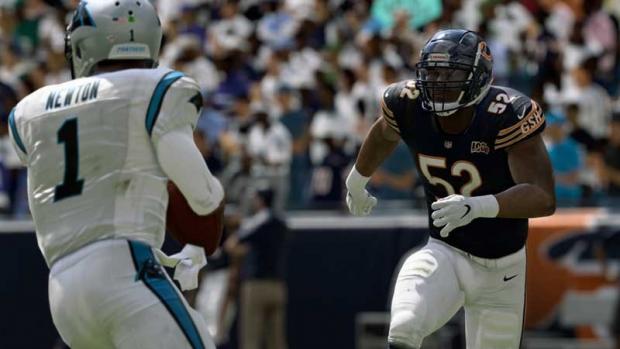 Khalil Mack... also TERRIFYING.
And the best team to use for their defensive strategy in Madden 20 - the Chicago Bears:
The Chicago Bears management is what makes this defense so easy to use. With the best defense playbook in the game, the Bears got you covered. Having linebacker Khalil Mack, one of the best in the league, doesn't hurt either. 
How to use the Bears:
Get to know the playbook and use it to your advantage.
Use Khalil Mack almost every play… he's a monster. 
Use Eddie Jackson and Kyle Fuller to guard the pass and snag interceptions.    
More on the Bears defense: https://www.madden-school.com/madden-20-chicago-bears-player-ratings/
You can score on offense, but to win games you have to keep the other team from outscoring you. Is your Madden defense losing your games? Maybe it's time to improve your defensive strategy, get familiar with your team's defense, and start winning your Madden 20 bouts.
Also be sure to read:
Image Gallery