[Top 15] Most Useful Stardew Valley Mods Every Player Should Use
Updated: 01 Dec 2022 3:17 am
A subtle look at the beauty of modding
If you're a lover of mods and all new adventures alike, this top 15 most useful Stardew Valley mods list is just for you! Modding in Stardew Valley can be an important aspect for any player. Whether casual or hardcore, new or old, the diverse and large modding community behind this beautiful game has so much to offer. In consideration of those talented modders and lovers of mods alike, we start off our bountiful list today with a fantastic way to boost in-game time management.
15. Ladder Locator Mod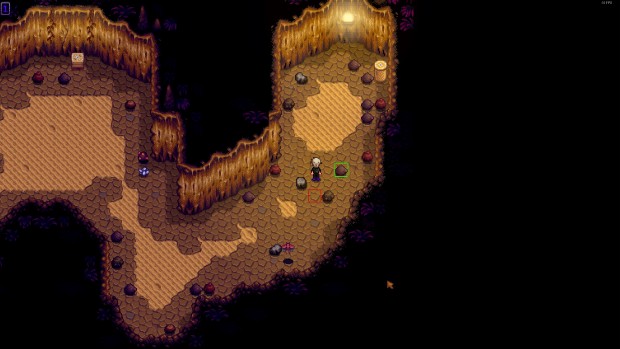 Get in and out of the mines in a breeze!
The mines are hell if you don't have the energy. When you're grinding away for hours trying to find that ladder, your health and energy are depleted, and time is incredibly scarce, you're bound to be stressed. Thankfully, with a mod like this, your mining speed runs may have just gotten a little bit easier.
This mod is simple and straight to the point. With the press of a button, you as the player will get an outline of which rocks are hiding the ladder, making life easier for you by miles. With an additional list of ores on the levels and even a bit of extra help in the Skull Caverns, there's nothing you can't do! Make life easier and gameplay a breeze with this worthwhile mod.
Why You Need This Mod:
Easy to find ladder locations: useful for those in a pinch
List of ores on current level: great for accessibility.
Shafts to appear rather than ladders in the Skull Mines.
14. TimeSpeed Mod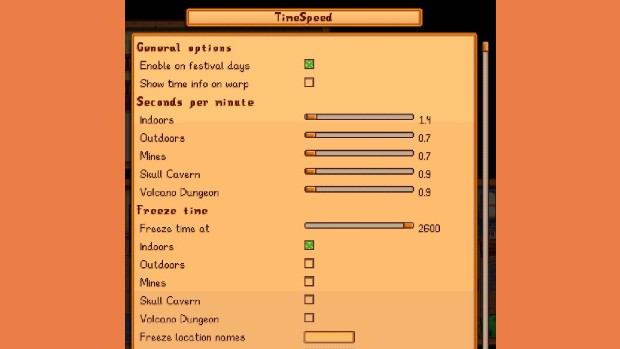 You'll be fast as lightning.
Time just always seems to slip away when playing a good game of Stardew. In this case, I'm speaking almost entirely during game time. With fairly short days and very much to do, it's no wonder you'd be upset about finishing another day with hardly anything done. Thankfully, if you're someone who also suffers from this problem, this may just be the mod for you.
This mod adds a feature we all wish we could have just gotten in the first place. With this little download, you, the player have the ability to distort time to fit your needs. Speed it up, slow it down, or pause it completely—the choice is yours! If you're looking to play with a friend, no need to worry! This mod is multiplayer-compatible.
Why You Need This Mod:
Speed up or slow down time Useful for a day's farming needs.
Freeze time whenever you need useful for afk.
Multiplayer compatible.
13. AFK Time Pause Mod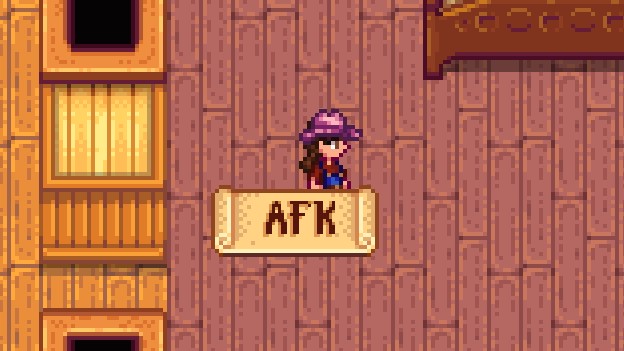 Pause at your leisure.
Much like our previous mod, this one also plays with the horrifying constraints for time, though in a much different way. For those who forget to pause or anyone worried they may be dragged away from the computer at the last second, this is the mod for you. When idle for more than a few seconds, the game will kick into gear by pausing time and allowing you to go AFK.
It has saved me on more than one occasion when phone distractions became too much or dinner was just begging to be made. In your slightly more peaceful runs, this is a useful tool for anyone and everyone. Check it out!
Why You Need This Mod:
Stop time when AFK for if you're in a pinch.
Change config settings in game.
Time loss is a thing of the past.
12. Movement Speed Mod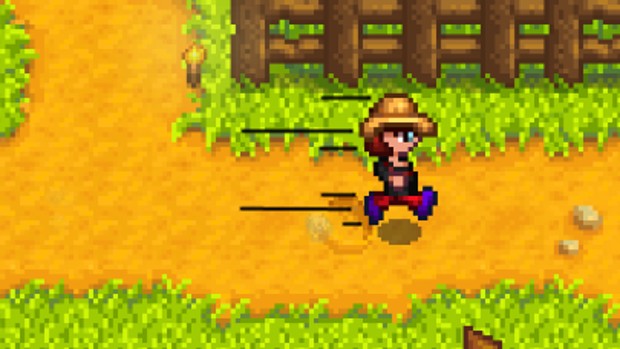 Run around wherever you go!
Movement in this game is quite possibly its worst trait. With no way to run, an expensive and only slightly faster horse as your means of transportation, and the lack of patience that only playing Stardew since launch can give you, it's a recipe for disaster. Thankfully, thanks to the amazing modders who truly built this community, these problems are a thing of the past.
With the movement speed mod, you can change just that. Change your speed from fast to slow, speed up even more with boosts, and zip your way everywhere at the speed of sound. With the added boost of reduced hoe and watering can charge times, this mod truly is a must-have for all players.
Why You Need This Mod:
Get where you need FAST useful for those in a rush
Stacks with other speed boosts.
Reducing hoe and watering can charge time.
11. Yet Another Harvest With Scythe Mod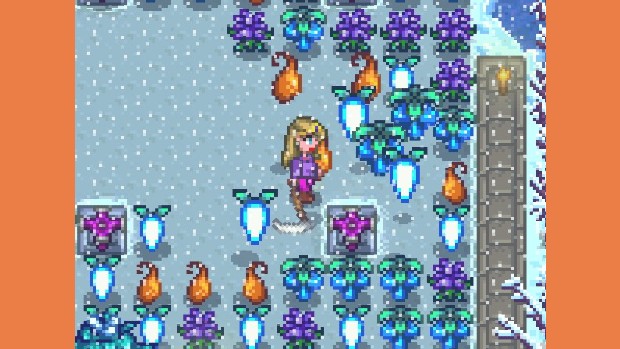 Harvesting has never been so easy!
Harvesting has always been a hassle. Having to pick each individual plant on a farm spanning yards of land is a recipe for pain. Tired hands, tired eyes, and days spent completely bored picking every crop you could possibly imagine. If only there was another way! Harvesting with a scythe is now being introduced.
Those hours of harvesting are gone and they will now be replaced by the swift cut of a scythe. With this mod, you are now able to harvest crops, both on the farm and foraged, through the means of the item above. Long wait times are a thing of the past, and your farm will be happier than ever with this simple yet effective quality of life mod.
Why You Need This Mod:
Harvest in seconds with a scythe useful for fast farming.
Mod does not affect save good for deleting or redownloading.
Applies to both crops and forage.
10. Gift Taste Helper Mod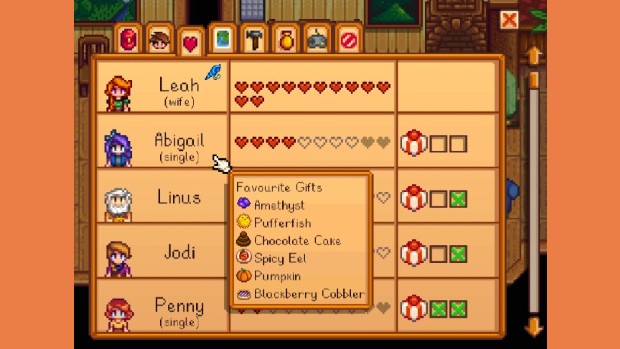 Gift giving for the masses.
Sometimes, picking the gift is the hardest part. Choosing what to give to receive the perfect amount of hearts and deciding what to give in the first place after hours of memorizing the Stardew Wiki is a horrifying endeavor. Tirelessly, this is how I spent many a night in Stardew Valley, though now I have a much more simple and very effective way to cure this headache. 
With the gift taste helper mod, knowing your favorite villagers is easier than ever. Whether you're hovering over characters on the bulletin board or browning the social menu to check hearts, information about favorite gifts is right at your fingertips. Become aware of the gifts you've already given, gain knowledge of the Wiki quicker than ever, and use this helpful mod to build better friendships.
Why You Need This Mod:
Ease of knowledge with a handy list for characters favorite items on the board.
Shows loved gifts already given to NPCs.
Favorite gifts list also appears on the socials page.
9. CJB Item Spawner Mod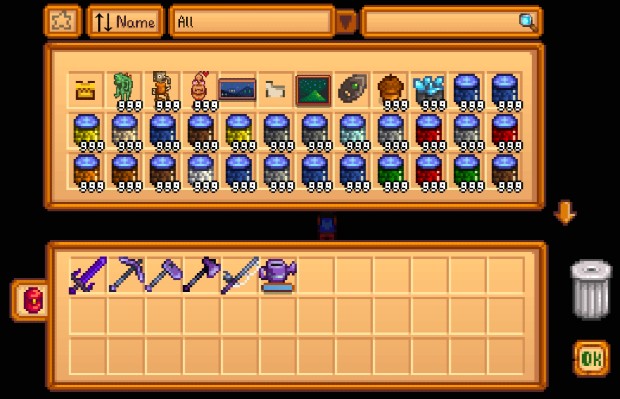 Spawn any item you could ever think of!
Have you ever wished for anything with the snap of your fingers? Well, ladies and gents, I may just have the perfect mod for you! CJB Item Spawner, a simple yet effective mod, is now available!
With just the press of a button, it's now possible to spawn any item of your dreams. Want that prismatic shard? You got it! Need a quick vampire ring? Not a problem! The future of your farm is in your hands, and it may just be easier than ever with this quick, yet incredibly useful mod.
Why You Need This Mod:
Easy to spawn items with just the press of a button useful for quick access.
Language config included in base mod.
Multiplayer compatible.
8. Better Ranching Mod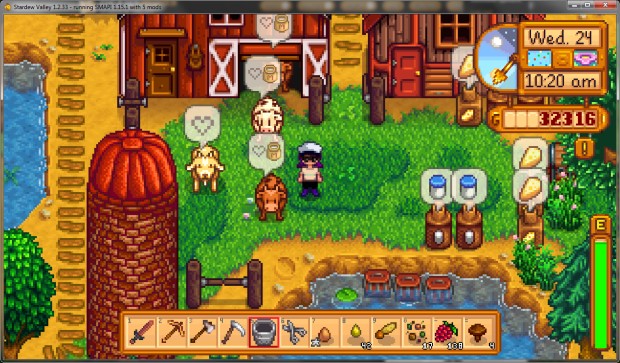 Ranching, made better!
Have you always been someone who's never quite sure what they've already done in-game and what's still left to do? I know I have this problem quite a bit, especially when it comes to my animals. Always forgetting things, such as thinking I petted them that day when it was the day before, or failing to feed them on time. Thankfully, with the help of this mod, it's gotten quite a bit easier to manage.
This mod is a simple fix to an incredibly overwhelming problem. With quick preventative actions such as alerting you when you've already sheared or milked your animals and helpful indicators of when an animal needs something, my memory has never felt better. Make life a little more simple and gameplay a little less worrisome with this amazingly helpful mod.
 Why You Need This Mod:
Make life easier with helpful tips and preventative actions.
Mod Will stop failed sheering/milking attempts.
Indicator for when animals need attention.
7. Canon-Friendly Dialogue Expansion Mod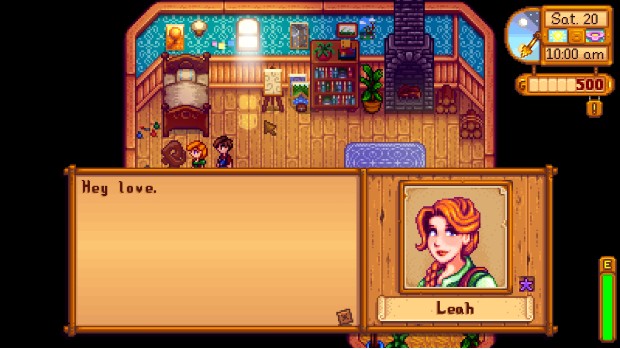 All the more lovely dialogue for a lovely game.
It becomes inevitable that after so many years of playing, something just becomes repetitive. For me personally, I've always after too many playthroughs, I loose interest in the dialogues. I've tried many mods in my time to scratch this itch for something new in a game I love, and today I am proud to say that this is my favorite. The canon friendly dialogue expansion is now available for all your Stardew viewing needs.
An incredibly useful mod for those who, like me, get bored with base games from time to time. This mod packs a punch, that's for sure. With 2600 new lines of dialogue for all in-game characters, your boredom will be easily cured with this simple little download. With the effective mod, you can extend the life of your farm and play as if it were your first time picking up the controller.
Why You Need This Mod:
Add some life to dialogue with this hearty expansion.
Loads of new dialogue across all characters.
Helpful for those who are bored with the base game.
6. Skull Cavern Elevator Mod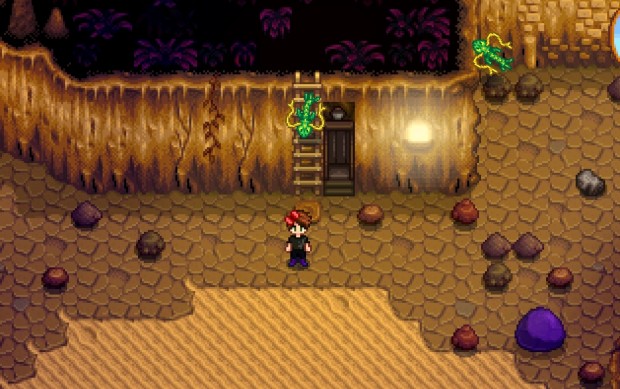 The Skull Cavern, now slightly less daunting.
Even though I'm aware that part of the challenging fun that is the Skull Cavern is the time constraint, sometimes I can't help but feel the desire to just be able to pick up where I left off. I'm not particularly a completionist by any means, so I wouldn't say that getting to the bottom of the caverns is my prime goal. That being said, with ample resources and lots of good hunting experience, the Skull Caverns offer loads of goodies that make this mod worth it.
The Skull Cavern Elevator mod does just what the title implies. Much like the original caves in the game, this mod now includes an elevator every five floors of the skull cavern as well. If you're looking for a little extra difficulty, no need to worry! You as the player also have the option to set however often the elevators will appear, creating a useful, yet very fun mod.
Why You Need This Mod:
Helpful for those looking to save progress in the Skull Caverns.
Elevator will appear every 5 levels of the Skull Caverns.
Change the difficulty of when elevators appear for extra challenges.
5. Part Of The Community Mod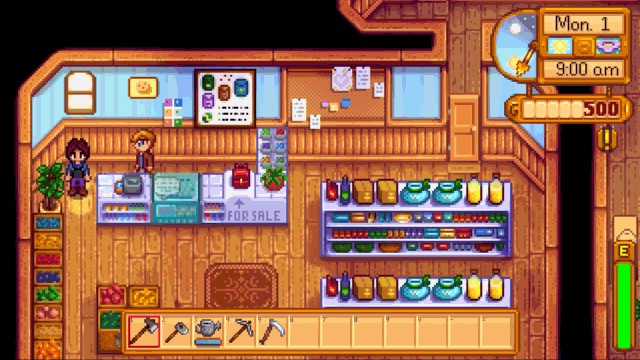 Friendships have never been so engaging.
Another incredibly helpful friendship-building mod to add to the list! For those of you who enjoy building friendships, but need new helpful ways to raise that status, this may just be the perfect mod for you. The "Part of the Community" mod is now available to any and all players alike.
This mod is set to integrate new and exciting ways to passively build up your relationships with fellow NPCs. Completing quest boards many times adds to all villagers' status, and being seen giving gifts to others increases theirs too! With so many new ways to build up those hearts and get those desired events, this is an incredibly useful mod for any player looking for a little bit more.
Why You Need This Mod:
Helpful for those looking for extra ways to build up friendships.
Passively earn friendship through a variety of means.
Give a slight increase to all villagers by completing multiple board quests.
4. NPC Adventures Mod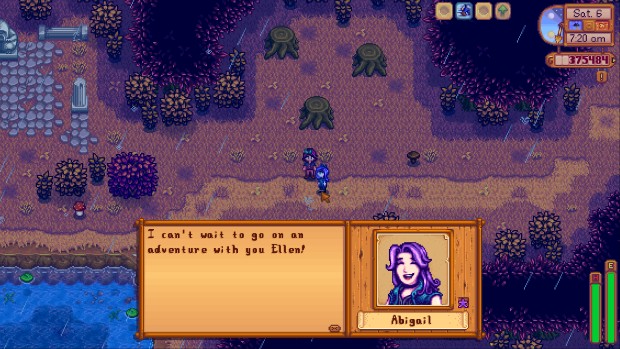 Adventuring is more fun with a friend.
Mining is no joke! With nobody to help you but yourself and days spent mining only to lose out on other aspects of in-game life, it just feels like there should be some semblance of balance. If you've ever wished to bring a partner on your adventure, building friendships and getting help as you go, this may just be the perfect useful mod for you.
With this incredibly fun, yet very useful Stardew Mod, you can now take NPCs on your adventures with you! With each player having their own personal skills, mining will be a breeze with a partner to fight, heal, forage, and more. Custom heart events applicable to some characters may also add that extra bit of character building you're dying to see while away from your farm.
Why You Need This Mod:
Helpful for those looking for a little extra help in the mines.
Different set skills to NPCs that will help you on your journey.
Unique companion events.
3. Bats And Mushrooms Farm Cave Mod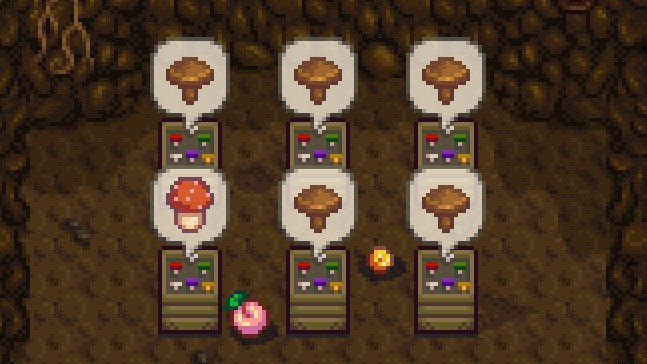 The best of both worlds.
A simple mod for a simple problem. If you're anything like me, it was nearly impossible to choose which cave to go with early on in-game when presented with two amazing options. With fantastic choices on both sides and perks either way, it came down to a decision I was never quite sure was correct. This mod is useful for those who are struggling with a similar dilemma, giving you the choice for the best of both worlds instead.
In this mod, you as the player have the option of selecting both caves rather than just one. Make the most of your time with mushroom forages and bat fruits, making both perks easily accessible to your farms. Check it out if you haven't already, and you'll be a better player for it!
Why You Need This Mod:
Helpful for those who can't choose between the bats or mushrooms.
Choose both Bat and Mushroom cave for the best of both experiences.
Can reset cave events if already chosen.
2. Automate Mod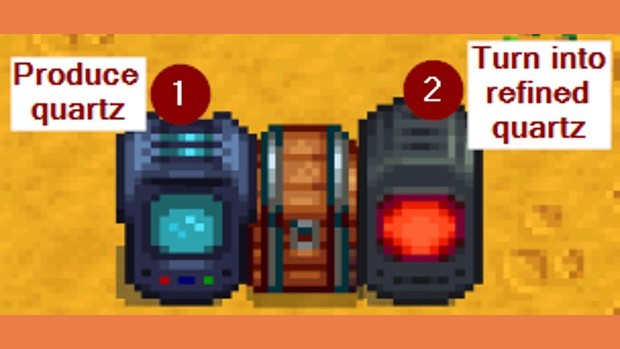 Quickly organize while being efficent.
It's always a chore to return after a day of using machines and sort them into their proper chests. Wrong-clicking left and right, mixing up chests, and placing items where they shouldn't go is a sure-fire way to lose your mojo for a late-night run. Thankfully with this mod, sorting can be easier than ever for all your machine goods needs.
This mod is quite simple, yet incredibly effective. With the easy placement of a chest next to a machine, the finished materials will automatically load into the adjacent chest upon completion. This mod is useful and worthwhile, with the ability to pair with select other mods and a system that is so simple you'll wonder why you didn't just download it in the first place!
Why You Need This Mod:
Helpful for those looking for a fast way to organize raw materials.
Chests placed next to machines will automatically fill up with finished material.
Pairs well with select mods.
1. Better Friendship Mod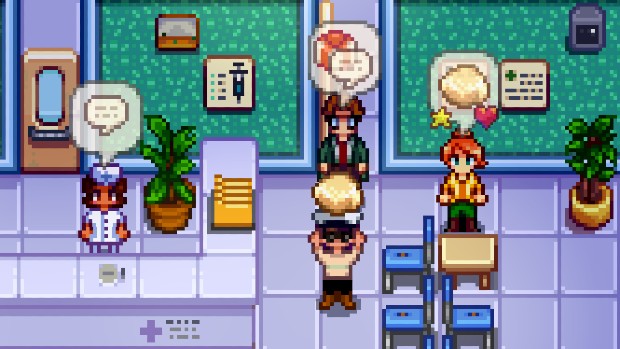 Friendship, but better.
The last to kick off an amazing list full of amazingly useful mods is a personal favorite of mine. Here, ladies and gents, we have another friendship builder with tools that will make your life easier. If you haven't already heard of the simplicity and ease of the wonderful Better Friendship mod, this is one you may want to listen to.
Quickly figure out just what it is a villager wants, from conversations, to gifts, to items already in your bag. This mod makes it easy for you to build those desired relationships with quick and helpful ways to read your favorite NPCs. I highly recommend you get this mod if you are looking for even the slightest bit of ease in making your in-game relationships count.
Why You Need This Mod:
Helpful for those looking for a better, and faster understanding of the relationship builders.
See bubbles above character displaying if they want gifts or conversation.
Gift suggestions based on what you're already carrying.
As you can probably tell, there is so much this community has to offer. This game has an abundance of useful and exciting mods that are free to fit everyone's time and needs. This list is a big example of just what such a loving community can do. With mods galore and so many adventures yet to be explored, I hope there is more than one example of what this list can add to your save.
You May Also Be Interested In: