[Top 15] Sims 4 CC Best Furniture Packs That Are Fun!
Updated: 14 Jul 2022 11:17 am
Don't forget the can goods.
Furniture today, then more CC in the future!
If you are like me, you have probably looked at your Sims 4 game and thought, "it may be time to get new CC''. That is where looking for CC furniture begins and never ends. 
Simmers can spend hours on end CC shopping for that perfect CC pack that provides more than just a little style. Shifting through the never-ending caverns of CC isn't always needed when you can find someone who has compiled a list of the best CC furniture packs.
I have searched many websites to find the best furniture packs that go great with different styles. Here are the top 15 I have found in my search; I hope you enjoy them as much as I have. 
15. Fallout Baby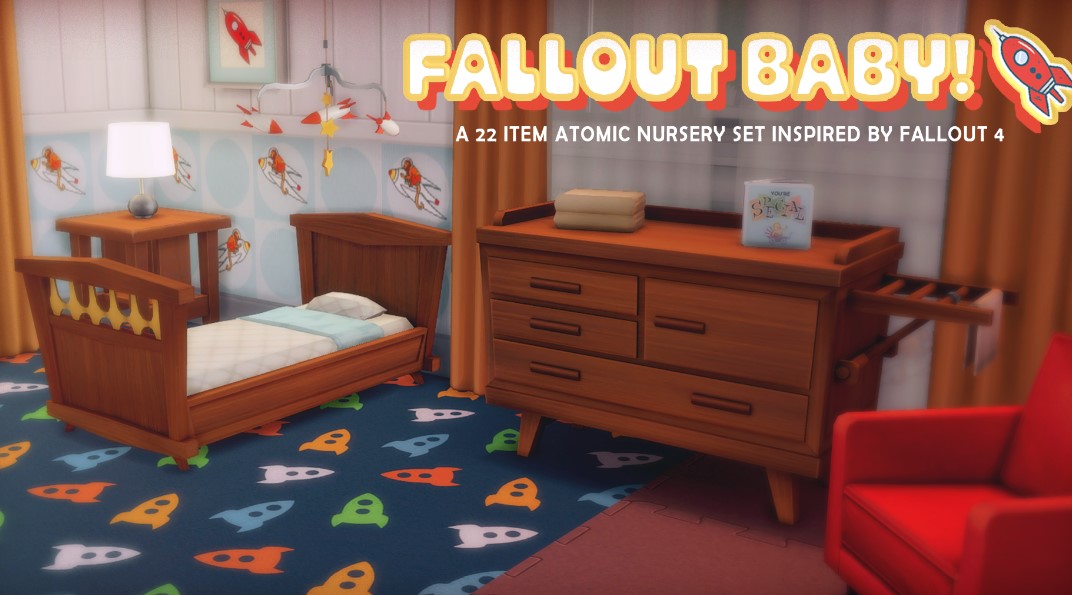 From Fallout to the Sims 4, your baby sim will have it all. Photo from Surely-Sims.
Calling all Fallout Fans and simmers! Complete with twenty-two items with several different swatches, Fallout Baby! is a CC furniture pack for Fallout enthusiasts. 
This CC furniture pack has a couple of overrides, and one requires the Parenthood pack. The override is for the default bassinet and BooBoo Billy from the Parenthood Pack.
The Rocket Nightlight also requires the Parenthood pack due to the nightlight being from there. Mix and match the swatches to give your little sims a stellar room.
Fallout Baby details: Download
14. Promp bedroom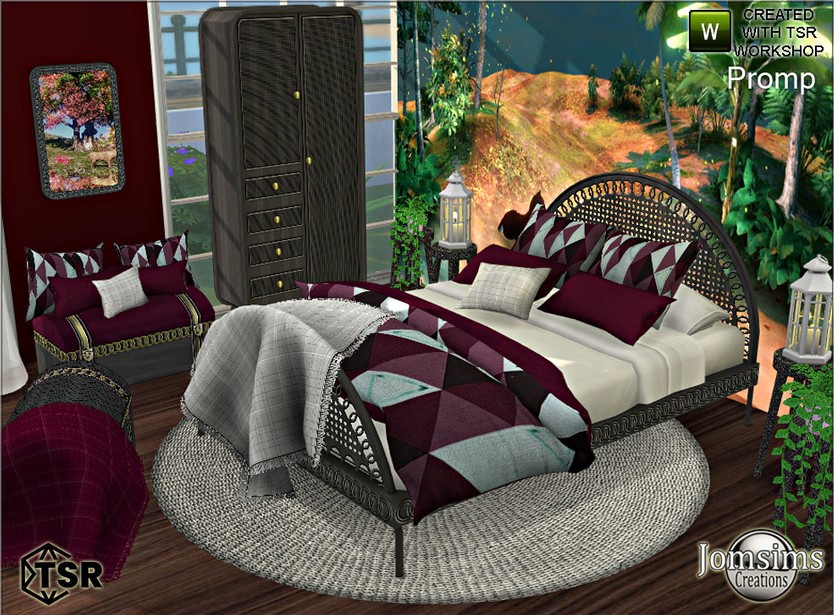 Sleep in an enchanted forest with lovely pillows. Photo from jomsims. 
Bedrooms are where you can be yourself, and sims should be able to do the same in their room. With Jomsims' Promp bedroom pack, your sim will have a classy look. 
The promp bedroom CC furniture pack has twelve items that you can use to create a nice look for your sim. A favorite object of mine in this pack is the wallpaper, which has four squares for placement and four swatches. 
The set brings the feel of an enchanted forest, but if you decide not to use the wallpaper object, it turns into a classic look. You won't need to use the bb.moveobjects cheat to place the pillows, but we all know it helps.
Promp bedroom details: Download
13. Rita Studio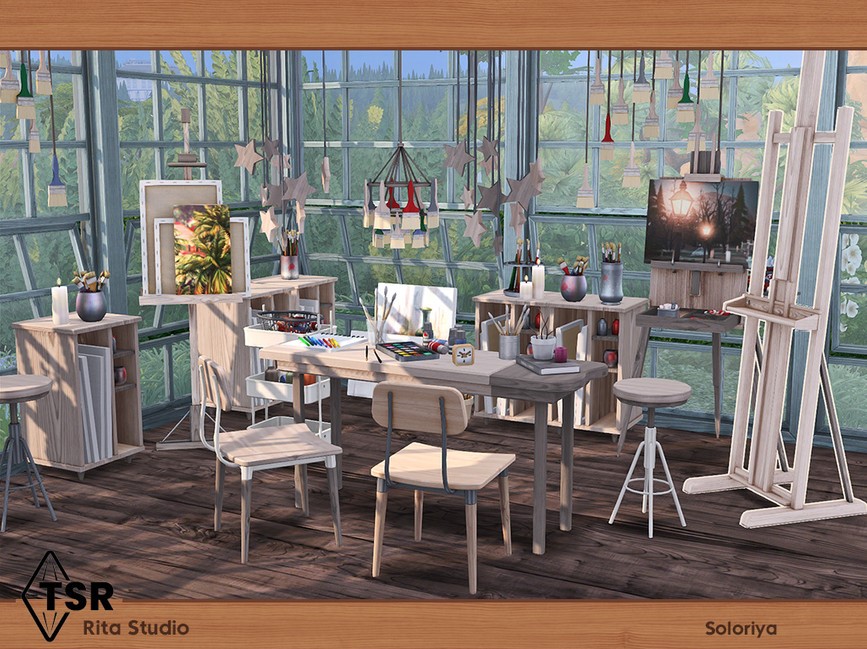 Paint in style in this lovely studio. Photo from soloriya.
Sims 4 provides those with an artistic nature with an easel but only a little creative atmosphere. The CC furniture pack Rita Studio brings you artistic furniture you can use for your sim's art studio. 
Rita Studio has eleven objects that include stars that hang from the ceiling. There is a functional easel and a decorative easel with slots for you to place some more decor. 
Creator of Rita Studio, soloriya, also has art supplies you can use in conjunction with this studio set. This pack is ideal for those who want a detailed art studio.
Rita Studio details: Download
12. Maggie Set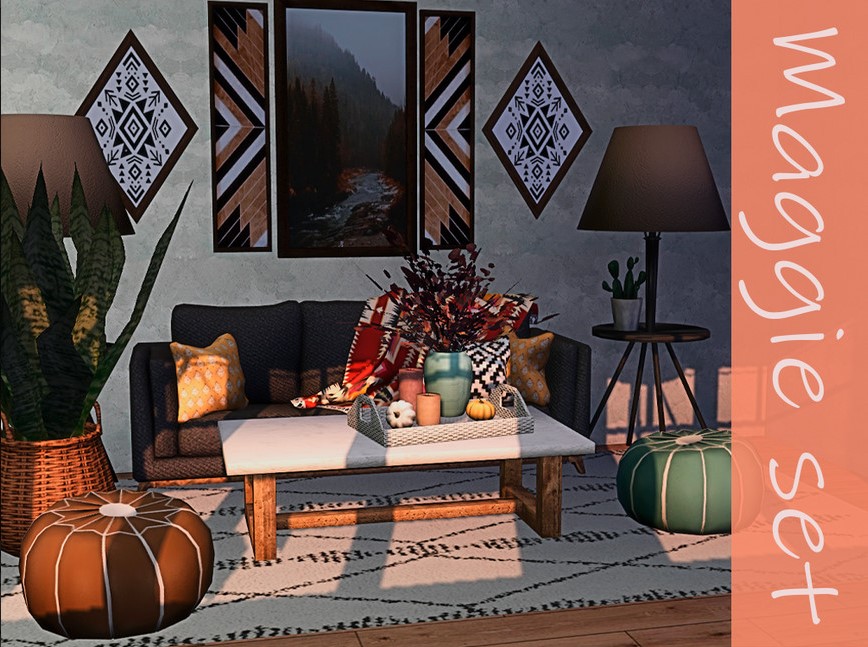 Sitting room or a living room? Photo from YIka. 
Living rooms are the first thing your guests usually see, depending on the home. The Maggie set gives beautiful scenery for your sims to congregate together. 
You will need to use the bb.moveobjects cheat to get full use of the objects. Maggie set has thirteen objects in total that you can use as Ylka shows in their pictures or create your own living room. 
This set has a lovely blanket that looks comfy to curl up under while reading a book next to a fire. You will be adding art to your CC collection with this furniture pack. 
Maggie Set details: Download
11. Stockholm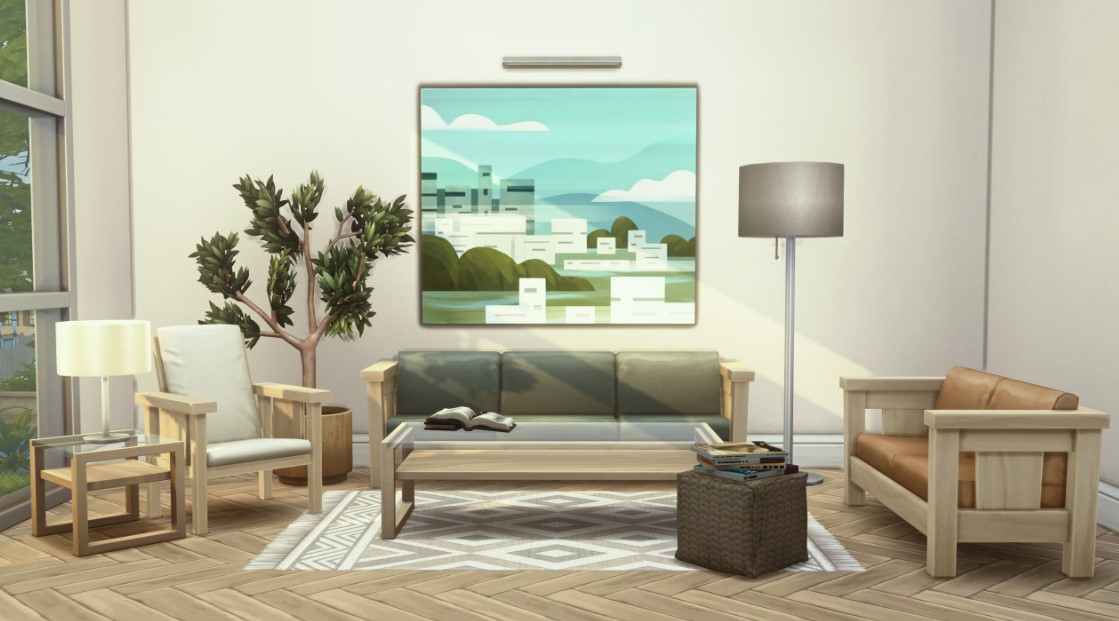 Modern and simplistic living room for your favorite sim family. Photo from Harrie.
When looking at what CC to download, you may find many files with Harrie, Felixandre, or their collaborations. This CC furniture pack is by Harrie called Stockholm. 
Stockholm is a CC furniture pack that has 16 items with several swatches to choose from. Harrie brings a modern sofa set to your sim's home and is base game compatible. 
You have two options for download, the merged and the unmerged. With unmerged download, you can pick and choose what you want, and merged has all of them together. 
Stockholm details: Download
10. Naturalis Bathroom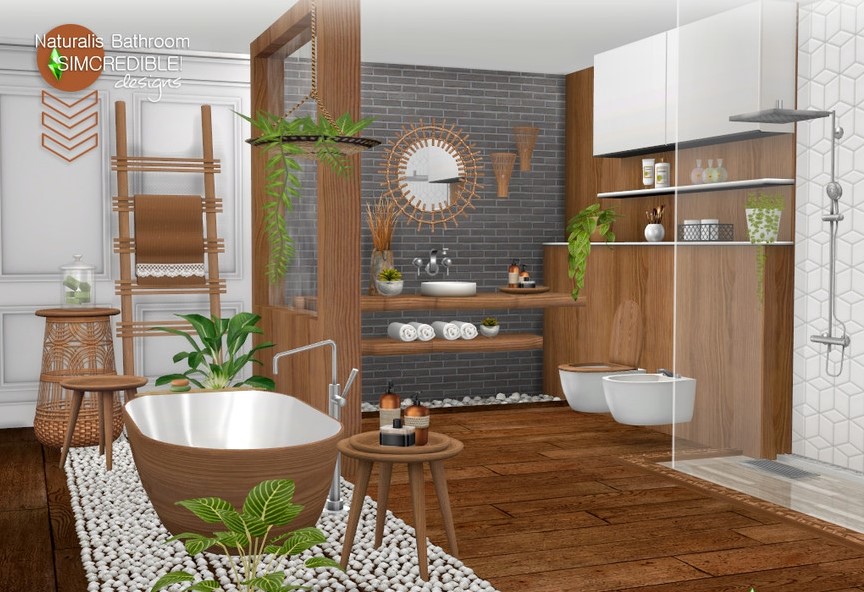 Enjoy a lovely bath with a natural feel. Photo from SIMcredible.
In Sims 4, it can get a little tedious with the bathrooms without adding a little CC. Naturalis Bathroom is a CC pack that brings a natural aesthetic to your sim's bathroom.
These items are all new meshes, making it quicker to download into your sims game. You will get nine objects that are beautiful wooden pieces, including a toilet, bidet, and a tub. 
If your sim adores the natural look with tons of wooden items and flora sophistication, this is the ideal pack for you. The sink is my favorite part of this set for its unique design. 
Naturalis Bathroom details: Download
9. Brutalist Bathroom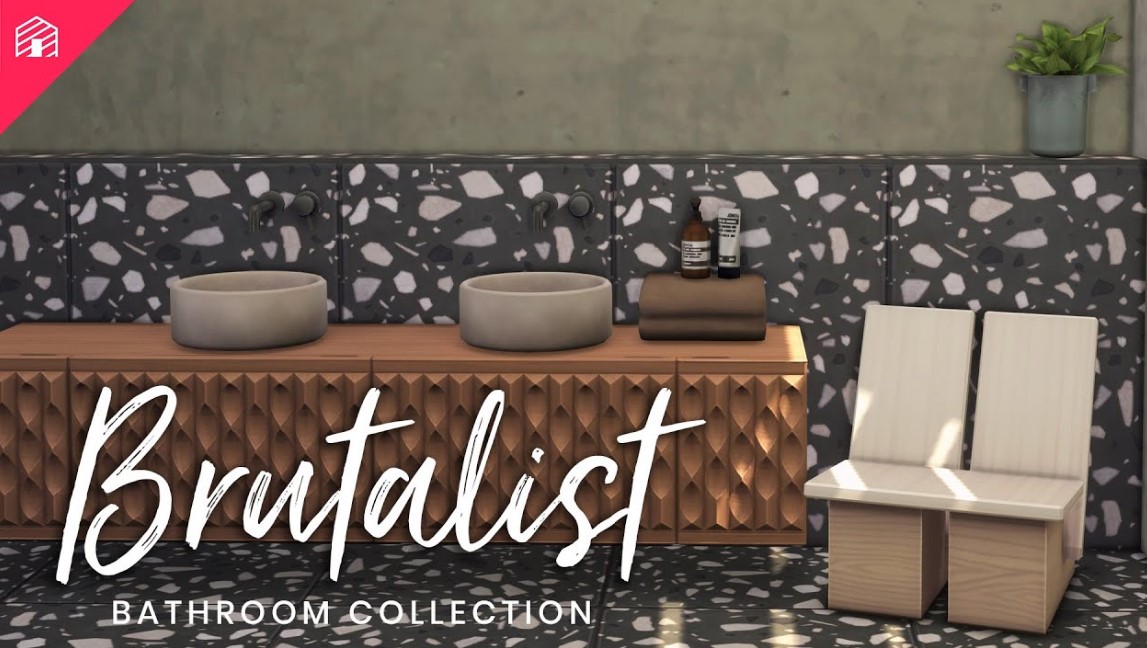 To be brutally honest this bathroom is the best. Photo from Harrie.
Sometimes you have to spend a long time in the bathroom, or you want to relax in the bath. Harrie brings you the Brutalist Bathroom furniture set for your game, so your sim can have a bathroom they want to visit.
This CC set has 27 items for the bathroom, and some pieces give you the option to design your vanity/counter. There are more versatile pieces in this pack than in the game itself. 
The Brutalist Bathroom does have a toilet, sink, and bathtub, and they look amazing. The shelving system complements the style greatly as well. 
Brutalist Bathroom details: Download
8. Verena Livingroom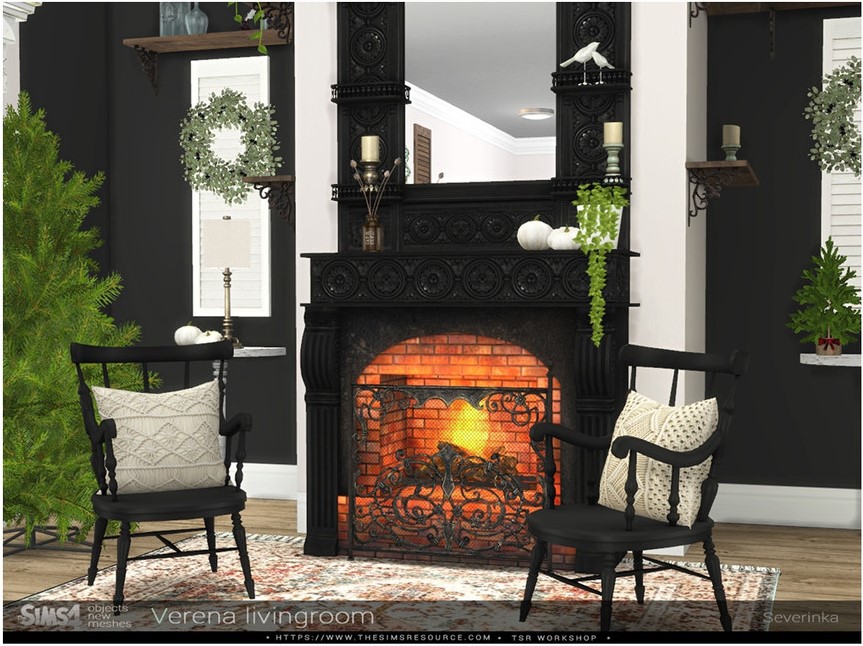 Beautifully elegant in all the right ways. Photo from Severinka_.
Have you ever seen a living room that beckons you to sit by the fire for a while? The Verena livingroom does just that in the details of all nine objects that come in the set.
The fireplace is a masterpiece, unlike anything I have ever seen. If you want the mirror to be in the fireplace as the creator showcases, you will want to have the bb.moveobjects on. 
Verena livingroom set is enchanting with the shutters, shelves, fireguard, and every aspect of the pack. This CC is a must-have for any playthrough you decide to do. 
Verena Livingroom details: Download
7. The Brownstone Collection- Part One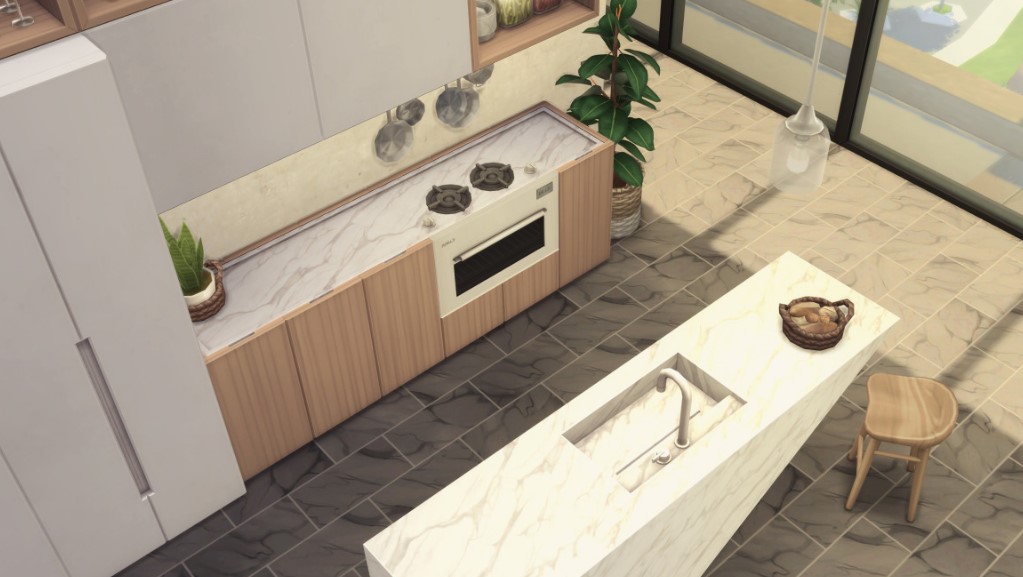 A unique kitchen for the modern home. Photo from Harrie.
Kitchens are a must in any house you ever build in the Sims 4, and if you want to give it a facelift, you may look for some CC. The Brownstone Collection- Part One is a CC furniture pack that contains 21 items for your sim's kitchen. 
There are many pieces that you can make any arrangement you can think of to create. The creator, Harrie, made a note on the download page to make sure to have the auto counters turned off. 
You will have your pick of different swatches for many different looks. What type of kitchen do you want to create with this CC pack? 
The Brownstone Collection- Part One details: Download
6. Home Office Kit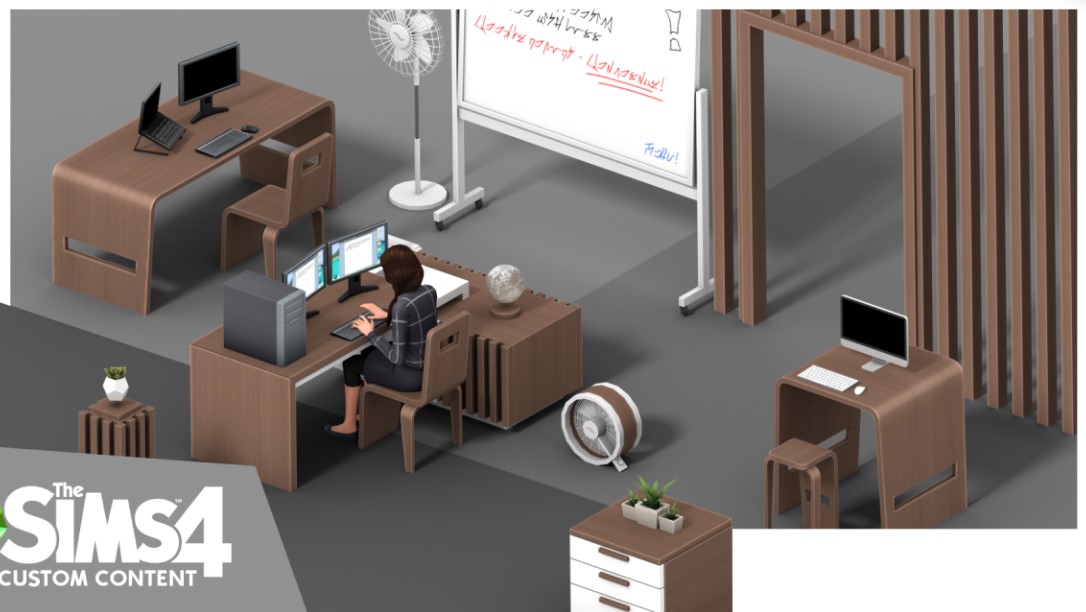 The ideal office for at home or out in a building office. Photo from Illogical Sims.
There are several ways to design your sim's office or office building. With the Home Office Kit [Custom Content Kit] from Illogical Sims, you can make several different styles of offices. 
With options for wall decor, separation of rooms, different styles of desks, and even floor fans, you can customize the best office for your sim to use for their office at home. My favorite three options for computers there is a monitor with a laptop, two monitors, and a single monitor. 
The possibilities are endless with this CC furniture pack. What type of office will you make for your sims? 
Home Office Kit details: Download
5. Shop The Look Season 1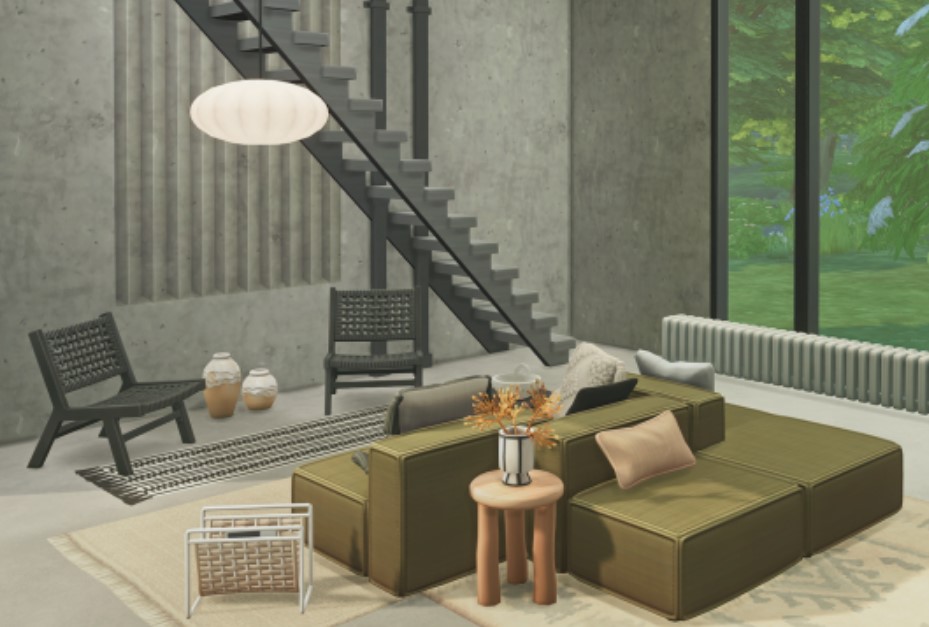 Great for that refurbished factory. Photo from FelixandreSims. 
Sometimes less is more when it comes to the living room of your sim's home. Shop The Look Season 1 from Felixandre brings simplicity in 15 items that give more than enough options for many different designs. 
You will get a sectional couch, woven chairs, working radiators, decor pieces, rugs, throw pillow, lights, and a magazine stand. Make your sim's living room in their favorite color with the versatile swatches on these items.
You can use this CC pack for more than just a living room. Create a little book nook for a library in your sim's house. 
Shop The Look Season 1 details: Download
4. Small Spaces: Pantry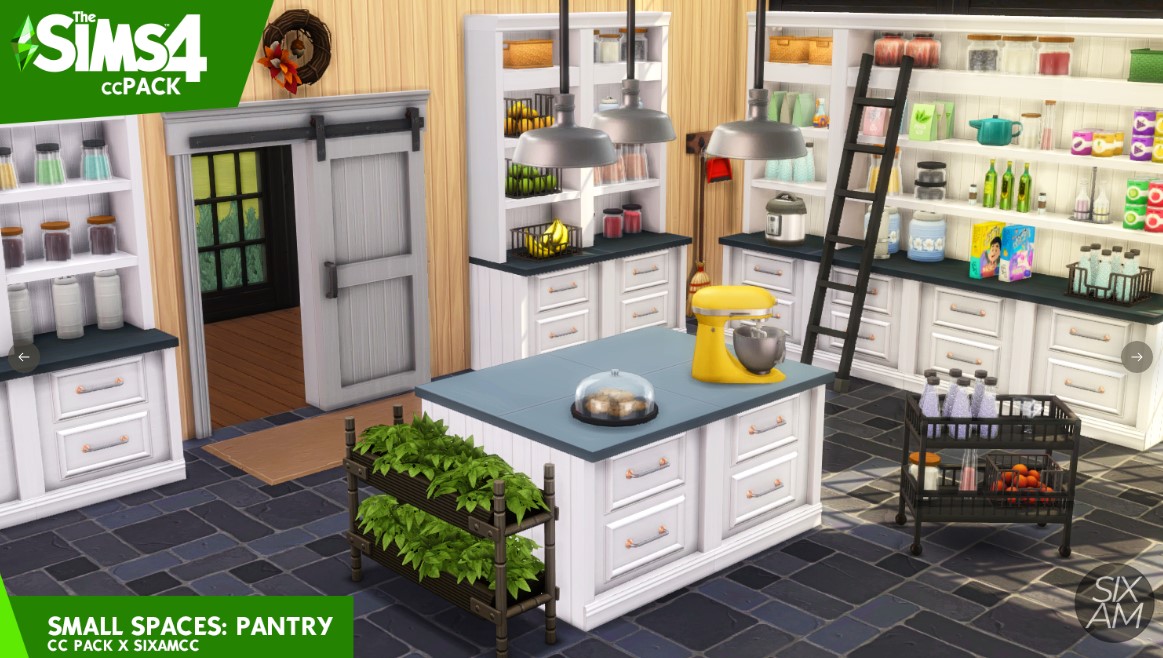 Every sim deserves a fabulous pantry. Photo from SIXAM CC.
Have you ever wanted to build your sim a pantry that has groceries on the shelves? The CC pack Small Spaces: Pantry CC Pack provides 46 items to design your ideal pantry. 
You will have milk bottles, jars, fruits, appliances, lights, and so much more to put onto the shelves in the pantry. SIXAM CC has even created a functional mixer for your sims to use with this pack. 
Cooking will never be the same for your sims. It is nice to create a space for a pantry that you can fill with actual grocery decor. 
Small Spaces: Pantry details: Download
3. LIVIN' RUM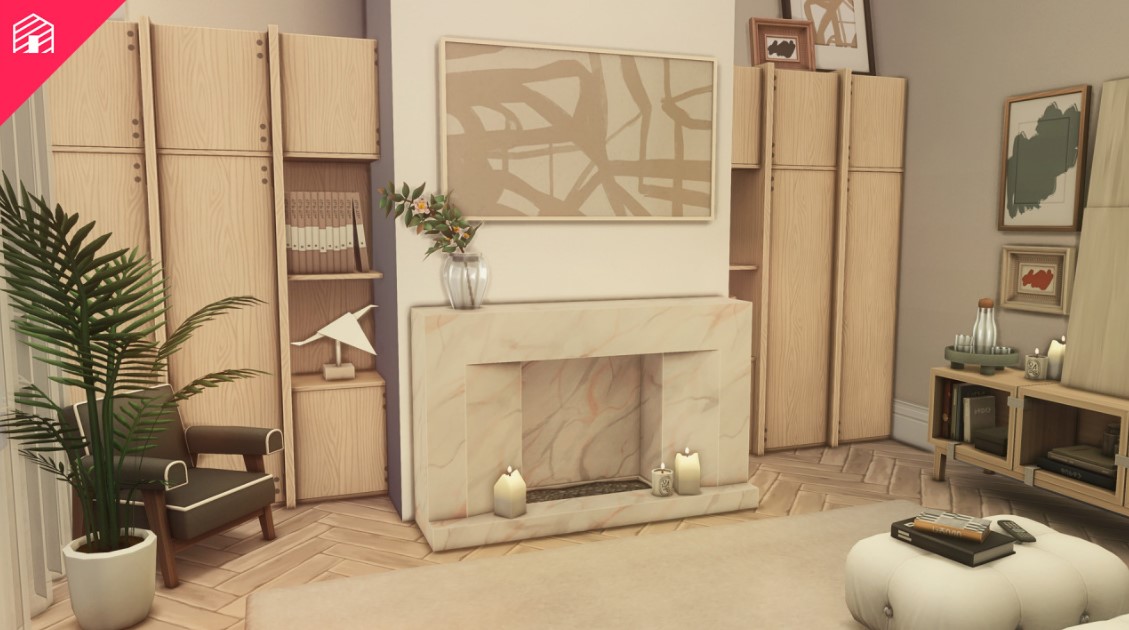 A hidden tv is just what your sim needs. Photo from Harrie.
In collaboration, creators Felixandre and Harrie have made a CC pack of 60 pieces called Livin' Rum. From stylish shelving to a TV that appears as a painting when turned off, you will have endless options to create the perfect living room for your sims. 
There are bubble-like chairs and couches that you can use, and there are tons of clutter to make the living room more realistic looking. The pieces of clutter include a remote, car keys, paintings, candles, and books. 
You can even have little boxes to place on the shelves. Your living room will scream style and that someone actually lives in the house. 
LIVIN' RUM details: Download
2. Xezel Office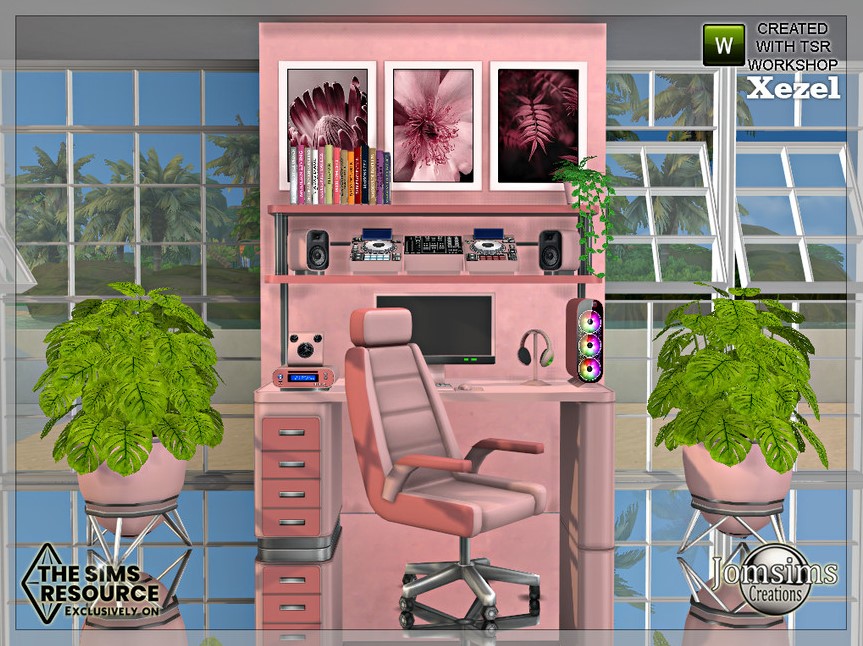 Each gamer needs a place to game. Photo from jomsims.
Gamers need to work in the ideal office that has style. Using the Xezel Office CC pack will give your gamer sim the ideal space where they can get lost in their game. 
This pack has twelve items in this set with four different swatches to design the office. There are speakers, a sound system, headphones, and a pc tower to decorate the gaming office. 
You will have shelving above the desk if you want to include the decor items. This pack also has a desk chair to go with the desk and shelves. 
Xezel Office details: Download
1. Xenia, part 2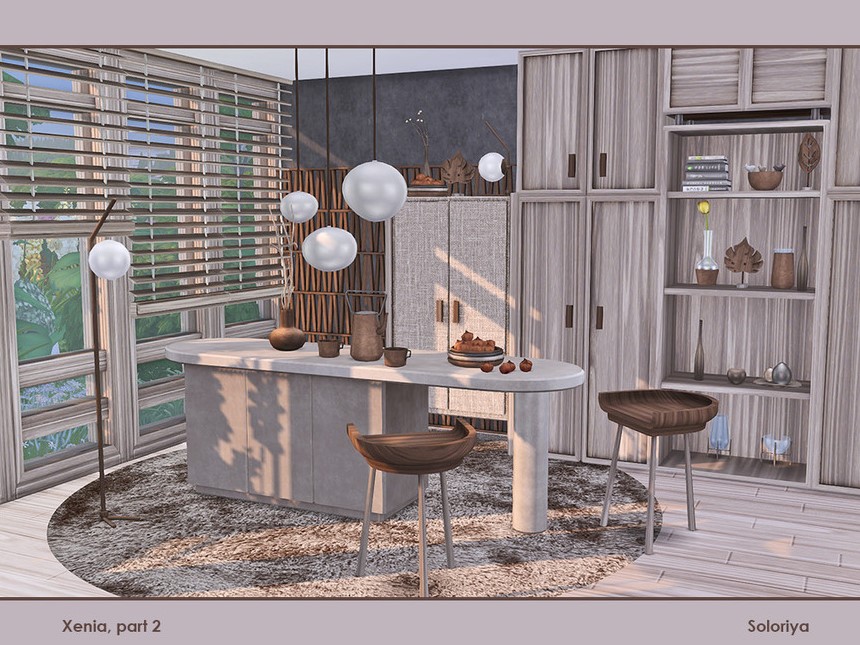 Don't confuse this set with your kitch counter. Photo from soloriya.
Have you ever wanted a space to sit that isn't in the living room? Sometimes a house will have a place where you can sit and look out the windows, like the CC pack Xenia, part 2. 
Xenia, part 2 comes with ten objects to get you started with a small living room. This pack would be ideal for a sunroom. 
You will have a floor light, table light, a hallway table, stools, blinds, and a few more things. Soloriya has more CC that goes beautifully with this pack. 
Xenia, part 2 details: Download
You may also be interested in:
Image Gallery