[Top 15] Best Free Open World Games for PC
Updated: 22 Jun 2023 12:56 pm
15. Albion Online - 2017 (PC / Android)
Forge your path with Albion's player-driven economy system. Explore an open world filled with adventures, battles, and territories to conquer. Build your house, weapons, and armor. Raise your mounts, and grow your own crops to trade and feed yourself. Almost everything in Albion Online is possible to reach with your knowledge. This sandbox MMORPG game is set in a fantasy medieval world where PvP battles and randomly generated dungeons are the main objectives. There are no classes to choose from, only a weapon to use; And strategical combat where your skills will shine. The weapons and armor you craft will define your results in battle. Take a group or solo expedition and discover the many enemies awaiting to be battled. 
Fun factor score: 90/100
Choose this game if you like...  
Very detailed character growth. 
Top-down/isometric view.
Complex development and deep knowledge of the game's features.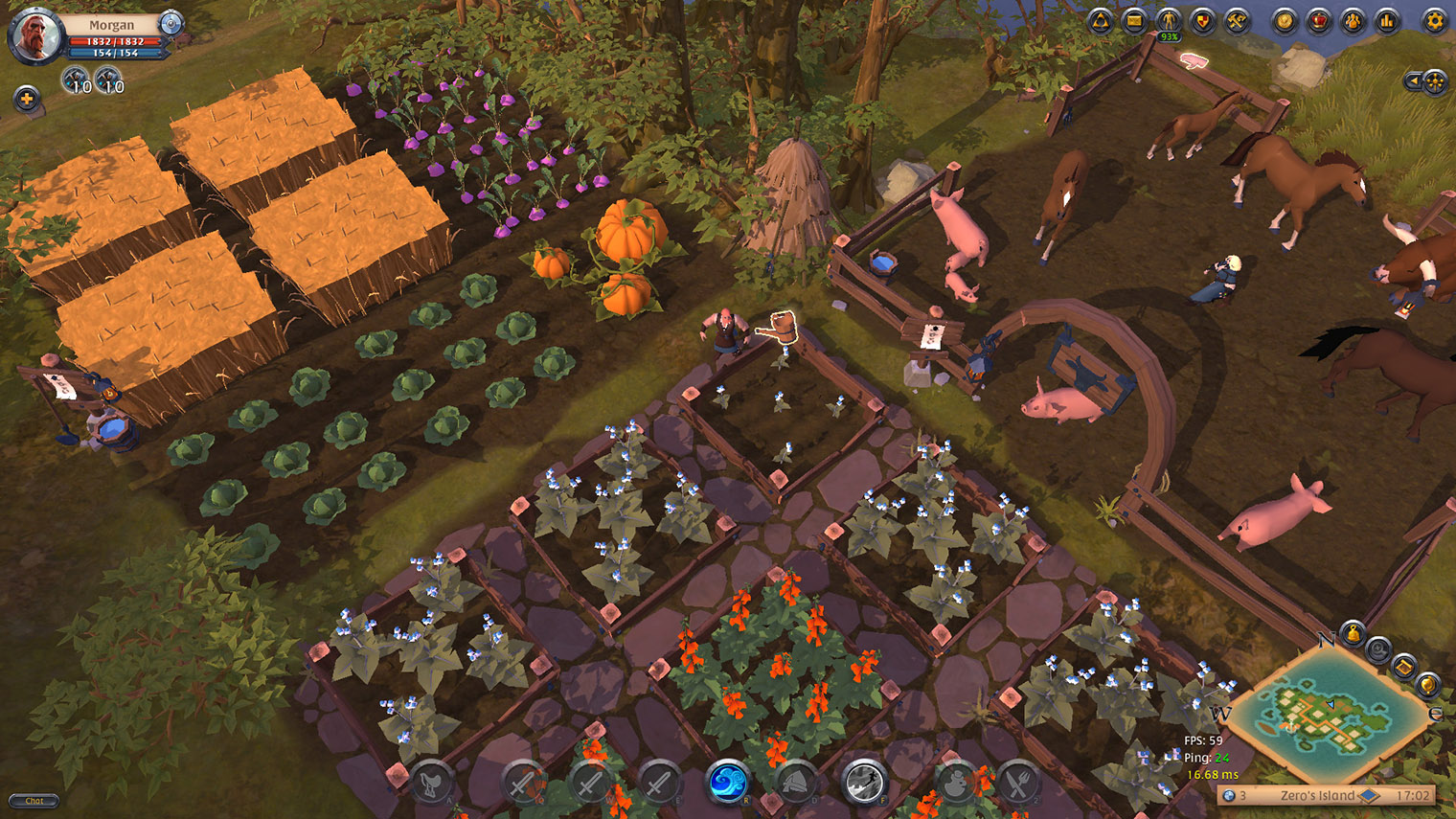 A cute visual of a prosperous farm. This player knows how to be organized. 
14. MIR4 - 2021 (PC / Android)
A K-fantasy open-world MMORPG. MIR4 is one of the best-developed free games on Steam. A nice combat system where you can choose to be a Warrior, a Sorcerer, a Taoist, or a Lancer. Grow your character in a quiet hunting, gathering, and crafting life. Or join a clan to battle in massive PvP and join raids. MIR4 is one of the first NFT commercially successful online games, a very curious aspect. But aside from this, the best part of the game is the freedom of choice on how to gain XP. Although the combat motions inspired by martial arts give quite the visual, the passive lifestyle of only farming is something to be thankful for. You can choose the style that bests suits you.
Fun factor score: 90/100
Choose this game if you like...  
K-fantasy character and combat designs. If you like K-pop you're going to love MIR4!
NFT system.
Farming games.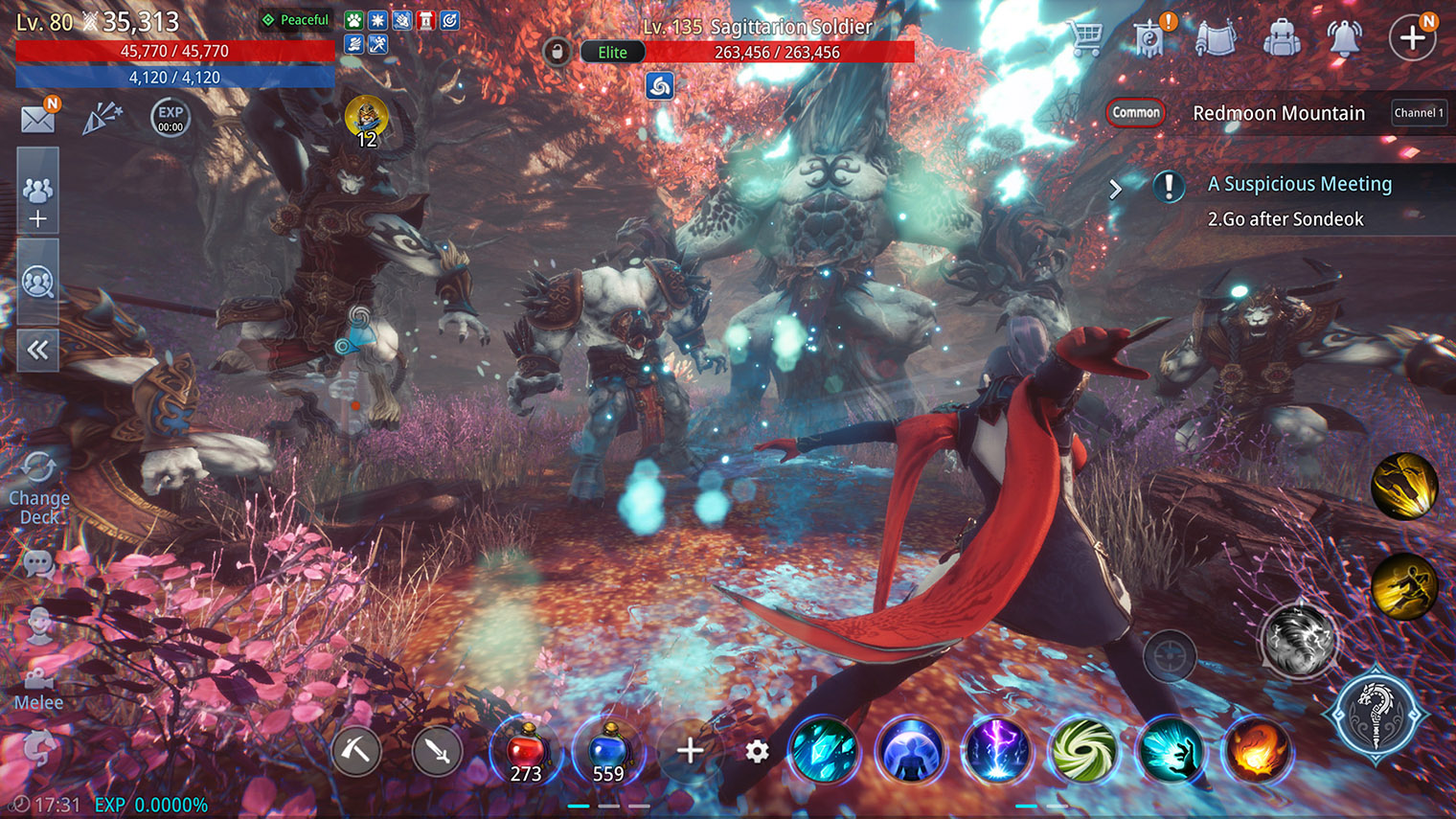 A frenetic battle against a horde of fantastic creatures. 
13. Runescape - 2020 (PC / Android)
This fantasy MMORPG has one of the most beautiful open-world I've seen among free games. A world that has been growing for 19 years already. Explore the constantly changing world of Gielinor and its lore in your own way. Play with friends or enjoy a solo adventure where you will meet other players. There is an incredible number of places to go to, each one with its own story. A total of twenty-eight skills are available to learn. From cooking to smithing and divination. Epic bosses await to be battled. Choose how to face them with the versatile combat system of Runescape. Plus it has a great community!    
Fun factor score: 80/100
Choose this game if you like...  
Nostalgia RPG games.
Socializing. The community is the best aspect of the game.
Inexhaustible games.
This is just a small portion of the world of Runescape in Wintertime.  
12. Neverwinter - 2013
Inspired by Dungeons and Dragons, Neverwinter is a fantasy MMORPG game set in iconic locations taken from D&D. Dive into the cities from the D&D Forgotten Realms Campaign. A fast-paced combat style is what makes this game truly enjoyable. Enjoy epic scenarios with a dense variety of enemies. Join thousands of players already making their way to becoming a legend!
Fun factor score: 90/100
Choose this game if you like... 
Dungeons and Dragons, of course. The game is completely inspired by it.
Diving into long hours of game to complete quests with lots of reading before getting to the action.
Dark fantasy.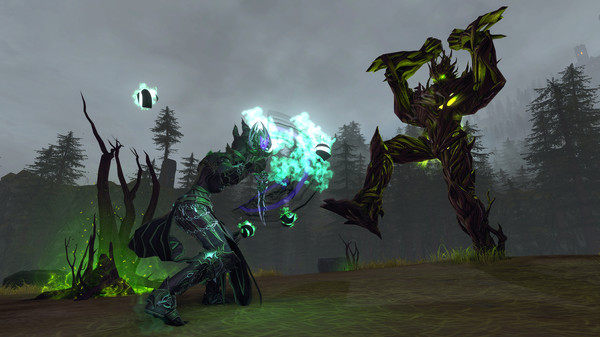 A powerful dark sorcerer against a living tree. This image has a toxic color palette that suits the atmosphere perfectly.
11. Wakfu - 2014
A unique world filled with adventures. This game has unique exploration and combat features. The way Wakfu engages its players is through the original system implemented in it. There is no other game like it. With its grid-based strategy combat, the limitless universe, and infinite adventures, Wakfu is one of the best worlds. Choose among eighteen original classes: robots, masters of time, streamers, and more. Whatever suits your adventures better. Whether you want to go into dungeons to fight creatures, exploit the natural species, or protect them. You're free to do what you please with the ecosystem of the game. Considering a natural cause and consequence effect. 
Become a hero or a governor of any world you choose. Will you choose the life of a pacifist or will you become a tyrant?
Fun factor score: 70/100
Choose this game if you like... 
Grid-based combat style.
Top-down/isometric view. Cause
Cause and consequence effect. Do whatever you want but everything comes with a price.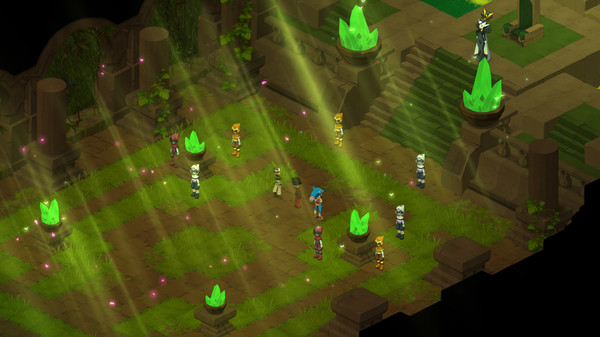 This shining scene gives a sense of what is like to play Wakfu. Such a cute place to spend your time.
10. Undefeated - 2019
Undefeated is a game based on the superhero experience created by three students from Osaka. Protect the city from crime and save the civilians with your unlimited powers. Face the villains trying to destroy the city in a dynamic mid-air battle. Fly over the island and complete the two different challenges: Destruction and Flight. The first one consists of destroying all objects. The second is to soar through the hoops within the time limit. The closest experience to a Superman-free game is Undefeated! 
Fun factor score: 60/100
Choose this game if you like... 
Superman. The game is highly inspired by him.
Helping others. This is what heroes do.
Ridiculously powerful protagonists.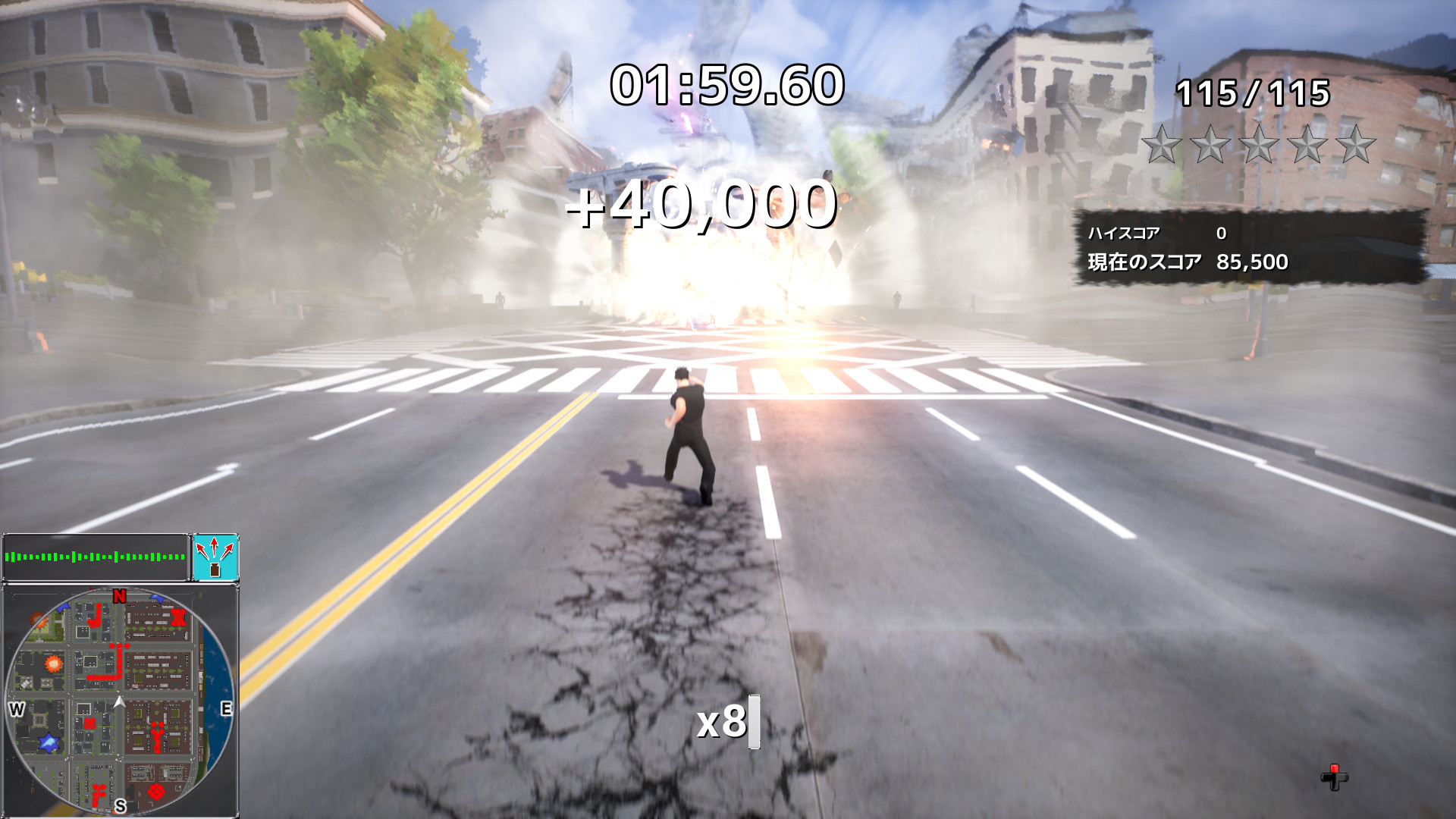 The hero throws an extremely powerful ability that can destroy anything. 
9. Stay Out - 2019
The best free survival post-apocalyptic MMORPG. Stay Out has a dark world where you'll have to face unknown enemies with stealth and shooter skills. Exploring in Stay Out is all about discovering the mysteries around abandoned places in a world where danger is around the corner. Join a group of people called "the stalkers" and move together in search of artifacts and other loot. Survive in the most extreme conditions where there is no law of nature as we know it. 
Fun factor score: 80/100
Choose this game if you like... 
FPS games. The game combat is mainly FPS.
Dark and cold environments. Coop
Coop. survivals.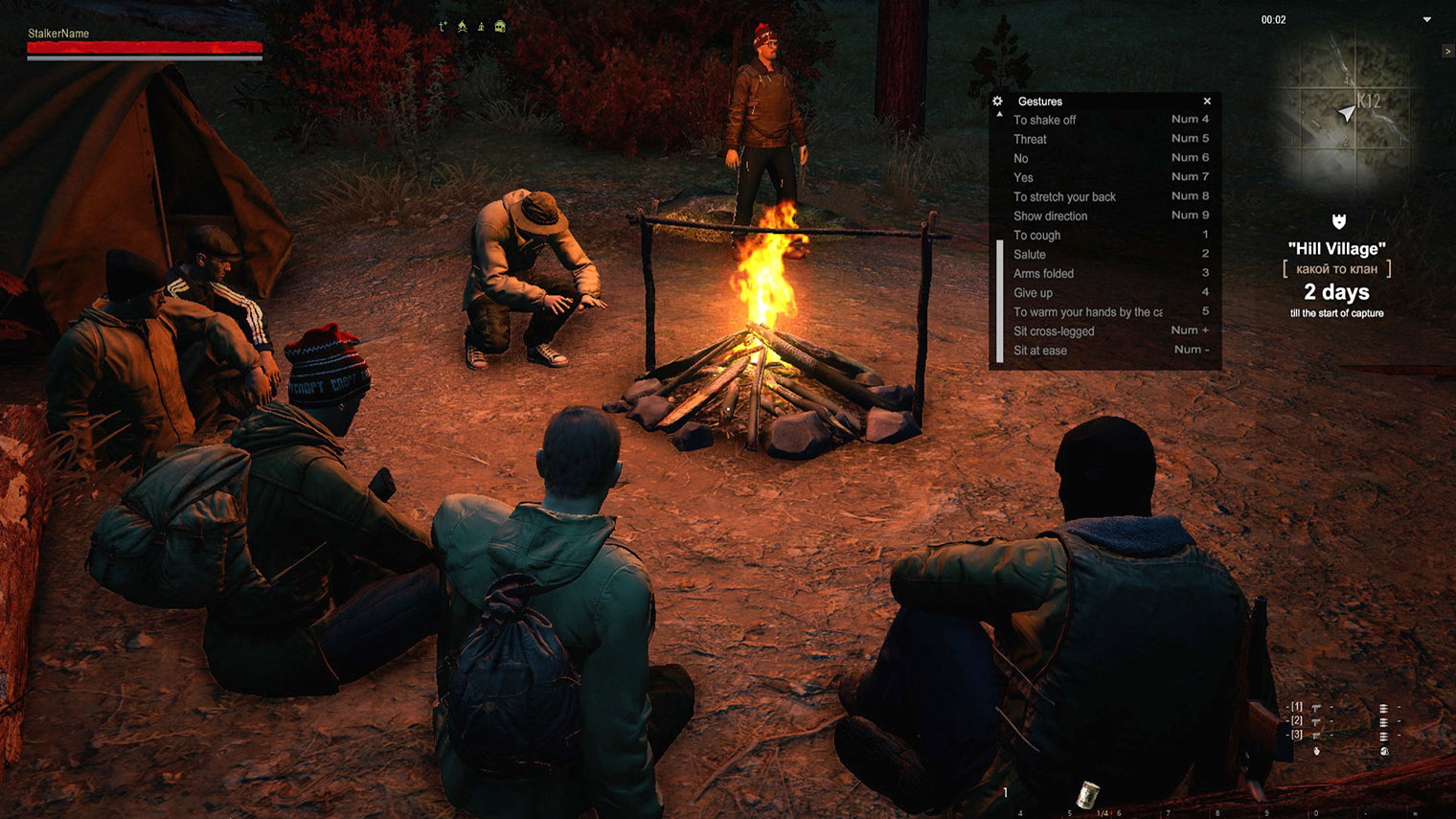 Just a group of men around a bonfire resting in a humble shelter in the forest. 
8. PlanetSide 2
A colossal FPS where thousands of players fight in an immense multi-continental world. Join a team, or create your own and prepare it for the planetary war. A large class system with unique skills can be selected and learned. Adjust your soldiers, weapons, and vehicles according to your necessities. The player can work for one of three empires, each one representing different ideologies. With their gear, skills, and vehicles. The objective of PlanetSide is to gather resources and conquer territories in a highly competitive environment. To win you'll have to carefully plan your tactics and position.
Fun factor score: 80/100
Choose this game if you like... 
Sci-Fi game style with futuristic robotic and machinery designs.
Highly competitive games.
Tactics and strategy to win a battle.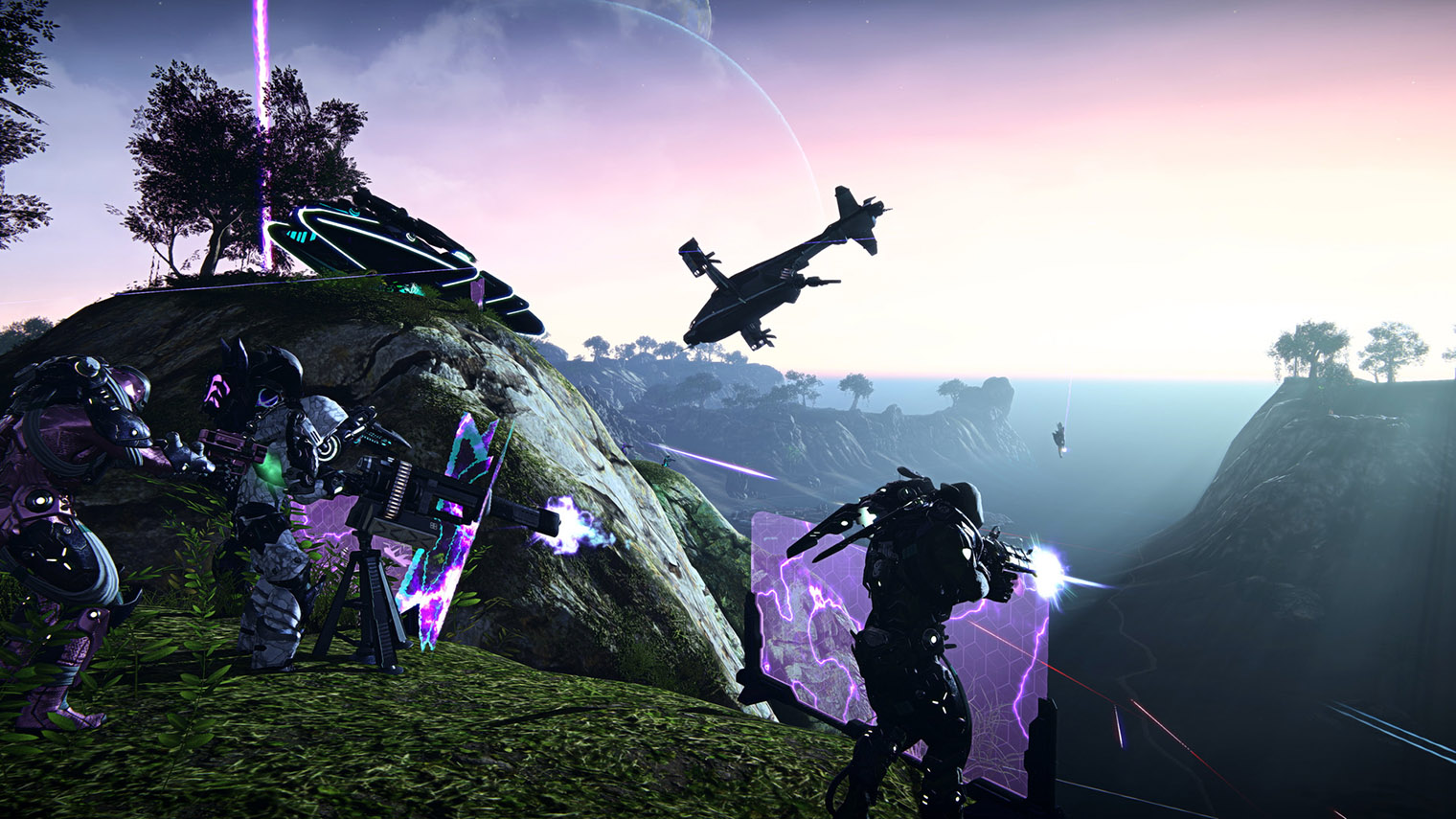 This image is a perfect depiction of a sci-fi battle. You can be one of them!
7. Old School RuneScape - 2013 (PC / Android)
This unique retro fantasy MMORPG is an unforgettable experience. The fun part is that this game's world is shaped by the players (you). Assuring new content, regular updates with expansions, and lots of new adventures voted by the players. A close bond between developers and players is what makes this possible.
With 23 skills to learn, dozens of bosses, rich lore, challenging combat, and a grand community; This game is exceptional. Chill with friends or explore the world completing different adventures and defeating thousands of enemies. Build your story the way you want and be part of this world's constant evolution.  
Fun factor score: 90/100
Choose this game if you like... 
Old retro games. The graphics are exactly like it was back in 2007. Do not even think about it if you're into modern graphics.
Huge communities where everyone is committed to the game.
Sinking deep into a single game.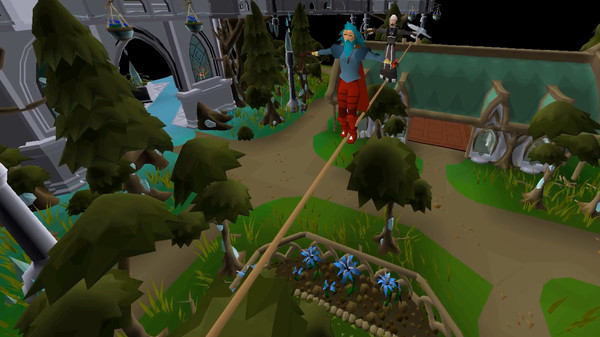 Two buddies on the tightrope. Look at how they keep balance, that's something to admire.
6. The Hunter Classic - 2014
A very simple concept but original at the same time. Go on a hunting day anywhere you want. Choose a location and a weapon to hunt down your prey in a realistic environment with great graphics. From marvelous Australia to Los Alpes, collect your exotic trophies from 44 different species. Use all kinds of weapons to compete for prestige with other players. You can also live a cooperative experience with a group of 7 friends. A complete competition system will grant you hours of fun. Increase your HunterScore and unlock new skills and items. 
Fun factor score: 80/100
Choose this game if you like... 
Hunting. This is what you will be doing.
Realistic experiences.
Collecting prices, weapons, skills, and cute landscapes.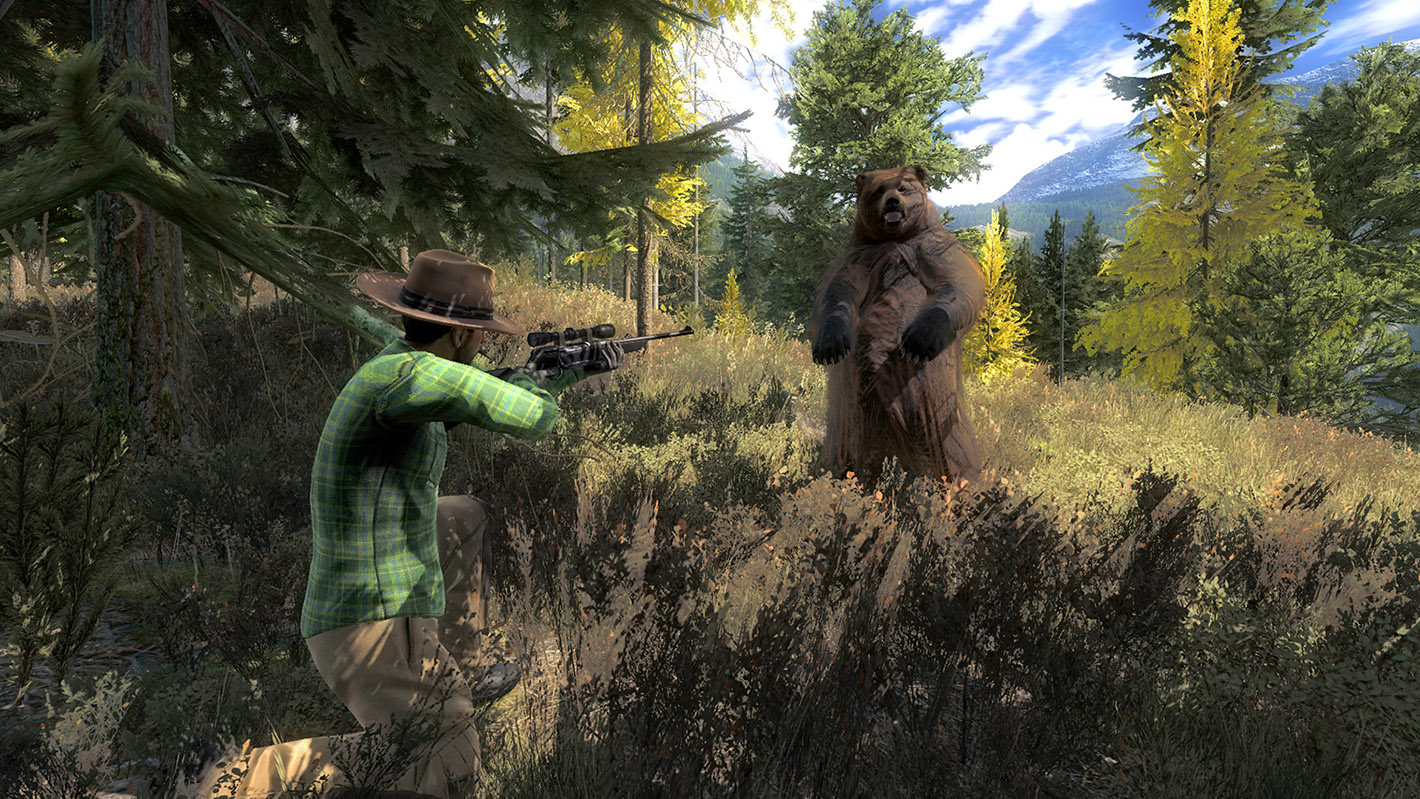 The Hunter in a close encounter with a grizzly bear. Too close to be using a sniper I believe. 
5. Destiny 2 - 2019
Merge yourself into the rich world of Destiny to unravel the mysteries of its lore. Experience the vivid fast-paced combat in this FPS. Get powerful skills and collect unique equipment to personalize your character and playstyle. Become the most skilled Guardian and defend the Last City in the solar system from the villains. Choose between the Titan, Mystic Warlock, or Swift Hunter classes. Each with unique useful abilities. Cooperative adventures are awaiting. Go on a raid with friends and test your might or face the enemies all by yourself. Several game modes are available to compete. Gather unique rewards among millions of options and create the best gear from limitless combinations. Destiny 2 is one of the best FPS open-world free games you'll ever play. The best part is that it can be played on any computer due to its low requirements. 
Fun factor score: 80/100
Choose this game if you like... 
FPS games.
Futuristic design.
Fast combat games to chill for a while.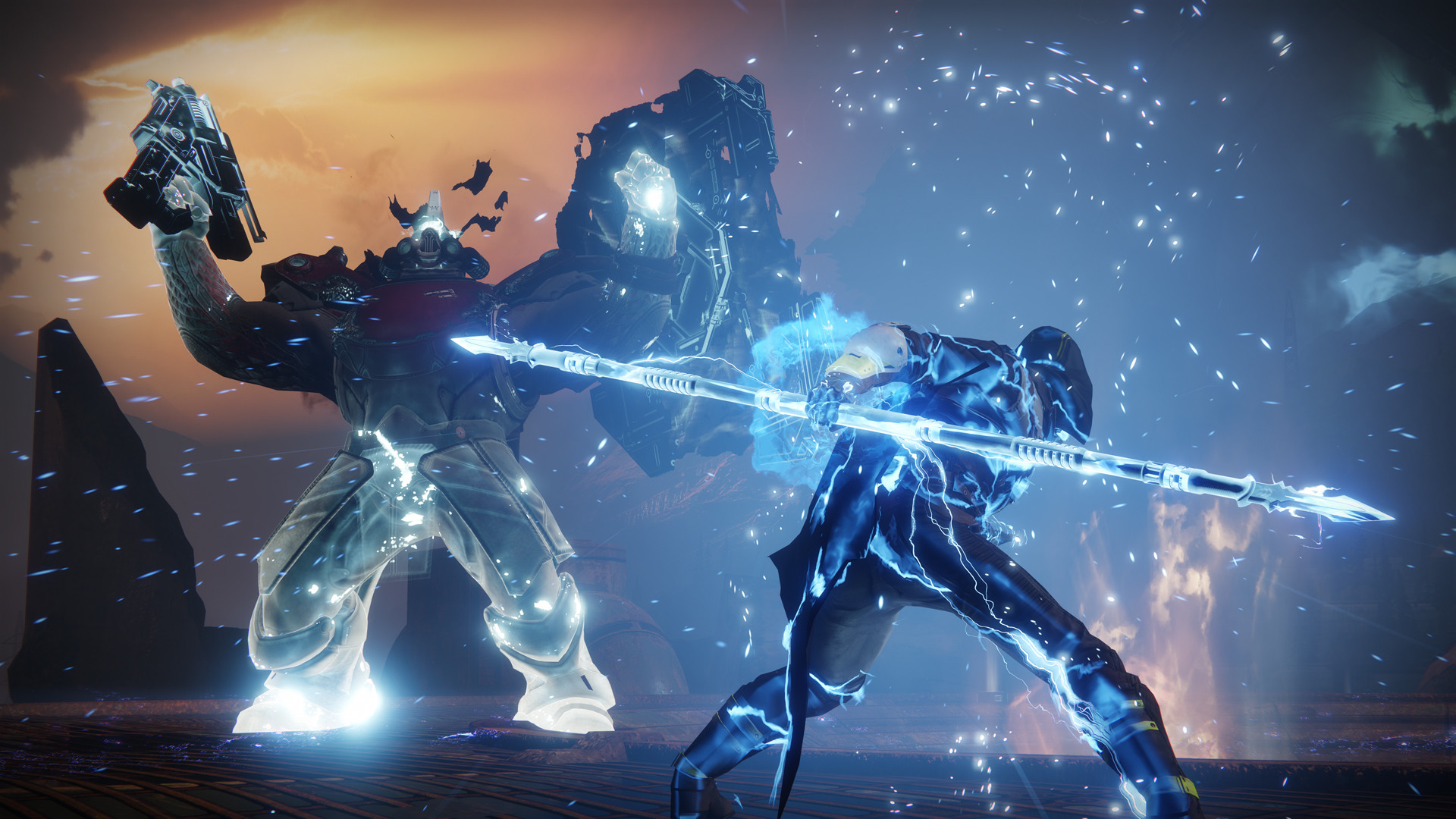 This image shows an incredible scene with breathtaking design. The glowing spear is marvelous.
4. Trove - 2015
Trove is a pixelated roleplay open world where countless adventures await. Fight against the dark forces in incredible realms with several dungeons and unique items created by other players. Choose among the many original classes and learn from the different skills to become a powerful hero. Explore the infinite realms riding a dragon or any mount you prefer. Conquer the wild lands along with other adventurers and complete the different dungeons you'll come across with. In this Minecraft-inspired game, you can build and create anything you want. From building your own house to building a castle in the middle of the desert. Exploit the creativity in you and build original items to share with the community or with yourself. Enjoy the many activities available in the world of Trove and never be bored again!
Fun factor score: 90/100
Choose this game if you like... 
Creativity to design your stuff or appreciate others' people creations.
 Pixelated-Minecraft-styled games.
Infinite self-generated worlds.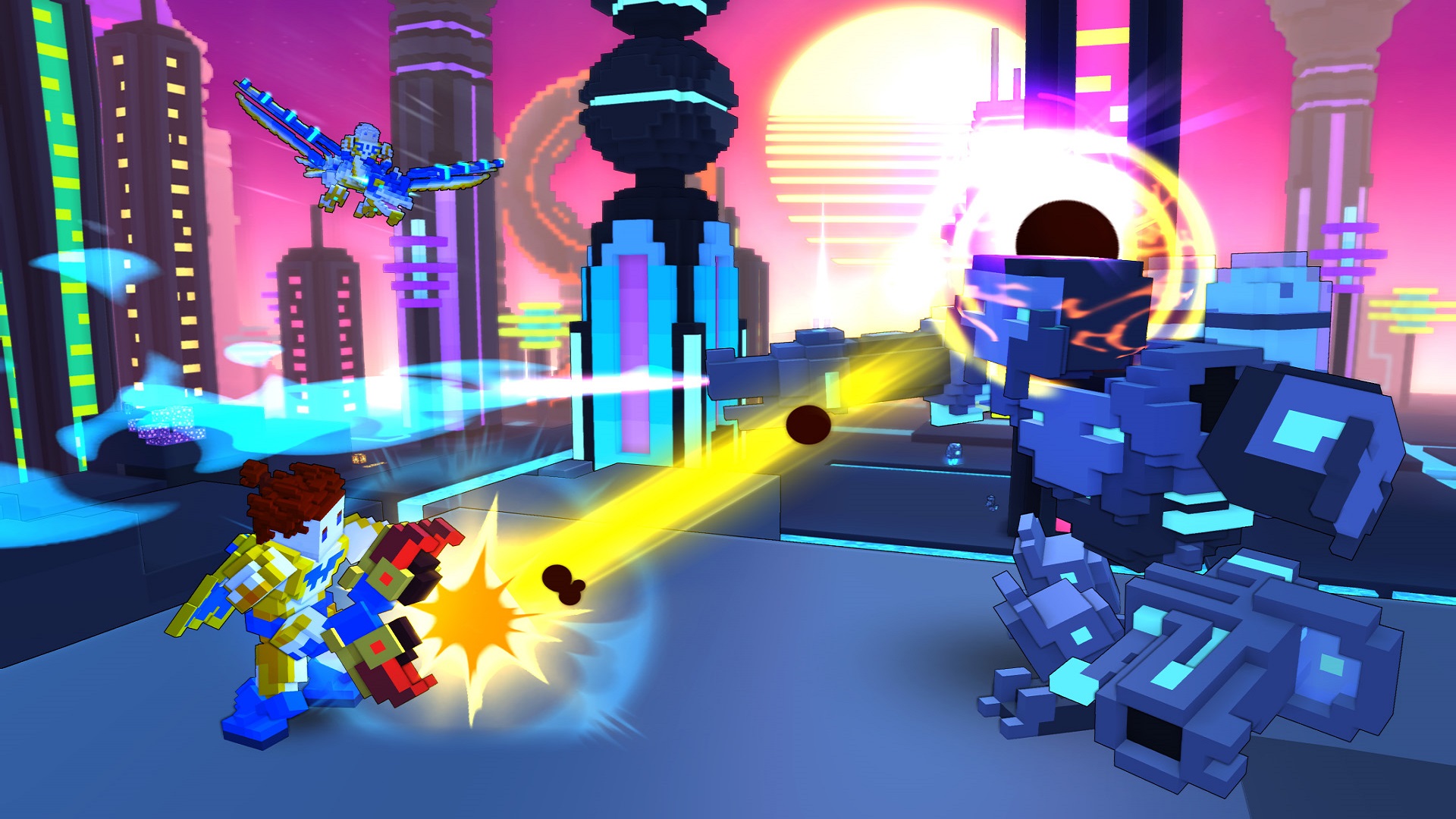 There are a lot of things happening in this picture. Can you see the glowing city in the background? All that was made by the players.
3. Lost Ark - 2022
One of the most recommended games to try is Lost Ark. An MMORPG open-world where seven continents can be explored. Each one with its variety of enemies, dungeons, and stories. This massively multiplayer game has a giant world filled with exciting challenges. Pick your class and skills and throw yourself into battle. Learn the highly customizable fast-paced combat style and join the thousands of adventurers fighting to defeat the demonic legion. A visually beautiful world surrounded by magic and epicity. Every aspect of Lost Ark makes its world vibrant and highly immersive. Not only can you battle ancient bosses but also compete against other players in a variety of modes. Or if you prefer following the storyline, Lost Ark will not fail you.
Fun factor score: 100/100
Choose this game if you like... 
Fast-paced combat style. 
Visually interesting battles. 
Complex enemy response when fighting them.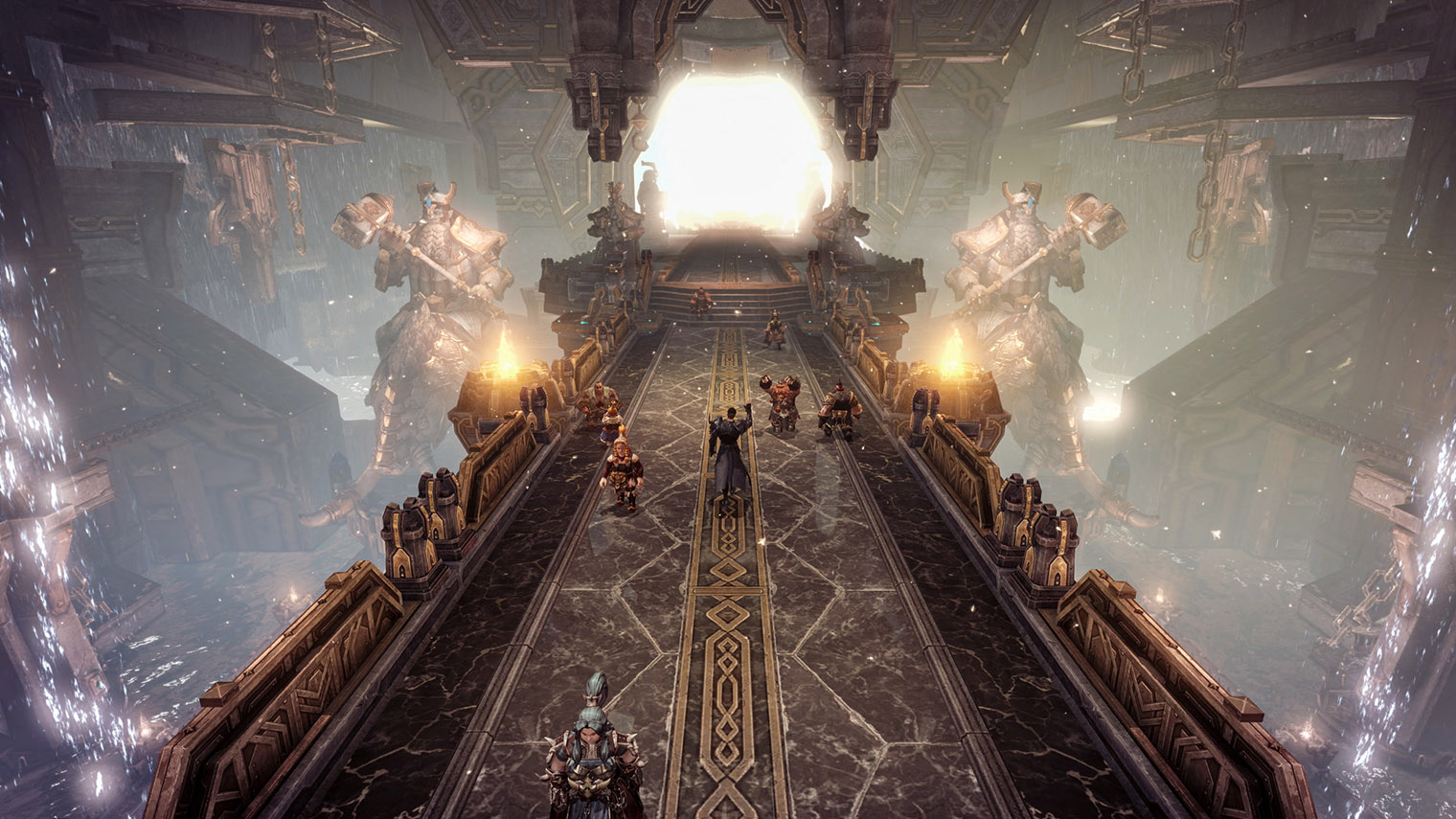 Here we see one of the many places you can travel to. This is a dwarven city, of course. The design looks similar to Orzammar.
2. Guild Wars 2 -2022
One of the games with the most detailed character creation. Perhaps the best fantasy MMORPG and it's free! Guild Wars has an immense world where tons of adventures with NPCs and other players are waiting. The world of this game, Tyria, is an inexhaustible source of stories and quests to complete. With constant events where you don't need to farm for 200 hours to gain level, Guild Wars is all about having fun. The variety of things you can do in this game is huge. Collecting hundreds of clothes for your character, socializing, exploring, joining a group and going for dungeons, completing quests, and playing PvP are just some of the things you can do. The story is excellent and it has the cutest characters ever. Forget about daylight and grass and join this great community!
Fun factor score: 100/100
Choose this game if you like... 
High fantasy games with furries and all.
Diving into a single game with thousands of things to do.
Going right into the action instead of spending a lot of time growing your character XP.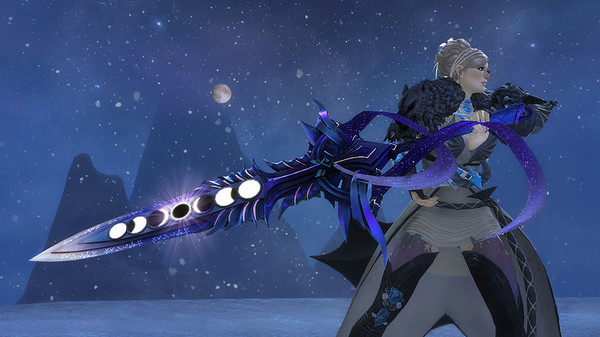 This warrior woman holding her impressive blade on an astounding evening. The blue color palette was a perfect choice for the general design. 
1.  Genshin Impact - 2020
The quintessential Kawaii game. Take your place among the Gods and save the world from the enemies trying to destroy it. Embark on an epic journey in a seven-nation fantasy world called Teyvat. Each nation represents the seven elements. 
Let your curiosity rule the way you experience the world of Teyvat. The most beautiful landscapes will be found on Genshin Impact. Exploring this world has to be the most satisfying activity ever. The combat strategy is unique. Use the seven elements to provoke reactions and create new ones. Merge yourself into this game accompanied by an excellent soundtrack and other players traveling around. With several events and a great story to follow, Genshin Impact provides thousands of hours of pure fun and relaxation. 
Fun factor score: 90/100
Choose this game if you like... 
Anime character design.
Original events and constantly growing communities.
Overwhelmingly cute designs for landscapes, skills, and everything around.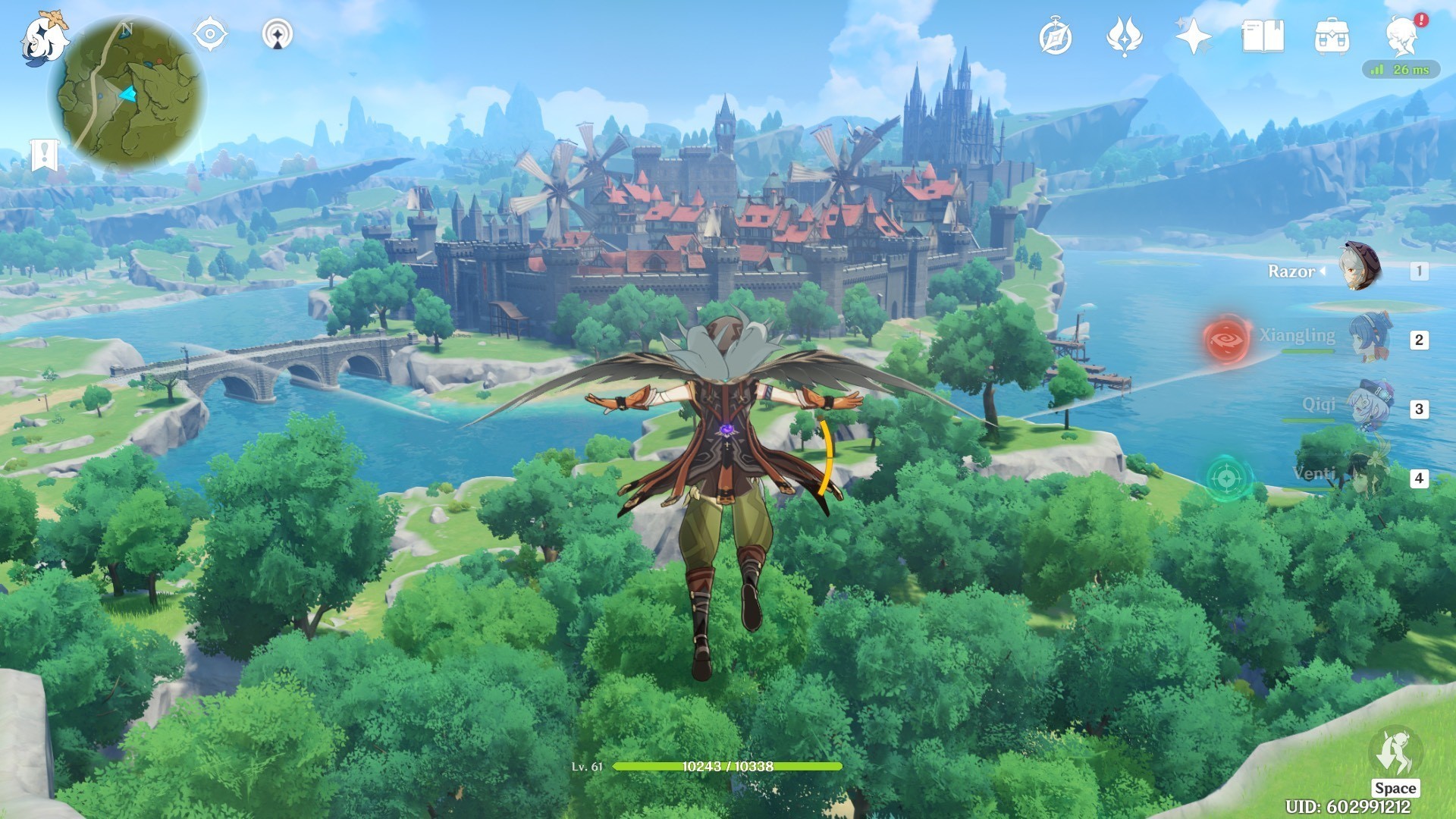 Here we see a small portion of the world of GI. Characters can fly, and you can choose the wings. Flying is a very useful skill for traveling.