[Top 5] Destiny 2 Best Ways To Farm Bright Dust
Updated: 19 Dec 2022 5:54 pm
Best Ways To Farm Bright Dust
What are the best ways to farm Bright Dust in Destiny 2?
Bright dust is one of destiny's most valuable currencies as you can use this currency to buy cool ornaments and other stuff from Eververse store rather than paying real money for silver. Unlike silver, it cannot be purchased from store but can only be earned by doing some particular activities. So what are the best ways to farm bright dust in destiny 2? Let's discuss.
You can buy anything from silver, but you have to wait until the weekly Eververse store update for some items. Usually, the new seasonal ornaments, emotes, and finishers are instantly available to purchase from silver, but you can buy them with bright dust on weekly rotations.
Farming Bright Dust is nearly impossible and ineffective in the game because many of the activities that award players with it only provide them with a small amount. However, there are a few things that players should focus on to make sure they consistently earn at least a little Bright Dust each day in Destiny 2. 
5. Complete Weekly Vendor Challenges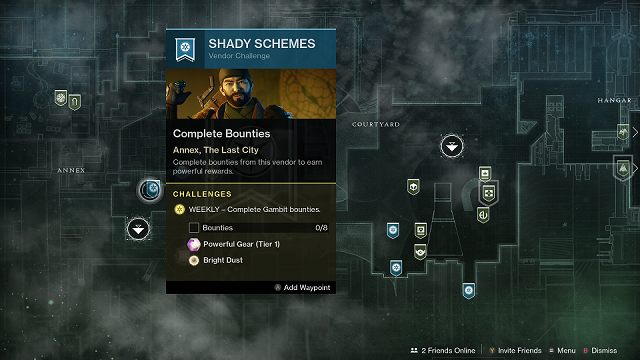 Players should visit the Tower's vendors every week. Weekly missions from Zavala, Drifter, and Lord Shaxx require players to complete a predetermined number of bounties for each of them in exchange for a weapon or piece of gear and a small amount of Bright Dust.
The simplest method to do this is to choose an activity that you enjoy the most. PVE players might feel more at ease taking on Zavala's Vanguard strikes, while PVP players should speak with Lord Shaxx. In any case, collect eight bounties for the activity of your choice. You can earn 120 bright dust from each vendor every week.
Potential Seasonal Total Bright Dust: 14,040
4. Complete Vendors Repeatable Bounties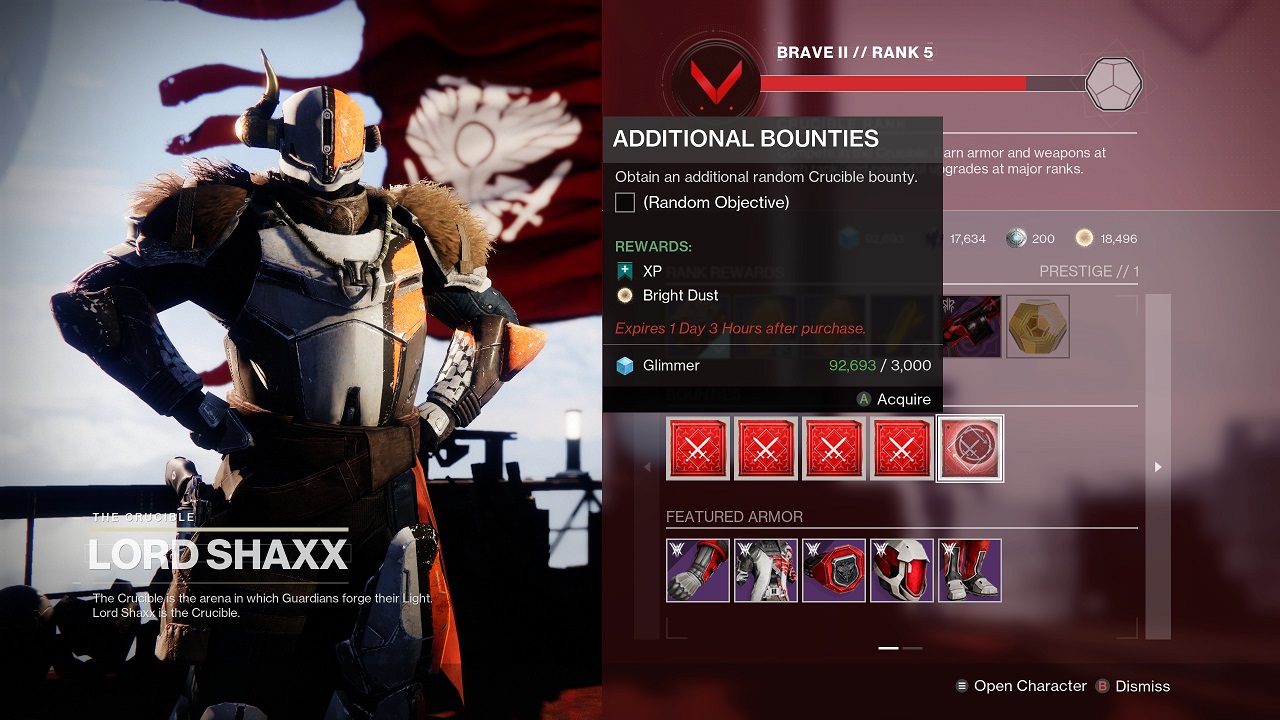 In Destiny 2, most repeatable bounties offer ten Bright Dust and a minor amount of XP as a reward. Repeatable bounties are provided by each vendor of the core activities (Zavala, Shaxx, and the Drifter) and may be found on the far right of their bounty stock.  
Players can hold five repeated bounties from a single vendor at once and have a 24-hour completion deadline. This is the slowest earning, the only farmable method for bright dust yet. You can do as many repeatable bounties as you want.
Bright Dust Amount: 10 per bounty
3. Farm and Open Eververse Engrams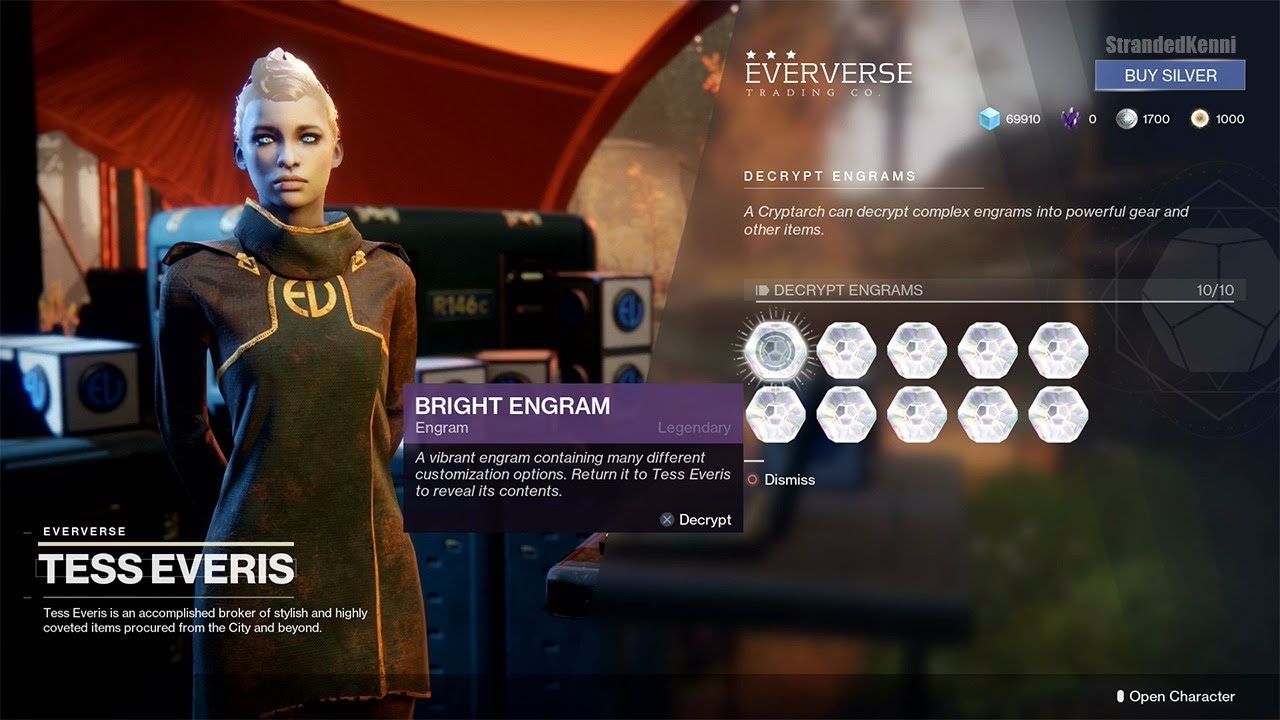 Players occasionally receive an Eververse Engram as they level up over the season and perform tasks. On the Store page, this white engram can be opened. If players are fortunate, it might drop Exotic sparrows or ghost shells, among other cosmetic items.
Eververse Engrams may also reward the player with a Bright Dust pile. Even though this is unquestionably their best reward, they are a very unreliable source of currency because there is no assurance that the rewards within will be Bright Dust. It is still being determined what the actual drop chances are. According to anecdotal evidence, there is a 10% chance that a Bright Engram will contain one. Here is the bright dust reward amount for each gift from Eververse..
Small Gift of Bright Dust: 250 Bright Dust
Medium Gift of Bright Dust: 500 Bright Dust
Huge Gift of Bright Dust: 1,000 Bright Dust
2. Complete Seasonal Challenges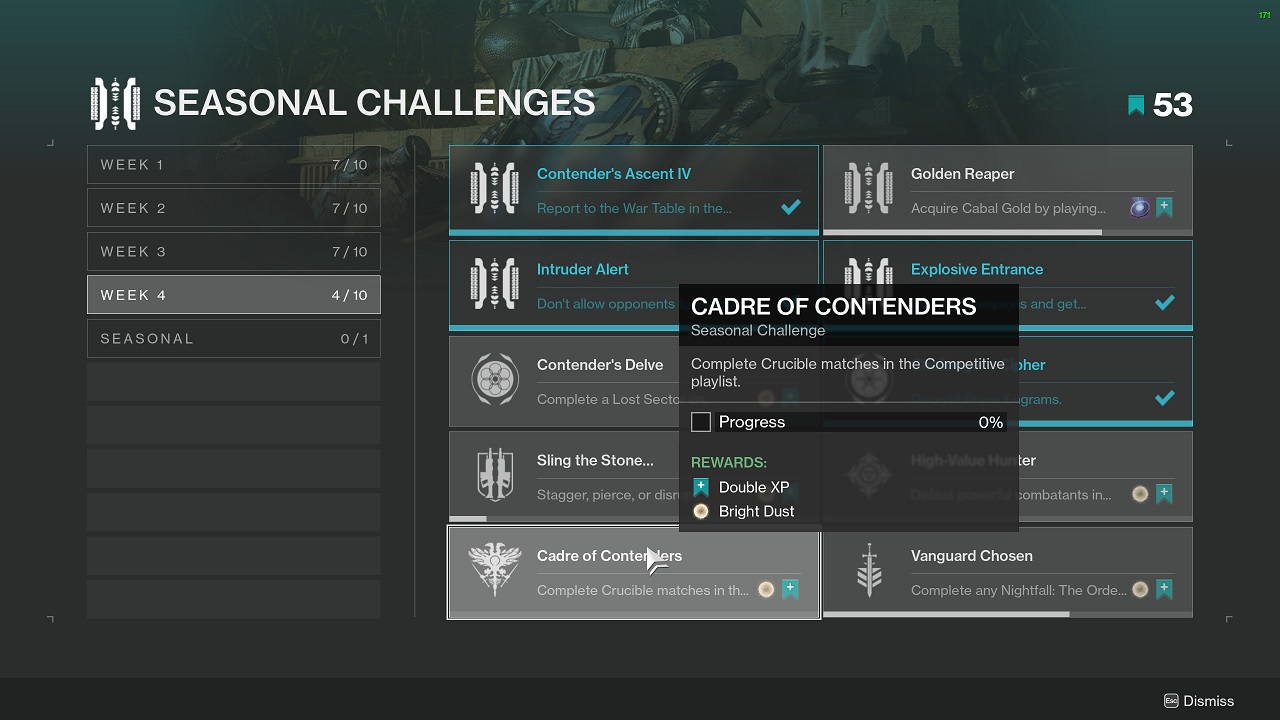 Players will get a fresh round of seasonal challenges every season. The challenges will become available one week at a time, and each week at least one of them should reward the player with a respectable sum of Bright Dust. As the season goes on, concentrate on completing these challenges because returning to them later on can be exhausting.
Additionally, if you complete most of the Seasonal Challenges during a Season, you'll receive a Large Bright Dust Pile, which contains about 4,000 Bright Dust. When a new season begins, check to see how many challenges you can skip since the number of challenges needed to achieve this package varies with each season.
You can tell how much Bright Dust each challenge grants based on the amount of XP that same challenge gives:
Challenger XP+    75 Bright Dust
Challenger XP++     150 Bright Dust
Challenger XP+++    300 Bright Dust
Total Bright Dust from Challenges: 10,000
1. Claim Seasonal Pass Rewards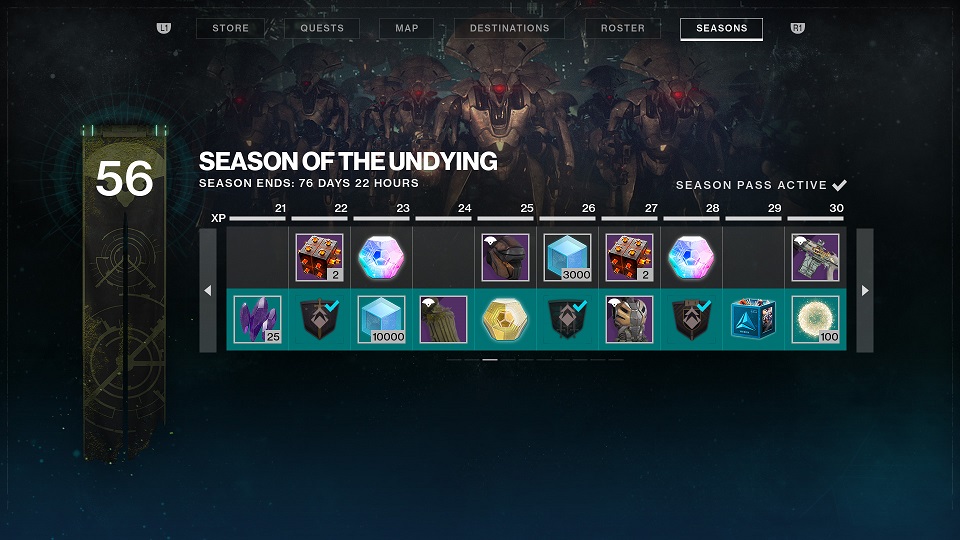 In Destiny 2, the season pass change with each new season. The seasonal pass offers some great rewards in the form of Bright Dust, regardless of whether users have the free or upgraded edition. Players should concentrate on leveling up early so they can move through the seasonal pass more quickly.
Always pick up bounties before beginning any activity to increase experience points and to progress on the seasonal pass, which will help you obtain more Bright Dust piles.
Total Bright Dust: 10,500 (Season owners); 7,500 (free players)
You may also be interested in: