Resident Evil Village Review - Is It Good or Bad?
Updated: 24 Jun 2021 4:57 am
Lady Dimitrescu giving a warm smile before ripping the players heart out.
How far would you go to save your daughter? 
In Resident Evil Village, you play as Ethan Winters trying to save your daughter from a group of mutant demon-like creatures residing in a Transylvania type village. Ethan, after saving his wife in Resident Evil 7 Biohazard, is dragged back into the unknown wastelands featuring: Lady Dimitrescu, a vampire woman tall enough to dominate the NBA, Donna Beneviento, the actor for the doll Annabelle, Salvatore Moreau, a highly insecure merman who just wants validation from the other maniacs, Karl Heisenberg, a wannabe Frankenstein, and Mother Miranda, the Big Boss of the Village. As Ethan, your goal is to go John Wick and massacre all that stand in your way in order to save your newborn daughter. Arguably to be the best in its franchise, RE8's stunning visuals and audio design makes this game difficult to put down. Although lacking in the storytelling and gunplay aspects, Capcom redeems itself through its artistic design. 
I will be reviewing Resident Evil Village as a fan of the series but that will not stop me from giving an unbiased and fair review. I will be comparing Resident Evil Village with the other games in mind while looking at the game from a new players' perspective.  


The baby getting ready to eat a snack
About The Game
Resident Evil Village is a survival horror first person shooter developed by Capcom, known for other game series such as Mega Man, Devil May Cry, and the Monster Hunter series. Resident Evil Village was very recently released on May 7th, 2021 and the title's popularity spread like wildfire after memes of one of the bosses, Lady Dimitrescu, were published and spread throughout the internet (many of them due to horny internet users). This enigma brought a lot of attention and waves of a new audience to the game in addition to the old and loyal Resident Evil fanbase. Although on its initial release it peaked at 100,000 concurrent players on Steam alone, because this is a single player story driven game, it is natural for the player count to drop as time goes on. As of writing on June 6th, 2021, there are on average 16,000 players on Steam (52,000 peaking).
Over the first weekend, 3 million copies of Resident Evil 8 were sold according to clutchpoints.com. So far 5.3 million copies have been sold a month after release. It took the developers 4-5 years to develop and release Resident Evil Village, while the development cost is unknown, we can easily guess that the budget exceeded $100 million. 
Story and Gameplay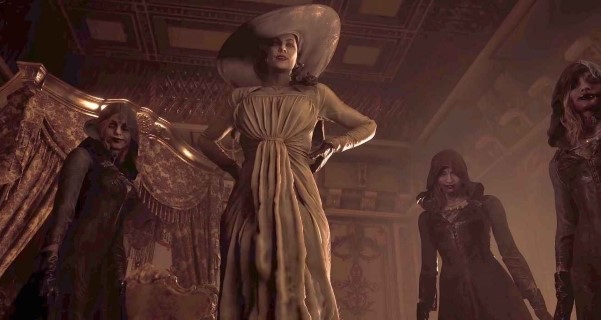 Lady Dimitrescu and the three witches after the first initial encounter
Basically, the story is about you trying to save your daughter from a bunch of mutated demon-like beings. While you cannot create your own character, you play as a man named Ethan Winters, who appears in other Resident Evil games. While there is not a class system in the game, there are different types of weapons you can use to progress through the story. You can expect to trade with The Duke, an anomalous arms dealer who somehow fits in the carriage he rides in and kills bosses and enemies with those weapons. The map is surprisingly big in comparison to other Resident Evil games, you are forced to wander around to kill the other bosses to progress and your efforts in exploration are rewarded through mini-puzzles and treasure hunts.
While the story is rather linear, it is only a small piece of the overall Resident Evil lore. While I did find interest in the story, this game only made me want to find out about the overall lore of Resident Evil. The map is often populated by enemies you must clear and because this is a Resident Evil game, be careful of what may be around the corner. Jump scares or sudden appearances from the Lycan NPCs make you wary of the environment, even when you think nothing is there. The audio and visuals of the game are spectacular, but the story can use more work. This game is replayable by allowing you to restart with your items, the catch being that the enemies are significantly stronger in the game mode New Game Plus.
Combat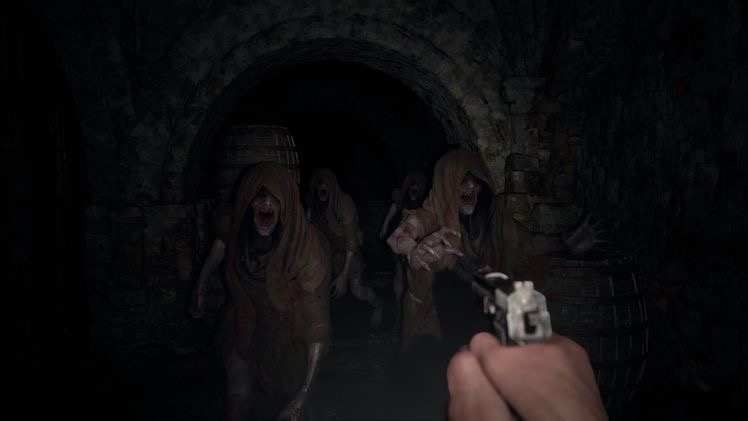 The zombie like prisoners who are bound to severing the Dimitrescu's attacking the player.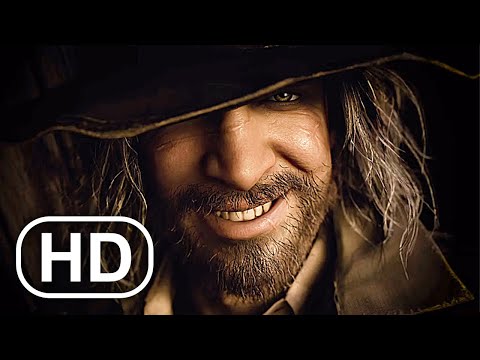 The captivating boss fight against Karl Heisenberg. 
While the audio and visuals are awesome, the combat system – like the story – are a bit linear (free aim system). It is typically shoot at an enemy until that enemy is dead, then explore the rest of the map for a new target, nothing too complex. Because this is a single player story driven game, this game provides solely a PvE experience. The game does reward you for finding the bosses' weaknesses through extra damage but there is not much outstanding about the combat system. There is aim assist for console players and you aim through the gun's sights properly. To progress your weapons, you upgrade them through the Duke by spending Lei, the world's monetary system. Combat animations are fluid, and the gunplay is decent but could use some work to make it more badass.
Quests
Although there isn't a quest system, you, as the player, wander the map knowing what your main goal is: to kill everything in your way to save your daughter. The only NPCs you get to interact with are some of the villagers and enemies you meet around the map. Capcom does provide stunning visuals (e.g Castle Dimitrescu) and many hidden secrets within the map for the player to discover. This system rewards the player for exploring by giving them items and weapons to help them on their journey.
Graphics
The graphics are exceptional, and Capcom has done really well to immerse the player into their world. The graphics and audio design have prevented players like me from putting down their controller through digital realism, making the environment seem surreal.
A scenic shot of castle Dimitrescu
Developer
Capcom, a staple in the AAA gaming industry developed Resident Evil Village with the fans of the series in mind. They are reputable for listening to their players in their other franchises. While there were fundamental bugs/issues with the game, Capcom quickly released patches to those bugs to allow players to get into the game and make it playable.
Price 
At retail price, Resident Evil Village costs $60 base price and can be played on PS4, PS5, PC, Xbox, and even Google Stadia. There are no pay to win options seeing how it's completely a story driven game. There are in game purchases, but these are mostly cosmetic or an increase in difficulty of the game. 
Verdict
8/10 - While the visuals and audio are stunning, I feel like the story needs a lot more work to contribute to the overall lore of Resident Evil. It seemed too linear and superficial.
Pros 
Well-made graphics and audio
Character design is wonderful
Game does well in immersing the player
Cons
Linear weapon system
Linear story
Choppy pacing with the story
Image Gallery