[Top 15] Stardew Valley Best Mods For A New Experience
Updated: 20 Sep 2023 8:27 pm
A whole new world of exploration awaits with these mods
Planted the parsnips? Conquered the caves? Married the bachelor(ette) of your dreams? Ready for more? These 15 mods can help spice up your Stardew Valley game with a new experience. With mods ranging from simple recolors to full game expansions, the possibilities to keep your experience going are truly endless.  
I'll admit, I was hesitant to get on the mod train. I was worried I would inadvertently ruin the game experience for myself.  But several hundred hours into my Switch game, I happened to see my friend's PC game where she had the Waterfall Forest Farm (#12) installed, so I jumped on Nexus mods to investigate, and Pandora's Box was opened. 286 hours into my latest game, I'm still experimenting and finding new mods. Here are 15 of the best and most unique I've found. 
15. Medieval Buildings by Gweniaczek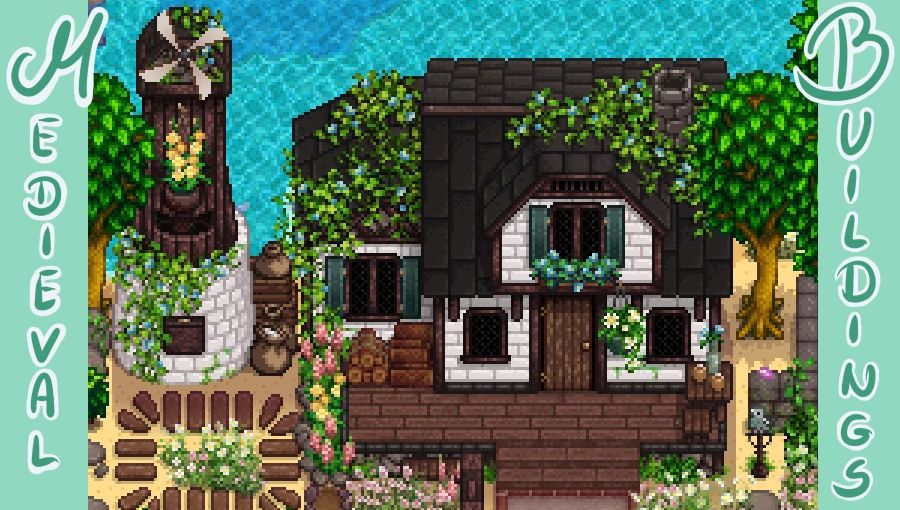 The windmill and farmhouse get a refreshing new look with in this mod by Gwenciaczek
This mod from Gweniaczek doesn't change your actual game play, but it does give your farm buildings an aesthetically pleasing update. This mod will take your farm buildings from American vintage brown and red, to a striking white with black accents. 
Changes color and style of buildings to give your farm a quaint medieval look

Has options for more or less foliage

Does not change game play mechanics
Get the mod here: Medieval Buildings by Gweniaczek
14. More Trees by PPJA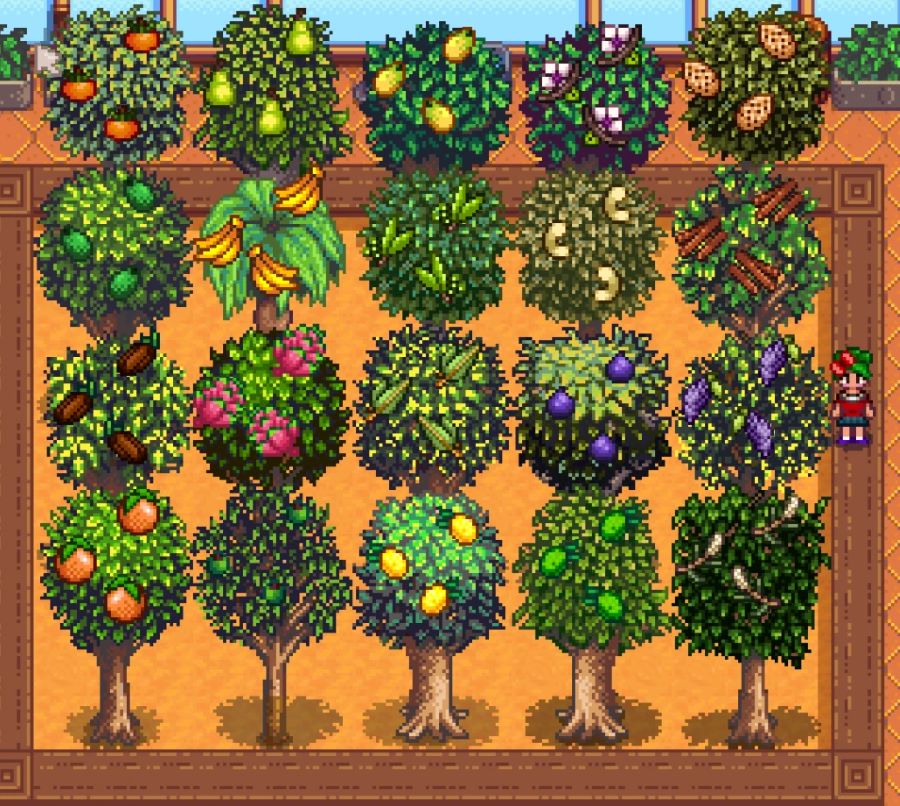 ​
Add texture and variety to your farm with the More Trees mod by PPJA
This mod from Project Populate JSON Assets (PPJA) was uploaded by paradigmnomad and brings a wider variety of tree starts to stores near you. Trees function just like standard trees in regards to growth requirements and seasonal harvests, but increase the variety of fruits immensely.
Adds 30 trees to the game, available through mail or shops

The fruit from More Trees functions just like standard fruit, and is able to be eaten or turned into artisan goods

Tree visuals are well varied, giving more texture to your farm
Get the mod here: More Trees by PPJA
13. Wild Food by Wildflourmods

Explore new items to forage with the Wild Food mod by Wildflourmods
The Wild Food mod from Wildflourmods adds more forageable items to enhance your game experiences. These include fruits, flowers, and herbs.
Adds unique forageables such as cindersap cinnamon and calico vanilla to the game

New items can be eaten for energy and health, or used to make artisan goods

Forageables are in greater abundance, making them good reliable food sources in a pinch
Get the mod here: Wild Food Mod by Wildflourmods
12. Waterfall Forest Farm by ArchibaldTK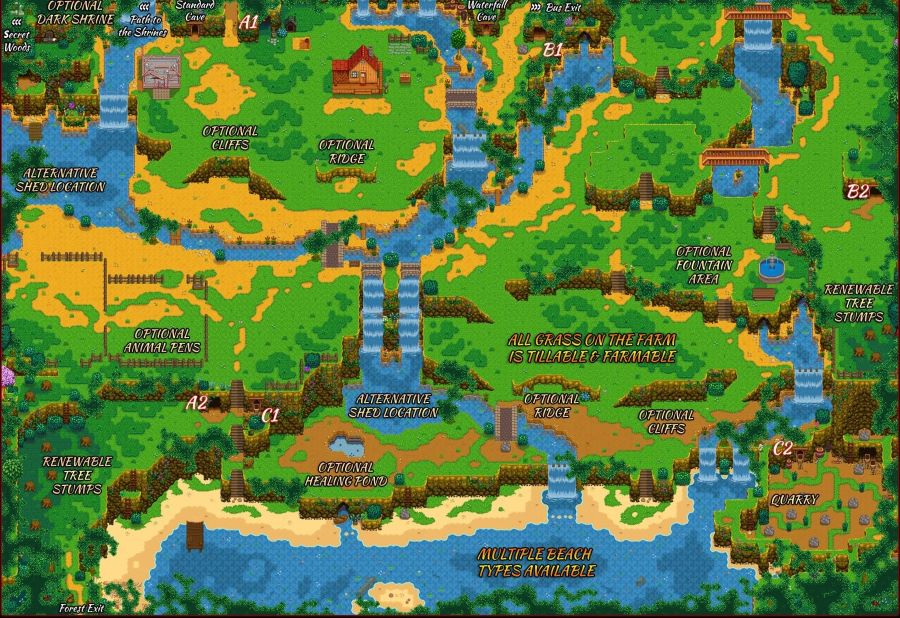 The Waterfall Forest Farm features a brand new farm map with plenty of variety
The Waterfall Forest Farm by ArchibaldTK is a farm replacement that gives you the option for a beautiful farm up on the cliffs with waterfalls and rivers. It also gives you an additional shed. Live out your sprawling storybook farm dreams with this beautiful farm map. 
New farm map layout includes rivers, waterfalls, cliffs, forest, and even private beach access
Extra unlockable outbuilding
Plenty of space to set your farm up
Options for medium or large farm, and choices for extra shed placement
Get the mod here: Waterfall Forest Farm by ArchibaldTk
11. Automate by pathoschild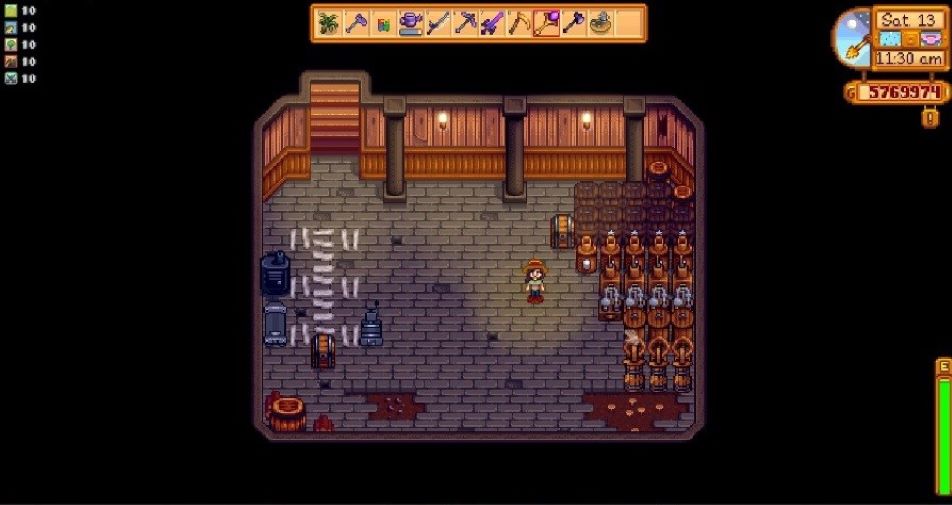 Machines can work in harmony with the Automate mod by pathoschild
Embrace the industrial age by automating your farm! At its core, Automate by pathoschild creates an action loop that will take items from a chest, feed them to a machine, and retrieve the machine products when finished. But with a little ingenuity and a lot of patience, you can automate massive sections of your farm, ushering in the age of technology.
Set up automated loops that allow your machines to keep working, even when you've gone fishing
Loops can comprise several machines, even automatically moving finished products to your shipping bin
the options are endless, as utilizing paths you can put nearly every machine on your farm on auto pilot
Get the mod here: Automate mod by pathoschild
10. More Recipes from PPJA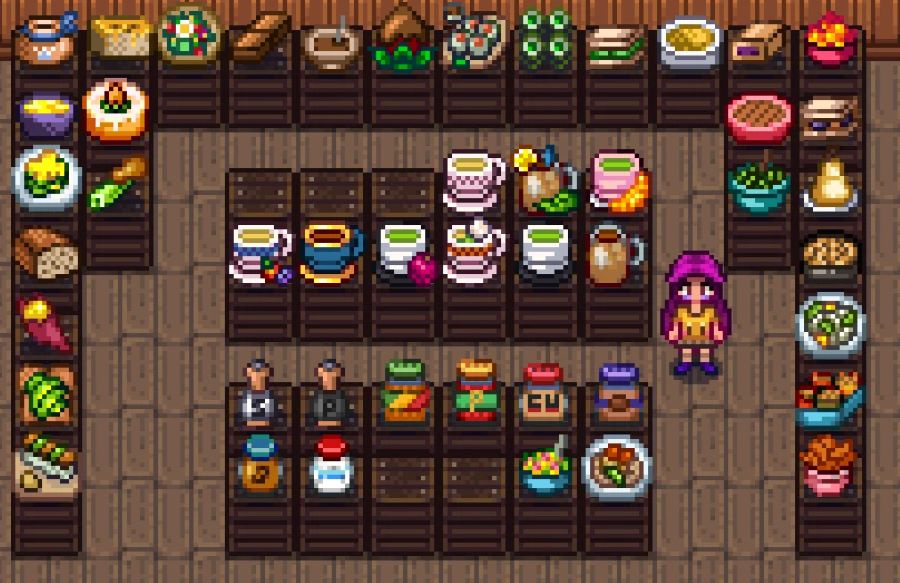 Expand your culinary horizons with the New Recipes mod from PPJA
 Another mod created by Project Populate JSON Assets and uploaded by paradigmnomad, the More Recipes mod increases the amount and creativity of the dishes you can make in your kitchen. With soups, salads, sandwiches and more, elevate your cave dining to the next level (and the next, and the next… where is that elevator?).
Create new, exciting dishes with a wide range of ingredients
Lean into the creativity of cooking
Adds over 50 new recipes
Get the mod here: More Recipes from PPJA
9. Farmer to Florist by Kildarian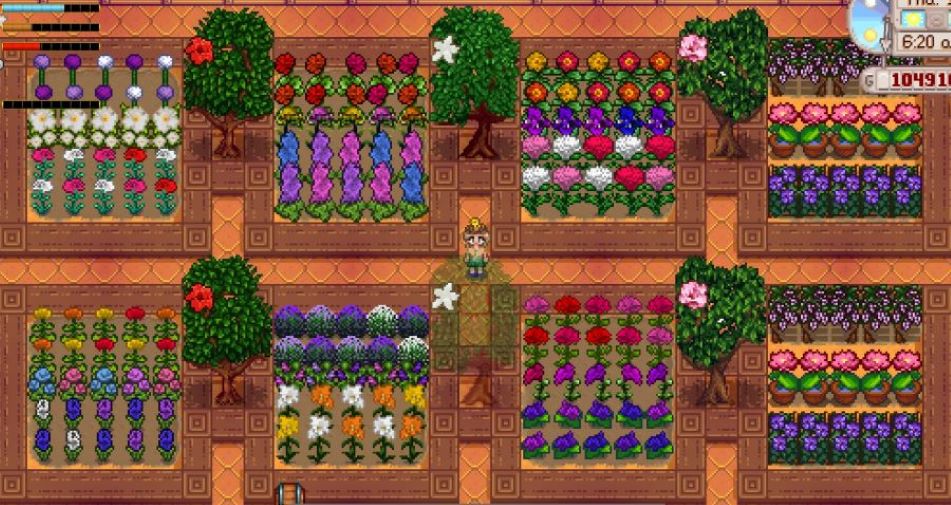 Enjoy a veritable flower frenzy with the Farmer to Florist mod by Kildarian 
Veggies not your thing? How about flowers? This mod is managed by PPJA but was original created by Kildarian. The new flowers add beautiful texture and variety to your farm. If you've ever dreamed of fields of flowers and flower based craftables, this mod is for you. With new crops, machines, and recipes, this mod will set you up to be the florist you were meant to be.
23 new flower crops and 3 new trees give your farm some definite pops
3 machines add capabilities for the new crops, and existing ones
42 craftables and 15 recipes mean lots of opportunities to show off your floral skills
Get the mod here: Farmer to Florist mod by Kildarian (managed by PPJA) 
8. Walpurgisnacht by Alvadea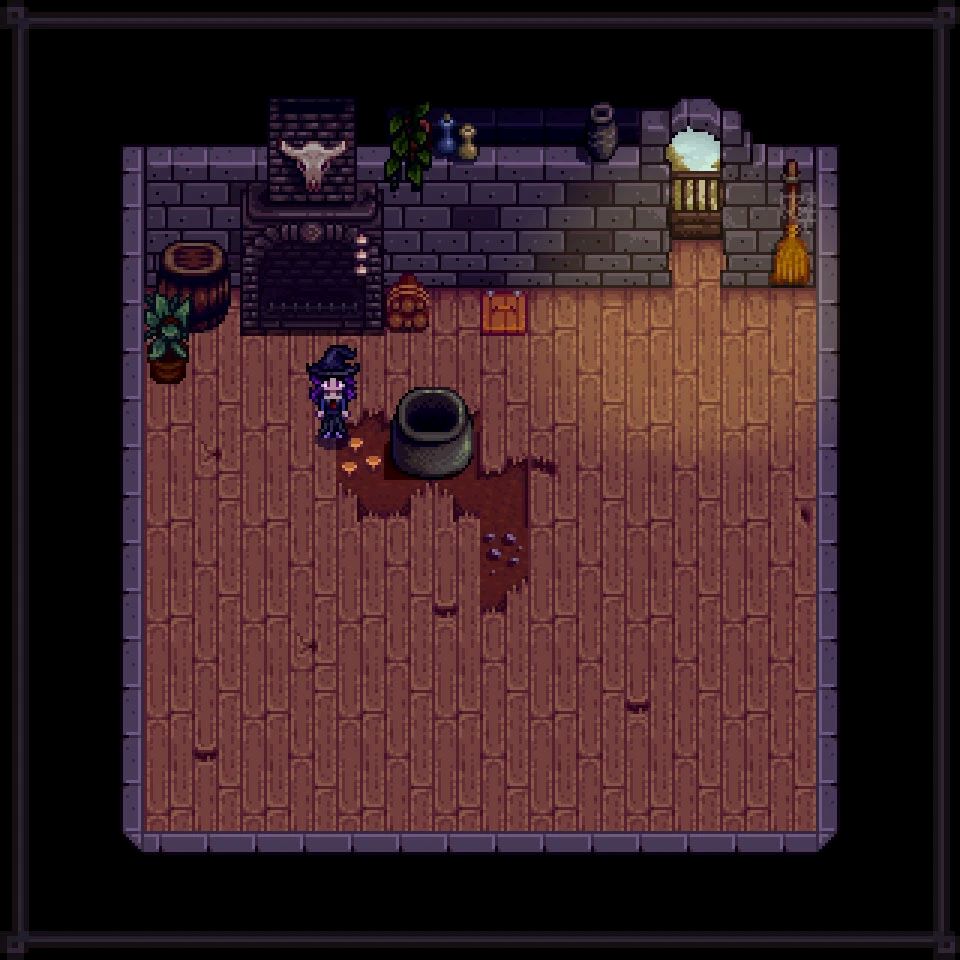 Witchy fantasies alight with the Walpurgisnacht mod from Alvadea
Live out your witchy aspirations with this mod that turns the wilderness farm option into a spooky swamp with an abandoned witch tower and a special monster spawning cave. Walpurgisnacht was created by Alvadea to make our spooky hearts happy.
Adds a unique aesthetic to the wilderness farm by turning it into a swamp
Unique questline attached to the map
Special ambient noises to match the vibe
Includes a with tower and a witch tower cave
Get the mod here: Walpurgisnacht by Alvadea 
7. Animal Husbandry by Digus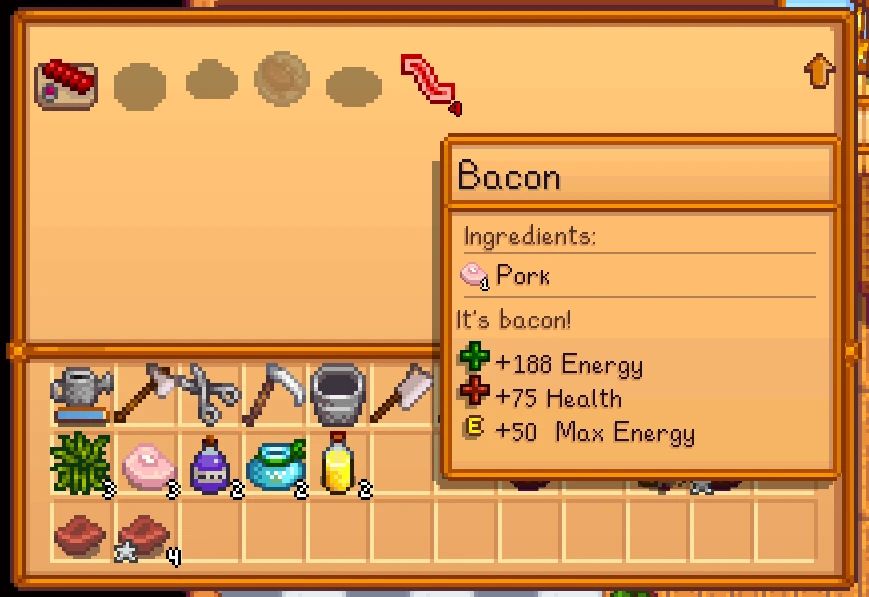 Bacon makes everything better in the Animal Husbandry mod by Digus
 Have you ever looked at your abundance of virtual cows and thought "A burger would be just the thing"? Well have I got news for you. Thanks to the Animal Husbandry mod by Digus, you can turn your excess cows, sheep, pigs, or other animals into meat.
Adds a way to encourage certain animals to breed
Gives and option to give treats or enter the animals into the brand new Animal Contest
Allows animals to be turned into meat
Adds new recipes for meat based deliciousness
Get the mod here: Animal Husbandry by Digus
6. Life Cycle by nraittanna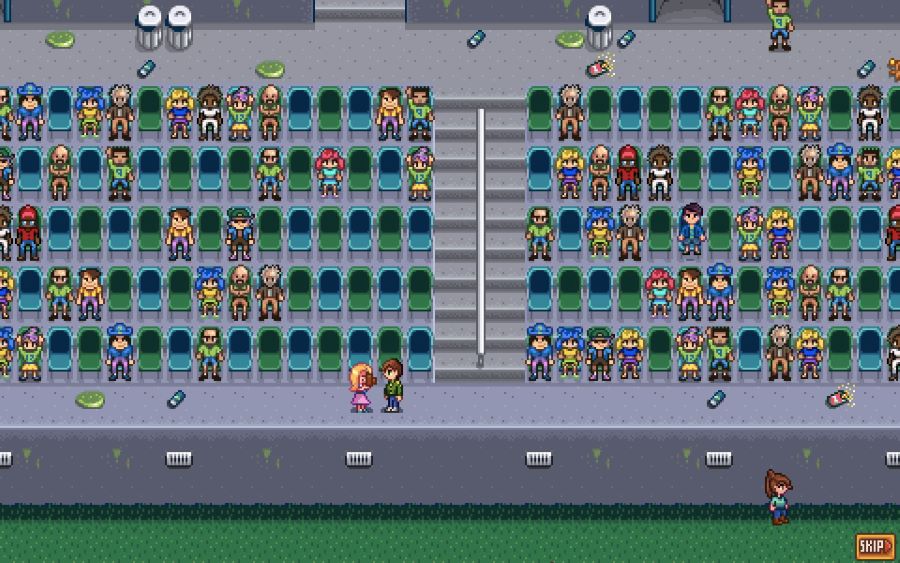 Love stories progress in the Life Cycles mod by nraittanna
Small town life feeling stale? Spice things up by allowing NPC's to move on with their own dating lives. The Life Cycle mod by nraittanna gives new depth to life in town and the NPC's we know and love.
Adds new events for couples in town
Gives new dialogue
Changes interactions with family once certain heart levels are achieved
Gives some options for wedding events
Get the mod here: Life Cycle Mod by nraittanna 
5. Stardew Valley- Roguelike by TheTrain2000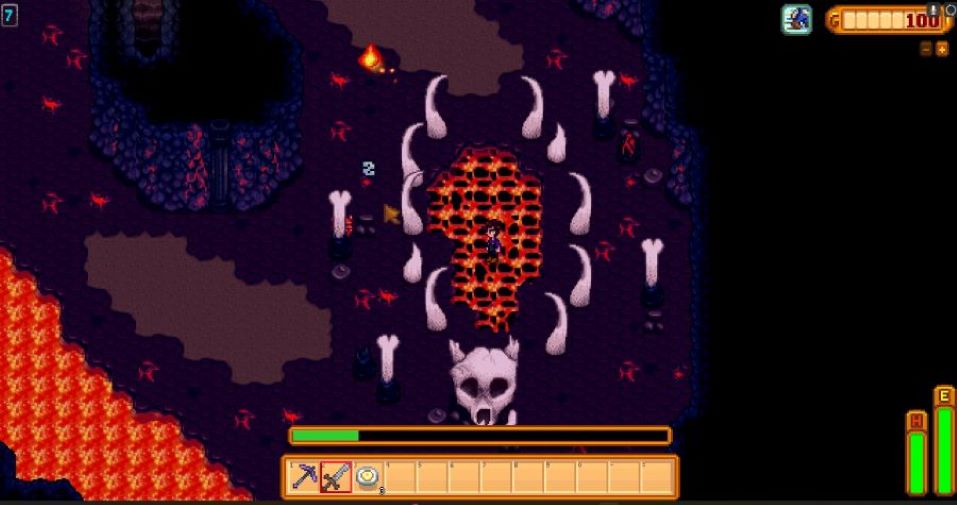 Enjoy a good old fashioned Dungeon Crawl in Stardew Valley-Roguelike
Ready for an entirely different experience? What about turning Stardew Valley into a classic rogue dungeon crawler featuring the monsters and loot you already know and…love? This mod by TheTrain2000 will drop you off directly in The Abyss, a seemingly endless series of cave floors featuring monsters, more monsters, and maybe some loot if you're lucky.
Turns the game into a timed dungeon crawler
Leaves player with limited resources to begin, adding to the experience
Unique challenges and boss fights
Leaderboard ranking option when you upload your score
Get the mod here: Stardew Valley Roguelike by TheTrain2000 
4. Ridgeside Village by Rafseazz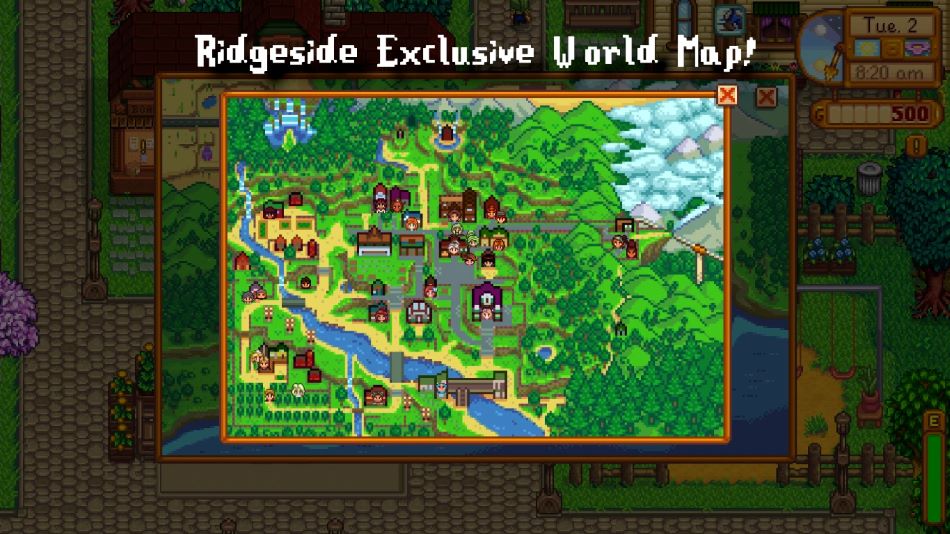 Venture beyond the town limits in Ridgeside Village by Rafseazz
 Looking to explore? Ready to expand your horizons? Ridgeside Village, a mod by Rafseazz adds a new area to explore without intruding on your base game. You can choose to explore the village on your own terms, and enjoy new adventures, great dialogue, and a special theme song while you're there
Adds over 400 new events including festivals, friendship, and romance events
Adds in 50 additional NPCs, including some marriageable ones
New shops, medical services, and a hotel
Expands your dishes, drinks, and unlockable recipes, while adding new crops and forage
Get the mod here: Ridgeside Village mod by Rafseazz
3. Artisan Valley from PPJA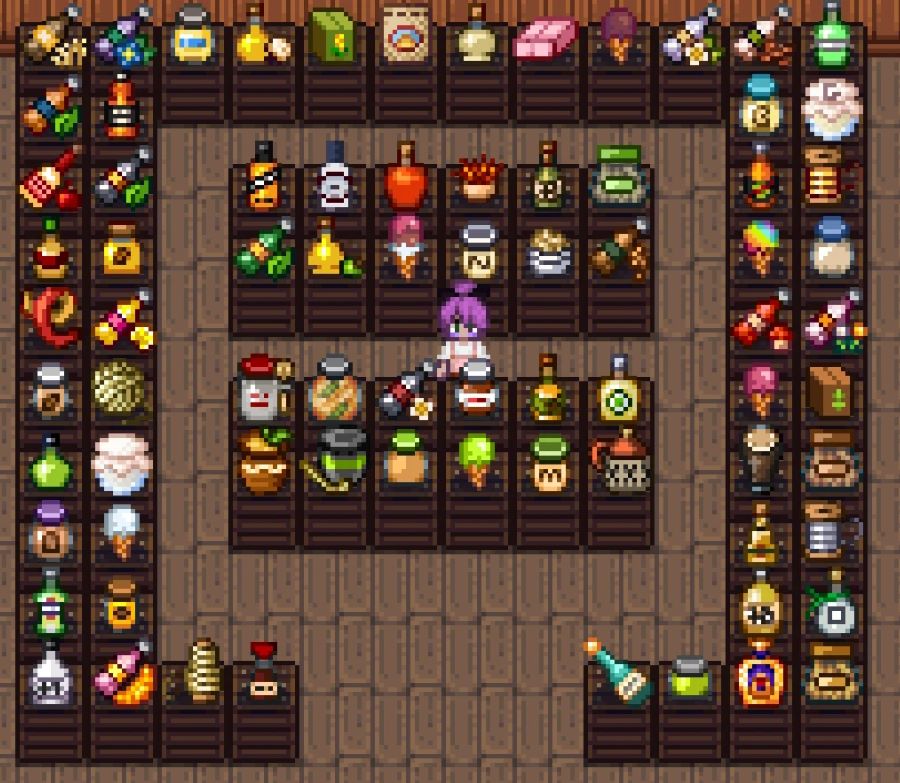 Delicious artisan goods abound in Artisan Valley a mod from PPJA
 One more by PPJA via paradigmnomad, this one really expands your options for artisan goods and craftables. Lean into the elevated artisan life with creative new craftables and machines to expand your skills and rewards.
150+ new items
20 new machines
New gift preferences for all vanilla NPC's
Get the mod here: Artisan Valley Mod from PPJA 
2. Adventurer's Guild Expanded by LiveOnSupert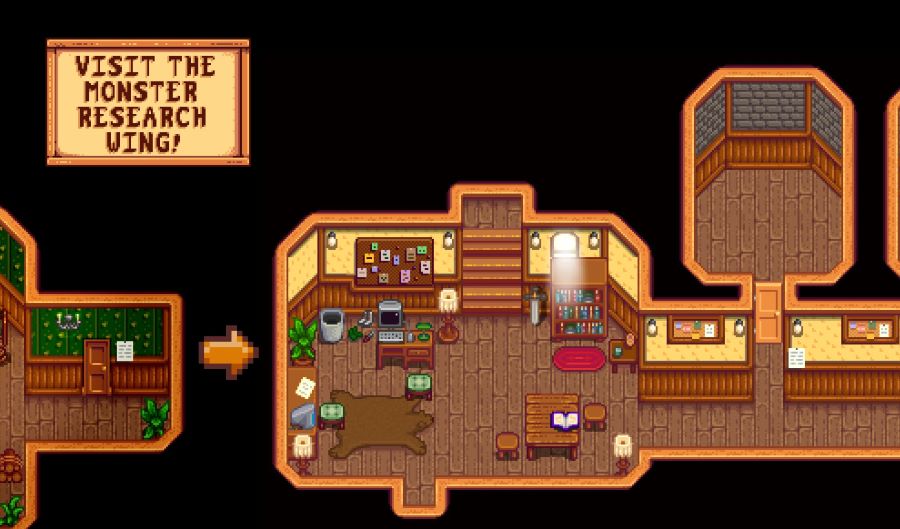 The adventures continue in the Adventurer's Guild Expanded by LiveOnSupert
Ready for more danger? Daring? Friendships? Romance? Find it all in the Adventurer's Guild expansion. With new NPCs, new questlines, and new unlockable areas, this mod by LiveOnSupert gives opportunities to hone your skills, accept new challenges, and maybe find a happily every after.
Introduces new NPCs with unique dialogue and cut scenes
A fun questline to follow
New items for decoration and an optional music download
New locations to visit and opportunities to show your bravery
Get the mod here: Adventurer's Guild Expanded mod by LiveOnSupert
1.  Stardew Valley Expanded by FlashShifter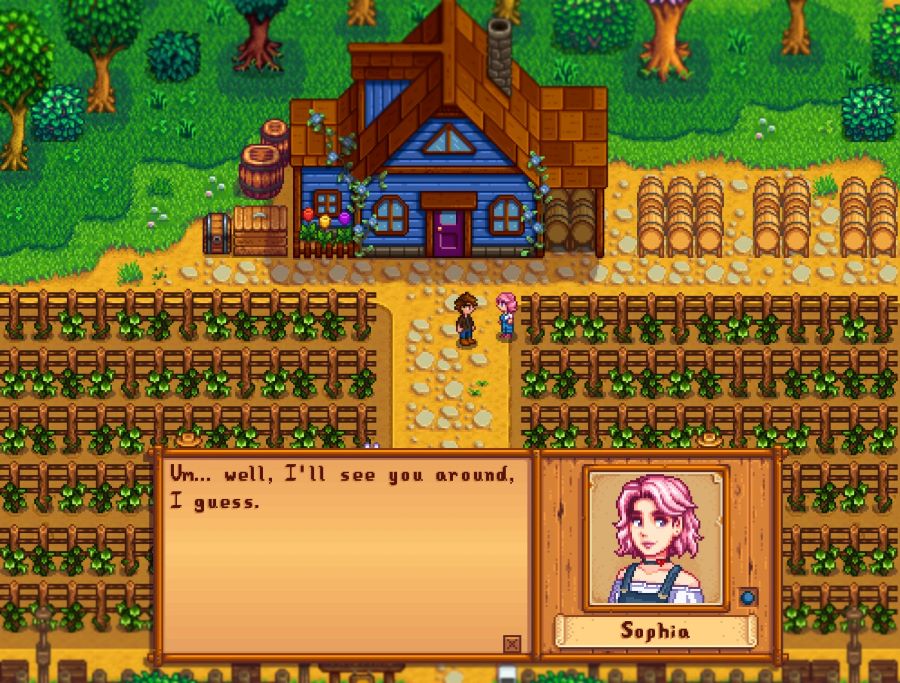 Meet Sophia, a new character in Stardew Valley Expanded by FlashShifter
Stardew Valley Expanded by FlashShifter is a massive mod for your Stardew Valley game. Much of this expansion takes place in the original map or areas just surrounding it. Adding layers of nuance, events, and even some special unlockable locations, this mod will enhance your game and add many hours of playtime.
Adds brand new NPCs (some romanceable) and expands dialogue and story lines for some existing ones
New character events and dialogue including both new and original NPCs
New locations, reimagined vanilla spaces, and farm maps
New festivals and questlines
New music, some new crops, new objects, and lots of other fun things to discover
Get the mod here: Stardew Valley Expanded Mod by FlashShifter 
You may also be interested in: