The Forest 2 Release Date, Gameplay, Trailers, Story, News
Updated: 22 Jul 2021 3:18 pm
You're definitely going to have your hands full with Sons of the Forest's terrifying monsters.
The Forest is a survival horror game that was developed and released by Endnight Games in 2014. And it wouldn't be an overstatement to say that it took the world by storm because of its top-notch survival aspects and crippling atmosphere. Since then, its growing community has been anxiously waiting for the sequel. Back at The Game Awards in 2019, Endnight Games announced the long-awaited sequel to The Forest. Sons of the Forest is a very promising horror survival game that's set for release before the end of 2021.
Sons Of The Forest Story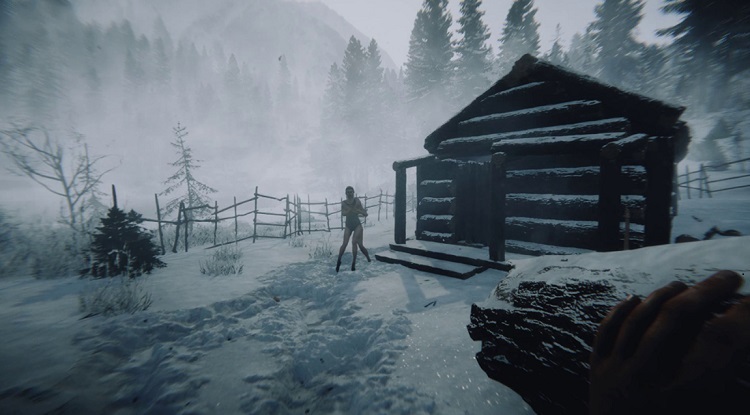 You're carrying a log back to your cabin while the seemingly friendly mutant is patiently waiting for you.
We already know that Sons of the Forest is the direct sequel to Endnight's The Forest. But we only have vague ideas on what the game will be about and how it ties together with its prequel.
We know that Sons of the Forest is set in a peninsula where you need to fend yourself from cannibals and mutants to survive. Be it the same one we suffered in the first game, or not, we don't know. Though, the location was indeed teased in the ending cutscene of the first game. A grown-up Timmy (your son in the game) was looking at a bulletin in his apartment. In the bulletin, there was a peninsula map. At the northwest of the peninsula, a Sahara laboratory by the name of "Site 2" was circled. 
For those of you who don't know, Sahara Therapeutics is the corporation that was responsible for the incidents of The Forest. Due to Sons of the Forest's trailers, many actually went to think that you'll get to play as a Sahara Therapeutics employee. Whether this is true or false, all we can do is wait for more information by Endnight themselves to make sure.
Sons Of The Forest Release Date
See, The Forest itself was released a year after Endnight announced it in 2013. Judging by this timing, Sons of the Forest should've already been released by December or January 2020. But in case Endnight were going to make a release pattern, it seems like a few obstacles got in the way. 
In any case, we do know that Sons of the Forest is going to be released sometime this year. This was already teased by Endnight themselves in the Gameplay trailer back in December.
So, with that in mind, it would probably be healthy to think that Endnight Games will be true to their word and release the game before summer ends. Though, we should probably look out for another trailer before we actually get to play it.
Sons Of The Forest Gameplay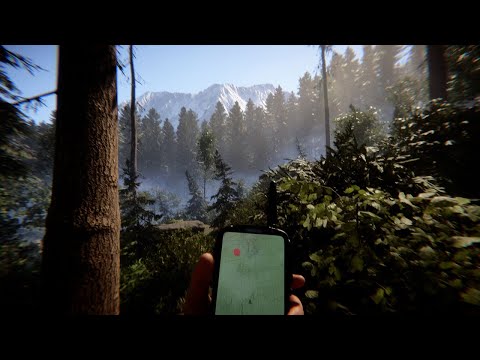 Sons of the Forest is a survival horror game. If it's faithful to its prequel, it'll be a game where you need to craft, build, and fight against a variety of cannibals and mutants that are stalking you, and trying to kill you. Maybe they won't do it on sight, but The Forest itself proved that suspense really adds to the narratives in this genre.
You can either play multiplayer, or single-player. In The Forest's multiplayer, you can play as a group of 4 players who team up to survive, build a base, explore, and find your little boy Timmy. In single-player, you can do all of the above, except that you have to do it by yourself. You probably won't get as many laughs since you'll be busy getting chased by monsters and getting scared witless, but what's a survival horror game without the element of horror, right?
The physics and visual effects of things from cutting down trees to the new digging feature look phenomenal. Since these – along with crafting and building – are key elements in the game, they seem to have been improved on so many levels to make your experience in Sons of the Forest much more immersive than its predecessor. It also seems that now, we can even craft a 3D Printer and Solar Panels.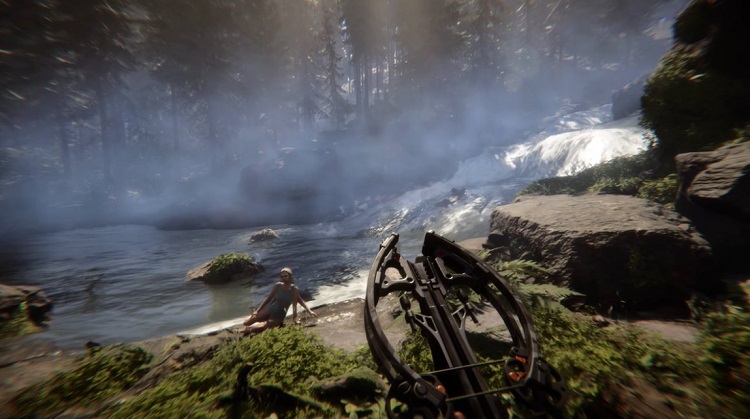 The female mutant is observing you in a surprisingly relaxed manner while you prepare your crossbow to hunt near the river.
Endnight also worked on the environment in Sons of the Forest. From your surroundings in the wilderness to the dark bone-chilling caves, everything promises that this game is going to take over its genre. There are even season and weather elements like snow now.
We don't know yet how your journey will go in Sons of the Forest. But one thing's for sure. You'll have to go through many cannibals and mutants with AI so smart that make you wonder if they're NPCs or actual real-life creatures. A couple of them have been teased in the trailers which we'll talk about later on.
Sons Of The Forest Trailers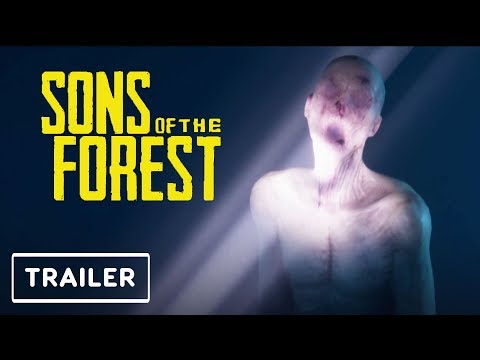 Sons of the Forest was first revealed by Endnight at The Game Awards in December 2021. The reveal trailer was indeed informative, however vague it was. 
The player-character – along with a couple of more soldiers – is in a Helicopter that seems to be on its way to the peninsula. He has a tattoo that reads "Fight Demons." Which indicates that he does have an inkling of what he's going to face. A cannibal is thrown at the helicopter by a seemingly very powerful mutant that hasn't been revealed yet. It crashes down, and the real journey begins. 
A couple of new creatures that were showcased however, are a three-legged, female mutant, and a few mouthless cannibals that had perhaps evolved to be the way they are. 
The reveal trailer also showcases a new modern axe and a shotgun. This probably means that we'll be having considerably more firepower in Sons of the Forest than we had in its prequel.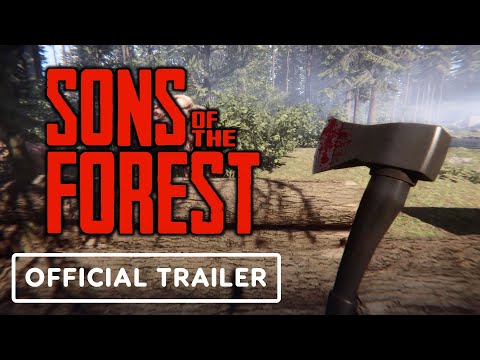 An official gameplay trailer followed by December 2020. It showcases many new features in the game. 
It picks up from the helicopter crash, then, showcases your character as he stares at a large, snowy mountain far away, while holding a stuttering GPS device. Maybe… just maybe this mountain is going to be the last location in the game's storyline. 
As we said, the gameplay trailer showcases many new features in the game. In addition to crafting and building, we now also have digging. This is an exciting addition to the game which we'll have to wait to see how far it's going to be utilized. 
Snow is a cool new weather feature in the game. It had our minds blown when it was snowing as you were carrying to your cabin while the three-legged, female mutant was waiting for you as she shivers from the cold.
The gameplay trailer also showcased some of the new weapons such as the Modern Crossbow, the Taser, and the Handgun along with a 3D printed Mask that we still aren't really sure about what its purpose is.
One last thing that was heavily showcased in the gameplay trailer is the new AI. It looks very promising, and is seemingly better than that of any other game in the respective genre. From the creatures stalking and hunting you down, to a stronger cannibal actually grabbing one of his own by the neck and lifting him before he tosses him at your cabin.
Sons Of The Forest Developer
We don't know when Endnight Games first started to work on Sons of the Forest, but it seems to have been in development quite a while before it was first revealed at The Game Awards of 2019.
In an interview conducted by the Escapist Magazine, game director, Ben Falcone, and lead programmer, rod green admitted that the success of the first game helped them improve their work environment as they did stay "relatively small," but they actually "moved into nicer and bigger offices, and have been able to hire some of the best developers in the world as a result of the success of the first title."
Sons Of The Forest News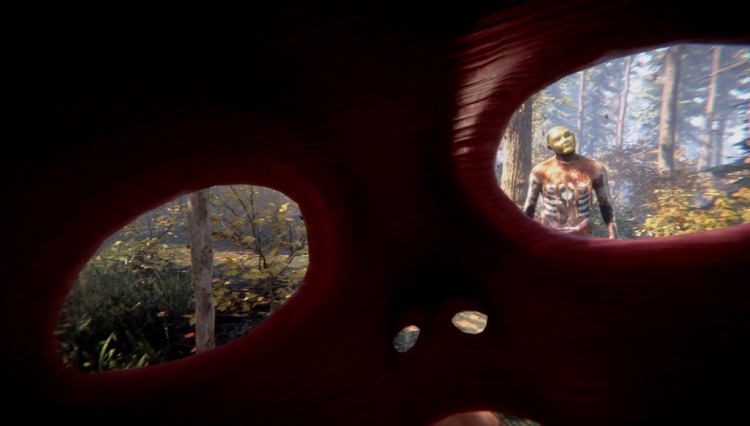 A cannibal who wears a mask is trying to figure out how to interact with you. The similar mask that you're wearing seems to function as a way of camouflage in Sons of the Forest.
Endnight revealed on multiple accounts that Sons of the Forest will indeed have multiplayer at launch. But we don't know if the same thing could be said about console support and VR. 
They admitted in their interview with the Escapist Magazine that so far, they can only confirm the PC release.
The Forest itself had its Playstation and VR support up to four years after its initial release. We don't know if the same will apply to Sons of the Forest, but we certainly hope not.
Also Be Sure To Read: