[Top 10] The Last of Us 2 Best Weapons and How to Get Them
Updated: 06 Aug 2021 2:05 am
Sometimes talking just isn't enough...
The Last of Us Part 2 is a thinking man's video game. Successful play requires good preparation and planning since relying on headshots and luck won't always be fruitful. Luckily, as it so happens, having a better understanding of the combat mechanics and enemy behavior will only deepen one's appreciation of this masterpiece.
There are many tools of war to choose from in this game, grouped in four basic categories: melee, throwable/craftable, handguns, and longguns. Utilizing the strengths of the different weapon types is key for fully enjoying those heart-stomping encounters, not to mention for turning the tides in your favor. What follows is our pick for the 10 best and most effective armaments Ellie and Abby can use.
10. Trap Mine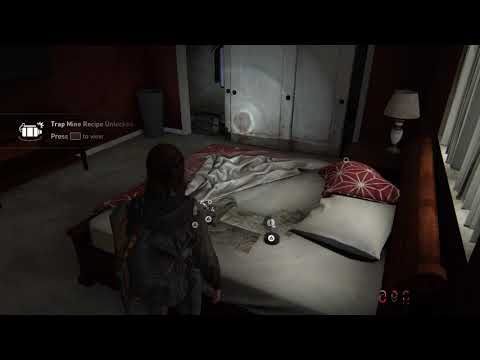 Finders, keepers
Panicking while being chased by dogs who can sniff out your location? Watching helplessly as the swarm of infected creeps is rapidly closing in on you? Do not despair – prepare a "welcome" for them! 
As the better tactician of the duo of playable characters, Ellie can learn how to quickly produce this plantable explosive. Once set, it is wise to steer well away from it and watch tose poor souls experience the "boom" first hand. Especially useful in scenarios when more than one opposing faction is present (say, infected vs. WLF soldiers).
What's great about the Trap Mine:
Easily found ingredients (one canister and one explosive)
Quick "planting" animation
Deals a lot of AoE damage, so it can clear larger groups of enemies
Can be used to defeat one enemy soldier and lure all infected to the location of the explosion – thus creating mayhem, and allowing you safe passage 
Trap Mine Details: https://thelastofus.fandom.com/wiki/Trap_Mine
9. Revolver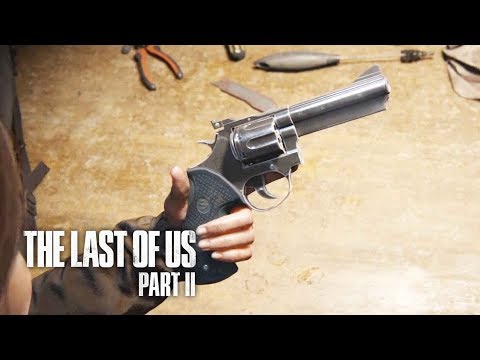 A remnant from the original game, this handgun remains just as vicious in the sequel too. Sporting a classic "western" appearance and packing a hefty amount of punch, it's easily one of the best handguns in the game.
One big issue this weapon has is its slow fire rate, which remains unsatisfying even after upgrading it. However, the damage output is excellent from the get-go, and later on, after 1-2 upgrades, it can fit in the position of a "one shot – one kill" weapon.
What's great about the Revolver:
Obtainable early on in the game
Great stopping power – enemies not killed will pause in their tracks
After the damage upgrade, headshots will not be required for the lesser foes
Good for both mid and long-range targets
Revolver Details: https://thelastofus.fandom.com/wiki/Revolver
8. Pump Shotgun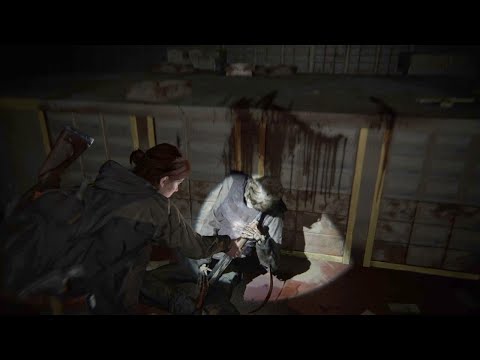 Mind if I borrow this?
The loudest and angriest in Ellie's arsenal – the Pump Shotgun is always up for mowing down hordes of enemies. Its wide impact range is offset only by its lengthy reload animation. Hopefully, you wouldn't need to reload it much in the presence of your enemies.
Just wait for them to haste towards you, and in that instant when they are certain they've got you - send a deafening "bark" from its jaws. It's usually more than enough.  
What's great about the Pump Shotgun:
Very useful because of how frequent close quarter combat is
Can turn multiple foes into unrecognizable chunks of blood and other fluids
Benefits greatly from the "increased capacity" and "increased fire rate" upgrades
Pump Shotgun Details: https://thelastofus.fandom.com/wiki/Shotgun
7. Molotov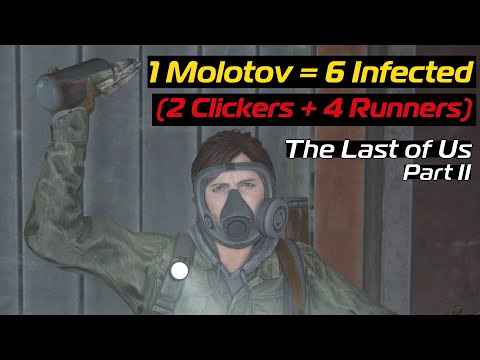 Molotov vs. everyone
A staple in all "zombie-themed" video games, this fiery cocktail fits beautifully in TLoU 2 as well. Works just like in real life – a combination of two commonly found materials, and a lighter. Once thrown, it spreads nicely over the landing point.
Too bad that it shares the crafting materials with those life-preserving health kits. But on the other hand, it can prove to be a worthy trade-off.
What's great about the Molotov:
Sometimes it's more cost-efficient to kill off all enemies before they have a chance to hurt you, instead of trying to melee them and heal afterward
Fire spreads across multiple bodies, quite quickly
The option to increase its AoE radius is super good
Molotov Details: https://thelastofus.fandom.com/wiki/Molotov_Cocktail
6. Double-Barrel Shotgun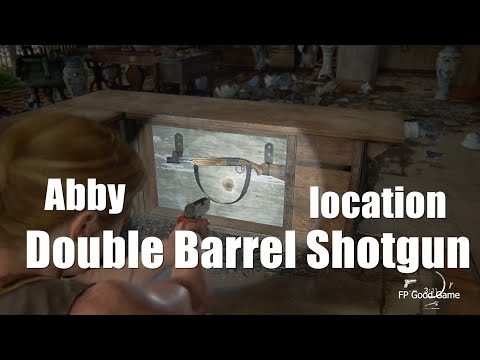 Double the fun
Even though TLoU 2 falls in the "survival horror" genre, this weapon behaves as if stripped straight out of an FPS game. A weapon that simply gets the job done, it's a wonderful companion for Abby's pumped-up behavior (and physique!)
Found much later in the game than its single-barrel counterpart, this shotgun revels in dishing out an excessive amount of pain with a single pull of the trigger. Everyone - safe from mini-bosses and the like, falls in front of its gaze.     
What's great about the Double-Barrel Shotgun:
Uses the (arguably) most powerful craftable ammunition in the game, the incendiary shells
Best choice when surrounded
Double- Barrel Shotgun Details: https://thelastofus.fandom.com/wiki/Double_Barrel
5. Bolt-Action Rifle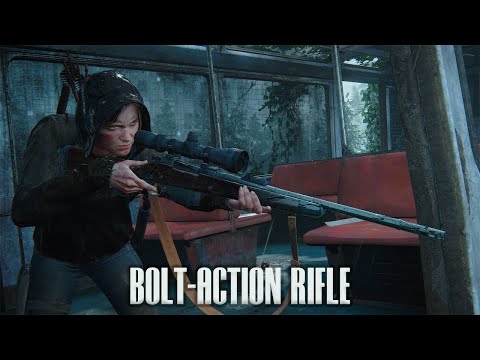 Few weapons in the game can fill the "sniper" role, and even less with this much confidence. And not only that, but this rifle is quite useful on not-so-distant targets as well. It simply doesn't discriminate.
It's hard to pinpoint exactly where this weapon's drawbacks are, aside from its relative inefficiency when it comes to enemies in extreme proximity. If we are willing to overlook that, then we'll face the dilemma of which upgrade to spend resources on – there are many "right" options for a weapon as good as this.
What's great about the Bolt-Action Rifle:
Obtained from the very start of the game
Good in almost any type of situation
Capable of distant one-shot kills
Bolt-Action Rifle Details: https://thelastofus.fandom.com/wiki/Hunting_Rifle
4. Hunting Pistol
Evoking memories of the infamous El Diablo from the original game, this angry pistol is the answer to many of the game's combat challenges. Utilizing enough projectile power to send enemies flying, it's a force to be reckoned with.
Even though we can't change its capacity of only one bullet, the fact remains that we'll find many uses for that one shot. Also, if the player can live without carrying a shiv at all times, the ammo stock for this beast will always be plentiful. 
What's great about the Hunting Pistol:
Not difficult to score one-shot kills with this one
Craftable ammunition
A scope can be attached to it as well, increasing its usefulness 
Hunting Pistol Details: https://thelastofus.fandom.com/wiki/Hunting_Pistol
3. Bow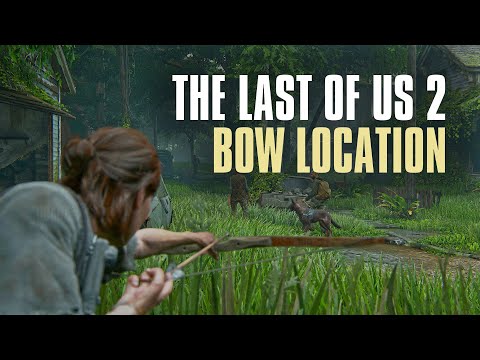 Goes well with a green hoodie
In a game where it's wise to stay hidden and pick off enemies methodically, slowly, one by one so they can't overwhelm you, stealth-kills are king. Hence, it's not a surprise that we obtain noise-less armaments only when the story is well underway.
On Ellie's side, we have this "medieval" looking contraption, obviously available for applying for whichever archery tournament is held nearby. But of course, this very game is one such ordeal! Just be mindful of the arrow's realistic fall on prolonged flights, and you'll have no trouble defeating your unalarmed foes.   
What's great about the Bow:
100% silent
Crafting the arrows is expensive, but they can be re-acquired from dead targets (not always though)
The Rangefinder makes it a lot easier to use against distant baddies  
Bow Details: https://thelastofus.fandom.com/wiki/Bow
2. Flamethrower
The final weapon found by Abby, and a true gem at that. It does exactly as the name implies – setting everything ablaze in an instant.
Though it works better against infected flesh than armor, it's no secret that no enemy in the game will be happy when he/she sees you holding it. It can bring a smile to your face, though. Ammo is of course scarce, so pacing your appetite is recommended.
What's great about the Flamethrower:
It cannot be upgraded at all – and it shouldn't be
Enemies still alive will continue to burn
Not a "Not a Flamethrower"
Flamethrower Details: https://thelastofus.fandom.com/wiki/Flamethrower
1. Crossbow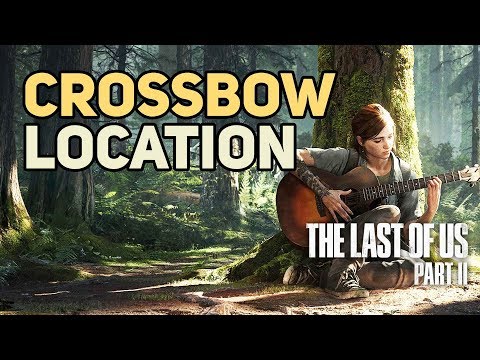 It feels just... right
An all-around better weapon than the mighty bow, this modern, bolt-throwing killing machine is our choice for the best weapon in TLoU 2. Silence is golden in this game, as is defeating your enemies without any one of them realizing that it's too late. Way too late.
Understandably, the ammo for this unique armament comes extremely rare. However, a precise shot to the head usually preserves the bolt "unaffected" – so it can be picked up and used again. Very nice.
What's great about the Crossbow:
It's silent and automatic – no prolonged "draw" animations here
Deals a lot of damage through armor as well
Headshots are welcomed, but not necessary for chaining kills
Crossbow Details: https://thelastofus.fandom.com/wiki/Crossbow
So, what would be your weapon of choice?
You May Also Be Interested In:
Image Gallery