[Top 10] Zombie Apocalypse Games That Are Fun
Updated: 21 Dec 2022 9:16 pm
Get lost in the lush but brutal world of these Post Apocalyptic Games.
The dead may rise from the grave and the world may come to an end, but that won't stop us from having some fun while playing these ten incredible games. From world simulation to multiplayer mayhem, these games will surely not disappoint.
Now, let's take a look at the Top 10 Zombie Apocalypse Games That Are Fun.
10. Back 4 Blood (PC, PS4, PS5, XBOX ONE, XBOX X/S)
Serving as a spiritual successor to Valve's zombie classic, Back 4 Blood. Choose from a group of survivors as they fight and defend Fort Hope against the grotesque infected called the Ridden.
With visceral gameplay that will leave you covered in buckets of blood and a cast of colorful and humorous characters that you'll grow to adore, Back 4 Blood manages to recapture what made Left 4 Dead such a beloved game in the first place and cranked it all up to eleven.
In place of the inventive director A.I. is the in-depth card system that will both be a key to your survival and also a nightmare, as it gives each run a different flavor.
Play This Game If You Like:
Left 4 Dead
Card Implemented System
Insane Action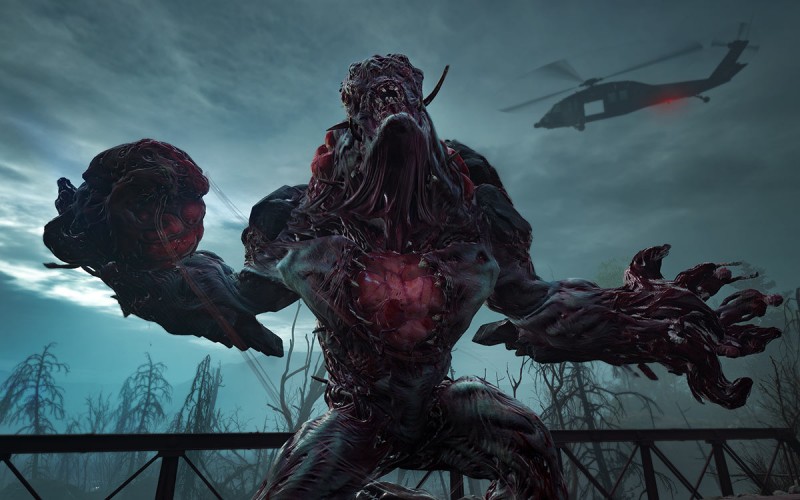 Fight spectacular giant monsters in this balls-to-the-walls frantic game!
9. World War Z (PC, PS4, XBOX ONE, NINTENDO SWITCH, STADIA)
Set within the same universe as the film of the same name, World War Z focuses on a group of survivors of a zombie apocalypse from all around the world.
It's often difficult to translate a movie to video game territory, however, World War Z succeeds in parts where other games fail, and that it manages to capture what makes its source material such an engaging experience. The stunning amount of zombies seen on screen makes for such a thrilling and satisfying action that will hook you in.
The game also puts you in various high-octane locations, set all around the world. And the stellar combat and jaw-dropping action are just part of the fun. This is an essential game for those looking for insane zombie action.
Play This Game If You Like:
Chaotic Gameplay
World War Z film
Thousands of zombies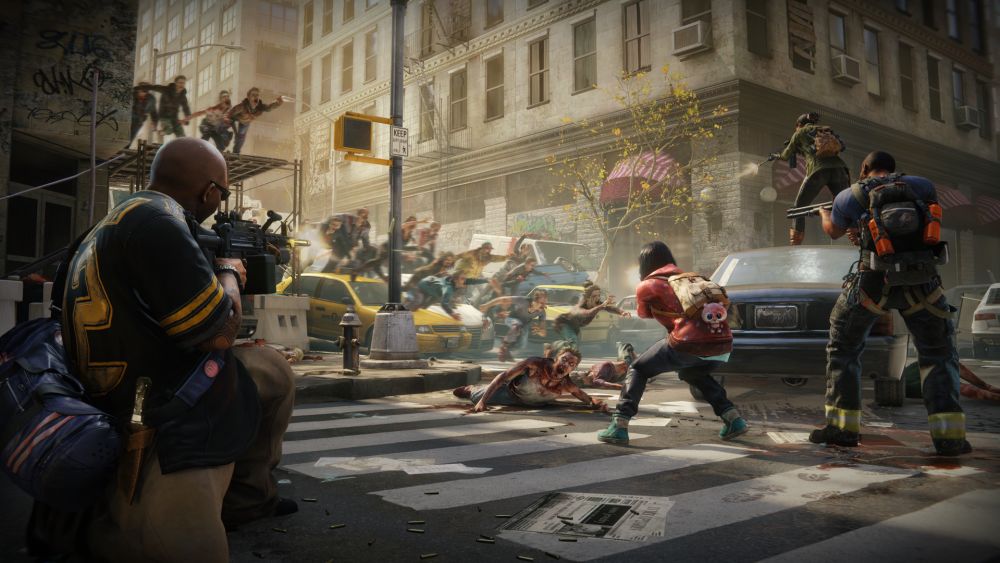 Face off thousands of hungry zombies as one of the playable characters.
8. Days Gone (PC, PS4)
Shoot and drive your way through Days Gone  as former outlaw-turned-drifter Deacon St. John on a quest to find his presumably dead wife.
Days Gone offers up a unique take on  the zombie sub-genre, placing its apocalyptic setting in a thematic biker drama, filled with hordes of flesh-eating undead. It has such a lush and open world to explore that you can easily find yourself lost in it.
It also has a deep crafting system and a pretty satisfying motorbike driving mechanic, providing responsive gameplay. All of this results in one of the most underrated zombie games out there.
Play This Game If You Like:
RPG Mechanics
Tense Zombie Action
Engaging Story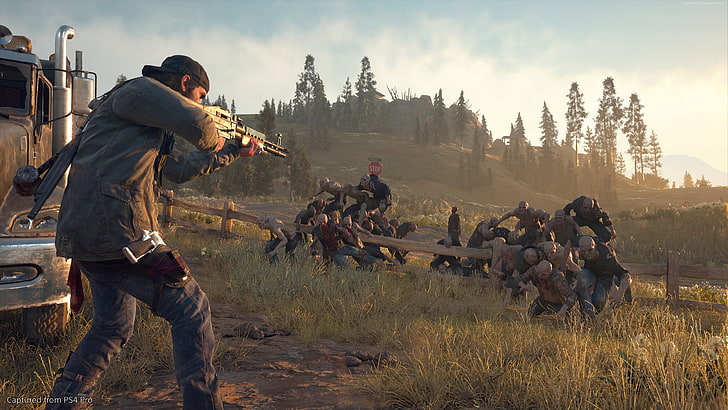 Survive Days Gone's bleak world.
7. Dying Light (PC, PS4, PS5, XBOX ONE, XBOX SERIES X/S, NINTENDO SWITCH, LINUX, MAC OS)
In Dying Light, you assume the role of Kyle Crane as he travels a Middle-eastern city called Harren, infested with zombies in this first-person survival horror game.
Dying Light is a refreshing entry in the zombie sub-genre as it lets you explore a massive open world, filled with terrifying flesh-eating zombies, in creative fashion thanks to its fluid parkour mechanic that makes it stand out from the rest. And a spine-chilling day and night cycle that will make you afraid of lurking in the dark.
It also has a rewarding combat system and responsive gameplay, made even better and more immersive due to the First-Person perspective, making each slice and bash feel relatively satisfying.
Play This Game If You Like:
Immersive Parkour
Open World Games
RPG Mechanics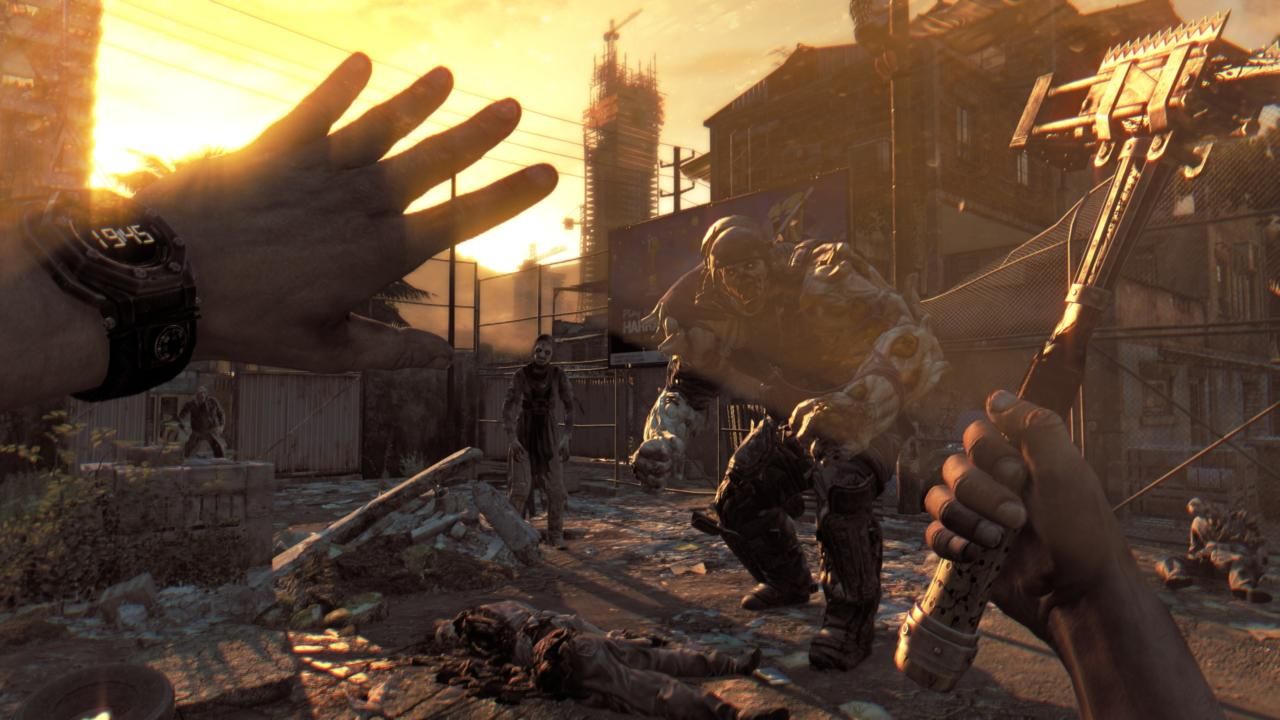 Parkour your way through a zombie land.
6. Project Zomboid (PC, LINUX, MAC OS)
Project Zomboid is an open-world isometric survival horror game set in a post-apocalyptic world where zombies roam free and you control a survivor trying to survive before your inevitable demise.
Project Zomboid offers up a sheer amount of detail, from its world-building to a deep survival mechanic, all created to hook you in for an experience like no other. Despite its simplistic graphics, the game nonetheless succeeds at providing a heart-pounding experience thanks to its bleak portrayal of an apocalyptic world. 
Sure, the game may be full of stress-inducing moments, but every single victory achieve makes for such a satisfying and fun feeling that will leave you wanting to play more. Don't let its Early Access state, scare you off in one of the most immersive zombie games yet.
Play This Game If You Like:
Bleak Gameplay Experience
In depth system
Survival Simulation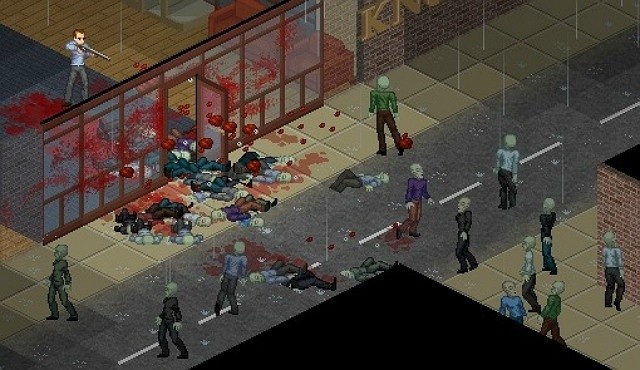 Stay alive in the world of the undead.
5. State of Decay (PC, XBOX 360, XBOX ONE)
State of Decay puts you in the zombie-infested Trumbull Valley, as procedurally generated survivors trying to lead a small community in the middle of a post-apocalyptic world.
Arguably the most ambitious game that the genre has seen, State of Decay is a game that will satisfy your zombie-craving need as it puts you in the fictional Trumbull Valley which feels like one giant playground, complete with a wide array of weaponry and activities to choose and partake in, providing an endless possibility. 
The game has a deep simulation mechanic and an unforgiving permadeath system, sure to keep your heart beating with each undead encounter. And although the game may feel a bit janky at times, it doesn't really hamper the gameplay experience.
Play This Game If You Like:
Open World Games
Deep Simulation Mechanic
Territory Defense Simulation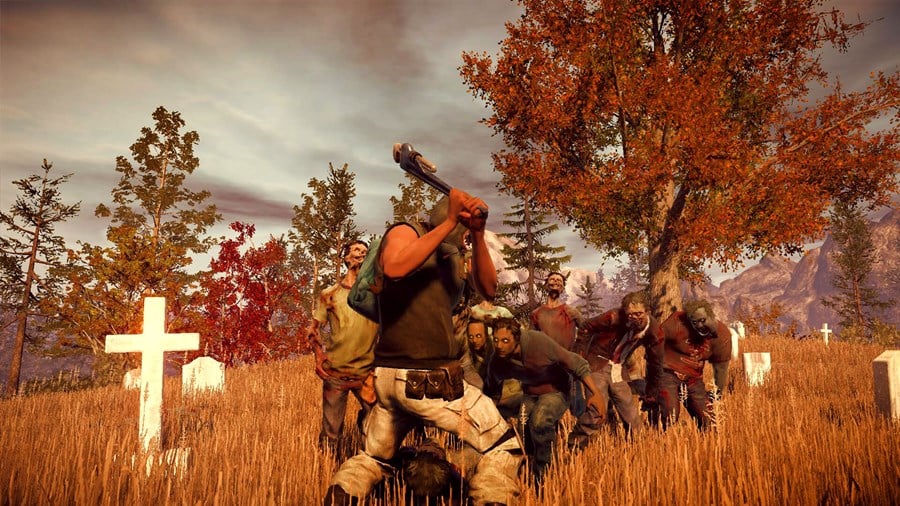 Can you make it through the day in the world of State of Decay?
4. The Last Of Us Part 2 (PS4, PS5)
A sequel to one of the best zombie games of all time, The Last of Us Part 2 continues the story of Joel and Ellie in a post-apocalyptic world, set four years after the events of the first game. 
It seemed as though it was impossible to top the first game, but this sequel beat all odds and provided us with a more defined and even more thought-provoking sequel that will make you question your morals.
It's gritty and unforgiving, but  also full of heart as it reintroduces its mesmerizing world and characters to us. Though it may be divisive within the community, the game still proves to be a masterclass in the genre.
Play This Game If You Like:
The Last Of Us
Story-Driven Experience
Gorgeous Graphics
Masterful Soundtrack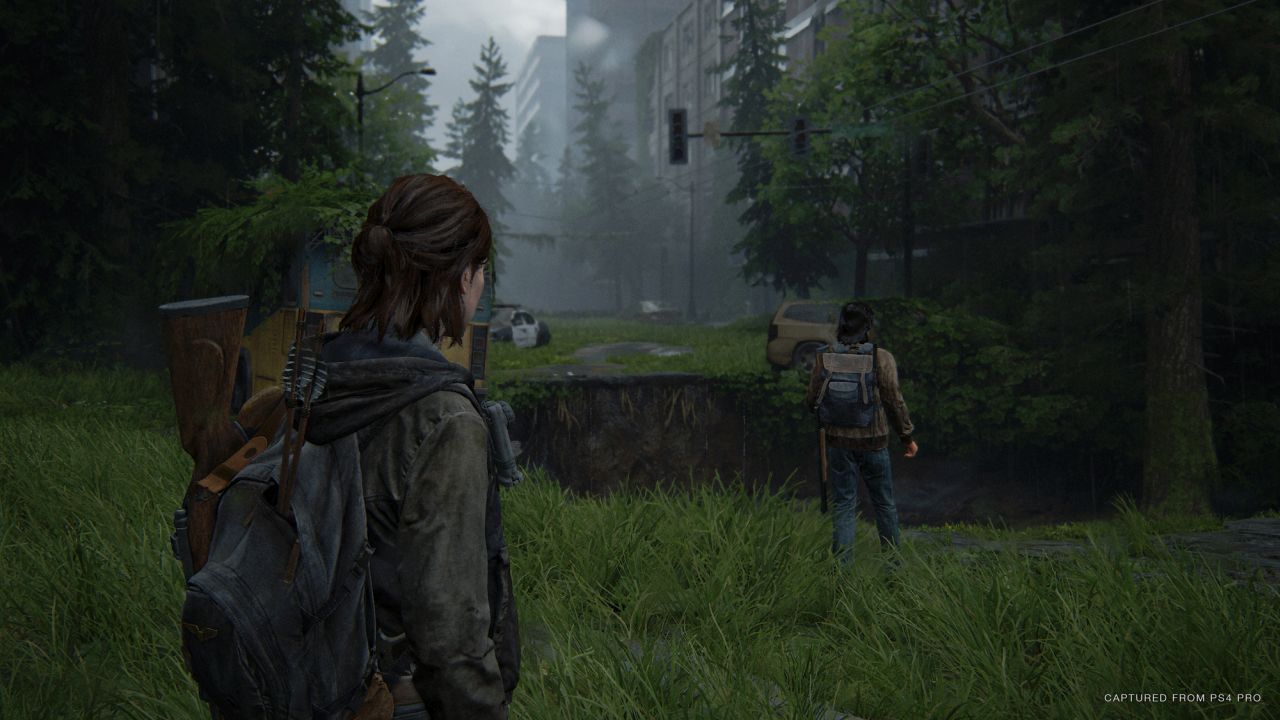 Get lost in The Last of Us Part 2's mesmerizing world.
3. Telltale's The Walking Dead: Season 1 (PC, PS3, PS4, PSVITA, XBOX 360, XBOX ONE, NINTENDO SWITCH, ANDROID, IOS, MAC OS, OUYA)
Taking place in the same universe as the TWD comics, Telltale's The Walking Dead puts you in the shoes of Lee Everett as he tries to protect a young girl named Clementine from the dangers in the world where the undead roam free.
Although it may not be as fun as the others on the list, Telltale's The Walking Dead will bring you on a journey like no other due to its fantastic storytelling that feels like a rollercoaster of emotion. As it introduces you to a loveable cast of survivors, along with Lee Everett and the adorable Clementine.
The game plays more like a cinematic experience, as you get the ability to pick numerous decisions with heavy repercussions, from choosing which character to rescue from the undead to choosing whether to steal supplies from a car. Either way, TWD does not fail to make you second-guess every decision that you make.
Play This Game If You Like:
Story-Driven Experience
The Walking Dead Show and Comics
Episodic Games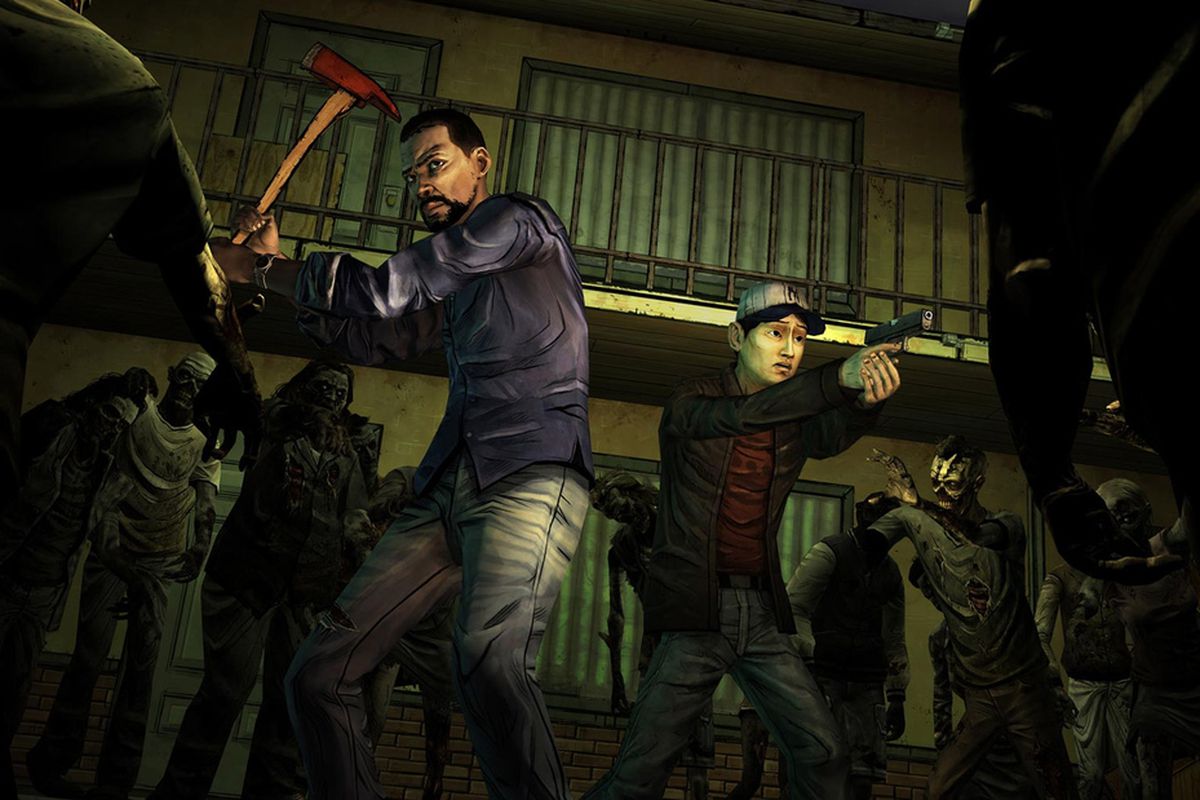 Fend off the walkers as Lee Everett with the iconic Glen.
2. Left 4 Dead 2 (PC, XBOX 360, LINUX, MAC OS)
Set during the aftermath of an apocalyptic pandemic, the game follows four survivors fighting against hordes of zombies and infected creatures in this five-chapter campaign.
What's more fun than being able to shoot your way through hordes of grotesque zombies? Well, by shooting your way through hordes of grotesque zombies with your friends.  Left 4 Dead 2 is a sequel that takes every single superb mechanic of the first game and tweaks it, providing a further enhanced experience.
The implementation of the Director A.I. provides an exhilarating and unpredictable experience, as your playthrough might not always be the same due to its adaptability to the player's skills. And with a delightful cast, gory visuals, and stellar gunplay, Left 4 Dead 2 is a game that every single gamer has to play.
Play This Game If You Like:
Multiplayer Mayhem
FPS Shooters
Absurd Modding Community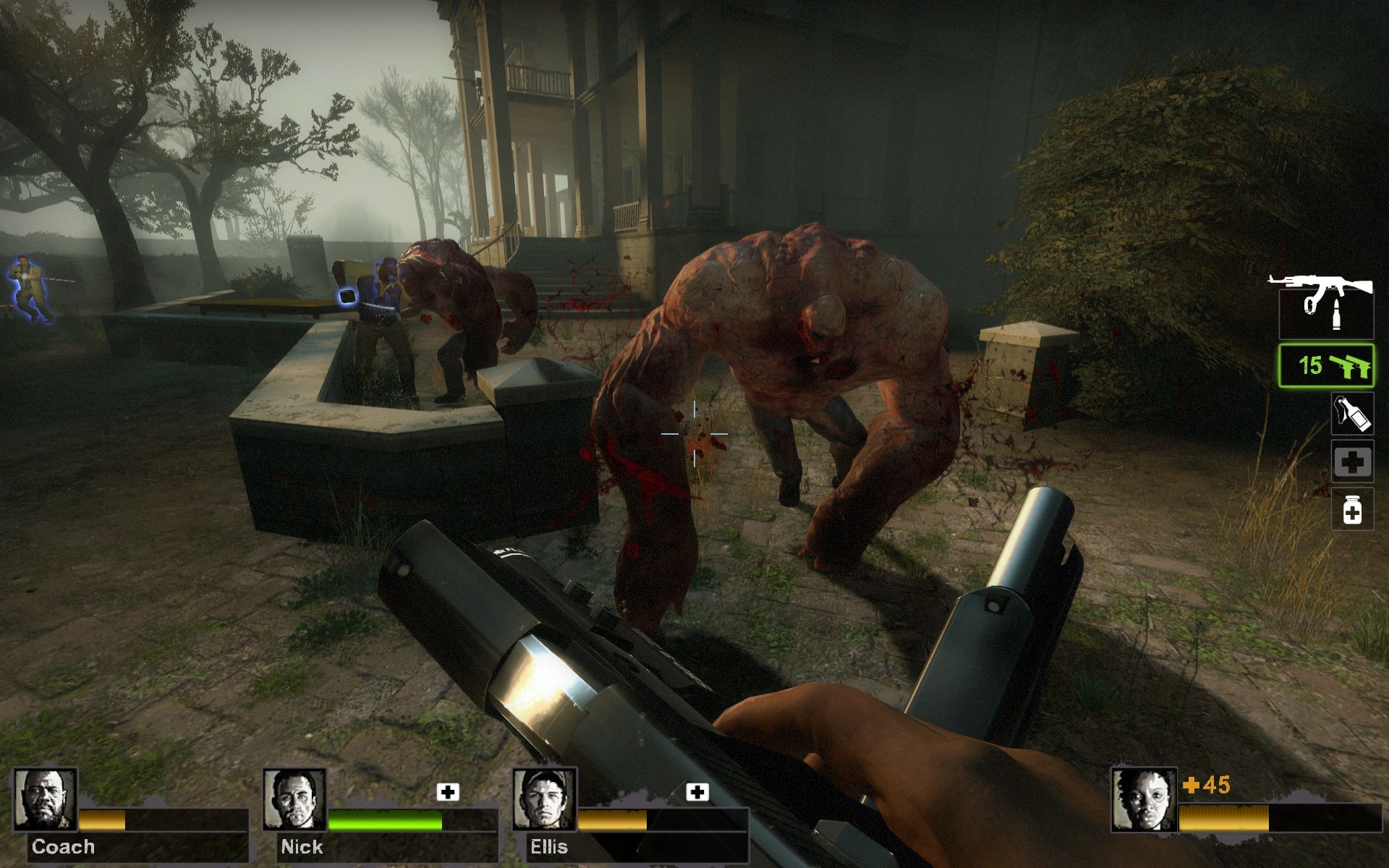 Prepare for a frantic tank attack in Left 4 Dead 2.
1. The Last of Us (PS3, PS4, PS5)
In this highly acclaimed game developed by Naughty Dog, you play as Joel, tasked with protecting and escorting a teenage girl named Ellie, across the post-apocalyptic United States.
A game with a gripping story to tell, The Last of Us is without a doubt one of the best zombie games that the genre has to offer. The game is gorgeous in every sense of the word, from its engrossing story, desolate world, graphics, to even its well-written characters, it    succeeds on every single front.
Joel and Ellie's travel is a touching journey that will have you laughing with each breather that the characters see themselves in, and make you feel worried and terrified with each encounter with the game's disgusting enemies. All of this culminates in an experience that you will never forget any time soon.
Play This Game If You Like:
Story-Driven Experience
Touching Story
Exhilarating Gameplay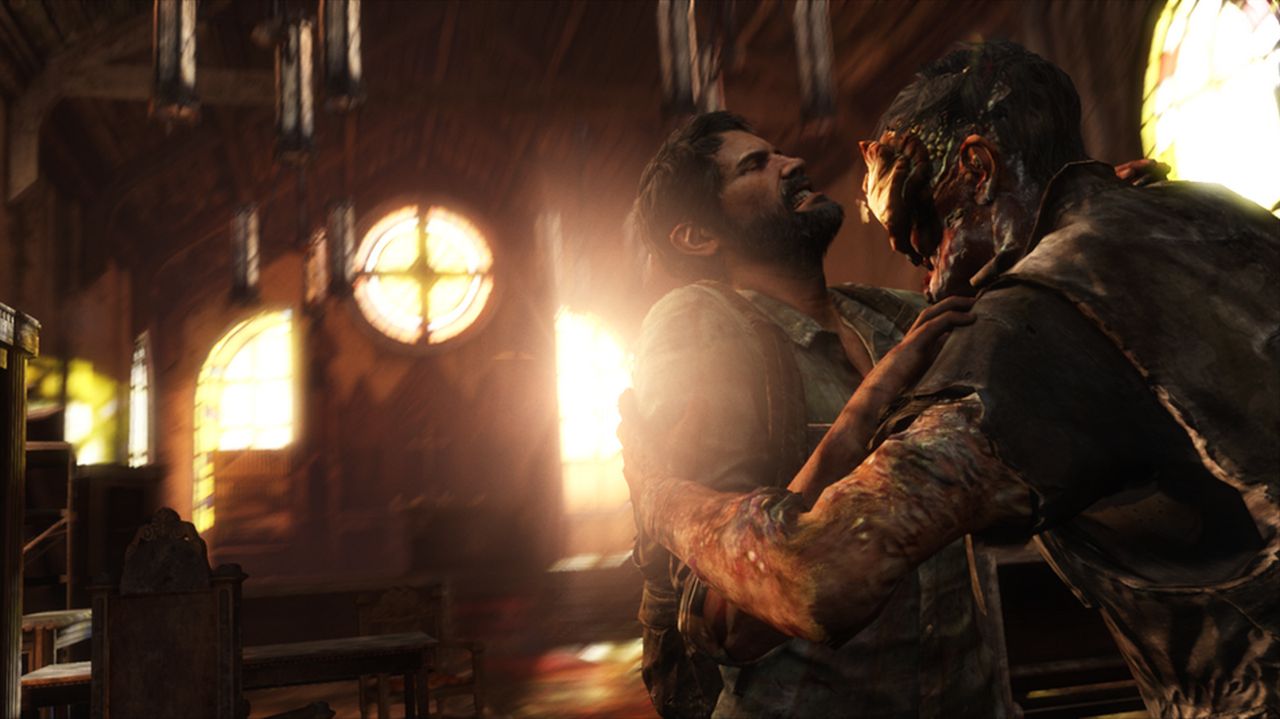 Don't get bitten by the grotesque clicker!