[Top 15] Best Open World Games To Play in 2023
Updated: 22 Jun 2023 12:47 pm
15. Elden Ring - 2022 (PC / PS4 / XBO)
From the developers of Dark Souls. Elden Ring is a dark fantasy open-world RPG. Quite similar to Dark Souls' concept and complexity. You will explore a vast world with an endless amount of dungeons and dark adventures. As a classic RPG, you can create your character and decide whether you want it to be an unbreakable warrior or a powerful mage. You can play the story mode, which is highly worth it. Or choose between the different multiplayer modes. From cooperative to competitive in PvP and Invasions.      
Choose this game if you like…
Intense roleplay.
Ancient fantasy atmospheres.
Exploration and adventures in a dark world filled with unknown creepy creatures. 
Fun factor score: 90/100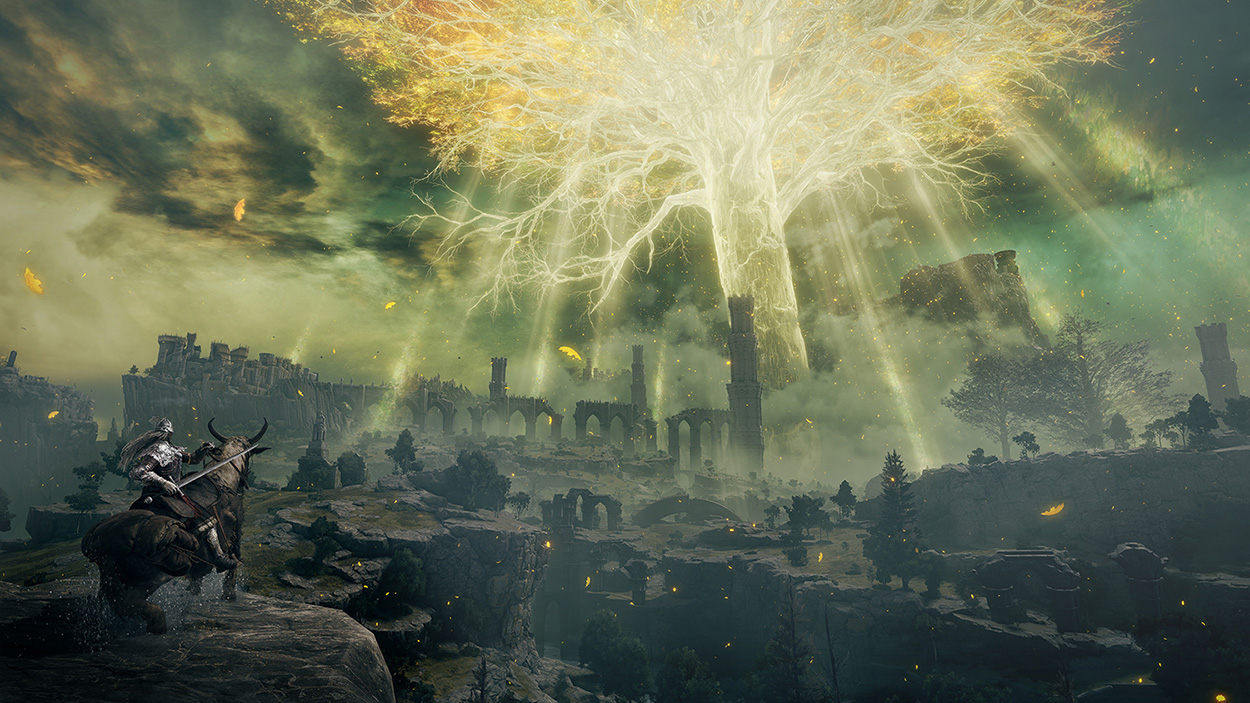 An impressive screenshot of a massive glowing three inside the world of Elden Ring. Exploring a world like this is an incomparable task.
14. Hogwarts Legacy - 2023 (PC / PS4 / PS5)
This game is set in the Harry Potter books universe. In the Hogwarts School of Witchcraft and Wizardry, you'll become a witch or a wizard. A magic student who holds the key to an old secret threatening the world. Create your character and your legacy in this XIX-century world. The story is just like the Harry Potter we all know. An owl will recruit the player to Hogwarts and many well-known characters will be there. 
Choose between all houses: Gryffindor, Slytherin, Ravenclaw, and Hufflepuff. Ride your own Griffin to explore this extensive world. More than 30 hours of gameplay in one of the most wanted games ever! 
Choose this game if you like...  
The Harry Potter Saga.
Magic, wizards, witches, and anything related to it. You must like mages with wands if you know what I mean.
Beautiful worlds with incredible 3D graphics. 
Fun factor score: 90/100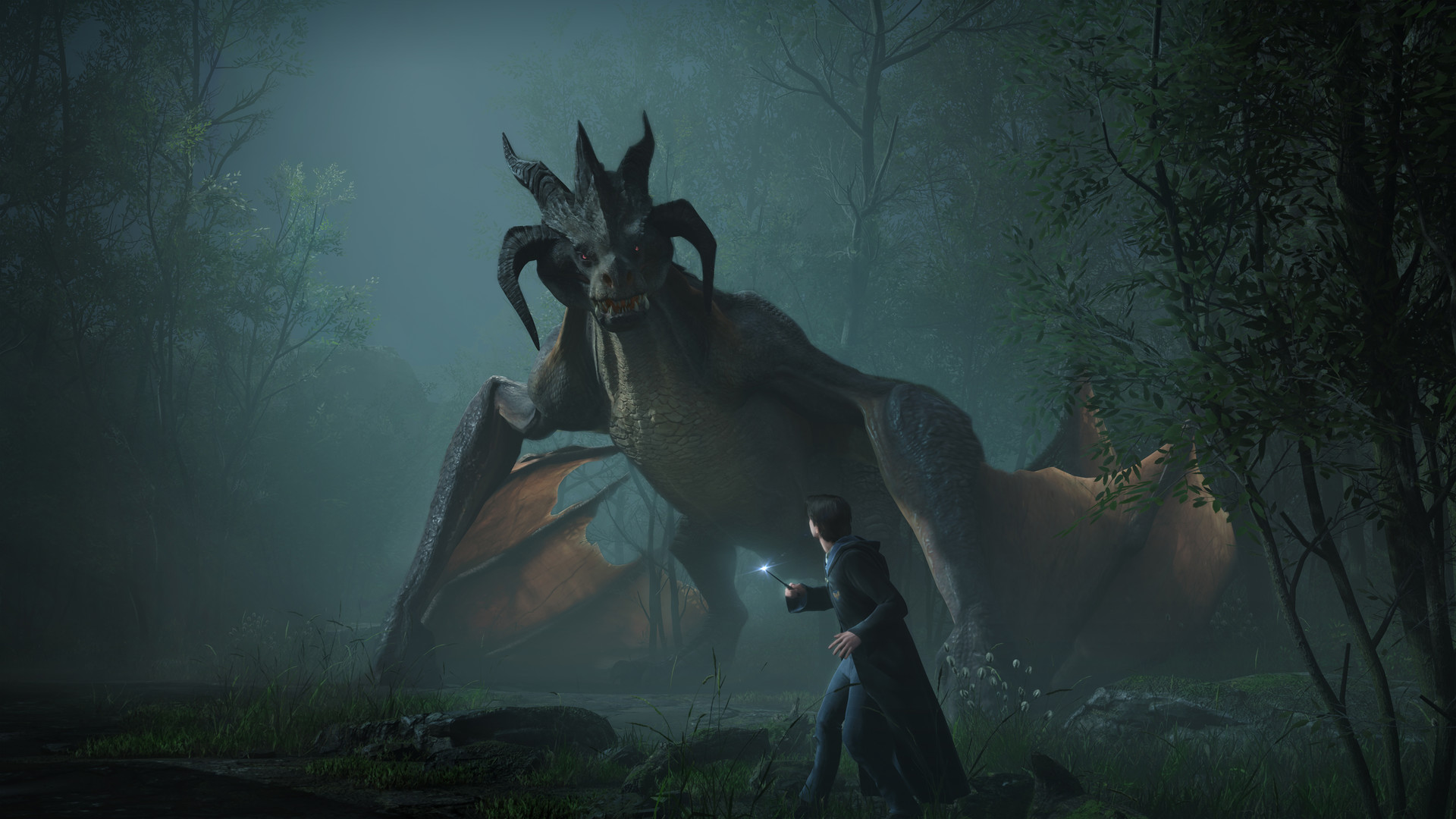 A mage holding his wand about to cast a spell. Face to face with a dragon, a terrible creature.
13. World of Warcraft: Dragonflight - 2022 (PC)
The most famous MMORPG in its 9th expansion. Located in the world of Azeroth, the Dragonflight expansion unlocks a new race, talents, and the Dragon Isles. You can choose to be a race called Dracthyr. A humanoid creature that transforms into a dragon. This new race was created by the dragons for war and after it was finished, the Dracthyr were locked. The main characteristic of the Dracthyr is they can fly without a mount until exhausted. Resting and charging back the flying ability takes a while. 
Not only a beautiful new explorable zone but also an interesting story are what makes Dragonflight one of the best expansions. The flying system is complex and the crafting system is the most efficient. Dragonflight provides 10+ hours of amusement with the several improvements done since Shadowlands.  
Choose this game if you like...  
Dragons and the idea of flying around to discover the Dragon Isles.
Complex mechanical RPG games.
The WoW universe. To have a better understanding of the story it's always better to follow it from the beginning. 
Fun factor score: 100/100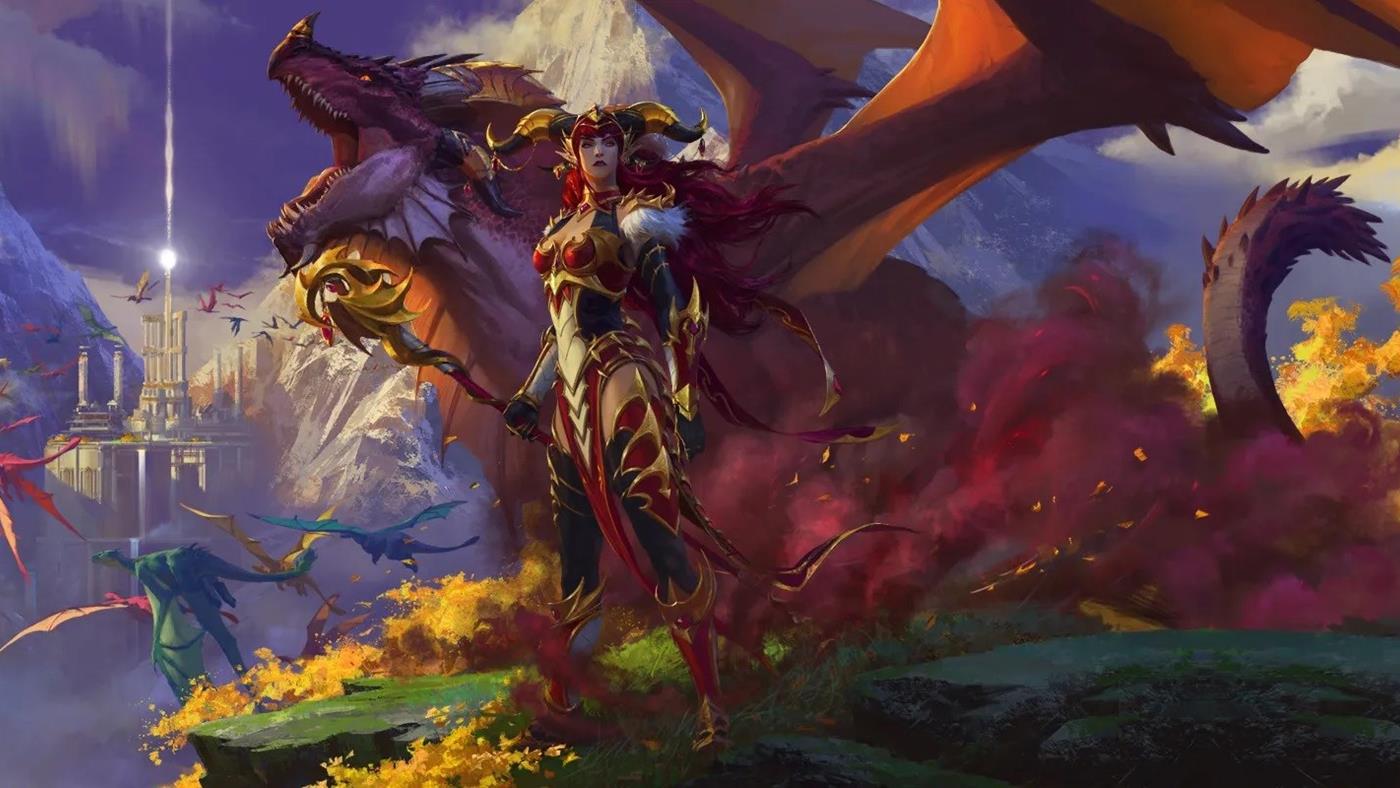 This colorful wallpaper shows a Dracthyr female in the front and several dragons in the background. 
12. Horizon Forbidden West - 2022 (PS4 / PS5)
Continuing the greatest Horizon Zero Dawn, this game is a spectacular adventure. Horizon Forbidden West is filled with action accompanied by an amazing narrative. Play with Aloy in this apocalyptic world where little humans are struggling to survive and only she is capable of discovering the cause of this extinction. 
The combination of traditional and futuristic art is a curious factor in the game. We get to see human tribes surviving in the jungle, and colossal machines destroying everything in their path. Aloy is the heroine who will destroy the threats along with friends, alliances, and secrets to be discovered. Great mechanics, a beautiful exploration system, and stunning graphics. This game will certainly surprise you. 
Choose this game if you like...  
Adventures.
Fantasy and science fiction. This game is the only one I've seen it mixes these genres artistically.
Great narratives.
Fun factor score: 90/100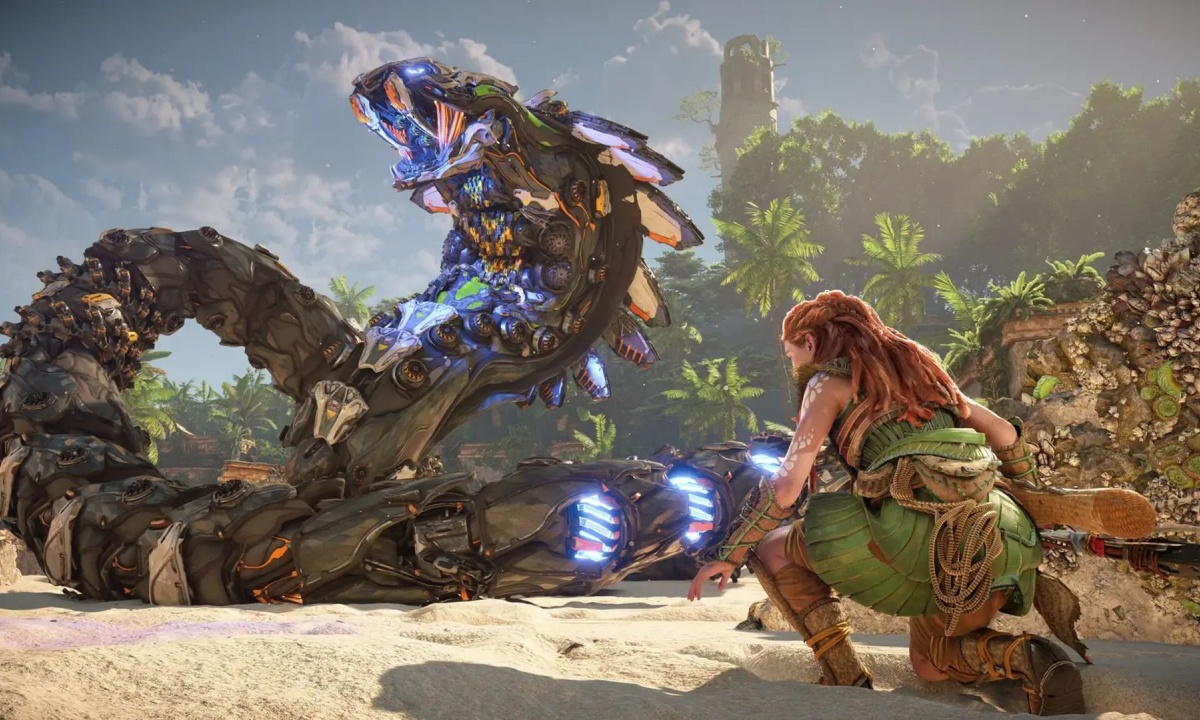 Aloy, the main character hunting one of the machines invading the world. 
11. Fallout 76 - 2018 (PC / PS4 / XBOX)
Fallout 76 is an online multiplayer violent open-world that has no rest. A dystopic post-apocalyptic United States after a nuclear war welcomes the player. In this game, the story is completed after the events in Fallout 4. Choose between recruiting a team or going on a solo campaign to challenge yourself in this enormous and dynamic world. 
New events are added to the multiplayer mode making the game inexhaustible. Constantly evolving, this game is one of those that you never get tired of. Interesting NPC characters, immersive quests, and fascinating enemies designs. These are just some of the many aspects that make this game a gem. 
Choose this game if you like...  
Apocalyptic worlds.
Massive online multiplayer.
FPS with hordes of enemies. Frenetic action on the battlefield.
Fun factor score: 90/100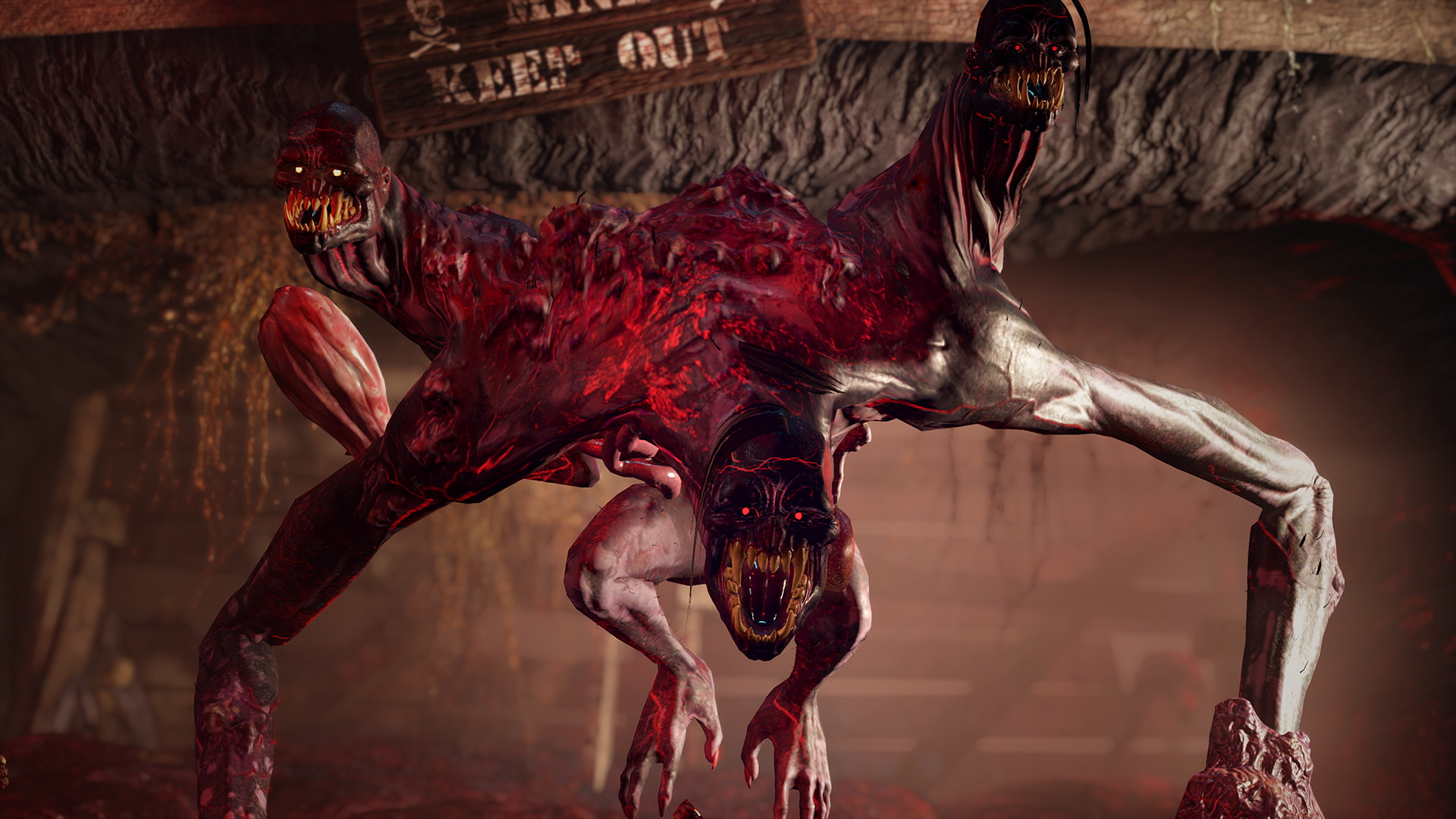 One of the creepiest mutants that the player has to fight in the game.
10. Valheim - 2021 (PC / XBOX)
A brutal survival exploring experience. Inspired by the Viking culture, Valheim is an epic open world that can be played in cooperative mode or by yourself. 
You're the keeper of the primordial purgatory. Surrounded by chaotic creatures and ancient enemies of the gods. Become a death warrior whose soul has been taken to Valheim by the valkyries. Your objective is to kill the enemies of Odin and bring order to Valheim. Venture yourself through the immense forests and mountains that give shape to this world. Build, survive, and explore the many features of these exotic lands. Similar to Minecraft this title has a dedicated system of construction and traveling.
Choose this game if you like...  
Viking ancient culture. 
Survivals.
Exploring natural environments. 
Fun factor score: 90/100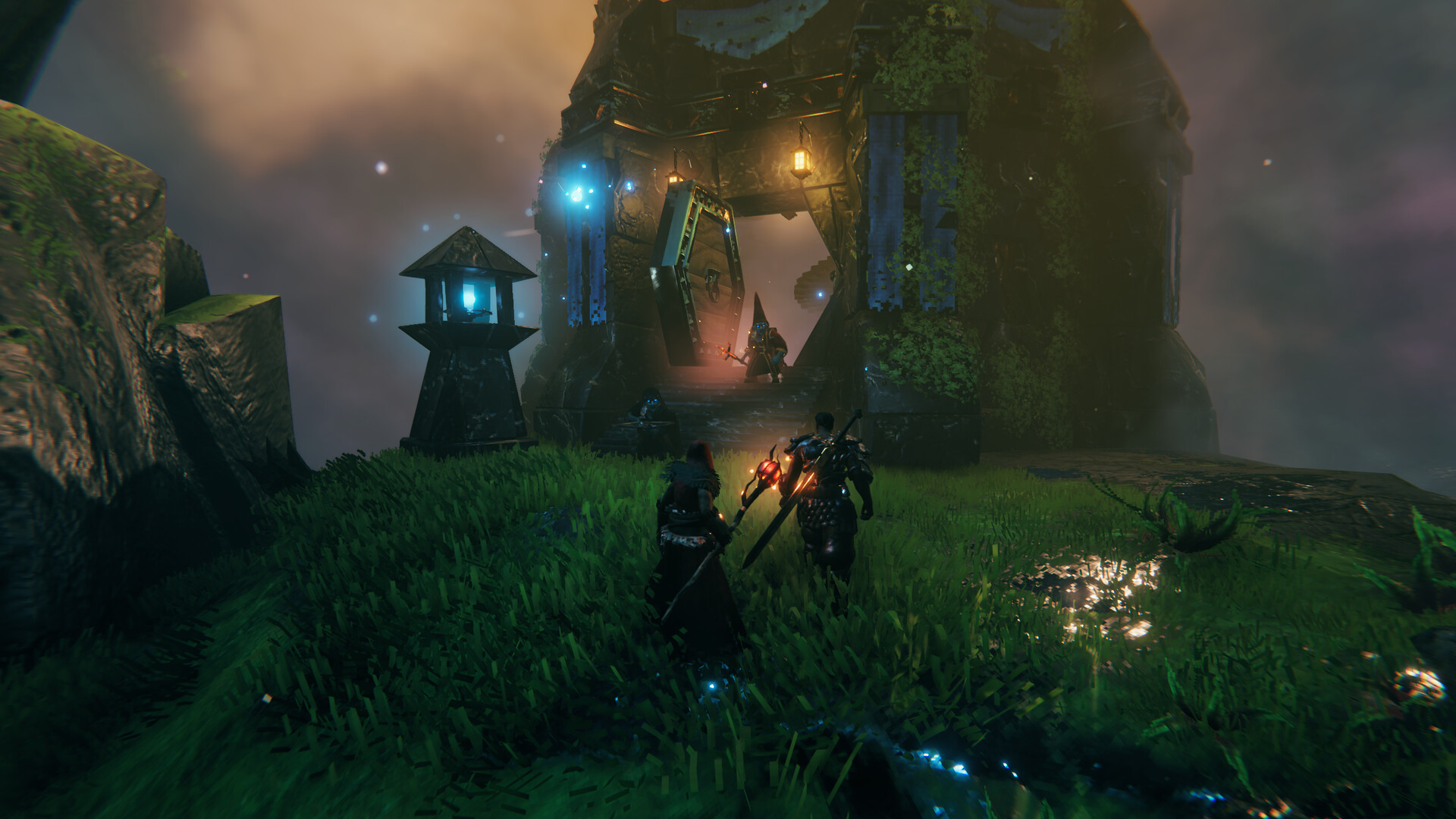 This is a beautiful screenshot of the game. We can see a dwarf, a mage, and a warrior here. Perfect fantasy.
9. No Man's Sky - 2016 (PC / XBOX / Nintendo SWITCH / PS4 / PS5) 
An exploration game filled with adventures and unique lifeforms. No Man's Sky is an open galaxy in constant evolution. A classic science-fiction atmosphere welcomes you into this attractive universe. Choose any of the many planets orbiting the sun for your first exploration mission. Fly into outer space and discover places and creatures only found here. 
What is in the center of the galaxy? Find out the secrets of the cosmos while fighting aliens and taking a break watching a beautiful sunset on a different planet. Survive the enemies with friends or alone. Upgrade your weapons and ship. Explore and collect resources for trading. Learn how the universe works in a realistic system with toxic fields, and unknown materials and shapes. The best part is that any computer can run it!
Choose this game if you like...  
Astronomy. A beautiful creation for those who want to go beyond our planet and reach the center of the galaxy.
Discovering things you've never seen before.
Star Wars.
Cosmic horror.
Fun factor score: 70/100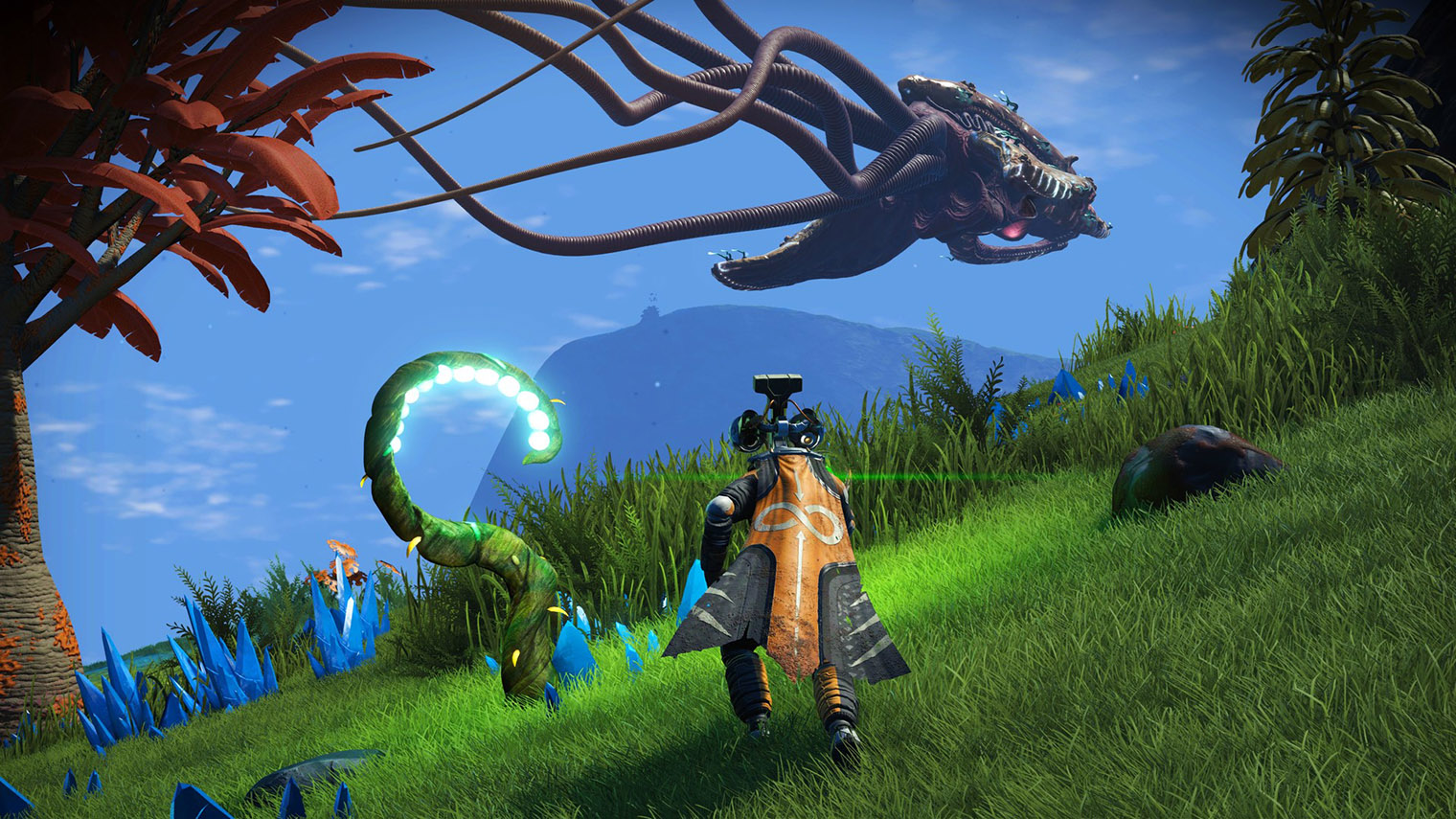 One of the planets found in this universe with its ecosystem and a giant creature in the sky. Look at how vivid the colors are.
8. Contraband Police - 2023 (PC)
The name speaks for itself. Contraband Police is an action open-world. We'll embody a police officer who's in charge of inspecting everyone trying to pass the frontier. A world set in the communist Republic of Acaristan. It's the 80s and corruption and contraband are common. You are in charge of keeping Acaristan safe. The story begins when one of our companions is murdered on the frontier. An investigation is opened while you keep working as an inspector.
Document control; contraband detection with the tools provided; vehicle registration; criminal hunting if they try to escape; border post management; shooting; and special tasks. This last characteristic is one of the bests in the game. The quests are not repetitive at all and each one is very interesting and fun to do. Your decisions matter in the world of Acaristan. Better think twice!
Choose this game if you like...  
Politics. This game shows us how the communist system works.
FPS games with several tasks to do. Interactive
Interactive stories. 
Fun factor score: 90/100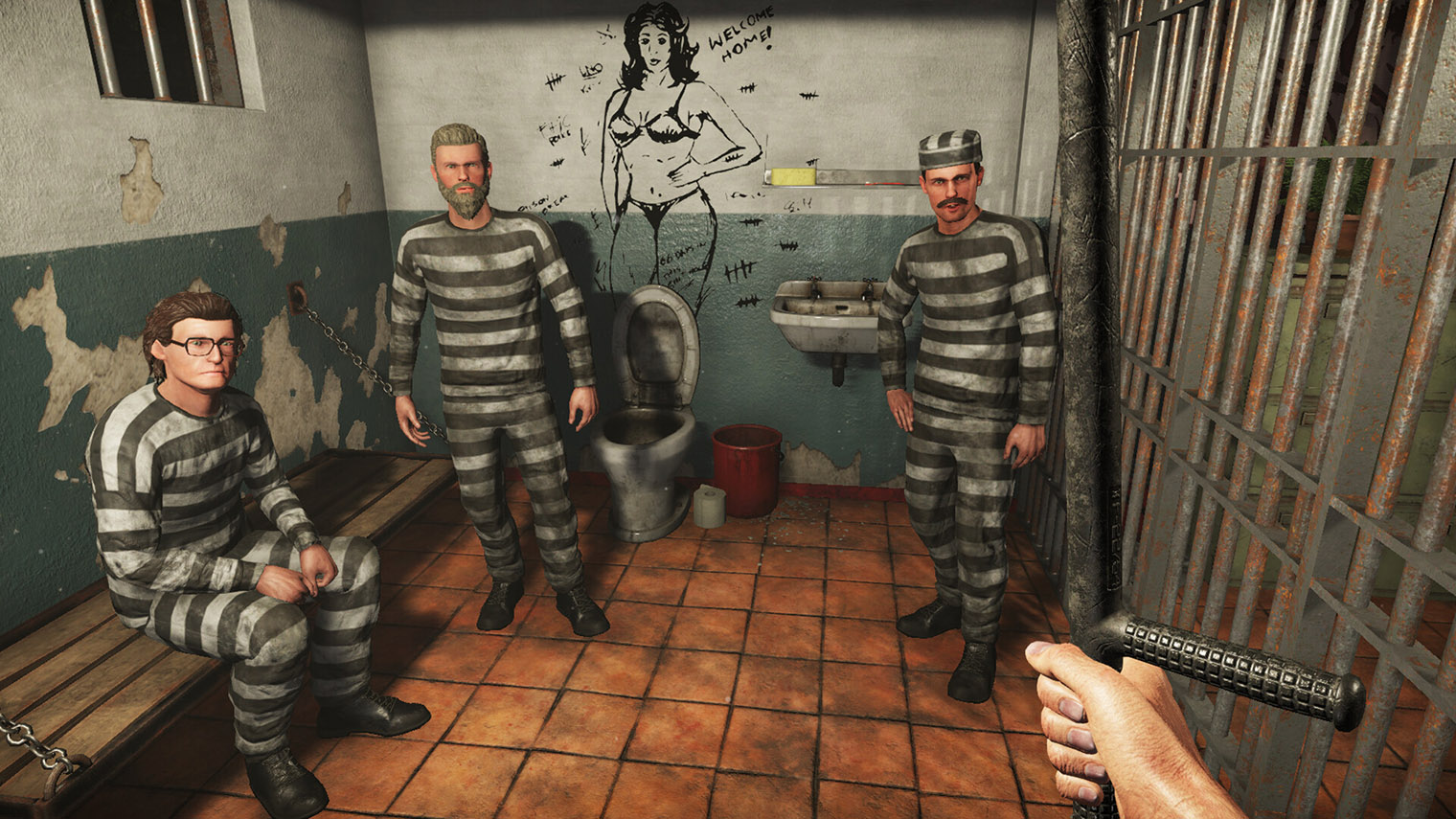 The police inspector threatens the criminals imprisoned by himself. 
7. Sea of Thieves - 2022 (PC / XBOX)
Ready or not the pirates are waiting! Sea of Thieves offers you the best of a pirate's life. From navigating the sea, combating, exploring, and collecting loot. Everything you need to live the experience of being a pirate. Total freedom is how you approach this world. You can play the grandiose stories to try the narrative campaigns yourself or with friends. Or simply explore this vast world navigating the calm and sometimes violent sea. Find other people on your journey and become friends or enemies. Try the different weapons and tools the game offers to make your experience even richer.
Sea of Thieves is inspired by the Pirates of the Caribbean movies. The player can join forces with Captain Jack Sparrow himself. An original concept for an open-world game where you can become a legend. The best part is this game is in constant growth. With new seasons released every three months, the player will be constantly filled with new and fun adventures. 
Choose this game if you like...  
Pirates of the Caribbean. You will love this game.
Navigation.
Simple mechanics.
Entertaining maps and quests.
Fun factor score: 70/100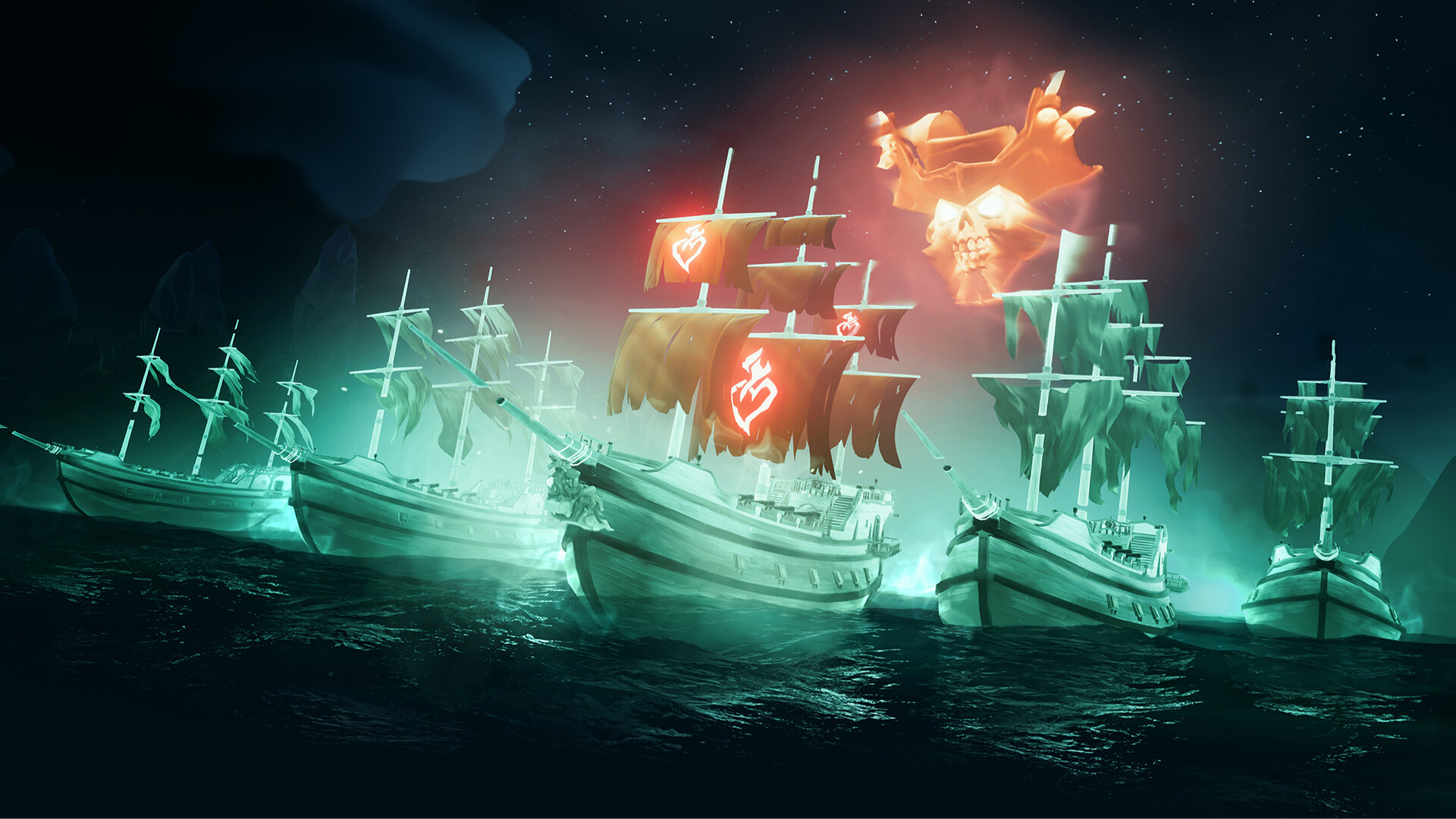 A grim and beautiful postal in the night while navigating. 
6. Assassin's Creed Odyssey - 2018 (PC / XBOX / Nintendo SWITCH / PS4 / PS5)
Probably the best Assassin's Creed ever released. This magnificent game has the biggest world of all the game series. Experience ancient Greece in this odyssey to discover your past and become the legend you want. 
There are new interesting features like the Tobii Eye Tracking but they also preserved the traditional aspects of Assassin's Creed. You can play as Alexios or Kassandra, two mercenaries on a quest for vengeance. Show your skills in battle and live the war between Athens and Sparta with hundreds of soldiers. Explore this extended epic world and decide the future of your legend. Every choice you make will shape the world around you. Several endings can be unlocked according to the decisions you make. 
Choose this game if you like...  
Greek mythology.
Ancient times with traditional battle. 
Stealth. Many classical aspects of the assassins are kept in Odyssey, one of those and the most relevant is stealth. 
Fun factor score: 90/100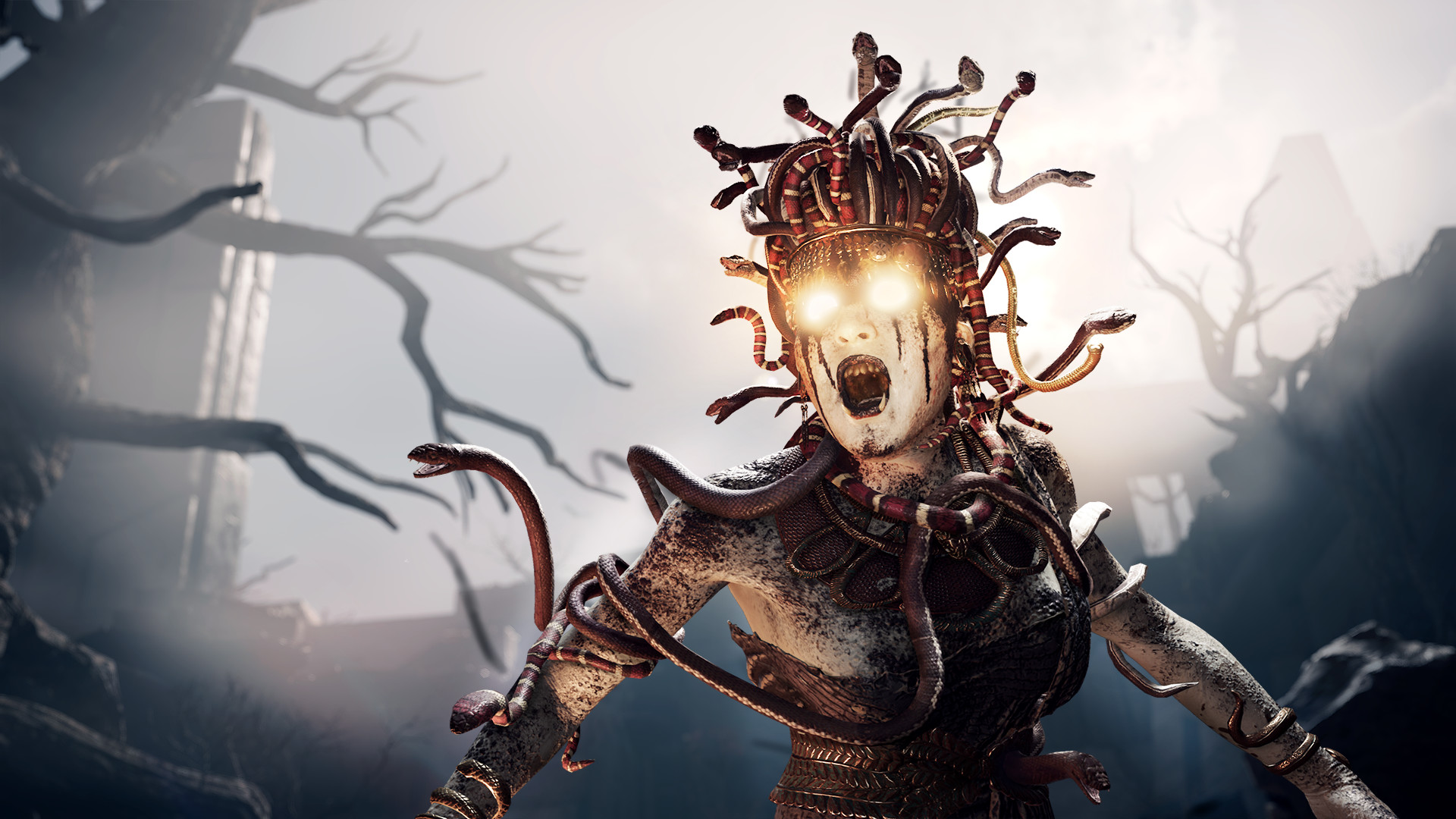 The interpretation of Medusa inside the world of Odyssey. A scary creature that the player will battle at some point.
5. GTA Online - 2015 (PC / XBOX / PS4 / PS5)
GTA Online is a massive multiplayer where anything can happen. Get a job, work for other players like you, or create your own business. Enjoy the winning award world of Los Santos and Blaine County. Face the insanity in this criminal world under the government of the United States where you can trust nobody. The story mode has three playable main characters: Franklin, Trevor, and Michael. Discover their personalities and ambitions while completing the quests around the map. A whole lot of fun in both Online and Story mode is assured. This game is a legend. 
GTA V Online has unique features that give this game the closest approach to reality. Exploring the world is just the beginning. Even after eight years of its release, GTA V is still one of the greatest and biggest open-world games with high freedom of choice. The great job of its developers is what keeps this game alive with constant updates and patches. 
Choose this game if you like...  
Socializing. If you're playing the online mode, the fun resides pretty much in your social skills.
Modern times with everything you can imagine. The good and the bad.
Roleplay.
Fun factor score: 90/100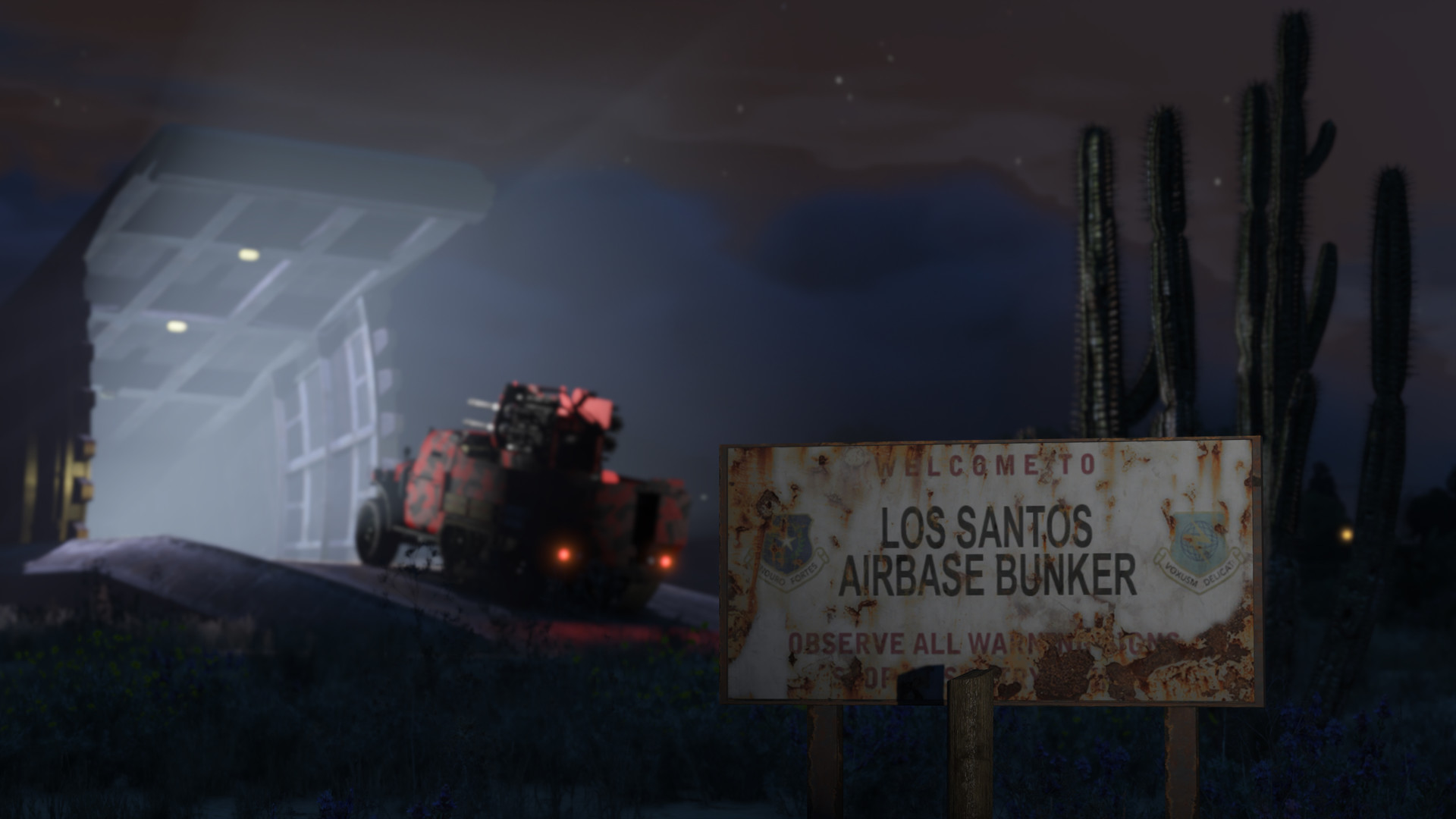 The Airbase bunker in Los Santos. A lonely place far away from the city.
4. Starfield - 2023 (PC / XBOX)
From the developers of The Elder Scrolls V: Skyrim and Fallout 4. Starfield is the newest universe from Bethesda. Yet to be released, Starfield is the most promising open-world game of this year. 
Is the year 2330. Humanity has reached the point of living on other planets or starships. Traveling around space is as normal as flying to the next continent. The player will start joining a group of space explorers called "Constellation". Seeking rare artifacts and unraveling the mysteries of the cosmos, you will travel to space and the vast extension of the Settled Systems. 
For now, Bethesda has offered a Discord channel where people who join can ask questions and read the latest news of the process of development. The promises we've seen are huge and Starfield can easily become the best game of the year. 
Choose this game if you like...  
Astronomy. Starfield is the closest approach to how it would be to explore outer space.
Futuristic games.
Extensive worlds to explore like the ones in Skyrim, but at a cosmic scale.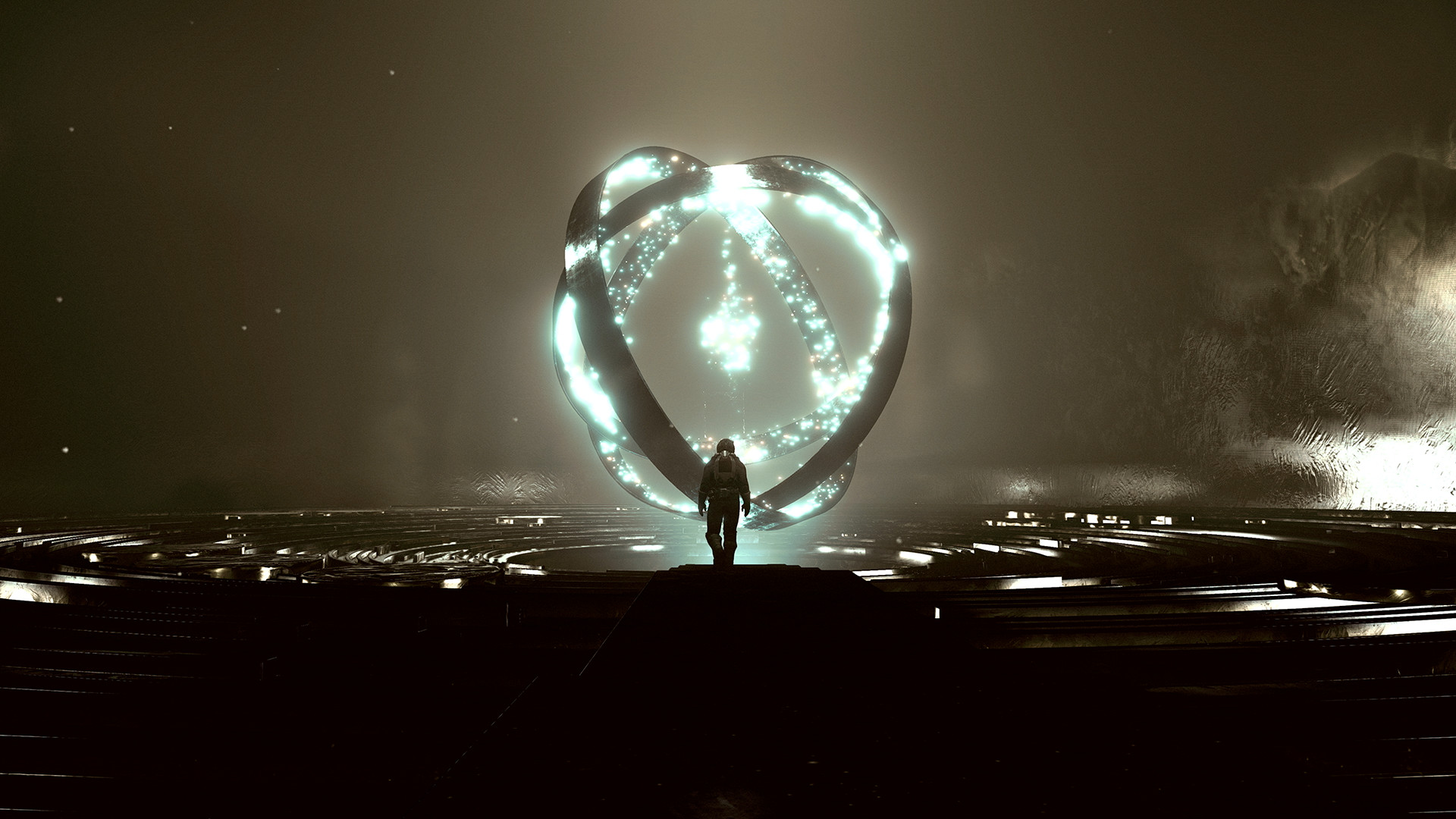 One of the images shown in the trailer of the game. We can see a strange artifact in the middle and an astronaut approaching the alien object. 
3. Star Citizen - (PC)
Exploring the universe has become the newest path that modern open-world games are taking. Star Citizen is one of the best among them. A massive multiplayer with the main objective of creating life (as in Earth) in outer space. The game features aspects of FPS, roleplay, and exploration. 
Battles will be constant. Even while exploring with your spaceship, so you must be ready. Star Citizen's combat and exploring system feel smooth. It also offers the freedom to build your ship. Each spaceship is unique since there are thousands of options for building. The game is in active development which means that it receives constant updates and is not in its final stage. You can play Star Citizen 3.18 Aplha for now.  
Choose this game if you like...  
Utopic futuristic worlds.
Astronomy and science-fiction. If you enjoyed Star Wars, you will love Star Citizen.
Complex features in-game.
Fun factor score: 90/100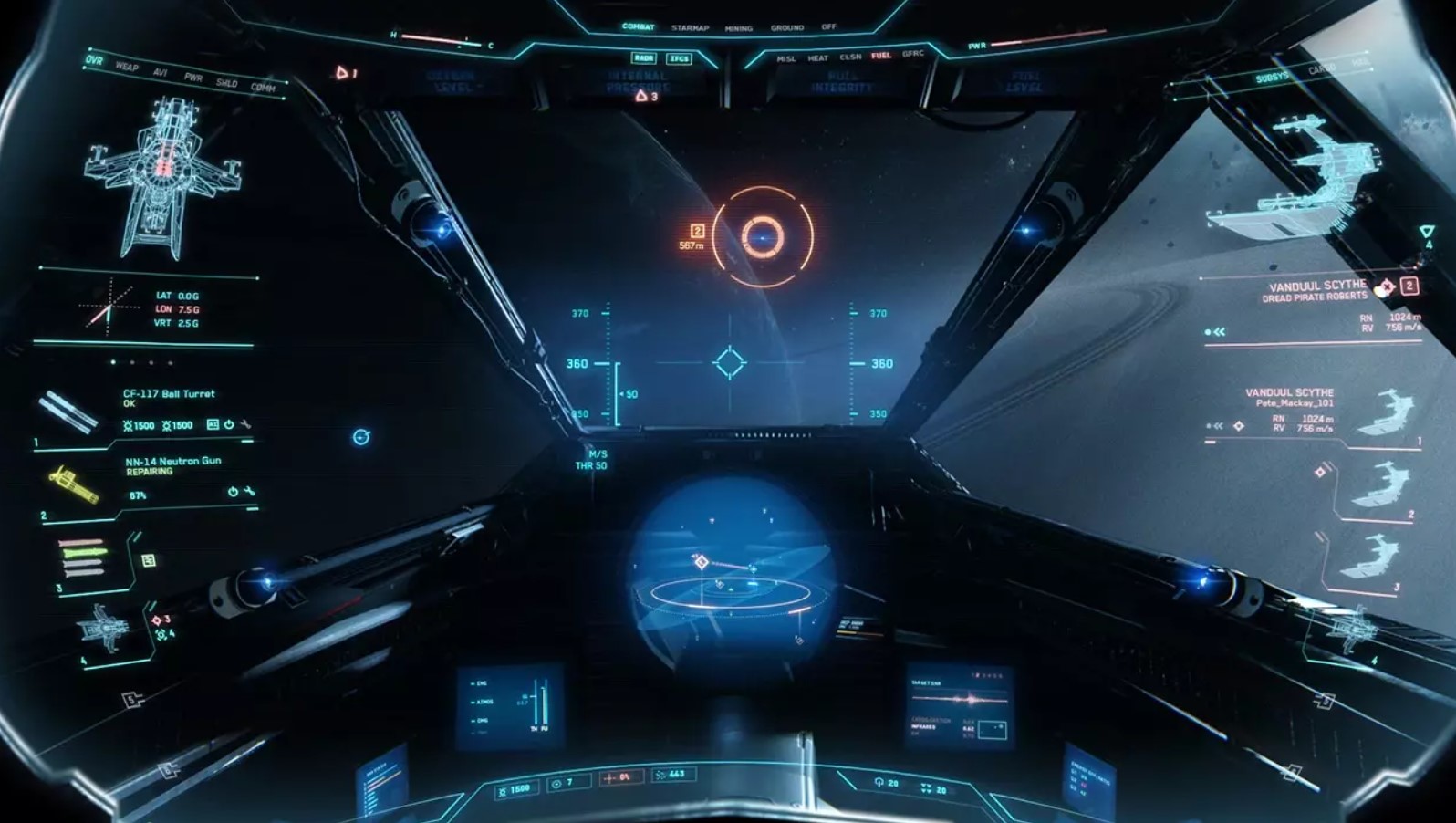 The futuristic setup while flying a starship. It looks like the perfect sci-fi alternative reality.
2. Terraria - 2011 (PC / PS4 / PS5 / XBOX / Nintendo SWITCH / ANDROID / iOS)
The most beloved sandbox open-world in the history of games. Terraria never gets old. This beautiful, infinite game is the best with its simple design and pixelated graphics. Terraria is focused on survival. Build your shelter and gather the tools necessary to survive. You can dig as deep as you wish to find resources, money, and other useful items. As a massive multiplayer you can play with friends or by yourself. But it's much more fun with friends.
The worlds in Terraria are randomly generated which is why this game is infinite. Constant updates are added till the date. This game will grant you hours of fun with the story and the freedom to do whatever you want. Whatever you please. In Terraria nothing is impossible.
Choose this game if you like...  
Adventures and fantasy.
Building and survival in an infinite world similar to Minecraft.
2D Indie games.
Fun factor score: 100/100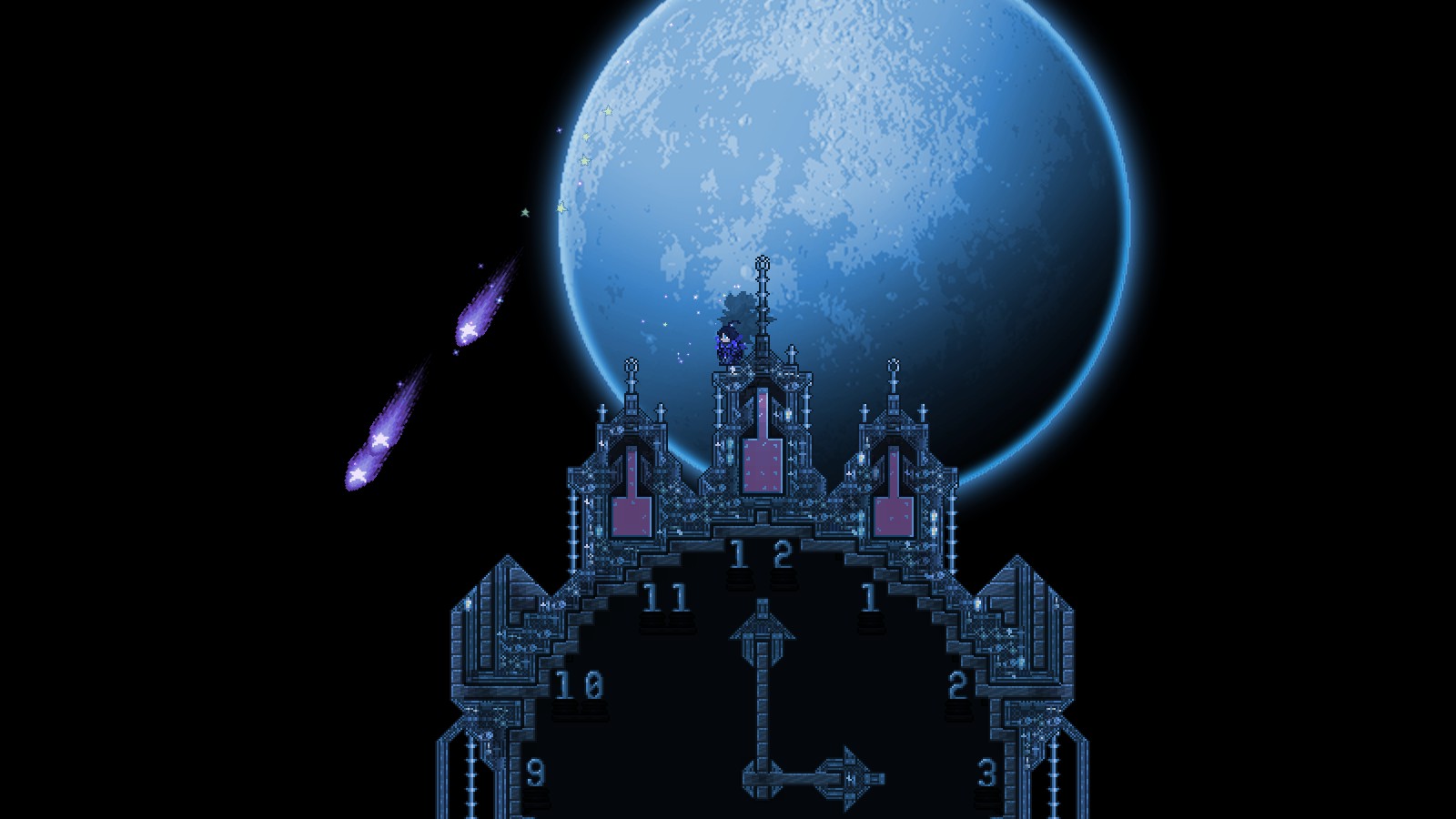 This is a high place found in Terraria during the night. Notice how the building works as a clock.
1. Project Zomboid - 2013 (PC)
Project Zomboid is one of the most original games created in the last few years. The RPG skillset is extremely catching. The mixture of survival, war fog, and dark ambient is incomparable. Known as "the ultimate zombie survival" this game can be played alone or in cooperative mode. Experience a very realistic approach to how a real zombie apocalypse would feel to an ordinary human like you and me. 
The most formidable part of Project Zomboid is that it is a customizable sandbox. It has a large map that you will have to explore to find a way to survive. Take a walk to the market to gather food. With some luck and the right strategy, you'll make it back to your shelter and eat a delicious meal. 
Choose this game if you like...  
Extreme survival features, similar to the sims emulation of needs.
Difficult RPG mechanics. 
Psychological horror.
Fun factor score: 100/100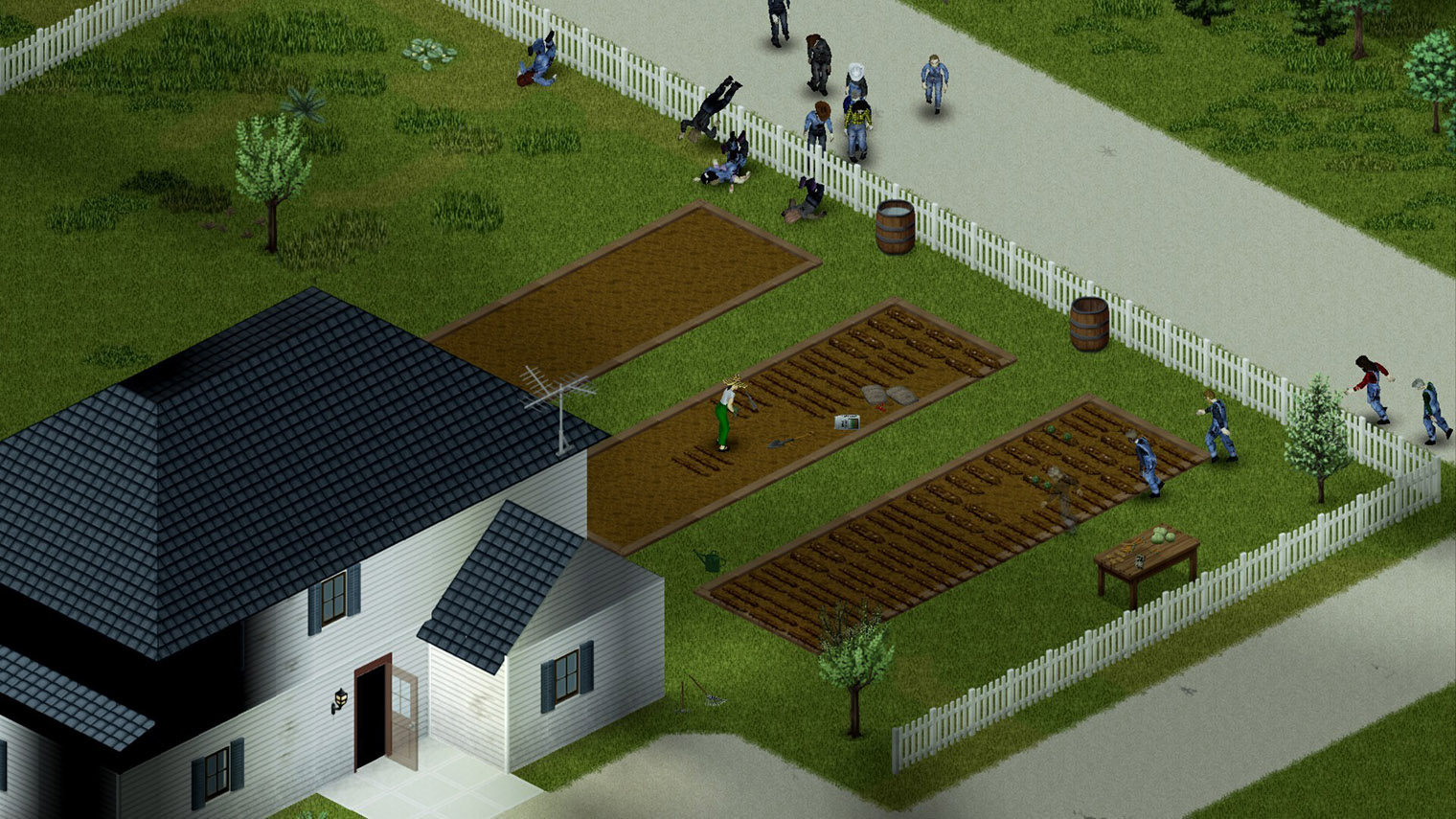 A human trying to sow while the zombies are approaching him. 
You may also be interested in:
Image Gallery