[Top 15] The Witcher 3 Best Mods For Armor
Updated: 03 Mar 2023 2:35 am
Suit up for the battle of a lifetime across the Globe of The Witcher 3.
There are many sets of armors to find throughout the Globe. With upgrades and combinations galore, what's the best to choose from? Are mod armors better? Are there better mods that we should be using to hype up Geralt's defense and overall abilities? We will save you the guesswork as we list out 15 of the top mods for armor to keep you both protected, playing with ease and looking great in the Witcher 3. 
15. Warrior Leather Jacket Mastercrafted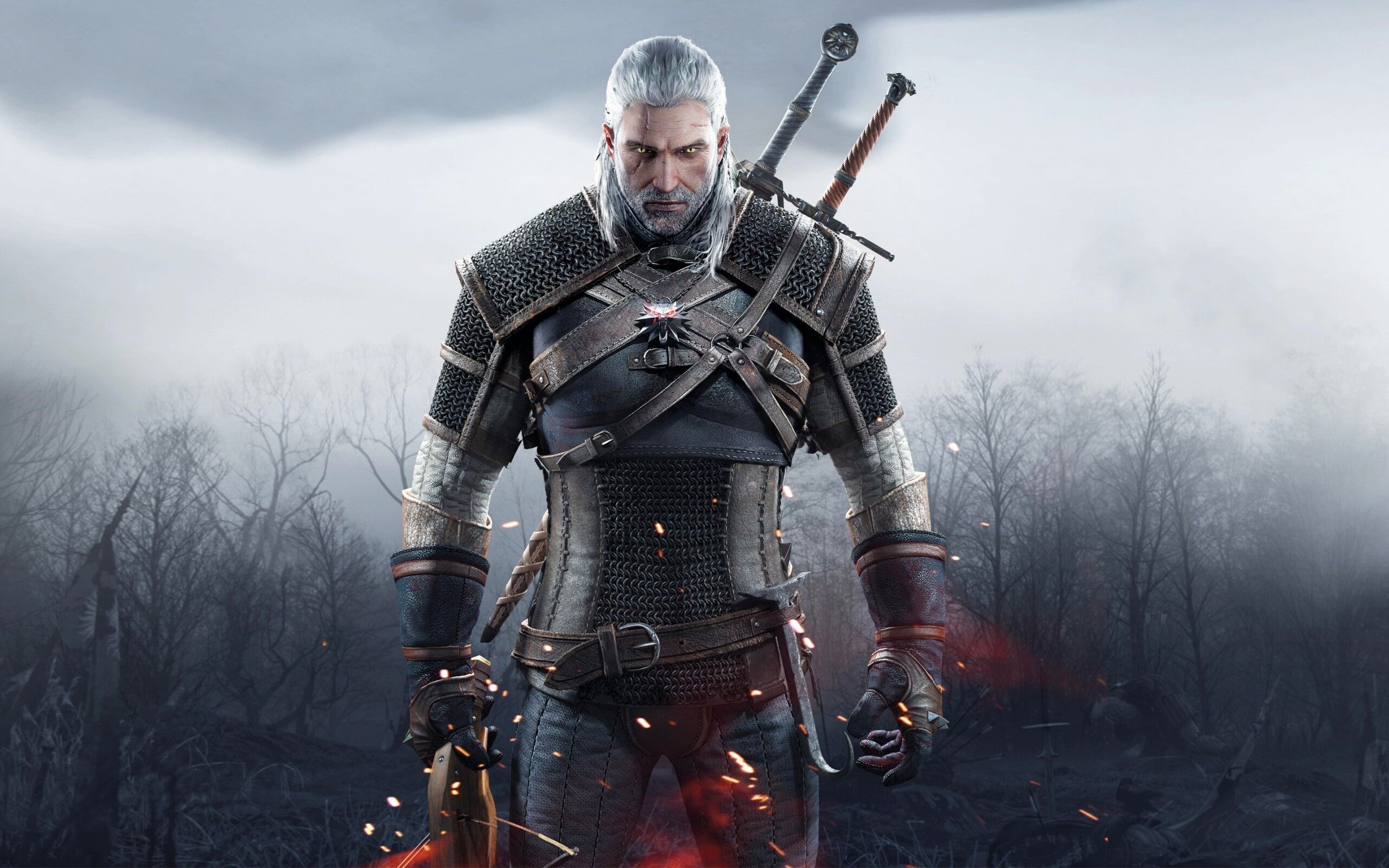 Geralt in his full glory.
In a brand new save of Witcher 3, you usually start off with the Kaer Morhen armor set. While pretty basic compared to mostly everything else you'll find throughout your game, a lot of players like it given its iconic look and origins. As the most you can get out of the Kaer Morhen armor is to use it to craft the Warrior's Leather Jacket set, it is difficult to keep throughout the game. This mod fixes all of that. It allows you to take it all the way to the end – by replacing the Warrior's Leather Jacket stats with those of the Mastercrafted Wolf Gear. So stay true to your roots with this mod!
Warrior Leather Jacket Mastercrafted features:
Mastercrafted Wolf Gear Stats are copied to the Warrior Leather Jacket and Hunting Gloves/Boots/Trousers(The one we get at start) 
Stats are different for Normal Game and New Game Plus mode
For example the Warrior leather jacket has 205 armor in normal game mode and 355 armor in New Game Plus mode
Warrior Leather Jacket Mastercrafted details
Warrior Leather Jacket Mastercrafted fun factor: 70/100
14. Darker and Leathery Wolf Gear
Did he collect this leather from his kills? We hope so....
Just this author's personal take, but this armor is super friggin' cool. In line with keeping things darker and grittier, this is the mod to get if you're a fan of the Wolf School armor set. The mod offers two options for the Wolf Gear, allowing you to choose between a darker variant and a completely black set. Not only does it change the tone of the armor, but an up-close look shows just how good these armor sets look. The mod adds tons of details, especially to make the leather pieces look textured and much more realistic overall. Dark and leathery, oh me oh my!
Darker and Leathery Wolf Gear features: 
Retextured Wolf Gear to look darker without blackening everything.
Dark Version: original version. darker look with red accents.
Black Versions: no red accents
Dark Version without T2 stripes: version with no red stripes on T2 armor
Dark Version Armor Only: only the armor of the wolf set is changed to the "Dark Version". Trousers, gauntlets and shoes remain as in vanilla.
Black Version Armor Only: only the armor of the wolf set is changed to the "BlackVersion". Trousers, gauntlets and shoes remain as in vanilla.
Dark Version with Dark Shirt: dark version with dark undershirt.
Black Version with Dark Shirt: black version with dark undershirt.
Darker and Leathery Wolf Gear details
Darker and Leathery Wolf Gear fun factor: 80/100
13. Royal Undvik Collection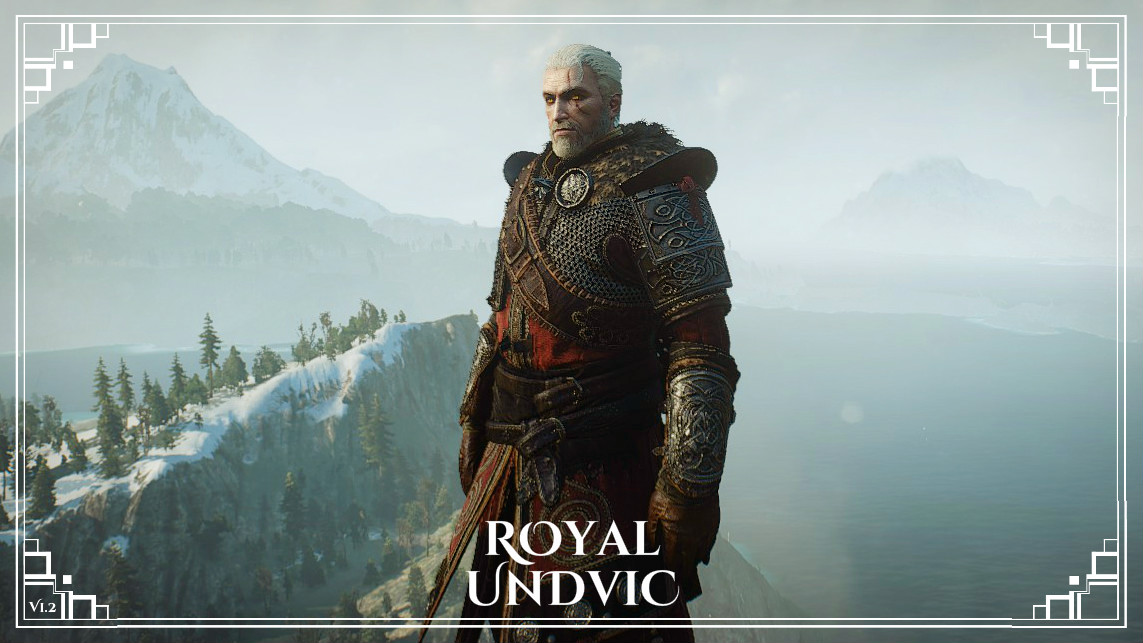 Geralt is headed straight to the mountains with this look.
I'll go ahead and consider this next mod a bonus as well. While it does only affect one specific armor set, it gives you a total of 9 different variations for the Royal Undvik armor set. If you're a Viking's fan or even been into Assassins Creed: Valhalla recently, this will really float your boat (this is a Skellige joke so please oblige me).The options include color variants that better reflect each of the different clans of Skellige, with green highlights for the Tordarroch, blue for Tuirseach, purple for Drummond, and so on. The mod even includes additional features that allow you to change the appearance of the steel pieces, as well as to completely remove the fur from the armor. 
Royal Undvik Collection features:
The Royal Undvik Collection is a series of retextures for the Undvik armor that reflect
the colors of the various clans of Skellige.
Add-ons now available:
True Steel: Alters the specularity of the metal to a Steel Colour [Compatible with any Mod that doesn't alter specular maps or specularity values]
No Fur: Removes the Fur from the shoulders of the Armor [Compatible with any Mod]
The collection currently contains versions for: Clan Tordarroch, Clan Tuirseach, Clan Drummond, Clan an Craite, Clan Brokvar, Clan Heymaey, Clan Dimun, Clanless, and White Wolf
Royal Undvik Collection details
Royal Undvik Collection fun factor: 90/100
12. Polar Bear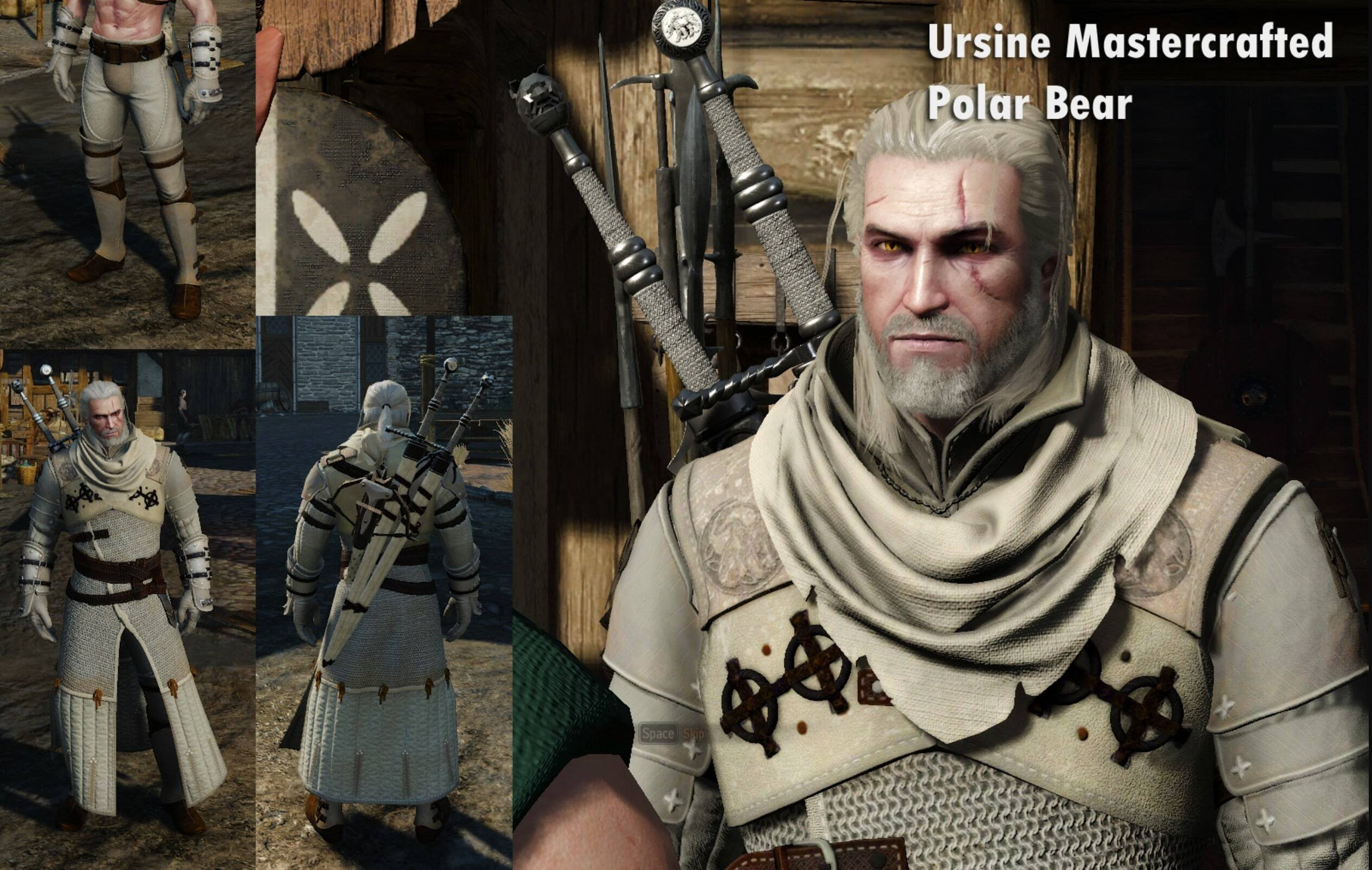 Not quite as translucent as the polar bear...but you still won't see him coming.
If you're looking for a more unique visual take on the Ursine armor set, this Polar Bear mod by Dragonbird just might do the trick. While the vanilla version of the Bear armor looks to be inspired by the American Black Bear (no offense to the American Black Bear, y'all are iconic), this mod takes the opposite approach. Now this Polar Bear mod gives the Ursine armor a pristine white color scheme, almost giving Geralt a sort of cleric-like look. It also provides different versions for each level, with the Mastercrafted version replacing the fur coat with a white scarf instead. 
Polar Bear features:
Retexture for the Ursine set - for Basic, Enhanced, Superior and Mastercrafted.
Main file: Boots, Gloves, Armour, Trousers (modDBPolarBear)
Optional extra: Swords, Scabbard and Crossbow (modDBPolarSwords)
Polar Bear details
Polar Bear fun factor: 85/100
11. The Viking and Knight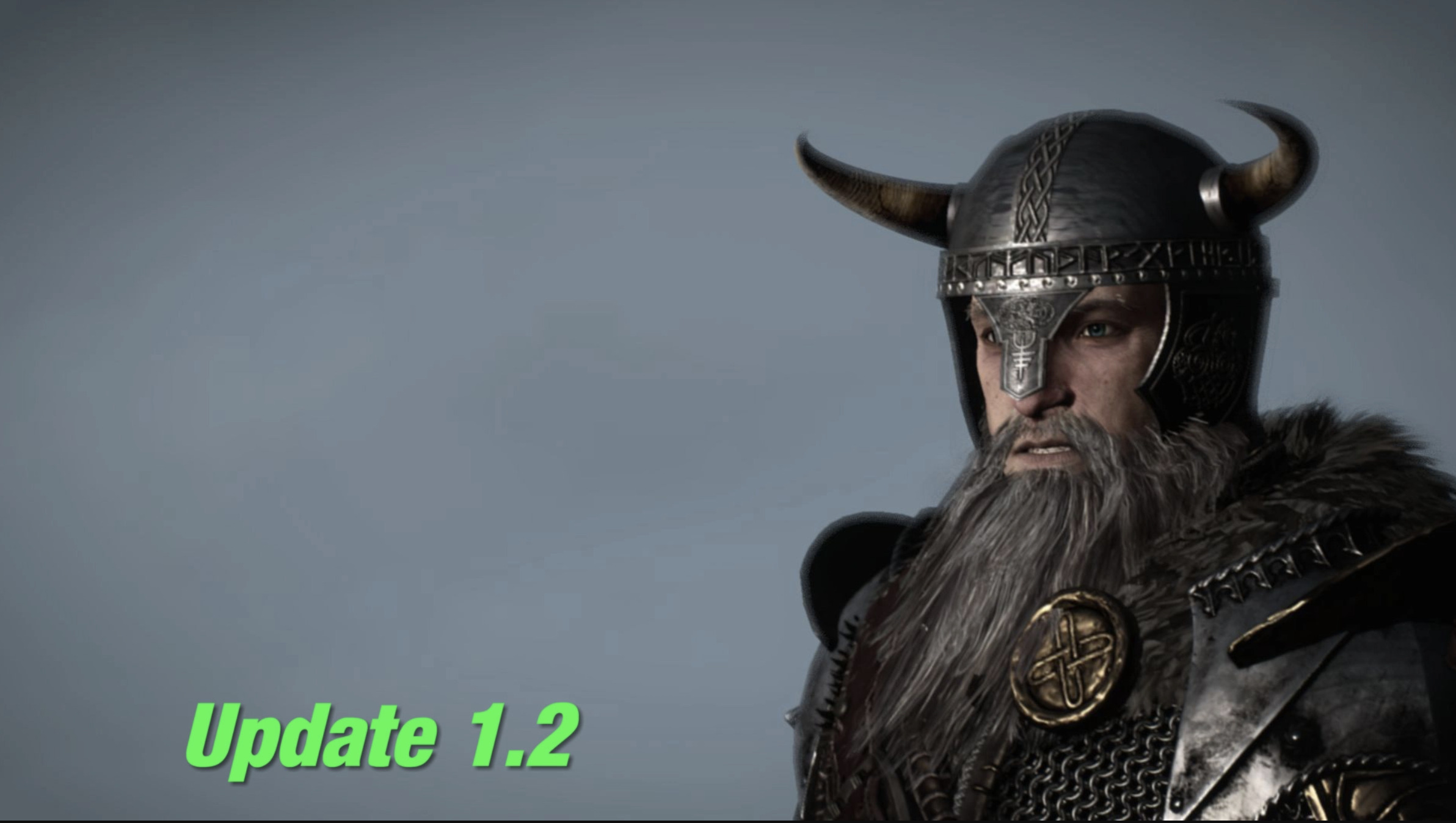 Head for the gates of Valahala!
Fight your way to Valhalaaaaaaaaa (or just through Blood and Wine or the regular story it;'s your life….) While most modders tend to alter armor sets to make them more visually appealing, others are more creative. They provide completely new armor options that aren't included in the game, nor any of the DLC's. That's what we're going for here. The Viking and Knight mod comes complete with helmets, bears, swords, shields, and even face paint to dress Geralt either as a Viking or a knight with. Just take a look at the previews to see how cool they look. I'm sure you're going to end up wanting them for yourself. 
The Viking and Knight features:
Include 8 variants of Helmet, Excalibur, Vikingsword, Vikingshield and more.... all as standalone.
Available to buy in many shops
The Viking and Knight details
The Viking and Knight fun factor: 90/100
10. Deadpool's Suit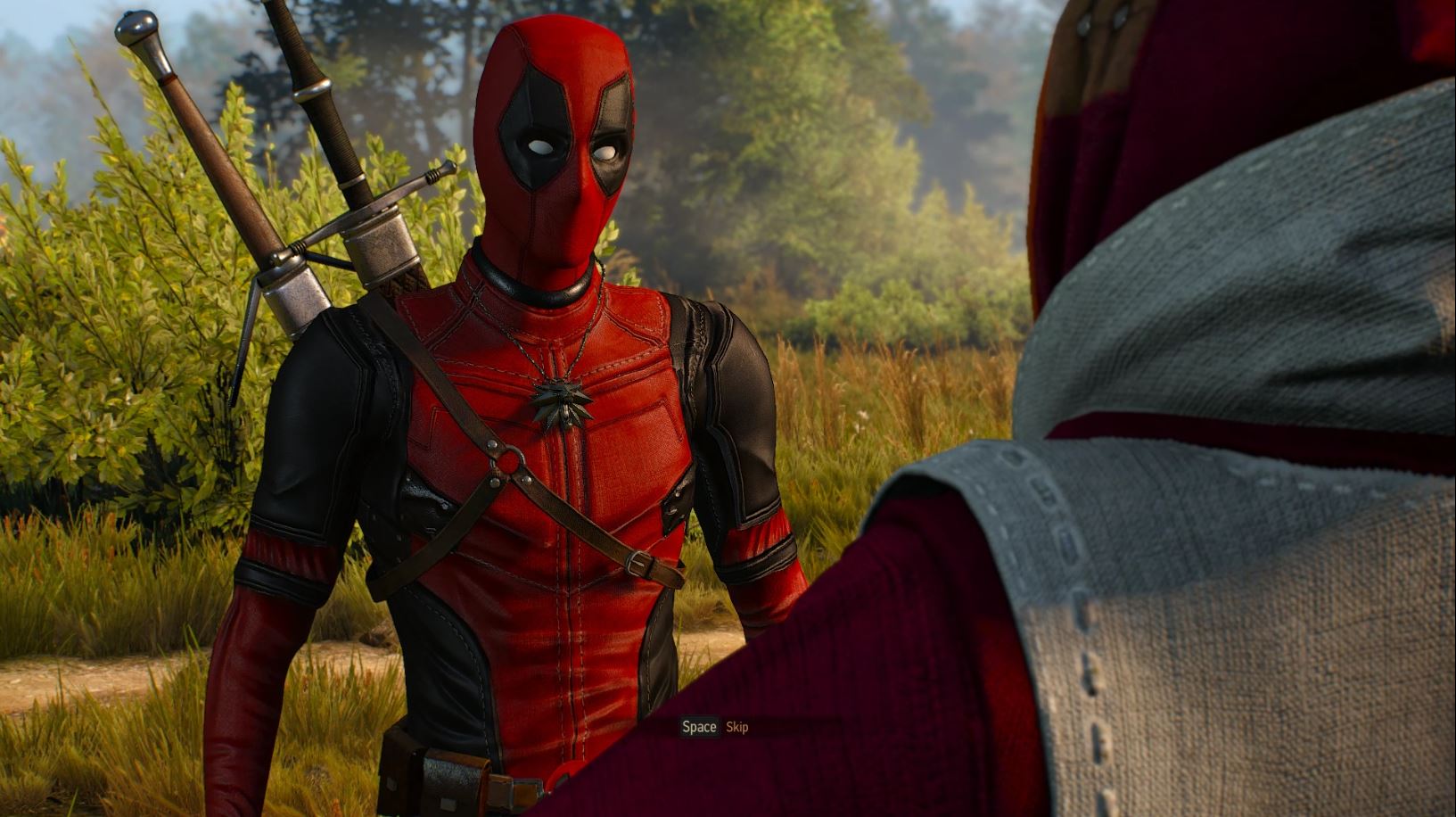 ...Do you guys think Ryan Reynold's would like this crossover?
Okay okay, if we're just here for giggles, you have to check out this mod. I mean, I can't even imagine the comments Deadpool would make on some of the Witcher monsters? "A leshen horn? That looks like it would be owwie in my bum bum".... 
Deadpool's Suit features:
It's a simple mod made for those who love Deadpool
Deadpools' Suit details
Deadpool's Suit fun factor: 95/100
9. Vagabond Armor DLC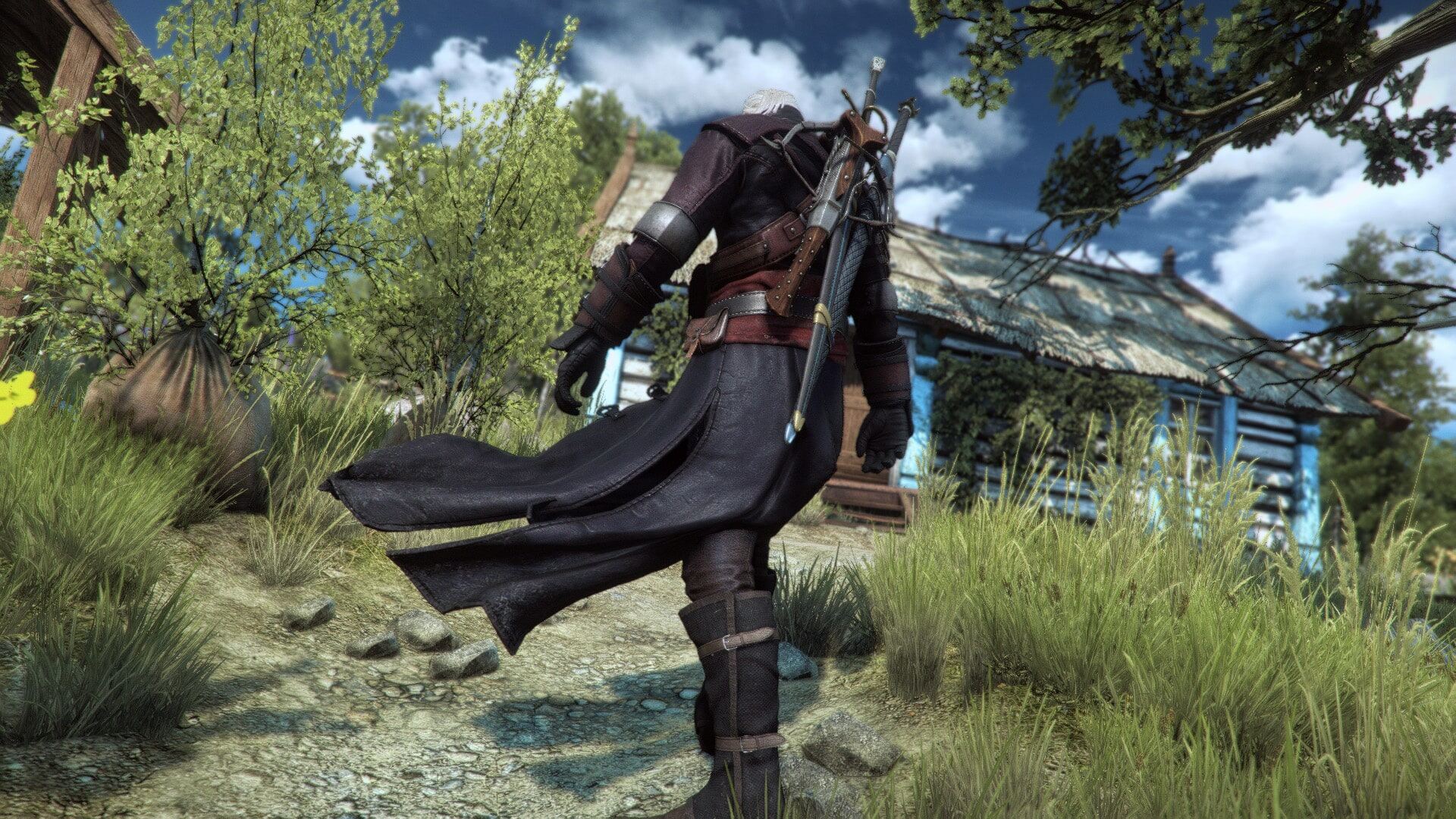 Swish, swish, Geralt! (that's a coat noise not a sword one...)
Geralt, someone who has always somewhat been treated as a vagabond, can finally have the outfit to match! Essentially a long coat intended more for visual flair rather than stat-based armor protection, this look is bound to impress. The results are fantastic and gives Geralt an intimidating and menacing new look that goes far beyond his basic armor set. It's immersive mods like this that make gamers want to spend more time in the game, which might help in uncovering a few hidden things that many Witcher 3 players fail to discover. 
Vagabond Armor DLC features:
A unique medium armor long coat created to my tastes. In terms of stats, it's around the area of a superior witcher chest piece.
https://www.nexusmods.com/witcher3/mods/3278https://www.nexusmods.com/witcher3/mods/3278
Vagabond Armor DLC fun factor: 95/100
8. Shades Of Iron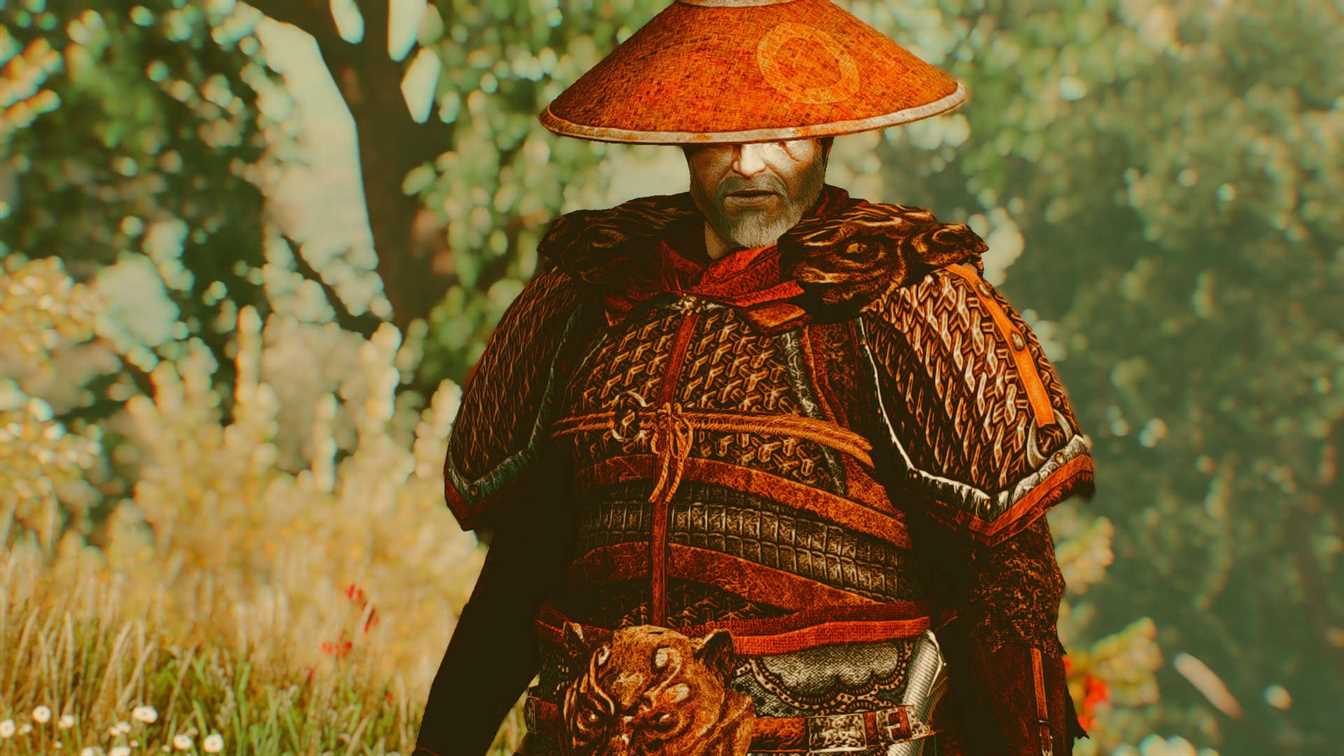 Get ready to be transported to different lands of armor sets.
What's better than one armor set? How about 18? This is one of the rare Witcher III mods to be featured on Github, and it's an excellent resource for those who want more armor choices in the game. The mod adds a ton of weaponry and armor into the game, but it doesn't stop there. It also adds 25 new enemies and 542 new items into the game, which is astonishing. In total, there are 18 new armor sets for Geralt, plus 30 swords, 3 daggers, and several spears. The armor sets include gameplay buffs, as well. 
Shades Of Iron features:
18 new armor sets for Geralt
8 new armor sets for female player character (use with Geralt Doppler Reborn)
10 new Greatswords
20 new Swords
3 new Daggers
3 new Spears ALL of them bringing new playstyles to the game
Shades Of Iron details
Shades Of Iron fun factor: 98/100
7. Geralt The Wild Hunter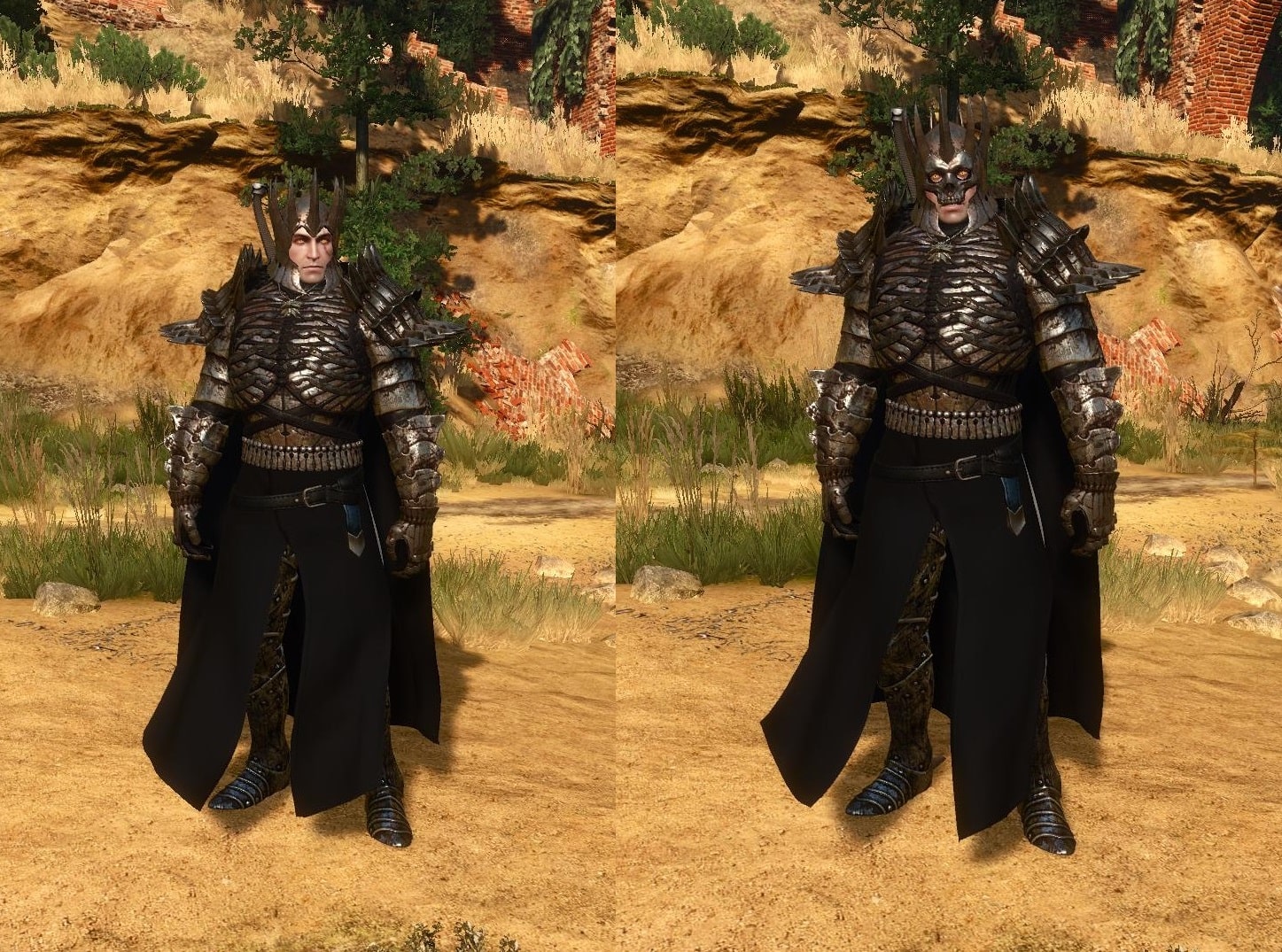 Switch to the dark side of the Globe.
What if Geralt wanted to switch sides from good to evil for a second? At least in looks! Look no further than this set. The mod effectively resizes certain armors while adding a few additional elements at the same time. The helmets are an especially nice touch. Even Roach gets decked out with a better-looking armor set, even if it has evil vibes to it…
Geralt The Wild Hunter features: 
This mod resizes Wild Hunt armors for Geralt and adds some additional Wild Hunt themed stuff
Geralt The Wild Hunter details
Geralt The Wild Hunter fun factor: 65/100
6. Remove Weapon and Armor Level Restrictions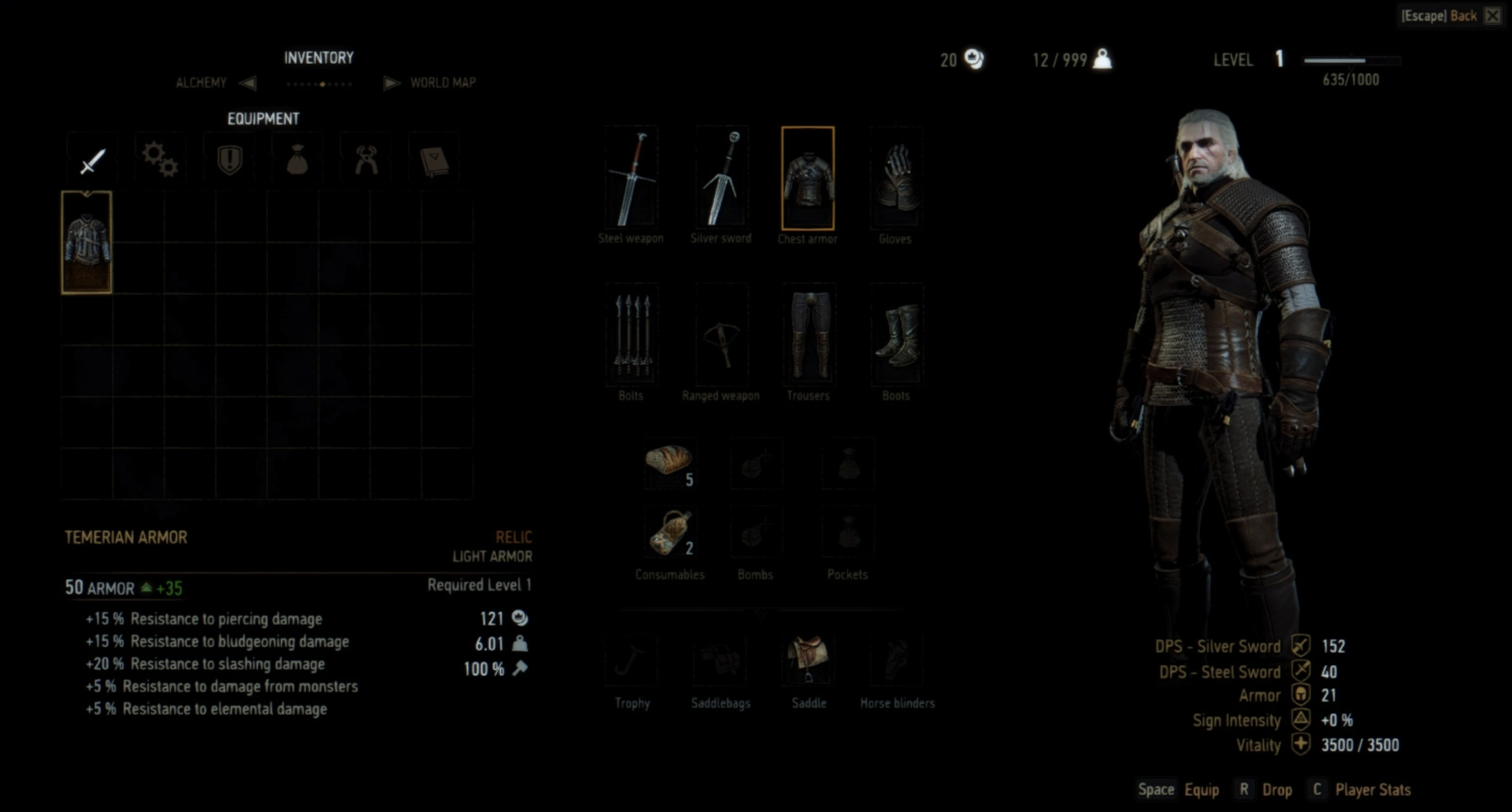 Become limitless.
What if you don't want to play for hours and hours before you're finally a high enough level for one of the school armors? This mod is a great work around for our lazier players, or players who are on another playthrough and want to try something different right from the start. DOWNLOADERS BEWARE: this does MASSIVELY affect your gameplay experience, so maybe try things the "right way" the first time…. 
Remove Weapon and Armor Level Restrictions features:
Removes level requirements so Geralt can equip any weapon or piece of armor, regardless of level.
Remove Weapon and Armor Level Restrictions details
Remove Weapon and Armor Level Restrictions fun factor: 85/100
5. Rare Items Merchant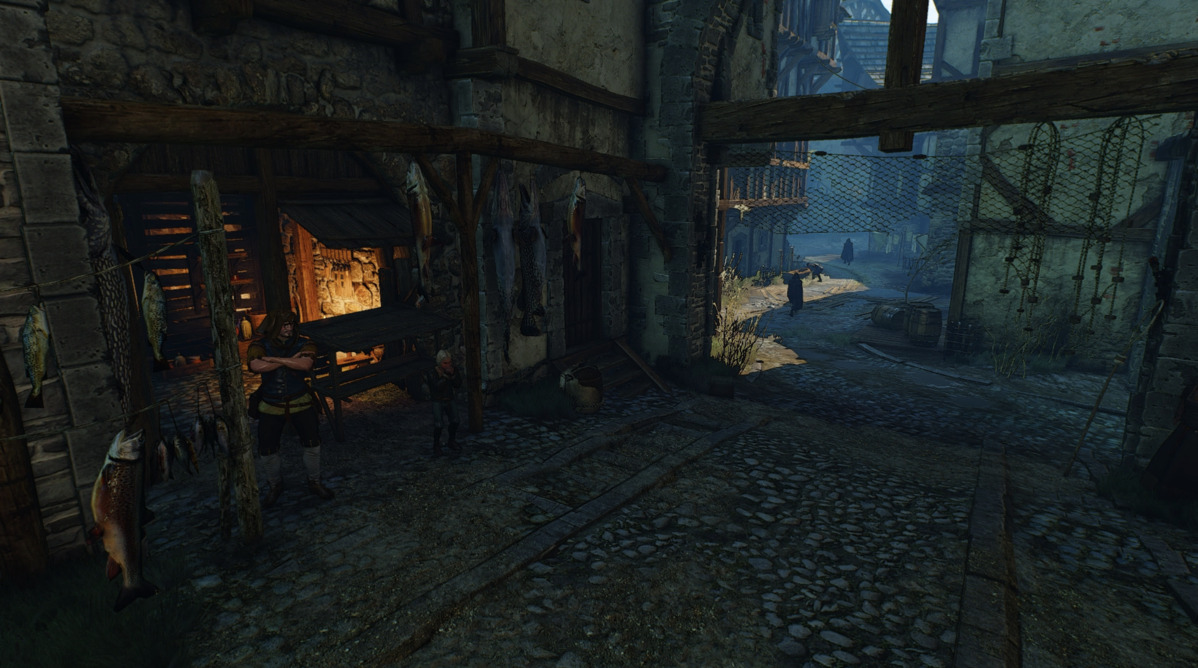 Make rarity that much easier to find.
This one's for you truly lazy gamersout there. If you are not inclined to search out Witcher diagrams, Witcher Gear, Relic Swords or Armor, or many of the other rare items in this game, luckily you can simply buy them from this vendor. It does kind of ruin the thrill of exploration. Maybe you simply feel that you don't really need to explore every dungeon of this game. You would be wrong, but at least you can get the loot without having to do any delving on your own. 
Rare Items Merchant features:
This mod modifies one novigrad merchant's shop, so he sells rare items, which:
may be missed by player and never acquired later
are hard to acquire because many quests must be completed first
are unobtainable due to mutually exclusive choices
are acquired randomly and are hard to find intentionally
do not exist in the world of original game
are quest items which are later removed from player's inventory by quest scripts
Rare Items Merchant  details
Rare Items Merchant fun factor: 60/100
4. Snake's Eyepatch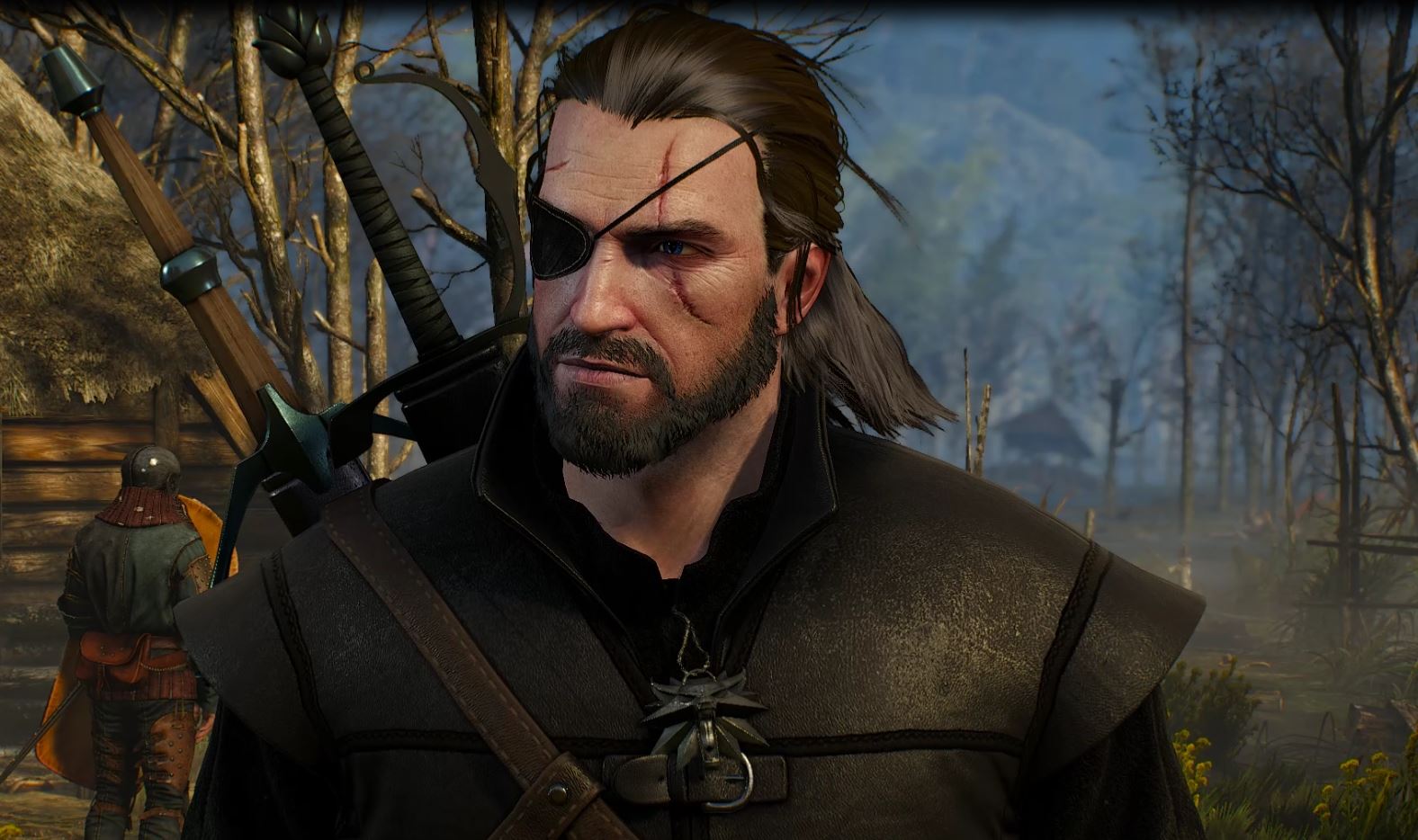 One eye is better than none, but we bet Geralt could fight without either.
A relatively simple addition armor wise, this is just an aesthetic look this author tends to like. When we first found the Professor's spectacles, this author was attached to them for the rest of the game….this is an item we felt similarly to. 
Snake's Eyepatch features:
It is a simple mod for those who love Metal Gear Solid.
Snake's Eyepatch details
Snake's Eyepatch fun factor: 85/100
3. Bram Stoker Hen Gaidth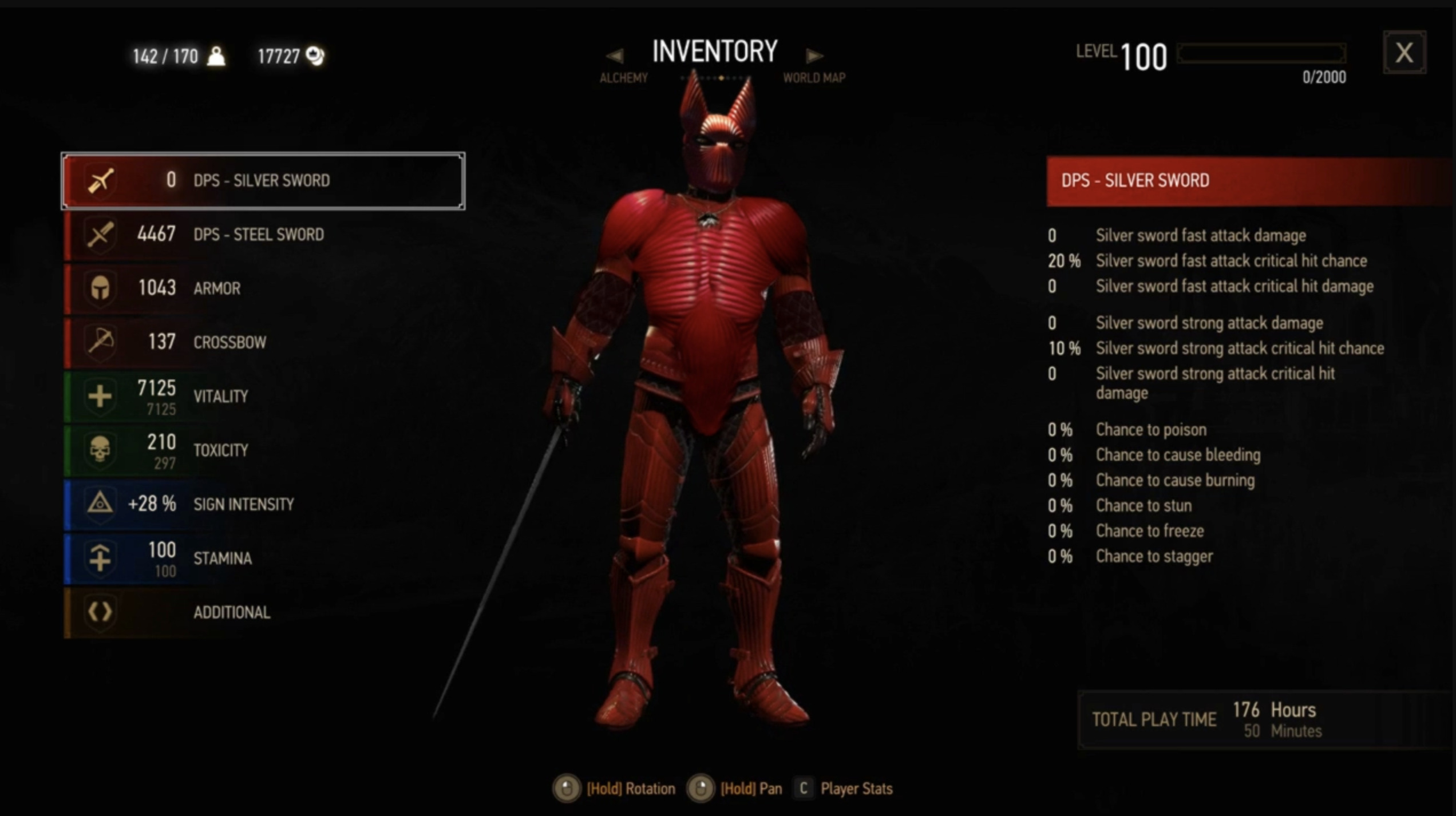 GAH! NOSFERATU!
…..And now for something completely different. While you can get a whole similar set during What Lies Unseen, a main quest you only get if you chose to go after the Unseen Elder in The Night of Long Fangs, maybe we don't want to wait! This set also looks a bit different than that one, and the helm is pretty neat. 
Bram Stoker Hen Gaidth features: 
A modification that changes the appearance of armor Hen Gaidth to Bram Stoker's Dracula (1992) movie armor
Bram Stoker Hen Gaidth details
Bram Stoker Hen Gaidth fun factor: 80/100
2. White Wolven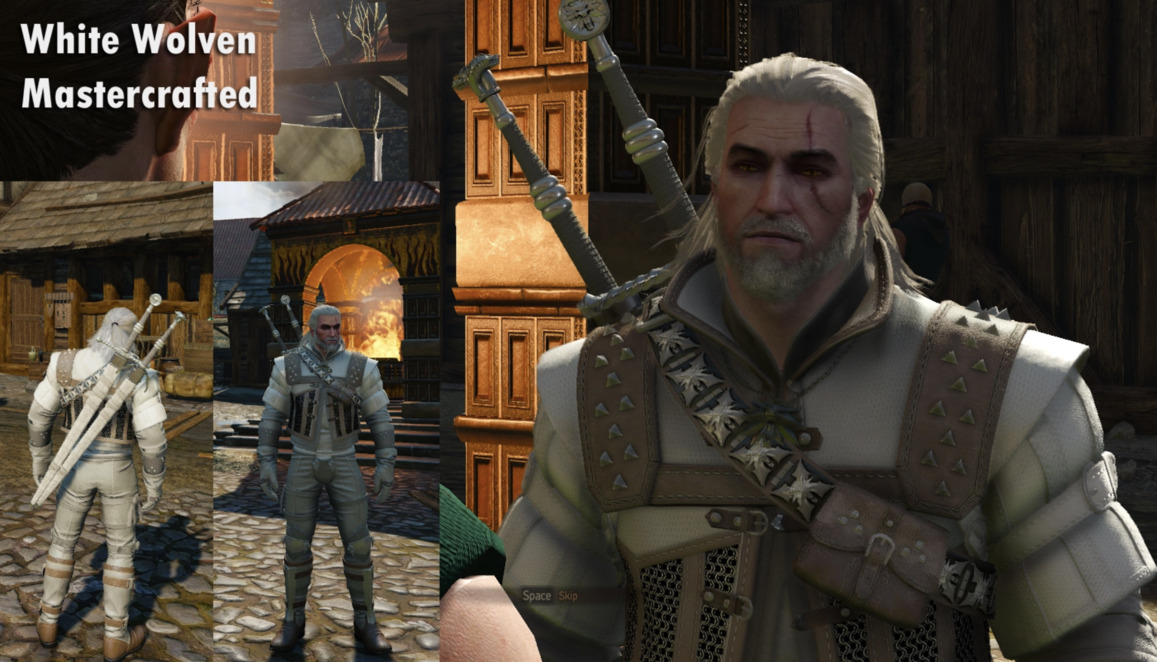 Even the whitest of wolves remain dangerous.
All fear the white wolf! Something about this white recolored set is just super cool. You'll be howling at the moon (or NPCs who already think you're weird) throughout the Globe.
White Wolven features:
Retextured Wolf Set - consists of armor, gloves, pants, shoes, scabbard and swords for Basic, Enhanced, Superior and Mastercrafted
White Wolven details
White Wolven fun factor: 80/100
1. Official Cyberpunk Prototype Attire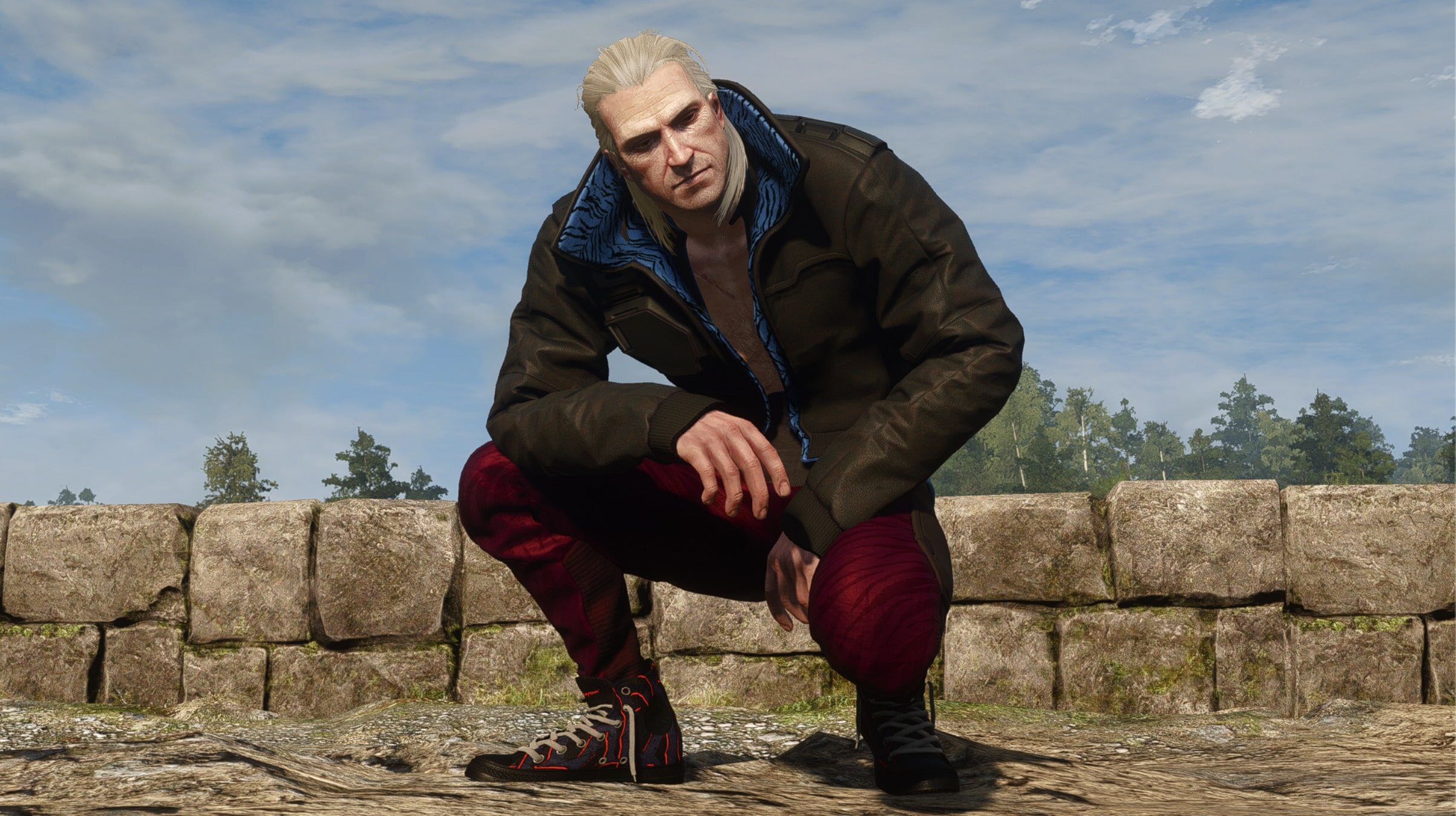 He should at least tie those laces before he fights any monsters...
Something else that's also fun, with an extra side of futuristic cool! Let's bring some 2077 back to the BC days. A nod to another one of CD Projekt Red's games, the items contained within this mod bring a completely different futuristic field to this medieval themed world. I mean, who wouldn't want to slay the Frog Prince in a pair of sweet kicks? 
Official Cyberpunk Prototype Attire features:
1 torso part
1 leg part
5 boots parts
Official Cyberpunk Prototype Attire details
Official Cyberpunk Prototype Attire fun factor: 85/100
You May Also Be Interested In: