[Top 10] Zombie Games For Low End PC
Updated: 21 Dec 2022 9:31 pm
Bash the zombies' heads in these Top 10 Zombie Games for your Low-End PC.
Zombie games don't need a ton of visual grandeur to deliver a heart-stopping experience, and these games on the list sure prove that. No matter how powerful your PC specs are, these flesh-eating zombies will still find a way to sink their teeth into you.
10. No More Room in Hell (PC, MAC)
Starting off the list is this underrated zombie game, No More Room in Hell. You play as one of the eight remaining individuals in a cooperative survival horror game where the world is overrun by flesh-eating zombies.
One of the most suspenseful and thrilling survival zombie games yet, evolved from what was originally a mod for Half-Life 2. The emphasis on realism in No More Room in Hell makes your survival journey in its world even more challenging and profound.
The limited supplies and ammunition, heavy combat, and bleak atmosphere make for some of the heart-pounding gaming experiences you'll ever have. Not only is the game free to play, but a sequel has also been announced and is slated for release in 2023, making this the perfect time to experience this sleeper hit.
Play This Game If You Like:
Objective Mission Base
Survival Mode
Immersive Gameplay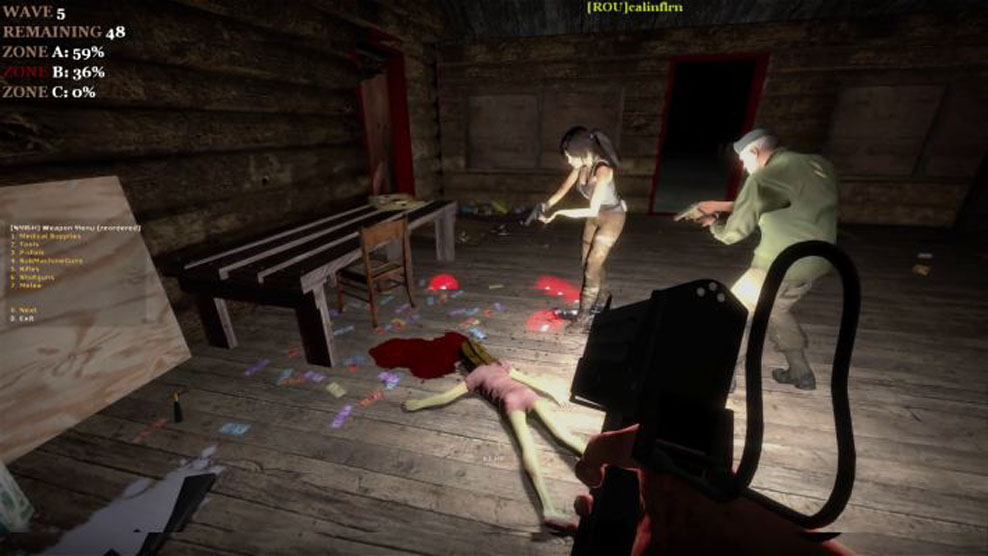 Avoid the incredibly disgusting shambling zombies of No More Room in Hell.
9. Sniper Elite: Nazi Zombie Army (PC, PS4, XBOX ONE, NINTENDO SWITCH)
A spinoff to the renowned Sniper Elite series, Nazi Zombie Army, takes place in an alternate timeline of World War II's closing days after Adolf Hilter turns the dead into zombies.
Everything that made its predecessor such a terrific game is carried over into Nazi Zombie Army. The incredibly satisfying combat, along with the "X-Ray Kill Cam" makes for some of the most fun you'll ever have in modern video games. 
Coupled with the multiplayer mode that the game offers, you might just find yourself playing for hours on end.
Play This Game If You Like:
Satisfying Gunplay
Horde Modes
Sniper Elite Series
Shooting Nazis in Gory Fashion
Stop the Nazis and the undead Nazis!
8. Killing Floor (PC, MAC OS, LINUX)
In the cooperative shooter game Killing Floor, bizarre and mutant creatures emerged from an experimentation lab and took over London, England. It's now up to you and the other players to fight against the hordes of infected.
Sure, the second game may be more defined and packed with more content, but its predecessor is by no means a slouch. It has balls-to-the-walls crazy gameplay that will cover your computer screen in buckets of blood and guts that you would expect from the franchise.
The game isn't that demanding when it comes to your computer, however, it does demand the player's skills and determination to survive its grueling world. And with excellent gunplay, you might just find yourself having fun in its gory mayhem.
Play This Game If You Like:
Incredibly Gruesome Enemies
Realistic Gameplay
Objective Mode
Zombie Horde Mode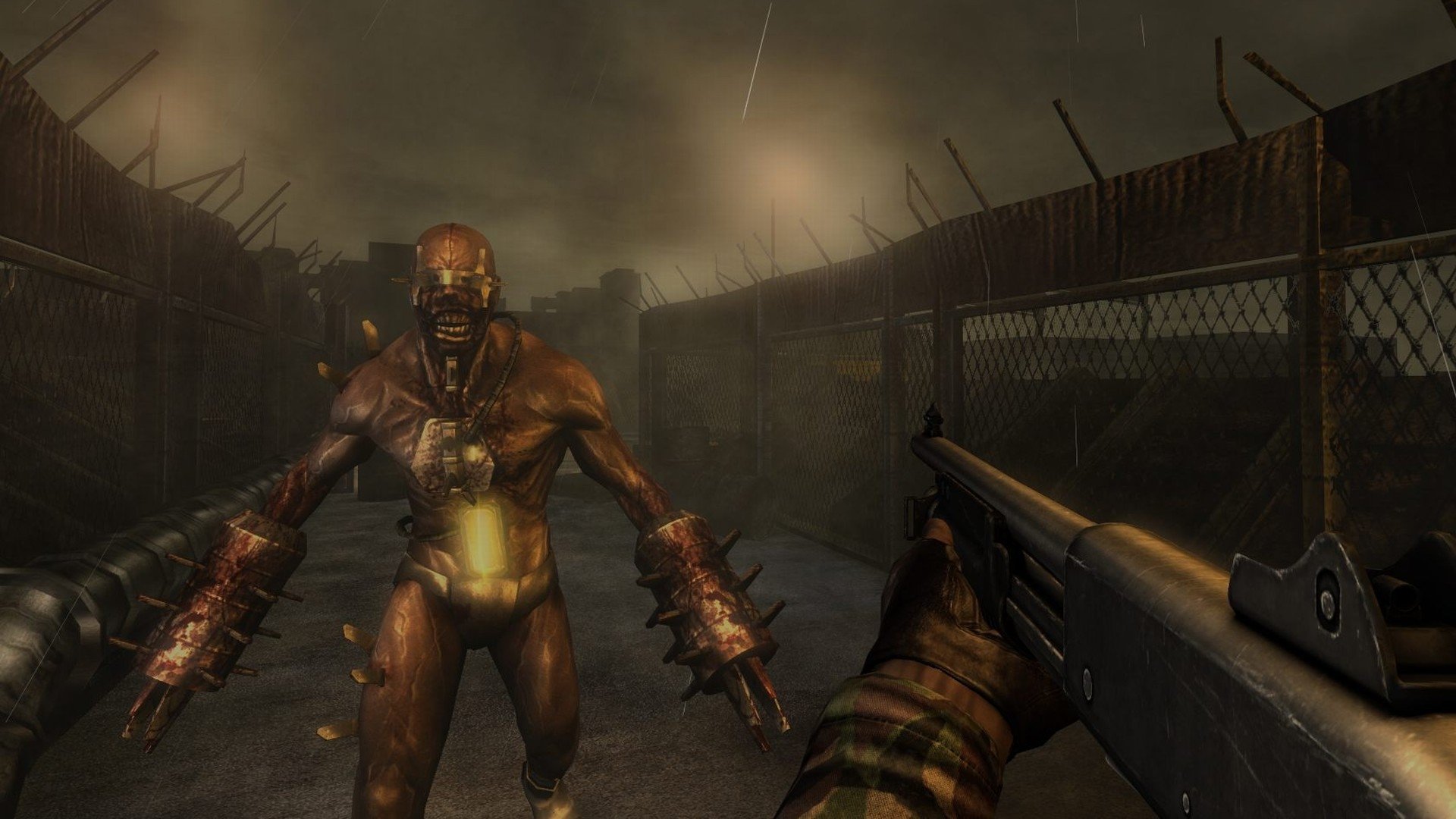 Prepare yourself in one of the most terrifying and bloody zombie game yet.
7. Dead Island (PC, PS3, PS4, XBOX 360, XBOX ONE, LINUX)
From one FPS zombie game to another, Dead Island sees you exploring the lush fictional island of Banoi as one of the four survivors immune to the zombie's infection.
Though it may not pack the same emotional punch that its trailer suggests, Dead Island is nonetheless a worthy game to play for your PC. You're sure to have a great time thanks to the intensely enjoyable combat, rich RPG elements, and thrilling zombie encounters.
The base game also packs in a stunning visual, made further enhanced in the Definitive Edition of the game, but is never that demanding to your machine, making this a worthy game to experience.
Play This Game If You Like:
RPG System
Incredible Island Setting
Co-op Gameplay
Dying Light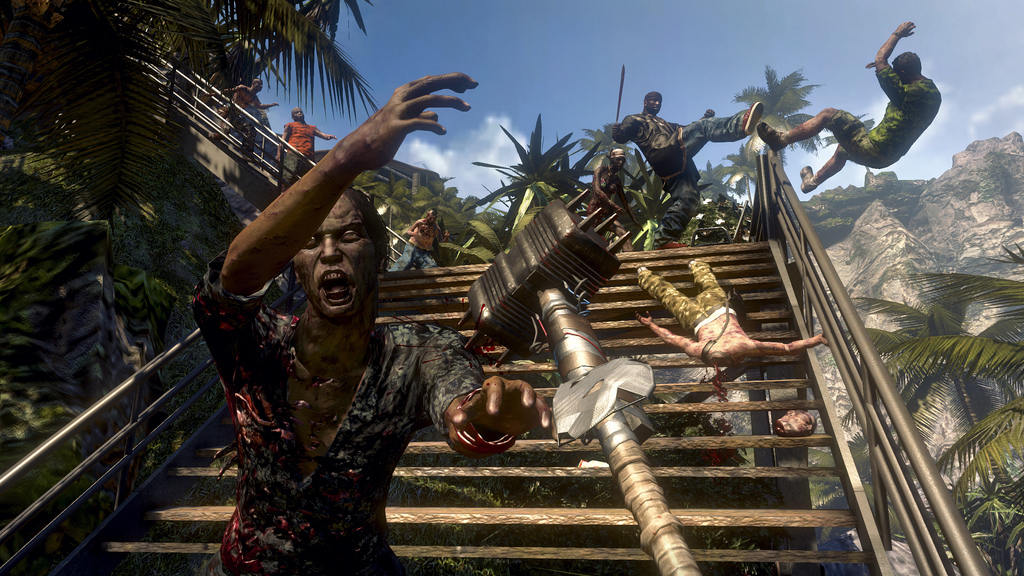 Get your sun screen and shoves ready, for the dead is coming!
6. Dead Rising (PC, PS4, XBOX 360, XBOX ONE, IOS)
In Dead Rising, you play as photographer Frank West as he attempts to survive for 72 hours in a mall in the fictional town of Willamette, Colorado, in search of his next big scoop.
Dead Rising is a stunning game with a ton of things and brilliantly balances horror and comedy. There's never a dull moment in the game, whether it's saving its numerous survivors, eliminating its many bizarre and comical psychopaths, or just roaming the enormous mall.
The game is also a technical marvel as it displays hundreds of zombies on screen without ever being demanding to your computer. Mowing down hordes of zombies has never been more fun.
Play This Game If You Like:
Killing Hundreds of Zombies on Screen
Sandbox Exploration Games
Survival Horror Mechanics
Limited Saving
Character Customization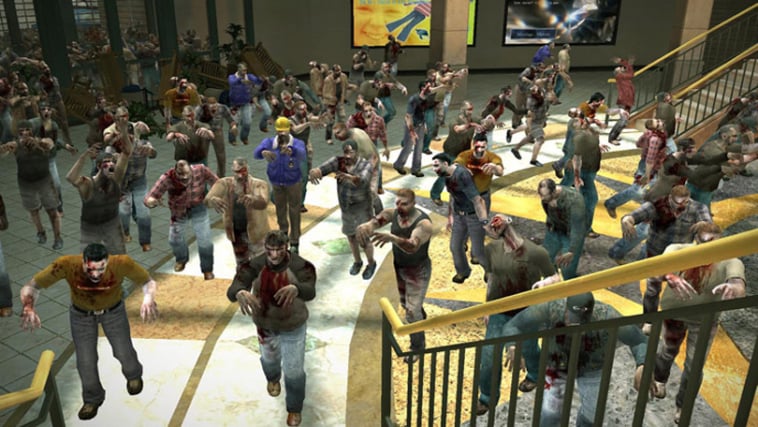 Yes, that's tons and tons of zombies. And there's more to come…
5. Project Zomboid (PC, LINUX, MAC OS)
Project Zomboid is an open-world, isometric survival horror game where you play as a survivor attempting to live before meeting your untimely fate in a post-apocalyptic world where zombies roam free.
Don't be fooled by the appearance of the game; despite how simplistic it may appear, it contains one of the most stressful survival games of this generation. In every way, Project Zomboid succeeds in creating a convincing portrayal of a post-apocalyptic world.
There is a lot to enjoy and stress about in this game because of its extremely bleak setting and lore, insane amounts of zombies, and intense survival mechanics.
Play This Game If You Like:
Isometric Point of View
Survival Simulation
In-depth Mechanics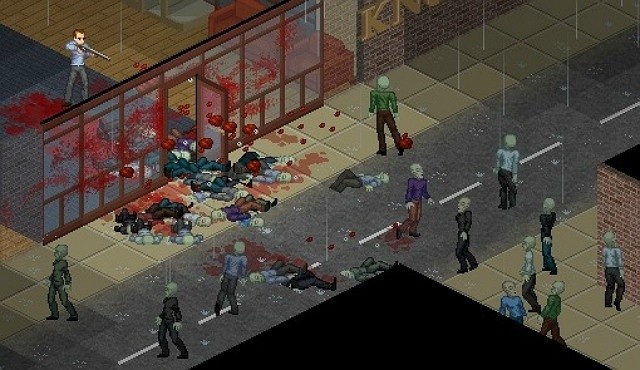 Live or die in the world of Project Zomboid.
4. State of Decay (PC, XBOX 360, XBOX ONE)
Play as one of the procedurally generated survivors in State of Decay as they struggle to fend off zombies and survive the unforgiving lands of Trumbull Valley.
The ultimate love letter for anyone who craves zombie survival awesomeness is State of Decay. Making you the player—the ultimate leader—as you attempt to do all everything to save your community using its amazing management mechanic system.
Each of your decisions in the game will have high implications because supplies, survivors, and bases are all valuable in State of Decay. Once they vanish, they vanish forever.
Play This Game If You Like:
Open World 
Community Defend Simulation
Procedurally Generated Events and Characters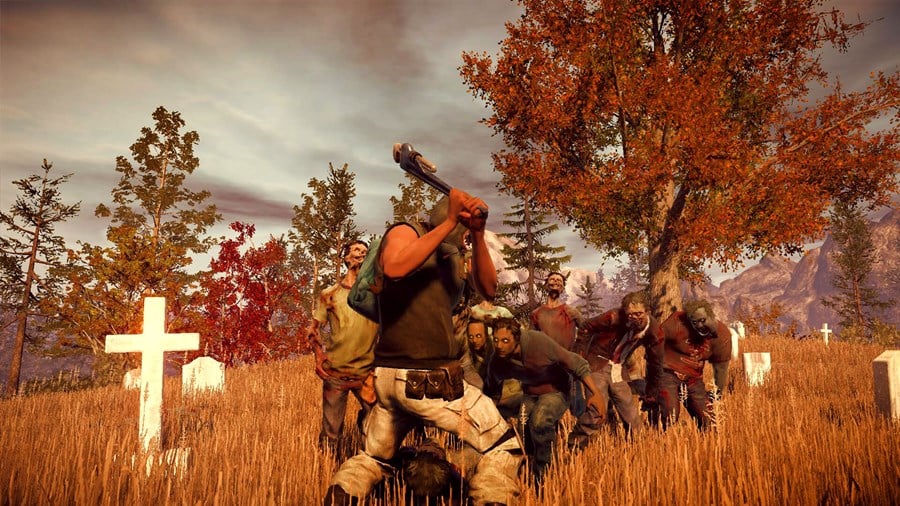 Face off tons of zombies in this apocalyptic world.
3. Plants vs Zombies (PC, PS3, PS4, PSVITA, XBOX 360, XBOX ONE, NINTENDO DS, DSiWARE, SWITCH, Windows Phone)
Plants vs. Zombies, the tower defense classic that helped shape the childhoods of countless gamers, is, of course, essential in the list. To protect yourself from the zombies that are attempting to cross your yard, plant your seeds.
With the help of its diverse, cute set of garden warriors, Plants vs. Zombies offers a simple pick-up-and-play gaming experience that allows you to mow down dozens of hilarious zombies. The game features an amazingly cute art style, a memorable soundtrack, and a ton of entertaining minigames.
No matter what kind of PC or console you pick, Plants vs. Zombies is a must-play title.
Play This Game If You Like:
Tower Defense
Mini Games
Frantic Gameplay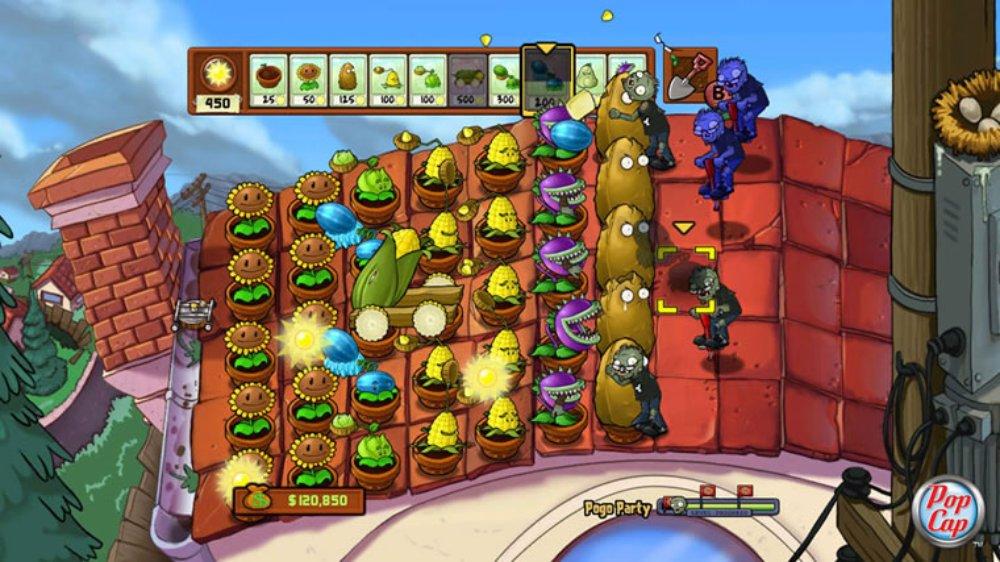 There's a zombie on your roof, and they want your brains!
2. Telltale's The Walking Dead: Season 1 (PC, PS3, PS4, PSVITA, XBOX 360, XBOX ONE, NINTENDO SWITCH, ANDROID, IOS, MAC OS, OUYA)
In this critically acclaimed video game based on the Walking Dead universe, you play as Lee Everett as he attempts to protect a young girl from the dangers of the new world.
Any of Telltale's TWD games might easily claim this position on the list, but if we had to choose just one, it would undoubtedly be the first season. This is the= game that first introduced us to Lee Evertt and Clementine, two endearing and tough characters.
Even the most inexperienced players may become engrossed in the game's zombie-infested world because of its straightforward yet thrilling gameplay, cinematic approach to telling its tale, and intuitive controls.
Play This Game If You Like:
Episodic Game Format
Point and Click Adventures
Hard Hitting Decision Making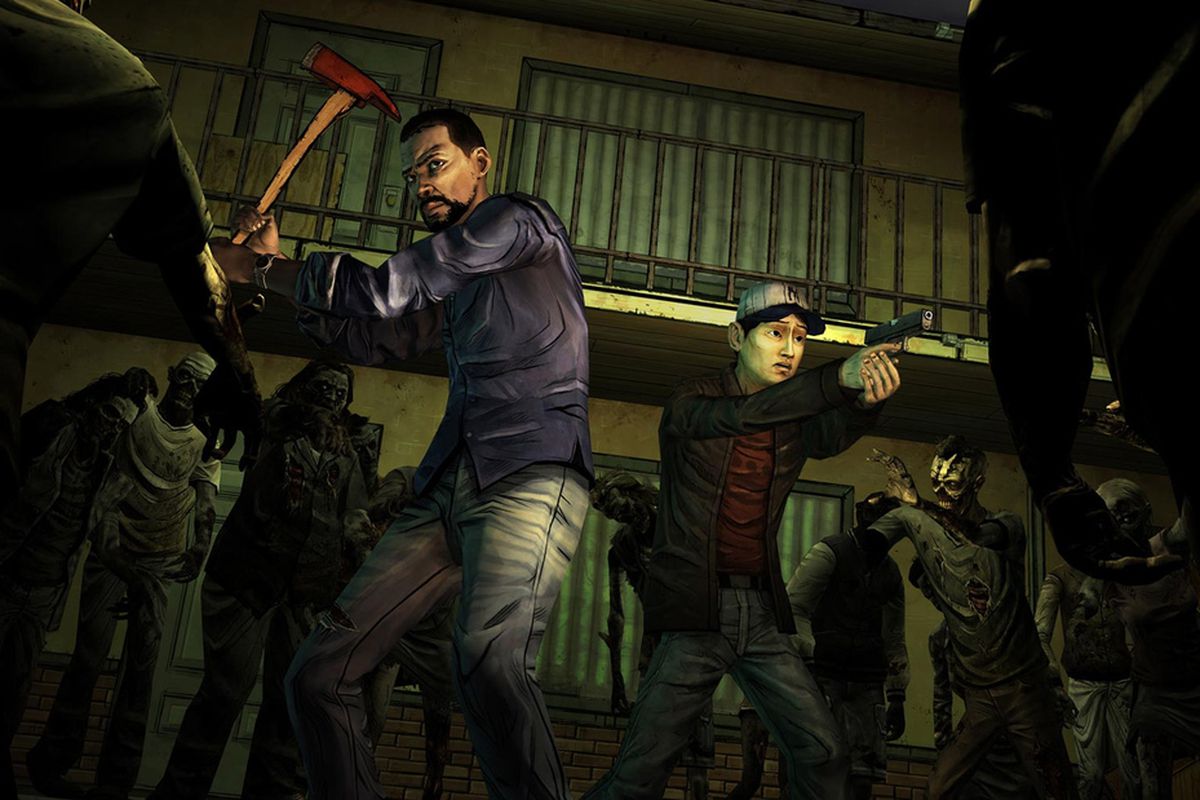 Defend yourself, alongside Glen from the TWD comics.
1. Left 4 Dead 2 (PC, XBOX 360, LINUX, MAC OS)
Left 4 Dead 2, a zombie cult favorite from Valve, is the ultimate zombie game for low-end PCs. Put yourself in the shoes of four survivors as they struggle to find a safe place while fighting swarms of zombies.
The game industry as a whole as well as the genre were both defined by this sequel. Delivering one of the most thrilling co-op experiences to date as you battle hundreds of scary infected while taking on the roles of some of the most endearing characters in gaming history.
And in typical Valve fashion, the game combines thrilling action with amazing and strangely satisfying gunplay to create one of the most captivating and successful zombie games ever.
Play This Game If You Like:
Co-op Shooter
Absurd Modding Community
Frantic Action
Gory Visuals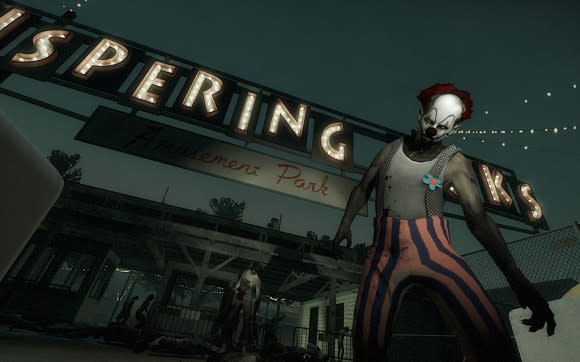 What's more terrifying than a clown? A creepy zombie clown.
You may also be interested in: