Elder Scrolls Online Gameplay: 10 Things You'll Love: Page 2 of 9
Updated: 15 Jun 2015 7:37 pm
An elf from Elder Scrolls Online
2. Combat is Fast, Furious, and Simple.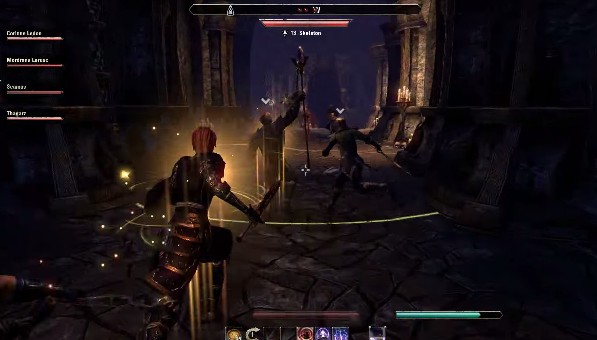 A group of four charging in. The yellow circle indicates the placing of an ability. 
Everyone loves simple systems. Why? Because they're easy to master. It doesn't take years like other games (I'm looking at you, chess… and every physical sport ever). Elder Scrolls Online's simple system lets EVERY gamer be amazing at combat in the Elder Scrolls Online.
Curious to learn?
Let me give you the short of it. Press attack button to light attack. Hold to heavy attack. See yellow sparks above your opponents head? Hold the block button. See red sparks? Hold block, then press attack. See a red circle on the ground? Press the dodge button.
Congrats, you now know everything you need to know!
Image Gallery